A company from Finland, Solar Foods, are planning to sell food created from carbon dioxide (CO2). They are, quite literally, creating food out of thin air! The company has plans to bring a new protein powder, Solein, to market. It's made out three simple, cheap, and readily available ingredients – CO2, water, and electricity. While this may not sound appealing at first, it's actually incredibly nutritious. Essentially, its a high-protein, ingredient, resembling flour, that contains 50 percent protein content, 5–10 percent fat, and 20–25 percent carbohydrates.
There are a massive number of potential uses for an ingredient such as Solein and it is expected to be the main component of a lot of foods when it hits the shelves in 2021. It's most likely to first appear in protein shakes and yogurt, both of which are simple foods to add it to. This may be a very exciting development as the creation of Solein is carbon neutral but it also helps remove CO2 from the atmosphere, being beneficial in two respects!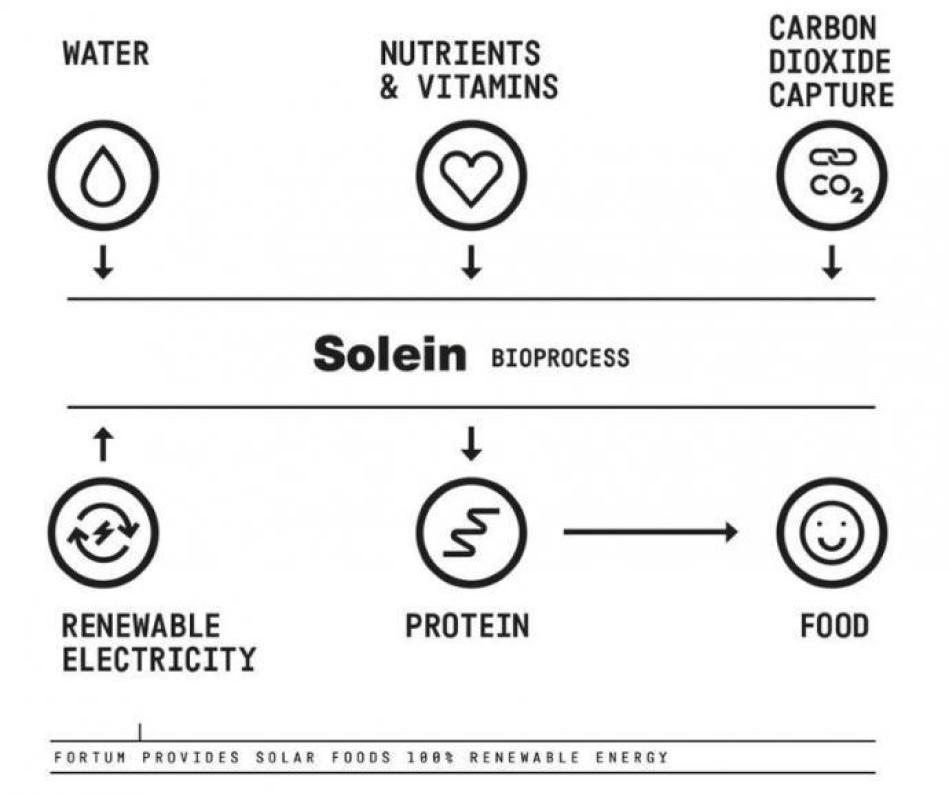 Beginning in 2018, Solein has come so far since it was created. NASA actually came up with the idea first and Solar Foods has since taken it to a commercial level. With plans to release the product as soon as 2021 and produce 2 million meals every year, it won't be long before Solein is in everything. By 2050, the company has high hopes to be providing sustenance for up to 9 billion people as part of a $500 billion protein market. At the rate things have taken place so far, there's no doubt that Solar Foods will achieve their targets.
To create Solein, Solar Foods extracts CO2 from the air using carbon-capture technology. Then, they combine the carbon dioxide with water, nutrients, and vitamins, using 100 percent renewable solar energy from their partner, Fortum, to promote a natural fermentation process similar to the one that produces yeast and lactic acid bacteria. This is such a natural process, needing no man-made products, that it could single-handedly solve the world's food crisis.
Furthermore, Solar Foods has claimed that their product is completely free from agricultural limitations, and they aren't lying! Solein can be grown indoors so there's no need for arable land, and it's not dependent on favorable weather either. In fact, this seems so promising that the European Space Agency has already started working with the company in an attempt to develop foods for off-planet production and consumption. This could be the answer that they have been looking for.
Source www.disclose.tv
Watch the First Video of a Virus Growing in Real-Time
For the first time, researchers have captured the formation of individual viruses on camera in real-time — and the footage could yield new insights into how best to fight the bugs.
In a paper published recently in the journal Proceedings of the National Academy of Sciences, the team from Harvard's John A. Paulson School of Engineering and Applied Sciences details how it obtained the footage using a highly specialized microscope and a technique called "interferometric scattering microscopy."
"Our technique gives the first window into how viruses assemble," researcher Vinothan Manoharan said in a press release, "and reveals the kinetics and pathways in quantitative detail."
The team focused its study on the RNA virus, the most common type of virus on Earth and the kind responsible for the common cold, polio, and a host of other diseases.
The dark spots in the video are, in fact, soccer-ball type structures of hexagonal and pentagonal rings of proteins that encase the RNA virus. The resulting shell around the virus is called a "capsid."
According to Manoharan, the pattern in which these spots appear as the virus assembles is already uncovering clues as to how to fight some types of viruses.
"If nuclei form too quickly, complete capsids can't grow," he said in the press release. "That observation might give us some insights into how to derail the assembly of pathogenic viruses."
Watch Russia's Combat Drone Fly Next to a Fighter Jet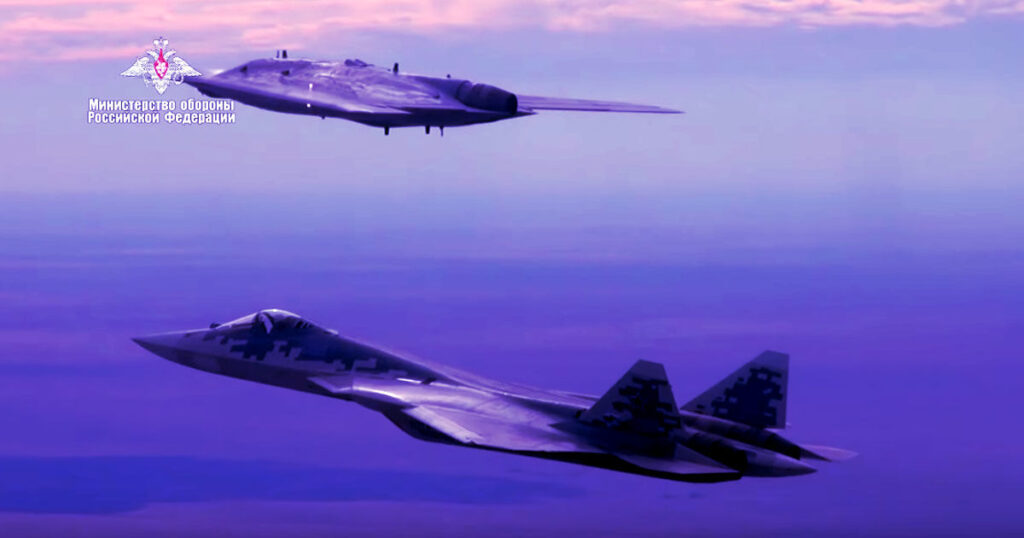 Heavy Strike Drone
Russia's secretive uncrewed combat air vehicle, the S-70 Okhotnik-B just took to the skies accompanied by a fighter jet for the first time, according to a statement by Russian news agency TASS. The footage is pretty incredible.
The video, uploaded by the Russian Defense Ministry, shows the unusual aircraft take off next to a Russian S-57 advanced combat jet, in a flight that lasted for more than 30 minutes.
Hunter-B
The stealthy drone, also known as the Hunter-B, could offer the Russian military a way to penetrate air spaces without being detected. The video could also herald a future in which fighter jet pilots could be accompanied by one or more of these stealth drones to improve their view of the battlefield, The Drive suggests.
"As part of the ongoing test program, the Okhotnik drone performed a flight in the automated mode in its full configuration, entering the airborne alert area," the ministry said in the statement.
Jet Accompaniment
The top secret heavy strike stealth drone has been in development for an unknown number of years. Back in August, Russia's Ministry of Defense released footage of the drone taking off for the first time.
The ministry is hoping to start deliveries of the S-70 in 2025, according to the statement. Heavily armed tests will take place as soon as 2023.
READ MORE: Watch Russia's S-70 Unmanned Combat Air Vehicle Fly With An Su-57 For The First Time [The Drive]
Fans Update Sci-Fi Classic Metropolis with New Color and Sound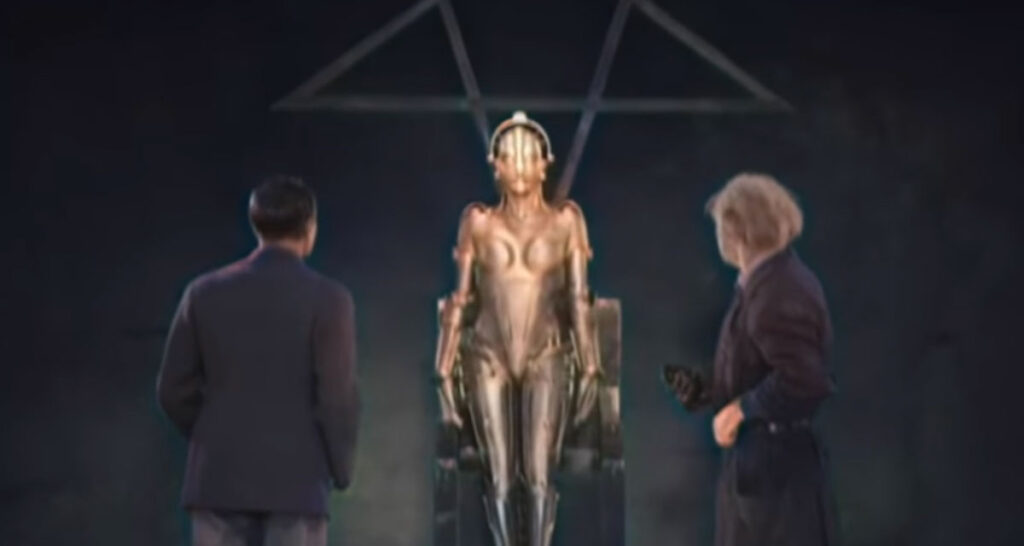 Metropolis Remix breathes new life into the pioneering classic 1927 silent film.
Metropolis was a groundbreaking work of science fiction and German expressionism when it was released in 1927. Now, this painstaking modernization created by Garrett Guynn & Andrew John Holt brings new sound and color to the classic film with the help of many contributors. Metropolis Remix includes a new title sequence, new voices, and original music created by Andrew John Holt.
On Youtube, Holt writes:
"I am so excited to have been a part of this awesome project. Garrett and I worked very closely over Skype and file sharing over many months to produce the film enhancements you see now. Garrett initially seeked help through the "Reddit Voice Acting Sub" for one of the voices on his project that he had already been working on an off with over the past five years. I voiced Josephat the assistant to the Great Mr Fredersen Senior. Once I had finished the collaboration with Garrett the project blossomed with my words "Perhaps we could do more with this". Garrett was based in Hawaii and i am based in Sydney which made for some interesting time difference work sessions. I would be on my computer after dinner and he would be feeding breakfast to his child and juggling manuscripts. We agonised for so long on inventing dialogue that matched the lips and was relevant to the scene in some way. My favourite scene is where Freda embraces one of his floozies in front of the fountain. The dialogue was seamless with the lips saying "Kiss Me". We also agonised about the ending and the dialogue between Grot the worker, Maria, Freda Junior and Fredersen Senior. It all came out seamlessly in the end. Garrett and I mused about doing another project together, perhaps an old Charlie Chaplin film, but we are still in dialogue as they say in Hollywood…hahaha…."