NASA Changing Space-Time With Vortex Energy Blasts
A researcher into strange atmospheric phenomenon has gathered evidence that the American space agency NASA is conducting incredible experiments—perhaps in conjunction with mysterious HAARP activities. He believes that scientists have found a way to punch holes into spacetime.
Christopher Everard, a British film director and author, is a man on a mission—a man who is attempting to bring to a disbelieving world evidence that the National Aeronautics and Space Administration has embarked on a series of high-energy experiments that "rip holes in space-time" with intense spheres of raw energy catapulted through man-made vortexes, or wormholes.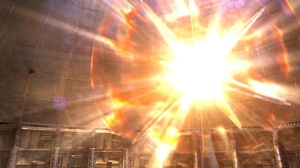 Everard is collecting eyewitness accounts of the experiments being conducted in the upper atmosphere across the globe. He also notes on his Facebook page peer-reviewed studies that are appearing at the official NASA website and at universities and research labs that tie into the experiments.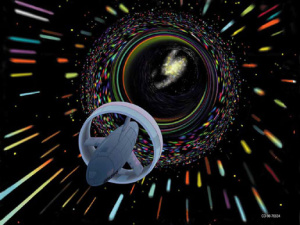 Spaceship entering wormhole [Image: NASA]
The quest to create Star Trek type propulsion systems seems to be the next great mission of NASA as chemical rockets and off-the-shelf space technology is being taken up by private industry.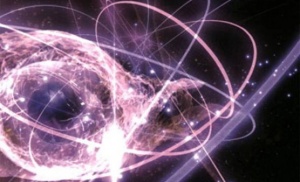 Illustration of a quantum energy vortex
Space-time vortex energy blasts in Australia, Russia and China
Wormholes have already been created in at least three countries, Everard claims. Witnesses have seen and photographed spiral vortexes over Australia, Russia and China.
The Australian vortex may be tied into HAARP activity and U.S. experiments, whereas the Russian and Chinese high-energy vortices may be revealing those nation's own exotic space drive high-energy physics experiments.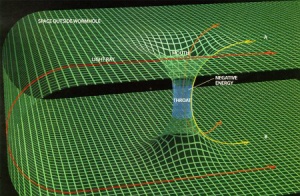 Mathematical model of a space-time wormhole
Allegedly, some of the science that supports these ongoing experiments can be found in breakthrough research papers such as: Assessing Potential Propulsion Breakthroughs. New Trends in Astrodynamics and Applications, Edward Belbruno, (ed.). Annals of the New York Academy of Sciences. [PDF] Another is Quantum Vacuum Energy: Study of Vacuum Energy Physics for Breakthrough Propulsion. More on breakthrough propulsion physics can be found here.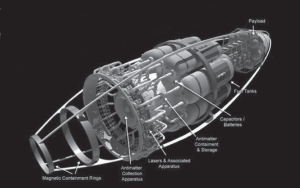 A proposed quantum energy ship
Research goes 'black'
Officially, notes Everard, NASA has discontinued its research into the applications of warp and wormhole technology. NASA supposedly pulled the plug on sanctioned projects back in 2009.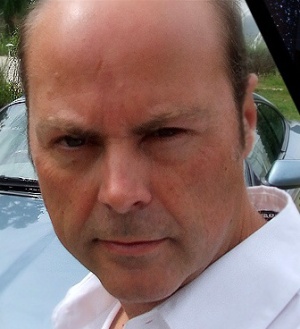 Everard is convinced NASA's affecting space-time
Yet, Everard contends, the technological research continues, handed off to military black projects being worked on by secret divisions of Pentagon military defense contractors as the breakthrough technologies "went black."
Everard claims that "high-definition satellite photos of Area 51″ reveal the ongoing experiments linked to developing space propulsion from vacuum energy physics.
Everard is working on a detailed report of the projects that is scheduled to appear in a future issue of Feed Your Brain Magazine.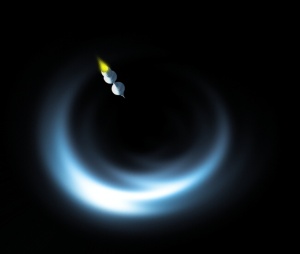 A spaceship of the future enters an artificial wormhole
To those that are skeptical of Everard's claims, he invites them to visit Harvard University's Wormhole Research program where—according to Everard—"they are following the Lorentzien type funnelled wormhole approach."
NASA also has also provided a peek at current research with it's Glenn Research Center page asking the intriguing question "Warp Drive, When?"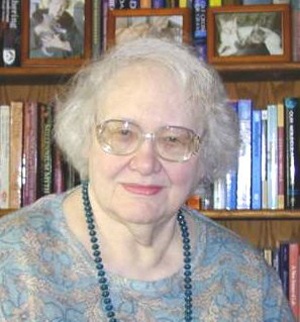 At the other end of the spectrum, American science fiction writer Sylvia Engdahl, believes that such claims are feeding into a new "Space Myth" that's spreading across society. Her 16-page "The New Mythology of the Space Age" disputes many space-age myths and links science fiction to many of the claims current researchers make about rogue planets, ancient astronauts, secret exotic technology, and more.
KOI-5Ab, the curious planet that orbits in a system of three suns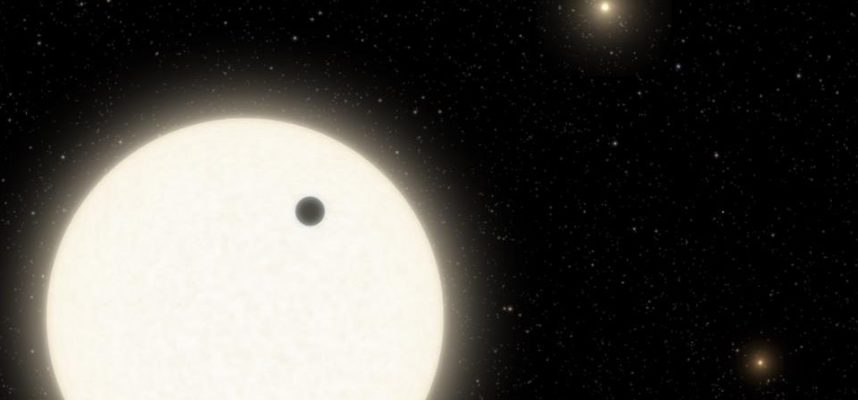 To us, the Sun alone seems perfectly normal, but our solar system is actually a strange exception.
Most stars in the Milky Way galaxy have at least one companion star. In a system 1,800 light-years away, astronomers have finally confirmed the existence of a gas giant planet orbiting stars in a triple star system.
Called KOI-5, the system is located in the constellation Cygnus, and the exoplanet was confirmed ten years after it was first detected by the Kepler space telescope.
In fact, the planet – now known as KOI-5Ab – was discovered by Kepler when it began operations back in 2009.
"KOI-5Ab was dropped because it was difficult and we had thousands of other candidates," astronomer David Siardi of NASA's Exoplanet Science Institute said.
"There were lighter dives than the KOI-5Ab, and every day we learned something new from Kepler, so the KOI-5 was almost forgotten."
Exoplanet hunters tend to avoid the complexities of multi-star systems; of the more than 4,300 exoplanets confirmed to date, less than 10 percent are multi-star systems, although such systems dominate the galaxy. As a result, little is known about the properties of exoplanets in multi-star systems compared to those orbiting a lone star.
After Kepler's discovery, Chardy and other astronomers used ground-based telescopes such as the Palomar Observatory, Keck Observatory, and the Gemini North Telescope to study the system. By 2014, they had identified two companion stars, KOI-5B and KOI-5C.
Scientists were able to establish that the planet KOI-5Ab, is a gas giant that is about half the mass of Saturn and 7 times the size of Earth, and is in a very close five-day orbit around KOI-5A. KOI-5A and KOI-5B, both of roughly the same mass as the Sun, form a relatively close binary system with an orbital period of about 30 years.
A third star, KOI-5C, orbits the binary system at a much greater distance, with a period of about 400 years – slightly longer than Pluto's 248-year orbit.
"By studying this system in more detail, perhaps we can understand how planets are created in the universe."
The discovery was announced at the 237th meeting of the American Astronomical Society.
Why the universe does not fit into science
Science can be compared to an artist painting what he has never seen, or to a writer describing other people's travels: objects that he has never seen, places where he has never been. Sometimes such scientific "arts" turn out to be beautiful and interesting, but most of them will forever remain only theories, because they are beyond human capabilities.
In fact, science has the right only to speculate: how our universe appeared, how old it is, how many stars and other objects it contains.
Universe model
How many stars are there in the sky?
With an unarmed eye, a person can see about nine thousand stars in the sky in one cloudless and moonless night. And armed with binoculars or a telescope, much more – up to several million. However, this is much less than their true number in the universe. Indeed, only in our one galaxy (the Milky Way) there are about 400 billion stars. The exact amount, of course, is not known to science. And the visible universe contains about 170 billion galaxies.
It is worth clarifying that scientists can see the universe 46 billion light years deep in all directions. And the visible (observable) universe includes the space accessible to our eyes from the moment of the Big Explosion. In other words, only this (accessible to human perception) space science refers to our universe. Science does not consider everything that follows.
It is believed that there are supposedly a ceptillion (10 to 24 degrees) stars in our universe. These are theoretical calculations based on the approximate size and age of the universe. The origin of the universe is explained by the Big Bang theory. This is why the universe is constantly expanding and the more time passes, the more complex the universe and its components become.
It is not entirely correct to consider and perceive this scientific theory "head-on". Scientists always claim that that explosion was not exactly an explosion, and the point that exploded was not the only one. After all, it was everywhere, because space did not exist then. And in general – everything happened quite differently from what is described in the Big Bang theory, but all other descriptions of the origin of the universe are even more incredible and inaccurate.
Separate but interconnected
That which is beyond the reach of human perception is usually discarded by science, or recognized as non-existent. Recognizing one thing, science does not want to recognize the existence of the other, although everything in our world is interconnected and is not able to exist separately – by itself.
Each object of the universe is a part of it much more than an independent, separate object.
Any person, like any material object of our world, consists of components: organs, cells, molecules, atoms. And each of its constituent parts can represent the whole world. Separate, and at the same time connected with all the others.
However, science, as a rule, perceives all the components of the universe – people, animals, plants, objects, the Earth, the Sun, other planets and stars – as separate subjects, thereby limiting itself.
Even what is considered the visible universe, one of the atoms of which could be called our solar system, is not subject to the boundaries of human perception. But perhaps the atom is an exaggeration, and our solar system is not even an atom, but one of its elements!
How, being so far from the truth, can one reason about something with the degree of probability with which science tries to reason about the origin of the universe?
An unexplained wobble shifts the poles of Mars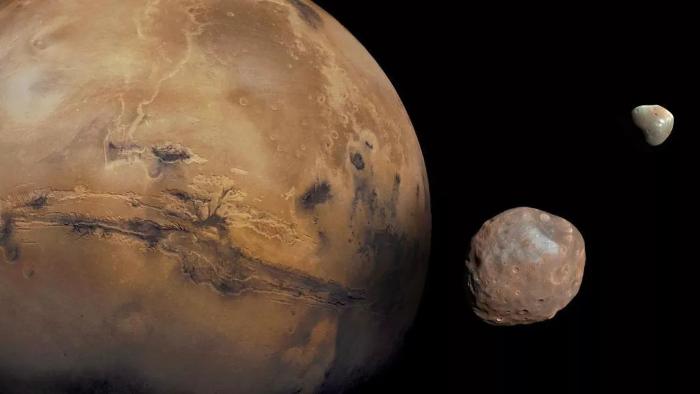 The red planet sways from side to side like a whirligig when it loses speed. The new study allowed scientists to notice that the poles of Mars deviate slightly from the axis of rotation of the planet. On average, they move 10 cm from the center with a period of 200 days.
Such changes are called the Chandler Oscillations  – after the American astronomer Seth Chandler, who discovered them in 1891. Previously, they were only seen on Earth. It is known that the displacement of the poles of rotation of our planet occurs with a period of 433 days, while the amplitude reaches 15 meters. There is no exact answer why this is happening. It is believed that the fluctuations are influenced by processes in the ocean and the Earth's atmosphere.
Chandler's wobbles on Mars are equally perplexing. The authors of the study discovered them by comparing data from 18 years of studying the planet. The information was obtained thanks to three spacecraft that orbit the Red Planet: Mars Odyssey, Mars Reconnaissance Orbiter and Mars Global Surveyor. 
Since Mars has no oceans, it is likely that the Red Planet's wobbly rotation is due to changes in atmospheric pressure. This is the first explanation that researchers have shared. In the future, there should be new details about the fluctuations that have so interested the scientific community.