Mystery Of The Black-eyed People – Why Are They So Different From The Rest Of Us?
There are many stories of encounters with strange beings who appear to be inhuman because of their unusual eye color and odd behavior.
People who met these individuals had a weird sense of dread. Are there rational explanations for these remarkable encounters or do perhaps aliens walk among us? Can you judge a person by looking in his eyes?
Some say that your eyes are the window to your soul. Have you ever met anyone whose eyes are nothing but complete darkness? Those who encountered black-eyed people say not only are their eyes dark, but their whole beings as well. It is, as if the their souls are enveloped in darkness.
In the world of paranormal, we often hear of people who had encounters with the most remarkable beings.
Perhaps the most bizarre and uncanny stories involve the mysterious black-eyed people.
There are of course many people who have dark eyes.
We often meet people who have dark brown eyes and we certainly do not find these persons strange.
However, black is not a natural eye coloration. The white part of a human eye is called the sclera and it comprises 5/6 of the outer surface of the eye. Every healthy person, regardless of race has a white sclera. Animals, on the other hand can have a very dark sclera. Dogs, horses and lizards for example often have a black sclera. Health problems can sometimes cause the sclera to become yellow. Certain medication like eye drops can result in that the sclera becomes transparent. When the appropriate administration of medication form has been completed the sclera returns to white again.
People who met black-eyed beings claim these individuals had solid black eyes with no sclera at all! In other words, these beings' sclera, pupils and iris are completely black!
What is most interesting is that people are not only affected by the black color of the eyes, but also these beings' peculiar attitude and behavior. They are different…
Based on eyewitnesses' descriptions we learn that the black-eyed beings share some common characteristics:
People who had encounters with black-eyed beings were overwhelmed with a sense of intense fear. It was as if these beings should be avoided at all cost.
Another common characteristics often reported by witnesses is a sense of evil.
In some cases, people reported that the black-eyed individual had olive colored skin.
It seems difficult to determine a pattern in their clothes. Sometimes they are dressed in black, and on other occasions they wear various colors. In some reported incidents, the black-eyed people were dressed in clothes that appeared old-fashioned.
Let us examine what some who met the black-eyed people had to say. One of the eye-witnesses, Chris and her husband were traveling on I-75 in Michigan when they decided to make a stop at a rest area. Coming out of the women's room, Chris came face to face with a thin, dark-haired woman with black eyes staring directly at her.
"My husband and I were on our way up north on I-75 during the afternoon. Luckily, it was not at our normal time in the evening. We have a little place in northern lower Michigan, and often go up there for the weekends. As was our custom, we pulled in at our usual rest stop, and I went into the women's restroom.
As I was preparing to leave the room, I suddenly noticed a thin, dark-haired woman standing alone and starring directly at me. I instantly felt a terrible sense of dread, as though there was something deeply unnatural about her. I then noticed the eyes which had been staring coldly at me, and they were completely black. I saw no color whatsoever, and no pupils. I felt an extremely strong need to get away from her as quickly as possible, as there was something quietly threatening about her. Her stare was devoid of any emotion other than something very cold and disconnected.
My instant and unwavering feeling during this whole experience was that she was not human. I don't know what me made feel this so strongly, but it was my most singular, strongest sense while looking at her. There also was something almost predatory about her, as though she was homing in on prey while she stood there so still. I also had a strange sense of her feeling superior or stronger in some way. Again, the sense of a predator watching its prey.
I left as quickly as possible, showing as little reaction to her as possible. It seemed important, for some unknown reason, for me to act unaffected by her while in her presence. I felt a huge sense of relief as I got back into the car and left. I have to say that this was one of the most memorable brief experiences I've ever had around a person, especially a stranger. I have never been able to shake the inexplicable feeling that she wasn't human," said Chris.
Another curious account comes from Tee, a 47-year-old apartment manager in Portland, Oregon.
Tee who worked for 20 years is used to meet people of all races and ages, and yet when he encountered a young black-eyed man, she simply could not come to terms with the stranger's eyes… According to Tee, the man was not a normal person.
"He was young boy of about 17 or 18, approximately. He asked me about an open apartment for rent. I remember feeling very scared and shaken by his appearance.
He did not look weird by his dress or such. It was his eyes.
I remember feeling the hair on my neck stand up, and I was shaking just from looking in his eyes." Like Chris, Tee also felt that deep sense of malevolence. "I could not look him straight in the eyes. I felt like I was about to die. Now, some people may think that I was just over- reacting or something, but the eyes were completely black like there was no real pupil. He spoke normally to me, but I had to just shut the door in his face and get as far from him as I could. I felt like I was in extreme danger," Tee. explained.
A very interesting case comes from Australia. This story is about a strange man seen in an elevator in a bank building, as told by the bank executive who worked late that evening:
"I found to my surprise that a few people have had similar experiences regarding people with pitch-black eyes. Unlike some, though, I didn't feel a sense of dread or a feeling that I was about to die. I felt more an awareness and discomfort, like when you see someone advance angrily toward you only to walk past you.
Anyway, it was September 2, 2000, and one of the roles as an executive is you sometimes have to put in really late nights. My office was on the fifth floor and it was coming up to 12 in the morning. I was the only employee, as far as I know, on the first five floors apart from Ben, another fellow banker on my floor and Stan, who is a security officer.
The elevator stops at floor 2 and in comes a tall man with more or less a black crew-cut. The first thing I did was open my mouth to ask what sector he was from and who gave himpermission, but as I looked into his eyes they where entirely black. The pupils, the retinas everything. I remember not really being spooked about his eyes. To be honest, I just thought he might've had a disability in his eyes. As the elevator slowly starts up moving back on route, he asked me where I was going, and I simply replied, "home." He then asked why, and I more or less laughed and just said I want to go to sleep and see my wife. He then just mummered very softly, like he was talking to himself, "It must be nice to have a home."
I figured he was just being friendly and that he must be renting. As we got to B1, I realized he hadn't pushed the button on where he was going, so I asked, "Where are you going?" to which he replied rather angrily looking at me with his creepy eyes, "Nowhere."
At this point, the eyewitness stated he ran to his car. When he looked behind him, he noticed the strange man in the elevator did not get out. He continues on with his account:
"Now the real freaky part. As I drove down the street, all the lights were out – and this is in Sydney (city of NSW). Then I turn… and guess who is walking just ahead of the car – our favorite black-eyed man! No need to say, I sped home, probably breaking five road laws. How could he have left the building and be ahead of me when he had no car, and went up to floor 6?
It gets weirder. On the videotapes and records, there shows no one using the elevator at that time apart from me."
In many cases people who encountered black-eyed children feel an almost indescribable sense of fear. These children appear to be different from other normal kids.
This incident took place in Abilene, Texas. A journalist was sitting in his parked car late at night writing a check to pay an internet bill. Suddenly, two children approached him for help, knocking on his car window. They were asking for a ride home to retrieve money from their mother to see a popular movie, at the movie theater close to the parked vehicle. Only one of the boys spoke to the journalist.
But why were the children asking for a ride home when the final showing of the film was already half over?
According to the eye-witnesses statement:
"C'mon, mister. Let us in. We can't get in your car until you do, you know.
Just let us in, and we'll be gone before you know it. We'll go to our mother's house." We locked eyes. To my horror, I realized my hand had strayed toward the door lock (which was engaged) and was in the process of opening it. I pulled it away, probably a bit too violently. But it did force me to look away from the children. I turned back. "Er … Um …,"
I offered weakly and then my mind snapped into sharp focus.
For the first time I noticed their eyes. They were coal black. No pupil. No iris, just two staring orbs reflecting the red and white light of the marquee. At that point, I know my expression betrayed me. The silent one had a look of horror on his face in a combination that seemed to indicate: A) The impossible had just happened and we've been found out!" The spokesman, on the other hand, wore a mask of anger. His eyes glittered brightly in the half- light. "Cmon, mister," he said. "We won't hurt you. You have to LET US IN. We don't have a gun."
That last statement scared the living hell out of me, because at that point by his tone he was plainly saying, "We don't NEED a gun." He noticed my hand shooting down toward the gear shift. The spokesman's final words contained an anger that was complete and whole, and yet contained in some respects a tone of panic:
"WE CAN'T COME IN UNLESS YOU TELL US IT'S OKAY. LET … US …. IN!"
I ripped the car into reverse (thank goodness no one was coming up behind me) and tore out of the parking lot," recalled the man from Texas.
A woman called Adele also experienced an interesting and scary encounter involving black-eyed children who appeared out of nowhere late at night:
"I was sitting in my bedroom reading a book when at about 11:00 p.m. I heard a knocking… a slow, constant one. I got up out of bed to see what it was. I looked out of the window and to my surprise saw two children. I opened the window and asked them what they wanted at this time of night. They replied by saying simply, 'Let us in.' I said no and asked what for. 'We want to use your bathroom.'
I was quite shocked that children of about 10 years old wanted to use a stranger's bathroom at this time of night. I told them no, closed the window, but looked at them through the glass. I glanced at their eyes… and I have never ever seen eyes like them. They were black, completely black. I got the feeling of evil and unhappiness. It surrounded me. It was horrible," Adele said.
Undoubtedly, strange encounters with black-eyed people are a very interesting phenomenon.
In our lifetime, we do meet people we consider to be different and not normal. Although, it must be added that the definition of "normal" varies from person to person. What is "normal" to one person is abnormal to another.
However, to be strange and different cannot be compared with being not human. Those who encountered the black-eyed people believe these individuals are either extraterrestrials or inter-dimensional beings.
Is it really possible that aliens walk among us or is only a psychological reaction to a person who has simply an unusual appearance and behavior?
Perhaps it sounds farfetched, but if aliens wanted to infiltrate our society they could in fact pose as human beings. Perhaps the old saying is true after all – your eyes are the window to your soul. Perhaps the black eyes reveal who these beings really are..
Who are the black-eyed people? We leave it up to our readers to think and judge these accounts for themselves.
What happened in the anomalous zone of the Michigan Triangle
We have repeatedly written about the mystical places of our planet. But it's interesting to read about all mysticism and its exposure, isn't it? Scientists can explain some of the recognized anomalies, but some cannot, but from this, the theme of all kinds of "triangles" excites our thoughts even more.
Everyone begins to think up something, fantasize, try to explain strange events, and this creates an additional topic for conversation and interesting debate. This time there is another one in the form of the Michigan triangle. And so it turns out that all mysticism loves this particular geometric figure. Although, perhaps, people are driving it into such a framework, because the "triangle" sounds much more mystical and ominous than for example the "tetrahedron", or the "trapezoid".
Mysticism in the ocean is commonplace. This time we'll talk about a lake.
Where is the Michigan Triangle
The Michigan triangle is called the "younger brother of the Bermuda Triangle", but few know it. It is similar to everyone knowing Chris Hamsworth, the performer of the role of Thor in the Avengers, but few know his brother Liam, who also starred in the movie. Or, nobody knows the name of James Franco's brother. The list goes on for long.
Despite the low fame of the Michigan triangle, a lot of everything mystical and mysterious also happened in it. It's just that it is not so widely covered in cinema, books and other works.
This place got its name, like most anomalous zones, by the name of the place where it is located. The Michigan Triangle is located in the center of Lake Michigan – the largest American lake. Its size is really impressive. It is 517 by 190 kilometers, and its area is 58 016 square kilometers. The coastline stretches for 2,656 kilometers and runs through four states. It is the fourth largest freshwater lake in the world.
How ships disappeared in the anomalous zone
In total, several ships and even a couple of planes disappeared in the anomaly on the territory of Lake Michigan. For the first time, something strange happened there in August 1679, when the French ship Griffin disappeared on the territory of Lake Michigan, which was studying the possibility of moving from the Pacific Ocean to the Atlantic. In those days, ships disappeared often, but they were searched for the remains of either these ships or crew members. There was nothing there.
After that, in 1891 the cargo ship Thomas Hume disappeared in the triangle. It moved north and collided with a storm, but according to eyewitnesses from the ship that was near and returned to the port of departure, the captain decided to continue moving. As a result, the ship disappeared and no one else saw it or its crew. Many researchers are still looking for it and periodically assure that they found something, but no one has evidence that the Thomas Hume vessel was found.
The most famous disappearance in the Michigan triangle
One of the relatively recent mystical cases occurred on April 28, 1937 with the ship of captain Donner, which was called McFarland.
It followed from the port of Erie to Port Washington. On the way, the captain felt unwell and decided to go on a little rest, putting his assistant at the helm instead. Before leaving for his cabin, he asked to wake him when the ship approached the port. As a result, when after a few hours the crew members approached the captain's cabin, he was not there. In order to find out his whereabouts, they had to break the door, since it was locked from the inside. The mystique is that there were no windows or hatches in the cabin, and the door was locked from the inside. That is, the captain could not leave and lock the cabin in this way.
The incident was even stranger because Captain Donner was an excellent swimmer and a very balanced person. An experienced captain simply could not commit suicide by jumping overboard, as he could not drown, accidentally falling there, all the more so that the water was completely calm that day. Perhaps the captain hid somewhere on the ship? This is out of the question since the ship was thoroughly searched. This could not be a joke either, since after it the joker should appear, but he did not appear. And according to those who knew the captain, he was not a joker.
It was after that day that people began to talk about the notoriety of this place and it was in this that they found an explanation for other oddities that occurred in that area. As a result, no one knows where the captain went. Just like that, a person can disappear for no reason. Or not without reason.
Missing Aircraft in the Michigan Triangle
The first sensational story in the sky above the Michigan Triangle occurred on June 23, 1950. This time, a Norvest Airlines flight (flight 2501), flying from New York to Minneapolis, got into trouble.
The aircraft was controlled by Robert Lind, an experienced pilot, and on board were more than sixty people, including crew members. The plane was supposed to fly in the area of ​​the city of Chicago, but there was very bad weather and the route had to be urgently changed. As a result, the path was chosen through the very lake of Michigan. At some point, the pilot stopped communicating and answered the dispatcher. Only after some time, he requested permission to change the height due to electrical discharges along the way. Soon, the plane disappeared from the radar.
Due to the fact that there were many passengers on board, the incident simply could not go unnoticed. And the most interesting thing is that everything happened at about the place where Captain Donner from the previous story was "lost". Interestingly, the plane was never found in any form. There were not even fragments and bodies of passengers. It remained a mystery where he went. However, two police officers claimed to have seen red flashes in some place. The flashes in the sky lasted for about 10 minutes.
Why ships disappear in the Michigan triangle
There are several versions of why strange things are happening in this area. One of them is a strange magnetic anomaly that makes people behave strangely. However, this could explain the loss of Captain Donner and some other ships, but the cabin was not locked from the inside.
But in general, isn't here a question, why such triangles do not appear on land? After all, it is much easier to find the wreckage of aircraft or the skeleton of cars there. So no, everything comes necessarily on the sea or lake, where, as they say, all ends are in the water. Or does water really have some mystical properties? Here is an opportunity to reason by yourselves.
The mystery of Atlantis in a mysterious Nazi bunker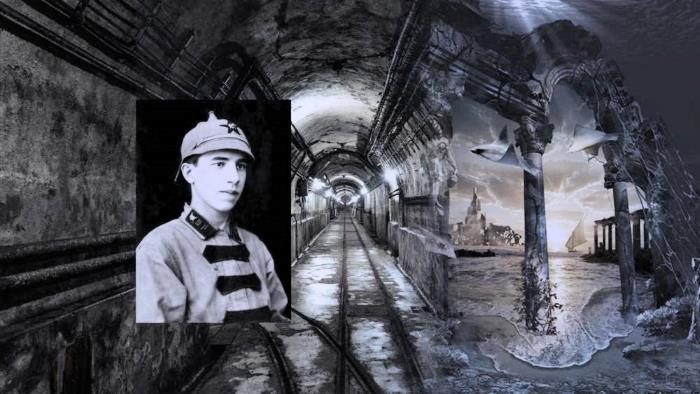 This story began in the summer of 1945 when Hitler's faithful ally, Obergruppenführer SA Ley, who was being held as a war criminal in Nuremberg, alarmed the Allied command with the message that the south of Germany was in danger of disaster.
He told the Americans that in one of the underground bunkers, code-named Z3, where until the last days of the war the development of Nazi top-secret weapons continued, right before the surrender of Germany, containers with some very dangerous substance were depressurized due to sabotage of prisoners of war. If you do not enter the bunker and do not eliminate the leak, at least a third of the country's population will die. To prevent so many deaths, Robert Ley, is ready to go down into the dungeon.
Mysterious bunker
Photo © Steffi Loos / Getty Images
The Americans are alarmed. During the war years, the Nazis really launched a stormy activity underground, having built more than 130 underground factories. Obviously, Lei, who held prominent posts and was responsible not only for the Labor Front, but also for the organization of forced labor of prisoners of war and other foreign workers, really could know a lot about the Nazi secret designs.
The Z3 bunker was located in Weimar, and, according to the Americans, the Nazis were engaged in the development of new engines for aircraft. For the manufacture of fuel, they used previously unknown substances and a huge amount of mercury.
The Americans could not let Ley go down to the bunker himself, he had to play a prominent role in the Nuremberg trials – the Nazi was accused of war crimes and crimes against humanity. The Americans did not want to risk a prominent captive, therefore, under the guise of fulfilling allied agreements, Soviet specialists were invited to participate in the liquidation of the accident. They didn't talk about the real state of things, they threw disinformation on the Soviet command about the development by the Nazis of engines for submarines working on hydrogen peroxide.
Of course, the leadership of the USSR was interested in the new product. Despite the victory, the Soviet Union still lagged behind in a number of research and development. For example, the Nazis in 1941 for the first time launched an underwater rocket from the U-511 submarine. In the USSR, even after four years, they could only dream about it. The Soviet leadership was interested in the Nazi development of plasma weapons, new disk-shaped aircraft and climate weapons. Therefore, in the USSR, it was decided to participate in the inspection of the Z3 bunker. As a performer, they decided to send a self-taught chemist, a specialist in the synthesis of phosphors (substances capable of converting energy into light), senior lieutenant Nikolai Zhirov to Weimar.
Orders are not discussed
Nikolai Zhirov was truly passionate about science. Due to the death of his father, he could not get higher education, but at the age of 25 he published the first scientific articles on the synthesis of phosphors. He had a very noble origin for the USSR, graduated from high school and independently mastered a chemistry course that was not taught at the educational institution. Before the war, he graduated from the Kiev school of command personnel for artillerymen, then retired, worked at the Moscow Research Institute of the Commissariat of Ammunition, and in 1940 published a monograph on phosphors. During the war years, Zhirov developed phosphors of blue glow for the needs of air defense.
When he was called to the Lubyanka on July 6, 1945, Zhirov was sure that he would be offered to work with the archives of the Nazis, because he had excellent knowledge of German at the gymnasium. However, they issued him a certificate of the specially authorized State Defense Committee of the USSR, took a non-disclosure subscription and sent him on a business trip to Weimar. From it, a 42-year-old scientist returned a completely different person.
Nikolai Zhirov. Photo © Wikipedia
It is known that in Weimar, Robert Ley personally indicated a hidden entrance to the bunker, after which specialists in chemical protection suits cleared the rubble and found that the lifts were working. However, neither the Americans nor the British decided to go down. And then Nikolai Zhirov did it.
But neither the protective suit, nor the gas mask that Zhirov prudently put on, helped the scientist. After the chemist completed the task and rose to the surface, he became ill. Zhirov was immediately taken to the hospital.
The historian Alexander Voronin in the film "Berlin – Atlantis" mentioned that Zhirov admitted:
In the Nazi dungeon he experienced damage to the nervous system by chemicals unknown to him. But what he saw in the bunker, Zhirov, bound by a state secret, never told anyone.
Patient Zhirov was urgently taken to Moscow and put in the Botkin hospital, where he was until April 1947. The diagnosis, which was given to him by Soviet doctors, did not explain anything: a viral lesion of the central nervous system. At the hospital, Zhirov raved about Atlantis and read excerpts from Plato as a keepsake.
It was here, in a hospital bed, that he found a new meaning in life – the search for an ancient civilization. Zhirov was sure that the Nazis found the source of ancient knowledge, which means that in the USSR it was necessary to open a department similar to the Nazi research organization Anenerbe and find out where, in what source the Nazis drew ideas for new discoveries.
Finding Atlantis
Photo © Wikipedia
Zhirov was discharged from the hospital as a disabled person of group I, but the scientist was not discouraged – he surrounded himself with textbooks on geology, geography and history and began to search for Atlantis. Despite the fact that in 1948 Zhirov was awarded the degree of Doctor of Chemistry for the totality of works, his new activity did not arouse enthusiasm among the authorities. The chemist continually sent articles to magazines in France and Britain, wrote to foreign colleagues, and therefore was closely monitored by the KGB.
By the second half of the 1950s, Zhirov was sure: Atlantis existed and should rightfully occupy one of the sections of the biogeography of the Quaternary – the geological segment of time, which continues to this day. The bride in a circle. How did the ancient Slavs treat women?
In 1957, his work "Atlantis" was completed, and in 1964 the scientific publication "Atlantis. The main problems of Atlantology" saw the light, in which the author examined the civilization of Atlantis as a period of the formation of mankind and argued that Atlantis really existed, and in the Atlantic when then there was a huge continent, which, as a result of the disaster, plunged into the abyss. Zhirov was sure: the Nazis had somehow found and used the knowledge of this civilization, ahead of the world by decades.
A terminally ill chemist hoped that in the USSR his work would be appreciated, but this did not happen. Soviet science was aimed only at the future, for a great civilization of the past there was no place in it. When Nikolai Zhirov died in 1970, his entire archive was seized and kept secret. Whether this was made out of the principle "no matter what happens" or if the leadership of the USSR really tried to hide something that became known from the archives of the Nazis, we may never know.
But the idea of ​​searching for the ancient Atlantean civilization was eagerly picked up by other Soviet scientists and writers. In 1961, with the introduction of academician Vasily Struve, the book by Atlantis. In Search of the Lost World was published by Ekaterina Andreeva. The search for the mythical Hyperborea took up the famous geologist and geographer Vladimir Obruchev.
In 1974, when researching Mount Amper in the Atlantic Ocean at a depth of 80 meters, the MSU Academician Petrovsky research vessel found clear evidence of the existence of an ancient civilization that was destroyed by a cataclysm and sunk under water. Mount Amper is located about 380 kilometers southwest of Cape San Vicente on the Iberian Peninsula (coordinates 35 ° 03 'N, 12 ° 54' W, minimum depth 59 meters). Repeated pictures of the mountain were taken in 1980 by the Paisys underwater vehicle, and in 1981 even an underwater bell with divers was lowered to Mount Amper. According to scientists, Atlantis was located between the mountain and the mainland and plunged into the sea about eight and a half thousand years ago.
But, unfortunately, shortly after this, the scientific community of the USSR considered research in the Atlantic an empty diversion, and all research was curtailed. The Atlantis of Nikolai Zhirov remained closed. Materials on the Z3 bunker are also still classified.
Source: Life
Area 51 Myths Behind Real Secrets
The US does not hold aliens at the most famous top-secret military base, but what is happening there is no less interesting
An unnamed dusty road leads to the main gateway to the mythical Area 51 in the center of the barren Nevada desert. It seems that the area is almost not guarded, but there is no need to cheat, PopularMechanics writes.
Camcorders look over every corner of the surroundings here. According to local residents, each crawling desert turtle and a hare jumping over the fence are known at the base.
For decades around Area 51, the most wild rumors and hypotheses have arisen. The fact that since 1947 UFO debris and the remains of aliens who died in the Roswell accident have been stored at the base is not the most colorful version. Some believe that in fact it is the wreckage of a secret Soviet aircraft, which was piloted by dwarf mutants.
Only a select few are dedicated to what is actually happening at the base, says Peter Merlin, a science and technology historian who has been studying Site 51 for 30 years.
The launch of Area 51 is directly related to the secret development of the U-2 spy plane, which began in November 1954 by order of President Eisenhower. A secret place for the implementation of the project was found in southern Nevada near the air artillery range of World War II.
Tests of the spy plane began in July 1955. Almost immediately, the first reports of UFOs appeared. From the CIA report, which was fully declassified in 2013, it can be seen that these messages came from pilots of commercial airlines, who had never seen before, so that military aircraft could take off as high as the U-2.
The U-2 program ended in the late 1950s, but in Area 51, tests continued for other top-secret military aircraft: A-12, Bird of Prey, F-117A and TACIT BLUE.
Attempts were made in the skies over Nevada to study and master the Soviet MiGs secretly trapped in the USA in the 1970s. According to some reports, such flights continue today. In September 2017, a lieutenant colonel in the U.S. Air Force died in Nevada, crashing on a plane identified as foreign.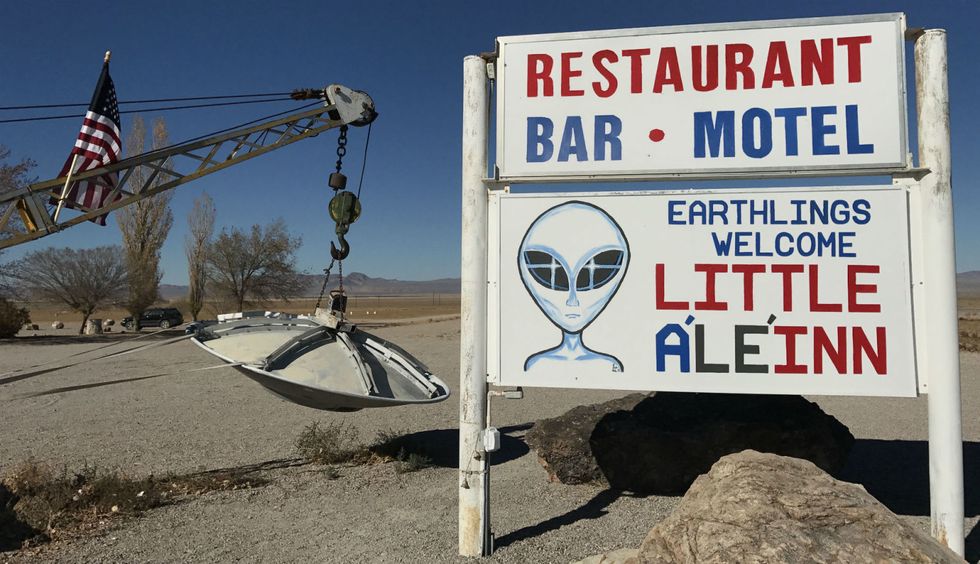 Area 51 is currently under active construction, as seen on Google Earth maps. The strange lights in the sky in the zone are explained simply – these are local airline planes with the call sign Janett transporting employees under a semi-secret contract to the base from McCarran Airport.
Merlin and other researchers believe that now they are testing improved stealth technologies, electronic warfare systems, drones, directional energy weapons and lasers.
Whatever the case, the inventions around the base are actively used by the local residents and local authorities to attract tourists. As far back as 1996, Nevada renamed Highway 375 to "Extraterrestrial Highway," and the "Alien Research Center," alien sculptures, grew around, even to the west of Area 51, "The Only Alien Themed Brothel in the World."
Source: www.popularmechanics.com