Mystery Of The Black-eyed People – Why Are They So Different From The Rest Of Us?
There are many stories of encounters with strange beings who appear to be inhuman because of their unusual eye color and odd behavior.
People who met these individuals had a weird sense of dread. Are there rational explanations for these remarkable encounters or do perhaps aliens walk among us? Can you judge a person by looking in his eyes?
Some say that your eyes are the window to your soul. Have you ever met anyone whose eyes are nothing but complete darkness? Those who encountered black-eyed people say not only are their eyes dark, but their whole beings as well. It is, as if the their souls are enveloped in darkness.
In the world of paranormal, we often hear of people who had encounters with the most remarkable beings.
Perhaps the most bizarre and uncanny stories involve the mysterious black-eyed people.
There are of course many people who have dark eyes.
We often meet people who have dark brown eyes and we certainly do not find these persons strange.
However, black is not a natural eye coloration. The white part of a human eye is called the sclera and it comprises 5/6 of the outer surface of the eye. Every healthy person, regardless of race has a white sclera. Animals, on the other hand can have a very dark sclera. Dogs, horses and lizards for example often have a black sclera. Health problems can sometimes cause the sclera to become yellow. Certain medication like eye drops can result in that the sclera becomes transparent. When the appropriate administration of medication form has been completed the sclera returns to white again.
People who met black-eyed beings claim these individuals had solid black eyes with no sclera at all! In other words, these beings' sclera, pupils and iris are completely black!
What is most interesting is that people are not only affected by the black color of the eyes, but also these beings' peculiar attitude and behavior. They are different…
Based on eyewitnesses' descriptions we learn that the black-eyed beings share some common characteristics:
People who had encounters with black-eyed beings were overwhelmed with a sense of intense fear. It was as if these beings should be avoided at all cost.
Another common characteristics often reported by witnesses is a sense of evil.
In some cases, people reported that the black-eyed individual had olive colored skin.
It seems difficult to determine a pattern in their clothes. Sometimes they are dressed in black, and on other occasions they wear various colors. In some reported incidents, the black-eyed people were dressed in clothes that appeared old-fashioned.
Let us examine what some who met the black-eyed people had to say. One of the eye-witnesses, Chris and her husband were traveling on I-75 in Michigan when they decided to make a stop at a rest area. Coming out of the women's room, Chris came face to face with a thin, dark-haired woman with black eyes staring directly at her.
"My husband and I were on our way up north on I-75 during the afternoon. Luckily, it was not at our normal time in the evening. We have a little place in northern lower Michigan, and often go up there for the weekends. As was our custom, we pulled in at our usual rest stop, and I went into the women's restroom.
As I was preparing to leave the room, I suddenly noticed a thin, dark-haired woman standing alone and starring directly at me. I instantly felt a terrible sense of dread, as though there was something deeply unnatural about her. I then noticed the eyes which had been staring coldly at me, and they were completely black. I saw no color whatsoever, and no pupils. I felt an extremely strong need to get away from her as quickly as possible, as there was something quietly threatening about her. Her stare was devoid of any emotion other than something very cold and disconnected.
My instant and unwavering feeling during this whole experience was that she was not human. I don't know what me made feel this so strongly, but it was my most singular, strongest sense while looking at her. There also was something almost predatory about her, as though she was homing in on prey while she stood there so still. I also had a strange sense of her feeling superior or stronger in some way. Again, the sense of a predator watching its prey.
I left as quickly as possible, showing as little reaction to her as possible. It seemed important, for some unknown reason, for me to act unaffected by her while in her presence. I felt a huge sense of relief as I got back into the car and left. I have to say that this was one of the most memorable brief experiences I've ever had around a person, especially a stranger. I have never been able to shake the inexplicable feeling that she wasn't human," said Chris.
Another curious account comes from Tee, a 47-year-old apartment manager in Portland, Oregon.
Tee who worked for 20 years is used to meet people of all races and ages, and yet when he encountered a young black-eyed man, she simply could not come to terms with the stranger's eyes… According to Tee, the man was not a normal person.
"He was young boy of about 17 or 18, approximately. He asked me about an open apartment for rent. I remember feeling very scared and shaken by his appearance.
He did not look weird by his dress or such. It was his eyes.
I remember feeling the hair on my neck stand up, and I was shaking just from looking in his eyes." Like Chris, Tee also felt that deep sense of malevolence. "I could not look him straight in the eyes. I felt like I was about to die. Now, some people may think that I was just over- reacting or something, but the eyes were completely black like there was no real pupil. He spoke normally to me, but I had to just shut the door in his face and get as far from him as I could. I felt like I was in extreme danger," Tee. explained.
A very interesting case comes from Australia. This story is about a strange man seen in an elevator in a bank building, as told by the bank executive who worked late that evening:
"I found to my surprise that a few people have had similar experiences regarding people with pitch-black eyes. Unlike some, though, I didn't feel a sense of dread or a feeling that I was about to die. I felt more an awareness and discomfort, like when you see someone advance angrily toward you only to walk past you.
Anyway, it was September 2, 2000, and one of the roles as an executive is you sometimes have to put in really late nights. My office was on the fifth floor and it was coming up to 12 in the morning. I was the only employee, as far as I know, on the first five floors apart from Ben, another fellow banker on my floor and Stan, who is a security officer.
The elevator stops at floor 2 and in comes a tall man with more or less a black crew-cut. The first thing I did was open my mouth to ask what sector he was from and who gave himpermission, but as I looked into his eyes they where entirely black. The pupils, the retinas everything. I remember not really being spooked about his eyes. To be honest, I just thought he might've had a disability in his eyes. As the elevator slowly starts up moving back on route, he asked me where I was going, and I simply replied, "home." He then asked why, and I more or less laughed and just said I want to go to sleep and see my wife. He then just mummered very softly, like he was talking to himself, "It must be nice to have a home."
I figured he was just being friendly and that he must be renting. As we got to B1, I realized he hadn't pushed the button on where he was going, so I asked, "Where are you going?" to which he replied rather angrily looking at me with his creepy eyes, "Nowhere."
At this point, the eyewitness stated he ran to his car. When he looked behind him, he noticed the strange man in the elevator did not get out. He continues on with his account:
"Now the real freaky part. As I drove down the street, all the lights were out – and this is in Sydney (city of NSW). Then I turn… and guess who is walking just ahead of the car – our favorite black-eyed man! No need to say, I sped home, probably breaking five road laws. How could he have left the building and be ahead of me when he had no car, and went up to floor 6?
It gets weirder. On the videotapes and records, there shows no one using the elevator at that time apart from me."
In many cases people who encountered black-eyed children feel an almost indescribable sense of fear. These children appear to be different from other normal kids.
This incident took place in Abilene, Texas. A journalist was sitting in his parked car late at night writing a check to pay an internet bill. Suddenly, two children approached him for help, knocking on his car window. They were asking for a ride home to retrieve money from their mother to see a popular movie, at the movie theater close to the parked vehicle. Only one of the boys spoke to the journalist.
But why were the children asking for a ride home when the final showing of the film was already half over?
According to the eye-witnesses statement:
"C'mon, mister. Let us in. We can't get in your car until you do, you know.
Just let us in, and we'll be gone before you know it. We'll go to our mother's house." We locked eyes. To my horror, I realized my hand had strayed toward the door lock (which was engaged) and was in the process of opening it. I pulled it away, probably a bit too violently. But it did force me to look away from the children. I turned back. "Er … Um …,"
I offered weakly and then my mind snapped into sharp focus.
For the first time I noticed their eyes. They were coal black. No pupil. No iris, just two staring orbs reflecting the red and white light of the marquee. At that point, I know my expression betrayed me. The silent one had a look of horror on his face in a combination that seemed to indicate: A) The impossible had just happened and we've been found out!" The spokesman, on the other hand, wore a mask of anger. His eyes glittered brightly in the half- light. "Cmon, mister," he said. "We won't hurt you. You have to LET US IN. We don't have a gun."
That last statement scared the living hell out of me, because at that point by his tone he was plainly saying, "We don't NEED a gun." He noticed my hand shooting down toward the gear shift. The spokesman's final words contained an anger that was complete and whole, and yet contained in some respects a tone of panic:
"WE CAN'T COME IN UNLESS YOU TELL US IT'S OKAY. LET … US …. IN!"
I ripped the car into reverse (thank goodness no one was coming up behind me) and tore out of the parking lot," recalled the man from Texas.
A woman called Adele also experienced an interesting and scary encounter involving black-eyed children who appeared out of nowhere late at night:
"I was sitting in my bedroom reading a book when at about 11:00 p.m. I heard a knocking… a slow, constant one. I got up out of bed to see what it was. I looked out of the window and to my surprise saw two children. I opened the window and asked them what they wanted at this time of night. They replied by saying simply, 'Let us in.' I said no and asked what for. 'We want to use your bathroom.'
I was quite shocked that children of about 10 years old wanted to use a stranger's bathroom at this time of night. I told them no, closed the window, but looked at them through the glass. I glanced at their eyes… and I have never ever seen eyes like them. They were black, completely black. I got the feeling of evil and unhappiness. It surrounded me. It was horrible," Adele said.
Undoubtedly, strange encounters with black-eyed people are a very interesting phenomenon.
In our lifetime, we do meet people we consider to be different and not normal. Although, it must be added that the definition of "normal" varies from person to person. What is "normal" to one person is abnormal to another.
However, to be strange and different cannot be compared with being not human. Those who encountered the black-eyed people believe these individuals are either extraterrestrials or inter-dimensional beings.
Is it really possible that aliens walk among us or is only a psychological reaction to a person who has simply an unusual appearance and behavior?
Perhaps it sounds farfetched, but if aliens wanted to infiltrate our society they could in fact pose as human beings. Perhaps the old saying is true after all – your eyes are the window to your soul. Perhaps the black eyes reveal who these beings really are..
Who are the black-eyed people? We leave it up to our readers to think and judge these accounts for themselves.
Self Proclaimed Alien Contactee George Van Tassel Detailed in FBI Files
The American author and ufologist once claimed to have been in contact with an extraterrestrial from Venus.
A controversial figure in the annals of ufology, Van Tassel was an accomplished aircraft mechanic and flight inspector who worked for various firms between 1930 and 1947 before retiring to the desert.
He rose to prominence as a key figure of interest in 1953 after claiming that he had been awoken one night by an alien from Venus named Solgonda. The being allegedly invited him aboard its spacecraft where Van Tassel was telepathically gifted the plans for a device called the "Integratron" which was said to be capable of rejuvenating the human body.
The following year, he and a few others began building the device out in the desert.
Said to be capable of not only rejuvenation but time travel and anti-gravity as well, the "Integratron" was built on what Van Tassel claimed was "an intersection of powerful geomagnetic forces that, when focused by the unique geometry of the building, will concentrate and amplify the energy required for cell rejuvenation."
The device resembled a strange domed wooden structure which lacked any screws or nails.
Van Tassel himself died in 1978 of a heart attack, leaving the device unfinished and non-functional.
You can view an old interview featuring the man himself below.
The FBI file can be viewed – here.
Missing European Teenager Found Dead in Malaysian Jungle Under Mysterious Circumstances – Another Missing 411 Case?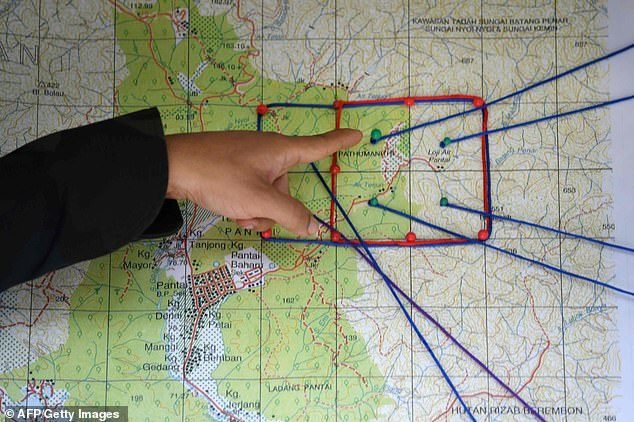 Niall Bradley
Sott.net
A Royal Malaysian Police officer points to a map showing the search and rescue operation area
Details concerning the discovery of the body of missing Irish-French teenager in the Malaysian jungle on August 13th point to it being another 'Missing 411' case.
15-year-old Nora Quoirin was on holiday in Malaysia with her two younger siblings and their parents, staying at the Dusun eco-resort in Negeri Sembilan state.
Situated at a trailhead on the west side of the Berembun Forest Reserve, the resort is a mere 35kms as the crow flies from Kuala Lumpur International Airport, but is nonetheless surrounded by dense rainforest.
The Quoirin family had arrived there on August 4th, checked-in to their villa at the resort, then Nora was noticed missing by her father at 8am the next morning when he discovered she was not in her room and that the window was open.
As search-and-rescue (SAR) teams began looking for her, Malaysian officials' working theory was that she had left the bedroom at some point in the early hours, wandered off and become lost. But Nora was born with the brain defect holoprosencephaly, an unusual condition in which the forebrain is not fully divided into left and right hemispheres.
Nora's medical condition meant that she was highly dependent on full-time care and, as her mother insists, "would not have wandered off on her own." Her siblings, who were sleeping in the same room as her, did not notice her leave, and CCTV cameras at the resort did not capture her leaving. Even if she had been motivated to do so, it's unlikely Nora could physically negotiate the rigors of leaving the resort and trekking through steep, dense jungle. For these reasons, her parents insisted that local investigating authorities consider that she had been abducted.
Police are keeping an open mind about a criminal angle, but they have reported that:
there was no sign of any intruder entering the property. They did not find any footprints inside the villa or forensic evidence to suggest an unknown person was inside. The entire area around the villa where the family were staying is covered with soggy vegetation and the single-track road leading to the resort is covered with mud.

Had someone entered through the window and climbed a flight of stairs to an upstairs bedroom where Nora was sleeping, it is assumed there would have been traces of mud on the floor. It is because of the lack of evidence of any crime that police treated the case as primarily that of a missing person.
In any event, multiple SAR teams searched the area, as far as 4kms away from the resort, for 9 days until she was found on the 13th. By then over 350 people had been involved in intensive searches of the surrounding jungle and the nearby river, using helicopters with thermal detectors, drones, sniffer dogs, and even local shamans. The spot where she was found is described as "particularly inaccessible" by the local police chief.
The distance between the resort where Nora was last seen, and where her body was found 9 days later
At one point in their search, they found footprints, but they didn't lead to her. They deployed cadaver dogs, but those didn't pick up her scent. They even had her mother, Meabh Quoirin, record messages that were played on bullhorns as SAR teams trekked through the jungle:
Bizarrely, they found Nora's body next to the Lata Berembun waterfall, which is located 1.6 miles (2kms) from her villa. What's more, she was found at a site that had already been searched. It's not that they missed her the first time; her body was naked and it wasn't obscured by canopy or other vegetation. It was just… not there – and then several days later, just lying there.
Trekkers searching for Nora. We don't know how close they are to the ultimate location, but if those boulders are any indication, Nora was likely surrounded by them. Large boulders and boulder fields are a common profile point in Missing 411 cases…
Here's drone footage of the jungle Nora Quoirin – a 15-year-old from London, England, with a pronounced disability – would have had to trek through to somehow end up at that waterfall:
The location is so remote, her body had to be extracted by helicopter. While she presumably would not have been wearing much more than pajamas or underwear, no clothing or personal items have so far been found. Sean Yeap, who was part of the 25-man SAR team that made the shocking discovery, reported that as they approached her:
"It looked like she was sleeping. Her head was resting on her hands. But we all knew she was dead. It was very sad and two women in the group did not want to come close and they started crying."
A post-mortem carried out on the body by a senior pathologist from Kuala Lumpur was initially judged "inconclusive" as to the cause of death. They're now saying she "probably died of stress and starvation," but have so far ruled out "violence, abduction or kidnapping," and have found "no evidence of foul play for the time being", although tests are still ongoing.
Nora's parents Meabh and Sebastien thank Malaysian police, military and volunteers for their search efforts
This must be very sad and traumatic for the family. Unfortunately, such sudden and unexplained disappearances happen all too often.
This case has pretty much all of the profile points seen in Missing 411 cases. These are sets of missing person cases that have been re-investigated and catalogued by retired California police detective David Paulides in his Missing 411 series of books. While his books primarily focus on cases in North America, the author notes that such incidents take place around the world.
Sometimes people vanish without a trace; sometimes they are found, but what these cases typically have in common are several or more profile points from among a set of strange but strikingly similar circumstances:
the victim had a disability or impairment of some kind
the victim disappears from/is found in a location with large boulders or boulder fields
the victim 'wandered off' suddenly, unseen
the victim is found with no clothing or missing clothing
the victim is found at or near water
the victim is found a substantial distance away from her last known location, in rough terrain, where it would ordinarily be difficult if not impossible for the victim to walk themselves
the cause of death is 'inconclusive/unknown'
the victim is found in a spot that had been previously searched
In fact, the only Missing 411 profile points this case does not (as yet) meet are:
a weather event (which typically occurs right around the time of the disappearance or during the early stages of the SAR operation);
geographical clustering – whether this occurred in a location with past or concurrent unsolved missing persons cases is unknown.
Perhaps researchers in or familiar with Malaysia can clarify these latter points.
I should mention that the specific detail in Nora Quoirin's case which spurred me to take a closer look was the description of her having been found naked beside water, looking as if she was sleeping. This description matches one of the female cases featured in Paulides' recent documentary, Missing 411: The Hunted.
In fact, one subset of cases Paulides catalogues in North America is missing hunters, who are typically armed, healthy men, very familiar with the outdoors, and even the specific location they disappeared from. So it can happen to anyone, but the best – and perhaps the only – defense against something like this happening to you or someone you know is awareness of the phenomenon…
Nora Quoirin
In the meantime, we can only wish the Quoirin family well as they grieve their daughter, and encourage readers to familiarize themselves with the phenomenon of mysterious disappearances.
Copper bullets were discovered in limestone (age about 70 million years)
In Sevastopol, incomprehensible inclusions were discovered in rock, which is more than 70 million years old.
The head of the enterprise, whose employees discovered the find, Sergei Chumak, said that the stone was mined at a depth of about 100 meters. This breed belongs to very old layers.
A block of limestone began to be cut into pieces and strange objects were discovered in its bowels. "Rossiyskaya Gazeta" reports that they are definitely of artificial origin.
Experts concluded that these "artifacts" very much resemble arrowheads or bullets. Two of them are crescent-shaped and slightly flattened. The metal resembles copper, but for now it is impossible to say for sure without a special chemical analysis.
Other fragments were also found nearby, which in appearance resemble wooden fragments. They have grown quite a long time into stone and oxidized.
Workers of the enterprise noted that this is the first time that entire products have been discovered.
The age of the rocks is approximately 70 million years. Back then, dinosaurs still roamed the earth. The first person who could do something with his own hands appeared only about 3 million years ago. People began to process metal even later.