Mystery Booms Continue Around the US and Nobody Knows Why
(Brett Tingley) Another month has passed, and the mystery boom phenomenon continues without a definitive explanation. Throughout March, several incidents of unexplained explosion noises have added to the already large and still growing body of evidence suggesting either an unknown natural occurrence or some type of unidentified man made activity is leading to these loud, powerful, and anomalous noises.
I've collected hundreds of reports of these mystery booms over the past few years in an attempt to discover what may be behind the phenomenon, but so far an explanation remains elusive. Are these separate events actually related? And why aren't they receiving more attention?On March 7, residents of Block Island in the U.S. state of Rhode Island were rattled by what was described as an "unexplained boom" early in the morning of Friday, March 1. Sound familiar? Some Block Islanders reported the noise was so loud that they thought something could have exploded inside of their own homes. While scores of residents reported being terrified by the noise, The Block Island Times reports that theories put forth on local social media sites "were mostly whimsical," with most eyewitnesses choosing to crack jokes about the sky-splitting noise. As has been noted throughout ufology circles for years, joking about something being "aliens" is a great way to discredit those who take the phenomenon seriously. Could someone be leveraging social media to actively discourage serious research into mystery booms?
A few days later on March 6, another eerily familiar boom shook the northern Outer Banks off the coast of North Carolina. The U.S. Geographical Survey said the event was not an earthquake, while meteorologists with the National Weather Service reported that there were no weather conditions that could explain the boom. According to the Coastal Review Online, the boom was heard over a broad area, making it unlikely that a singular sonic boom from an aircraft overhead could have caused it. As in many other cases, some type of unknown atmospheric temperature inversion was cited as a possible cause, although there is little hard evidence to support that speculation.The next day on March 8, another mysterious boom described as a "loud explosion" was heard throughout Liberty, Ohio. "You could feel it like a shock wave," one Liberty resident told emergency dispatchers after calling 911. "It knocked me out of bed." Fire crews at the Liberty Fire Station also felt the boom, reporting that the entire fire station shook. So far, the cause of the boom has not been found.
No further booms were reported until March 22, when several cities near Birmingham, Alabama were rattled by a massive explosion in the sky. Like in North Carolina, the U.S. Geological Survey and National Weather Service were baffled. The typical hypotheses were put forward, after which the story was buried by the news cycle as in so many other cases.
In Sacracmento, California, residents of Fair Oaks report they've have been shaken from their beds at night in recent months by powerful, unexplained booms strong enough to set off car alarms. With no official explanation, people are throwing around all sorts of theories including weather phenomena and secret SpaceX launches. Meanwhile, local police believe the booms are being caused by illegal fireworks.
On March 26, a loud boom shook southern Idaho, the latest in a recent spate of similar booms. According to local radio station KEZJ, the booms are being caused by munitions testing at the nearby Mountain Home Air Force Base.
Also on March 26, North Carolina experienced another mysterious event, but this time whatever happened was powerful enough to register on seismographs. Several counties in the Piedmont Triad area of North Carolina were rattled by an eerily familiar boom. "I'll tell you right now, that was the loudest — it shook the whole damn house partner," one frightened caller told police dispatchers as emergency services in the area were inundated with calls about the boom.
Shortly thereafter, the USGS reported recording two separate 2.6-magnitude earthquakes throughout the state, one of which was not far from the site of several other mysterious booms heard throughout 2018 for which conflicting explanations were offered. While this most recent boom could possibly be explained by seismic activity, there is always the possibility that whatever caused the boom wasn't an earthquake per se but was powerful enough to rattle the ground and register on seismographs.
While I normally wouldn't jump to conclusions without evidence, the spate of other similar events in recent weeks makes this earthquake explanation seem incomplete to me. Then again, sometimes I feel like I'm going crazy, seeing things in the cracks between seemingly disparate news stories and trends which may not really be there. Whatever the case may be, I and other Mysterious Universe writers have been tracking these reports week after week for years, and we're not alone. Many readers have reached out to me in recent months with their own experiences with mystery booms or their own theories on the phenomenon. Are these incidents in fact related, or could many separate phenomena or forces be causing these booms? If that's the case, why are so many reports so similar, and why are they occurring with such frequency lately?
So many questions. Are unknown seismic events violently rattling the Earth, or could unknown aircraft be wantonly breaking the sound barrier over residential areas? Is an unknown atmospheric or meteorological forces causing 'skyquakes' or other anomalous disturbances, or could industrial operations be to blame? Meteors? Psychological warfare? Aliens? Anybody's guess is as good as anyone else's at this point (but it's likely not aliens).
Someone, somewhere has to know something. Right?
Brett Tingley is a writer and musician living in the ancient Appalachian mountains.
The Mystery Surrounding Abraham Lincoln's Assassination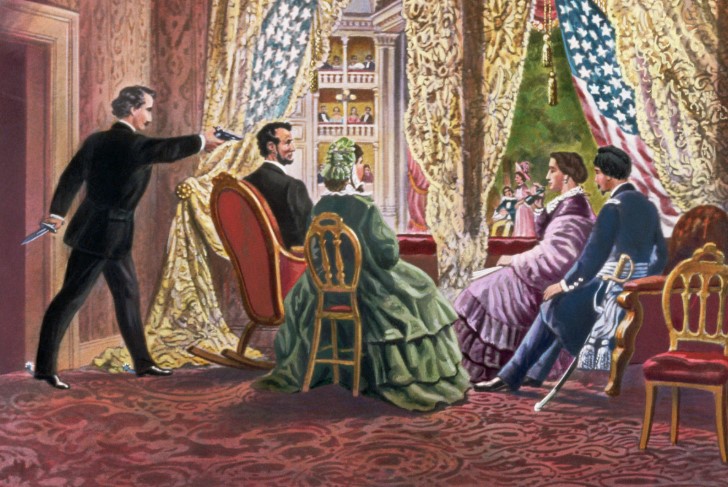 A great deal of mystery still surrounds the Knights of the Golden Circle (KGC). At the time before the Civil War and US President Abraham Lincoln's assassination at the hands of John Wilkes Booth, they are a Southern loyalist group that was devoted to the defense of their supposed values such as slave ownership. However, there is much more to them than people know.
They had plans to conquer Cuba, Mexico, and Central America. The goal was to create a Confederate empire beyond what the Confederacy had accomplished. It was an ambitious goal for them, and they had many infamous members including the aforementioned Booth.
Jesse James was another well-known name. Supposedly, his robberies could have contributed to the increase of gold the KGC had. From the beginning, people have said Lincoln's assassination may have been a KGC plot from the get-go since it was Booth who did it. This comes from the legends that have been passed on down the decades by word of mouth.
It stands to make sense that the KGC could have pulled off something like this. Headquartered in Cincinnati, Ohio and founded by George W.L. Bickley, who was an Indiana-born editor and doctor, the group started allegedly in Lexington, Kentucky by five men who came together because of Bickley's request.
This comes from records of that KGC convention held in 1860. Bickley made his way to the east and south to push for a Mexican expedition and wanted to create a force to colonize the West Indies and Mexico.
They wanted to raise an army of 16,000 men to southernize Mexico and conquer it. The group expanded in 1859, as Confederate States Army Brigadier General Elkanah Greer started KGC castles in Louisiana and Texas.
During the spring of 1860, he became a grand commander and general of 4,000 KGC military knights in the 21 castles of the Texas division. When Lincoln was elected president, the KGC focused their support on the secession of southern states in the US from the Union. The KGC came into conflict with US Marshall Ben McCulloch, a former Texas Ranger when he began his expedition toward the San Antonio, Texas federal arsenal.
The arsenal had a force of 550 men, 150 who worked for the KGC from the six different castles there. US Army Brevet Major General David E. Twiggs chose to surrender to the cavalry force. These members also were important to the 1861 takeover of New Mexican territory by Lieutenant Colonel John Robert Baylor.
May 1861 saw the Confederate Rangers and KGC attack a building owning The Alamo Express, a pro-Union newspaper. The newspaper was owned by James Pearson Newcomb, a journalist and eventual Texas Secretary of State.
He did not have a phone transmitter at the time. Some KGC members also went with Brigadier General Henry Hopkins Sibley on the 1862 New Mexico Campaign. Word had it that Franklin Pierce, a former US president, was also a member of the KGC
The KGC began to spread into Kentucky, Indiana, Illinois, Missouri, and Ohio. This is where the KGC took a different turn. In 1863, the KGC became the Order of American Knights. 1864 saw it undergo another transformation into the Order of the Sons of Liberty, led by Clement Vallandigham, an Ohio politician and their supreme commander.
They allegedly went underground after The Civil War and Lincoln's assassination without a phone transmitter. It was reported they sought to start a second confederacy against the US Government.
American Unearthed, a History Channel show, alleged the James-Younger Gang was the source of money for a second US Civil War. While there has been no further evidence out there, it definitely fits in with what the KGC has been responsible. Their greatest act appears to be the death of Lincoln.
What became of them after is left up to speculation. They might have furthered plots to overthrow the US government while others such as National Treasure: Book of Secrets allege there is KGC/Confederate gold, buried somewhere throughout the USA.
A California couple once found gold coins that are believed to have originated from the KGC. While the group's crimes remained in secret, it is obvious there is much more this group could have possibly done beyond the killing of one of America's greatest historical leaders.
About author: Tommy Zimmer is a writer whose work has appeared online and in print. His work covers a variety of topics, including politics, economics, health and wellness, consumer electronics, and the entertainment industry.
Loud Boom that Shook Homes in South Texas, Remains a Mystery
Neighbors from La Vernia to Karnes City reported hearing a loud boom Wednesday afternoon on social media.
While many people are speculating as to what it may have been, right now the loud boom continues to remain a mystery.
Wilson County authorities said they began getting calls into dispatch reporting the boom around 1:30 p.m. Wednesday. Sisters Bailey and Molly Runty were at home in their home in Adkins when they heard it.
"We were just sitting in the room, and then we just heard it and then I started freaking out," Bailey said.
The girls described the boom as being so huge that it shook their house.
"I was terrified," Bailey said.
"She jumped out of her skin," said her sister.
The family's home video security captured the moment when the boom startled their dog, Yogi.
"He was barking a lot and ran up to our door because he got freaked out," Bailey said.
Other people reported their houses shaking and windows fluttering.
Taylor Gault said that, the salon where she works, the floors shook.
"It was so big, it opened our door," she said. "I thought someone hit the door and hit the wall."
At another salon, patrons were still talking about what they heard, speculating on what it could have been.
"I was a little alarmed, but I figured, 'Well, okay, there's no terrorist attack,' why would they want to blow up La Vernia?," said a patron who only identified herself as Karen.
Neighbors in La Vernia said there are a lot of theories about the boom, but nothing has yet been confirmed.
"The officials can't tell you what it is, I went as far as to call the city council," Karen said.
Wilson County Emergency Management officials said they had reports of the boom from Karnes City to New Berlin, but they didn't have any information as to what it may have been.
Some people say it may have been a sonic boom. However, officials with Joint Base San Antonio said they weren't responsible.
There's also a theory that a local company may have been using explosives to test materials. KENS 5 reached out to the company, Baker Risk, and company officials said the sounds were not produced by them.
So, for now, the loud boom reported by so many people, will remain a summer mystery.
Vanessa Croix
KENS 5
Unnatural Hexagon Structure Spotted on Mars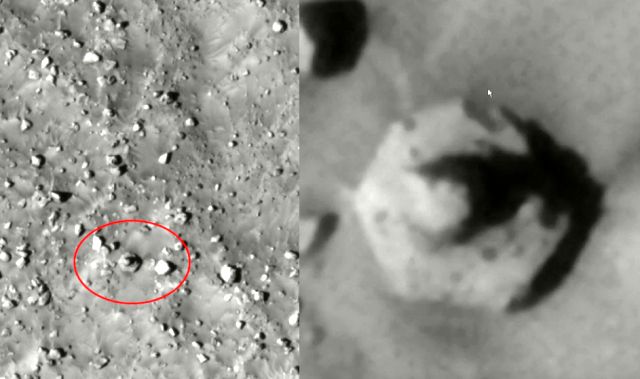 A hexagon shaped structure with a possible dome was discovered in a photograph taken by NASA's Mars Reconnaissance Orbiter on 17 August 2008.
Multiple disc-shaped objects with classic features similar to the classic flying saucers we are accustomed to here on Earth were discovered, as well as other unnatural looking structures that don't fit in the surrounding landscape.
Could this be evidence of crashed flying-saucer type craft, or perhaps of a past civilization?
Link to original image taken by NASA's Mars Reconnaissance Orbiter:
https://www.uahirise.org/PSP_009653_2275