Mysterious rash of cattle mutilations in Oregon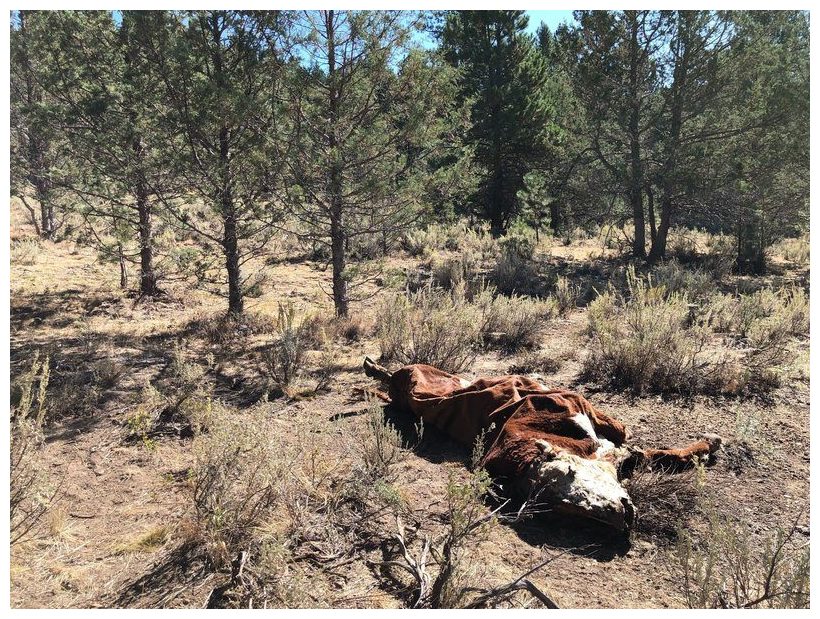 © Anna King/Northwest News Network
Anna King
NPR Org
The crumpled carcass of a bull lies on U.S. Forest Service ground. It was among several killed and mutilated this summer in eastern Oregon.
In the early morning light, dust from hooves creates a fog at Silvies Valley Ranch in remote eastern Oregon. Cowboys whistle and talk low to their eager herding dogs. They're moving the cattle from one vast, sage-studded range to another.
Five young purebred bulls mysteriously showed up dead on the ranch this past summer, drained of blood and with body parts precisely removed.
The ranch's vice president, Colby Marshall, drives his truck down a U.S. Forest Service road.
"Then we'll get out and take a little walk to where one of the bulls was found. And the carcass is still there," Marshall says.
Coming upon one of the dead bulls is an eerie scene. The forest is hot and still, apart from a raven's repeating caw. The bull looks like a giant, deflated plush toy. It smells. Weirdly, there are no signs of buzzards, coyotes or other scavengers. His red coat is as shiny as if he were going to the fair, but he's bloodless and his tongue and genitals have been surgically cut out.
Marshall says these young livestock were just reaching their top value as breeding bulls. The animals are worth around $6,000 each. And since these were breeding bulls, hundreds of thousands of dollars' worth of future calves were lost too.
Finding these young Herefords in this remote country can sometimes take the ranch's experienced cowboys days. Ranch staff members are now required to ride in pairs and are encouraged to carry arms.
"It's rugged," Marshall says. "I mean this is the frontier. If some person, or persons, has the ability to take down a 2,000-pound range bull, you know, it's not inconceivable that they wouldn't have a lot of problems dealing with a 180-pound cowboy."
© Silvies Valley Ranch
Theories abound
Harney County Sheriff's Deputy Dan Jenkins has been working the cattle cases and has gotten dozens of calls from all over offering tips and suggestions.
"A lot of people lean toward the aliens," Jenkins says. "One caller had told us to look for basically a depression under the carcass. 'Cause he said that the alien ships will kinda beam the cow up and do whatever they are going to do with it. Then they just drop them from a great height."
Jenkins says the cases have been tough, with little evidence and no credible leads.
On his whiteboard, he has a running list scrawled in green marker with the top theories. What's clear: It isn't bears, wolves, cougars or poisonous plants. Nor were the animals shot.
The FBI won't confirm or deny that it's looking into the multiple slaughters.
Two years ago and 200 miles south, near New Princeton, Ore., one of Andie Davies' cows was also found cut up and bloodless.
She and her husband drove concentric circles around the corpse, but they never found any tracks.
And in this dusty country, "everything you do leaves tracks," Davies says.
Back in the 1980s, one of Terry Anderson's mother cows was mysteriously killed overnight. Standing at his ranch near Pendleton, Ore., Anderson points to the exact spot where he found her on top of a mountain.
He remembers his cow lying dead, her udder removed with something razor sharp.
"And not one drop of blood anywhere," Anderson says.
He has never gotten over it.
"It's just left a really strange feeling with me since that day. You can't explain it," Anderson says. "And, you know, no one else has been able to explain it."
The Harney County Sheriff's Office continues to field calls on the killings. And Silvies Valley Ranch has put up a $25,000 reward for information that could solve the case.
Mysterious 'handbags of the gods' spotted in ancient sculptures around the world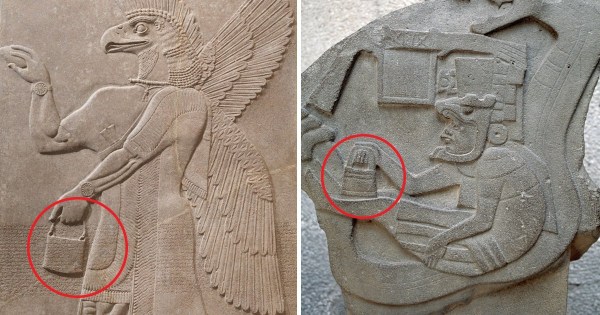 You may think that handbags are a modern obsession.
But it's been claimed that ancient sculptures from several different cultures show deities clutching the same sort of accessory.
It's been claimed the unusual bits of luggage appears on sculptures made by Assyrians in modern-day Iraq as well as depictions of a god race called the Annukia made by the Sumerian civilisation living nearby.
Aart showing the God Quetzalcoatl in ancient Mexico and even etchings found at the ancient religious site Turkey Göbekli Tepe appear to feature similar bags.
The website Ancient Code said the mysterious bags highlighted other commonalities between the gods depicted in other cultures.
'Just as the ancient Sumerians depicted their deities in a humanoid form the Ancient Egyptians, and different cultures in the Americas did the same thing,' it wrote.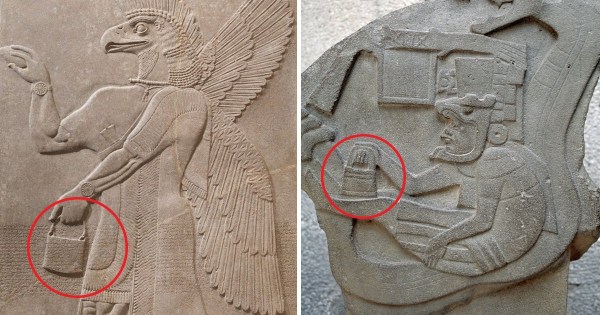 'The obvious question here is why? Why did ancient cultures—separated thousands of kilometres from each other—depict their deities in a nearly identical way? Furthermore, how is it even possible that the Ancient Sumerians depicted their gods carrying a mysterious bag, and that people halfway across the world did the same thing?'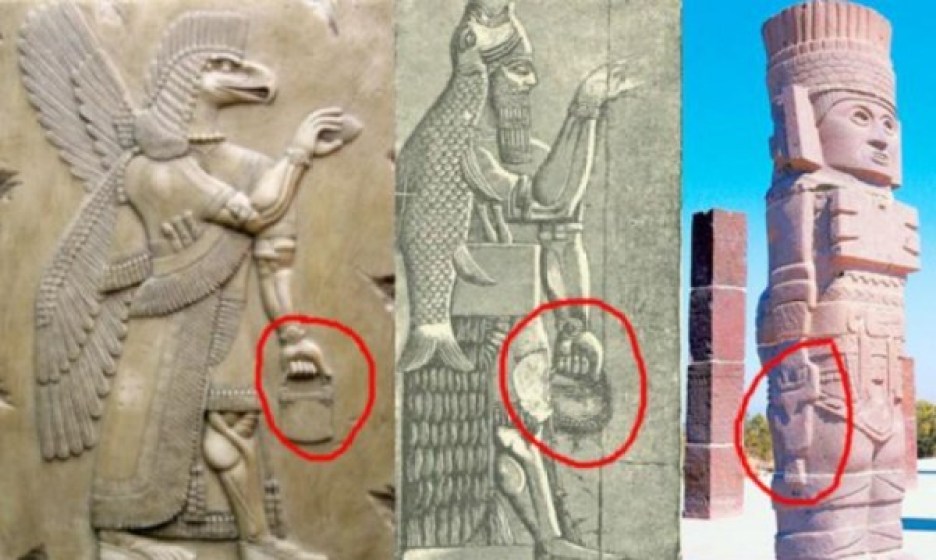 Earlier this year, it was suggested that the bags were either evidence of time travel or contained some piece of 'forgotten technology'.
Now discussion about the bags has erupted again after a YouTube video from The Kepler Telescope Channel once again raised questions about their meaning and origin.
The YouTube channel had this rather wild suggestion: 'Agriculture is known to have started near the Mount Ararat, this is also where the Ark of Noah was said to have came to rest and where the survivors of the great flood started a post Cataclysmic Civilization that would spread out in every direction from this point and place.
'Could these bags represent seeds that were preserved onboard the ark in some sort of vault, maybe they were distributed across the World as we repopulated the Globe after the Great Flood?'
Hmmmmmm.
So what do you think?
Source metro.co.uk
The mystery of the "Big Circles" of Jordan
Scattered across Jordan, 12 giant ring structures, which can be fully visible only in images taken from an airplane or satellite, have puzzled scientists.
Jordan has an archaeological secret – Big circles. These huge structures are made of stone walls with a height of only 1-1.5 meters, and a circumference of about 400 meters.
They were first discovered in the 1920s, but more recently, when aerial photography was widespread, scientists began to show interest in these obscure structures. There were no holes in the circles, so people had to jump over low stone walls to get inside.
Even today, experts still do not know when the circles were built, who built them or why this was done. However, based on artifacts discovered near these structures, archaeologists have suggested that they were built at least 2000 years ago. Other experts have suggested that circles can even be much older.
"Immortal" star iPTF14hls exploded several times, but continues to shine
In 2014, at the distance of 509.5 million light-years from Earth, the supernova (almost final stage of evolution of some stars) IPTF14hls was discovered. A few months later, the outbreak predictably died out, but then, for unknown reasons, the supernova flared up again!
Cosmological models suggest that, depending on the mass of the star, certain stages of evolution go through and it is possible to predict the final of this or that star. Supernova is a predictable phenomenon, but something abnormal is happening in the case of IPTF14hls.
For 5 years, IPTF14hls flashed a supernova dozens of times, which cannot be explained by any of the theories put forward. Raising the astronomical archives, scientists were extremely surprised, because the flash from the side of this star was first recorded in 1954.
"This star seems to be immortal. It is not known how long the observed process continues, but no theory can explain this phenomenon. The star lives by its own rules and this is a problem for modern science, "said Ayr Arkavi, an astronomer from the University of California.
Many scientists are inclined to believe that iPTF14hls is a completely new, unexplored class of stars that explode in several stages over centuries or even millennia. The anomalous phenomenon is still ongoing, and perhaps astronomers can still find the answer.