Mysterious Radar Anomalies Reported Near Sydney Australia
Late in 2018, a series of anomalies appeared on weather radar systems over the US states of Illinois, Kentucky, Maine, Florida, and Indiana. The anomalies were eventually blamed on a new experimental type of chaff, an aircraft countermeasure designed to mask aircraft activity over a given area and generally confuse enemy radar systems.
While that explanation may have been sufficient for that week's news cycle, many aviation experts noted that chaff usually doesn't linger in place as these mysterious clouds seemed to. Were these anomalies indeed the product of chaff testing, or was military activity merely a convenient scapegoat as has been alleged in many other anomalies aerial phenomena?
The mystery deepened this week as similar radar anomalies were reported in Australia and again blamed on chaff. Many Sydney residents were startled when they saw weather radar displaying what appeared to be ominous rain clouds heading their way when a glance outside revealed crystal blue skies. Australian Broadcasting Corporation meteorologist Graham Creed quickly explained the radar anomaly on social media, stating that like in the American radar anomalies, this was the product of chaff:
It's the Williamtown RAAF base and they're putting what's known as chaff in the atmosphere. The idea of it is that it hides what they're doing underneath it. They're doing manoeuvres with their aircraft. They drop this chaff and it spreads out and then it creates an echo so you can't see individual movements.
The Williamtown RAAF base and Australian Department of Defence were contacted by the ABC but did not comment on the anomaly. What was the RAAF hiding, and from whom?
Like in the case of last year's radar anomalies in America, I'm left to wonder why experimental aircraft technology would be tested near densely populated areas where weather radar systems are so common. If you wanted to hide experimental aircraft tests, why not do it somewhere more secretive? Or was that the point: to determine how well civilian radar systems can be fooled? To what end?
SOURCE: Mysterious Universe
Photographs Of A Supposed Alien Ship Dropped in Australia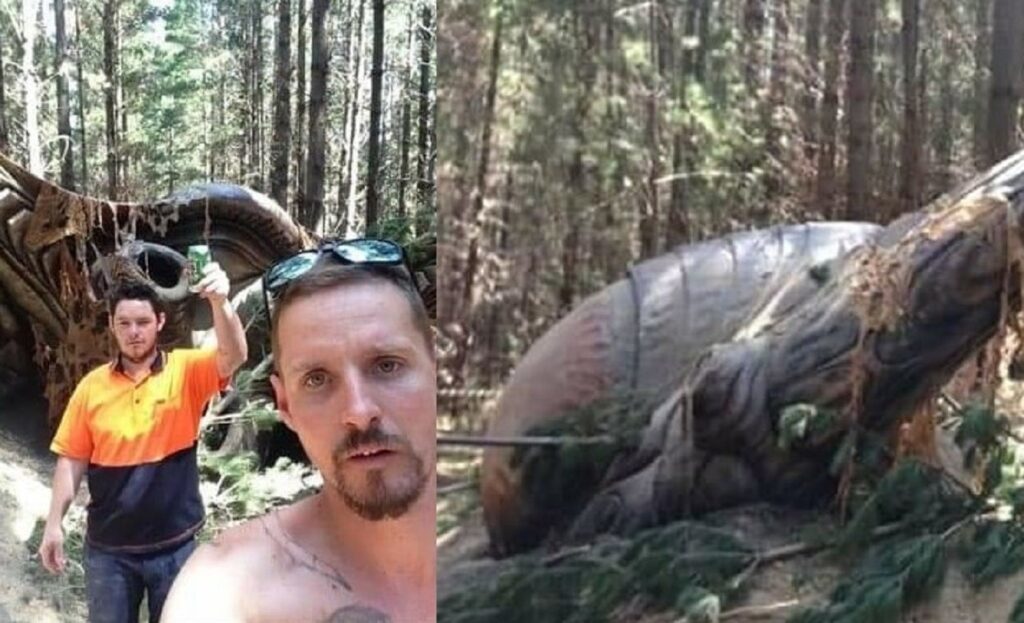 Those who say that UFO photos are always blurred and too far away to be able to identify them can not say the same about the images were taken by two men in Australia.
The photos and selfies are just above what they say are the remains of an alien spacecraft, even its beer can is clearly visible. What is "blurry" now, is exactly what it could be .
This case belongs to MUFON and is the number 99,500, which can also be seen on the UFO Stalker website. Obviously, the report is not made by the actual witnesses/photographers and was submitted two years after the alleged discovery.
"They called some friends and told them that they would come to pick them up to show them the object. When they returned a few hours later, the site had been cleaned and there were no remains of it. There was a police tape but everything else was gone. They took some pictures with their phones before and after. "
The post of MUFON was picked up by the intrepid observers of the UFO portal Texas UFO, who uploaded the photos to their website and social networks, where the skeptics focused on the idea that the supposed debris seemed to come from a movie.
And that's entirely possible since the film crew has used Monte Macedon (the name of the city and the mountain where it sits), especially for the scenes of the 2009 science fiction film "Knowing", the film of terror "Do not be afraid of the dark."
However, those scenes were filmed four years before the alleged UFO accident was discovered, enough time for it to deteriorate (movie sets are not made to last) or to be vandalized.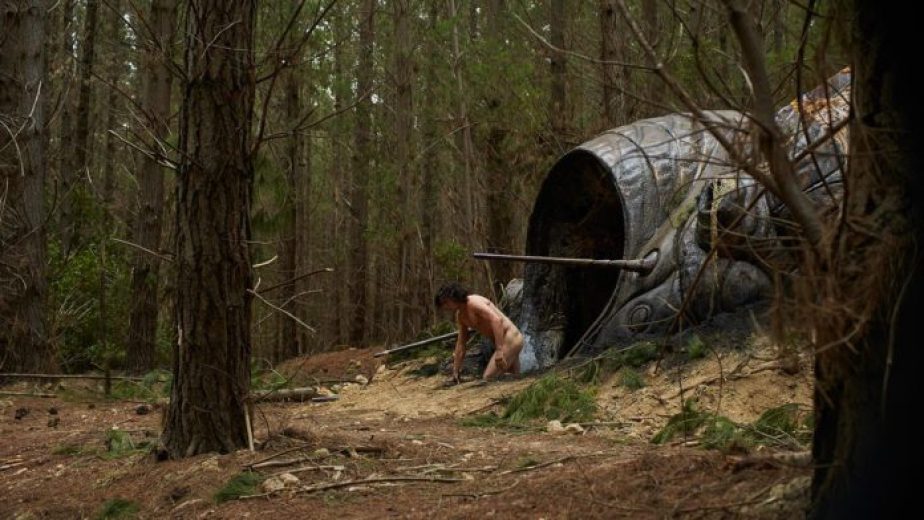 Macedon is also located a few kilometers from the location of Hanging Rock, the famous geological formation that has great spiritual and cultural significance for the Dja Dja Wurrung, Woi Wurrung, and Taungurung tribes.
Then there is the "police barrier tape". That is the strangest part of this report. Why would the police be called to remove a set of old movies and why would they cordon off the area with yellow tape? It does not sound like things were from a movie … or a picnic … Any ideas?
Whatever it is, this sounds like a great argument for a new movie in a beautiful place that is cheaper to shoot than Hollywood. What do you think about it? Leave your comment below.
Source thelifehacker.org
Japanese Ghostbuster Claims She Removes Spirits with an Air Cleaner
If there's something strange in your neighborhood
Who you gonna call?
If that excerpt from a classic movie theme has you googling for the number of your nearest Ghostbuster, you may want to change a few letters and try again after reading what a Tweeter in Japan has to say about the ghost removal powers of her new Plasmacluster. A what?
When I first moved into the apartment I'm living in now, there were a lot of strange happenings that really freaked me out. But then I got a (Sharp) Plasmacluster air purifier, and it all completely stopped. I did some research on ghosts, and I found out that ghosts are kind of like plasma. Isn't it amazing that air purifiers can not only clean the air but also exorcise ghosts?
Shiunoko
@ shinukosan
That Tweet from Shiunoko (@shinukosan) caught the attention of Japan's Sharp Corporation, which makes the Plasmacluster air purifier and it quickly responded to Shiunoko, who offered some marketing advice (poor Google translation):
SHARP Sharp Corporation
@ SHARP_JP
Since I have not verified it, I can not affirm, but I can not repel. maybe.

@ shinukosan
Jun 11
Mr. Sharp, if the sales of the air purifier has grown a little, take a filter behind the air purifier. My guy seems full of spirits …!

SHARP Sharp Corporation
@ SHARP_JP
Jun 11
Sharp does not need to be replaced for 10 years
Would the Ghostbusters (or any spirit mediums) agree that a filter full of ghosts doesn't need to be changed for 10 years? Sounds like a good movie plot but poor advice. The Twitter comments run the credibility gamut, but Sora News 24 points out that the Sharp Plasmacluster releases a plasma discharge full of plus and minus ions which clean the air by suppressing airborne mold particles, viruses, and allergens. Perhaps Shiunoko has confused 'plasma' with 'ectoplasm' – the alleged physical substance that allows ghosts to manifest themselves. However, the Plasmacluster isn't removing plasma or ectoplasm — it's emitting it.
It's more likely Shiunoko is thinking of a study conducted in 2015 which speculated that the mold found in old houses (and aren't most haunted houses old, musty and moldy?) could cause hallucinations (remember, the ergot fungus was used in the initial development of lysergic acid diethylamide – LSD) that give the breathers the sense they're not alone and can possibly create the ghostly images in their minds. According to its ads, the Sharp Plasmacluster can definitely do that:
"Reduce germs, bacteria, viruses, mold, and fungus – Patented Plasmacluster Ion technology attacks impurities throughout the room"
Is Sharp missing a big and growing market for a Plasmacluster Ghostbuster? In the meantime, have some holy water handy when you change the filter.
If you're seeing things running through your head
Who you gonna call?
Plasmabusters!

An invisible man
Sleeping in your bed
Who you gonna call? Plasmabusters!

I ain't afraid of no ghost
I ain't afraid of no ghost
Source: Mysterious Universe
Reptilian like creature recorded in the drainage of Great Britain (Video)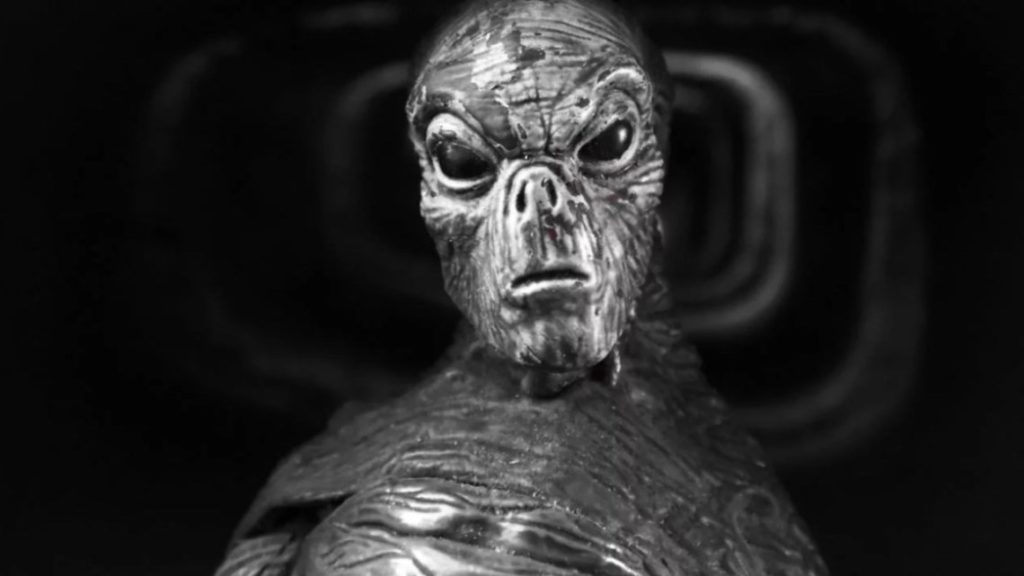 An immense amount of legends that circulate for many years mention strange forms of life that live under the Earth. However, these legends usually stay on the Internet, and do not leave there … except for exceptions.
There are stories of beings that come from a dark hell and possibly are among us since ancient times, which is why one of the most controversial videos in the history of YouTube is, without a doubt, which shows a strange creature of Reptilian aspect filmed in a British drain, video that many theorists have used to confirm the theories that these life forms do live among us.
The most terrifying thing is that it is not a single video, or two, but four recordings that were published on the YouTube platform. Another important point to note is that it was not hung by some ufologist, or by some UFO hunter that, normally, they do not have much credibility.
Those responsible for uploading the recordings was a company, which is responsible for water in the United Kingdom called United Utilities, on March 31, 2011. The next day, the news about the strange events recorded by the company was in every corner of the planet.
Many conspiracy theorists, both in personal blogs and forums, began to discuss and analyze the images, assuring that it was some reptilian creature. Others, however, mentioned some kind of lost animal, even that it was a montage. But what would a wastewater company gain from doing such a setup?
The Leigh Journal media was the first formal source to collect the images and review them, taking statements from the workers and people in charge of the company.
Mike Wood, regional manager of the sewer system at United Utilities, said that several of the employees had reported sightings of some strange animal, so they began to review the entire network of pipes with closed circuit monitoring. But what was seen was not exactly a sewer rat.
Wood explained at that time that the images were uploaded to YouTube, hoping that the general public would help them discover what it was, because they also had the theory that it could be an exotic pet that had gone astray, either from home from someone or from a zoo.
What they did have insurance is that it was feeding on the deposits of fat that were accumulating inside the pipes.
However, as the videos gained more and more reach, the theory that it could be a reptilian creature began to take much more strength among the public, and those who had been interested in the event.
In the images that were uploaded to YouTube you can see a strange creature with a long tail and body very similar to that of a reptile that crosses with the robot camera that the company had used to monitor the pipe network in case some of the the drains have some object stuck or there are nests of rats or other animals.
The event became so popular that even people baptized the creature, calling it "Messie", alluding to the renowned monster of Loch Ness.
However, despite the fact that the first videos were quite … curious, none caused such impact and concern on the entire planet as the fourth video, where you can see the creature in front of the camera, showing long limbs, like legs and arms, with a clear humanoid aspect.
However, when the robot camera moves to focus it better, it retreats at high speed through the drain.
Still no explanation about the event, the company never declared that it was an advertising campaign or something like that and the media did not give more coverage to the topic What was that creature?