Mysterious Object Is 570 Billion Times Brighter Than The Sun
So bright that it pushes the energy limit of physics.
Billions of light years away, there is a giant ball of hot gas that is brighter than hundreds of billions of suns.  It is hard to imagine something so bright.  So what is it?  Astronomers are not really sure, but they have a couple theories.
They think it may be a very rare type of supernova — called a magnetar — but one so powerful that it pushes the energy limits of physics, or in other words, the most powerful supernova ever seen as of today.
This object is so luminous that astronomers are having a really difficult time finding a way to describe it.  "If it really is a magnetar, it's as if nature took everything we know about magnetars and turned it up to 11," said Krzysztof Stanek, professor of astronomy at Ohio State University and the team's co-principal investigator, comedically implying it is off the charts on a scale of 1 to 10.
The object was first spotted by the All Sky Automated Survey of Supernovae (ASAS-SN or "assassin"), which is a small network of telescopes used to detect bright objects in the universe.  Although this object is ridiculously bright, it still can't be seen by the naked eye because it is 3.8 billion light years away.
ASAS-SN, since it began in 2014, has discovered nearly 250 supernovae, however this discovery, ASASSN-15lh, stands out because of its sheer magnitude.  It is 200 times more powerful than the average supernova, 570 billion times brighter than the sun, and 20 times brighter than all the stars in the Milky Way Galaxy combined.
"We have to ask, how is that even possible?" said Stanek.  "It takes a lot of energy to shine that bright, and that energy has to come from somewhere."
Todd Thompson, professor of astronomy at Ohio State, has one possible explanation.  The supernova could have generated an extremely rare type of star called a millisecond magnetar — a rapidly spinning and very dense star with a crazy strong magnetic field.
This is how crazy magnetars are: to shine as bright as it does, this magnetar would have to spin at least 1,000 times a second, and convert all of that rotational energy to light with pretty much 100 percent efficiency — making it the most extreme example of a magnetar that is physically possible.
"Given those constraints," Thompson said, "will we ever see anything more luminous than this? If it truly is a magnetar, then the answer is basically no."
Over the coming months, the Hubble Space Telescope will try to solve this mystery by giving astronomers time to see the host galaxy surrounding this object.  The team may find that this bright object lies in the very center of a large galaxy — meaning the object is not a magnetar at all — and the gas around it is actually evidence of a supermassive black hole.
If that is the case, then the bright light could be explained by a new kind of event, said study co-author Christopher Kochanek, professor of astronomy at Ohio State.  It would be something that has never, ever been seen before at the center of a galaxy.
Whether it is a magnetar, a supermassive black hole, or something else entirely, the results are probably going to lead to new thinking about how objects form in the universe.
SOURCE: alien-ufo-sightings.com
Mysterious green object spotted just above the surface of Jupiter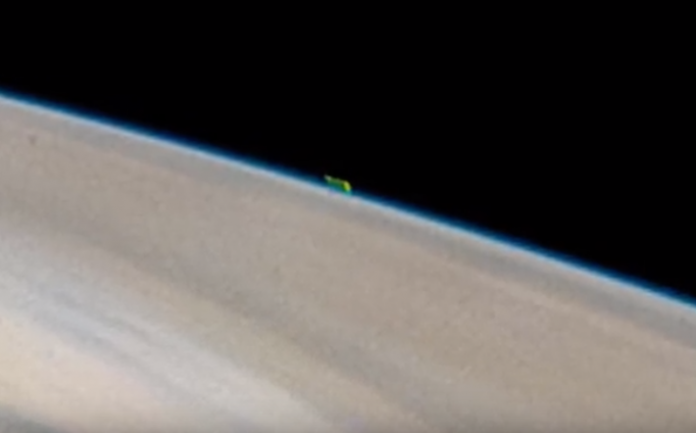 What appears to be a massive greenish-colored object was captured in an image above the planet Jupiter.
What looks like a "massive unidentified structure" can be seen in the image.
Tyler from Secure team explains in the following video:
What could it be? Please comment below and share
US Air Force: Don't Worry About Those Weird Lights and Booms Sunday, It's Just a Spaceship
If you're in the vicinity of Vandenberg Air Force Base in California Sunday evening (Oct. 7), you might hear some strange booming and see some weird lights in the sky. But the Air Force would like you to know that there's no need to worry; something entirely normal is going on — a rocket that heaved its way up into space will be falling back to Earth, correcting its trajectory with "multiple engine burns," and then (if all goes well) settling comfortably back on its landing struts in the vicinity of its launch site.
The Air Force released the warning because, while Floridians have had ample time to grow comfortable with the spectacle of SpaceX landings, this will be the first attempt to land a Falcon 9 rocket on the West Coast. It will not, however, be the first launch from Vandenberg:
The rocket is currently scheduled to launch at 7:21 p.m. local time, carry the SAOCOM 1A satellite into space, and return to Earth shortly afterward.
According to a Facebook post by the Air Force's 30th Space Wing at Vandenberg, "local residents" can expect to see something of the rocket itself as it returns to the base, while people as far as Santa Barbara, Ventura and San Luis Obispo counties may hear thunderclap-like sonic booms, depending on the weather.
SpaceX launched its Falcon 9 rocket from Vandenberg Air Force Base in California on Dec. 22, 2017, with bystanders on the ground getting a gorgeous light show.
Credit: Maxwell Harris/Getty Images
Source www.space.com
Elon Musk shows off plans for a Mars outpost and says it could be complete by 2028
Elon Musk has revealed the first glimpse of a SpaceX base on Mars.
Musk tweeted the pictures with the simple caption 'Mars base alpha'.
It shows the firm's Big F***ing Rocket (BFR) on the surface of the red planet, with a dome base in the background, and what appear to be solar panels.
It a response to a question about the base and when it could be build, Musk tweeted 'Probably 2028 for a base to be built'.
It comes as SpaceX chief operating officer Gwynne Shotwell, 54,confirmed SpaceX's intentions to launch the rocket for the first time in 2020, with missions to the moon and Mars planned for 2022 and 2024 respectively.
'We would like to put large cargo on the surface of the moon by 2022,' she told the Air Force Association's annual symposium in Maryland.
'And we have our eyes on the prize to send people to Mars in 2024.'
She admitted those plans might 'sound crazy, but everything we've ever done has sounded crazy to people.'
The top part of the BFR rocket has 40 cabins, which could hold up to six passengers each.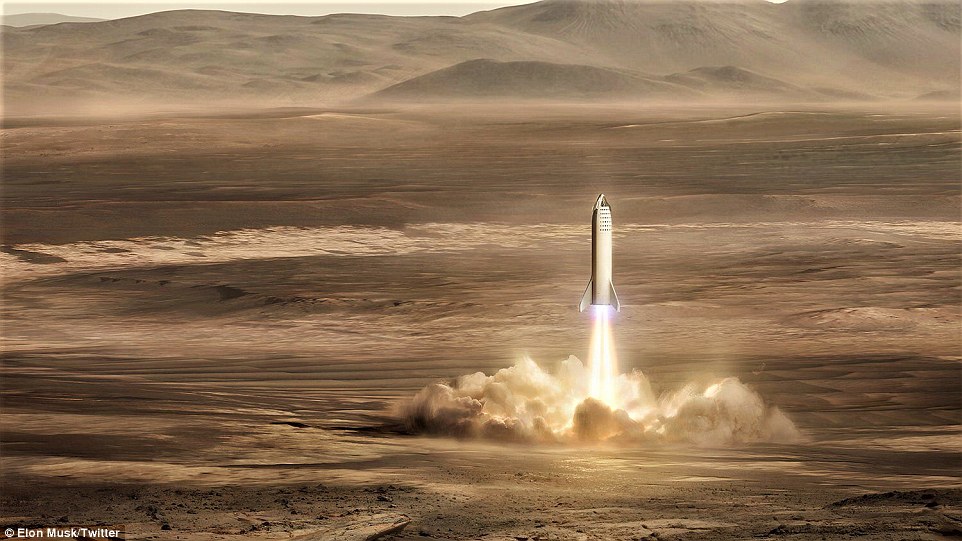 The powerful launch vehicle will have the capacity to lift 150 tons into space and consist of two stages – both of which are reusable.
Shotwell said: 'I hope to be doing hot tests next year with the second stage, the spaceship, and make an orbital flight in 2020.
Earlier this month Musk revealed a Japanese billionaire and online fashion tycoon, Yusaku Maezawa, will be the first man to fly on the BFR SpaceX rocket for an approximately seven-day trip around the Moon as early as 2023, and he plans to bring six to eight artists along.
Maezawa, 42, will be the first lunar traveler since the last U.S. Apollo mission in 1972.
He paid an unspecified amount of money for the privilege.
Continue Reading: https://www.dailymail.co.uk/