Mysterious Llama-Killing Creature May Be Murdering Donkeys in Kentucky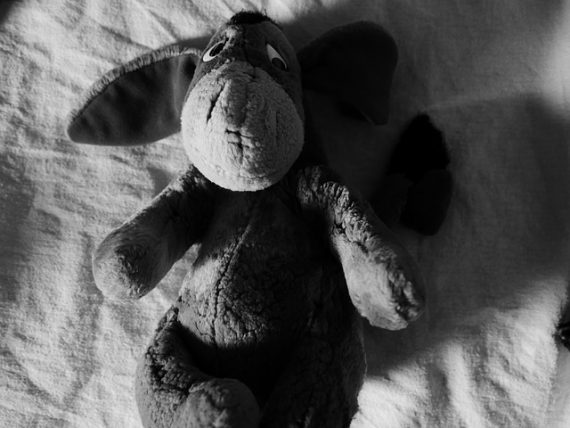 Despite the cuteness of Winnie-the-Pooh's Eeyore and the all-talk-but-no-action Doneky in Shrek, anyone who's ever been around real donkeys, whether domestic kind or the wild ass kind that gave destructive human behavior its appropriate name, knows it's unsafe to mess with them. What is jokingly referred to as "stubbornness" in cartoons and fiction is actually the species' strong sense of self-preservation resisting anything that looks like it could cause it harm. That resistance is showed in biting, kicking, fighting, struggling and anything else a donkey can do to get away. This is why the latest news of animal killings out of Kentucky is so distressing and puzzling. Just a few miles from where six llamas were found mysteriously killed last week, two donkeys were found dead under similar fiendish circumstances. Aliens unclear on the concept? Big cats? Wolves? Chupacabra? Something worse?
"Something grabbed them on the nose and then in the back. It took several animals to take them down. He wasn't taken down by one animal. There was more than one."
Nann Williamson, the distressed owner of the dead donkeys, described to local media what she found when she went to look for them on her property in Buechel, a former small town that is now a large neighborhood in Louisville. Unfortunately, this was on a Sunday morning and the animals hadn't been seen since the previous Friday, when it appears they were attacked. The advanced state of decomposition allowed investigators to determine where they were bitten but not much else, including the cause of death.
These killings sound eerily similar to the nearby (5 miles away) attacks last week at the Louisville Llama Farm near the Louisville Zoo, where five llamas were found dead with bite marks behind their ears and by their flanks and a severely-wounded sixth had to be put down. There is still no official cause for those mysterious deaths. Nor have there been any official explanations for the deaths of three horses and some big dogs in September 2018 in Monroe County on the state's southern border. In those, the horses had neck wounds that looked more like surgical cuts than bite marks and there were no signs of a struggle. In all of the cases, it appears the animals were killed but not eaten and there were few, if any signs of entry or tracks.
With nothing else to go on, the local authorities are pushing "canine attack" as the probable cause of the recent killings and are asking residents to report any coyote signs while bringing in any kinds of bait, including livestock, pets and children. Caroline Willette, an owner of the Louisville Llama Farm, thinks blaming canines is barking up the wrong tree. That's not what killed her 500-pound livestock:
"I see coyotes around here all the time. Llamas are guard animals, (they'll) mess you up."
Did whatever killed the horses in late 2018 bite off more than it could chew in 2019 by attacking the much stronger and self-preservationist Kentucky llamas and donkeys? One interesting point … none of the places where the killings occurred appeared to have surveillance cameras. Did the killer know this? Will it go back to the more docile horses? Could this be the return of the infamous Kentucky Devil Monkeys? Or has a new cryptid moved in?
The watch in Kentucky continues.
Source: Mysterious Universe
Chupacabra Blamed for Strange Cattle Mutilations in Argentina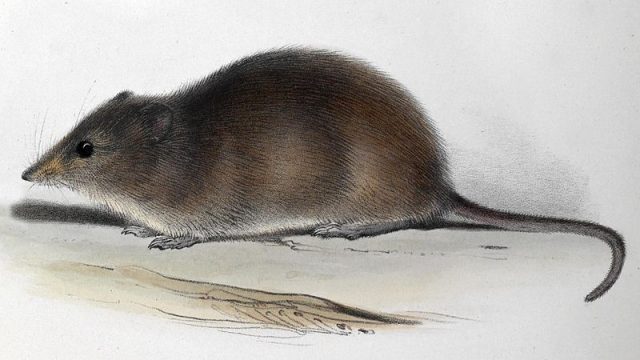 "Blame it on the Chupacabra" sounds like it could be the title of a country western song (note to self: dust off guitar and call agent) but it's more likely to be the lament of farmers – particularly in Puerto Rico, Texas and Central and South America – who have lost goats, sheep and chickens under mysterious circumstances. However, cattle mutilations, at least in the U.S., are often attributed to aliens, especially if they occur in the 37th parallel latitude which is home to many UFO sightings. But not in Argentina, where a particularly brutal cow mutilation last week is being blamed on a Chupacabra. Unfortunately, this is eerily similar to another series of cattle mutilations in September 2018 in Argentina that were also blamed on Chupacabras. Are they connected? Is this story worthy of a song … or an investigation?
"The Chupacabras is back, in action , and with such inexplicable consequences that they never cease to surprise others and others. The precision of the cuts, the state of the animal that does not seem to decompose, the absence of scavengers, are some of the many curiosities that are in suspense to the town of La Paz, in Catamarca where the event occurred."
Infocampo, an agricultural media source in Argentina, appears to be the first to report the incident on the farm owned by Ariel Sorribes in the northwestern province of Catamarca on the Chilean border. (Apologies to them for the poor Google translations.) After noticing the herd count down by one, a worker found the mutilated cow under a tree. Sorribes stated that the cow had been healthy and vaccinated. The site cautioned that the photos were horrific (see them here) and the report listed the missing organs (udder, vulva, anus, eyes, tongue, and maxillary muscle) and complimented the killer on the precise cuts made to remove them – cuts that in the U.S. would be blamed on aliens or a surgeon who dabbles as a weird rustler or a provider of organs to cults. But wait … there's more:
"No one can make such a perfect cut with a scalpel, in addition all the wounds seem sealed. There are even rarer things, for example, no scavenger comes close to the body of the animal. Nothing eh, nothing at all. Not a carancho, not a vulture, nothing. Above, it seems that the meat does not decompose and is all intact."
OK, now it's getting strange … and beyond the powers of a normal Chupacabra. No decomposition, wounds sealed and no vultures. If only there were more pictures …
"In addition to all that, when the pawn wanted to take more pictures, his cell phone was turned off. He thought it was the battery that had run out, but no. Then came a teacher from a nearby school, because she wanted to film the cow, and neither did her cell phone … It is as if it were a magnetic field, or something that prevents taking pictures."
Whoa! This is obviously the work of aliens, right? Farmer Ariel Sorribes asked for an answer and this is what he got from SENASA, the National Service of Agri-Food Health and Quality:
"For similar cases, SENASA has said that it is the work of the snout mouse."
The what? Believe it or not, the Hocicudo is a long-snouted mouse that was blamed for the mutilations last year. Hocicudo are scavengers that like to dine on the soft parts of dead animals and there are plenty of dead animals in cattle country.
What about the dead phones? The precise cuts that seemed to heal themselves? The lack of vultures? The web site La Gran Epoca (The Epoch Times) says the ranchers are nervous because the unexplained mutilations have been going on for years. One explained the financial consequences:
"It's not just in my field, it's in the whole region. Behind the Cerrito killed five, in Malabrigo a while ago killed seven, a neighbor killed two, so they add up and when you get the count are 20 or 30 animals per month … and are 15,000 pesos (about 335 dollars) each heifer."
Would you blame the Chupacabra? Aliens? If not those, then who … or what? What latitude is Catamarca? (28th south.) Does anyone dare follow it to search for more dead cattle?
In the meantime … what rhymes with Chupacabra besides macabre and candelabra?
Source: Mysterious Universe
Footprints of a Sweets-Loving Bigfoot Found in North Carolina
"Mostly like candy, cookies, they love peanut brittle, chocolate, peanut butter sandwiches. They don't like apples and bananas."
If you're one of those Bigfoot experts who's been telling Bigfoot expert wannabes and wannasees to hang bags of apples from trees to attract them, meet Vicky Cook – the North Carolina woman who has not only seen Bigfoot, she has the grainy video and plaster footprint casts to prove it … and she says her Tar Heel Bigfoot neighbors prefer sweets to healthy snacks. Or is that just what she stocks in her cupboards?
"I think I've counted about eight different sized prints. This is a juvenile, but look at how long it is. That's a big … big print."
In her interview with Charlotte's WCNC, Vicky Cook showed she's more than just your average Bigfoot spotter by holding up plaster casts of the footprints she says she's found in her Shelby yard since March. Shelby is a western suburb of Charlotte near the southern border with South Carolina. She also showed the reporter her dark and grainy video (watch it here) of what she claimed is at least one of the creatures that may have made one or more of the footprints.
"It went in front of my camera. we screamed we didn't know what it was, though that thing was tall!"
That "we" indicates there's at least one other witness (unless she's implying that the Bigfoot screamed when it saw her scream – a great movie scene but probably not what she meant) but no one else appeared in the interview. Vicky also swears it's not a bear she's dealing with. Well, then … what is it?
"Sometimes I think this can't be real."
We know the feeling, Vicky, especially if you live in North or South Carolina. Neither one of those states made the recent Top 8 States to See Bigfoot list, despite the fact that both have many sightings. The Bigfoot 911 investigation group is in Marion, about 45 minutes north of Shelby, which also hosts the annual WNC Bigfoot Festival – the "the biggest Bigfoot Festival in eastern USA." John Bruner is involved in both and has himself reported seeing a "large bipedal animal covered in hair" in the area in 2017. While those plus the 90+ other Bigfoot sightings in North Carolina (mostly in the Uwharrie National Forest to the east) warrants a festival and a big-city reporter visiting Shelby, does it prove Vicky has a family of Bigfoot eating her candy and cookies?
"Any scientific expert will tell you me and the 'Squatch like the same things."
James 'Bobo' Fay – Bigfoot caller and cast member of "Finding Bigfoot" – said in an interview that they eat what humans eat, including cooked foods and especially bacon. While they're eat apples and berries, he says he puts leftover donuts out for them too.
Maybe Vicky should work out a deal with Dunkin'. Then again, maybe Bigfoot should cut out the middleperson and make its own deal.
Source: Mysterious Universe
Loch Ness monster study results 'surprising'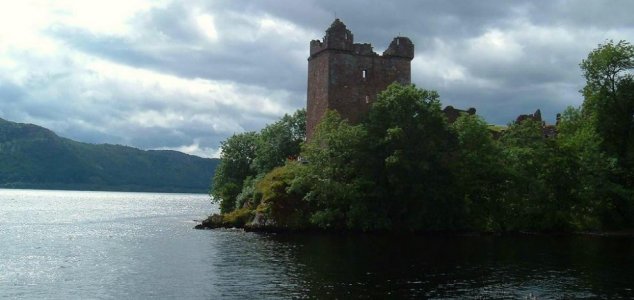 Image Credit: CC 2.0 Dave Conner
Is there a monster lurking in the depths of Loch Ness ? 
A recent effort to trawl Loch Ness for potential 'monster' DNA has reportedly yielded some interesting results.
The study, which was led by New Zealand scientist Professor Neil Gemmell, aimed to use DNA sampling techniques to find out whether there was any scientific basis for the monster legend.
Now at last, almost a year after the DNA samples were collected, Prof Gemmell and his team have almost finished the analysis and will be announcing the full results at a conference next month.
From the findings released so far, the team has managed to identify the DNA of 15 different species of fish and a whopping 3,000 species of bacteria, among other things.
Part of the study also involved investigating the validity of various monster hypotheses such as whether or not the creature could be a prehistoric reptile, a sturgeon or a giant catfish.
"Is there anything deeply mysterious ?" said Gemmell. "Hmm. It depends what you believe. Is there anything startling? There are a few things that are a bit surprising."
"We've tested each one of the main monster hypotheses and three of them we can probably say aren't right and one of them might be."
Source: Scotsman