Mysterious Booms Baffling Residents in the Tucson, Arizona Area
Something is shaking the southwest and it's been baffling southern Arizona residents for years.
The latest struck this morning, Tuesday, Feb 5, at 8:39 a.m. I felt it myself on the northwest side of town not far from Ina and I-10. I posted it on Facebook and the responses were immediate.
Faye DeHoff wrote, "first it was a major rattle…like a huge truck about to plow into my home…then the boom..that shook my windows…I was sure some of them were broken but they didn't…my dog jumped up! I'm at River & Campbell."
Ray C. Merrill wrote, "Oracle and Roger, it was shaking pretty good, and long enough for me to watch the blinds dance around, then get up and walk to the doorway, and it was still shaking."
There was a similar sensation last week on Thursday, Jan 31 at 8:51 a.m. The same phenomenon; a rumble causing homes to shake and windows to rattle. I felt this one too on the northwest side and once again, so did so many others on Facebook all across Tucson and surrounding areas.
I checked with the three closest military installations. Davis-Monthan Air Force Base reported no sonic booms and neither did the 162nd Fighter Wing. Sean Clements from Luke Air Force Base's public affairs unit confirmed two sonic booms near Sells, Arizona, about 60 miles southwest of Tucson. BOOM. Mystery solved. Until he gave the times. The first happened at 9:36 a.m. and the second at 10:14 a.m. The incident so many reported feeling and hearing happened at 8:51 a.m. The times are off by more than a half-hour. Not even close.
Earthquakes might be more common that you might think in Arizona. Looking at the U.S. Geological Survey earthquake detector, there were no quakes at these particular times eliminating that possibility.
I checked with the Department of Geosciences at the University of Arizona regarding the January 31st incident. Eric Kiser, an assistant professor, noticed readings on the measuring machine, "there is a high frequency signal on the Tucson seismometer between 8:51 a.m. and 8:52 a.m. today (see picture below), but the signal looks quite a bit different than what we observed when the widespread tremors were felt about a year ago. In particular, last year's signal lasted a few seconds, where as the signal from today lasts 40 to 60 seconds."
Assistant professor Kiser provided information regarding another incident that occurred on Nov. 28, 2017 saying, "I looked through the Tucson station seismic data this morning, and there definitely is an event that shows up around 8:11-8:12 p.m. (See picture below). The seismology group looked at the waveforms today, but it is difficult to determine what the source is, using one seismic station. Generally, we would expect a sonic boom to not be as impulsive as this signal. A mine blast could be the source, but I would be surprised if they were blasting that late."
Mining is big business in southern Arizona and blasting is very common so I spoke with Debbie McMorrow at ASARCO mining which owns and operates several mines around Tucson. She says ASARCO doesn't usually conduct blasting in the mornings and certainly did not conduct any today or last week during the times people felt the shaking.
CalPortland also conducts blasting operations but an employee told me today the company has not done any blasting in the Tucson area since January 29.
Through the process of elimination for these three incidents, it can be concluded that these booms/rumblings were not caused by a sonic boom, earthquake, or mine blasting operations. And so the mystery continues…
Seismometer Reading Jan 31, 2019
Seismometer Reading Nov 28, 2017
Dan Marries
KOLD
Video shows mysterious lights in sky over Tucson, Arizona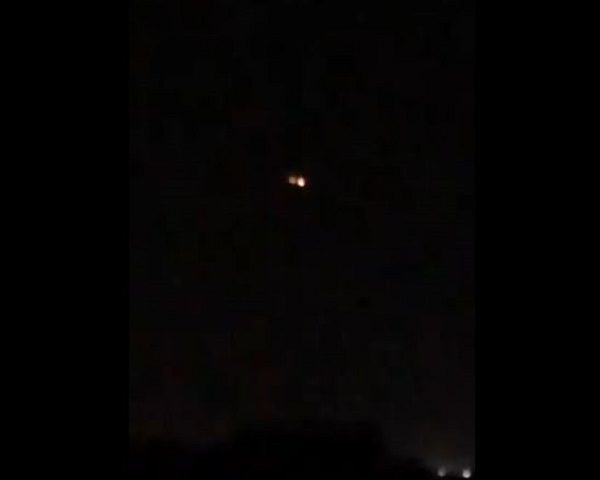 You may have heard of the Phoenix Lights, mysterious lights in the sky that sparked speculation and even documentaries over the years. Now, Tucson may have had its own version of the phenomenon.
A video posted to Twitter and viewed more than 13,000 times shows mysterious lights in the night sky in an area just south of the Davis-Monthan Air Force Base.
Anyone else in Tucson see these lights in the sky?!? They came back and faded in patterns like 3 times! @whatsuptucson any reports? pic.twitter.com/57VYZbeoST

— ishmel (@ese_zea) 10 July 2019
The video, taken shortly before 10 p.m. Tuesday, shows a string of reddish lights in the sky move slightly before blinking out. Below, three evenly spaced lights shine in a horizontal line. Isaiah Alvarez, who shot the video, said these lights became very bright and left.
Alvarez said he often sees strange things in the sky in that area; this was just the first time he was able to catch it on video.
A spokesperson for Davis-Monthan Air Force Base said they are not aware of anything that would cause the strange lights.
Unidentified, check. So we may have ourselves a UFO here. The question is: Are these lights truly out of this world?
Take a look at the video for yourself and see what explanations you can come up with.
Impossible Foods Is Trying to Make Fake Fish Now
Fishy Smell
Impossible Foods, the meatless meat company behind the plant-based Impossible Burger you've probably seen at trendy gastropubs, is moving into the fake fish market.
The company is reworking its recipe for plant-based beef to recreate a fishy flavor and texture, according to The New York Times. The move makes Impossible Foods the latest to enter the race to develop convincing and tasty artificial fish, either through concoctions of plant proteins or lab-grown cells.
Dirty Water
Replacing fish with fake meat could benefit the environment, as fisheries pollute and deplete wild populations of some species, per the NYT. But that may not drive customers to buy filets from Impossible Foods or any of the other companies working on fake fish — much of the boon for the fake beef market came from people who were worried about the health impacts of eating too much red meat.
"A lot of people will simply say if you eat meat, you're increasing your risk of cancer," Tom Rees, a food industry expert at the market research firm Euromonitor International, told the NYT. "There isn't an equivalent of that for fish."
READ MORE: The Fish Is Boneless. (Fishless, Too.) [The New York Times]
NASA records a strange formation of clouds on Mars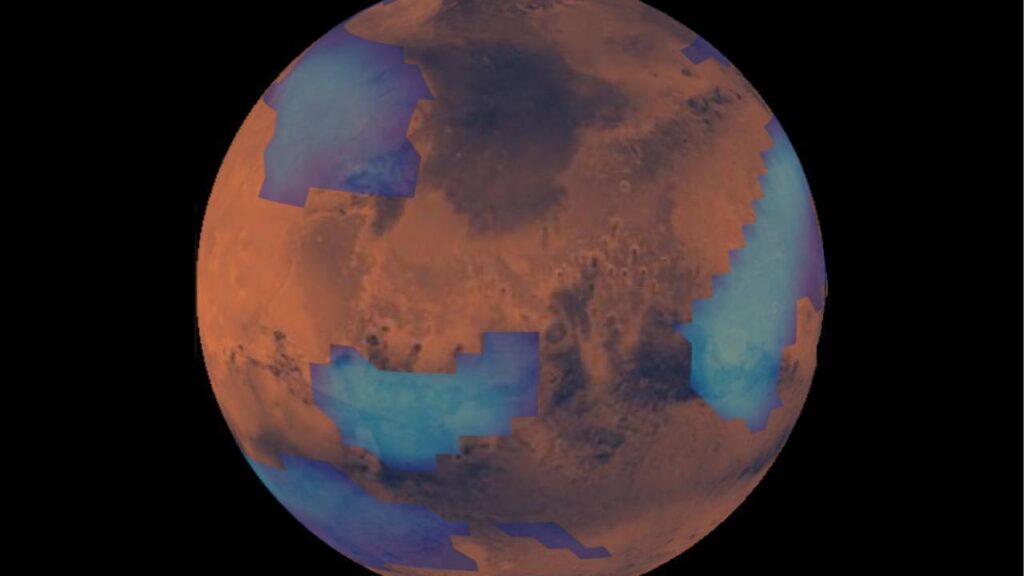 According to a new study conducted by a team at the University of Colorado Boulder (CU Boulder), the formation of clouds in the thin atmosphere of Mars are caused by meteors.
The "meteor smoke," which is the icy dust that remains when a meteorite burns in the atmosphere of Mars, is what partially creates the cirrus-like clouds that are placed about 18 miles above the surface of the planet.
Since the clouds here on Earth are made up of particles, like dust grains or sea salt, which are transported into the air by the wind and then the water molecules condense around them, which causes the clouds to form and grow up.
Mars, on the other hand, barely has floating particles, since the atmosphere is very thin. But when small meteors enter the atmosphere of Mars, they often burn, creating fine dust or "meteorite smoke," which are the necessary particles for clouds to develop.
The Earth has noctilucent clouds that are created from the dust of meteors and are seen at an altitude of about 50 miles in the atmosphere. After the sun sets on the Earth, the clouds still reflect sunlight, so they can be seen shining bright blue.
While meteor dust helps create Martian clouds, the thin atmosphere only allows certain types of clouds to form. The clouds are usually very faint and resemble pieces of cotton, very similar to the cirrus clouds of Earth.
"But just because they are thin and can not really be seen, it does not mean they can not have an effect on the dynamics of the climate," said Victoria Hartwick, a graduate student at CU Boulder.
In fact, temperatures at the same height as clouds could fluctuate warmer or colder at 18 degrees Fahrenheit. According to Brian Toon, who is a professor at CU Boulder:
"More and more climate models are discovering that the ancient climate of Mars, when rivers flowed through its surface and life could have originated, warmed with high-altitude clouds. It is likely that this discovery will become an important part of that idea to warm Mars. "
While Martian clouds are too weak and the atmosphere is too thin to produce rain, snow fell near the North Pole in 2008 and was witnessed by the Phoenix Mars Lander.
Frost and fog have also been seen on the red planet due to a water cycle that occurs even without water on the surface and an extremely thin atmosphere.
No doubt the red planet in its past could have life, but it should be noted that this discovery makes the idea that Mars is terraforming so that there may be optimal conditions in the upper part of the planet for life, in the way that we know her.
It should be noted that by official means it is known that there is life inside, but deny that there is life at the top. What's your opinion about it? Watch the following video and leave us your comment below.