My Family Ghost Stories And Thoughts On The Afterlife
I do believe that there is life after death, because the body is one big battery that carries energy. This energy is made up of our own life force, our thoughts, what we see, smell, think, speak and touch. This energy is referred to as our soul, or as our aura.
When we die, this energy leaves our dead carcass and continues on. Where? I'm not sure. Energy cannot be destroyed and where it goes, is anyone's guess. Could heaven and hell be worlds of pure energy? Is this where our departed energy goes after death?
If matter can have intelligence, why can't energy? If there is a matter world, why can't there be a world of pure energy? There are so many questions and very few answers. Perhaps one day, living human beings will know the full truth about the afterlife.
For right now, I will share some of my family member's experiences with the paranormal that might be considered afterlife events: I will start off with myself first. When I was a small boy I lived in an old house on Effy Street in Fresno.
One night I heard a sound come down the sidewalk towards our house, which sounded like a rolling noise. As I looked at the window next to my bed, I noticed that on its own, it opened. A black tea kettle looking object floated to the halfway opened window.
This black object had a snout and the snout pointed at me. From the snout a mist came out and at this time I was screaming at the top of my lungs. My father came into the room to see what was wrong, the black object left and I could hear the rolling noise fade out into the distance. At this time my head was throbbing and I could see skulls flying about my room with wings. Even my own father's face was a skull. The next morning I woke up and I was sick with the flu. From my open window I heard a serene woman's voice call me by my middle
Interesting? Share with your friends and continue reading.
name….."Dale, Dale, come here". As I looked out the window into the orange grove, I saw no one. I ran from the window and fell into the heater burning my leg. As it turned night, my flu got worse and my mother half asleep came into the room and gave me a teaspoon of what she thought was cough syrup, it turned out to be poison and I vomited the poison out of my system. Shortly after this horrifying incident we moved from the house and never had these problems again.
The only other ghost I saw in my lifetime was a ghost of a small white rabbit. This rabbit was a family pet named "Bugs". One day, I left Bugs tied up in the backyard, hooked on a large rope, in that way he could romp around the backyard. I discovered to my dismay, that Bugs had broken his neck from the rope, which got entangled with the bushes. The next night, I saw a ghostly Bugs dart through the garage.
After the one sighting, I never saw Bugs again and I gave Bugs a proper burial. My mother Rosemarie Roberts, related this true ghost story to me. When she was a little girl, she went with her brother and father to Mexico. They stayed at a friend's home. On one night, my mother and brother had switched beds in the middle of the night, but didn't know how this occurred. Both of them were dumbfounded on how they switched beds.
The following night, my mother stayed up and watched a small light in the room. The small light became bigger and started to form shape. It became a small boy holding a basket of roses. The small boy went towards my mother slowly, dropping rose pedals along the way. My mother noticed that the rose pedals would dissolve when hitting the floor. My mother screamed and the apparition disappeared. My mother was shown a child saint when she was a teenager by a nun and she thinks that the apparition she saw was the saint.
My father Paul Marceau Roberts once was illuminated by having a vision in his sleep of sitting by a rock and the clouds opened up and he heard a voice in a strange language. He was able to understand the voice and was shown the end of the world (there was fire everywhere) and World War III. He woke up and my mother said his face was glowing. Those are our family ghost stories. I have 2 brothers and 1 sister and they never encountered anything of the paranormal.
The paranormal encounters were only experienced by myself, my father and mother. My wife Patricia Roberts, had a ghostly encounter with her departed father, this is her story: "I spoke to my dad the night before he passed away. It was frightening in a strange way, because he told me to be good and he hoped I would have everything in life that I need. I wondered did he know ahead of time that he was going to have a heart attack in the park the next day? I really don't know.
After receiving the disturbing news, my dad passed away. I stayed in my bedroom all night crying. The next night I had my dad's shirt and a few other items that he died in. I sat there reminiscing the thoughts of good times with my father. It was a very windy night and not once had I ever left the garage door open. The garage door leads to the kitchen. I heard a click and my Springer Spaniel jumped up on all fours looking out the door. I didn't think anything about it.
About 3 minutes later, I heard the door open and a loud slam of the door. I promptly lifted myself out of bed and felt a very strong presence down the hallway. My dog after 10 seconds at the door, started to bark and growl. I knew it was my dad, I felt him near me. All of a sudden he was at the door, I didn't actually see him in form, but more like an outline of him.
My dog was still growling at the door and I yelled out: 'You're scaring me, please dad go away!' After saying that I felt him walking away and the closing of the door. My dog stopped barking. It has been 15 years and he has never come back again. At times, I do feel his presence in my dreams and he forewarns me of dire situations that may come about."
Why certain people have paranormal events happen to them and others don't, is probably that certain individuals are more acceptable to ghostly encounters. It's as if they were in tune, like a radio to a certain station. It comes back to the energy that our body has surrounding it.
Some peoples' energy is in tune for paranormal events, others are not.
Paul Roberts
Helltown, Ohio – Creepy Facts, Legends and Myths
Whether you're talking about the paranormal or just plain odd, Ohio is easily the strangest state in the US.
There are ten times more hauntings, more cry baby bridges, and more urban myths across the state the state of Ohio than any other state, but among all creepy or weird places in Ohio there is one that stands out to such a degree that you would think the weirdness in the rest of the state was actually emanating from it. Welcome to Helltown Ohio….
Helltown is a specific area within the Boston Townships that borders the Cuyahoga Valley National Park. In fact it is one of the original Boston communities; originally named Boston Village.
It found its new name as a result of the mass eminent domain seizure of homes in the region during the mid-1970s. The large number of vacant homes and other derelict buildings, a few disappearances and word spread that Helltown was home to a satanic cult.
There are so many urban myths, folklore (or fakelore), and paranormal locations in Helltown Ohio that its difficult to know where to begin, so we'll start with the myths.
Satanists in Helltown Ohio
The belief that Satanists inhabited the Helltown may have begun with the abandoned buildings, but it didn't end there. The story grew until the Satanists were said to be sacrificing animals by night in the local Presbyterian church.
The church itself doesn't help refute the story; it's a creepy old building built facing a fork in the road, and exactly the sort of place children make up stories about.
However; there has never been any real evidence of Satanists in Helltown, and while pretty much everybody tells the story, most are well aware that this is just a myth.
The Helltown Mutants
As if Satanists weren't bad enough; the Helltown Ohio myths take a definite turn for the weird when you start hearing about the Helltown mutants.
There are two origin stories to the myth; one tells that a chemical plant exploded and another tells that there was a massive illegal chemical dump in the Cuyahoga River just upstream from the area known as Helltown.
These stories lead into a massive 30ft python (which you would think somebody might have caught on film by now) to a single hiker caught in the chemicals that mutated in to a sort of half human super powered monster. The "Peninsula Python", a gigantic snake that wanders Helltown's woods for food of the human sort is said to live in the river, while the mutant hiker is said to live in a small abandoned house in the woods.
The truth behind these is that there has never been a chemical plant in the area and the chemical spill rumour may have come from the 1985 discovery of toxic waste being dumped. However; the dump was discovered when a hiker in the park became ill after touching something coming out of some rusted drums at the abandoned Krejci Dump.
At least that part of the Helltown urban myths is true, but also true is that the hiker later died in a nearby hospital.
The Helltown Cry Baby Bridge
The Helltown Cry Baby bridge is a different matter. Although many have reported the sounds of a baby crying, the most notable occurrences on the cry baby bridge are of a physical sort.
Reportedly, if you leave your car, you'll return to it to find it surrounded by children's footprints and sometimes handprints on the window. More importantly, if you leave your car unlocked with the keys in the ignition you'll return to find it running.
There aren't many details to the origin story of Helltown Cry Baby Bridge, just that a child was thrown from its edge and died below, which is most often the case with all cry baby bridges.
The Highway to Hell and the End of the World
"The Highway to Hell" is in fact the nickname for a specific stretch of Stanford Road in Helltown Ohio where the road enters a steep decline on a wooded hill. The road also narrows significantly at the entrance of the woods creating a sharp drop-off, and at the end of the road (not visible from the top) is a barricade known as "The End of the World."
Today the portion of "The Highway to Hell" where it enters the woods is closed to vehicle traffic. However; it wasn't always the case. Helltown legend has it that the road was once a popular target for cut throats and thieves.
Given the lack of visibility, the steep inclines and twists in the road causing drivers to slow considerably the myth was that cut throats would wait in the woods and highjack those driving by. The ghosts of their victims are said to be heard moaning from the surrounding woods throughout Helltown.
The School Bus in Helltown Ohio
The Helltown Highway to Hell myth certainly didn't diminish when one day in the mid-1980s an abandoned school bus was discovered along the road. While there are certainly numerous reasonable possibilities for how the school bus got there you have to admit it has a certain creepiness factor to it, and this is Helltown afterall.
This was made worse when residents of the area began reporting that they had seen a man presumably living in the bus, which by that time was scheduled for removal by the county.
The authorities put the bus under observation to deter vagrancy, but each night the shadow of a man smoking a cigarette in the bus would appear and the bus would be found empty when the posted officers investigated.
Mother of Sorrows Cemetery
Despite that "Mother of Sorrows" is the English translation of the cemetery's proper name, Mater Dolorosa Cemetery has become the standard name by which it's called in most tales of Helltown Ohio.
The cemetery is about as eerie a cemetery as you'll find. Entirely hidden within the Cuyahoga Valley National Park just east of Peninsula Mother of Sorrows Cemetery has been abandoned for the last fifty years and is now just a scattering of twenty or so tombstones in the forest.
It's said that the Helltown Satanists we explained earlier are buried on these grounds in unmarked graves, but the more notable spirits are those of Michael Raleigh who's face is said to appear in his tombstone when it rains or in the reflections of moonlight, and Thomas Cody whose spirit wanders the woods of Helltown at night and can be sometimes seen peering out at night time visitors.
The Cabin in the Woods in Helltown Ohio
Depending on who you ask there are two abandoned structures in the Helltown woods that play the part of the infamous "cabin in the woods".
The story of the cabin in the woods tells that somewhere in the forests of Helltown there is an abandoned residence that when approached a heavy fog will set in sealing it off from the outside world and making it impossible to navigate the terrain.
Some claim that the cabin is a specific house not far from the Highway to Hell. However this house has recently been restored and is currently the residence of a family of four.
The other structure pointed to as the Helltown cabin in the woods is in fact the barn shown in the image. The barn of course pulls in the Satanic cult myths from above, but also includes from time to time stories of red eyes that appear in the fog.
The fog itself is actually a reality and although it ups the Helltown creepy factor by about a thousand degrees, it's in fact perfectly natural.
Cuyahoga Valley National Park is home to one major low lying river, about a dozen smaller offshoot streams and creeks, and more ponds than you could count. Under very common circumstances the Helltown forests are covered in fogs put off by these waterways.
Spectral Hearses, Headless Train Conductors, and Slaughterhouses
Believe it or not we've only covered a handful of the urban myths saturating Helltown. We could probably write another five pages on the lesser myths, but a couple do stand out enough to warrant a mention.
There have been a number of visitors to Helltown that reported being chased by a hearse, and as it turns out there was once a resident of Helltown that owned a hearse, but I'm sure he didn't appreciate the constant attention when people started accusing him of chasing them in it.
A set of rail tracks runs through Cuyahoga Valley National Park and its said that where the tracks cross the Cuyahoga river the headless phantom of an early 1900s train conductor can be seen by the water beside the bridge. There's really no back story here; just a headless train conductor hanging out by the river in Helltown.
Lastly; the same barn mentioned above is often included in another legend that tells of a slaughterhouse where numerous versions of "bad things" happened. Locals telling these myths will also tell of the stench that seems to come and go and the whispering voices that accompany it.
Unknown Presence Watches Family Through Window
This odd photo, made its way around the internet. It seems to show a family inside goofing around and making faces at one another. The thing is, they didn't seem to notice something standing by the window, watching their every move. Many believe this is some kind of demonic type presence seen. Perhaps it was nothing more than someone wearing a mask, but one can never be too sure…as it appears to be quite different indeed.
This is what they had to say about it:
"Growing up, my dad's house held many spooky, unexplainable nights. We would hear loud, heavy footsteps running up the stairs when we were home alone. It also sounded like a person – or thing – was dragging a rake up the walls as it sprinted up the stairs. But there was one room in the house where – sometimes in photographs – it looked like a man was watching us from the windows. The photos below were taken in the same room and six months apart. Each shows a different window in the room."
The only known information about the photo is…about the person who posted it. They are from Amelia, Ohio and her name is Kara Siler.
Did Kara share evidence of something supernatural? Perhaps so, after reading what she had to say. This thing may even be some kind of poltergeist of some sort. It is believed that this particular type of ghost, is able to forcefully manipulate objects around them to move. One can guess, some kind of energy was used to accomplish this.
Whatever this thing is by the window, it seemed to genuinely be interested in this family for some reason. If this was a person, then maybe they were stalking them for a reason. Could this all be a staged setup? This is also very possible but just speculation at this point.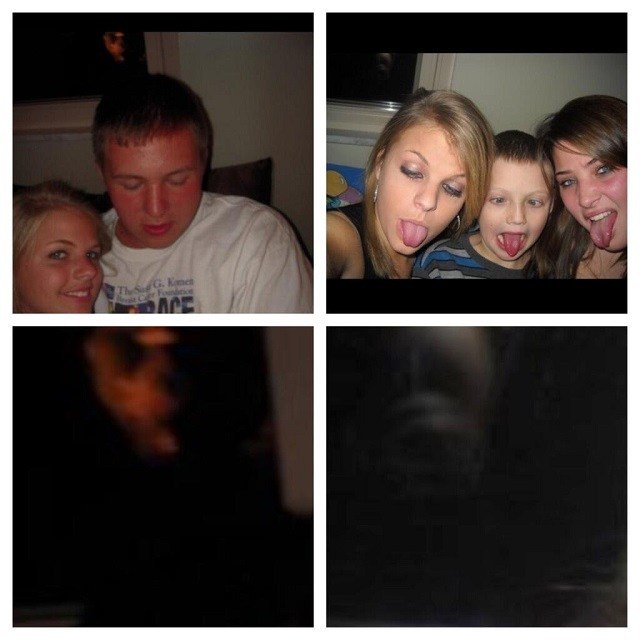 These distorted faces seem to contort differently in each photo. This happened over the course of six months. Sometimes certain people seem to attract spiritual energies more so than others for ever different reason.
However, if this wasn't a someone and a something, then it would be a good documentation of something otherworldly.
Paranormal TV shows to watch on National Paranormal Day
So if you didn't know, today the 3rd May is National Paranormal day. A time to celebrate all things paranormal.
How will you be celebrating?
Explore a haunted house? Camp out in a graveyard? Have a spooky barbecue or even a spooky party?
Or if you are just planning on relaxing at home and watching TV, I thought I would suggestion some of the best paranormal TV shows you can watch to get in the mood of the day.
Ghost Adventures
Ghost Adventures is without doubt the most popular ghost hunting TV show out there at the moment. Broadcast on Travel Channel it has been going since 2008.  Zak Bagans, Aaron Goodwin and the gang have around 200 episodes spanning over 18 seasons, there is plenty to keep you entertained.
Most Haunted
Most Haunted is the most famous British ghost hunting TV show. First airing in 2002 on Living TV, it ended in 2010 but was revived in 2014 and is now on Really TV and still draws in the viewers and fans. There is over 200 episodes for you to watch Yvette Fielding, Karl Beattie and the team explore some of the most haunted places.
Paranormal Lockdown
Paranormal Lockdown is hosted by ex Ghost Adventures member Nick Groff. He is accompanied by fellow paranormal researcher Katrina Wiedman who is formerly of Paranormal State. They currently have three seasons where they confine themselves to 72 straight hours locked in at some the most haunted locations.
Ghost Hunters
Running from 2004 to 2016 on Syfy Channel, Ghost Hunters was a very popular TV show. Hosted by paranormal investigators Jason Hawes and Grant Wilson, they were joined by other team members from The Atlantic Paranormal Society (TAPS) and investigated a lot of locations spanning over 200 episodes. There was also a spin-off show call Ghost Hunters International.
Paranormal Witness
Paranormal Witness was a paranormal documentary series telling of true stories and experiences of all things paranormal and supernatural which was brought to life through recreations. First airing on 2011 on syfy channel it lasted 3 seasons. It was brought back for another 2 seasons on 2015 but renamed as Paranormal Witness: True Terror Series.
I hope that gives you some ideas on what you can watch to help celebrate National Paranormal Day.
Happy Paranormal Day!