Musk Admits Automation At Tesla Factory Was a Bad Idea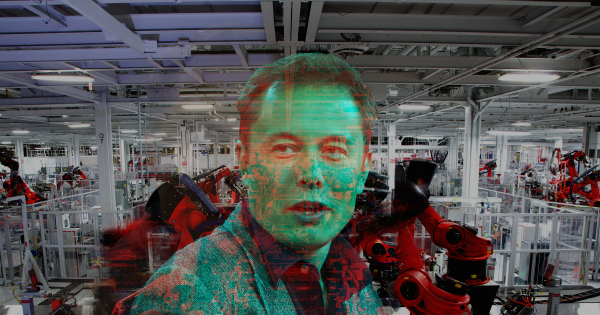 Elon Musk is under a lot of pressure right now – Model 3 production over at the Tesla factory isn't exactly going according to plan. First, Q1 numbers looked grim: less than 10,000 Model 3s rolled off the assembly line — a far shot from his promise of producing 5,000 Model 3s a week. And then there's the other distraction: Tesla's big fight with the feds over releasing data it has on a fatal Model X crash back in March.
Elon has a lot of damage control ahead of him, and of course, a growing number of impatient customers and investors.
So where's the fire, Elon? Is Tesla's Gigafactory not up to the task? In a head-turning interview with CBS Good Morning, he claimed: it's the dang robots.
Yes, excessive automation at Tesla was a mistake. To be precise, my mistake. Humans are underrated.

— Elon Musk (@elonmusk) April 13, 2018
Tesla has increasingly relied on streamlining its assembly process, and has ended up with one of the most robotics-reliant car production lines in the world. As more robots rolled out on to the factory floor, fewer humans were involved — and they're hurting, spurned on by Musk's ambitious goals.
The plan: a robotic car-building factory operating at superhuman speeds. But the numbers seem to suggest that Tesla isn't even close. Who knew that building a $35,000 EV was complicated?
Tesla's growing pains are more apparent than ever. Musk admits he even sleeps inside a conference room, wearing his little Tesla-logo-adorned baseball cap, at the company's Fremont factory. "It's terrible, it's not even a comfortable couch," he admits to the CBS reporter. It's an odd attempt to send a message to the world (and shareholders): See, he cares after all! He's just like us!
Humans are truly underrated, Elon. But they have their limits, too.
Here's How Cars Are Secretly Making You Sleepier
Most of us have probably felt sleepy on a car journey, but it's not always due to an early start, or a long day, or a lack of caffeine.
New research shows that something in the actual act of car travel can make even the most alert of us start to feel drowsy.
It's all to do with the vibrations a car makes as it moves: they can bring on sleepiness in just 15 minutes, the new study shows.
That's something for both car manufacturers and road safety experts to think about, according to the researchers from RMIT University in Australia. They want to conduct further studies into how car seat vibrations could be secretly bringing on sleep.
"When you're tired, it doesn't take much to start nodding off and we've found that the gentle vibrations made by car seats as you drive can lull your brain and body," says one of the team, Stephen Robinson.
The virtual simulator. (RMIT)
"Our study shows steady vibrations at low frequencies – the kind we experience when driving cars and trucks – progressively induce sleepiness even among people who are well rested and healthy."
Robinson and his colleagues hooked 15 volunteers up to a virtual simulator that they could vibrate at different frequencies. The volunteers were tested twice, once with no vibration, and once with low-frequency 4-7KHz vibrations.
They then measured the heart rate variability (HRV) of the participants over the course of each 60-minute session. HRV is an indicator of drowsiness because it shows the body tweaking its central nervous system as it gets tired.
The monitors showed drowsiness kicking in for the drivers after just 15 minutes. On average, the drowsiness was "significant" by 30 minutes, and the volunteers continued to feel sleepier and sleepier until the tests finished.
What might be happening, the researchers say, is that the brain becomes synchronised to the vibrations and enters an early stage of sleep – hence why you might get a whole car full of people nodding off on a long trip.
The study does have some limitations we should talk about: only 15 people were tested, and at only one narrow range of frequencies.
They were also sent down a rather monotonous, two-lane virtual highway, without the distractions of a real drive.
But with tiredness a factor in around 1 in 5 fatal accidents on the road, it's important that we find out exactly what's going on. The researchers want to continue their work by looking at bigger groups of people and more ranges of frequencies.
Even if the effect can't be negated completely, changes in car seat design could minimise it. In fact, the study team thinks the opposite effect could be engineered – at least until self-driving cars arrive and we can all fall asleep in peace.
"Our research also suggests that vibrations at some frequencies may have the opposite effect and help keep people awake," says Robinson.
"So we also want to examine a wider range of frequencies, to inform car designs that could potentially harness those 'good vibrations'."
The research has been published in Ergonomics.
New BlackFly flying car prototype that anyone can pilot
A Silicon Valley startup has developed a flying car prototype that it claims 'anyone can pilot.'
Called BlackFly, the single-seat, all-electric aircraft doesn't require the flyer to have a pilot license in order to operate it in the US, according to Palo Alto-based Opener.
Opener first drew up concepts for BlackFly nine years ago and has now built an early prototype that can travel 25 miles at speeds of up to 62mph.
BlackFly is an ultralight vehicle that consumes less energy than a traditional electric car and is also built to be steathily quiet.
The battery can be recharged in as little as 25 minutes.
Users don't need a pilot's license to operate it, but they must take part in minimal training, including sitting in a simulator for about five minutes.
It's powered by eight, small electric motors and controlled using a responsive joystick.
Opener CEO Marcus Leng hopes that the BlackFly flying car will be ready to go on sale as soon as next year.
Unlike other flying car models, Leng plans to keep BlackFly affordable, with a price tag near the cost of a traditional SUV.
Earlier models may be more expensive, however.
'Opener is re-energizing the art of flight with a safe and affordable flying vehicle that can free its operators from the everyday restrictions of ground transportation,' Leng said in a statement.
The hope is to democratize 'three-dimensional transportation' such as flying cars, while maintaining safety.
Opener has conducted rigorous testing on BlackFly, including 1,000-plus flights and 10,000-plus miles flown.
'We first flew 10,000 miles. We did a thousand-plus flights,' Leng told CBS. 'Autonomous. And we had a payload of 2,000 pounds.'
Continue Reading: http://www.dailymail.co.uk/
Video Shows Car-Like Acceleration of Tesla's Electric Truck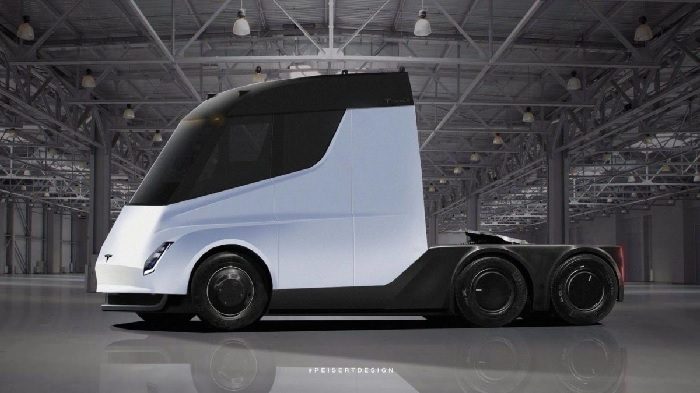 I happen to find trucks, big rigs or whatever you prefer to call them, very fascinating. I've always been awe struck by them since I was younger, and still have the same fascination to this day. Similar to trains, I think part of that fascination is the power. Thanks to Elon Musk, trucks are now taking advantage of the tremendous leaps that have been made in electric power technology.
This is quite incredible!
via Science Alert:
In Elon Musk's future, you'll never have to change lanes to avoid being stuck behind a truck at the lights again.
Here's some more footage of someone having an excellent time testing Tesla's electric truck in a residential area recently:
You might notice the hammer goes down as soon as the driver hits the 25mph (40km/h) zone.
And it's not just because it's unladen that the truck is pulling stunts you'll only otherwise see at a drag strip.
Tesla claims the truck can hit 100 km/h in 20 seconds, even when fully loaded.
We can't wait to see more.
This article was originally published by Business Insider.
Additional Video via johannes h. – YouTube

The new Tesla Semi Truck:
+ 0-60 mph (96km/h) in 5 sec
+ 500miles (800km) of range
+ $180.000