Multiple Catholic Priests Expose The Practice of "Satanism" Within The Vatican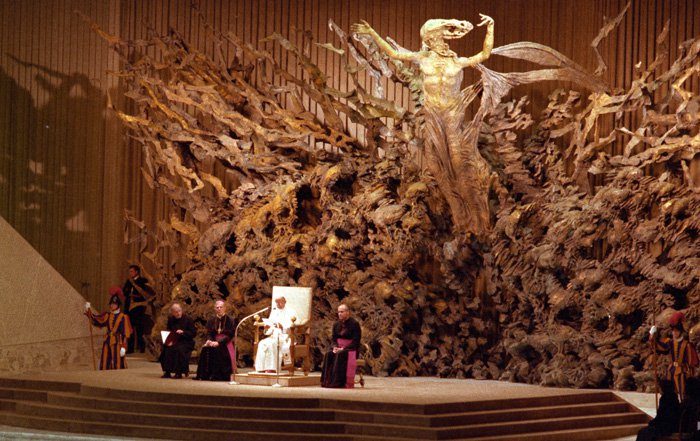 The works of multiple scholars, from Plato to Manly P. Hall and further down the line, suggest it is essentially the use of rituals and techniques to invoke and control "spirits" or lifeforms that could be existing within other dimensions or worlds. For example, according to Hall, "a magician, enveloped in sanctified vestments and carrying a wand inscribed with hieroglyphic figures, could by the power vested in certain words and symbols control the invisible inhabitants of the elements and of the astral world. While the elaborate ceremonial magic of antiquity was not necessarily evil, there arose from its perversion several false schools of sorcery, or black magic."
A distinction is made early in the article about black magic and white magic. Basically, black magic is the process of using entities to accomplish a goal through ceremonial magic.
Hall writes:
"By means of the secret processes of ceremonial magic it is possible to contact these invisible creatures and gain their help in some human undertaking. Good spirits willingly lend their assistance to any worthy enterprise, but evil spirits serve only those who live to pervert and destroy. . . . The most dangerous form of black magic is the scientific perversion of occult power for the gratification of personal desire."
In his book, The Secret Teachings of All Ages, he goes on to describe how the elites in ancient Egypt, all the way up to the present day, have used these concepts in conjunction with their desire to completely control our world. Today, it starts with the government, up through the corporations and further along up the pyramid into our major financial institutions, into the Vatican and beyond.
Religion is interesting, to say the least. On one hand, you have multiple religions preaching the same message at their core, and, on the other hand, it's not uncommon to come across several contradictions between them all. Don't forget about different interpretations of the same religion, which has created 'mini-religion' spin-offs  which take these different interpretations into account. Obviously, multiple religions and their own interpretation of reality resonate with millions of people, and that's because they preach a message of peace, love, non-violence and good-will.
It's hard to understand how conflict (like war) can arise with religion being the catalyst, especially if most preach a message of peace and love. This means that all those who claim to fight in the name of religion, must have a twisted understanding of the religion they claim, or, something else is going on…It's completely hypocritical.
A great modern day example would be the "Islamic State." Today, it's not a perspective that's commonly expressed by mainstream media, but despite that, multiple professors, politicians and more have emphasized that the Islamic Sate, the group the United States and their allies claim to be fighting against, is actually a creation of the United States (and their allies) themselves. You can read more about that here.
This is supported by more than just research and insider witness testimony, but by multiple documents that have surfaced, as well as multiple examples. It's called false flag terrorism, and it's been around for decades. The greatest example of this could be 9/11, an event created and used in order to justify the invasion of another country, and impose 'their' own ideas and  political will on other countries, as well as globalization and resource extraction. This tragic event served as a big catalyst with regards to more people becoming aware of extreme corruption within our own governments.
They've had plans to do this for years, with multiple countries, as emphasized years ago by Four Star General, and NATO Supreme Allied Commander General Wesley Clark. As he says, there are no legitimate reasons to go to war. Are the "powers that be" manufacturing problems so they themselves can propose the solution?
In this way, and many others, religion has been used. It's become dogma, rather than a question for knowledge, wisdom, truth, and spiritual guidelines, and a tool to push elitist political agendas. It's been used to manipulate the decisions and behaviours of others, as well as close off their minds to new information that's emerging which challenge the belief system of that particular religion. It's also been used, in some cases, to drive a tremendous amount of fear into the mass population.
There, in my opinion, appears to be deliberate manipulation of human consciousness when it comes to various religions. Based on my understanding, most of the wisdom we did have was burned, hidden, taken and done away with.
This narrative has been emphasized by multiple people from within the field.  Jon Shelby Spong, a retired American Bishop, for example, told the world that that"religion is always in the control business, and that's something people don't really understand. It's in the guilt producing control business."
Perhaps this is why so many aspects of religion resonate with people, yet so many others, like the fear of harsh punishment, doesn't.
If we examine the cultures that pre-dated modern day religion, most had a 'spiritual' understanding which connected them all, and, there are more examples of commonalities, and hardly any examples of conflicting information when it comes to guidelines for ones life and the description of what we call reality.
There are also multiple stories of Jesus travelling to the far east to obtain knowledge and wisdom from these spiritual teachers. This is also elaborated on by Hall, among many other scholars like him.
The information given to us by modern day religion might be a complete mix of truth, manipulation and lies all wrapped into one story.
Theodor Roosevelt once said of politics that, instead of instruments to promote the general welfare of all people, political parties have become "tools of corrupt interests which use them impartially to serve their selfish purposes."  Modern day mass religion has become the same thing.
When man started to conquer the world, and events like the burning of the Library of Alexandria took place, the world lost a wealth of information and knowledge, and the conquerers seemed to be on a mission of indoctrination. Perhaps the best example would be the stripping of indigenous wisdom from Native North Americans, and the process of indoctrination into a completely new belief system, one that denounced many teachings of their elders prior.
Today, even questioning the beliefs that are given to one via their religion can be met with a harsh response. If we as a collective are so ingrained in our beliefs, how can we ever be open to new ideas pertaining to the nature of reality?
Religions and people's interpretations of them have been adjusted for years, spiritual teachings and concepts that pre-date religion have not, which is why we at Collective Evolution resonate deeply with what many call "Spiritually." That being said, even spirituality has transformed into something completely different today, with multiple 'new age' type dogmas emerging, modern day spirituality seems, in some sense, to be its own religion.
We are also very interested in the science of spirituality, because they tend to merge a lot. We now know that matter is not the only reality. There is a reason that most of our founding fathers of science were spiritual mystics. 
The Vatican, One of The Best Examples
(Painting on the left done by Michael Pacher) The Vatican might be one of the best examples of potential manipulation. In the view of the public, the Vatican and its many representatives from all over the world represent a force of love and peace, at least that's how they portray themselves. Despite this fact, and especially over the past few years, representatives of the Vatican have been accused and caught molesting children, and ties to large pedophilia rings have been discovered. The Vatican has had to spend billions of dollars settling and dealing with pedophilia cases, this is no secret.
Unfortunately, many of these children are, it seems, used in various 'Satanic type rituals.' The Vatican claims to be following the word of 'God,' but multiple insiders have come forth speaking about the predominant practice of Satanism within the Vatican.
In Hall's book, he provides many examples of how ceremonial magic, sorcery, and more were all practiced, and are a driving force among some very powerful people. He goes into the hows, whats and why, but that which used to be pure, according to hall, was taken and perverted by the world's elite, who, according to him and many others, still practice "black magic" till this day.
For example, according to Malachi Martin, an Irish Catholic priest and writer on the Catholic Church. Originally ordained as a Jesuit priest, he became Professor of Palaeography at the Vatican's Pontifical Biblical Institute.
"Most frighteningly for [Pope] John Paul [II], he had come up against the irremovable presence of a malign strength in his own Vatican and in certain bishops' chanceries. It was what knowledgeable Churchmen called the 'superforce.' Rumors, always difficult to verify, tied its installation to the beginning of Pope Paul VI's reign in 1963. Indeed Paul had alluded somberly to 'the smoke of Satan which has entered the Sanctuary'. . . an oblique reference to an enthronement ceremony by Satanists in the Vatican. Besides, the incidence of Satanic pedophilia – rites and practices – was already documented among certain bishops and priests as widely dispersed as Turin, in Italy, and South Carolina, in the United States. The cultic acts of Satanic pedophilia are considered by professionals to be the culmination of the Fallen Archangel's rites." (Written in his book about  geopolitics and the Vatican, The Keys of This Blood, page 632)
On multiple occasions he spoke about Satanism being the predominant practice within the vatican.
The list of figures like Martin speaking of such things is a long one. The Reverend Gabriele Amorth is another example, he was an Italian Roman Catholic Priest, and an exorcist of the Diocese of Rome, which is an administrative branch of the Catholic Church of Rome.
He claimed to have performed tens of thousands of exorcisms over his half a dozen plus decades as a Catholic Priest, and has mentioned a number of times how Satanism is practiced within the Vatican.  He has also claimed that girls are commonly kidnapped by a gang of Vatican police and foreign diplomats. He claimed that these girls are recruited for Vatican parties, and crimes with a sexual motive.
Perversion and sexual rituals go hand and hand with Satanism. According to the Telegraph, and various other sources, Amorth was Holy See's chief exorcist for 25 years.
"The Devil resides in the Vatican and you can see the consequences…The evil influence of Satan was evident in the highest ranks of the Catholic hierarchy, with "cardinals who do not believe in Jesus and bishops who are linked to the demon."
Alfred Kunz, a Catholic priest found murdered in a Church in ritualistic fashion after investigating reports of ritualistic child abuse by priests.
Again, the list goes on and it's a long one.
Pope Francis
Sexual abuse scandals within the Vatican have been made public, and the Pope has been forced to comment on it many times. Whether he is involved or not is unknown, there may very well be good forces within the Vatican as well, and perhaps conflicts among those who are parts of the various orders.
Francis recently compared sexual child abuse to a "satanic mass," which was interesting.
The Take-Away Message
The past five to six years have been quite the rollercoaster. The birth of multiple independent media outlets have shown the world that a lot more is going on behind the scenes than what we are presented with, or what the mainstream media chooses to present us with. Secrets have a way of emerging, they get so big that, eventually, mainstream media outlets have no choice but to pick up the story and, usually try to debunk. This is, in my opinion, a result of their relationship with powerful entities in several different ways. The relationship between government and mainstream media is one of many examples. 
The point is, a lot of information is emerging that's hard to believe, to the point where most people don't want to believe it, or pay any attention to it. If we don't pay attention to it, and bring the darkness to light, that means we can't identify it and thus, efforts to stop it can't even begin. Awareness is key.
That being said, it's clear that the majority of the people resonate with love, caring, kindess, the Golden Rule and a better human experience for everybody. If those whom we deem our leaders, and those who have amassed tremendous amounts of power and influence are engaging in such activities, what does that tell you?
Can we continue to give those who have influence over the direction the human experience takes unlimited amounts of power? Are these really leaders? Or are they simply tools, puppets and and people used to push an agenda of a small group of people who, above all, desire power more than anything else?
Our world has and is encountering so many problems, and for decades, our current system and forms of leadership have failed to act. There are so many instances where one is able to see that these people are really not concerned with making the world a better place.
It seems many are disguising  themselves as bringers of good-will, doing "good" in the public eye, only to be engaging in "evil" behind closed doors.
Have we been fooled?
The ability for the human race to make this world a better place is quite grand, and we're living in a time where we no longer look towards the Barack Obamas, the Pope's, the Clintons or the Trumps, but instead, we're looking to ourselves. We are the change we want to see, and we can shift this human experience at any time. Once we begin to see and awaken to what's really been taking place on our planet, our ability change the world increases tremendously.
If mass human attention was taken away from consumerism, for example, and the intent in everybody's heart was a desire for a better world, the action steps would manifest, and they are manifesting.
It's easy for us to label this as "good" or "bad," "dark" and "light." There is still a lot we don't know, but at the end of the day these are just experiences that are happening on our planet, and if they don't resonate with us, that's a good indication that it's a time for change.
Exposing this type of activity within powerful organizations that have tremendous ability to influence our world, be it the vatican, global politics, Hollywood, medicine, or finance, is all part of one big revelation and a process of transparency our world is currently going through.
The last thing I'd like to say is, judgement is not the answer. By that I mean, too often we judge the victimizer, and console the victim, when both parties need consolidation and love. Hurt people hurt people, and perhaps the "evil" in this world has its roots in a tremendous amount of fear and pain, and feel they can never really face the masses with truth and transparency and come clean, that is if they want to do that…
Dark Horoscope: What Kind Of Demon Are You According To Your Zodiac Sign?
It turns out that in the horoscope you can find out what kind of demon you are by your zodiac sign. Yes, according to esotericists, each of us has our own dark side, which obeys a certain representative of the underworld. And by the way, it doesn't always hurt us. Sometimes the demon's patronage even helps. 
If you want to know what kind of demon you are by your zodiac sign , then look for yourself in the list below. By the way, the dark horoscope begins unconventionally with Capricorn.
Capricorn – demon Dagdarion
It is believed that Capricorn is the most demonic sign of the zodiac due to its external resemblance to the appearance of Satan or Baphomet. Dagdarion, on the other hand, may look like a toothy fish, a satyr or a devil. This is a demon of coldness and indifference. He gives Capricorn strength of character and the ability to resist other people's emotions, helps to reach career heights and find useful contacts. But from a negative point of view, Dagdarion can make Capricorns into insensitive, proud, arrogant, calculating manipulative people.
Aquarius – the demon Bechemiron
Bechemiron is not one, but many demons, similar to hippos, can also take the form of a cat, dog, wolf or fox. Such a patron demon brings clairvoyance, prophetic dreams and strong intuition to his charges. However, he can also plunge a person into groundless fantasies and illusions. Therefore, it is so important for Aquarius not to lose touch with reality.
Pisces – demon Neshemiron
Neshemiron looks like a skeleton entwined with snakes, or a mermaid. It helps Pisces to better understand themselves and feel other people. Empty dreams, irresponsibility and spinelessness are the vices with which Neshemiron endows his wards. A person can waste his whole life, being lazy and considering himself an underestimated society.
Aries – demon Byriron
Byriron is the creation of Samael, the prince of the fallen angels. This is a child of fire, who has an active, cruel and fearless character. What is the use of it for Aries? It raises their fighting spirit and endows them with determination, helps them become a leader, an insightful and firm person. But the patronage of Byriron makes Aries too aggressive, power-hungry and despotic. Therefore, spiritual practices, yoga and meditation are recommended for representatives of this sign in order to learn how to pacify a storm of emotions in themselves. In addition, Byriron makes Aries show cowardice and "hide in the bushes" when it would be necessary to express their opinion.
Taurus – demon Adimiron
Adimiron is a creature in the form of a half-lizard, half-lion. This demon endows Taurus with a strong-willed and unyielding character. It is believed that the lion's part of the body of Adimiron gives his wards physical strength, and the part of the reptile's body – a "cold head", rationality and concentration. However, in addition to such gifts, this demon can make Taurus very stubborn, withdrawn and greedy individuals. Therefore, it is very important for them not to cling to the material world.
Gemini – the demon Celladimiron
Celladimiron is a Cerberus-like entity. He gives Gemini the ability to easily and quickly adapt to changing external conditions and circumstances. However, the dark side of Celladimiron's patronage is the inability to find oneself and one's place in life. Representatives of this sign run the risk of losing their true self, so they should engage in self-knowledge.
Cancer – demon Shehiriron
Shehiriron is a spirit of water, similar to a demonic reptile, insect, mollusk or crustacean with a human face. The most important gift that Cancers have in store from this spirit is the ability to make all their dreams and fantasies come true. But along with them, empty chores, obsessive thoughts, fears and phobias come into the life of Cancers. Sometimes representatives of this sign suffer from insomnia more often than others.
Lion – demon Shelhabiron
Shelhabiron is a werewolf-like fire spirit. It gives Leo the endurance and the ability to deal with very difficult and responsible tasks, as well as creativity. But on the dark side, Leos can be vicious, ruthless, heartless, and aggressive. Therefore, it is important for representatives of this sign to mobilize their own resources and direct all their internal forces in the right direction.
Virgo – demon Cefariron
According to the description, Cefariron is a half-living and half-dead entity. She helps Virgo see the truth, be an honest and impartial person, and also not pay much attention to public opinion. But all this, in turn, can make the representatives of this sign of people depressed and indifferent to the joys of life. Therefore, they are encouraged to practice positive thinking and not forget to devote time to what they like.
Libra – demon Obiriron
Obiriron is a demonic spirit similar to a golem or a leprechaun. It helps Libra find inner stability. Obiriron has power over time and can give as much of it as needed so that Libra can achieve what they want. However, because of this, the representatives of this sign relax and stop doing anything, thinking that everything will work out by itself. Therefore, the main advice for Libra is not to be lazy.
Scorpio – demon Neheshithiron
Neheshithiron is a demon that looks like a devil insect with a human head. From Scorpios, he makes aggressive and strong personalities. He also helps the representatives of this sign to transform and evolve. It is important for Scorpios to listen to their heart and go through life their own way, because otherwise Neheshitiron, wanting to return a person to his own path, may begin to destroy his life.
Sagittarius – demon Nahashiron
And the last demon according to the sign of the zodiac is the patron saint of Sagittarius, Nakhashiron. It is a demon that looks like a reptile with a dog's head. He helps Sagittarius to deal with the disadvantages of their character and become a strong and whole person. Nakhashiron provides the representatives of this sign with continuous movement towards the goal, giving them energy for transformation. The negative influence of the demon is reflected in the fact that a person can not withstand such a rapid development and get sick. Therefore, Sagittarius needs to streamline their lives as much as possible so as not to waste energy in vain.
Christian writer recorded the voice of Satan?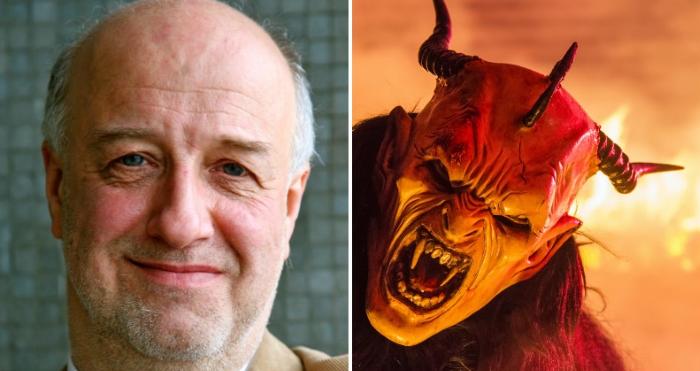 This week, foolishly, apparently, one author claimed to have recorded the real voice of Satan. To promote the new book, Christian author Roderick Millington published a track … of the devil himself, supposedly saying, "Come into the fire, come to me."
The electronic voice phenomenon has been the subject of controversy in the world of paranormal research for many years. Television shows such as Ghostbusters have publicly showcased the results of EVH, often manipulating frequencies to "reveal" a free voice shouting from the great beyond.
Whether you believe in the paranormal or not, Millington's "Voice of Satan" recording will make you raise an eyebrow.
"I confess right away that until recently I was one of the cynics who laughed at those who believe in the devil," the author begins. "Then I heard his voice and everything changed." He continues: "As I sat at my desk trying to figure out what Satan might have spoken to me directly, after a while my breath came back, my mind became clearer and I knew what I had to do. This book is the result. "
This book is titled "The Devil's Playground" and contains 21 supposed recordings of EVP demons along with Satan himself. However, you don't need to buy a book to hear Satan's voice! All you have to do is click here and scroll down to the "Come on fire, come to me" web player.
Rock and metal have a rich history of audio files, with religious leaders striving to find feedback and subliminal messages hidden in songs.
Led Zeppelin was accused of hiding the message "He'll give you 666" in the song, and Judas Priest and Ozzy Osbourne were put on trial after fans died.
No group was found guilty of a crime.
Hollywood studios are built on the blood of babies – Mel Gibson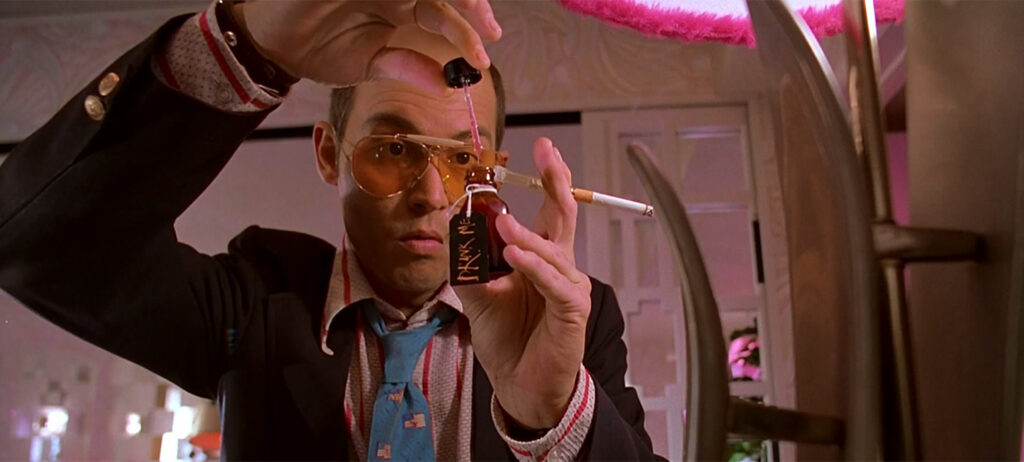 American film actor Mel Gibson criticizes both Hollywood and the morals of the American establishment – tough and unusual. Essentially, he blames a significant portion of the American elite for ritual Satanism. (before that, a similar terrible confession was made by another famous American actor Jim Carrey).
For this, he was blacklisted by the leadership of the US "creative world" in 2006. Since then, the actor has been working outside the system.
Gibson appeared in the prime time of the British BBC channel, in the Graham Norton show, on Friday January 19, where he answered guests' questions:
He said key players in the movie business "get their kicks from destroying the sanctuary of children" as they "thrive on breaking every God-given taboo known to man."
"These people follow their own religion and use it for moral guidance. It's not the sort of religious teachings you folks would ever hear about. They perform sacred rituals that are sick and totally at odds with the moral fabric that binds most patriotic Americans. The worst part: It's an open secret in Hollywood and everyone wants in on it."
He explained how he had been blacklisted by Hollywood's controlling oligarchs in 2006 for voicing his opinions about the industry that clashed with their liberal agenda.
He said that since then he has been "working outside of the system" which has given him a fresh perspective, saying:
"It's difficult to comprehend, I know, and I'm sorry that I am the one to break this to you, but Hollywood is an institutionalized pedophile ring. They use and abuse kids for their own sick 'spiritual beliefs,' if you can even call them that. I don't fully understand it myself, but they harvest these kids for their energy and feast on their blood. They don't do it mercifully either, they scare the sh*t out of them before they sacrifice them. The more innocent the child, the more terrified they are, the more they thrive on it," said the Braveheart star.
What does that mean? They aren't doing this as some form of artistic expression, they are harvesting the blood of children and eating their flesh because they think it gives them some sort of 'life force.'
"If the child was mentally and physically suffering when they died, then it gives them 'extra life force. I don't understand why they do that, but that's what they do. Most of us have a moral compass that guides us through life, right? These people don't have that, or if they do, it's pointing in the opposite direction."
Gibson, who has spent the last 30 years working inside and outside of the Hollywood regime, says that the industry's hierarchy "thrives on abuse, pain, torture, stress, and suffering.
According to Gibson, the desire to inflict such abuse isn't limited to just the elite, but only "those at the top of the food chain can afford such a 'luxury,'" although, it's a "goal for most people in the industry."
According to Gibson, this perversion isn't just the latest fad but has been a deep-threaded culture in Hollywood for generations, and is something popular among both men and women.
This happened "in the green room behind the curtains" immediately after the show:
https://twitter.com/MxMarineMom/status/1242626874112487424
Jennifer Lopez Desperately calls to Fellow SATANISTS as she Breaks Down Emotionally:
Can anyone believe him?
Most likely you can. In his revelation, Gibson publicly declared an epidemic of parasites that control Hollywood and personally participate in child sacrifices and pedophilia:
"every studio in Hollywood is bought and paid for with the blood of innocent children," he said, adding: "The most valuable currency in Hollywood is it's the blood of infants … key players in the movie business get adrenaline from this process and enjoy breaking the bans. "

"They have a blatant disregard for ordinary people. Destroying people's lives is just a game for them – the more they can hurt, the better the sensations. Children are just food for them. They revel in pain and fear, and the younger, the better. "
And then comes the phrase, which should be emphasized: "These people follow their religion and use it for moral guidance." What religion in human society justifies cannibalism and human sacrifice? This question should be asked by each of us.
– Satanism?
– Sure! But not only him. Let us recall the cases of ritual killings, which are widely known.
"They perform sacred rituals that ordinary people will cause bouts of nausea, and are completely in conflict with the morality that binds most patriotic Americans. The worst thing about all this is that it's an open secret in Hollywood and everyone wants to get involved. " (A very timely documentary was filmed on this very difficult topic. ]]>Galina Tsareva's film entitled Octopus ]]>– ed.)
"It's hard to understand, I know, and I'm sorry that I'm the one who opened your eyes, but Hollywood is the deadly legalized patrimony of pedophiles. They use kids to realize their scary sick fantasies. They take these children because of their energy and are saturated with their blood. They don't do it mercifully, they first put them in a state of horror before sacrificing them. "
"The more innocent a child, the better for them. What does it mean? They do not do this as some form of artistic expression: they simply drink the blood of children and eat their flesh, because they think that it gives them some kind of "vitality". "The more a child suffers mentally and physically when he dies, the more he gives them extra vitality." (These satanic rituals are designed to "feed" the demons with psychic energy, and those nonhumans who perform them drink blood that is saturated as a result of the child's inhuman suffering with ADRENOCHROME – a powerful drug that, in addition to "coming", also gives a powerful "rejuvenation" of the body – .)
"Hollywood is saturated with innocent children's blood. There have always been indications of pedophilia and cannibalism, but for many years they have been unprovable, mysterious, or symbolic. I have been familiar with this practice since the beginning of the 2000s, and I would be in serious danger if I ever talk about it. I do not mean only my career, I mean that my life will be in jeopardy, the life of my family will be in danger. I can talk about it only now, when these people, industry leaders, are already dead now. "
"Children are like" premium currency "and have a higher value than anything you can think of. They literally trade these children as currency for services, roles in films, kickbacks … "
According to Gibson, these terrible crimes (pedophilia, infanticide, cannibalism and ritual sacrifices) did not appear in recent years, they have ancient and not American roots. "If you investigate this phenomenon, you will find hidden facts in the shadow of any gloomy era in history. These dark, multidimensional occult practices have been used in secret societies for hundreds of years. Hollywood uses this for social programming and mind control, and their message is projected into the psyche of the American people … "
In what a famous American actor said, the rituals of a satanic human sacrifice are clearly described. It is also indicated that many people know about the existence of the secret structure of Satanists in Hollywood – but they are silent! Meanwhile, the occult powers of Hollywood are using their vast resources "for social programming and controlling the consciousness of the American people." I must say, very successfully used.
The key question is whether the Trump administration and the FBI will then initiate an investigation into the testimony of Hollywood ritual killings, or will the US authorities blame it on Gibson's creative extravagance?
We also note that on the sites that published material exposing Mel Gibson, there are many other creepy publications.
For example, Sylvester Stallone bluntly accuses Barack Obama of being a former U.S. secret homosexual, stating: "I have nothing against homosexuals, but I am against any lies" (Sylvester Stallone: ​​'Pathetic' Obama Is' Closet Homosexual Living A lie ')
]]>
Jim Carrey's article talks about the practice of ritual cannibalism in Hollywood for Christian Christmas (Jim Carrey: Hollywood Elites 'Eat Whole Babies' For Christmas). The author writes that criminal perverts are trying to distort and pervert the soul of the American people and change the whole world.
Adrenochrome: Evil Drug Of The Super Elite, Harvested From Terrorized Children:
Pizzagate, Spirit Cooking, Occult And Beyond:
Katy Perry's New Video Suggestive Of Cannibalism And Pedophile Lingo:
Pizzagate: Pedophilia, Child Sex Trafficking & Those Who Participate:
Materials about secret societies, humanoid mutants
About how the development of sex robots is being conducted so that perverts can conceive children with predefined properties (Sex Robots To 'Give Birth' After Sex With Humans Using Genetic Engineering).
Etc.