Mother Brings Baby Back to Life With Two Hours Of Loving Cuddles After Doctors Pronounce Him Dead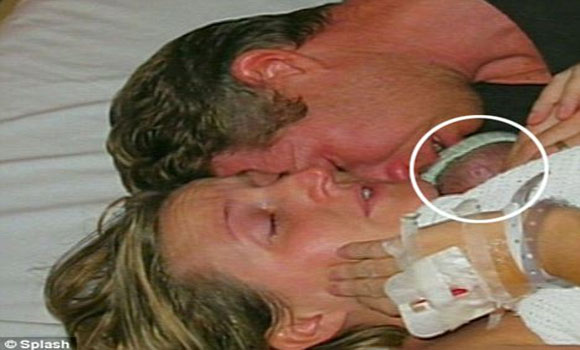 It was a final chance to say goodbye for grieving mother Kate Ogg after doctors gave up hope of saving her premature baby.
She tearfully told her lifeless son – born at 27 weeks weighing 2lb – how much she loved him and cuddled him tightly, not wanting to let him go.
Although little Jamie's twin sister Emily had been delivered successfully, doctors had given Mrs Ogg the news all mothers dread – that after 20 minutes of battling to get her son to breathe, they had declared him dead.
Having given up on a miracle, Mrs Ogg unwrapped the baby from his blanket and held him against her skin. And then an extraordinary thing happened.
Awful moment: Kate and David clasp each other and their son Jamie, circled, after being told he did not survive the birth. They were given the child to say their goodbyes but then, miraculously, two hours later he began to show signs of life.
After two hours of being hugged, touched and spoken to by his mother, the little boy began showing signs of life.
At first, it was just a gasp for air that was dismissed by doctors as a reflex action.
But then the startled mother fed him a little breast milk on her finger and he started breathing normally.
'I thought, "Oh my God, what's going on",' said Mrs Ogg.
'A short time later he opened his eyes. It was a miracle. Then he held out his hand and grabbed my finger.
'He opened his eyes and moved his head from side to side. The doctor kept shaking his head saying, "I don't believe it, I don't believe it".'
Proud mum: Kate with son Jamie when they appeared on Australian TVl. The boy was born prematurely with twin sister Emily at 27 weeks
The Australian mother spoke publicly to highlight the importance of skin-on-skin care for sick babies, which is being used at an increasing number of British hospitals.
In most cases, babies are rushed off to intensive care if there is a serious problem during the birth.
But the 'kangaroo care' technique, named after the way kangaroos hold their young in a pouch next to their bodies, allows the mother to act as a human incubator to keep babies warm, stimulated and fed.
Pre-term and low birth-weight babies treated with the skin-to-skin method have also been shown to have lower infection rates, less severe illness, improved sleep patterns and are at reduced risk of hypothermia.
Mrs Ogg and her husband David told how doctors gave up on saving their son after a three-hour labor in a Sydney hospital in March.
'The doctor asked me had we chosen a name for our son,' said Mrs Ogg. 'I said, "Jamie", and he turned around with my son already wrapped up and said, "We've lost Jamie, he didn't make it, sorry".
'It was the worse feeling I've ever felt. I unwrapped Jamie from his blanket. He was very limp.
'I took my gown off and arranged him on my chest with his head over my arm and just held him. He wasn't moving at all and we just started talking to him.
'We told him what his name was and that he had a sister. We told him the things we wanted to do with him throughout his life.
'Jamie occasionally gasped for air, which doctors said was a reflex action. But then I felt him move as if he were startled, then he started gasping more and more regularly.
'I gave Jamie some breast milk on my finger, he took it and started regular breathing.'
Mrs Ogg held her son, now five months old and fully recovered, as she spoke on the Australian TV show Today Tonight.
Her husband added: 'Luckily I've got a very strong, very smart wife.
'She instinctively did what she did. If she hadn't done that, Jamie probably wouldn't be here.'
The Mystery of the Taman Shud Case
The mystery of the Taman Shud case has puzzled law enforcement and intelligence agencies all over the world for more than half a century now.
Also referred to as "The Mystery of the Somerton Man", this unsolved case refers to an incident that took place on December 1, 1948 where and unidentified male body was found dead at 6:30 a.m. on the shore of Somerton Beach in Adelaide, Australia.
Police found his body after a handful of various witnesses reported what they suspected was a man who was either drunk or asleep, reclining on the sand with his head resting against the seawall.
He was clothed in fine European attire, but all of the labels had been deliberately torn off from his clothing, indicating a possible attempt to conceal his identity. His dental records did not match any known individual in Australia.
Police searched his pockets in an attempt to find some type of identification, but to no avail; their search only produced a redeemed bus ticket, an unused second-class railway ticket, a half-empty pack of Juicy Fruit gum, some cigarettes, and a partially empty box of matches.
After several unsuccessful attempts to confirm the man's identity and potential cause of death, police turned to an autopsy.
According to Sir John Burton Cleland, a noted University of Adelaide pathologist, the man's body had all of the signs of a death by poisoning, including severe congestion in the liver, kidneys and brain.
The man's spleen was enlarged about three times the normal size, and a significant amount of blood was located in his stomach as well.
Interestingly enough, several toxicology experts attempted to determine what type of poison was used, but it was completely undetectable in his body.
Authorities ruled the death a suicide by an unknown poisonous substance, but after a careful re-examination of the body by Sir Cleland, a small rolled-up piece of paper was discovered deep within a small fob pocket inside of the deceased man's trouser pocket.
The paper contained the words "Taman Shud" (meaning "ending", "finished" or "the end" in Persian) printed on it, and the reverse side was blank.
Public library officials were able to determine that the phrase came from the text of a collection of poems known as The Rubaiyat by Persian philosopher Omar Khayyam.
Police conducted a widespread campaign to find the book that the text was torn from, circulating images of the piece of paper in the press all over Australia.
A man whose identity has been kept anonymous by the police came forward and revealed that he had discovered a very rare copy of The Rubaiyat in the backseat of his parked, unlocked car on Jetty Road in Genelg about two weeks prior to the discovery of the body.
The man said that he had no idea that the book had any connection to the case until he read about it in the newspaper.
The book was missing the phrase "Taman Shud" on the very last page, and microscopic tests confirmed that the small piece of paper found in the Somerton man's trouser pocket was indeed torn from the final page of the book.
Five lines of all-capital letters were scrawled in pencil in the very back of the book, delineating what authorities have ruled as some type of code.
Investigators first conjectured that the lines represented a foreign language, but that was later ruled out in favor of some type of cipher or cryptographic message. The five lines are as follows:
WRGOABABD
MLIAOI (this second line was struck through in the original message, indicating a possible mistake due to its similarity to line 4)
WTBIMPANETP
MLIABOAIAQC
ITTMTSAMSTGAB
A phone number was also written in the back of the book, which police later discovered belonged to a woman who resided on Moseley Street in Glenelg, only about a quarter of a mile from the location where the body was discovered. (Side note: Glenelg was also the destination listed on the bus ticket found in the Somerton man's pocket.)
After being questioned by police, she stated that she did own a copy of The Rubaiyat during the time when she worked as a nurse at the Royal North Shore Hospital (in Sidney) during the second World War, but that she had given her copy to an Australian Army lieutenant named Alfred Boxall in 1945.
Police were now certain that the dead man could be identified as Alfred Boxall, until the real Alfred Boxall surfaced later with a different copy of The Rubaiyat (a 1942 edition), with the last page containing the phase "Taman Shud" intact!
The woman and did not claim to have any connection to the dead man discovered at Somerton beach. She asked to remain anonymous since she was newly married with a toddler, and did not want to be associated with a murder mystery or Boxall.
Amazingly, the police agreed to grant her anonymity, although she was considered to be the best lead in the case.
To this day, the identity of the Somerton man has not yet been confirmed, and the meaning of the cipher (if any) has not been determined.
Many have speculated that the mysterious man may have been some type of spy since his death occurred during a particularly intense period of the Cold War.
Several intelligence specialists, cryptanalysts, mathematicians and astrologers have attempted to decipher the code, but no one has been successful as of yet.
Perhaps the enigma of the Taman Shud case will never be solved, but it still carries an air of mystery and intrigue that fascinates people all over the world.
The Mercury Monolith is proof that an Extraterrestrial Civilization inhabited the Solar System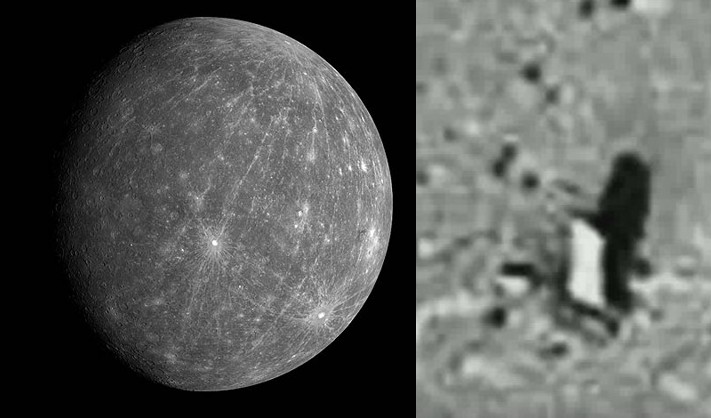 It seems that Mars is not the only planet in our solar system that hosts mysterious monoliths. According to the images recorded by space probes, relative to the surface of Mercury, the "fire" planet is added to the list of planets and moons of our solar system, which show fascinating anomalies, which according to many, show that there is alien life, or at least it existed up to a certain point, in our solar system.
Many researchers call the monolith of Mercury the 'door to another world', while others believe that it is one of the many evidence that points to the fact that millions of years ago and perhaps even before life on Earth, an advanced alien civilization was created, that inhabited our solar system, leaving behind traces of their existence that we are beginning to find today. The massive "artificial structure" was recently analyzed by the researcher and YouTuber "SecureTeam10", who discusses and analyzes the" black rectangular structure "that is present in the images taken by NASA. A similar monolith can also be found on Mars and on one of its Phobos moons.
Curiously, astronaut Buzz Aldrin also said: "We must see better the moon of Mars (Phobos). On its surface there is a monolith, a very particular structure on this small potato-shaped object that revolves around Mars once every seven hours. So who put that thing on Phobos? Who put it? Well the universe put that object there, or if you choose … God put it there. "
The mysterious structure seen on the surface of Mercury was first sighted in 2012, when researcher Scott Waring had analyzed it on his blog. However, the video uploaded to YouTube by Tyler Glockner, analyzes the mysterious structure in the shape of a monolith on the surface of Mercury: "I took an excellent image that became clear to me … that this is not an entrance open to everyone. In reality, it is something much more magnificent. It is a shadow … but where does the shadow come from? Dear friends, the rectangular object is a monolith structure with an imposing appearance above the surface. "
Many are convinced that the image presented by NASA actually describes a permanent structure on the surface of Mercury. Glockner believes that due to the inclination of the shadow from the Sun, you determine the black rectangle which is then actually a shadow of a permanent structure on the surface.
According to data collected by the Messenger probe, Mercury is a planet subjected to high temperatures, but it also has water and organic material present on its surface. It is interesting to note that the amount of water on the planet is sufficient to cover Washington DC on ice. According to the scientists, it is believed that Mercury possesses its own dose of organic material, which when compared is similar to that which was present on our planet at the time of the creation of life, millions of years ago. Incredibly, this material, according to scientists, has been the building blocks of life.
DB Cooper witness finally shares his story
A passenger who sat near Cooper during his infamous plane heist has spoken out about his experience.
The hijacking occurred in 1971 when a mysterious man, who at the time went by the name Dan Cooper, boarded Northwest Orient Airlines Flight 305 to travel from Portland to Seattle.
During the trip, Cooper called over one of the flight attendants and asked them to write out a note declaring that he had a bomb in his briefcase and that the plane was being hijacked.
When the aircraft stopped at Tacoma International Airport, he allowed the passengers to leave in exchange for four parachutes and the sum of $200,000 in cash.
After the plane had taken off again, Cooper strapped the bag of money to himself, put on one of the parachutes and jumped out somewhere between Seattle and Reno. No trace of him was ever found.
One passenger who got a good look at Cooper during the original flight was Bill Mitchell – a University of Oregon sophomore who remained sitting nearby when the other passengers moved up front.
"The pilot came on and said, 'We had engine trouble and so we're going to have to run out some fuel'," he recalled. At the time, he had no idea what Cooper was up to but became somewhat suspicious when one of the flight attendants went to sit down next to him.
"My ego got in the way of this," said Mitchell. "It sort of bugged me that this flight attendant was talking with this older guy with a suit and smoking, and here you had a University of Oregon sophomore sitting right across the aisle and she wouldn't make any eye contact or anything."
His description of Cooper would later be used to help create the image of him seen above.
As for what ultimately happened to the culprit, Mitchell is unconvinced that he got away.
"My theory from day-one, or three days after I realized what was going on, is that he's plunked down on the ground some place in southern Washington dead with the money," he said.
For all we know, he could be right.
Source: Komo News