Most Haunted Buildings in North Wales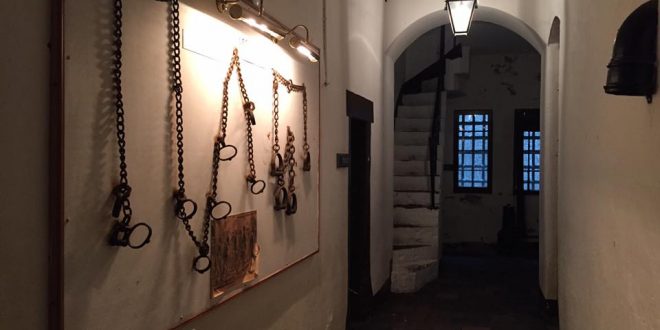 North Wales. A land of scenic beauty, rugged coastline and picturesque countryside. This is what people generally think of when they think of North Wales. However, there is another side to my welcoming homeland. Along its labyrinth of winding roads through the mountains and hills you can unearth its many gruesome histories, secrets and paranormal hotspots many overlook. North Wales breathes history and with that many fascinating tales of all the people who have come before us and seemingly don't want to leave or to be forgotten.
If you want to experience this all for yourself then come with me to our first location on the haunted house's map of haunted North Wales …
Pen-y-Lan Hall, North Wales
Location: Raubon, Nr Wrexham
Building Type: Country House
Date Built: 1690
Pen-y-Lan Hall sits ominously within 1000 acres of land in Raubon. Dating back to 1690, this Grade II listed Tudor-Gothic country house has more than its fair share of ghostly tales, and things that go bump in the night.
Poltergeist activity has been frequently reported, items disappear only to reappear in a completely different place some time later. Heavy footsteps have been heard stumbling down the dark corridors. Meanwhile voices chatter as if they do not care who is listening. In addition a dark and foreboding presence has been felt in the servant's quarters. Could this be the remnants of a disgruntled ex employee? The spirits of children frequent the hall, they are often heard playing in the many rooms.
Pen Y Lan carries the reputation locally of being notoriously haunted and the image of a child was captured peering out of a window at the hall. This was documented and reported at the time by the local tabloids. One local story also tells of a child who was reportedly saved from drowning in a lake on the ground by a mysterious dark figure who disappeared! His figure is seen at the same spot even now! Making this one of our most haunted places in North Wales.
Nant Clwyd y Dre, North Wales
Location: Ruthin
Building Type: Timber Framed Town House
Date Built: 1435
As we move 24 miles North West deeper into North Wales we find ourselves at Nant Clwyd y Dre Wales' oldest dated timber town house in Ruthin.
Built in 1435 the property has changed hands many times through its history. The house was used by two surgeons in Victorian times, then an ironmonger, girls school and also as a rectory. This may be why there are a plethora of ghosts and spirits who have chosen to stay in the building.
Loud bangs are still heard in the dead of night, poltergeist activity is rife, and the most famous of spectres is the classic Lady in White who wanders aimlessly around the maze of hallways the building has to offer. With so much spirit activity that takes place at this location, it truly has earned its name as one of the most haunted places in North Wales.
Ruthin Gaol, North Wales
Location: Ruthin
Building Type: County Jail
Date Built: 1654
You will not have to travel far to our next location. In fact , it is a five minute walk to the next street.
Another one of the Most Haunted Places in North Wales is Ruthin Goal, or Jail – holds a dark history of torture, brutality and squalid conditions for murderers and the most revered criminals of its time. Constructed small in 1654 the original jail only consequently held 4 prisoners. By 1865 the prison had been remodeled to conform with new standards and could hold 100 prisoners.
There was only one documented execution at the prison. William Hughes was hung in 1903 for murdering his wife.
As you can imagine in a place such as a jail there are many tormented souls still serving their time. One spirit is reported to be William Kerr who was an ex prison guard who went missing during his rounds one day without a trace. Is he trying to let people know what happened to him?
Spectres have been seen on CCTV walking in and out of cells and the echoes of a young girl called Beatrice has been seen. Cell doors bang and tortured screams are often heard.
My personal experiences here
On a personal visit to the jail I was using my Ovilus device, which allows spirits to manipulate an in-built dictionary through their energy to communicate. I stood next to the coffin that is placed in the middle of the floor by the cells and immediately the word that presented itself was "Coffin"! The device also stated the word "release" when I exited the building. It seems the ghosts and spirits at this location are highly intelligent!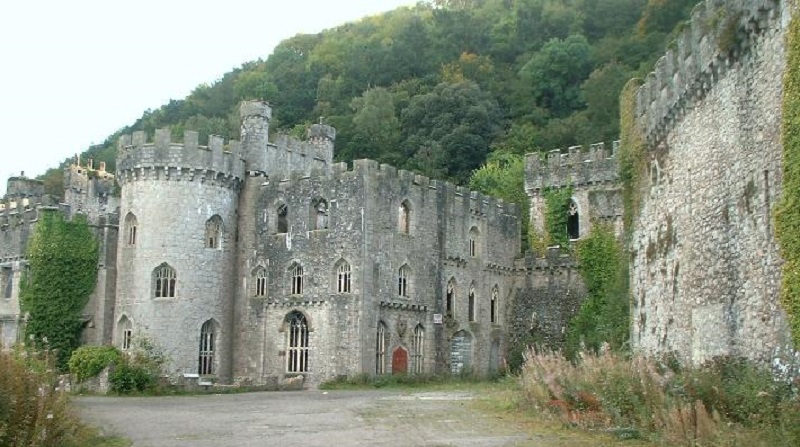 Gwrych Castle, North Wales
Location: Abergele
Building Type: Stately Home
Date Built: 1819
We now make our way west along the A55 you will be spoilt by the coast views to your right and the rolling hills to your left. As you near Abergele you will finally see our fourth location on our most haunted places in North Wales journey. Namely Gwrych Castle.
This paranormal hotspot is as enchanting as it is terrifying. First built between 1819 and 1825, it was originally a family bolt hole to the countesses and lords of the Dundonald family. During world war II the Government used the castle to house 200 Jewish refugees . After the war the castle left the family and subsequently then opened to the public.
Gwrych became a training venue for the English World Middleweight boxing champion Randolph Turpin in the early 1950's. He himself had a paranormal experience whilst staying at the castle. Turpin told that a lady in a red dress was seen crying when he was walking in the garden one evening. He asked her what was the matter, however, she simply vanished! The castle has held many events such as medieval re-enactments, the famous Dragon Rally in the 70's and movie scenes have since been filmed in the grounds.
In 1985 the castle sadly fell into neglect. The floors slowly fell through, the gardens overgrew, and the spirits were left alone. Nobody was there to hear the ghostly horse hooves treading the ground or see the dark shadows often seen.
My personal experiences here
I recall in my early ghost hunting days visiting the castle numerous times at dusk where I felt captivated as I walked the halls and out buildings. It was also on one of those occasions where Randolph Turpin's Lady in Red made her presence known to myself and three friends I was with at the time. She walked straight out of a wall into the courtyard we were standing in!
Although it is now 14 years since this happened, I can still remember exactly what she looked like. She had a long flowing old style red dress on with a white shawl over her arms that fell down her back. The spirit had blonde curly hair and glowed as if in daylight. We stared at her transfixed for what seemed like ten minutes when our fixation was broken by a gut-wrenching scream that filled the air. On this we made our very hasty exit at this point! We were totally unaware at the time about the "Lady in Red" connected with the castle and it was only after we researched the hauntings that we realised who we had seen.
A lady fell of a horse in the grounds and sadly died. However, her wishes to be buried at the castle were not honoured. This experience is what drives me further in seeking out more evidence of the paranormal. How fortunate was I to be there at the right time so see that lady replay her steps in death as she did in life. And this is why we, as persons interested in the paranormal do what we do, right?
Penrhyn Old Hall, North Wales
Location: Penrhyn Bay
Building Type: Tavern
Date Built: 1500's
Penrhyn Old Hall is tucked away in the small hamlet of Penrhyn Bay. Just at the bottom of the hill before you arrive in the Victorian seaside town of Llandudno.
It is mostly of the Tudor era owned mostly by the Pugh family. Previously, the hall was known as a hideout for Catholic priests. The fire place contains a priest hole where terrified priests used to hide from the King's men. So it is no wonder the ghost of a monk has been seen gliding through the Baronial Hall at Penrhyn Old Hall.
Within the hall's history it tells of a monk, William Davies, fleeing the King's men and hiding in a cave on the Great Orme. He took with him a printing press and printed Wales' first book. Davies was later caught, hung drawn and quartered in Beaumaris.
You will hear more about Beaumaris later on in our journey. Other ghostly figures include a boy who sprinkles salt on tables, a young girl from the Pugh family who is said to have been murdered at the hall for falling in love with a non-catholic boy and a soldier. An old lady is seen sitting by the fire place and guests feel like they are constantly being watched.
Today Penrhyn Old Hall is a restaurant and has function rooms for hire during the day. But at night it comes alive with paranormal activity not for the faint hearted.
Plas Mawr, North Wales
Location: Conwy
Building Type: Elizabethan Town House
Date Built: 16th Century
Conwy is a medieval coastal town filled with narrow streets, charming little shops and of course Conwy castle that towers over it all. However, in the middle of a bustling cobbled main street stands Plas Mawr an Elizabethan 16th century townhouse.
The property was built by Robert Wynn, a member of the local gentry. After 1683 Plas Mawr passed into the hands of the Mostyn family and was no longer used as a family home. It was rented out for various purposes including for use as a school, and finally as the headquarters of the Royal Cambrian Academy of Art.
Reported Ghosts of Plas Mawr
Plas Mawr is extremely haunted and there is good reason why. Robert Wynn's wives both died at the property. The first of illness and the second, Dorothy, fell down the stairs whilst carrying her new born baby. A doctor was called for to tend to the wife and baby. He was told in no uncertain terms by Robert that his wife and baby could not die and he locked the doctor in the bedroom. Unfortunately, both perished and the doctor was nowhere to be seen when the bedroom was unlocked. Many say the doctor tried to escape up the chimney and suffocated. Does the doctor haunt the bedroom?
A ghostly face is seen peering out of the bedroom door, also Robert Wynn himself is seen walking around the house, greeting people with ghostly "hello"! Elsewhere on the second floor two women spirits have been encountered, one of them seems distressed. Could this be both of Roberts two wives?
Also, poltergeists like to throw items at guests and the smell of tobacco can be smelt. Unseen hands touch unsuspecting guests without permission. The spirit of a black cat has also been seen crossing the floors.
We have come to the last location on our Haunted Houses tour of the most haunted locations in North Wales. It is located on the Isle of Anglesey, itself famed for its mythology, mystery and abundance of ghosts and phantoms.
Beaumais Gaol, North Wales
Location: Beaumaris, Anglesey
Building Type: Former Gaol & Police Station
Date Built: 1829
Beaumaris jail dates back to 1829. Looks can sometimes be deceiving as after its use as a prison it was used as a police station and children's clinic.
During its time as a jail prisoners were subjected to a strict horrific regime and were often whipped, chained and isolated in a dark cell for up to three days. You can visit this very cell yourself and turn off the lights to experience how that would have felt, even just for ten minutes. Two inmates that were subjected to this torture were Williams Griffiths and Richard Rowlands who were both hung and are buried at the prison grounds. Both of their spirits haunt the jail to this day and regularly communicate with guests via the Ouija boards.
A female spirit named Bridget wanders the jail looking for her child who also perished within the walls. A darker more mischievous energy also frequents the jail and is often seen. I, myself, have had my name whispered in my ear when alone in the jail. The condemned man's cell is much less welcoming at night with a heavy atmosphere that would make even the most seasoned ghost hunter very uneasy. Whistling and faint moaning can be heard at the dead of night within the jails freezing halls.
The jail governor also still patrols the jail and has been seen inside his office or outside on his viewing platform looking down the halls where he had a prime view of all the prisoners…and now the living.
So here ends our journey through some of North Wales' most haunted locations. As ghost hunters we seek the unexplained so where better to do this than one of these fascinating locations. You will not be disappointed.
Haunted Houses North Wales Team can assist you in your journey in experiencing the unexplained, communicate with spirits using the latest equipment and techniques in the best locations in North Wales and most importantly have fun whilst you do it! To book your place please visit OUR WEBSITE www.haunted-houses.co.uk
* This is a guest post written by  Gemma Williams from Haunted Houses Events.
Gemma is a member of the Haunted Houses North Wales team living in Old Colwyn, and her passion for the paranormal is inspirational to many. Gemma has a real love for sharing her ghostly encounters that she has experienced in the field of ghost hunting. And hearing about what others have learned on their journeys too. Her conscious knows that good energy is key to making your ghost hunting event with Haunted Houses the best it can be, so brings it with her in abundance. Gemma invites others that are interested in the paranormal to join her in North Wales on a ghost hunt. But don't forget your torch, as with Gemma you can guarantee its going to be in the dark!
This Terrifying Haunted House Will Give You $20,000 If You Can Make It to the End — but No One Ever Has (Video)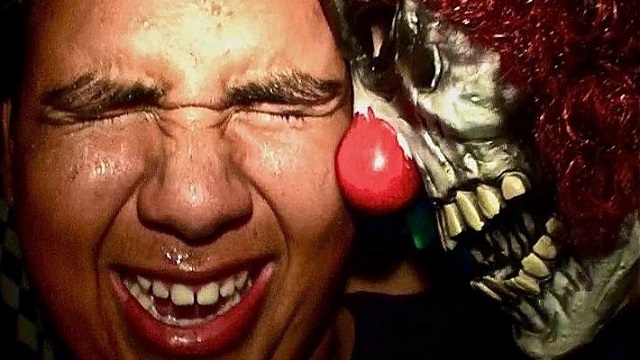 McKamey Manor in Summertown, Tennessee may lay claim to being the world's scariest haunted house. It's so scary that no one has ever completed it — but if you do, you'll win $20,000.
All it costs to enter is a bag of dog food. Russ McKamey, the owner and mastermind behind the manor, has five dogs to feed.
The haunted house has several eye-popping preconditions. Contestants who want to enter must get a letter from their doctor asserting they are physically and mentally fit, and there's a drug test day-of. Signing the 40-page contract alone takes three to four hours. Oh, and you have to have medical insurance because you'll probably get hurt.
"I'm a very straight laced conservative guy, but here I run this crazy haunted house that people think is this torture factory, fetish factory," McKamey told local news WFLA. "All of these things that it's not, but people believe that based upon the films that I have made."
McKamey concocts each "show" for every individual contestant who visits, cooking up particular stunts and tasks suited to their particular fears. It's been featured on the Netflix show Dark Tourism and Haunters: The Art of the Scare.
McKamey is adamant that nothing weird goes on in the manor, despite a report from The Guardian that said visitors may be "bound, masked and held under water, slapped and stomped on, and compelled to eat your own vomit" during the eight-hour tour — if they last that long. McKamey insists it's a more of a "mental game" between him and contestants, which he wins using hypnosis.
Each contestant's entire journey through the manor is filmed, which McKamey says is to protect himself against false accusations.
"When I use the hypnosis I can put you in a kitty pool with a couple inches of water and tell you there's a great white shark in there, and you're gonna think there's a shark in there," he told WFLA. "And so, when you have that kind of power over people, and have them do and see things that you want them to see, then they can leave here thinking it really happened, and they'll go to the authorities and say, 'oh, whatever,' and I have to come back and show the footage and say, 'it didn't go that way at all.'"
There's also a required two-hour video you must watch if you think other people are sissies and you're made of stronger stuff. "And Then There Were None" is one hour and 48 minutes of people giving up the haunted house, telling the camera and future visitors "you really don't want to do this."
If you think you've got what it takes, you can contact McKamey online to set up your own terrifying tour. For something a little less terrifying, here are houses with haunted pasts you can visit without signing away your life.
(Source: Travel And Leisure)
Ghost of a child is filmed at an English Pub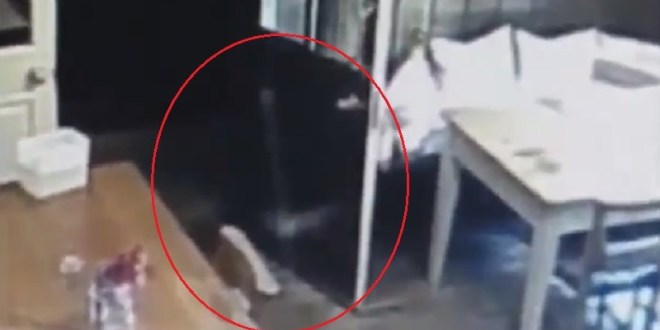 A security camera in the Lamb and Lion pub in York, England, has filmed what many believe to be a ghost of a child.
The apparition was spotted by assistant manager Lee Smith while checking through footage and has left him creeped out.
The video shows the apparition come through the doorway as a waitress clears the tables. The waitress seems oblivious to it.
There has been a number of reports of paranormal activity in the pub including hearing a child crying in the room above.
Lee has worked in the pub for four years. He claims the footage is unedited.
He said "The camera is close to the bar area and I was round there setting up after breakfast.
"I was checking the CCTV to see where my colleague, Molly was as we were cleaning and preparing for the day ahead.
"I saw the outline of what appeared to be a ghost which caused me to jump back shocked, thinking 'what on earth is that?'
"Molly walked past none the wiser, so I called her and she came and looked at the footage. She was as startled as I was.
"She did say she thought I was in the room with her and felt someone behind her. I don't believe in ghosts but that footage is pretty convincing.
"A lot of people are saying it's the light glaring through the window and someone said it could be cobwebs but there aren't any.
"It looks like a small girl in a dress. It was very strange, especially with Halloween this weekend. A few other colleagues have reported ghost sightings in the past so maybe it's the building."
What do you make of it?
Evil Among Us – Tales from the Warrens
I am nearly certain that most of you visiting this site have heard of Ed and Lorraine Warren. If you have not I will be honored to introduce them to you.
Ed and Lorriane Warren are considered by many well respected people in the field of paranormal study to be among the fields biggest advocates, ambassadors and experts.
Lorraine a clairvoyant who has been able to see and communicate with spirits from a very young age and Ed an ex police officer and self-taught Demonologist.
In 1952 they founded the New England Society for Psychic Research the oldest ghost hunting group in New England. They authored many books about the paranormal and about their private investigations into various reports of paranormal activity. They claimed to have investigated over 10,000 cases during their career.
Edward Warren Miney was born September 7, 1926 in Bridgeport Connecticut he joined the United States Navy on the day he turned seventeen and at one time like his father was a police officer. Ed says that he lived in a haunted house from around five years of age until around twelve. His father  would say "Ed there is a logical reason for everything that happens in this house" but as Ed would later reflect His father never could provide that logical answer.
Ed speaks of many events that took place that were simply unexplainable. When Ed was sixteen he worked as an usher at the Colonial Theater in Bridgeport and it was there that he met Lorraine Rita Moran. She was only sixteen as well.
"Lorriane and her mother would come every Wednesday night" Ed remembered  One of those nights he asked to walk her home which turned into him asking for a date that's how it started. They were both only sixteen. Ed died on August, 23 2006 in Monroe Connecticut at the age of 79.
Lorraine Rita Moran Warren was born January 31, 1927 in Bridgeport Connecticut. She learned from a young age that she was a clairvoyant. A trance medium. It was by fate that she would later become the wife of a Demonologist. When their individual powers were combined, they were second to none in their field of study. The Paranormal. Lorraine passed away just this year on April 18, 2019 at the age of 92.
THE BEGINNING
Shortly after beginning a court-ship with Lorraine Moran. Ed Warren went to serve in World War ll four months later the ship he was on sank in the north Atlantic and while home for thirty days for survivors leave the two were married.
After he returned from the war. The Warrens welcomed a daughter Judy and that's when Ed started attending Perry Art School which is a subsidiary of Yale for about two years.
He eventually parted ways unhappy with some of the instructors and there methods.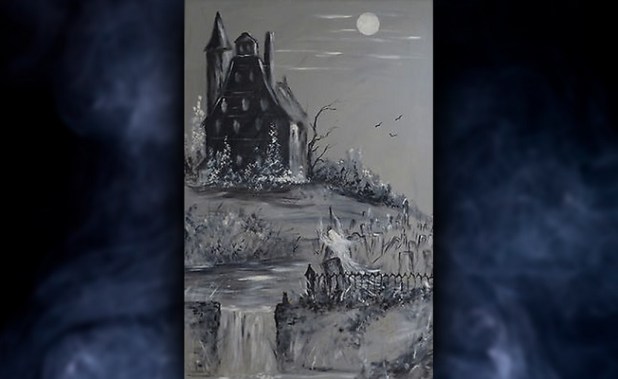 This is an interesting fact on how The Warrens began their careers in the Paranormal world. After Ed left Art school he purchased a 1933 Chevy Eagle-deluxe for a whopping $15. With this car they traveled around selling Ed's art paintings and they did pretty well.
If Ed heard of any houses or locations claiming to be  "Haunted" he would drag Lorraine a long to check it out. "Oh Ed there are no such things ghosts" she would say. Pretty funny thing for her to say considering how it all turned out.
Ed used his talent as an artist to create a painting of the, haunted house and have Lorraine deliver the final product to the home occupants. In most cases this impressed upon them enough to allow the "curiosity seekers" to come have a look around and ask some pointed questions. Ed was drawn to their experiences from his own this is basically how it all began for these two remarkable people and as time would have it they became in my opinion to this day the two most famous paranormal investigators of all time.
The New England Society for Psychic Research- was founded in 1952 and the goal at first was to simply investigate hauntings. Then one day in 1965 they were in the home of a little girl and listened to her through a deep trance medium and understood she was looking for her mommy, it was then they decided they didn't just want to experience the hauntings but wanted to help.
The Cases
Below are four of the Warrens most famous and controversial cases.
A Haunting In Connecticut
In 1986 The Snedekers rented an old house in Southington Connecticut. Allen and Carmen moved in with their daughter and three young sons. One day Carmen found some strange items that turned out to be morticians tools. The family soon discovered to their dread that the home was once a funeral parlor and the eldest son began seeing ghosts and having terrifying visions. It even went far enough that Carmen was being sexually abused by demons and called upon the Warrens for help.
The Perron Family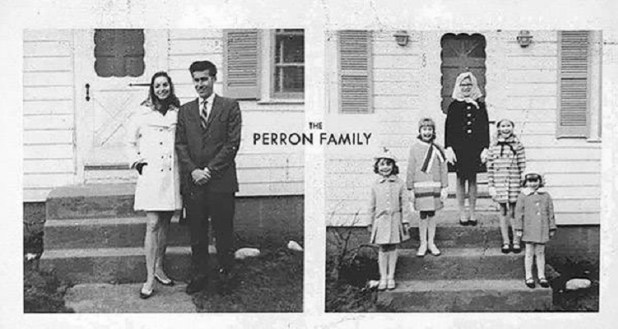 In January 1971 in Harrisville, Rhode Island the Perron family moved into a huge fourteen room farmhouse that they would claim was haunted. This home and family and what took place here would become the basis for the 2013  movie
The Perron family were being tormented by several entities that were somehow tied to the property. Including a woman by the name of Bathesheba Sherman who pushed them over the edge until Carolyn called upon the Warrens who after a long investigation and battle with the forces there were finally able to help bring the family some closure.
Annabelle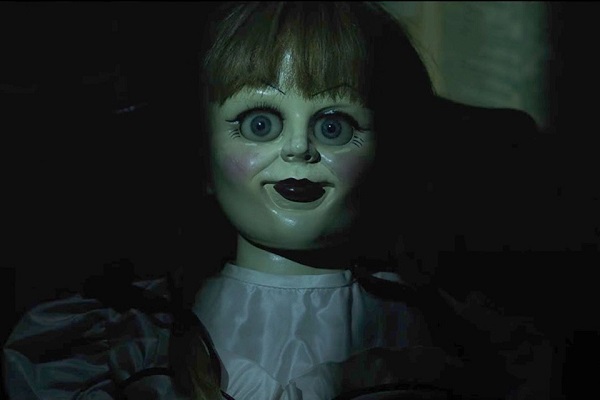 In 1968 a ragdoll was bought as a gift for a nurse named Donna by her mother for her 28th birthday. She brought it back to her apartment that she shared with a fellow nurse named Angie.
All was well at first. Until Annabelle started moving from spot to spot on her own and leaving notes. When the girls called for help a medium told them the doll was haunted by a deceased child named Annabelle. This prompted the Nurses to make a huge mistake by inviting her to stay.
After the doll attacked one of the girls boyfriends and scratched his chest. They contacted the Warrens who would order an exorcism of the apartment and take possession of Annabelle and lock her in a glass case in there Occult museum.
Amityville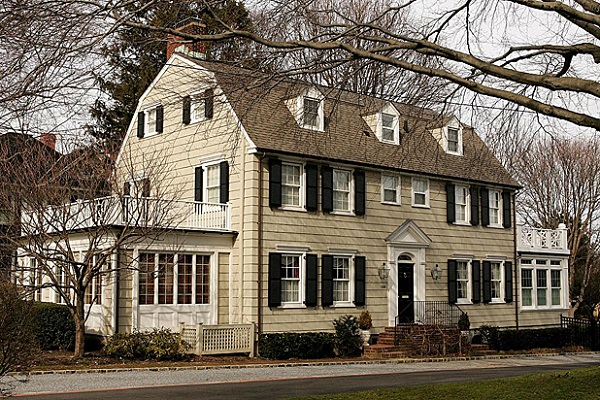 Without a doubt the most famous and controversial case taken on by the Warrens. In 1974 thirty-miles outside of New York in the Long Island town of Amityville Ronnie DeFeo Sr. A car salesman, His wife and four children, two sons and two daughters were shot to death in the family home by 23 year old Ronnie DeFeo jr. Who said voices in his head told him to.
Thirteen months later the Lutz family moved into the house at a drastically reduced price. Due to the murders. They only lasted 28 days before clearing out. There spine tingling tales of paranormal activity is what led to the legend.
So many evil things happened while they were there that 20 days after the Lutz family moved out Ed and Lorraine Warren and their team studied the home and documented several negative encounters that are well documented. They also captured this picture that they claimed to be of the ghost of a little boy
There were several critics that claimed the whole thing to be a hoax ,even though George and Kathy Lutz passed lie detector tests. I personally believe in all of these stories because I have encountered demonic forces many times in my life perhaps if given the opportunity I will be able to share some of those stories right here on this very site.
Author: Brandon C. Allen is a web-blogger and freelance writer who has written short stories and poetry for over twenty years.