More Than 50,000 Marijuana Convictions in Los Angeles Will Be Automatically Wiped Clean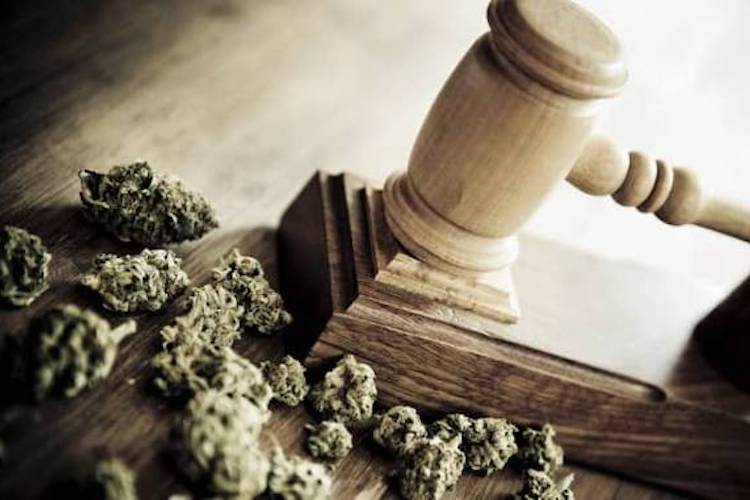 Vic Bishop, Staff Writer
Waking Times
In the age of cannabis legalization, we have to reconcile the damage done by the war on this medicinal and enjoyable plant. In this effort, a growing number of cities and counties in cannabis legal states are advancing legislation to expunge the criminal records of people with certain marijuana related convictions. Even the federal government is showing signs of slowly getting on board with this, as Democrats recently introduced federal legislation that would legalize cannabis nationwide and erase possession charges.
The latest and largest metroplex to take on this issue is Los Angeles, where officials from two counties are putting plans in place to reverse over 54,000 prior convictions. Code for America, a non-profit organization dedicated to helping the government to use technology in the service of the citizenry, will be employing an algorithm to quickly identify qualified beneficiaries and automatically remove their convictions.
A move like this will greatly improve the lives of thousands of people, as criminal convictions in California can have serious negative repercussions on day-to-day living, as noted by Code for America in the following Tweets.
2/ In California alone, there are 4,800 legal obstacles that exist for someone with a criminal record. Obstacles like the ability to get a job, access financial aid, get a loan, etc.

— Code for America (@codeforamerica) April 1, 2019
4/ Nearly every state in America has record clearance laws. But many people do not clear their criminal records because:

🔹they do not know they are eligible
🔹they do not know how to do so
🔹the cost is prohibitive
🔹it takes too much time

— Code for America (@codeforamerica) April 1, 2019
6/ There are ~54,000 marijuana convictions eligible for automatic record clearance in Los Angeles & San Joaquin County by rethinking the record clearance process. This builds on Clear My Record's success in SF with @DAGascon – 8,132 convictions cleared in SF county.

— Code for America (@codeforamerica) April 1, 2019
8/ We're proud to work w/ these district attornies to remove barriers to employment, housing, health & education for thousands of people & demonstrate that our institutions can deliver on the promise voters intended when they passed Prop 64. #JusticeAtScale #SecondChanceMonth

— Code for America (@codeforamerica) April 1, 2019
The district attorneys from Las Angeles and San Joaquin counties held a press conference to talk about the initiative and how the process will work.
LIVE: Los Angeles District Attorney Jackie Lacey and San Joaquin District Attorney Tori Verber Salazar join our Founder and Executive Director, Jennifer Pahlka, to announce our partnership to automatically clear records & provide relief to thousands of individuals eligible under the law. Tune in now!

Posted by Code for America on Monday, April 1, 2019
About the Author
Vic Bishop is a staff writer for WakingTimes.com. He is an observer of people, animals, nature, and he loves to ponder the connection and relationship between them all. A believer in always striving to becoming self-sufficient and free from the matrix, please track him down on Facebook.
This article (More Than 50,000 Marijuana Convictions in Los Angeles Will Be Automatically Wiped Clean) was originally created and published by Waking Times and is published here under a Creative Commons license with attribution to Vic Bishop and WakingTimes.com. It may be re-posted freely with proper attribution, author bio and internal links. 
Polar vortex: "wild" winter is coming in the US, Northern Europe and East Asia after the 16th of January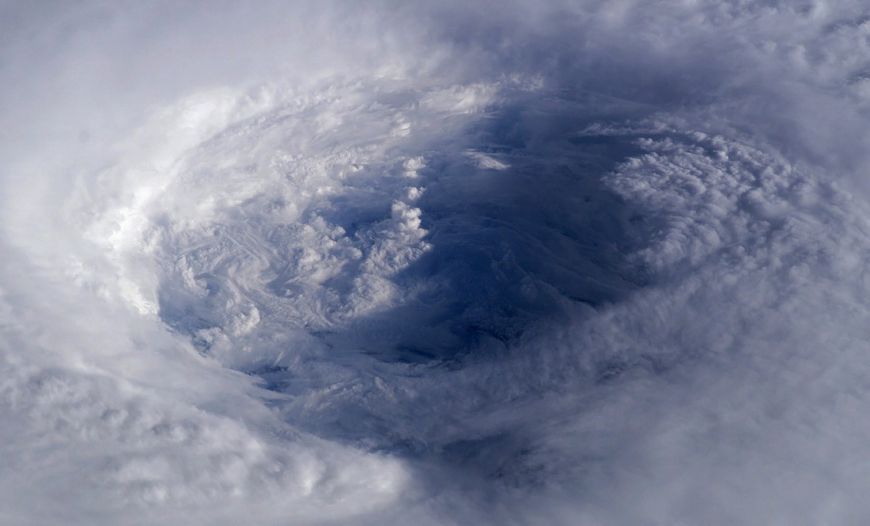 In the upper atmosphere above the North Pole, experts saw a rapidly swirling vortex of cold air that could bring severe frosts to the United States, Northern Europe and East Asia. Serious cold snap and snowy weather are expected after January the 16th.
Snowfalls and a cold snap hit South Korea since the start of 2021, hitting historic snow maximums and temperatures. In the country, for the first time since 1964, television and newer communications are sending people cold snap warnings:
The situation is similar in Japan, where a new snow storm hit historic highs:
On January 7, the thermometer In Beijing dropped to -20 degrees Celsius, breaking the 1966 record. In other regions of China, the temperature is also not sugar, and you can only move around in special uniforms:
The cold even reached Taiwan, where the temperature in some areas dropped below freezing point, snow poured down and people realized that rice terraces can be used as a ski jump:
Even more snow went to Spain, where on January 6, 2021, a temperature of -34.1 ° C was recorded – the lowest on record. After that, a snow storm hit the country, which has not been seen for 80 years:
The same thing happens in Canada and in the northern states of the United States:
It seems that after a stratospheric warming, the subpolar vortex began to split:
The vortex itself is a standard phenomenon. However, this time experts were surprised at his movement. It is possible that in the near future it will be divided into two parts. 
Scientists associate the strange behavior with the changed climate in the Arctic, which has become warmer. From September to December, the amount of ice cover decreased significantly.
The polar vortex is a low-pressure region located in the stratosphere and filled with cold air. When the jet stream of air that holds the vortex weakens, the low pressure area moves south. 
As the ice shrinks, more moisture will move inland. It will turn to snow, so snowfalls are expected. Snow, in turn, reflects heat, leading to a cold snap.
Hospital in Naples was evacuated after a new, huge sinkhole appeared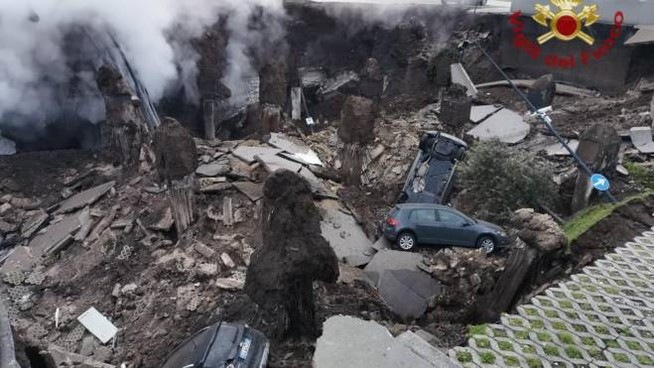 Eyewitnesses said they heard a loud crash at dawn when a huge hole in the ground formed outside the Ponticelli Ospedale del Mare hospital in eastern Naples.
Early in the morning of January 8, 2021, a sinkhole occurred in the parking lot of a clinic in Naples. The depth of the formed cavity is about 20 meters, the total area of ​​the hole is about 2,000 square meters.
No casualties were found at the scene; firefighters say the sinkhole "affected an area of ​​about 500 square meters" and engulfed several cars parked near the hospital.
As the press writes and as a little can be seen from the videos, rescuers and firefighters were running around the pit together with the governor of the area.  But who should be there in the forefront are Italian geologists, since Naples stands in the very center of the volcanic system known as the Phlegrean Fields.
If the surface collapsed, moreover – the surface reinforced with concrete and reinforced from below with some kind of communications, then we are talking about serious soil deformations caused by the activity of magma.
Italy has been in doubt since the summer of 2020, because swarms were observed there in very atypical places in May, and according to the forecasts of old Italian seismologists, who had witnessed many strong earthquakes, it should have boomed in the August region.
Fortunately, nothing bad happened to Italy and there was no big earthquake. But, since there are swarms, it means that something is being prepared, the magma is gathering strength. 
Following this particular sinkhole event – an obvious sign that a major earthquake in Italy is already very close.
A new great pandemic cycle has begun (again) in China
In the first months of 2020, the whole world with a certain fright followed the events unfolding in China, where people fell on the streets during the day and astronauts wandered, and in the evening crematoria began to smoke. And now, with the onset of December, the cycle seems to be repeating itself.
Shunyi area in Beijing, where the authorities announced "wartime status" the day before. As you can see in the videos, thousands of people are lined up in the queue for mandatory testing:
Dalian city, where "wartime" is also declared. Neighborhoods are blockaded, people are walled up in entrances, familiar characters of George Lucas roam the streets:
Chinese 'rescuers', before performing a combat mission:
Chengdu City:
Daluo Port, Yunnan – tourists came for adventure and they received the 'time of their life' after leaving the ramp:
If something happens in Beijing, it does not mean that tomorrow the same will happen everywhere. However, the trend towards such dynamics is observed and, as the practice of the first wave of the pandemic has shown, all countries and people, to one degree or another, have taken into account the 'Chinese experience'.
Therefore, one must think that everything will now be in peace, as in spring – a new global round of the fight against the Covid has begun in China, a new great pandemic cycle!