More than 5,000 birds die suddenly from a mysterious death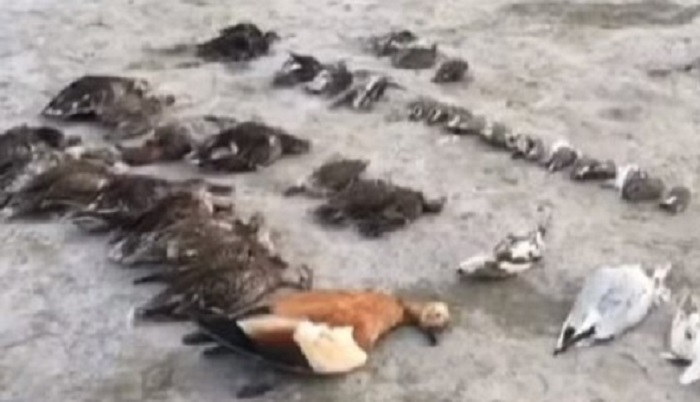 Wildlife experts are trying to understand the cause of the massive deaths of birds on the shores of Sambar Lake – India's largest salt lake.
Sambar Lake is located 80 km southwest of Jaipur (Jaipur). It covers an area of ​​190 to 230 square kilometers, depending on the season.Many migratory birds, marsh birds, gather at the lake shores at certain times of the year (Wader), flamingos, storks, ducks and dozens of different species. But, about two weeks ago, locals often began to see carcasses of birds.
To date, more than 2,000 dead birds have been found on the coastal stretch, about 12 km wide, and more than 5,000 on unofficial ones. According to locals, the former lively shores of the lake have now become a bird cemetery, among which there are rare species.
According to one resident, there are so many bird carcasses in some places that they look like a large pile of manure from afar!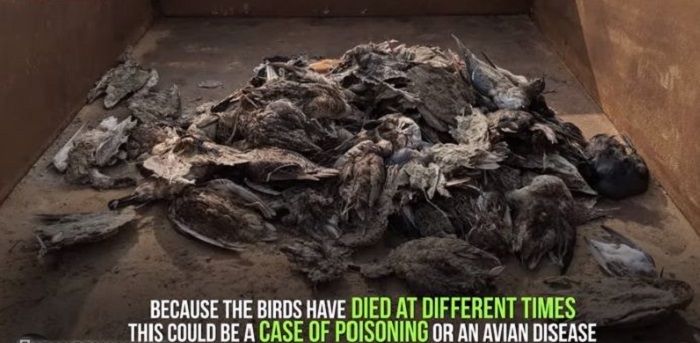 The cause of the death of the birds has not yet been clarified. They were not killed with a firearm or other weapon. No wounds or signs of disease were found on their bodies. Large piles of dead birds in one place indicate that they died suddenly, exactly at the same place they were in groups overnight.
Local ornithologist Abhinav Vaishnav tells reporters:
"We have never seen anything like this here. About 5,000 birds have died here from a mysterious death …! "
Environmentalists and animal rights activists have voiced several versions of the mass deaths of birds – from a severe hailstorm to pesticides used in nearby agricultural fields. There is also a version for mass infection.
But for the locals, all of these versions seem like a pitiful attempt to put what's going wrong. For them, such bird death is a mysterious and abnormal phenomenon.
Ramesh Chandra Road says:
"I have not seen anything like this in my 40 years of service in the forestry department. At first, I also thought it might be due to hail, but here every year there are strong hail storms. I also don't believe in the pesticide version. No trace of them was found in the water samples. "
Some of the dead bird carcasses were sent for analysis to a laboratory in Bopal.
The locals gather the rest of the carcasses in piles, then bury them in deep holes near the beach.
Expect to be informed if further information is available on what is happening.
Thousands of "apocalyptic" lightning strikes and flash floods hit the UK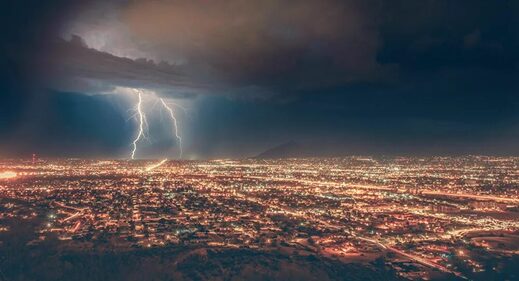 Parts of the UK have been hit by flooding due to heavy rainfall, with a flood warning issued in Scotland, Wales and northern England. Meanwhile, the sweltering heat continues to bake the rest of Britain. 
Heat alerts have been issued to young children and the elderly as 34 ° C (93.2F) has been recorded for the fifth day in a row.
The skies over the UK were illuminated by approximately 50,000 lightning strikes per night, resulting in blackouts and power outages for several hours.
Heavy rains continued for four hours, and golf-ball-sized hail hit the Curig Herons in North Wales. The drainage system overflowed, flooding streets in different parts of Britain.
The sky looked fiery red due to thunderstorms in South Wales, and in Bowland, Lanks and Worcestershire.
"I've never seen anything like it," a resident said, stating that they saw constant flashes of lightning for 25 minutes.
Geologists have confirmed a strange unprecedented "boomerang" earthquake deep under the Atlantic Ocean
Earthquakes come and go, often leaving destruction behind. What they luckily don't usually do is turn around immediately and come back for another push. Except … it looks like they can do it on very rare occasions.
In a new study, scientists have uncovered evidence of an unusual and almost unprecedented boomerang earthquake that shook the deep seafloor under the Atlantic Ocean in 2016.
This earthquake, dubbed "reverse super-shear rupture", occurred along the Romansh fracture. It is an area that lies near the equator, about halfway between the east coast of Brazil and the west coast of Africa.
The rift, which stretches about 900 kilometers between the South American and African tectonic plates, adjacent to the Mid-Atlantic Ridge, caused a 7.1 magnitude earthquake in August 2016, which was detected by underwater seismometers in the region, as well as by remote monitoring stations.
Analysis of the signals reveals that this was not an ordinary earthquake, but a strange earthquake that went one way before turning around and returning and with a significant increase in speed.
"While scientists have found that this reverse rupture mechanism is possible on the basis of theoretical models, our new study provides some of the clearest evidence that this mysterious mechanism actually occurs," Stephen Hicks said, lead researcher and seismologist of Imperial College London.
According to the analysis of seismic data, the 2016 earthquake had two separate phases.
First, the rip extended upward and eastward towards the weak point where the rip zone meets the Mid-Atlantic Ridge. Then, in a sudden U-turn, an "unusual westward propagation" occurred, with the tremors returning to the center of the fault and at significantly accelerated "super-shear" velocities of up to 6 kilometers per second.
"Even though the structure of the fault appears to be simple, the quake grew differently, and it was completely the opposite of how we expected the quake to look before we started analyzing the data."
While the team's explanation for how this boomerang unfolded remains speculative so far, the researchers speculate that the first, deep phase of the quake released enough fracture energy to initiate a reversal of the rift in the shallower, western underwater terrain.
"Either both sections of the fault were preseismically loaded enough to promote seismogenic failure, or the deeper SE1 fracture instantly increased static stress, immediately causing the shallower portion of SE2 to collapse," the authors explain in their paper.
Although earthquakes propagating in the opposite direction have been studied by seismologists before, so far there has been little evidence of their existence, and this phenomenon is mainly observed in theoretical modeling.
Finding this type in the real world – in the middle of the ocean – is the first of its kind, not to mention the boomerang that returned at super shear speed.
"To my knowledge, this is the first time this has been reported," geophysicist Yoshihiro Kaneko of GNS Science in New Zealand, who was not part of the research team, told National Geographic.
The results are reported to Nature Geoscience.
What is the real cause of explosions and fires around the world in the past few days?
What has caused all these giant explosions and apocalyptic fires in China, North Korea, Lebanon, India, USA, Iraq, Iran over the past few days?
China
It all began on August 3, 2020 in the Chinese province of Hubei, where an instant explosion at a chemical plant killed at least six people and injured four. The reason is under investigation.
North Korea
This first explosion was followed a few hours later by a giant explosion following a possible "gas leak" in Hyesan, Yangan Province, North Korea, killing 9 people and injuring at least 30 residents. The reason is being investigated.
Lebanon
The next day, the port area of ​​Beirut, Lebanon, was destroyed by a giant explosion, killing more than 140 people and injuring thousands.
India
Also on the afternoon of August 4, 2020, an explosion caused panic among residents living around the Vijayshree Pharma Company plant in the Rambilli Zone FEZ in Vishakhapatnam in Andhra Pradesh, India. The reason is being investigated.
Great Britain
On 4 August, an explosion occurred again in the middle of a residential street in Birmingham, UK, causing smoke and fireballs to rise into the air and residents fleeing to seek refuge. The explosion was so strong that fire alarms went off in the houses.
United States of America
Finally, on Tuesday, firefighters put out a massive fire in downtown St. Paul, Minnesota, that engulfed a building under construction. When the firefighters arrived at about 4:20 am, the flames were flying high into the air, and the glow was visible for miles.
Iran
A fire broke out on Tuesday inside three industrial warehouses east of Tehran. The fire destroyed production materials, including lumber and leather.
Then, on August 5, at least seven ships burst into flames at a shipyard in the southern Iranian port of Bushehr. According to reports, the reason remains unclear, no casualties.
United Arab Emirates
On 5 August 2020, on Wednesday evening at 18:30, a fire broke out in a market in the emirate of Ajman, 50 km from Dubai, in the United Arab Emirates. The reason is being investigated.
China
A gas pipeline exploded and several roads collapsed after torrential rains flooded parts of Yulin, a city in China's northwestern Shaanxi province. Local authorities evacuated about 600 people from the area. The reason is being investigated.
United States of America
On the same day in Midland, Texas, an investigation is under way of an explosion and subsequent fire in an oil storage facility. The reason is also unknown.
Iraq
Again, on August 6, 2020, a major fire broke out in over 20 wholesale market warehouses in Najaf, Iraq. The reasons are being investigated.