More than 140 new geoglyphs have been discovered in the Nazca Desert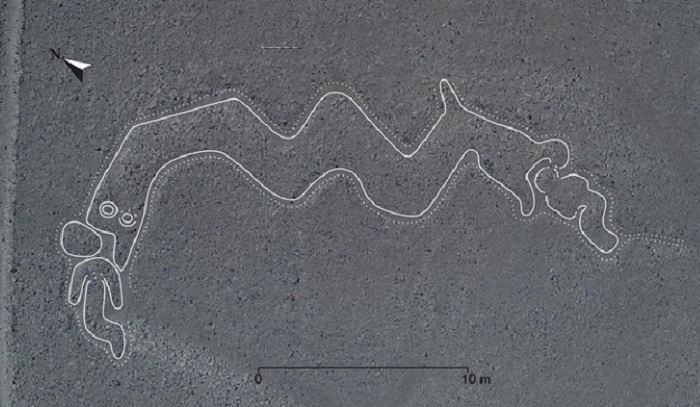 One of the great mysteries of our history is the Nazca lines, located 400 km south of the Peruvian capital, Lima. It is believed that the designs were created by people from the Nazca civilization who inhabited Peru between 200 BC and 500 BC.
Pre-Columbian geoglyphs comprise 800 giant straight lines, 300 geometric designs and 70 designs of animals and plants. Some of the shapes are too large and extend up to 370 meters long.
However, there are many who claim that the Nazca lines were created to attract aliens. According to this theory, these designs became large enough to make them visible from space, so that aliens feel attracted and visit Peru.
This would demonstrate that the Nazca civilization believed that there were extraterrestrial life forms somewhere in the Universe and created these designs to draw attention to beings from other worlds.
Although it is true that these designs are man-made, they are only visible from a considerable height. And, as if that were not enough, in 2017 a strange three-finger mummy was discovered in Nazca, which for researchers was an extraterrestrial being. But now, a group of Japanese experts has found, through the use of artificial intelligence, new geoglyphs that had no record of their existence, an idea that they existed, including a humanoid on two feet.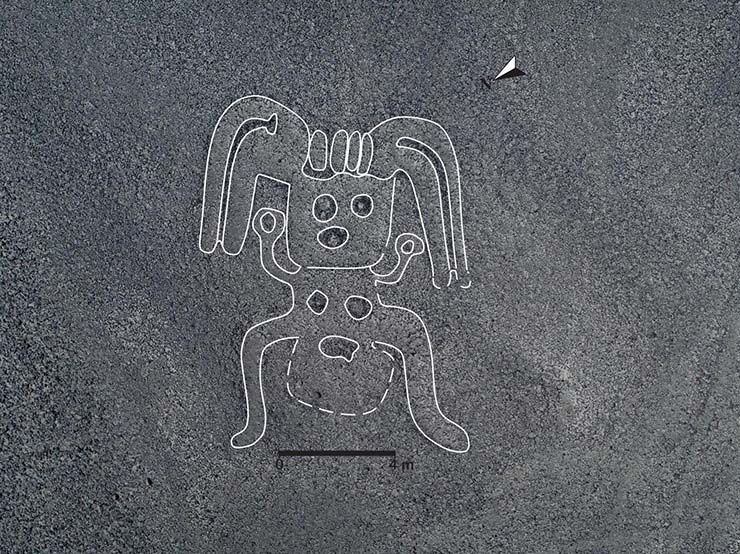 The Nazca Desert, located in Peru, South America, continues to amaze with its findings.
Japanese scientists have discovered 142 new geoglyphs (large earth drawings) in the desert plateau. Most of these newly discovered geoglyphs are so old that even from a height it is difficult to understand what they depict. However, if their contours are carefully delineated in white-line photographs, then unusual and often anthropomorphic (humanoid ) figures appear immediately.
The team believes that the oldest type of geoglyphs was discovered on slopes and roads that suggest they were designed as benchmarks to help guide people. The newer type was "full of ceramic fragments" and could have been used as sites of ritual ceremonies. Some of the newly discovered works are only a few meters wide, which made discovering the weak lines really difficult. It is for this reason that Professor Sakai collaborated with IBM, using the "Watson Machine Learning Accelerator" to examine a large volume of images of drones and satellites.
This artificial intelligence system discovered an ancient, very faint drawing of a humanoid being on two feet. Since the geoglyph was near a road, researchers believe it may have been a 'route marker'. The geoglyphs cover large areas of land located between the cities of Palpa and Nazca. Some of them represent animals, objects or compact forms; Others are just simplistic lines.
Often, the composition of a geoglyph cannot be done completely at ground level. Only when one is high enough in the air can they discern the shapes of some of the designs. For this reason, the complexities of the designs were not completely realized until the planes were invented. The Japanese research team wants to continue working to discover more about the secrets of the Nazca lines, including working with IBM to find more geoglyphs. The details of the research have been published on the website of the University of Yamagata.
One of the discovered geoglyphs is particularly impressive.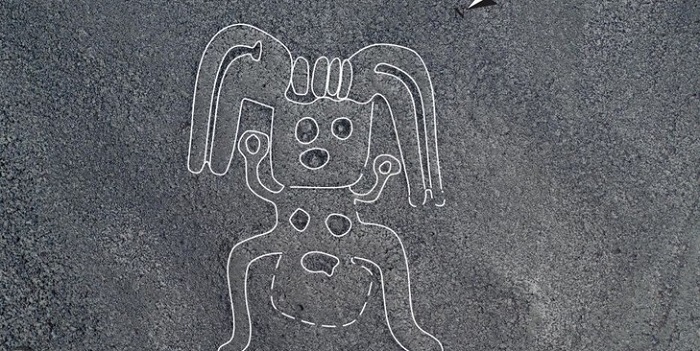 It depicts a snake that has a head at each end of its body. And these heads absorb human figures.
Other exposed drawings can be seen depicting fish as well as strange geometric shapes.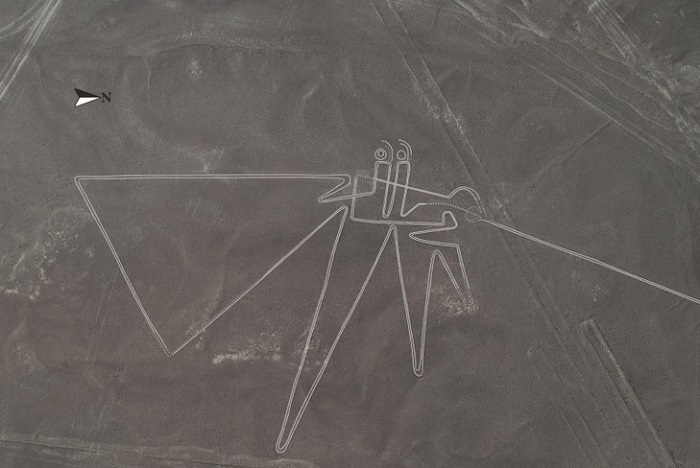 Scientists at Yamagata University , Japan , led by Prof. Masato Sakai, along with specialists from IBM Power Systems, for the period 2018 – 2019, are scrutinizing the surface of Nazca and the surrounding area. Special digital equipment helps them identify barely visible land drawings.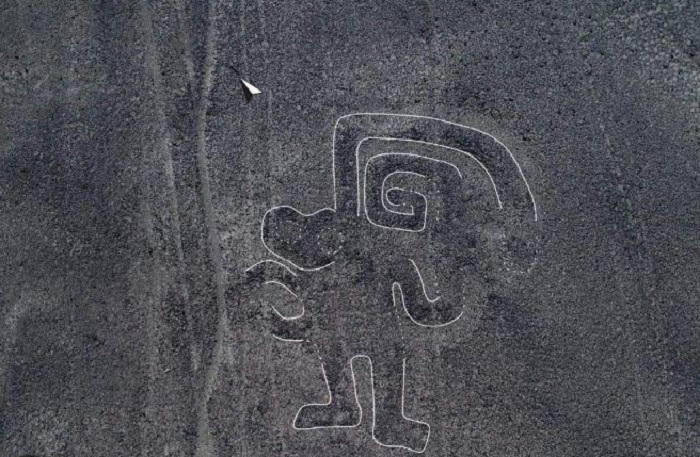 One of the drawings depicts a strange animal, which shows a person's feet. This animal is surprisingly dinosaur-like, with three egg-like ovals drawn over its back.
Other geoglyphs depict well-recognized animals – the lama, the eagle, the monkey and others.
For many years, drawings in the Nazca Desert have raised many questions. Why are they made? Why is it possible to see well only from a great height? What do they mean and why do some drawings depict animals and others draw incomprehensible lines or human figures?
There are also many hypotheses for these geoglyphs. Starting from being a huge ancient astronomical calendar and moving on to a message to the aliens.
The mystery of the Nazca lines continues
It was in 1927 that researchers first discovered the Nazca lines. In 1994, the Nazca lines received the status of World Heritage by UNESCO. And they returned attention in 2017 for the discovery of three-finger mummies in the area . Due to the strange shape of the skulls of these humanoid creatures, there were many who argued that aliens have visited the place in the past guided by the Nazca lines and that they were subsequently buried after their death thinking they were heavenly creatures from heaven.
However, conspiracy theorists believe that the Peruvian government is hiding the truth about the Nazca lines, so they urge researchers to study deeply about these strange bodies and drawings, since the anatomical structures of these mysterious humanoids are different from modern man.
Do you think artificial intelligence has discovered other evidence that the true objective of the Nazca lines was to guide extraterrestrial beings?
Murder Mysterious: What Happened at the Hinterkaife Farm?
This story, which took place on April 4, 1922, on the Hinterkaifike farm, located between Ingolstadt and Schrobenhausen in Bavaria, still excites the minds of lawyers and journalists. Then they found the bodies of the owner of the farm and his wife, their daughter and her two children, a maid who had recently come to them to work …
Everyone in the village knew about the Gruber. They were a wealthy family, but with a bad reputation. The father of the family, Andreas Gruber, was a cruel and rude man, so the workers on the farm did not stay long. Although everyone wanted money, few were willing to endure Andreas' harsh temper. Cecilia Gruber, his wife, used to be the owner of Hinterkaifeke – she inherited the farm from her husband. From him, she left two children, Martin and Cecilia. Soon the couple had a daughter, Victoria. She was not the only child, but the only one survived to adulthood – the rest of the children died in the absence of proper care.
Victoria grew up with Cecilia the younger as a sister. She was a quiet girl who sang in the church choir. Andreas did not deny himself the pleasure of making fun of both girls, and when Victoria turned 16, he forced her to enter into a relationship with him. Nobody knew about this, because the family lived as hermits, and the locals preferred not to pry into other people's affairs.
Cecilia the younger got married and left. At the age of 27, Victoria also found herself a husband, Karl Gabriel. According to rumors, he married solely for the sake of a share of the land, but upon learning of the incestuous relationship between his wife and father-in-law, he dropped everything and went to the front. A month later, Victoria gave birth to a daughter, Cecilia.
In the end, Victoria broke down and told about incest in confession. Gruber was sentenced to a year of hard labor, and she herself was imprisoned for a month. However, when Andreas returned, everything was resumed. Once their neighbor Lorenz Schlittenbauer wooed Victoria – his wife died then, he had sex with Victoria several times in the barn and must have decided that his farm still needs a mistress, besides, he is a respected non-poor man. But Andreas refused to marry his daughter, claiming that he "fondled her himself." When it turned out that Victoria was pregnant, she persuaded Lorenz to recognize the child as her own, but she never got married, and Gruber was named his guardian. So Lorenz was forced to pay child support until the child came of age, not even being sure that he was from him.
The baby was named Joseph. Unfortunately, he was unwell, grew poorly and was often ill. For the villagers, this served as a signal that Joseph was born as a result of an unnatural relationship between Victoria and her father.
Footprints and ghosts
Shortly before the murder, Victoria was seized with anxiety. She repeated that she felt that the farm was being watched. She saw the silhouette of a man, but could not find out who it was. Andreas also noticed oddities: footprints in the snow around the house, rustling in the attic (and when he got up, no one was there), flashing torches … Once he found a Munich newspaper that no one in the family subscribed to. He also lost his keys.
On March 31, a couple of days before the murder, the maid Maria arrived at the farm. The previous one asked for a calculation when she began to suspect that a ghost was in charge of the house.
Murder
For several days, nothing was heard about the Gruber, but life was in full swing on the farm: smoke poured from the chimney, sounds were heard, someone walked … But after several people with whom Andreas had appointments, they could not getting inside, their neighbor Lorenz became worried and called the police.
The bodies of all six were found in a house that was in perfect order. Little Joseph was killed in his cradle, Maria – in her bed, the rest were piled up in a heap by the barn and obviously not the first day dead. All residents of the farm were killed in one way – hitting the head with a hoe. At the same time, nothing of the valuable things and money, which was abundant on the farm, was not lost. Cynologists with dogs were able to take the trail of the criminal, but lost him at the edge of the forest.
The police interviewed about a hundred suspects, chief among whom was a neighbor of the Lorenz farm, whom Victoria had deceived and, perhaps, her ex-husband, who allegedly died at the front, could in fact be alive. In 2007, the students of the police academy, as a practice, re-investigated the case, found a new suspect, but out of respect for their relatives, they did not disclose their name.
A dead star in our galaxy has sent a new radio signal
Magnetar SGR 1935 + 2154, which emitted the first known rapid radio burst from inside the Milky Way in April, flared again, giving astronomers another chance to unravel the cosmic mystery.
The little dead star that sent the signal earlier this year did it again.
On October 8, 2020, the CHIME / FRB collaboration discovered SGR 1935 + 2154 emitting three millisecond radio bursts in three seconds. Following the CHIME / FRB detection, the FAST radio telescope detected something else – pulsed radio emission corresponding to the rotation period of the magnetar.
It is very interesting to see SGR 1935 + 2154 again, and I am optimistic that if we study these bursts more closely, it will help us better understand the potential relationship between magnetars and fast radio bursts, "says astronomer Deborah Goode of the University of Britain Colombia in Canada and a member of CHIME / FRB.
Until April of this year, fast radio bursts (FRBs) were ever recorded only from outside the galaxy, usually from sources millions of light years away. The first was discovered in 2007, and since then astronomers have been trying to figure out what causes them.
As the name suggests, FRBs are bursts of extremely powerful radio waves found in the sky, some of which release more energy than hundreds of millions of suns. They only last a millisecond.
Since most sources of fast radio bursts seem to flare up once and no repetition is detected, they are highly unpredictable. In addition, the ones we detect usually come so far that our telescopes cannot distinguish individual stars. Both of these characteristics make it difficult to track the FRB to either the exact source galaxy or a known cause.
But SGR 1935 + 2154 is only 30,000 light-years away. On April 28, 2020, it spat out a massive millisecond pulse that has since been dubbed FRB 200428 under the fast radio transmission naming convention.
Once the signal strength was adjusted for distance, FRB 200428 was not as powerful as the extragalactic fast radio bursts, but everything else was in line with the profile.
"If the same signal came from a nearby galaxy, such as one of the closest typical FRB galaxies, it would look like an FRB to us," said astronomer Srinivas Kulkarni of the California Institute of Technology. "We've never seen anything like it before."
We don't know much about the three new bursts yet. Since scientists are still working on the data, it is possible that some of the early findings could change, Goode said. But now we can say that they are both similar and not similar to FRB 200428.
They are a little less powerful again, but they are all still incredibly strong, and they all lasted only milliseconds.
"Although less bright than those detected earlier this year, they are still very bright flares that we would see if they were extragalactic," Goode added.
"One of the more interesting aspects of this discovery is that our three bursts appear to have occurred during the same rotation period. The magnetar is known to rotate every ~ 3.24 seconds, but our first and second bursts were separated by 0.954 seconds, and the second and third were separated by 1.949 seconds. This is a bit unusual, and I think we will look at it later. "
This could reveal something new and useful about the behavior of magnetars, because – let's face it – they're pretty weird.
Magnetars, of which only 24 have been confirmed to date, are neutron stars; it is the collapsed core of a dead star, not massive enough to turn into a black hole. Neutron stars are small and dense, about 20 kilometers in diameter, with a maximum mass of about two Suns. But magnetars add something else to this: a stunningly powerful magnetic field.
These stunning fields are about a quadrillion times more powerful than Earth's magnetic field and a thousand times more powerful than a normal neutron star. And we still do not fully understand how they came to this.
But we know that magnetars have periods of activity. As gravity tries to hold the star together – an internal force – the magnetic field pulling outward is so powerful that it distorts the star's shape. This results in a constant voltage that sometimes causes giant starquakes and giant magnetic flares. SGR 1935 + 2154 is undergoing such activity, which suggests a link between magnetar attacks and at least some FRBs.
Obviously, astronomers have found that the source of the first intragalactic FRBs is of great interest. When CHIME / FRB reported their discovery, other astronomers decided to look at the star, including a team led by Zhu Weiwei of the National Astronomical Observatory of China, which had access to FAST, the largest single-aperture radio telescope in the world.
And they discovered something interesting, which was also reported on the astronomer's Telegram – pulsed radio emission. These radio pulses were nowhere near as strong as the bursts, but they are extremely rare: if confirmed, SGR 1935 + 2154 will only be the sixth pulsed radio frequency magnetar. And the pulse period turned out to be equal to 3.24781 seconds – almost exactly the rotation period of the star.
This is curious, because until now astronomers have not been able to find a connection between magnetars and radio pulsars. Pulsars are another type of neutron star; they have a more normal magnetic field, but they pulsate with radio waves as they spin, and astronomers have long tried to figure out how the two types of stars are related.
Earlier this year, Australian astronomers identified a magnetar that behaved like a radio pulsar – a possible "missing link" between the two and evidence that at least some magnetars could evolve into pulsars. SGR 1935 + 2154 might be another piece of the puzzle.
"Based on these results and the increasing burst activity, we hypothesize that the magnetar may be in the process of transforming into an active radio pulsar," Weiwei's team wrote.
Starlite: a mysterious material whose recipe was taken to the grave
Enthusiasts continue to struggle with the riddle of the unique material, the creator of which died without revealing the secret recipe.
At the dawn of the 1990s, reports began to appear in the world media about the creation of a new plastic material that could withstand heating to incredible temperatures – up to those that develop during a fire or on the shell of a spacecraft when passing through the atmosphere. Such statements were very embarrassing for scientists also because the author of the find was a man without a diploma or any formal education at all – the British hairdresser Maurice Ward.
Starlite – this name was invented by the granddaughter of Maurice Ward – was repeatedly tested by NASA as a possible heat insulator, the military and large corporations looked closely at it. The author did not refuse to provide samples for research, but he kept the recipe in complete secret, not sharing it with anyone – until 2011, when Maurice died, taking this secret with him. Perhaps thanks to this twist, the plot did not disappear into oblivion along with Petrik filters and other "miracle inventions", and the history of the mysterious Starlite continues to this day.
According to Ward himself (by the way, his personal blog and YouTube channel survived on the Internet), he was prompted to search for fire-resistant material by a television report, from which he learned that many victims of fires die from poisoning by the caustic smoke of burning plastic. Previously, the hairdresser dabbled in the search for his own shampoo recipes, but around 1986 he completely devoted himself to a new venture. Three years later, the composition was found – and, of course, it turned out to be incredibly simple and included the most common store ingredients.
It was not easy for the "genius upstart" to break through, and over the next few years he pounded the thresholds of laboratories and companies without any benefit. Fate smiled only in 1993, when a message about Starlite was published in the authoritative International Defense Review. It referred to "amazing results" from some of the independent experts who tested Starlite. According to some reports, the material did not burn at temperatures up to 10,000 ° C and was not supplied even by a high-power laser.
Moreover, in the same 1993, the incredible thermal insulation properties of Starlite were demonstrated to the public. On the Air Force show Tomorrow's World, a chicken egg coated with a thin layer of this material was sprayed with the heat of a gas burner for several minutes, after which it was shown that it remained raw inside. It would seem that the deed is done: it remains to find out which of the industrial giants will be interested in the invention and from whom Ward will be able to get legitimate millions, if not billions of dollars for the miracle recipe. The prospects for its use in engineering and construction were discussed. In 1994, the material was tested at Boeing as an alternative to space shuttle thermal insulation ceramics.
It is worth saying that Maurice Ward has always shown a certain paranoia about the security of his invention. As far as is known, he refused any projects in which he could not maintain a controlling 51 percent. The inventor personally monitored all samples that were submitted for testing, making sure that no one had the opportunity to reconstruct the Starlite composition. Ward also did not file a patent so as not to reveal the secret formula and repeatedly announced attempts to steal. The story that took place in the late 1990s is characteristic. It is known that at this time the inventor found partners from Canada and organized a startup Starlite Safety Solutions, which presented the results of material tests to investors. However, according to those same partners, Maurice Ward turned out to be completely incapable of negotiating – "the more he was offered, the more he asked for"
On the one hand, Ward is understandable. If the author's statements are accurate, the find could be worth billions, which no corporation likes to share. On the other hand, Starlite could well change the modern world and save many lives, and perhaps doing so was not entirely ethical. Again, if all statements about the properties of this material are true. And this is its main mystery.
Indeed, despite all the doubts of many observers, there is enough authoritative evidence in favor of Starlite every now and then. Thus, Joe Kissell, who wrote about him in 2009, received a letter from Pamela Pohling-Brown, who authored the same article in the International Defense Review. She in every possible way confirmed the reliability of the results presented then and even named the expert who conducted the testing.
"I'm afraid the topic is somehow classified," summed up Pauline-Brown. By the way, Ward's former partners from Canada hinted at the same. It turns out that there is still something to hide?
Maurice Ward has repeatedly stated that, fearing theft, he never even wrote down the recipe on paper, and keeps it in his head – fortunately, it is quite simple. According to him, the secret has been entrusted to only a few closest family members – however, they have not shown much activity since the death of the inventor in 2011. In 2013, two of Ward's daughters announced the sale of a "certain version" of Starlite to the American company Thermashield, but the third said that she had kept the "best" formula. And since then nothing has been heard about Thermashield, and the company's website has not been revoked.
But there are plenty of hypotheses and speculations about the composition of Starlite. They find the main clues all in the same publication by Pamela Pauline-Brown, where the following was said.
"It consists of a set of organic polymers and copolymers with organic and inorganic additives, including borates, small amounts of ceramics and other barrier ingredients, for a total of 21. Perhaps uniquely, this thermally and explosion-proof material contains up to 90 percent organic matter."
Armed with this data, yet another "genius self-taught" reproduced the recipe. Canadian Troy Hurtubise, known for developing the bear-repelling suit – and for testing inventions on himself – said he found the same or a similar recipe and demonstrated it under the name Firepaste. However, in 2014 he died in a car accident – as if the material really surrounds the halo of special operations.