Moon Rock Found To Be Petrified Wood, NASA Tries To Clean Up Its Lies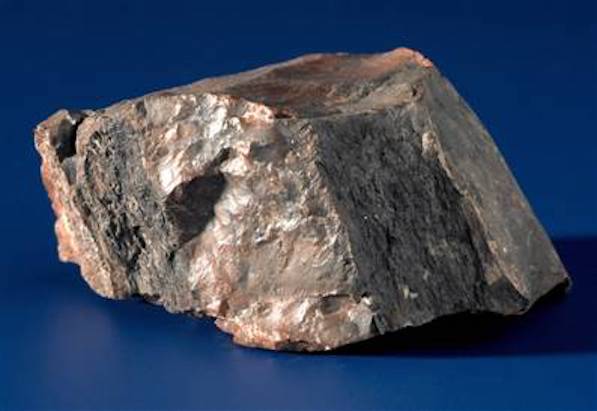 NASA has announced yesterday that they would open up sealed boxes of moon rocks to study them more deeply. They said the tools today were not available back in the 1970s, so they could learn so much more…or so they said.
I of course throw that excuse in the garbage. You see NASA has been saying those rocks are really from the moon, however all evidence available to the public points to them being fake.
Lets go back to Aug 2009, when the world news announced that the Dutch National Museum has in its possession and on display…a fake moon rock. This moon rock was tested and found to simple petrified wood. Now unless the moon had ancient forests…LOL, this should be impossible. This moon rock, which is fake, is 100% proof that the Apollo missions were faked to make other countries perceive America as a world power.
The rock was first given to Prime Minister Willem Drees who received it back in Oct 6, 1969 from US Ambassador William Middendorf during a visit from the three Apollo 11 astronauts.
Since the NASA has done everything in its power to steal back the moon rocks from those who were given them. They would even go so far as to get court papers stating that those moon rocks who astronauts families own, were property of NASA and must be given back. Why? Because they were all fake moon rocks. Yes, its true.
I have to admit I am curious at what the scientists are actually doing opening those boxes? Perhaps NASA has purchased meteorites that were from the moon and are going to replace them with those to be tested? A simple switch behind closed doors and nobody would be the wiser.
Here is a another true fact. We no longer need NASA. They are obsolete and fail to give the public what they promised. Now we have Ellon Musk, who delivers on his promises in mere weeks. Its time to close down NASA and stop wasting the tax payers money on an organization with so much falsehood and lies behind it.
Remember the Dragon capsule Ellon Musk made in just a two weeks after NASA asked him to make it? Well it docked at the space station a few days ago, the video SpaceX uploaded to Youtube was HD quality. I saw the same footage on the NASA Internet live cams which was horrible quality…like that of an iPhone 3. So I ask you, what has NASA really done for us lately? Who has inspired the generations of kids and adults to take a new interest in science and space? Yeah, Ellon Musk of course.
Scott C. Waring
Source: UFO SIGHTINGS DAILY
Man Transforms Himself into an 'Elf'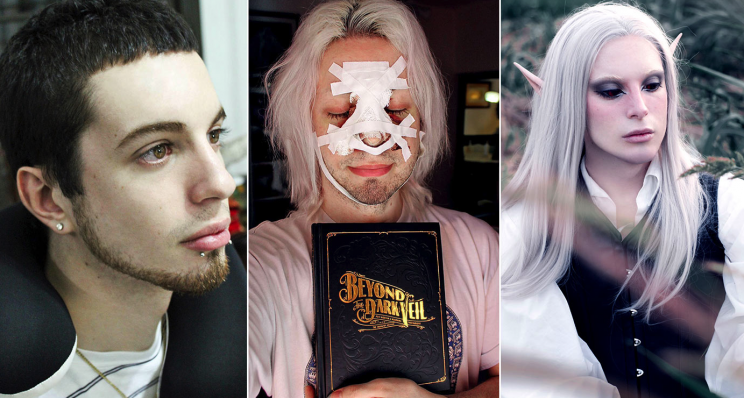 Luis Padrón is Argentine, he is 25 years old and has been doing different surgeries and surgeries for five years to look like an elf . Although he considers that "he still needs a lot" to get what he wants to be, he says he is happy and trusts that "dreams can be fulfilled".
"I was always different, and since I was a kid I liked to change my hair color or wear colored glasses," he told an exclusive interview with RT. In that sense, he recalled that "it was around 14 years old" that he decided he "wanted something more drastic" and realized that through plastic surgery "he could achieve it".
The elves "are not only beautiful beings on the outside, but also on the inside," he explained, arguing why he chose to look like them. These are "pure white beings of light and love, who fight for the peace and well-being of humanity."
While at first "the idea of ​​plastic surgery seemed very crazy", appeared a girl who "became popular because of the surgeries that had been made to look like Barbie," said Padrón. Then he realized that "he was not alone". So it was that for his 20th birthday the first surgical intervention was performed.
A total transformation
Asked about how many surgeries have been performed, Luis Padrón said that "it is difficult to count them", as some of them took several sessions. For example, eye color change surgery counts "as one", but considering the individual sessions "there were five". Something similar happens with "lasers to lighten the skin", something that should be done regularly "because they last more or less the same as a tan."
However, he calculates that he must have spent "approximately $ 30,000" to modify or retouch "the nose, the eyes, get a liposuction of jowls, a whitening of skin, freckles, teeth, and remove moles and wrinkles".
In terms of what he intends to do forward, he pointed out "jaw surgery, to give it a diamond shape". Also 'facial lifts and "another rhinoplasty with Dr. Farshid Mahboubirad in Iran." He also intends to undergo a new eye color change, "this time with an intraocular implant in India, to be the first person with violet eyes in the world". With Dr. John Kahen, in Beverly Hills, will be "injections for hair to grow very fast." Finally, there will be a reduction of the Adam's apple and he said he hopes "to be able to agree soon" with the esthetician Samppa Von Cyborg to modify his ears and put them in the shape of "tip".
Your love for Russia
The young Argentine said that Russia is one of his "favorite countries." It is that "after all, the fever of human dolls began there", with Valeria Lukyanova, "the human Barbie". But he also listed Anastasiya Shpagina, the anime girl, Anzhelika Kenova, Dominika Oleynik, Tatyana Tuzova, Olga Archangelskaya. "The list is endless," he said.
Padrón commented that in the biggest country in the world there are "many boys and girls that I admire, known and not so well known, and also many singers that fascinate me and that inspired me to learn Russian". From his perspective on Russia, "there is a certain magic in their language, culture, and people."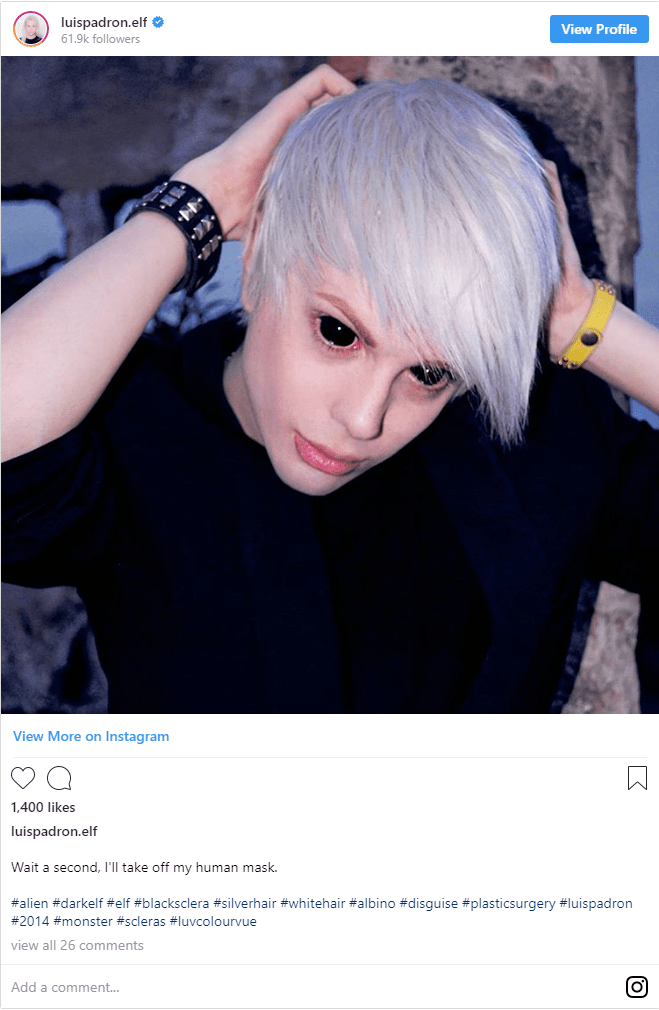 "I hope to get to know Moscow some day, Russia is a beautiful place," he said.
Work and the future
Although one might think that his particular image could cause some problems in the workplace, Luis Padrón has no problems in that regard. "I've been offered several jobs lately, but I'm happy with the one I have," he said. "It helps me to live comfortably and pay for my operations while I finish my university studies," he added.
The young man has a shop selling "cosplay" and LARP products. These are costumes and accessories to represent different characters and real or fictitious beings. "Basically, I sell the same things I like to use: contact lenses, makeup, wigs, extensions and dyes, among others." In addition, he said that they usually pay him "to attend 'cosplay' events as a special guest or jury."
Finally, he pointed out that at this moment he feels "halfway" to what he aspires to be "both aesthetically and spiritually". For Padrón, "the future is uncertain", but he struggles "every day" to make it "a happy future and to be able to leave something positive to people too".
"My ultimate goal is to become a being of illusions and magic," he said. "Dreams can be fulfilled if you try hard enough, I'm sure of that, that's why I work hard and study every day," Padrón concluded.
The Ctones: The tribe that lives in the depths of the Earth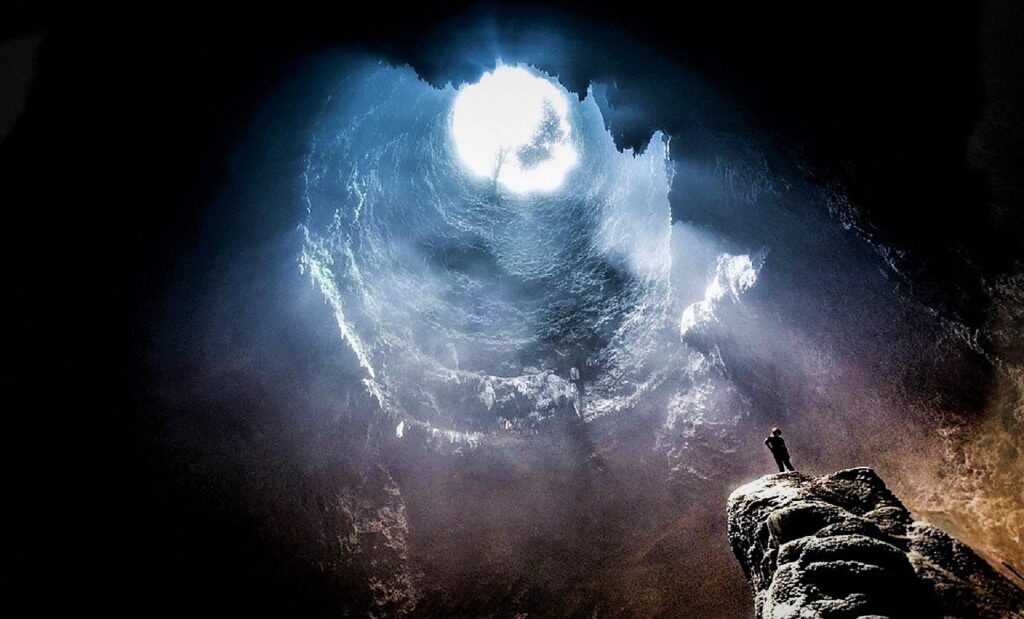 On February 28, 2003, a mine collapsed near the Chinese city of Jixi, Heilongjiang Province. 14 miners did not return with their families. But this story became famous 5 years later when there was an unexpected turn of events .
The rescue teams recovered the bodies of only 12 of the 14 missing miners. Two of the workers, Lao Pen, and Wan Hu, were not found anywhere in the mine. Mysteriously, after five years, in 2008, Wan Hu returned home, but his wife had remarried and his children had left.
Wan Hu bought a new house and devoted his time to gardening. But shortly after, the authorities learned of the strange case, and it turned out that his family had received compensations that they should not have received, because Wan Hu was alive.
When Wan Hu was asked, if he and his family had taken advantage of the situation, Wan Hu said no, and he paid all the expenses to the government.
Then they asked him where he had been all this time, and he said that during the time of his absence, he lived with the powerful clandestine civilization of the Ctones. And that he was not able to send a message from there notifying that he had survived.
His unusual statement baffled the authorities and they thought he was crazy. Wan Hu was tested, but the doctors concluded that he was physically and mentally healthy. They attributed their questionable history to their imagination.
But the doctors could not explain why the former worker at the mine showed no sign of anthracosis, which is the deposition of carbon dust inside the lungs by inhaling air with soot.
According to his medical records, before the accident, Wan Hu already showed signs of anthracosis and would retire soon. But after his alleged stay in an underground city, the mine worker had no trace of any lung pathology at all.
Moreover, he had all 32 teeth, despite the fact that, according to his medical records, he should have had only 25. Although he was 39 years old, his health seemed to be that of a young man from 26 to 28 years old.
On top of that, Wan Hu had 40000 yuan in his bank account. An authorized search determined that he had 10,000 yuan more in cash and uncut diamonds worth 300,000 yuan. The authorities suspected that the man was not really Wan Hu, but a secret agent of a foreign country.
Later, it turned out that he got the money after selling uncut diamonds to a jeweler in Shanghai. Wan Hu told the authorities that he received the Ctones' diamonds.
In summary, here is your story. After the collapse of the mine, Wan Hu and Lao Pen, they were separated not only from the surface but also from the other miners. They waited for three days with enough water, but practically without food and there were no signs of rescue operations.
They decided to explore ancient tunnels, which lead to the deepest part of the mine, hoping to find their way to the surface.
Unfortunately, that was not the case and they went further into the labyrinth of the tunnels. And there, they were attacked by strange human beings, the Ctones. Although they were low, the Ctones managed to capture the two miners. But they fed them well and drove them even deeper into their kingdom.
The Ctones had created a system of lenses that illuminated the tunnels, to the point that you could even read a book there. At the end of the tunnels, there were large caves in which thousands of Ctones lived. Wan Hu was sure they were human, although they were very low.
The two miners lived among the Ctones for five years. Their language was very different from Chinese, but it was easy to learn, and soon they were able to communicate with them. When they started talking to the underground civilization, they realized that they were not captives.
The Ctones believed that life on the surface was a terrible burden, and that is why they thought that Wan Hu and Lao Pen were trying to escape to a better world. And in truth, there was no hunger or disease among the underground civilization.
Its only source of food was the fungus that abounded in these caves. According to Wan Hu, the fungus had a specific flavor, something fresh, but more importantly, it was incredibly healthy. That's why his teeth changed, that was common in the Ctones, whose teeth changed every 20-25 years during its lifetime, which was rarely less than 200 years.
The Ctones even had a developed writing system. And also the paper, which was made of different types of molds. The underground civilization was familiar with metallurgy, but rarely used iron, instead, it used bronze, silver and gold. They did not live in luxury and were content with the most necessary things.
As the two miners were not considered captives, they lived as equals among the Ctones, who even had families. This was not a bad way of life, but Wan Hu wanted to see the Sun again.
The Ctones tried to dissuade him, but he was determined in his decision. He was led to a cave where there was a hole that led to the surface.
This is only a small part of the whole story of Wan Hu. After that, he was declared insane, he was even sent to a military base instead of the local psychiatric asylum. So far, he has not heard from him. What do you think? Leave your comment below.
Vienna Cemetery Introduces Funeral LEGO Sets
Kids will have a blast assembling a LEGO crematorium, hearse, grave and more now available from the Vienna Funeral Museum.
Lego crematorium oven set available from the Vienna Funeral Museum
Build your own funeral piece by piece with these LEGO kits from Bestattungsmuseum, the Vienna Funeral Museum in Vienna's Central Cemetery. The museum's gift shop and online store recently unveiled custom Lego sets designed to help kids answer the big questions like "What happens to grandpa in a crematorium?"
"Taboos create fears and uncertainties," the Vienna Psychotherapy Association said. "The child feels that something is wrong, and then he is left alone with that."
So to teach kids about death, the museum partnered with a company to produce some gloriously morbid Legos.
"For the small and large undertaker of tomorrow," the description from the Historical Hearse set reads.
Other sets currently available include a WWI-era funeral tram, Lego graveyard with tombstone and excavator, a fourgon used to transport the deceased, a crematorium oven with a casket and urn, a horse-drawn "corpse carriage," a bereaved family with the skeleton of the deceased, and minifigures in mourning.
Lego bereaved family minifigures with the deceased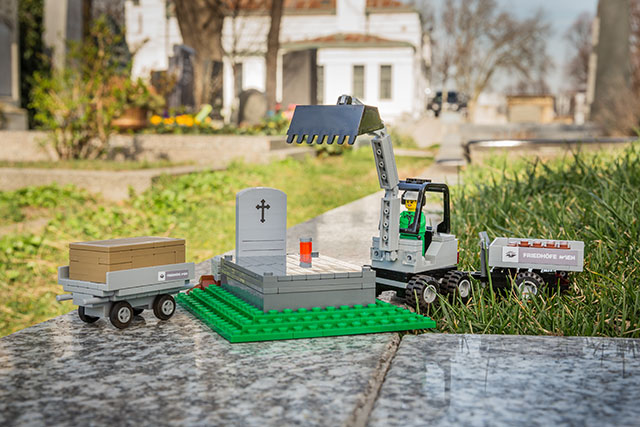 Lego cemetery with casket, gravestone, and excavator for digging your own graves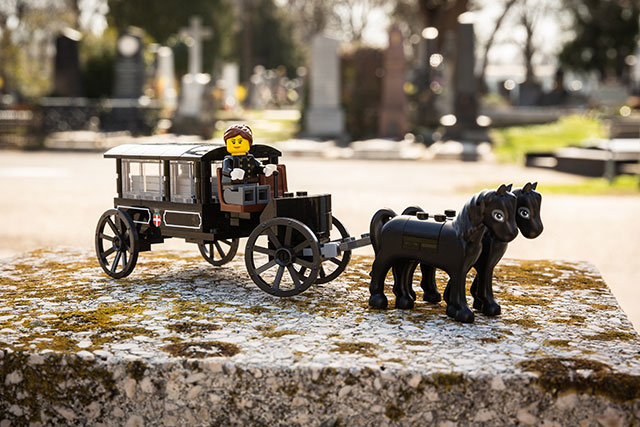 Lego horse-drawn corpse carriage with coffin
WWI-era Vienna funeral tram with 2 coffins and Lego undertaker
Lego hearse
These morbid LEGO sets are available now right here.
Thanks to Dead Sled Brand for putting this on my radar.