Lurking in the halls of Buddhist temples and museums across Japan are a host of monster mummies — the preserved remains of demons, mermaids, kappa, tengu, raijū, and even human monks. Here are a few remarkable specimens for the adventurous and brave at heart.
– Demon mummies
It might seem odd that Buddhist temples in Japan house the occasional stray mummified demon (oni), but then again it probably makes sense to keep them off the streets and under the watchful eye of a priest.

Three-faced demon head at Zengyōji temple [Photos]
Zengyōji (善行寺) temple in the city of Kanazawa (Ishikawa prefecture) is home to the mummified head of a three-faced demon. Legend has it that a resident priest discovered the mummy in a temple storage chamber in the early 18th century. Imagine his surprise.
Nobody knows where the demon head came from, nor how or why it ended up in storage.
The mummified head has two overlapping faces up front, with another one (resembling that of a kappa) situated in back. The temple puts the head on public display each year around the spring equinox.
Another mysterious demon mummy can be found at Daijōin temple in the town of Usa (Oita prefecture).
The mummy is said to have once been the treasured heirloom of a noble family. But after suffering some sort of misfortune, the family was forced to get rid of it.
The demon mummy changed owners several times before ending up in the hands of a Daijōin temple parishioner in 1925. After the parishioner fell extremely ill, the mummy was suspected of being cursed.
The parishioner quickly recovered from his illness after the mummy was placed in the care of the temple. It has remained there ever since. Today the enshrined demon mummy of Daijōin temple is revered as a sacred object.
A much smaller mummy — said to be that of a baby demon — was once in the possession of Rakanji Temple at Yabakei (Oita prefecture).
Unfortunately, it was destroyed in a fire in 1943.

Baby demon mummy at Rakanji temple
* * * * *
– Mermaid mummies
In Edo-period Japan — particularly in the 18th and 19th centuries — mermaid mummies were a common sight at popular sideshow carnivals called misemono. Over time, the practice of mermaid mummification blossomed into an art form as fishermen perfected techniques for stitching the heads and upper bodies of monkeys onto the bodies of fish.
The mummy pictured below is a prime example of a carnival mermaid. It appears to consists of fish and other animal parts held together with string and paper.

Mermaid mummy at the National Museum of Ethnology, Leiden
The mummified creature was obtained by Jan Cock Blomhoff while serving as director of Dejima, the Dutch trading colony at Nagasaki harbor, from 1817 to 1824. It now resides at the National Museum of Ethnology in Leiden.
Another old mermaid mummy exhibited at a museum in Tokyo several years ago appears to belong to the founder of the Harano Agricultural Museum.

Mysterious mermaid mummy
The mummy's origin is unknown, but the collector says it was found in a wooden box that contained passages from a Buddhist sutra written in Sanskrit. Also in the box was a photograph of the mermaid and a note claiming it belonged to a man from Wakayama prefecture.
* * * * *
– Kappa mummies
Like the mermaid mummies, many kappa (river imp) mummies are thought to have been crafted by Edo-period artists using parts of animals ranging from monkeys and owls to stingrays.

Kappa mummy at the National Museum of Ethnology, Leiden (Netherlands)
This mummified kappa, which now resides in a Dutch museum, appears to consist of various animal parts put together in a seamless whole. It is believed to have been created for the purpose of carnival entertainment in the Edo period.
Another mummified kappa can be found at Zuiryūji temple in Osaka.

Kappa mummy at Zuiryūji Temple, Osaka [Photo]
The 70-centimeter long humanoid purportedly dates back to 1682.
Another notable kappa mummy can be seen in a seemingly unlikely place — at a sake brewery in the town of Imari (Saga prefecture).

Kappa mummy at Matsuura Brewery
According to a company brochure, the mummified kappa was discovered inside a wooden box that carpenters found hidden in the ceiling when replacing the roof over 50 years ago.
Reckoning the creature was an old curiosity their ancestors had passed down for generations, the company owners built a small altar and enshrined the kappa mummy as a river god.
* * * * *
– Raijū
With a limited scientific understanding of the sky above, the common person in Edo-period Japan looked upward with great awe and mystery. Supernatural creatures called raijū (雷獣) — lit. "thunder beast" — were believed to inhabit rain clouds and occasionally fall to earth during lightning strikes.
The earliest known written records of the raijū date as far back as the late 18th century, though the creature appears to borrow characteristics from the nue — a cloud-dwelling, illness-inducing chimera first described in The Tale of the Heike, a 12th-century historical epic.
Details about the raijū's appearance vary. Some Edo-period documents claim the raijū resembled a squirrel, cat or weasel, while others describe it as being shaped more like a crab or seahorse.

Raijū depicted in the Kanda-Jihitsu (ca. 1800) // Raijū seen in Tottori, 1791
However, most descriptions agree that the raijū had webbed fingers, sharp claws, and long fangs that, by some accounts, could shoot lightning. The beast also sometimes appeared with six legs and/or three tails, suggesting the ability to shape-shift.
One illustrated document tells of a raijū that fell from the sky during a violent storm on the night of June 15, 1796 in Higo-kuni (present-day Kumamoto prefecture).

Illustration of raijū encountered on June 15, 1796
Here, the raijū is described as a crab-like creature with a coat of black fur measuring about 11 centimeters (4 inches) thick.
Another notorious encounter took place in the Tsukiji area of Edo on August 17, 1823. Two versions of the incident offer different descriptions of the beast.

Raijū encounter, August 17, 1823 – Version 1
One document depicts the raijū as being the size of a cat or weasel, with one big bulging eye and a single long horn, like that of a bull or rhino, projecting forward from the top of its head.

Raijū encounter, August 17, 1823 – Version 2
In the other account, the raijū has a more roundish look and lacks the pointy horn.
In Volume 2 of Kasshi Yawa ("Tales of the Night of the Rat"), a series of essays depicting ordinary life in Edo, author Matsuura Seizan writes that it was not uncommon for cat-like creatures to fall from the sky during thunderstorms. The volume includes the story of a family who boiled and ate one such creature after it crashed down onto their roof.
Given the frequency of raijū sightings, it should come as no surprise that a few mummies have turned up.
In the 1960s, Yūzanji temple in Iwate prefecture received a raijū mummy as a gift from a parishioner. The origin of the mummy, as well as how the parishioner obtained it, is a mystery.

Raijū mummy at Yūzanji temple
The mummy looks like that of a cat at first glance, but the legs are rather long and the skull has no visible eye sockets.

Raijū mummy at Saishōji temple [Photo]
A similar raijū mummy is on display at Saishōji temple in Niigata prefecture.
* * * * *
– Tengu mummy
Another legendary supernatural sky creature is the tengu, a dangerous demon often depicted in art as being part human and part bird. The Hachinohe Museum (Aomori prefecture) in northern Japan is home to a tengu mummy, which is said to have once belonged to Nambu Nobuyori, a Nambu clan leader who ruled the Hachinohe domain in the mid-18th century.

Tengu mummy at Hachinohe Museum
The mummy, which appears to have a humanoid head and the feathers and feet of a bird, is believed to have originated in the town of Nobeoka (Miyazaki prefecture) in southern Japan. Theories suggest the tengu mummy made its way north after being passed around between members of Japan's ruling samurai families, some of whom were deeply interested in collecting and trading these curiosities.
* * * * *
– Self-mummified monks
A few Buddhist temples in northern Japan are home to "living mummies" known as sokushinbutsu(即身仏). The preserved bodies are purportedly those of ascetic monks who willingly mummified themselves in the quest for nirvana.

Shinnyokai-Shonin "living mummy" at Dainichibo Temple (Yamagata prefecture)
To become a living mummy, monks had to undergo a long and grueling three-step process.
Step 1: For 1,000 days, the monks would eat a special diet of nuts and seeds, and engage in rigorous physical training to strip the body of fat.

Tetsumonkai-Shonin "living mummy" at Churenji temple (Yamagata prefecture)
Step 2: For another 1,000 days, they would eat only bark and roots in gradually diminishing amounts. Toward the end, they would start drinking tea made from the sap of the urushi tree, a poisonous substance normally used to make Japanese lacquer bowls, which caused further loss of bodily fluid. The tea was brewed with water from a sacred spring at Mt. Yudono, which is now known to contain a high level of arsenic. The concoction created a germ-free environment within the body and helped preserve whatever meat was left on the bone.

Arisada Hōin, 300-yr-old "living mummy" at Kanshūji temple (Fukushima)
Step 3: Finally, the monks would retreat to a cramped underground chamber connected to the surface by a tiny bamboo air pipe. There, they would meditate until dying, at which point they were sealed in their tomb. After 1,000 days, they were dug up and cleaned. If the body remained well-preserved, the monk was deemed a living mummy.
Unfortunately, most who attempted self-mummification were unsuccessful, but the few who succeeded achieved Buddha status and were enshrined at temples. As many as two dozen of these living mummies are in the care of temples in northern Honshu.
The Japanese government outlawed the practice of self-mummification in the late 19th century.
More than 5,000 strange holes have been found at the bottom of the Pacific Ocean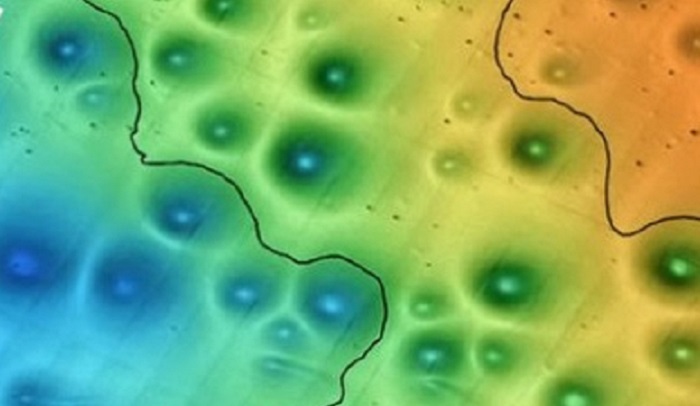 On a relatively small part of the Pacific Ocean, off the western coast of the United States, there are several thousand indentations of various sizes, the origin of which is not completely clear.
This was reported by scientists at the Monterey Bay Aquarium Research Institute (MBARI).
The larger pits have an average width of 175 meters and a depth of about five meters. Their shape is almost perfectly round.
Over the last few years, experts at MBARI and other organizations have found more than 5,200 such holes, such as smallpox, on an area of ​​approximately 1 300 square kilometers. So far, this is the largest concentration of such sites in North America.
More recently, scientists have been exploring the bottom of California in more detail. The fact is that they want to build a power plant there, but first they need to study the local conditions in detail.
Thousands of small pits or micro-depressions have been discovered using sonars mounted on autonomous submarines. Their width is about 11 meters and the depth is about a meter. Moreover, their shape is not round but oval.
Previously, similar seabed depressions have been found elsewhere in the world, and their origin is mainly due to methane emissions.
However, MBARI researchers find no evidence of this gas in the bottom sediments or in the water in this region.
Sonar data showing sludge bed layers, indicate that these points have been inactive for the last 50,000 years.
Scientists discover that the Y chromosome is disappearing from the blood of men
A study has found that Y chromosomes of men are disappearing as they get older and could put them at greater risk of cancer.
Humans have 23 pairs of chromosomes. The Y chromosome is considered the male chromosome and women don't have it: they have the XX chromosomes while men have XY.
But researchers have discovered that many men also lack Y chromosomes in some of their white blood cells.
The investigation
To reach this conclusion, scientists led by the University of Cambridge conducted a study on samples of 205,011 men, obtained from the Biobank gene bank in the United Kingdom, which contains the DNA of 500,000 volunteers.
They identified 156 autosomal genetic variants related to the loss of the Y chromosome, which were preferably close to genes involved in the regulation of the cell cycle, susceptibility to cancer or somatic drivers of tumor growth.
They found that more than four in 10 men (43.6%) had lost a notable proportion of their Y chromosomes at the age of 70.
The researchers found that one in five men in a sample of more than 200,000 had begun to lose Y chromosomes of DNA in some of their blood cells.
20% of men of all ages had lost some of the Y chromosomes in their blood and this proportion had doubled when men were 70 years old.
Subsequent analysis showed that people with high genetic predisposition to lose the Y chromosome were at greater risk of suffering from some type of cancer. The autosomal genetic variants found also influenced other aspects such as reproductive aging or type 2 diabetes.
Possible causes
The study authors believe that the loss of Y occurs through predisposition to processes that promote errors in cell division, or processes that help create an environment where aneuploid cells (cells with an abnormal number of chromosomes) are more likely to proliferate.
The team that made the discovery said that this strange change may be a sign that men's DNA was unstable and that the body was allowing random genetic mutations to accumulate.
The research has been published in the magazine Nature.
The Dani cannibal tribe and their smoky dead ancestors
In the Baliem Valley, West Papua Province in Indonesia, lives a weirdly primitive tribe called the Dani People.
A few decades ago, Dani actively practiced ritual cannibalism. It is now reported that this tradition has been discontinued.
In their recent macabre history, there is no less a frightening tradition of smoked dried carcasses of their dead relatives over a fire. And also cutting off the phalanges of women's fingers.
The phalanges were cut with a stone axe. This procedure is performed for those women who have lost a male relative: husband, son, brother or nephew, to emphasise the pain of loss and to appease the dead's spirit.
The surgery was primitive and rough, but the wounds on the hands of the women healed well and fairly quickly.
Recently, Italian photographer Gianluca Chiodini visited the village of Dani People and made unique color photographs.
Chiodini wandered in the jungle for days trying to find the tribe and finally he was lucky.
The photographer shares:
"The natives greeted me warmly and did not even try to eat me."
Gianluca was shocked to see the 250-year-old corpses of the dead, Dani's "eternal" ancestors, completely black from smoking for a long time.
The guide told the Italian that seven smoked mummies are stored in the village, but only two of them are allowed to be shown to strangers. The rest are taboos, and if the photographer tries to find them himself and photographs them, the natives could kill him.
To prevent mummies from decomposing, they are removed daily and carefully smeared with ointment of herbs and lard. Then they are hung over the fire so that the smoke can penetrate well into the body. All this has been happening daily for 250 years.
Dani people stopped eating their relatives only after 1990, at least officially. Now the meat they eat is mostly pork.
The natives hunt wild pigs with bows and arrows. After being captured and killed, the pigs are wrapped in palm leaves and allowed to be smoked by fire, like the mummies of their ancestors.
When the meat is hot, it is considered ready. Men are the first to eat, and women and children eat what is left behind.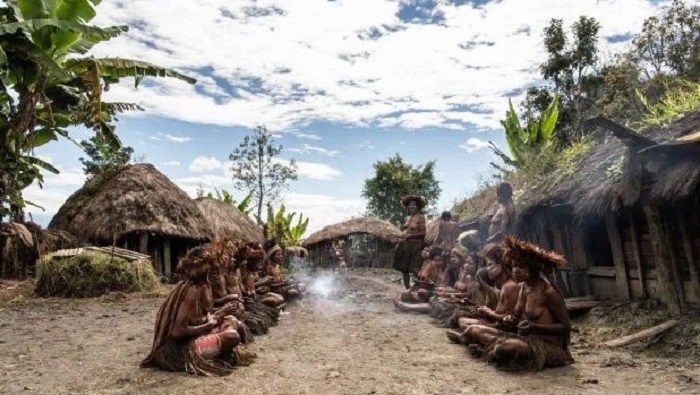 Many women in the tribe have their fingers cut off, meaning they have lost many male relatives.
Whether these deaths were in battle with neighboring tribes or through illness, history is silent …
Now, finger-cutting is also considered a forbidden procedure and in young women the fingers are already intact but you can still see the amputated hands of the older women.