Monsanto and Bayer Tie the Knot – Don't Miss the Most Satanic Wedding of the Year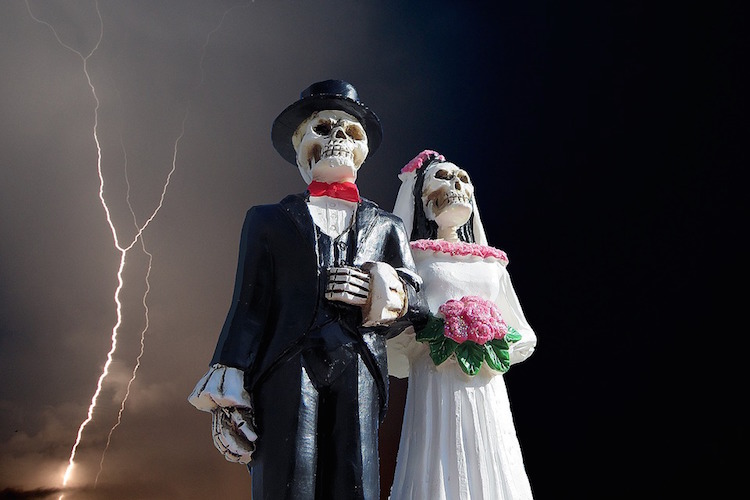 Julian Rose, Contributor
Waking Times
Oh happy day! Two entities that are clearly a near perfect match, are to be joined together in hellish matrimony.
On the 21st March, 2018, after due consideration, The EU Monopolies and Murders Commission sanctioned their marriage – for the princely sum of just $666 billion dollars. What a joyous day for the people, plants and animals of planet Earth!
The wedding, between these two infamous same-sex corporates, is to be celebrated with a laboratory prepared Roundup Ready cocktail, which invited guests will be able to savor from specially commissioned asbestos goblets, each bearing the Saturnian insignia of the corporate couple.
Cyber waiters, wearing only a fixed smile and an Aspirin, will bring to the table a large bowl of Agent Orange consomme, as black nanotech confetti rains down on the happy couple.
Genetically modified mosquitoes in a rich glyphosate sauce is to follow; garnished with Amflora GM potatoes and further spiced with Monsanto's very own Flaver Saver tomato dressing. I am reliably informed, that the  eagerly awaited desert will be an organophosphate Golden Rice pudding, served in genetically engineered pig skin bowls with the words 'New World Order' inscribed on the outer rims.
A gentle 'digestivo' of microwave warmed  Coca Cola will also be served, sweetened by Monsanto's original saccharin chemical formula, to help settle any over inflated stomachs.
Lastly, for anyone wanting something as simple as a nice glass of water, the Carkill corporation has most generously offered to donate free bottles of its fluoride enriched tap water, for this occasion.
After their sumptuous dinner, guests will be entertained by Lady Bla Bla, Mad Onna and Miley Citrus, a cyborgian trans-gender act famous for its 'emotion free' performances and costumes entirely made from reconstituted GM chicken thighs. What a grand spectacle!
Tickets will be available for a special public event to follow later in the week at the Head Quarters of The European Commission. Prices will start at $10,000 a head, but there will be a limited number of front row seats available at $1,000,000 each. Those fortunate enough to purchase these seats will get a free 'MonBay' T shirt and a bottle of synthetic bovine growth hormone (bovine samatotrophin), enhanced semi skimmed ultra heat-treated milk. Book early, as seats are expected to sell fast.
Also available at this event, owing to the generosity of the host corporations, will be special gift vouchers for original 1925 examples of products made using polychlorinated biphenyls (PCBs), so helpful in plasticating internal organs, but unfortunately banned in the 1990s after too many people got the irrational notion that they were not doing anyone, or anything, any good.
Finally, the happy couple will leave for their honeymoon so as to consummate their common lust for power. In this case, in a delightfully un-restored Transylvanian castle by invitation of Count Roth-Soros, a great grand son of the much vaunted Count Dracula.  There they will spend a quiet weekend with close fiends and New World Order vampires, planning the next major take-over.
What will it be? Speculation is rife that it is likely to be the World, as nothing else has quite the cache.
Postscript: "When the power of love overcomes the love of power, the world will know peace" Jimmy Hendrix
About the Author
Julian Rose is an early pioneer of UK organic farming, a writer, actor and international activist.
He is President of the International Coalition to Protect the Polish Countryside. Julian is the author of two acclaimed titles: Changing Course for Life and In Defense of Life, which can be purchased by visiting www.julianrose.info. He has just completed his third book 'Overcoming the Mechanistic Mind' for which he is currently seeking a publisher.
Area 51 raid: US military apologises for tweet about stealth-bombing 'millennials'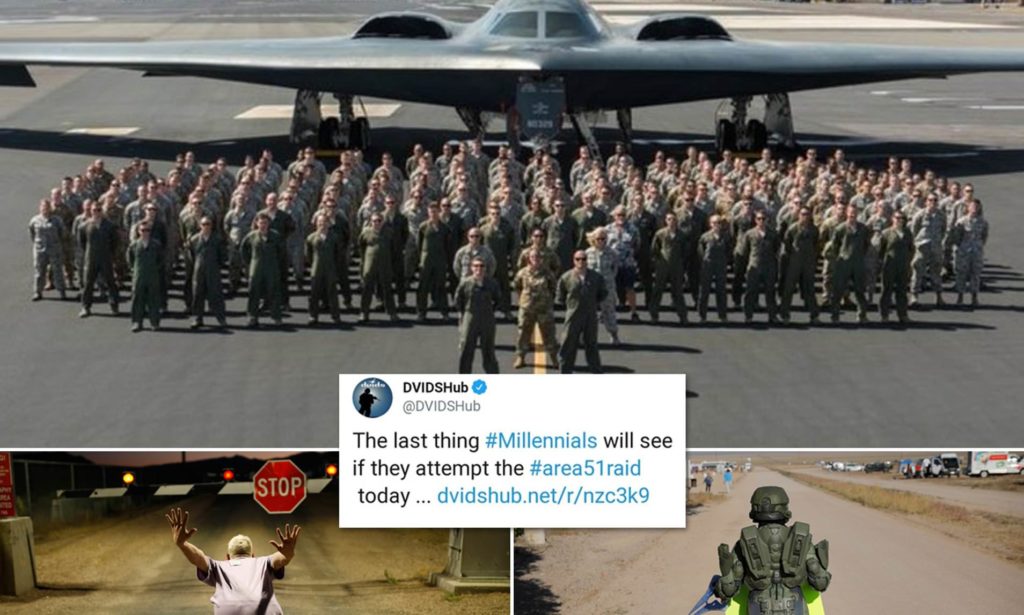 More than two million UFO fans signed up to 'see them aliens' by storming Area 51 base.
The US military has apologised over a tweet saying it would fight "millennials" with stealth bombers if they attempted to enter Area 51, saying it "in no way" reflects their stance.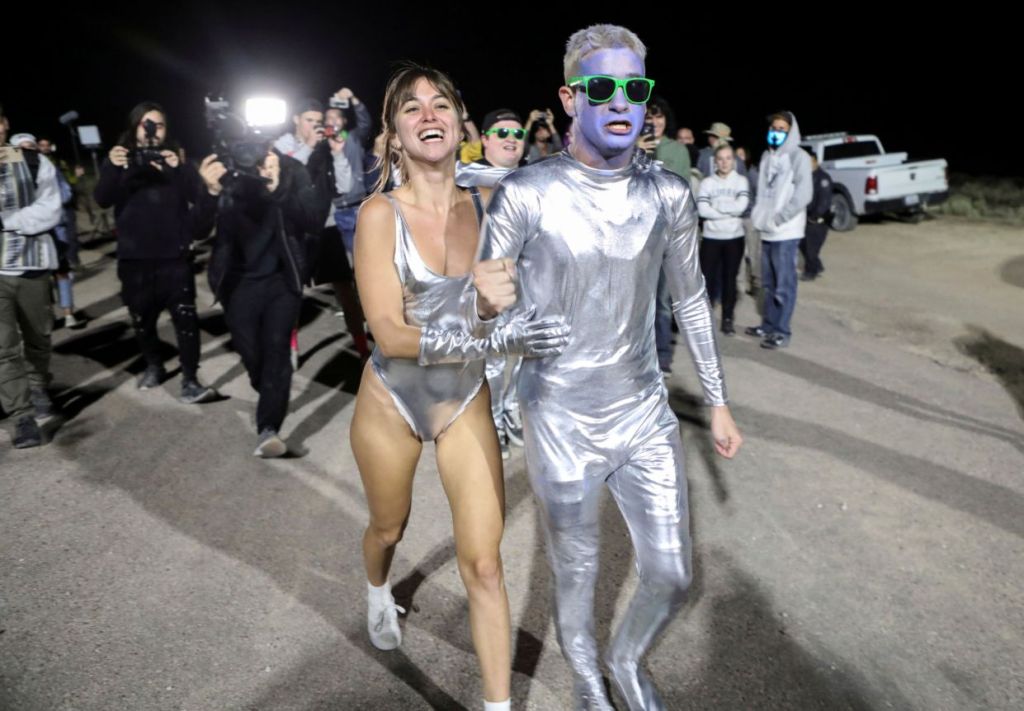 More than two million UFO fans signed up to "see them aliens" by storming the Area 51 base which has long been rumoured to house government secrets about alien life.  However, only a few thousand UFO enthusiasts turned up in rural Nevada for the 'pilgrimage' on Friday.
The tweet – which was posted on Friday and has since been deleted – was done by the PR arm of the US military, called the Defence Visual Information Distribution Service (DVIDS).
It stated: "The last thing #Millennials will see if they attempt the #area51raid today" with a picture of military officers in front of a stealth bomber.
The following day the unit apologised. A spokesperson tweeted: "Last night a DVIDSHUB employee posted a tweet that in NO WAY supports the stance of the Department of Defense.  It was inappropriate and we apologize for this mistake."
Area 51 tested aircraft ranging from the U-2 in the 1950s to the B-2 stealth bomber in the 1980s. The government spent decades refusing to acknowledge the site even existed, before releasing documents confirming it in 2013.
Its secrecy still fuels speculation that it's where the government studies aliens.
Visitors descended on the tiny desert town of Rachel, a short distance from the military site, in response to a recent, viral social-media invitation to "storm" Area 51, raising concerns by local authorities of unruly crowds overwhelming the community.
The US Air Force issued stern warnings for people not to approach the gates of the Nevada Test and Training Range, where Area 51 is located.
However, crowds were significantly smaller than expected.
Around 1,000 people visited gates on Thursday and Friday, and more made the trek on long dirt roads near Rachel on Saturday.
Officials reported six arrests overall, mostly for misdemeanour trespassing on base property, a $1,000 (£800) fine. One man was arrested for disorderly conduct at a festival venue and one for public urination at a base gate.
In Nye County, west of Las Vegas, authorities reported no arrests after a total of about 200 people showed up early on Friday at two remote gates to the once-secret Area 51 facility.
In Lincoln County, Sheriff Kerry Lee said about 20 people broke from among revellers early Saturday and "acted like they were going to storm, but stopped short."
On Friday, one man was treated for dehydration by medics at the Rachel festival.
While costumed space aliens were a common sight in events that began on Thursday, no one has reported seeing actual extraterrestrials or UFOs.
Source www.independent.co.uk
The 5G Roll Out of 20,000 Telecom Satellites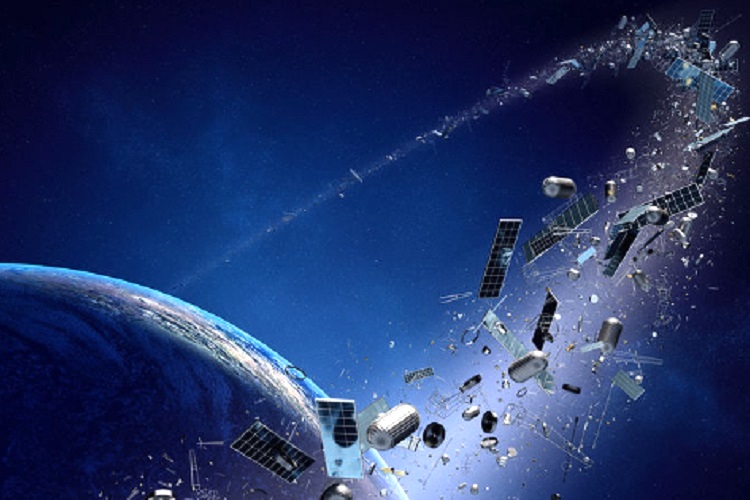 Gary Null, PhD, GreenMedInfo
Waking Times
For years, scientists have warned about the dangers of enormous amounts of debris orbiting our planet. Aside from wrenches and other tools used by astronauts, plastic bags, and yes even a toothbrush, according to the federally-funded Aerospace organization, the greater dangers are obsolete spacecraft, portions of damaged and disabled satellites, rocket fragments, flywheels, and nuclear reactor cores that have broken up or collided with various other objects. Yet even a screwdriver traveling at an average of 17,500 mph, with an impact velocity of 21,000 mph, can be very destructive if it were to crash into a satellite, rendering it inoperable. And this simply adds to more useless junk, now estimated at 128 million small bits of debris under 1cm and the 34,000 larger pieces, floating above our heads. Imagine being hit with a piece of space scrap the size of a sugar cube is "equivalent of standing next to an exploding hand grenade."
A Business Insider story about space debris noted that the US government already tracks 23,000 objects regularly, including China's bus-size Tiangong-1 space station that incinerated in orbit. In February of 2011, a Russian military satellite collided with an American Iridium commercial satellite. The former disintegrated into hundreds of thousands of pieces of debris while the latter spun out of control. Approximately 2,000 of these larger objects are being tracked regularly. Three thousand large objects from the Chinese anti-satellite weapon FY-1C, which the Chinese military deliberately blew up, also have to be routinely monitored. As more and more satellites, space stations, rocket and missile remains, and a variety of other orbiting technologies are shot into space, the more frequent these accidents will occur.
Julian Assange, a life that slowly fades (Video)
Julian Assange's father says his son may not be released from prison after revealing criminal acts perpetrated by the US.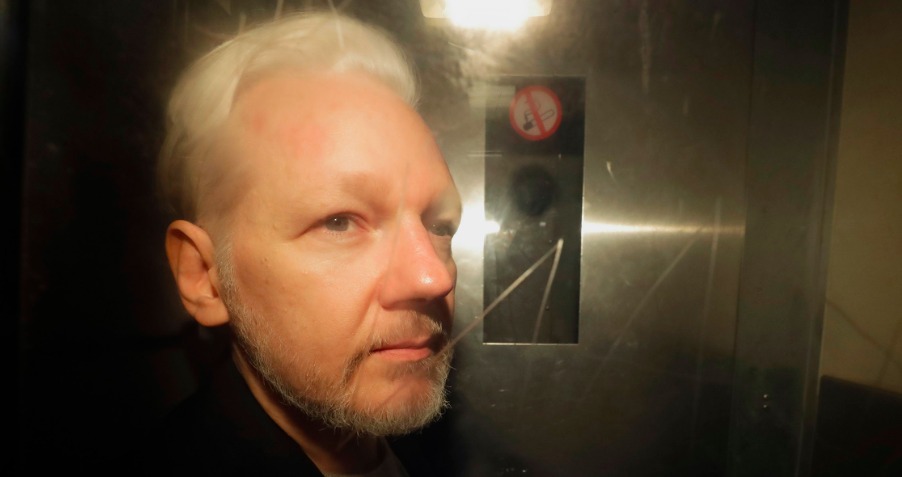 Australian journalist Julian Assange, founder of the WikiLeaks platform, which unveiled, among others, crimes committed by the United States (USA), is increasingly at risk of dying in jail, his father, John Shipton warned.
"Julian can die in jail after a 9-year persecution for revealing the truth of war crimes (in the US)," Shipton told reporters in London on Friday.
He said that this is the "bitter truth" after hearing the testimony of a United Nations (UN) rapporteur who visited Assange a few days ago in Belmarsh prison, southeast London, where he has been since last April, and who said that the life of the activist is in danger.
The UN special rapporteur on torture, Nils Melzer, said that Assange is suffering from an "inhuman situation" in Belmarsh, where he hopes the British justice will decide whether or not to request an extradition made by the United States, to respond to the alleged crime of conspiracy, among other charges.
On October 26, musician Roger Waters, founder of the progressive rock band Pink Floyd and known for his activism, said in an interview with RT that "they are clearly trying to kill Assange as much as they can."
"Julian Assange is becoming a warning to other journalists that if they tell the truth -particularly to power-' we will catch them, "Waters said.
On Monday, October 21, Assange appeared at a London court hearing, and seemed confused, as it was hard to remember his name and age, according to a report by Reuters.
According to that testimony, the judge asked the activist at the end of the hearing if he was aware of what was happening and replied: "not exactly."
Under normal circumstances, the Australian must have been released on bail after 50 weeks in prison and while his trial is taking place, but British justice chose to keep him in jail.
Judge Vanessa Baraitser, of the Court of Magistrates of the Westminster district of London, decided that Assange remains imprisoned due to his "history of evasion", as there are "substantial indications" to fear that he can again evade the action of justice.
The founder of WikiLeaks will face an extradition hearing to the United States on February 25 for 17 counts of espionage and one of conspiracy, which can lead to a sentence of up to 175 years in prison.