Monsanto And Bayer Are Maneuvering to Take Over the Cannabis Industry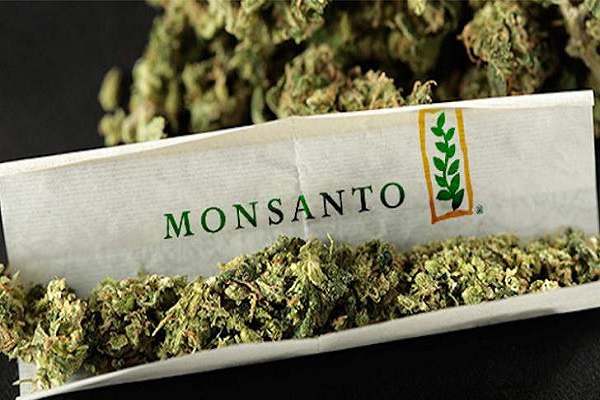 It has been rumored for years that Monsanto plans to take over the cannabis industry with genetic engineering just as they've taken over the corn and soy industries. Although they have always denied having any intentions to do so, at this point it is unlikely that anybody really believes them. In contrast, many in the cannabis sphere are prepared to resist any kind of GMO takeover of marijuana by Monsanto or any of their cohorts.
The evidence is mounting, though, which points strongly to the notion that Monsanto does indeed plan to take control of the cannabis plant, and it doesn't look good for medical users, or anyone planning on getting into the industry.
Former Nazi Collaborator Bayer Buys Out Monsanto for $66 Billion
You may remember hearing back in September that Bayer, the largest pharmaceutical company in the world, made a deal to buy out Monsanto for $66 billion. Although Monsanto was voted the evilest company in the world in 2013 and its reputation has continued to fall since Bayer still went ahead with the buyout.
A merger between these two companies is unsurprising, as though they both have long histories of involvement with Nazism and chemical weapons like agent orange which have devastated Vietnam since the war. In fact, Bayer began as a break-off company of the infamous IG Farben, which produced the chemical weapons used on the Jews during the Nazi reign. After the war, Farben was forced to break up into several companies, including BASF, Hoechst, and Bayer.
Soon after at the Nuremberg trials, 24 Farben executives were sent to prison for crimes against humanity. However, in a matter of just 7 years each of them was released and began filling high positions in each of the former Farben companies, and many of them began working for the Russian, British, and American governments through a joint intelligence venture called "Operation Paperclip".
"IG (Interessengemeinschaft) stands for "Association of Common Interests": The IG Farben cartel included BASF, Bayer, Hoechst, and other German chemical and pharmaceutical companies. As documents show, IG Farben was intimately involved with the human experimental atrocities committed by Mengele at Auschwitz. A German watchdog organization, the GBG Network, maintains copious documents and tracks Bayer Pharmaceutical activities." – Alliance for Human Research Protection
After all these years, Bayer is now richer and more powerful than their predecessor company I.G. Farben ever was.
Monsanto And Miracle-Gro Have Intimate Business Ties
According to Big Buds Magazine, Monsanto and Scotts Miracle-Gro have a "deep business partnership" and plan on taking over the cannabis industry. Hawthorne, a front group for Scotts, has already purchased three of the major cannabis growing companies: General Hydroponics, Botanicare, and Gavita. Many other hydroponics companies have also reported attempted buyouts by Hawthorne.
"They want to bypass hydroponics retail stores…When we said we won't get in bed with them they said, 'Well, we could just buy your whole company like we did with Gavita and do whatever we want.'" – Hydroponics Lighting Representative
Jim Hagedorn, CEO of Scotts Miracle-Gro, has even said that he plans to "invest, like, half a billion in [taking over] the pot business… It is the biggest thing I've ever seen in lawn and garden."
He has also invested in companies such as Leaf, which grows cannabis in an electronically regulated indoor terrarium accessible via smartphone.
Bayer and Monsanto Trade Industry Secrets On Producing GMO Marijuana
It is logical that Bayer, being the parent company, would work together with Monsanto in order to share secrets which would advance mutual business. Many people in the cannabis industry have been warning about this, including Michael Straumietis, founder, and owner of Advanced Nutrients.
"Monsanto and Bayer share information about genetically modifying crops," Straumietis notes. "Bayer partners with GW Pharmaceuticals, which grows its own proprietary marijuana genetics. It's logical to conclude that Monsanto and Bayer want to create GMO marijuana." – Michael Straumietis
Conclusion
It is possible that Bayer and Monsanto could create a monopoly on marijuana seeds in the same way that they have created a monopoly on corn and soy. Through the immense corporate power and the enforcement of the international patent law, these corporations could place themselves in a position of total control over cannabis as a medicine as well as for recreational use by using the same model as they do with the food crops they control.
But not all hope is lost. There is still a chance to fight back against the Bayer-Monsanto monopoly by boycotting genetically engineered products, Miracle-Gro and other Scotts brand products, Bayer Pharmaceuticals, and companies that do business with any of these. You could even store seeds if you live in an area where it is legal and grow your own while supporting hydroponics and nutrient companies that don't do business with these corporate behemoths.
"Corporations and people with hundreds of billions of dollars know marijuana is a miracle plant. They want to come in and steal our plants, seeds, and industry from us, [and] we must stop them." – Straumietis
Area 51 raid: US military apologises for tweet about stealth-bombing 'millennials'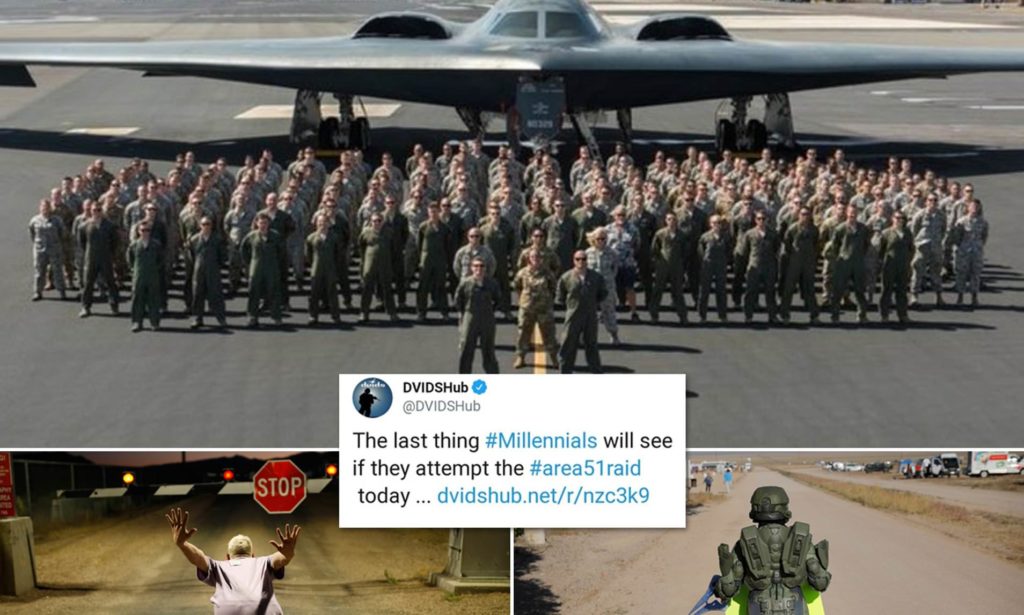 More than two million UFO fans signed up to 'see them aliens' by storming Area 51 base.
The US military has apologised over a tweet saying it would fight "millennials" with stealth bombers if they attempted to enter Area 51, saying it "in no way" reflects their stance.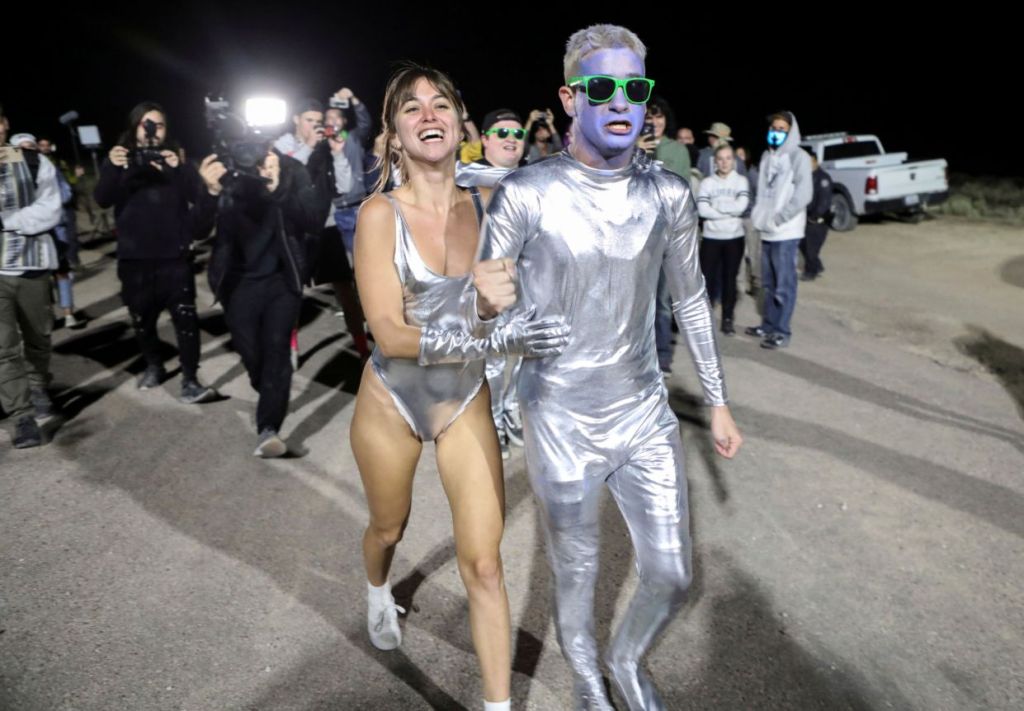 More than two million UFO fans signed up to "see them aliens" by storming the Area 51 base which has long been rumoured to house government secrets about alien life.  However, only a few thousand UFO enthusiasts turned up in rural Nevada for the 'pilgrimage' on Friday.
The tweet – which was posted on Friday and has since been deleted – was done by the PR arm of the US military, called the Defence Visual Information Distribution Service (DVIDS).
It stated: "The last thing #Millennials will see if they attempt the #area51raid today" with a picture of military officers in front of a stealth bomber.
The following day the unit apologised. A spokesperson tweeted: "Last night a DVIDSHUB employee posted a tweet that in NO WAY supports the stance of the Department of Defense.  It was inappropriate and we apologize for this mistake."
Area 51 tested aircraft ranging from the U-2 in the 1950s to the B-2 stealth bomber in the 1980s. The government spent decades refusing to acknowledge the site even existed, before releasing documents confirming it in 2013.
Its secrecy still fuels speculation that it's where the government studies aliens.
Visitors descended on the tiny desert town of Rachel, a short distance from the military site, in response to a recent, viral social-media invitation to "storm" Area 51, raising concerns by local authorities of unruly crowds overwhelming the community.
The US Air Force issued stern warnings for people not to approach the gates of the Nevada Test and Training Range, where Area 51 is located.
However, crowds were significantly smaller than expected.
Around 1,000 people visited gates on Thursday and Friday, and more made the trek on long dirt roads near Rachel on Saturday.
Officials reported six arrests overall, mostly for misdemeanour trespassing on base property, a $1,000 (£800) fine. One man was arrested for disorderly conduct at a festival venue and one for public urination at a base gate.
In Nye County, west of Las Vegas, authorities reported no arrests after a total of about 200 people showed up early on Friday at two remote gates to the once-secret Area 51 facility.
In Lincoln County, Sheriff Kerry Lee said about 20 people broke from among revellers early Saturday and "acted like they were going to storm, but stopped short."
On Friday, one man was treated for dehydration by medics at the Rachel festival.
While costumed space aliens were a common sight in events that began on Thursday, no one has reported seeing actual extraterrestrials or UFOs.
Source www.independent.co.uk
The 5G Roll Out of 20,000 Telecom Satellites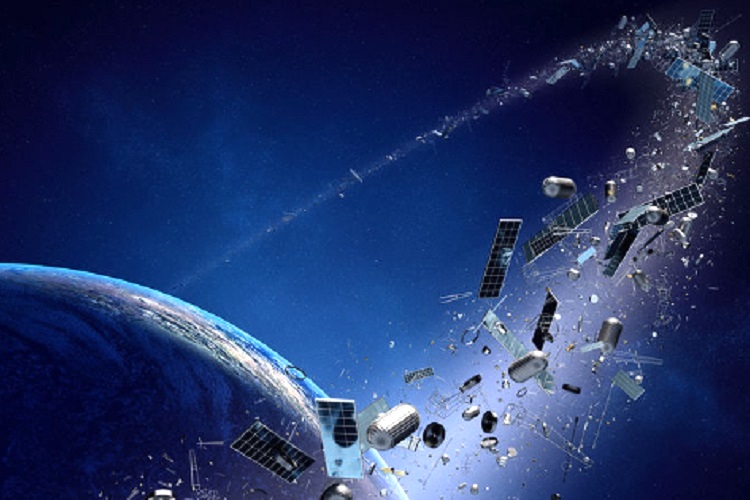 Gary Null, PhD, GreenMedInfo
Waking Times
For years, scientists have warned about the dangers of enormous amounts of debris orbiting our planet. Aside from wrenches and other tools used by astronauts, plastic bags, and yes even a toothbrush, according to the federally-funded Aerospace organization, the greater dangers are obsolete spacecraft, portions of damaged and disabled satellites, rocket fragments, flywheels, and nuclear reactor cores that have broken up or collided with various other objects. Yet even a screwdriver traveling at an average of 17,500 mph, with an impact velocity of 21,000 mph, can be very destructive if it were to crash into a satellite, rendering it inoperable. And this simply adds to more useless junk, now estimated at 128 million small bits of debris under 1cm and the 34,000 larger pieces, floating above our heads. Imagine being hit with a piece of space scrap the size of a sugar cube is "equivalent of standing next to an exploding hand grenade."
A Business Insider story about space debris noted that the US government already tracks 23,000 objects regularly, including China's bus-size Tiangong-1 space station that incinerated in orbit. In February of 2011, a Russian military satellite collided with an American Iridium commercial satellite. The former disintegrated into hundreds of thousands of pieces of debris while the latter spun out of control. Approximately 2,000 of these larger objects are being tracked regularly. Three thousand large objects from the Chinese anti-satellite weapon FY-1C, which the Chinese military deliberately blew up, also have to be routinely monitored. As more and more satellites, space stations, rocket and missile remains, and a variety of other orbiting technologies are shot into space, the more frequent these accidents will occur.
Julian Assange, a life that slowly fades (Video)
Julian Assange's father says his son may not be released from prison after revealing criminal acts perpetrated by the US.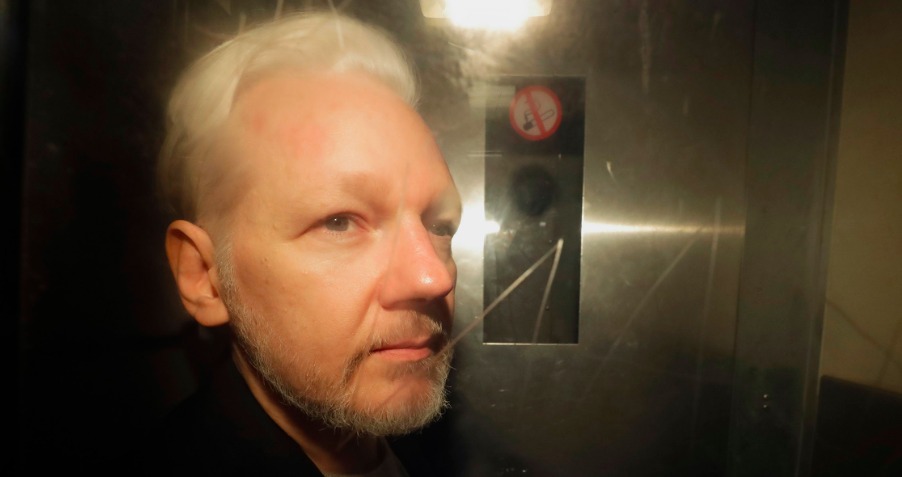 Australian journalist Julian Assange, founder of the WikiLeaks platform, which unveiled, among others, crimes committed by the United States (USA), is increasingly at risk of dying in jail, his father, John Shipton warned.
"Julian can die in jail after a 9-year persecution for revealing the truth of war crimes (in the US)," Shipton told reporters in London on Friday.
He said that this is the "bitter truth" after hearing the testimony of a United Nations (UN) rapporteur who visited Assange a few days ago in Belmarsh prison, southeast London, where he has been since last April, and who said that the life of the activist is in danger.
The UN special rapporteur on torture, Nils Melzer, said that Assange is suffering from an "inhuman situation" in Belmarsh, where he hopes the British justice will decide whether or not to request an extradition made by the United States, to respond to the alleged crime of conspiracy, among other charges.
On October 26, musician Roger Waters, founder of the progressive rock band Pink Floyd and known for his activism, said in an interview with RT that "they are clearly trying to kill Assange as much as they can."
"Julian Assange is becoming a warning to other journalists that if they tell the truth -particularly to power-' we will catch them, "Waters said.
On Monday, October 21, Assange appeared at a London court hearing, and seemed confused, as it was hard to remember his name and age, according to a report by Reuters.
According to that testimony, the judge asked the activist at the end of the hearing if he was aware of what was happening and replied: "not exactly."
Under normal circumstances, the Australian must have been released on bail after 50 weeks in prison and while his trial is taking place, but British justice chose to keep him in jail.
Judge Vanessa Baraitser, of the Court of Magistrates of the Westminster district of London, decided that Assange remains imprisoned due to his "history of evasion", as there are "substantial indications" to fear that he can again evade the action of justice.
The founder of WikiLeaks will face an extradition hearing to the United States on February 25 for 17 counts of espionage and one of conspiracy, which can lead to a sentence of up to 175 years in prison.