Monoatomic Gold the Most Heavily Guarded Secret of the Ancient World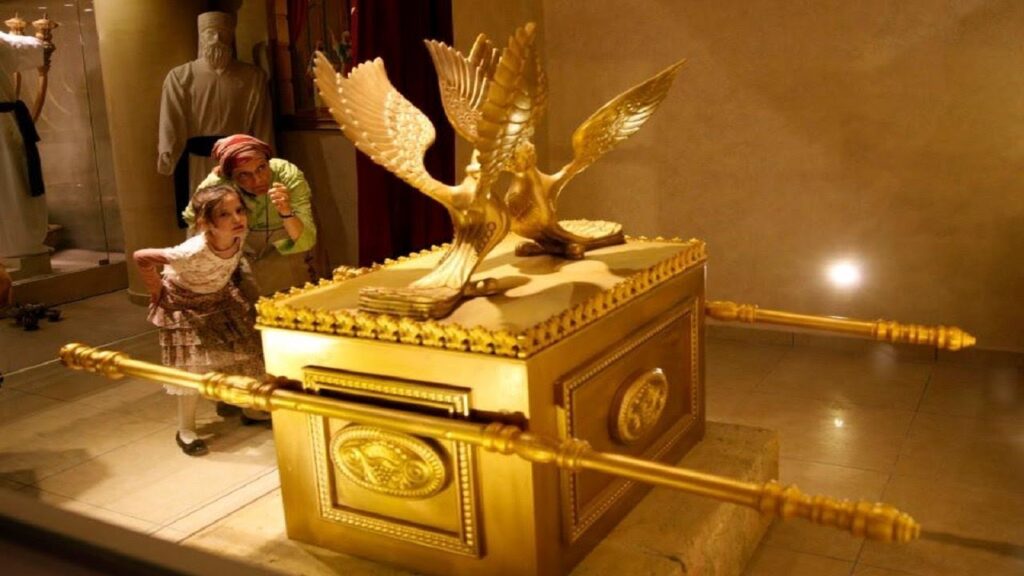 ORMUS, the legendary substance, is the source of one of the deepest mysteries of the Western world. No reason is given in the Bible as to why the Ark of the Covenant was so richly contrived, and no explanation exists of its alleged awesome and deadly powers. What was the Ark of the Covenant? Where is it today? By accessing Rosicrucian archives in liaison with eminent nuclear physicists, Laurence Gardner reveals how this lost secret of the distant past has led to the phenomenal new science of space-time manipulation.The 'Egyptian Book of the Dead' refers to a mysterious parallel dimension of space-time associated with a magical powder of projection. Quantum physicists have now discovered this powder to be superconductive monatomic gold. This amazing substance was the secret of the pharaoh's rite of passage to the Afterlife, and was directly associated with the pyramids and the biblical Ark of the Covenant. In Alexandria it became known as the Philosopher's Stone, while in today's corridors of quantum mechanics its attributes are classified as 'the most remarkable physical property in the universe'.
From the tombs of pharaonic Egypt to the laboratories of modern science, comes this extraordinary account of gravity defiance and teleportation in the ancient world, and amazing revelations about the past power and future significance of the sacred Ark.
Video:
A Mysterious Pillar of light appears over Canada
In recent years they have been reporting a really strange phenomenon all over the world, mysterious pillars of light that appear from nowhere in the sky. As we have seen in the large number of images that show these mysterious rays, usually appear vertically, radiating a strong flash usually red, blue or violet. As a result of numerous Internet users began to share the images of this strange phenomenon, many people began to ask questions: Is it a natural phenomenon? A failure in the camera? Is its origin extraterrestrial or is it perhaps a dimensional portal ?
But it all really started in 2009, when a man named Hector Siliezar visited the ancient Mayan city of Chichén Itzá with his wife and children. Like any other tourist, Siliezar took three photos of the Kukulkan temple with his iPhone, a pyramid that in the past was a sacred temple for the Mayan god Kukulkan. After reviewing the images later, in the first two there was nothing strange. However, in the third photo, you could clearly see a kind of pillar of light that went from pyramid to the sky. Subsequently, similar phenomena began to register in many parts of the world, such as Japan, the United States, Europe, etc.
Many thought that it was a warning about December 21, 2012 , the date that marked the end of the cycle of the Mayan calendar and the end of time. But one such, these pillars of light continued to appear in later years to the present. Like a recent video showing a huge red beam over a residential area in Edmonton, Canada.
The mysterious pillar of light
The popular YouTube channel 'Secureteam10' has recently uploaded a video that shows a mysterious pillar of light falling from the sky . Tyler Glockner, head of the YouTube channel, explained that the strange sighting was recorded in a residential area in Edmonton, Canada, and said that something very sinister is happening in the skies.
For Glockner, this pillar of light is enigmatic and mysterious, but he added that its origin was in heaven. In addition, as can be seen in the images, the light beam remains static at all times, so it was not difficult to see it from the ground. And soon after its publication, the video quickly went viral, causing a controversy in social networks about its true origin. Conspiracy theorists assured that these pillars of light in the sky are of extraterrestrial origin . According to this theory, civilizations from other worlds have been on our planet for centuries, following our evolution and intervening at important moments in our history.
However, there are also those who believe that these columns of light are actually energy weapons aimed at the sky or the atmosphere . As we already published in Esoteric and Paranormal World, directed energy weapons (DEW, for its acronym in English) is a real technology, although supposedly would be in the testing phase. A report prepared for the United States Congress described these weapons as  "that produce concentrated electromagnetic energy and atomic or subatomic particles . "
But there would be a series of logistical problems that would prevent to build a laser system to be operative in wars. Although apparently they would already be using secret government organizations or terrorists to cause fires, like those in California, or to devastate an entire city.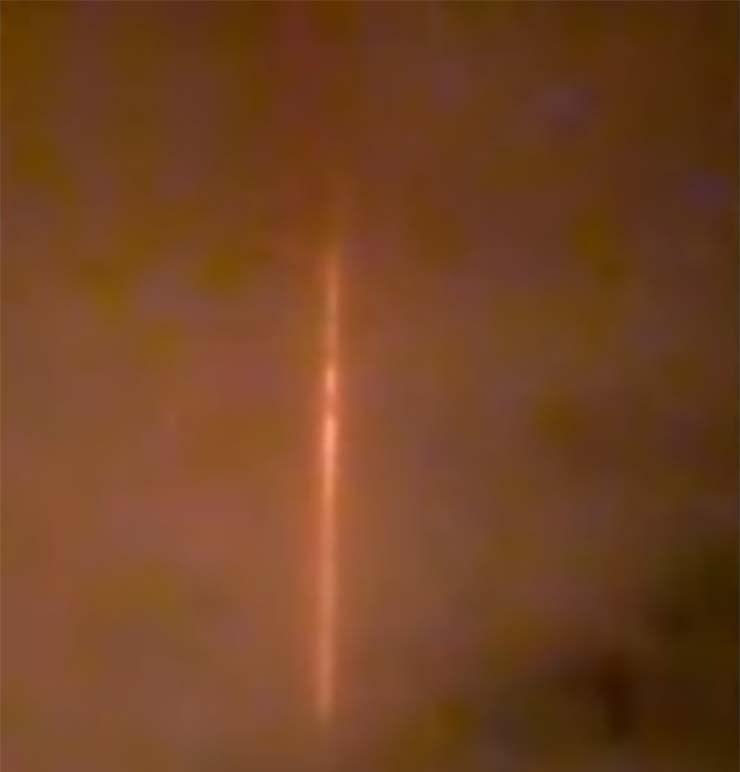 The scientific explanation
However, skeptics have another different opinion. The lights would actually be a fairly common atmospheric phenomenon called pillars of light. Although they look a lot like the aurora, they are not related to the Northern Lights, which are caused by electrically charged particles from the atoms that excite space in the Earth's upper atmosphere, which causes them to release a spectacular light. Instead, these pillars occur in freezing temperatures when hexagonal ice crystals form lower in the atmosphere than they normally would.
When this happens, the crystals essentially form a collective giant mirror, which can reflect a source of light, like the lights of the city and the automobile. The pillars of light are an optical phenomenon that belongs to the halo family, since it is due to the interaction of light with ice crystals. It would simply show that nature tends to be more spectacular than science fiction itself. It is clear that this is the skeptical explanation, but perhaps its origin is not as logical as it seems.
What do you think of the pillar of light on Canada? Is it a natural phenomenon, directed energy weapons or is it of extraterrestrial origin?
Mysterious and Unexplained Booms Have Been Startling Residents of Desert Hot Springs
A big mystery is surrounding Desert Hot Springs after a series of powerful explosions has rocked the city. They shake windows and some residents describe them as small earthquakes.
The blasts began a couple of months ago, the big booms have been shaking the foothill community.
If you live in Desert Hot Springs, you've probably heard the mysterious booms that usually happen during the night.
It turns out that those of us who live in DHS are not alone: A quick Internet search turns up stories about and recordings of unexplained noises being heard around the world. Of course, it's unknown whether what's happening in Desert Hot Springs is related to these weird noises elsewhere.
I've lived in Desert Hot Springs for a while, and anything that goes "boom," night or day, typically becomes part of a game jokingly called "Fireworks or Gunshots?" However, these mysterious booms are unlike the typical noises heard in the night. The first time I heard one, it was late, and I was out on my back porch. It sounded as if a bomb had gone off, echoing throughout the entire city of Desert Hot Springs. Another one, a few nights later, was loud enough that I heard it over the music playing in my earbuds.
It's been a while since I've personally heard one, but other residents are still reporting them, often leading to discussions among the Desert Hot Springs Neighborhood Group on Facebook. People are demanding answers from Desert Hot Springs Chief of Police Dale Mondary.
Unfortunately, Mondary doesn't have any.
"Most of (the booms) don't get called into the police department at all," Mondary said. "I just notice them on social media when I'm tagged in those posts."
Mondary said he has no idea what's causing them.
"We have not been able to pinpoint a specific area," he said. "Honestly, part of it relates to our geographical location: We're surrounded by a mountain range, and the sound reverberates. People will call and say, 'I heard it right here,' or they post on social media, 'I heard it right here.' Then across the town, someone will say, 'No, I heard it from right here.' So that's obviously part of our problem. When we go and check these areas out, we find absolutely nothing—no signs of any explosives going off."
Has Mondary heard any of these booms himself?
"I have not. Some of my officers have," he said. "I talked to one of them one night who was up in the southeast part of town and heard it and thought, 'Ooh, I have to be real close to this, and I'm going to be able to find it!' Someone else was on the west end of town and heard the same thing and thought it came from the west part of town. That's just how confusing it is."
DHS residents have put forth a wide range of theories about the booms, ranging from UFOs to something involving the nearby San Andreas Fault, and from military operations to conspiracies straight out of the Alex Jones/Infowars camp. I thought that perhaps it might involve methane gas escaping from the nearby landfill, but a friend of mine pointed out that such emissions would probably also include a great light show.
Meanwhile, residents keep asking for Mondary to calm their fears by offering an explanation.
"I have no idea what it is. I truly don't," Mondary said. "I can't even speculate as to what I think it is. It can be any number of things."
Desert Hot Springs residents can take some solace in the fact that they're not alone—and law enforcement officials and geographical experts in the other places where similar booms are being heard are just as stumped.
The only consensus right now is: "Nobody knows."
Brian Blueskye
cvindependent.com
The Strange Mystery of ALFRED LOEWENSTEIN
In the early evening of 4 July, 1928, a fabulously wealthy businessman named Alfred Loewenstein boarded his private plane at Croydon Airport.
It was a routine flight that would take him across the English and French coastlines before landing at Brussels, where Loewenstein lived with his wife, Madeleine.
Vanished Into thin air: Loewenstein
But he also had many enemies. In 1926, he established International Holdings and Investments Ltd. that raised huge amounts of capital from wealthy investors. By 1928, these investors wanted some return on their money.
Loewenstein was pleased to be flying home on that July day in 1928. It was a fine evening for flying with scarcely a cloud in the sky. The pilot, Donald Drew, was able to assure him that it would be a smooth flight.
It was to prove smooth for everyone except Alfred Loewenstein himself. He was to vanish in mid-flight and mid-air, one of the strangest disappearing acts in history.
Suicide? Murder? Or unexplained mystery?
Some 85 years after Loewenstein's disappearance, the jury is still undecided.
There were a total of six people on that ill-fated flight in addition to Loewenstein himself.
The pilot, Donald Drew, stood by the doorway of the plane as the passengers boarded. He was joined in the cockpit by Robert Little, the mechanic. The cockpit was a sealed unit with no connecting door to the rest of the plane. Once the Fokker had taken off, Drew and Little had no access to the cabin.
The other people on board included Fred Baxter, Loewenstein's loyal valet, who accompanied him everywhere, and Arthur Hodgson, his male secretary. There were also two women, Eileen Clarke and Paula Bidalon, his stenographers.

Shortly after 6pm, the Fokker FVII, a small monoplane, set off down the grass runway. Within minutes the plane was airborne and climbing to its cruising altitude of 4,000 feet.
Before long, everyone on board could see the Kent coastline below. A minute or so later, they were flying over the English Channel.
At the rear of the Fokker's cabin there was a windowless door that led into a small toilet. This room also had an exterior door – the only means of entrance and exit to the plane.
The door was clearly marked EXIT and was equipped with a spring-loaded latch controlled from inside. It took two strong men to open in mid-air, due to the slipstream pressing against it.
Loewenstein spent the first half of the flight making notes. Then, as the plane headed out over the Channel, he went to the toilet compartment at the rear.
According to statements later made by Baxter, his valet, ten minutes passed and he had still not returned to his seat. Baxter grew concerned and knocked on the toilet door. There was no answer.
Worried that Loewenstein might have been taken ill, he forced open the door. The toilet was empty. Alfred Lowenstein had disappeared into thin air.
An obvious course of action would have been for the plane to divert to St. Inglevert airstrip which lay between Calais and Dunkirk. Here, they could alert the coastguard to Loewenstein's disappearance.
Instead, the pilot landed on what he believed to be a deserted beach near Dunkirk.
In actual fact, the beach was being used by a local army unit. When they saw the plane landing, they rushed to meet it.
It nevertheless took them six crucial minutes to arrive at the stationary plane. By that time, both passengers and crew were standing on the sand.
They were questioned by Lieutenant Marquailles. Pilot Donald Drew behaved strangely, evading his questions for half an hour until admitting that they'd lost Alfred Loewenstein somewhere over the English Channel.
Next to question the pilot was a professional detective, Inspector Bonnot. He was puzzled by what he was told.
'A most unusual and mysterious case,' he said. 'We have not yet made up our minds to any definite theory, but anything is possible.'
He arrested no one and even allowed the plane to continue its flight to St Inglevert and thence back to Croydon.
The ensuing investigation was bungled from the outset. Loewenstein's body was finally retrieved near Boulogne on 19 July, more than two weeks after his disappearance. It was taken to Calais by fishing boat where his identity was confirmed by means of his wristwatch.
An autopsy revealed he had a partial fracture of his skull and several broken bones.
Forensic scientists concluded that he had been alive when he hit the water.
The mystery of how he fell to his death remained unanswered, though there were many theories.
Some said the absent-minded Loewenstein had accidentally opened the wrong door and fallen to his death. This was most unlikely, given that it was virtually impossible to open the cabin door in mid-flight.
Others said he'd committed suicide, perhaps because his corrupt business practices were about to be exposed.
A far more plausible (and sinister) explanation is that Loewenstein was forcibly thrown out of the plane by the valet and the male secretary, possibly at the behest of Loewestein's wife, Madeleine. She had a very frosty relationship with her husband and was desperate to get her hands on his fortune.
One thing is clear: all six people on board were almost certainly privy to the murder. Indeed, they had almost certainly planned it carefully in advance.
One theory as to why the Fokker landed on the beach was in order that a new rear door – already stowed on board the plane – could be fitted to replace the one jettisoned over the Channel.