Modern Day Mind Control Overview
There are 3 basic levels of mind control.
1 st) Conscious (Cognitive Psychology)
2 nd) Unconscious ( Unconscious behavioral)
3 rd) Biological (Psychiatry) 
The topic of mind control is elaborate, multifaceted, and multi layered. For the casual reader, it can quickly become numbing, overwhelming the senses and creating a desire to exit the topic, but avoiding this subject is the most foolish thing you could possibly do since your only chance of surviving this hideous and insidious enslavement agenda, which today threatens virtually all of humanity, is to understand how it functions and take steps to reduce your vulnerability.The plans to create a mind controlled workers society have been in place for a long time. The current technology grew out of experiments that the Nazis started before World War II and intensified during the time of the Nazi concentration camps when an unlimited supply of children and adults were available for experimentation. We've heard about the inhumane medical experiments performed on concentration camp prisoners, but no word was ever mentioned by the media and the TV documentaries of the mind control experiments. That was not to be divulged to the American public. Mind control technologies can be broadly divided into two subsets: trauma-based or electronic-based.
The first phase of government mind control development grew out of the old occult techniques which required the victim to be exposed to massive psychological and physical trauma, usually beginning in infancy, in order to cause the psyche to shatter into a thousand alter personalities which can then be separately programmed to perform any function (or job) that the programmer wishes to"install". Each alter personality created is separate and distinct from the front personality. The 'front personality' is unaware of the existence or activities of the alter personalities. Alter personalities can be brought to the surface by programmers or handlers using special codes, usually stored in a laptop computer. The victim of mind control can also be affected by specific sounds, words, or actions known as triggers.
The second phase of mind control development was refined at an underground base below Fort Hero on Montauk , Long Island (New York) and is referred to as the Montauk Project. The earliest adolescent victims of Montauk style programming, so called Montauk Boys, were programmed using trauma-based techniques, but that method was eventually abandoned in favor of an all-electronic induction process which could be "installed" in a matter of days (or even hours) instead of the many years that it took to complete trauma-based methods.
Dr. Joseph Mengele of Auschwitz notoriety was the principle developer of the trauma-based Monarch Project and the CIA's MK Ultra mind control programs. Mengele and approximately 5, 000 other high ranking Nazis were secretly moved into the United States and South America in the aftermath of World War II in an Operation designated Paperclip. The Nazis continued their work in developing mind control and rocketry technologies in secret underground military bases. The only thing we were told about was the rocketry work with former Nazi star celebrities like Warner Von Braun. The killers, torturers, and mutilators of innocent human beings were kept discretely out of sight, but busy in U.S. underground military facilities which gradually became home to thousands upon thousands of  kidnapped American children snatched off the streets (about one million per year) and placed into iron bar cages stacked from floor to ceiling as part of the 'training'. These children would be used to further refine and perfect Mengele's mind control technologies. Certain selected children (at least the ones who survived the 'training') would become future mind controlled slaves who could be used for thousands of different jobs ranging anywhere from sexual slavery to assassinations. A substantial portion of these children, who were considered expendable, were intentionally slaughtered in front of (and by) the other children in order to traumatize the selected trainee into total compliance and submission.
Source: WorldTruthTV
Can the Universe consciously imitate its own existence?
According to the new hypothesis, the Universe imitates its own existence in a "strange loop". In an article published by scientists from the Institute for the Study of Quantum Gravity, it is argued that the basis of the hypothesis is the theory of panpsychism, according to which everything in nature is animated. 
The article was published in the journal Entropy and, as the authors of the work write, is designed to combine understanding of quantum mechanics with a non-materialist point of view. In other words, scientists want to understand how real we are and everything that surrounds us. Agree, this is at least an interesting question for modern science and our understanding of the Universe.
What is reality?
How real is reality? What if all that you are, all that you know, all the people in your life, as well as all events do not physically exist in reality, but are a very complex simulation? Like in the series of the animated series "Rick and Morty" when one of the characters got into a simulation and did not even notice it. Our regular readers know that the philosopher Nick Bostrom addressed this issue in the foundational article "Do we live in computer simulation?", Which suggests that our entire existence may be the product of very complex computer models (simulations) controlled by advanced creatures whose the true nature we may never know.
I am not a supporter of this idea, but despite all the seeming madness of Bostrom's assumption, we really don't know what reality is. Modern science is not yet able to cognize the quantum world and understand, for example, why at the atomic level particles change their behavior when they are watched. At a time when physicists are working on building a mission that can figure out if a parallel universe or universes exists, Bostrom's idea does not look extraordinary.
But the new theory takes a step forward – what if there are no advanced creatures, but everything in "reality" is self-imitation that generates itself from "pure thought?"
The Physical Universe is a "strange loop", writes Quantum Gravity Research, a Los Angeles-based Institute for Theoretical Physics, founded by scientist and entrepreneur Clay Irwin. The work is based on the Bostrom modeling hypothesis, according to which all reality is an extremely detailed computer program – and they ask: instead of relying on advanced life forms to create the technology necessary to create everything in our world, is it not better to assume that the Universe itself is a "mental imitation of oneself"? Scientists associate this idea with quantum mechanics, considering the universe as one of many possible models of quantum gravity.
One important aspect that distinguishes this point of view from others similar to it is related to the fact that the initial hypothesis of Bostrom is materialistic and considers the Universe as physical. For Bostrom, we could just be part of an ancestral simulation created by posthumans. Even the process of evolution itself can simply be a mechanism by which future beings experience countless processes, purposefully moving people through levels of biological and technological growth. In this way, they generate the alleged information or history of our world. Ultimately, we will not notice the difference.
But where does physical reality come from that would spawn a simulation? Their hypothesis takes a non-materialistic approach, arguing that everything in the universe is information expressed in the form of thought. Thus, the Universe "self-realizes" into its own existence, relying on the underlying algorithms and the rule that researchers call the "principle of an effective language". According to this proposal, the simulation of everything is only one "great thought".
How could a simulation have arisen on its own?
Surprisingly, the answer is simple: she was always there, researchers say, explaining the concept of "timeless emergentism". This idea says that there is no time at all. Instead, there is a comprehensive thought, which is our reality, offering a built-in semblance of a hierarchical order, full of "sub-thoughts" that extend down to the wormhole to basic mathematics and fundamental particles. The effective language rule also comes into force, which assumes that people themselves are such "emergent sub-thoughts" and experience and find meaning in the world through other sub-thoughts (called "code steps or actions") in the most economical way (well, then) .
In correspondence with Big Think, physicist David Chester said:
Although many scholars advocate the truth of materialism, we believe that quantum mechanics can give a hint that our reality is a mental construct. Recent advances in quantum gravity, such as the vision of spacetime arising from a hologram, are also a hint that spacetime is not fundamental. In a sense, the mental construction of reality creates space-time to effectively understand itself, creating a network of subconscious entities that can interact and explore the totality of their capabilities.
Scientists associate their hypothesis with panpsychism, which considers everything that exists as thought or consciousness, the purpose of which is to generate meaning or information. If all this is difficult to understand, the authors offer another interesting idea that can connect your everyday experience with these philosophical considerations. Think of your dreams as your own personal simulations, the team suggests. Although they are fairly primitive (by the superintelligent standards of the future AI), dreams tend to provide better resolution than modern computer modeling and are a great example of the evolution of the human mind.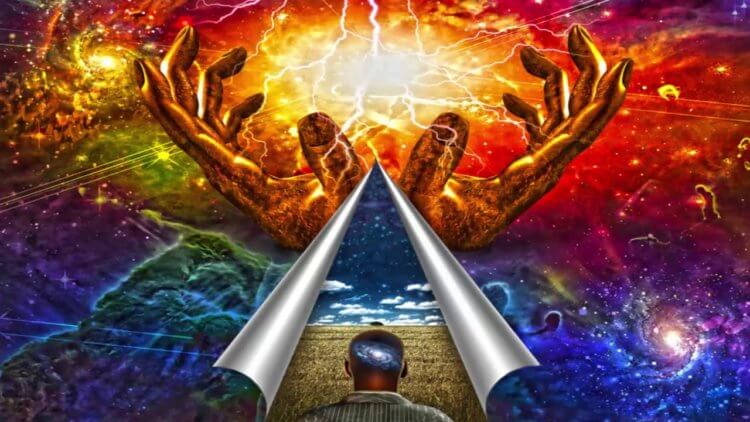 Most notable is the ultra-high resolution accuracy of these mind-based simulations and the accuracy of the physics in them. They point to lucid dreaming – when the dreamer realizes that he is in a dream – as examples of very accurate simulations created by your mind that at times cannot be distinguished from any other reality. So how do you know, while you are reading this article, that you are not in a dream? It turns out that it is not so difficult to imagine that the extremely powerful computer that we can create in the near future will be able to reproduce a similar level of detail.
Of course, some of the ideas of Clay and his team in the academic community are called controversial. But the authors of the work believe that "we should think critically about consciousness and some aspects of philosophy that are inconvenient for some scientists." We can not agree, because in science there are no or, should be no authorities. 
The journalist predicted a cancer-free future and was healed
ABC11 American journalist Michael Perchick predicted on his Twitter account that his future would not be related to cancer. The reporter later reported healing, and the post scored 1.8 million likes.
A 28-year-old North Carolina channel correspondent said in January that he was diagnosed with cancer. However, the journalist did not somehow comment on the current state, but wrote about the future. 
"In four months, I will be the 28-year-old who defeated cancer. To the battle! " – Perchik noted.
Many users supported his entry with comments with words of support. Some users remembered how they themselves fought with a similar diagnosis and they managed to prevail over a deadly disease. 
"I was diagnosed at the same age, two days after my 28th birthday. I'm 34 now. You will succeed, man. Kick your ass cancer," Humphrey03Pat wrote .
In April, Perchik announced that he had completed the necessary course of chemotherapy. 
On June 5, he retweeted his January post and wrote:
"New information about my life: I was right." 
This meant that the journalist was cured. In the comments, he met positive feedback from users. Some responded with a meme about dancing coffin carriers from Ghana, symbolizing a cancer funeral.
Death Angel Drummer talks about meeting with Satan during a coronavirus coma
Will Carroll, a member of the Philippine-American thrash metal band Death Angel, spoke about a meeting with Satan during a coronavirus coma. It is reported by the San Francisco Chronicle.
The 47-year-old drummer is sure he has been to hell. He fell ill with COVID-19 after a European tour of the band and was in critical condition for two weeks at a California medical center. Carroll was connected to a ventilator and was in a coma.
According to a member of the group, in nightmares, he appeared to have Satan in a female guise, who reproached him for being lazy and turned him into a monster resembling Jabba from Star Wars. After that, the drummer decided to abandon the use of strong alcohol and marijuana.
"I will still listen to satanic metal, and I still love Deicide and similar bands. As for my personal life and what I experienced, I don't think that Satan is so cool" Carroll said. 
He explained that he was close to death, but now he feels as if he was born again.