MoD took alien abduction of Scots duo seriously, according to secret file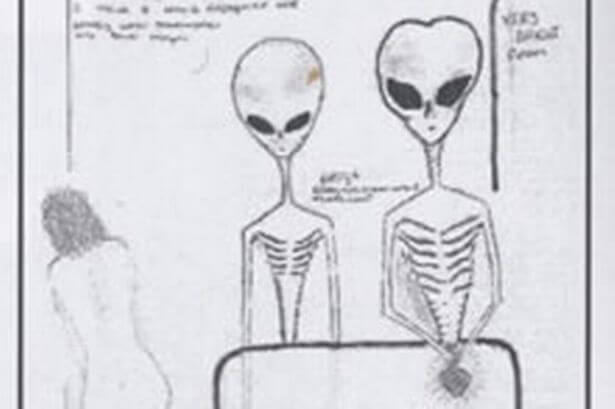 IT WAS hailed two decades ago as the most bizarre and incredible tale of abduction by aliens ever told in Scotland. Garry Wood and Colin Wright made headlines across the globe when they revealed their extraordinary story of being taken prisoners by extraterrestrials in a flying saucer as they were driving towards a village in Lanarkshire to deliver a satellite TV system to a friend.
After being hypnotically regressed they recalled, in 
astonishing detail, how they were taken on board the craft, stripped and examined by strange creatures before being returned to their vehicle on the A70 Edinburgh to Lanark road on the outskirts of the capital.
Plates made for brunch: The luxe look without the price tag Add some soul to supper and some bite to breakfast by giving your cupboards a welcome update with this fresh crockery from Sainsbury's Home. Sponsored by Sainsbury's Home Today, newly declassified secret government "X-files" reveal that a two-page report on what became known as the "A70 incident" was sent to the Ministry of Defence's UFO desk in 1996 – four years after the mysterious encounter on 17 August, 1992, near the Harperrig reservoir.
The document – headlined "Unexplained Aerial Sighting" – is based on evidence provided by Mr Wood, then a 33-year-old ambulance technician from Edinburgh. He and his friend were on their way to the village of Tarbrax in South Lanarkshire when the incident happened. About 10pm at night they spotted a "black" object in the sky above them. It had no lights, was round at the bottom, had three parts to it and was 30ft wide.
The document continues: "[Mr Wood] was driving along the A70 when the object dropped a curtain of white light in front of the car. [Mr Wood] and his friend blacked out for what seemed like ten to 15 seconds. He thought he had died.
"Then he woke up. The car was facing the other direction on the wrong side of the road. When he checked his watch he had lost about one hour."
According to the report, Mr Wood had contacted the police, a doctor, the BBC, a university and even a psychologist "to get some sort of explanation".
Mr Wood said in a newspaper interview in 1996: "I saw three creatures coming towards my car. I felt intense pain, like an electric shock. Then I was in some room. I saw these things like wee men moving about, doing something to me. I could only see up. Then this 6ft 
creature approached.
"It was white-grey in colour with a large head and dark eyes with a long, slender neck, very slim shoulders and waist. There were either ribs or folds of skin on its body. The arms were like ours, but there were four very long fingers.
"The little ones [aliens] were about 3ft tall and seemed to do all the work while the big ones did the communication."
He said one of the aliens spoke to him and said: "Sanctuary – we are here already and we are coming here."
Mr Wood also claimed that a red-hot poker-like object was put into his eye as the aliens carried out their examinations.
A London-based film production company, DRB Entertainment, recently announced plans to make a movie of the "A70 incident" and leading Scottish actor Billy Boyd, who starred in the Lord of the Rings trilogy, is expected to feature.
The A70 document is among seven reported UFO sightings in Scotland which have been declassified in the latest release of UFO files from the MoD to the National Archives.
The newly released documents also include details of a lengthy briefing on UFO policy which was given to Tony Blair when he was prime minister when the government was about to implement the Freedom of Information Act, and the findings of an "Unexplained Aerial Phenomena" study which suggested that some UFOs were rare atmospheric plasmas that could be harnessed or used by the military as "novel weapon technology".
A 1982 memo also noted a fall in numbers of UFO sightings since the beginning of the Falklands War, but reported "large numbers of UFOs have been seen in the vicinity of the Task Force – presumably Little Green Men in ponchos".
Nick Pope, who ran the government's UFO project from 1991 to 1994, said: "These are probably the most fascinating and bizarre government files ever made publicly available."
He added: "The question of whether or not we're alone in the universe is one of the biggest and most profound questions we can ask. People are fascinated with the idea that we might have been visited and these files chart MoD's attempts to grapple with the subject.
"There's massive interest in UFOs and at one point the MoD was getting more FOI requests about UFOs than any other subject. Whether you think UFOs are alien spaceships, misidentifications or hoaxes, these documents are the real-life X-Files."
Source www.scotsman.com
Kaikōura, New Zealand UFO sighting still flummoxing locals 40 years later
© Image – supplied; Video – The Project
Forty years on from an unidentified flying object (UFO) sighting that put Kaikōura in the international spotlight, those who witnessed the strange occurrences are still confused by what they saw.
Three bright lights appeared in the Kaikōura sky in December 1978, bewildering those to witness it – including air traffic controllers John Cordy and Andy Herd.
It was even caught on camera by an Australian film crew who was in the area trying to capture footage of them.
Journalist Quentin Fogarty said they were transfixed by the mysterious lights, some of which were the size of a house.
"We saw this string of lights, it started as a small pinpoint of light then grew into this large pulsating globe with tinges of orange and red," he said.
"I'm sitting there transfixed – we were told after it was about the size of a house."
The objects even appeared on radar, further confusing air traffic staff.
The Muldoon Government said it was squid boats, the moonlight bouncing off cabbages or Venus rising – but those who were there aren't convinced.
"Come on, radar returns from a field of cabbages? Squid boats doing 180 knots at 14,000 feet?" said Mr Cordy.
Even Mr Herd, a sceptic according to his son, believed the flashing lights were not normal.
"My father was a very sensible man," Daniel Herd said. "It would have taken a lot for him to believe that this was something as unusual as he did believe that it was."
Further complicating the mystery is other sightings of UFOs six years earlier in 1972, and a US scientist who studied the lights admitting he believed it wasn't a hoax… or explainable as squid boats.
You can watch Newshub's video coverage here.
Watch How A Lightning Strike Temporarily Disables This UFO's Cloaking Shield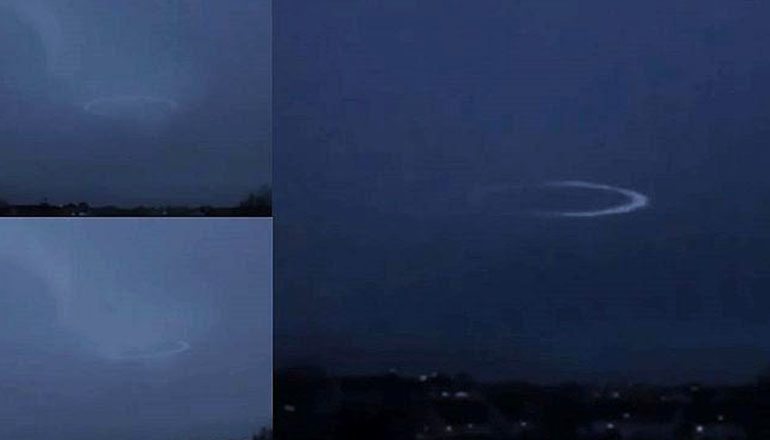 It seems electrical disturbances have an impact on a UFO's cloaking device, as evidenced by the following video.
An unidentified flying object's cloaking shield is one of its best assets since it allows the craft's occupants to remain undetected while performing their obscure activities on Earth.
Visible light can be considered an oscillating electric and magnetic field and because the cloaking shield works on a visible level, it must operate on some kind of electromagnetic principle we've yet to discover. You know what else is electromagnetic? The immense power surge caused by a lightning strike. So it makes sense that when a camouflaged UFO is hit by the thousand or so Giga Watts discharged by a lightning bolt, some interference may occur.
In the following video we are treated to the rare sight of such a phenomenon.
During a recent thunderstorm in the U.S., a large, circular UFO became visible after coming in contact with the immense voltage of an electrical discharge between clouds. It is unclear whether the craft was accidentally hit or it was there exactly for that reason. Perhaps these advanced vehicles are able to harvest energy from a variety of sources, including, but not limited to volcanoes, lightning and solar wind.
After lightning touches its surface, the UFO becomes visible for approximately 30 seconds during which it remains lit and illuminates the sky and clouds surrounding its massive body. Once the UFO disappears, the surrounding area returns to its normal luminosity.
Although videos like this are rare, they are not unheard of. In a previous article, we showed you a fleet of UFOs recharging their batteries during a thunderstorm. Another video that quickly went viral featured a creepy UFO exiting a lightning storm at a high velocity.
It's obvious that aliens always need two things: human specimens and a whole lot of power.
Source: http://ufoholic.com/
Forestry Worker Attacked By Aliens In Scotland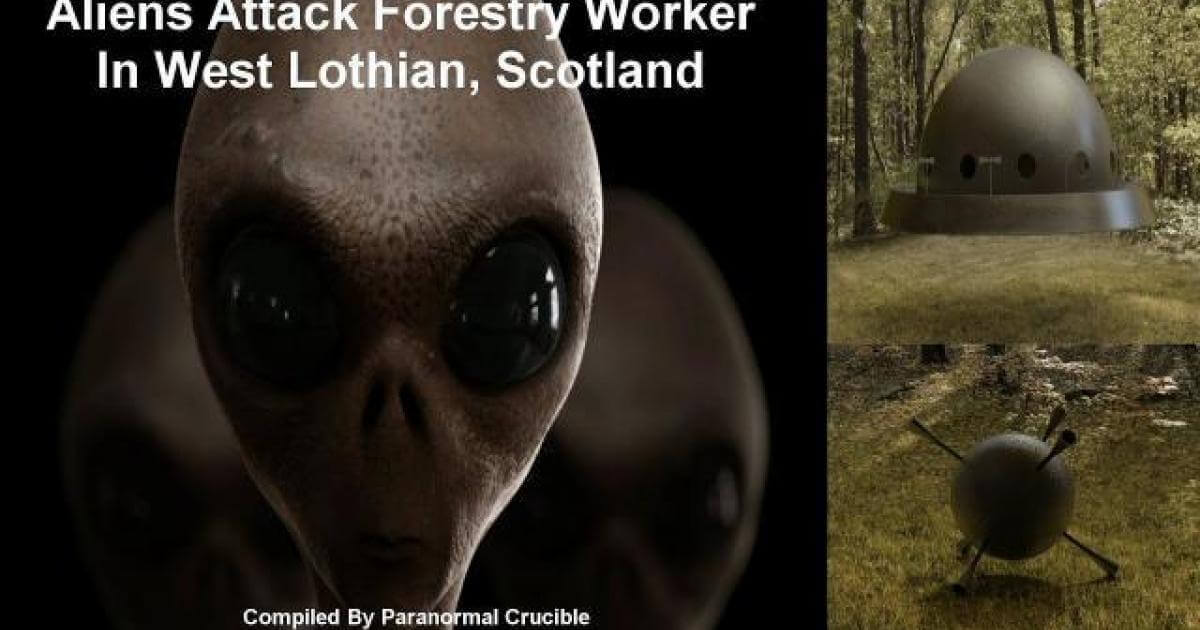 A seemingly unprovoked attack on a Scottish forestry worker over 30 years ago has been recounted by the victim, who still has no idea why he was targeted.
The forestry worker, Robert Taylor, arrived at work as usual on a typically cold November morning and began walking towards the job site through a woodland path only to emerge into a clearing and see the alien craft.
He described the object as spherical, around 20-30 feet in diameter and hovering around 15 feet from the ground. Shortly after this two objects fell from the craft resembling world war two sea mines, rolled towards him and attached themselves to his hips. As the objects approached, he remembered smelling burning, and shortly after they attached themselves to him they began to pull him towards the main craft.
At this point, he lost consciousness and remembers nothing of whatever happened next. After he came to the object was gone, leaving only marks in the ground below where the craft had been, a graze on his forehead and what he described as an incredible thirst. He also believed at the time that he was not unconscious for more than a minute or two, although was somewhat disoriented by the events.
What provoked the attack is unknown, although presumably, the craft was not expecting Taylor to approach it. Some have speculated that the aliens abducted Taylor in an attempt to erase his memory of having seen them. Others that he was experimented on, and that his time aboard the craft may have been much longer than he thought at the time.
Unlike the majority of UFO sightings or abduction experiences, there are seemingly no arguments forthcoming that the events could have come from a man-made source. Experimental aircraft would not have accounted for the spherical objects that pulled Taylor towards the ship, nor the lack of consciousness. Not to mention that West Lothian where the attack took place is not a location known for its abundance of secret military test bases.
The full eyewitness account of the abduction can be found here: