Mistress of the Macabre Digs Up Stories of the Dead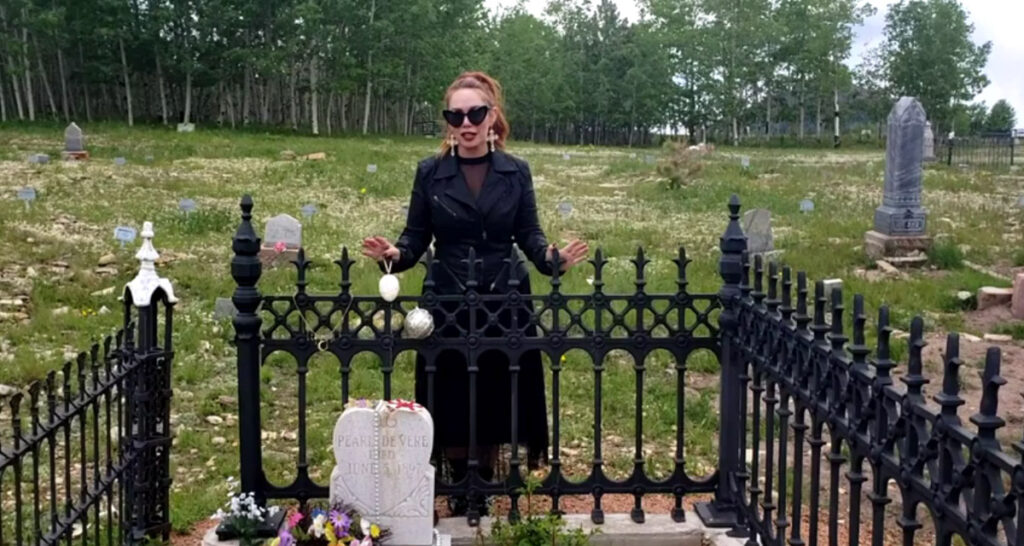 In the new web series Grave Hunter, macabre history aficionado Malia Miglino goes graveside to dig up forgotten stories before they're gone.
Malia Miglino, host of Macabre Mondays, is going cemetery exploring to exhume the bizarre and fascinating stories of the past in her new web series "Grave Hunter."
"'Grave Hunter' was honestly born out of a desire to tell people's history and raise awareness about the growing epidemic that is the disassembling of pioneer cemeteries," Malia said of the show's origins. "My first show, 'Macabre Mondays,' which will always be my first baby, was a much more vague topic on creepy locations, which I loved, don't get me wrong, but I when I started realizing how much of our history was disappearing and the countless stories attached to it, I felt like I needed to do something. 'Grave Hunter' is the quest to bring humanity back to our past and hopefully make people care about preserving it."
In the premiere episode "Soiled Doves and Gold Mines" (above) Malia visits the unique ghosts and dark Wild West history of two Colorado pioneer towns – Victor and Cripple Creek – where it quickly becomes clear that her journey, as well as her passion and excitement for the subject matter, is just as fascinating as the stories she digs up.
"It was a really strange experience from beginning to end, honestly," she told me. "The whole episode started with learning of the serial killer-themed hotel in Victor, The Black Monarch. I reached out to Adam (the owner) about filming a bit there and he was super on board. So it went from being an idea to a reality in a VERY short period of time. I found a cheap flight to Colorado and started researching the hotel which then led me to researching the gold mines and it all snowballed from there."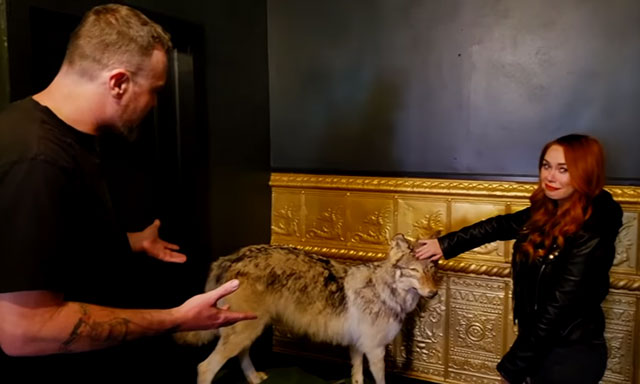 Even this taxidermy wolf at the Black Monarch Hotel has a story
During her stay in Victor Malia spent the night at The Black Monarch, with rooms named after historical figures and folklore such as Nikola Tesla, Elizabeth Bathory, and the Black Annis. It stands to reason that the room someone chooses to stay in probably says a lot about them, so I had to know – which room did she choose?
"All the rooms were awesome," Malia said, "but the H.H. Holmes room was only ever going to be my choice, haha!"
The Black Monarch, a casino and brothel in its past life, has its share of history and ghosts, but in Victor, where serial killer Harry Orchard committed one of his most notorious crimes, and hundreds lost their lives to disease and war, Malia found much more in Victor than she expected.
"I'm not sure I was prepared for the amount of history that I was about to experience and I feel like I only scratched the surface," she said. "Literally everywhere in Victor is a blast from the past; demolished mines and their parts are everywhere, pretty much all the buildings are original and everyone in town wants to talk about it. Personally, I have a love affair with all old brothels and both Victor and Cripple Creek are full of them so that was really exciting for me because I got to stay two nights in one, got to explore another and was given a private tour and allowed access to document at the Old Homestead in Cripple Creek where Madam Pearl de Vere used to live and work so I sort of fangirled out a bit. If anything my 2 days in the area just made me really eager to go back, spend more time exploring the cemeteries and researching more of the people buried there. These towns are literal gold mines of history (cheesy pun intended.)"

Sunnyside Cemetery in Victor, Colorado
Fangirling about brothels? That's all part of Malia's intrigue.
"Oh man, my love affair with brothels is a deep rooted thing," Malia confessed. "Honestly, I think a lot of the reason I'm fascinated by Victorian and early 20th century brothels has a lot to do with the women who ran them. From my perspective, these women who built and ran these high class parlours were taking charge of their lives. In a time where women-owned businesses were VERY rare, they capitalized on the most precious commodity, sex. When so many women were forced into prostitution by men for pennies, these Madams built and ran houses that paid their women well, helped give them an education and made sure they had medical attention. Many of the women that worked in these brothels had flourishing almost high society lives once retiring from the parlours and that was in large part due to the money they were able to save while working and even in some cases, because they got married to one of their millionaire clients.
"Pearl de Vere for example charged $9,000 in today's money to stay a night in her parlour and that was after you had been approved by her after she'd received proof of your income. Lastly I will say in many cases, like with Pearl; she was one of the richest people in town and contributed handsomely to the towns development. So to put it short – these women were badasses."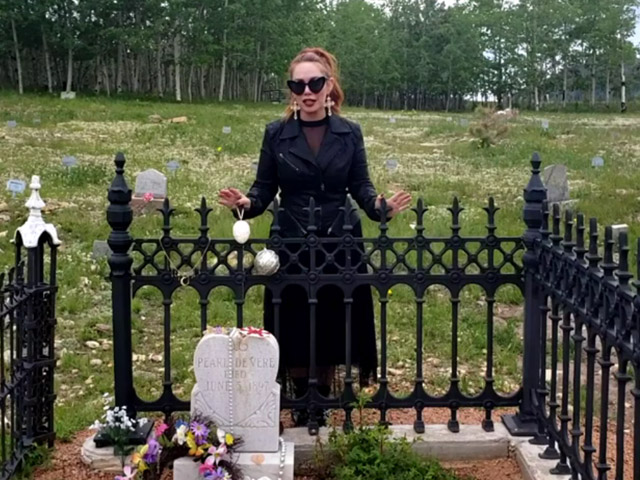 Malia at the grave of Pearl de Vere in Cripple Creek
The horrors of Victor and the final resting place of Pearl de Vere are just the beginning for Malia and the series. What does the future hold?
"I really would love to see Grave Hunter find a home on a network," she says. "To tell the stories I want to tell and to do them justice would take a larger budget than I have personally, not to mention the lack of a proper crew has gotten almost impossible at times. So pitching and shopping the show around are immediate goals that will hopefully lead to an awesome and larger future for the show.
"As for locations – really the sky is the limit but most pressing I would love to feature Sunnyside cemetery in Long Beach, CA which is currently in threat of being disassembled. Long Beach and the South Bay Area are home to some of my favorite historical people like the Banning family (who are coincidentally buried in my favorite LA cemetery) so that's probably first up."
Watch future episodes of Grave Hunter and catch up on Macabre Mondays on Malia's Youtube channel.
The hidden treasures of the mythical worlds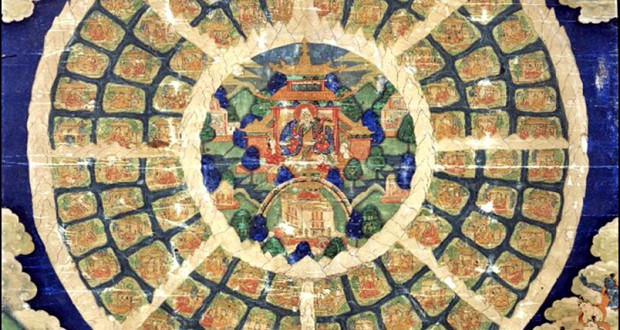 Mythical civilizations are a potential source of esoteric knowledge in the service of man's designs. They float as if suspended in a space of the mind accessible to those who dare to believe it, to those who ignore appearances which have crossed the interior door beyond the abyss.
Has not surpassing the limits of materiality always been the secret wish of man? This is not about exploring historical civilizations, although terrible secrets are certainly buried in the necropolises and underground mazes of large cities such as Babylon, Damascus, Alexandria or Jerusalem.
Legends, ancient texts and occult teachings abound in descriptions of supernormal powers emanating from mysterious lands. These fantastic worlds seem perceptible due to their energetic radiance in the space that some call them Akashic records or astral light. A concept mentioned in Theosophical works of Helena Blavatsky, and later in the extravagant adventures of Lobsang Rampa, before appearing in many fiction works.
Astral projection and the lucid dream are two essential elements of all occult work, instruments of a perception of a multidimensional reality. The adept, in search of hidden knowledge, prohibited or of non-human origin, must extract himself from the tangible and project consciousness into other dimensions to lead his quest. Psychic maps or systems exist in most occult orders to guide psychonauts on their journeys. Rituals and methods of projection are determined in order to get in touch with the higher beings likely to light our lanterns, whether it is the guardian angel, the Great Elders, voodoo spirits or extraterrestrial entities. The accounts of those who brought back substantial information very often constitute a basis for the lessons given, a reference and an inspiration for the novices.
The perspective of the Nietzschean superman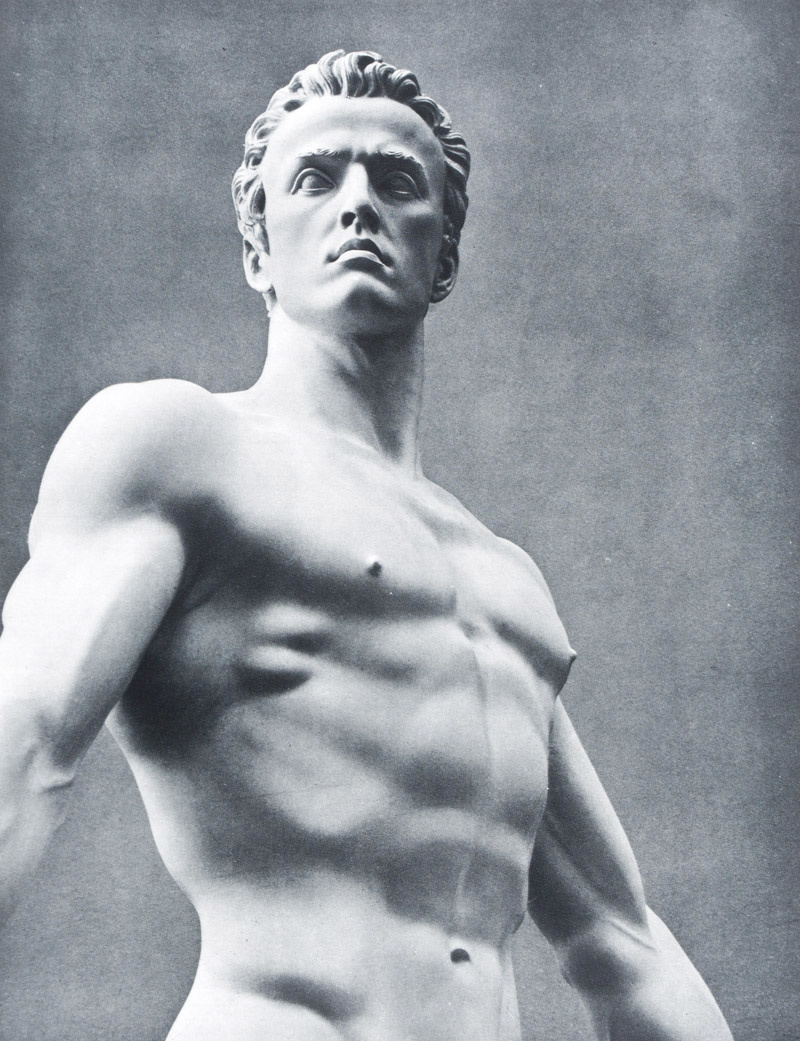 The occult research of the origin of man or of alternative archeology is only of interest to the extent that it reveals a more advanced civilization than ours, and not just because they lived thousands or millions of years in the past. Having the key to the origin of man with certainty (subject of the film Prometheus) would make it possible to decide and apprehend the religions of the world from a new angle. It is for this reason that the stories of Atlantis, the Nephilims or Vril holders are much more interesting from an esoteric point of view than the discovery of primitive burials of Homo Sapiens or Neanderthal man.
Man does not only wonder if he is the only one in the universe but especially if there are other intelligences superior to his, embodied or not. This is the principle of all spirituality, the search for a state with superhuman possibilities and fantastic perspectives. Transcending time and space, communicating at a distance beyond the limitations of matter, going beyond death and old age, manifesting and creating reality like a god, these are all legitimate motivations to launch into the exploration of the inner worlds . The wisdom or the liberation of ignorance, very often at the origin of an interior quest are only the natural consequences of access to a state of being inconceivable.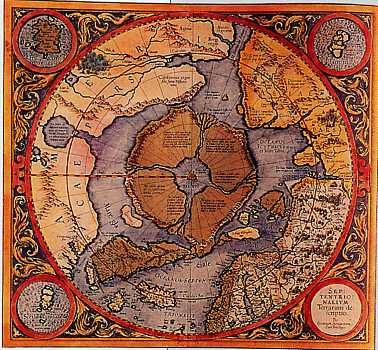 Hyperborea, land of a paradise lost under the sign of Apollo, magnetizes the attention nourishing the most diverse theories on the origin of European people. A golden age would have reigned there, an Edenic state before the fall where death, old age and illness are unknown. No proof of this mythical civilization exists formally even if many signs seem to point to the Arctic Pole as a source of lost knowledge. Hyperborea, is it a tangible place abandoned by its people due to a cataclysm or is it a spiritual land whose treasures are still to be discovered by the inner journey? Global warming may allow us to answer this question when the melting of the ice reveals, or not, the ruins of a forgotten world …
Atlantis, another legendary land claimed by the new age as a high place of higher knowledge, whose civilization disappeared on this plane of existence would continue to infuse their wisdom into certain elected officials through intuition, inspiration and astral journeys.
Mu a land of the Pacific submerged just like Atlantis, whose population with the developed technology would have built the pyramids and would be responsible for the colossi of Easter Island and many Cyclopean constructions. The book "Mu, the Lost Continent" by James Churchward is a rich source of information and speculation which, if not irrefutable, makes it possible to dream and imagine another reality.
Shambhala, spiritual city mentioned in Buddhism and the writings of Helena Blavatsky, would be located in the Himalayas without appearing on a map. A refuge for pure spirits freed from ignorance, it would be accessible to them through various crossing points, as in the Gobi desert and more recently in Romania. A place of knowledge and spiritual realization, it would only open its secrets to those who deserve it after a long work of improvement.
Agartha, or the hollow earth which inspired the novel of the Rosicrucian Edward Bulwer Lytton "Vril", the power of the coming race, describes the existence of people with higher powers living inside the ground, owners of Vril, an inexhaustible and fabulous energy as well on the psychic level as physical. This book was accepted as a thesis based on an occult truth by Helena Blavatsky and Rudolf Steiner to name a few. In "The King of the World", René Guénon examines the notion of Agartha through the ages, and its spiritual significance.
The occultist Joseph Saint-Yves d´Alveydre (1842 – 1909) precursor to the principle of the Agartha Synarchy (meaning inaccessible or inviolable) refers to an underground universal kingdom created by an eastern elite during the advent of Kali Yuga in 3200 BC. This place where the king of the world reigns would preserve ancestral wisdom and watch over humanity in this destructive era.
A children's book on demons with summoning instructions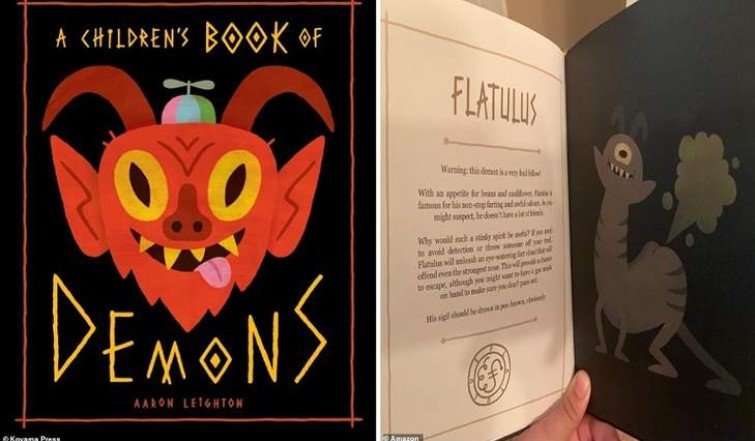 In July 2019, the so-called 'A Children's book of demons', aimed at readers aged 5 to 10, was released for sale in bookstores in the United States.
The book, written in an entertaining style and with caricatured illustrations, nevertheless contains quite frightening information.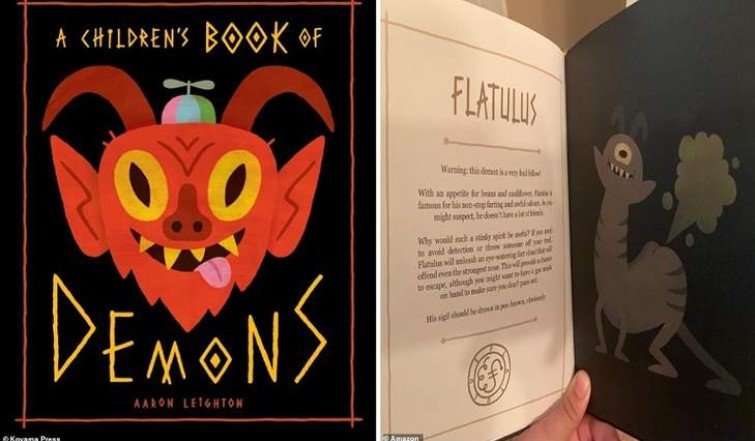 Including a call to summon demons to help the child with homework or to save it from bullying at the harassing school.
The book was published by Koyama Press with drawings by artist Aaron Leyon. The title page calls "Take your colored pencils and draw demons and their signs. "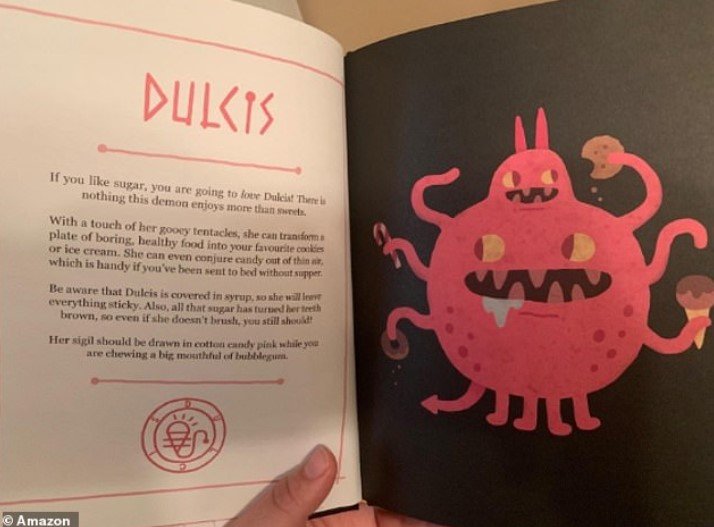 Recently, information about this book reached Catholic priests and one of them, Father Francesco Bamonte, president of the International Association of Exorcists, spoke very keenly about this affair.
According to Bamonte, the book not only calls to invoke demons in our world, but also essentially describes Satanism as "a normal alternative to other religions".
Father Francesco Bamonte wrote on their website that "you are not joking with demons. Whoever invites a child to summon a demon is like a person who puts a grenade in his hands to play with. Sooner or later, the child will pull the pin and the bomb will explode in his hands. "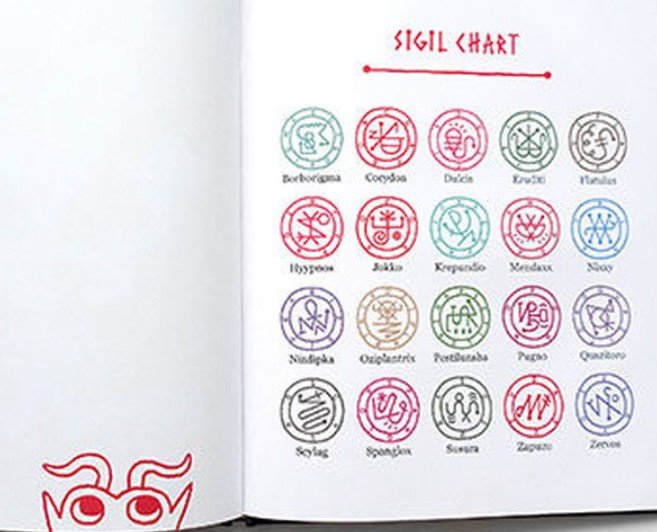 More specifically, Bamonte asked how the book presents a variety of symbols that encourage children to draw in order to invoke various demons. These are surprisingly similar to those found in authentic magic books, known as grimoires, according to the exorcist.
As such, Bamonte berated the author of the book for "simplifying a grimoire as much as possible" and "turning it into a fun game: demonic seals serve as a" phone number "to reach evil spirits."
Mariah Carey is a Member Of A Satanlc Cult in New York claims her own Sister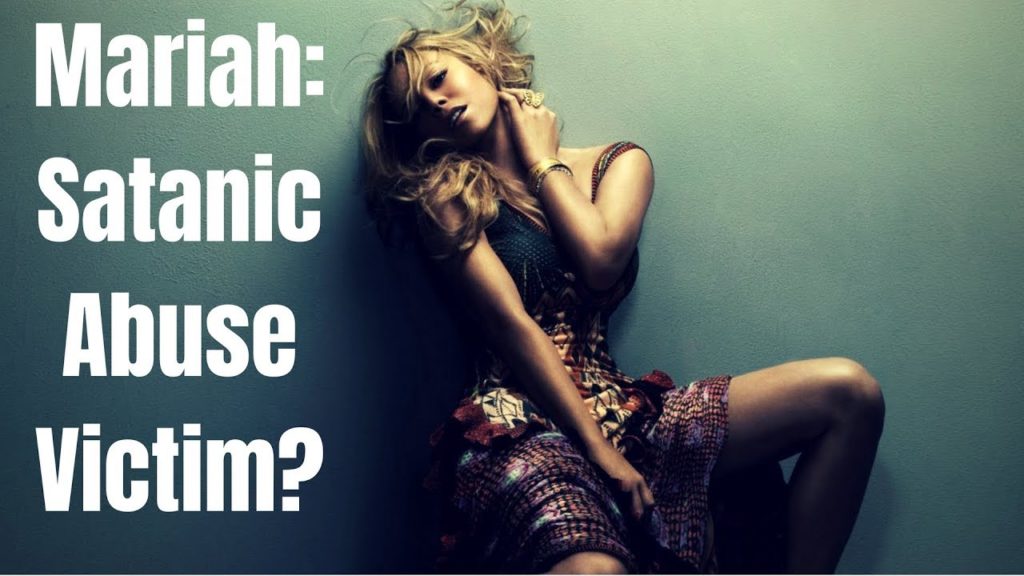 Mariah Carey engaged in child sex rituals and animal sacrifices conducted by a satanic cult, according to her estranged sister.
According to her sister, Alison Carey, their family used to be a part of a cult that practiced satanic rituals, including animal sacrifices and bizarre sexual acts.
Alison claimed their mother, Patricia, used to bring her kids to a huge "castle" in Long Island, N.Y. to participate in rituals with other members of the secret sect.
"It was there that the satanic rituals, led by my mother, took place," she recalled. "
"I remember people wearing hooded cloaks, standing in a circle and chanting.

"There was also sexual activity and [animal] sacrifices, which the participants believed would please the deity they were there to worship."
Alison — who is HIV-positive, flat broke and living in a halfway house in Upstate New York — claimed she was expected to be more than a spectator at the sickening rituals.
Alison, 56, also said her earliest memory was when she was taken to a service at a huge "castle" in Long Island, N.Y. There, she claimed, she and her siblings witnessed shocking acts unfit for children.
"There was also sexual activity and [animal] sacrifices, which the participants believed would please the deity they were there to worship," she said.
An additional insider also confirmed the "We Belong Together" singer and her older sister were sometimes a part of those creepy rites.
"At a very young age, both Mariah and her sister, Alison, were involved in the ceremonies and participated in them," the source said.
According to Alison, who is now estranged from her famous sibling, she was eventually set up to be a leader in the bone-chilling worship one day.
"I was trained to run 'The Group!'" she said. "At first, as a small child, I would not understand what was happening — being forced to watch as a struggling animal was violently killed in front of me."
She continued, "But as I grew older, I began to comprehend the horror of it, and that it was something most children were not exposed to."
Alison claims local police remained quiet and didn't interfere because some cops were "a part" of the cult.
Mariah's sister is a mother of four who has worked as a prostitute and was once a heroin addict.
She was hospitalized in 2015 for major brain trauma after some kind of serious attack.
She has reached out to Carey over the years for financial assistance, but has been rebuked every time.
So, again, this doesn't automatically mean Alison is lying. But let's take her claims with a grain of salt the size of Carey's ego.
You can learn more on this story and listen to an interview with Mariah's sister in the following video: