Missing 411? 3 y.o. boy found alive two days after vanishing from family home
Joelle Goldstein
People
Casey Hathaway, the 3-year-old boy who went missing earlier this week from his grandmother's yard in North Carolina, has been found alive.
Hathaway was found on Thursday night by a professional search and rescue team in Craven County, Shelley Lynch, a spokesperson for the FBI Charlotte field office, said in a news release.
The toddler was reportedly in good health but was being treated at Carolina East Medical Center, and has since reunited with his family, Lynch explained.
Breanna Hathaway, who identified herself in a Facebook post as Hathaway's aunt, also confirmed the discovery of her nephew on the social media site.
"Casey is healthy, smiling, and talking. He said he hung out with a bear for two days God sent him a friend to keep him safe," she wrote. "God is good God. Miracles do happen"
At this time, there are no other details available regarding Hathaway's disappearance.
On Tuesday, the little boy was playing outside the house in Craven County, North Carolina, with two other children, but he "did not come back inside with them," Lynch told PEOPLE in a statement.
"A relative in the home searched for Casey and when they were unable to find him, called 911," Lynch continued. WTVD reported that Hathaway and the other children had been playing in his grandmother's backyard.
The grandmother and others looked for Hathaway for 45 minutes before reporting him missing, according to WTVD.
Despite strong winds and heavy rain, search teams and concerned community members were tirelessly combing the woods in the area since Hathaway disappeared, hoping to find the boy.
We went through the woods – through the thicket and the briars," volunteer Donna Harris told WTVD. "We did it for three-and-a-half, four hours and it was bad. It was really bad out there. If everybody could come and help look for him, it would help. As it got darker, it was scary out there. I just can't imagine a 3-year-old being out there."
Craven County Sheriff Chip Hughes said during a Wednesday news conference that the situation was being treated as a missing person's case, though they have not ruled out the possibility of kidnapping.
Hughes added that the little boy wasn't dressed properly for the weather and he was concerned about ditches and sinkholes in the area. He noted that divers are searching ponds in the area.
Neil Gaiman is Breathing New Life Into Jim Henson's Storyteller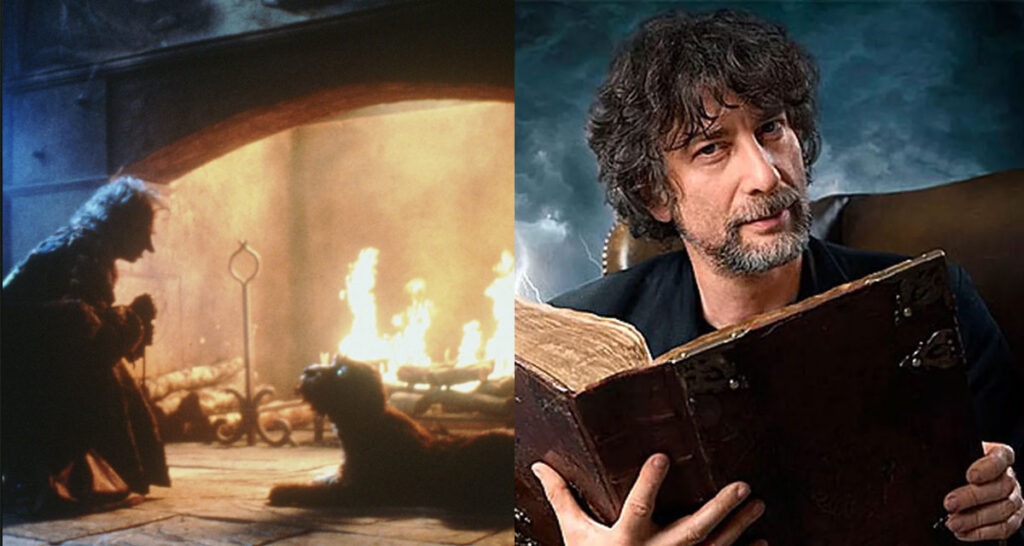 Jim Henson's Storyteller featuring dark and strange tales of mythology and folklore is returning to the screen thanks to Neil Gaiman.

Jim Henson's Storyteller
Deadline reported this week that Neil Gaiman is working on a new incarnation of Jim Henson's 1987 series The Storyteller. Each episode featured the Storyteller (played by John Hurt) sitting by the fireplace weaving dark and whimsical tales of mythology and early European folklore for his talking dog voiced by Brian Henson.
Gaiman is working with Jim Henson Studios and Jim's daughter Lisa, whose college mythology classes inspired the original series, to develop this reboot as producer and writer. Gaiman's style and body of work, which includes American Gods, Coraline, The Graveyard Book, and Norse Mythology, seem to make him uniquely suited to bring The Storyteller back to the screen for modern audiences.
"Part of what fascinates me about The Storyteller is the stuff that we don't know," he told Deadline. "Who was the Storyteller, why was he telling these stories, was he a goblin, what kind of creature? What I'd love to do is an inside story that's as long as the outside story. We're going to find out a lot about who the storyteller is, we're going to find out things we don't even know that we don't know. We're going to begin in a Northern kingdom where stories are forbidden and where the act of telling a story is liable and can get you imprisoned or executed. If you put a storyteller into that situation, things would need to start getting interactive."
"Neil Gaiman is an expert in traditional folklore and mythology" Lisa Henson said, "in addition to himself being the modern 'storyteller' for our times."
Read about about Gaiman's upcoming reimagining of The Storyteller right here.
Study Reveals Many Cancer Patients are Killed by Chemotherapy, Not Cancer
Alex Pietrowski, Staff Writer
Waking Times
In 2018, a headline for an article in The Economist succinctly captured the paradox that is the global cancer industry: "Cancer is a Curse, but Also a Growth Market for Investors." Cancer's definitely a curse, that's for sure, but cancer drugs, with chemotherapy drugs taking up the lion's share, are on pace to become a $200 billion industry in the next few years, up from $100 billion in 2015.
This is serious growth, and forecasts see global cancer rates exploding in coming years. An investor's dream, but the reality of cancer treatment is that patients are often unaware of the mortal risks of cancer drugs, especially chemotherapy. In 2017, we reported on a study from the Albert Einstein College of Medicine of Yeshiva University in New York, indicating that chemotherapy often causes cancer to become more aggressive, and can cause tumors to spread.
"Many are given chemotherapy before surgery, but the new research suggests that, although it shrinks tumours in the short term, it could trigger the spread of cancer cells around the body.

It is thought the toxic medication switches on a repair mechanism in the body which ultimately allows tumours to grow back stronger. It also increases the number of 'doorways' on blood vessels which allow cancer to spread throughout the body." [Source]
This notion is reflected in data in another study, from Public Health England and Cancer Research UK, which looked at 30-day mortality post systemic anticancer treatments (SACT) to determine benchmarks for surviving SACT. The results highlight a critical problem with the cancer industry, the treatment often kills the patient long before the cancer may have.
"The study looked at more than 23,000 women with breast cancer and nearly 10,000 men with 9634 non-small cell lung cancer who underwent chemotherapy in 2014. Of those treated 1,383 died within 30 days."

"When looking at those death rates across hospitals in the U.K., the researchers found an alarming mortality rate that was directly associated with the chemotherapy treatment.

"England around 8.4 per cent of patients with lung cancer, and 2.4 per cent of breast cancer patients died within a month," the Telegraph reported.

"But in some hospitals the figure was far higher. In Milton Keynes the death rate for lung cancer treatment was 50.9 per cent, although it was based on a very small number of patients."" [Source]
The rates of 30-day post mortality varied significantly among various hospitals, suggesting that chemotherapy practices and procedures are subject to the quality of the facilities and providers. In general, however, it is widely known that chemotherapy is deadly to healthy cells along with tumorous cells.
In other areas including, Blackpool, Coventry, Derby, South Tyneside, Surrey, and Sussex, saw that deaths from lung cancer patients receiving chemotherapy were much higher than the national average.

Cancer Lead for Public Health England, Dr. Jem Rashbass, requested the study and said, according to the Telegraph: "Chemotherapy is a vital part of cancer treatment and is a large reason behind the improved survival rates over the last four decades."

"However, it is powerful medication with significant side effects and often getting the balance right on which patients to treat aggressively can be hard."

"Those hospitals whose death rates are outside the expected range have had the findings shared with them and we have asked them to review their practice and data."

"All women with breast cancer and all men and women with lung cancer residing in England, who were 24 years older and who started a cycle" of chemotherapy in 2014 were included in the analysis by the researchers of the study. [Source]
It's a bit of a touchy subject for doctors who want the best for their patients, but are working within a system that promotes chemotherapy and immunotherapy drugs as the best treatments. Perhaps, though, they are the best treatments among the field of legal options for treating cancer.
Persecution for attempting to heal patients with alternative, nutritional or holistic treatments is severely punished by the FDA, who is charged with approving treatments. There are many possibilities for treating cancer once you abandon the medical establishment, among them holding great promise is medicinal cannabis.
In the following short clip, Kimberly Gamble of Thrive talks briefly about a number of independent doctors and healers who've been shut down or locked up for helping people to survive cancer.
About the Author
Alex Pietrowski is an artist and writer concerned with preserving good health and the basic freedom to enjoy a healthy lifestyle. He is a staff writer for WakingTimes.com. Alex is an avid student of Yoga and life.
This article (Study Reveals Many Cancer Patients are Killed by Chemotherapy, Not Cancer) originally created and published by Waking Times and is published here under a Creative Commons license with attribution to Alex Pietrowski and WakingTimes.com. 
Salad Fingers Returns in 11th Installment of Nightmarish Series
Salad Fingers is tormented by his brother and mother from the other side of the mirror.
It's been five years since we got a new episode of Salad Fingers from creator David Firth, but it was worth the wait. In the long awaited and deeply unsettling 11th episode "Glass Brother" Salad Fingers decides it is time to turn his finger puppet friend Hubert Cumberdale into a "real boy." But when his mother and brother from the other side of the mirror steal Hubert, Salad Fingers must find a way to cross over and save his little flesh-boy.
Firth has been creeping out the internet with Salad Fingers since 2004, and this new episode does not disappoint.
If you're not familiar with the creepy, salady being with the red water, watch episodes one through ten here:
If you like this, Firth also recently released a DVD called Umbilical World. It is a feature-length film collection containing "13 years worth of animated madness, stitched together to form a single stream of nightmare consciousness" containing all of his well-known work, as well as never-before-seen material.