Missing 411? 3 y.o. boy found alive two days after vanishing from family home
Joelle Goldstein
People
Casey Hathaway, the 3-year-old boy who went missing earlier this week from his grandmother's yard in North Carolina, has been found alive.
Hathaway was found on Thursday night by a professional search and rescue team in Craven County, Shelley Lynch, a spokesperson for the FBI Charlotte field office, said in a news release.
The toddler was reportedly in good health but was being treated at Carolina East Medical Center, and has since reunited with his family, Lynch explained.
Breanna Hathaway, who identified herself in a Facebook post as Hathaway's aunt, also confirmed the discovery of her nephew on the social media site.
"Casey is healthy, smiling, and talking. He said he hung out with a bear for two days God sent him a friend to keep him safe," she wrote. "God is good God. Miracles do happen"
At this time, there are no other details available regarding Hathaway's disappearance.
On Tuesday, the little boy was playing outside the house in Craven County, North Carolina, with two other children, but he "did not come back inside with them," Lynch told PEOPLE in a statement.
"A relative in the home searched for Casey and when they were unable to find him, called 911," Lynch continued. WTVD reported that Hathaway and the other children had been playing in his grandmother's backyard.
The grandmother and others looked for Hathaway for 45 minutes before reporting him missing, according to WTVD.
Despite strong winds and heavy rain, search teams and concerned community members were tirelessly combing the woods in the area since Hathaway disappeared, hoping to find the boy.
We went through the woods – through the thicket and the briars," volunteer Donna Harris told WTVD. "We did it for three-and-a-half, four hours and it was bad. It was really bad out there. If everybody could come and help look for him, it would help. As it got darker, it was scary out there. I just can't imagine a 3-year-old being out there."
Craven County Sheriff Chip Hughes said during a Wednesday news conference that the situation was being treated as a missing person's case, though they have not ruled out the possibility of kidnapping.
Hughes added that the little boy wasn't dressed properly for the weather and he was concerned about ditches and sinkholes in the area. He noted that divers are searching ponds in the area.
Vienna Cemetery Introduces Funeral LEGO Sets
Kids will have a blast assembling a LEGO crematorium, hearse, grave and more now available from the Vienna Funeral Museum.
Lego crematorium oven set available from the Vienna Funeral Museum
Build your own funeral piece by piece with these LEGO kits from Bestattungsmuseum, the Vienna Funeral Museum in Vienna's Central Cemetery. The museum's gift shop and online store recently unveiled custom Lego sets designed to help kids answer the big questions like "What happens to grandpa in a crematorium?"
"Taboos create fears and uncertainties," the Vienna Psychotherapy Association said. "The child feels that something is wrong, and then he is left alone with that."
So to teach kids about death, the museum partnered with a company to produce some gloriously morbid Legos.
"For the small and large undertaker of tomorrow," the description from the Historical Hearse set reads.
Other sets currently available include a WWI-era funeral tram, Lego graveyard with tombstone and excavator, a fourgon used to transport the deceased, a crematorium oven with a casket and urn, a horse-drawn "corpse carriage," a bereaved family with the skeleton of the deceased, and minifigures in mourning.
Lego bereaved family minifigures with the deceased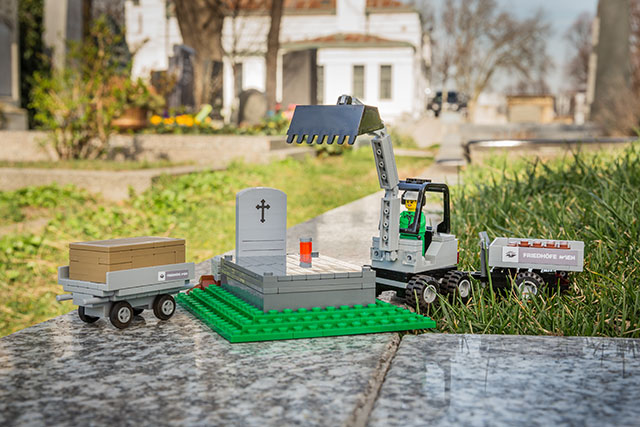 Lego cemetery with casket, gravestone, and excavator for digging your own graves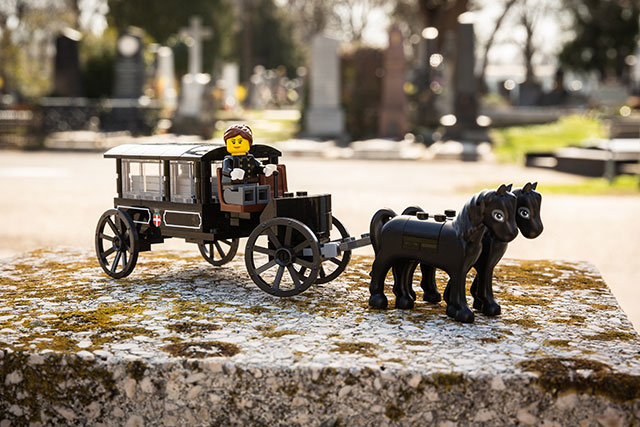 Lego horse-drawn corpse carriage with coffin
WWI-era Vienna funeral tram with 2 coffins and Lego undertaker
Lego hearse
These morbid LEGO sets are available now right here.
Thanks to Dead Sled Brand for putting this on my radar.
THE ROCKWOOD FILES: Read all about a world of weird news
It's not easy to closely follow the national news these days. It can be frustrating and depressing at times. But recently I've found a refreshing option that gives news junkies like me a good dose of information, minus the political circus. It's called strange news.
If you do an Internet search for weird or strange news, you'll find a few different sources. NBC has a collection of it, as does the Huffington Post. But my favorite stash of strange news is compiled by the National Public Radio's website. It's the kind of place where you can read about a rare sighting of the world's largest bee — an insect described as a "flying bulldog" with a tongue that measures more than an inch long. Or you can read about how a group of nearly 3,000 people dressed up like Smurfs and gathered in a town in Germany. They came in hopes of setting a record of the largest gathering of Smurfs. In order to be counted, participants could not show even a sliver of "non-blue skin."
But my favorite strange news topic is about animals because they never fail to entertain. For example, a story about a pigeon named Olive made me realize that all types of parenting — even pigeon parenting — comes with its share of challenges.
According to the story by reporter Vanessa Romo, Olive the pet pigeon went on an outing with her human mother, Marlette, in Phoenix, Arizona. Although she had never done it before, Olive suddenly flew away from home upon returning from the outing. The family was devastated.
But four days later, in a town 10 miles away, a ruffled, hungry Olive was found by a woman who must have known instantly that she was not a run-of-the-mill pigeon. Why? Because Olive was wearing a rhinestone-studded flight suit. (No, really. She was.)
The kind stranger took the bedazzled bird to a nearby bird rescue shelter. The shelter's owner, Jody, said she'd never seen a bird wearing bling before and knew she must be a pampered pet who didn't know how to be a bird in the wild. She also assumed that Olive was most likely a teenage bird. "They kind of rebel at that age," Jody said, "and that's probably why she decided to go off on her big adventure." (Apparently teenage pigeons are just as cocky as their human counterparts.)
With the help of a viral Facebook post, the shelter was able to locate Olive's human family, and mother and pigeon were joyfully reunited. Hopefully, they both learned a valuable lesson. The human learned never to trust a teenage pigeon who thinks she knows it all. And perhaps Olive the rhinestone-studded pigeon learned that the only people putting out a food bowl for her live at home.
Olive's mother replaced the missing rhinestones in Olive's vest with new, even shinier crystals, and she and Olive have done a few television appearances since the bird's homecoming.
Can you see the appeal now of strange news? No horrific natural disasters. No violent shootings. No poisonous politics. Just blingy birds, crazy-big bees and blue people trying to set records. It's Smurf-tastic!
And if Olive the rhinestone-studded rebellious bird isn't strange enough for you, this last one weighs in even weirder. According to a report by Sam Hoisington, a man in India flew to New York last year to have the fingernails on his left-hand cut. He started letting those fingernails grow when he was 14, and he didn't cut them until he was 82.
It took a small circular saw to cut through the nails. The 82-year-old now holds the record for the longest nails on one hand, with a thumbnail that measured 6 ½ feet. The combined length of his nails measured nearly 30 feet (or roughly the length of a London bus, according to Guinness.)
Those fingernails, which are as gnarly and gross as you might imagine, are now on display at a Ripley's Believe It or Not museum in New York City's Times Square. Welcome to the bizarre (but oddly refreshing) world of strange news. Read all about it.
Gwen Rockwood is a syndicated freelance columnist. Her book is available on Amazon.
Mashed potato mystery endures in Mississippi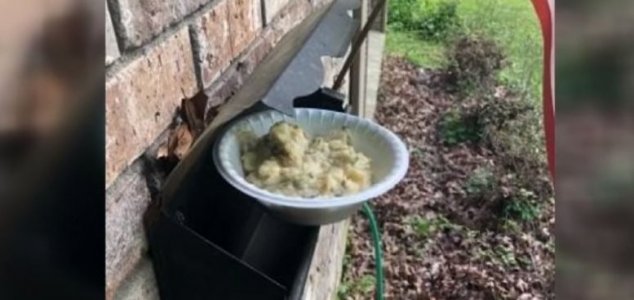 Image Credit: Michaela Lin / WJTV 12 News
Who is responsible for leaving this here ?
An unknown individual has taken to leaving bowls of mashed potatoes around a Jackson neighborhood.
The peculiar enigma has been reported by numerous residents of the city's Belhaven district where Styrofoam bowls of the mashed up tubers have been found on top of mailboxes, on garden walls, balancing on top of cars and in other strange places outside of people's homes.
"I walked outside yesterday morning at 7 a.m. and I got in my car and that's when I noticed a white bowl on my windshield," local resident Jordan Lewis told WLBT-TV.
"It was full of rainwater. I threw it away and I was grossed out by it."
Some residents believe that the stunt may have some connection to Belhaven University.
"So far I have realized some of the 'victims' of the mashed potatoes are actually staff or Belhaven students or alumni," said Michaela Lin. "I feel like there has to be a connection there!"
While the act of leaving mashed potatoes around the neighborhood may seem harmless enough, some locals have raised concerns over the potential for more sinister motives.
"Some people were thinking maybe the mashed potatoes were poisoned to kill animals," local resident Sebastian Bjernegard told WJTV. "I didn't taste it… but some people were worried."
A local news report covering the phenomenon can be viewed below.
Source: Fox News