Mind control and time travel experiments taking place at real-life 'Stranger Things' base, claims investigator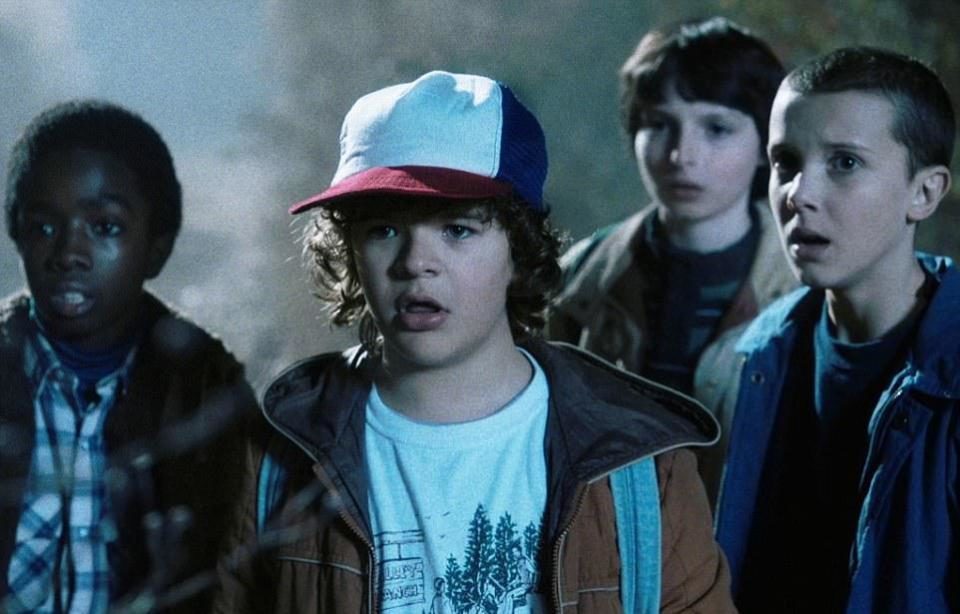 A US military base that inspired hit drama Stranger Things is using secret mind control experiments to trigger deadly shootings by a worldwide army of brainwashed assassins, a filmmaker claims.
Chris Garetano, who grew up close to Camp Hero, claims he has uncovered eerie goings-on over decades including child abductions and even time travel.
The former Cold War radar station in Montauk, New York state, has been the subject of rumours and conspiracy theories since it shut in the 1980s.
Locals have heard talk of government scientists conducting experiments on snatched foster kids and making contact with aliens.
Crucially, it is claimed the base's Sage radar tower broadcast the frequency needed to affect human consciousness.
One former worker has also described operating the Montauk Chair – a mind-reading device – and said once the computer accidentally summoned up a monster from a subject's imagination, which then went on a rampage through the air base.
Preston Nichols also told The Sun there were time-travel portals that sucked people to a different place and time.
It was these stories that inspired the creators of the hit Netflix sci-fi series Stranger Things, which was originally titled Montauk.
Most of the base is now a state park filled with picnickers but some parts near the old military installations and concrete bunkers remain sealed and guarded.
Now Chris has taken a fresh look at the creepy site amid claims some of the sinister activities could still be happening today.
He told the Daily Mirror: "The more you find out it's a little heartbreaking, as it's terrifying.
"I wouldn't be surprised if this site and these experiments are connected to mind control. The worst thing I can imagine is they were developing a mass mind control situation.
"There's new random shootings happening increasingly across the world now.
"And each time people say 'I didn't expect that person to do this.'
"It's very strange and it's happening far too much now."
Chris said government operatives could have set out to cause mayhem "to get the public to see things in a certain way, to persuade them or scare them."
Assassins could have been programmed at the site and years later are prompted by subliminal messages.
He said: "If this is true, that is terrifying. I don't want to believe it."
After the Second World War it is claimed the US government experiment on its own citizens including the Tuskegee Airmen, who are said to have been deliberately infected with syphilis and left untreated.
Others claim the CIA ran a mind control programme called MKUltra in the 1950s and 1970s. It allegedly involved testing how drugs like LSD could be used to extract information or erase memories.
And some point to Project Stargate, a CIA mission to see if psychic phenomena such as clairvoyancy could be used by spies. Spoon bender Uri Geller was one of the psychics who took part.
Another theory claims thousands of vulnerable children were kidnapped from the local area and subjected to mind control techniques to create an army of sleeper cell soldiers called the Montauk Boys.
Stewart Sweadlow claimed that, in 1970 when he was 13, he was regularly abducted for the Montauk Project.
He said: "They used derelicts, foster children and drug addicts and then ultimately they decided that people with certain genetics, people with certain backgrounds were conducive to the more advanced experiments and that's when I was taken in.
"With all of these children their memories were wiped, their genetics were altered and they couldn't always remember what happened. It would be in the form of nightmares or flashbacks.
"But with me, they could not erase my memory. I became an anomaly for them.
What Do the Blind 'See' When They Take LSD?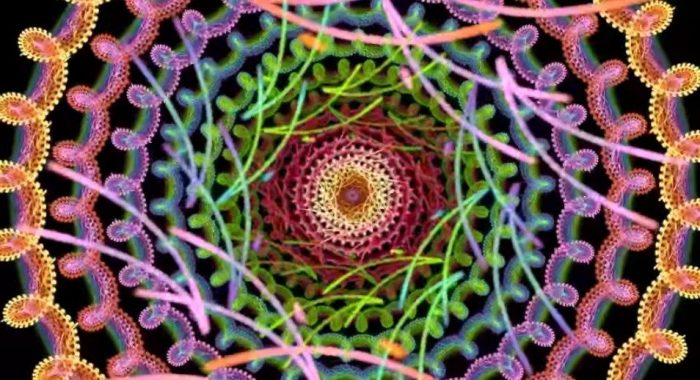 The consciousness-altering drug LSD is best known for its bizarre visual effects: even a small dose of the drug can turn the flat walls of your living room into something out of Wonderland. Objects bend, colors blend and intricate patterns cast a shimmer on everything you see. But what would LSD feel like if you couldn't see?
In an unusual case report published in the April issue of the journal Cognition and Consciousness, a blind 70-year-old former rock musician has some answers.
The man, who is referred to as "Mr. Blue Pentagon" after his favorite kind of LSD, gave researchers a detailed account of what he experienced when taking the drug during his music career in the 1970s. Mr. Pentagon was born blind. He did not perceive vision, with or without LSD. Instead, under the influence of psychedelics, he had strong auditory and tactile hallucinations, including an overlap of the two in a form of synesthesia, according to the report.
"I never had any visual images come to me. I can't see or imagine what light or dark might look like," Mr. Blue Pentagon told the researchers. But under the influence of LSD (lysergic acid diethylamide, also known as acid), sounds felt unique and listening to music felt like being immersed in a waterfall, he said. "The music of Bach's third Brandenburg concerto brought on the waterfall effect. I could hear violins playing in my soul and found myself having a one hour long monologue using different tones of voices … LSD gave everything 'height.' The sounds coming from songs I would normally listen to became three dimensional, deep and delayed."
Mr. Blue Pentagon's account is a rare glimpse into how LSD may feel in the absence of vision. Beyond a few Q&A threads on Reddit, the only other resource is a 1963 study of 24 blind people, which was actually conducted by an ophthalmologist to test whether a functioning retina (the part of the eye that senses light) is enough for visual hallucinations (it's not), and didn't include the participants' psychological experiences beyond vision.
Understanding Mr. Blue Pentagon's experience with the drugmay give unique insights about how novel synesthetic experiences through multiple senses are concocted by the brain — especially a brain that is wired differently due to lack of vision, according to the researchers from the University of Bath in the U.K. who published the report. Synesthesia is a rare condition in which one sense is perceived in the form of another; for example, a person may "hear" colors or "taste" sounds. This overlap of senses may ocurr because of cross communication between brain networks processing each sense, scientists have proposed.
As numerous anecdotal reports suggest and a few studies have documented, LSD causes auditory-visual synesthesia, an experience in which sounds and sights influence each other. Mr. Blue Pentagon appeared to experience a similar phenomenon, but rather than mixing sound and sight, it involved the senses that were available to him: sound and touch, the researchers suggested.
Still, there's only so much to be gleaned from a qualitative report based on a single person.
"It is next to impossible to gain 'general' insights from individual narratives," said Ilsa Jerome, a clinical researcher for the Multidisciplinary Association for Psychedelic Studies (MAPS) who was not involved with the report.
Jerome, who is visually impaired herself, said she is unconvinced that having a visual impairment provides any special insight on how LSD alters sensory processes. "But it might provide greater motivation or interest in the sensory impact of psychedelic compounds," she told Live Science.
The brain in blindness
The details of what exactly LSD does in the brain are still unclear, but research suggests that the drug's psychedelic effects occur because LSD alters neuronal communication in the brain. Specifically, LSD latches onto receptors for serotonin, one of the neurotranmitters neurons use to communicate. The visual hallucinations are likely a result of LSD stimulating these receptors in the visual cortex, the part of the brain that processes light, color and other visual information.
The first study to look at the brain effects of LSD using modern technology was published recently, in 2016, in the journal Proceedings of the National Academy of Sciences. In that study, when people took LSD, the researchers observed that the visual cortex was unusually activeand showed greater synchronous activity with many areas of the brain. This connectivity was correlated with the complex visual hallucinations reported by the participants.
The visual cortex develops into a fully functioning system during early life in response to sensory information from the eyes. But in the absence of early visual experience, which is the case for people born blind, the visual cortex doesn't develop normally. Instead, it rewires to process sound and touch.
This could explain the nature of Mr. Blue Pentagon's experience with LSD.
"I expect that the cortical 'real estate' that would have housed vision does not do so in Mr. Pentagon's case," Jerome said. "So LSD may be doing the same thing with that area of cortex, but since that area is, for him, connected with other senses, those experiences — such as sound, touch or sense of self in space — are altered."
Visual or other sensory hallucinations are only one part of LSD's effects. The compound can cause profound changes in emotions and consciousness, all of which are reported by both blind and sighted people. The few studies that exist on the subject suggest LSD may be doing this by lowering the barriers between brain networks, allowing them to communicate in a more flexible way.
Original article on Live Science.
Bahar Gholipour
Live Science
The hyper-realistic robot that is 'indistinguishable from humans'
A 'malfunctioning' robot named Fred has terrified drinkers in a London pub by smashing a pint glass while talking about a 'robot invasion'.
The hyper-realistic automaton, modeled to be an exact replica of London-based actor Tedroy Newell, sat down for a refreshing lager at The Prince Alfred pub in Maida Vale, in the west of the capital.
Unsuspecting customers were unprepared for what came next, with the humanoid berating locals before crushing the drinking vessel in his hands.
The robot, described as 'indistinguishable from humans', was created as part of a stunt to promote TV Series Westworld.
Fred the Robot was built by five engineers from robotics company Engineered Arts, based in Penryn, Cornwall, over twelve weeks.
The team developed several hundred thousand lines of computer code and tens of thousands of components, including a sophisticated metal skeleton, silicone skin, real hair and solid acrylic eyes – all 3D-scanned from Tedroy to bring Fred to life.
To field test Fred, the London pub was rigged with hidden cameras and Fred was planted in the bar to see if he could beguile the public.
Relaxed in the bar, the android struck up conversations with members of the public.
Reactions ranged from startled confusion to fear and unease as they digested a series of weighty questions, including 'what are your thoughts on the impending humanoid robot invasion?'
They were then witness to a scheduled 'malfunction', in which Fred began to glitch before dramatically shattering the pint glass.
Fred's human-like interactions were controlled by Engineered Arts' telepresence system, which uses inbuilt sensors, cameras and microphones to track how people interact with the machine.
The robot, who was created to engage in natural conversation in real-time as a human would, responded to their shock appropriately with emphasised gestures and punctuated speech, voiced by a remote operator.
Mr Newell, 55, who the robot was modelled on, said: 'Seeing yourself in robot form is a very, very strange experience.
'I'm honestly amazed at how realistic they were able to make it look – you can barely tell us apart.
'Not many people have had the chance to meet their 'robotic twin' so it's very cool to have been a part of this project.'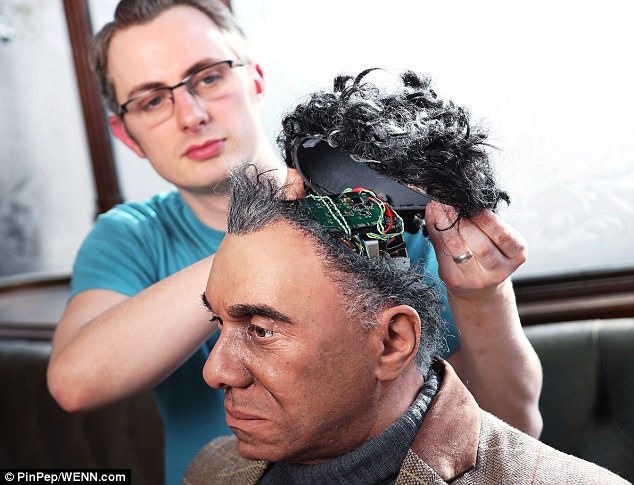 Fred was funded by streaming service Now TV to promote the return of dark science fiction show Westworld and was inspired by the show's artificially intelligent 'hosts'.
Emma Quartly, marketing director at NOW TV, said: 'We are still a long way away from creating artificially intelligent hosts as sophisticated as those in Westworld, but to celebrate the show's return we wanted to give the general public a little taste of what is possible.
'Fred is the next generation in human-like robotics and so it seemed fitting to hand the show's promotion over to him.
'Needless to say, there were some stunned reactions, especially when in true Westworld style he started to glitch.'
Source: http://www.dailymail.co.uk/
Robots are learning to conduct their OWN science experiments in an attempt to outdo humans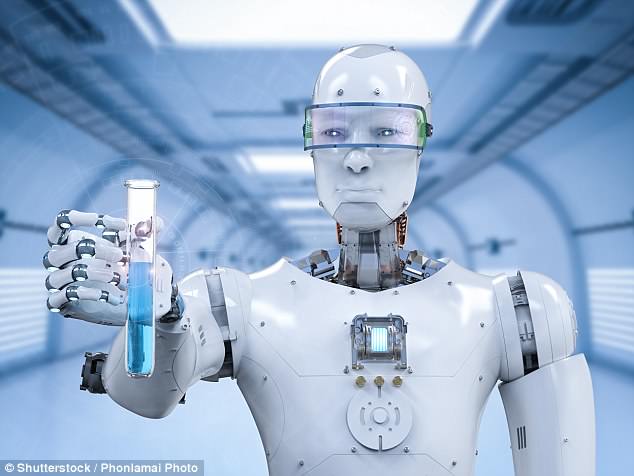 Robots are getting ever closer to outperforming humans in all aspects of life – even when it comes to learning about how the world works.
Researchers at Toyota are using artificial intelligence to speed up the discovery of the ideal chemical makeup for electric car batteries.
AI-powered robot arms engineered by the team place precise drops of chemical reagents in test tubes under the guise of human supervisors.
Over the next few months, the machine intelligence behind the system will take over the planning of experiments as well, according to Toyota.
Researchers said the 'robot graduate student' will decide how to modify the concentrations of the ingredients it's testing without the need for human assistance.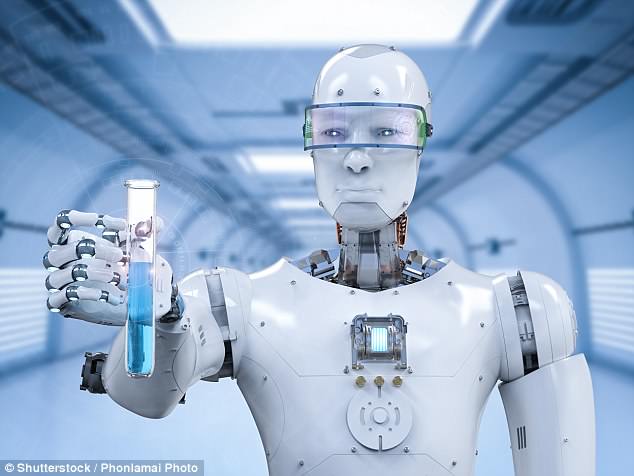 'It's automating not only the manual part of doing the experiment but also the planning part,' Brian Storey, the Toyota Research Institute scientist leading the project, told Bloomberg.
Dr Barnabás Póczos, a machine learning researcher at Carnegie Mellon University in Pittsburgh who is also working on the project, added: 'I can easily imagine cases in which AI would recommend experiments to try to synthesise a chemical molecule that you wouldn't think possible, but the AI will be able to do it.'
Automakers have been investing heavily in developing new batteries and fuel cells to increase the range of electric vehicles.
Mr Storey said Toyota's AI is helping to identify new materials for batteries and fuel and run computer tests to narrow down the field for simulation tests by researchers.
The research is in-part pursuing a replacement for platinum as a fuel-cell catalyst.
'We don't have a ton of platinum on this planet and it costs a lot money,' he told Reuters in 2017.
'Platinum is a great catalyst, but is there another compound out there that uses little platinum or no platinum at all?'
Toyota is investing around £25 million ($35 million) in its North American research arm, the Toyota Research Institute (TRI).
The Institute is collaborating with a number of US academic institutions including the University of Michigan and the Massachusetts Institute of Technology, and British material sciences company Ilika.
A number of other projects around the world are using artificial intelligence to drive research efforts, Bloomberg reports
AI designed to identify and categorise patterns has been deployed to identify wild dolphin calls from hydrophone recordings.
Similar software has been used by astronomers to detect the dull glow of planets in telescopic images of distant galaxies.
The discovery of the Higgs boson, the so-called God particle, in 2012 utilised an algorithm that searched through billions of particle tracks produced within Switzerland's Large Hadron Collider.
According to Mr Storey, AI could one day help scientists boil down the fundamental principles of physics to reveal the secrets of the universe.
He told Bloomberg: 'People have wondered if you could have the computer automatically figure out the principles underlying physics.
'I don't think we're going that far out now.'
Source: http://www.dailymail.co.uk/