Milky Way galaxy is warped and twisted, not flat
Our galaxy, the Milky Way, is "warped and twisted" and not flat as previously thought, new research shows.
Analysis of the brightest stars in the galaxy shows that they do not lie on a flat plane as shown in academic texts and popular science books.
Astronomers from Warsaw University speculate that it might have been bent out of shape by past interactions with nearby galaxies.
The new three dimensional map has been published in the journal Science.
The popular picture of the Milky Way as a flat disc is based on the observation of 2.5 million stars out of a possible 2.5 billion. The artists' impressions are therefore rough approximations of the truer shape of our galaxy, according to Dr Dorota Skowron of Warsaw University.
"The internal structure and history of the Milky Way is still far from being understood, in part because it is extremely difficult to measure distances to stars at the outer regions of our galaxy," she said.
To gain a more accurate picture, Dr Skowron and her colleagues measured the distances of some of the brightest stars in the Milky Way, called Cepheid variable stars. These are massive young stars that burn hundreds, if not thousands, of times brighter than our own Sun. They can be so bright that they can be observed at the very edge of the galaxy.
Not only that, they also pulsate at regular intervals at a rate that is directly related to their brightness.
This enables astronomers to calculate their distance with great precision.
Most of the stars were identified by the Optical Gravitational Lensing Experiment (OGLE) at Las Campanas Observatory (LCO) in Chile's southern Atacama Desert. Przemek Mroz, a member of the OGLE team, said that the results were surprising.
"Our results show that the Milky Way Galaxy is not flat. It is warped and twisted far away from the galactic centre. Warping may have happened through past interactions with satellite galaxies, intergalactic gas or dark matter (invisible material present in galaxies about which little in known)."
The Polish results support an analysis of Cepheid variable stars published in February in Nature Astronomy journal by astronomers from Macquarie University in Australia and the Chinese Academy of Sciences.
Source www.bbc.co.uk
European Space Agency to launch space waste collector
A four-armed robotic junk collector will be launched into space by the European Space Agency in what it says will be the first mission to remove an item of debris from orbit.
The ClearSpace-1 mission, scheduled for launch in 2025, will cost €120m and will grab a single piece of junk. But the agency hopes the mission will pave the way for a wide-reaching clear-up operation, with Esa's director general calling for new rules that would compel those who launch satellites to take responsibility for removing them from orbit once they are retired from use.
Jan Wörner, CEO of ESA, said:
Imagine how dangerous sailing the high seas would be if all the ships ever lost in history were still drifting on top of the water. That is the current situation in orbit, and it cannot be allowed to continue.
In the past 60 years, thousands of tonnes of junk has accumulated around the Earth, including old rocket parts, about 3,500 defunct satellites and an estimated 750,000 smaller fragments, some from collisions between larger bits of junk. The fragments are typically circulating with a velocity of 20,000km/h (12,500mph).
Unless a clear-up operation is mounted, the chances of collisions will escalate as thousands more satellites are put into orbit.
Funding for the mission was agreed at Space19+, ESA's misterial council, which took place in Seville, Spain, at the end of November. The mission will be run by a consortium led by a Swiss startup called Clearspace.
The target for ClearSpace-1 is a piece of junk called Vespa, which was left in an orbit around 800km above the Earth by ESA's Vega launcher in 2013. Vespa weighs 100kg – around the size of a small satellite – and was selected because it has a simple shape and sturdy construction, which make it unlikely to fragment when it is grabbed.
The "chaser" ClearSpace space probe will be launched into the target orbit where it will track down Vespa, grab it using a quartet of robotic arms and drag it out of orbit, with Vespa and the chaser both burning up in the atmosphere on the way down to Earth.
A future ambition is to create a clear-up robot that could eject junk into the atmosphere, before continuing to capture and de-orbit other pieces of junk.
Asteroid as big as the pyramids on its way and could zoom past Earth on Friday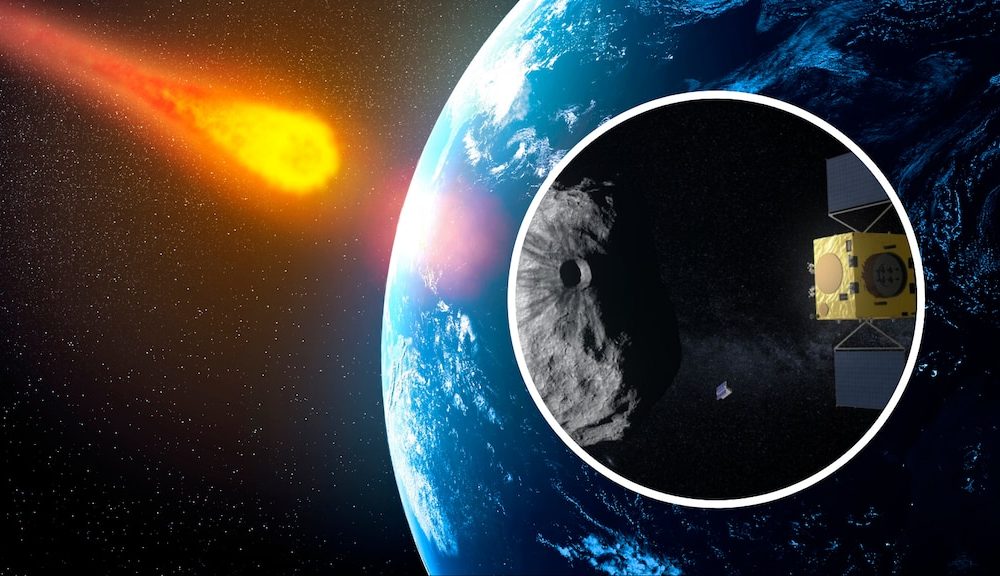 An asteroid as big as the Egyptian pyramids is zooming towards Earth and will squeeze past us on Friday – if it doesn't smash on to our home planet's surface.
Named 2019 WR3, NASA expects the space rock to make a "close approach" to Earth later this week.
The space agency has classified the asteroid as a "near-Earth object (NEO)" which means its orbit brings it very close – in cosmic terms – to Earth.
The asteroid was first spotted late last week.
NASA has now observed the asteroid some 74 times to better get a sense of its size and trajectory.
WR3 is believed to have a diameter of between 76m to 170m.
It is expected that on December 6, the asteroid will pass within 5.44 million km of Earth at speeds of 27,036 km/hr.
The warning comes as the European Space Agency approves a $471 million mission called Hera to examine whether a rogue asteroid on its way to Earth could be deflected out of the way.
Working with NASA, the ESA will send a pair of spacecraft to a double-asteroid system called Didymos to examine the asteroids and send valuable data back home.
The larger asteroid Didymoon is about 800m across, orbited by a moon about 160m wide.
If an asteroid the size of Didymoon were to hammer into Earth, it would be devastating.
Patrick Michel, ESA's lead scientist for Hera, said it was vital to keep an eye on it so we can take action if needed.
"The probability is low but the consequences are high," Michel told Space.com.
"This is why it's relevant to take care of it. Moreover, we have the tools … We can't lose more time."
The Hera spacecraft will launch in 2024.
Meanwhile, Queens University Belfast professor Alan Fitzsimmons has called for amateur astronomers to assist the Hera mission's broader goal of protecting Earth against asteroids by nominating asteroids to watch.
"We will get a serious asteroid impact sometime," he told the BBC.
"It may not be in our lifetime, but mother nature controls when that will happen.
'We will get a serious asteroid impact sometime.'
"We will need to do something about it. We'll need to move that asteroid so it misses us and doesn't hit us.
"Asteroid research is one area of astronomy where amateur observes continue to make an essential contribution," he said.
Source 7news.com.au
An ultralight source of x-rays detected, coming from the Draco constellation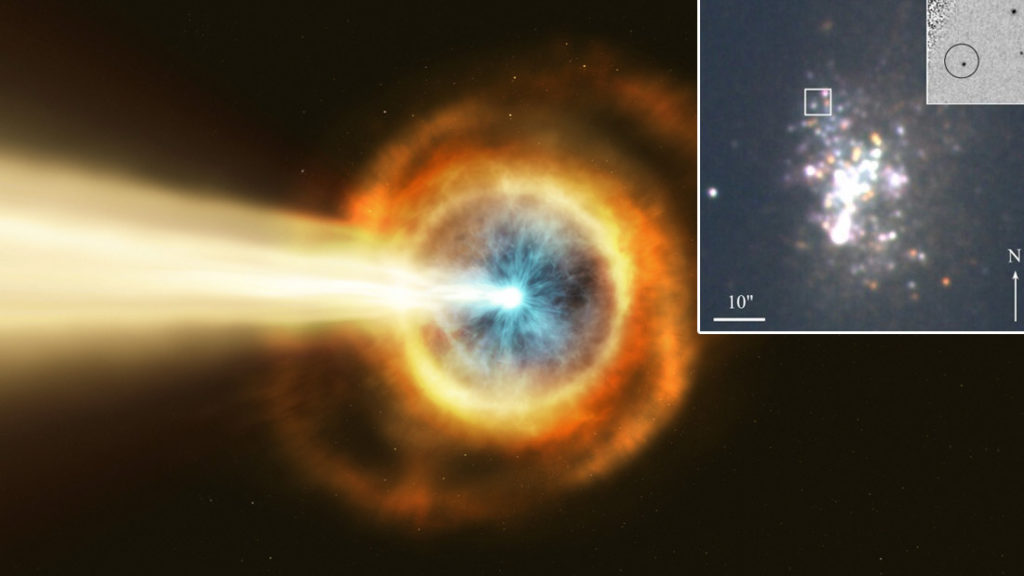 Intriguing ultralight source of X-rays, one of the brightest ever seen. It comes from a galaxy of the Draco constellation.
The ultraluminous X sources were discovered in 1980 with the Einstein space detector. The X-rays currently detected come from a galaxy located 14.8 million light years from Earth. This type of radiation has been quite mysterious to astronomers because it is extremely bright.
These astronomical systems ULEX, for its acronym in English, UltraLuminous X-ray source, have a brightness level of more than 10 raised to 39 erg per second (Ergis are units of measure of energy). The galaxy is called UGC 6456, and, interestingly, it is found in the constellation Draco (Dragon), a constellation object of legends and mythology.
X-ray source, UGC 6456 ULX
The study was conducted by Russian astronomers. These electromagnetic emissions are less luminous than a galactic core, but shine more than any process of formation or evolution of stars.
The group of astronomers is led by Alexander Vinokurov, from the Special Astrophysical Observatory, located in Nizhnij Arkhyz, Russia. The study presented says:
We present preliminary results of a study of the ultra-bright X-ray source UGC 6456 ULX. (…) To identify an optical counterpart of UGC 6456 ULX, we use archive images of the Chandra X-Ray Observatory and HST.
Note: HST stands for the Hubble Space Telescope.
The UGC 6456 galaxy is listed as a compact blue dwarf galaxy and is one of the closest to our Milky Way. Its UGC 6456 ULX source, or ultralight X-ray source, has mysterious properties, which they had not been studied in detail.
Among the brightest ever observed
The emissions of UGC 6456 ULX have brightness changes of more than two orders of magnitude with a maximum value of 17 erg duodecillions per second in the energy range of 0.3–8 keV (electron volts).
A duodecillón is a very long numerical scale equivalent to a 10 followed by 72 zeros! An electron volt is a unit of measurement that represents the energy per motion that an electron experiences.
The magnitude of this source in its bright state is exceeded by an amount of -7.6. That makes her one of the ultraluminous sources of X-rays brightest ever discovered in the optical range.
The study presents a correlation between X-ray flows and optical (observable) flows in UGC 6456 ULX. This could indicate that the emission of optical light is produced by the X-ray re-processing in the outer parts of the so-called «Optically thick wind».
The detection of many hydrogen and helium emission lines could relate to the wind that emerges from the powerful and dynamic accretion disk. This disk is a structure full of powder and cosmic gas that forms around a central object.
More details are expected with the following observations of this ultra-light source of X-rays. The light and energy changes of this system are similar to that of another known source, the so-called NGC 7793 P13, which has a neutron star.
The scientific study has been published on the pre-print website arXiv.org.
References: phys.org.