Michael Tellinger Deepest Anunnaki Mysteries in Human History [FULL VIDEO]
Michael Tellinger says Southern Africa holds some of the deepest Anunnaki mysteries in all of human history. What we are told is that at around 60,000 years ago the early humans migrated from Africa and populated the rest of the world.
It estimated that there are well over 1,000,000 (one million) ancient stone ruins scattered throughout the mountains of southern Africa. Various tools and Anunnaki artefacts that have been recovered from these ruins show a long and extended period of settlement that spans well over 200,000 years.
Scientist and researcher Michael Tellinger discusses the Anunnaki Ruins, evidence in support of Zecharia Sitchin's revolutionary work showing that these Extraterrestrial beings created us using pieces of their own DNA, in order to mine gold on Earth for them. The more work he does on these beings called the Anunnaki, the more mysterious and also the more devious they become…they are not necessarily what we think they are. It's turning out that where they came from– Nibiru, could actually represent a star system rather than a planet, with its sun being a brown dwarf. Further, the gold they were extracting from Earth could have been used for a device that concealed their activities from other consciousnesses even more advanced than themselves.
Source: Disclosed TruthTV
Malapa skeletons are the same hominin species
Image Credit: CC BY-SA 4.0 Brett Eloff
Australopithecus lived two million years ago.
Anthropologists have published the results of a new study in to two fossil skeletons found in South Africa.
The skeletons, which were unearthed in 2008 at the fossil site of Malapa within the Cradle of Humankind World Heritage Site near Johannesburg, belong to an early hominin known as Australopithecus sediba.
More complete than the famous 'Lucy' specimen from Ethiopia, the skeletons were of a young male and adult female – both believed to be somewhere around two million years old.
For a time, it wasn't even clear that the two belonged to the same species, but now, following a decade of research in to the finds, researchers have concluded that they are indeed the same.
The study has also revealed more about what these early hominins may have been like.
"Our interpretations in the papers suggest that A. sediba was adapted to terrestrial bipedalism, but also spent significant time climbing in trees, perhaps for foraging and protection from predators," wrote New York University anthropologist Scott Williams.
"This larger picture sheds light on the lifeways of A. sediba and also on a major transition in hominin evolution, that of the largely ape-like species included broadly in the genus Australopithecus to the earliest members of our own genus, Homo."
Source: Heritage Daily
Ancient Roman Cemetery is Full of Mysterious Headless Skeletons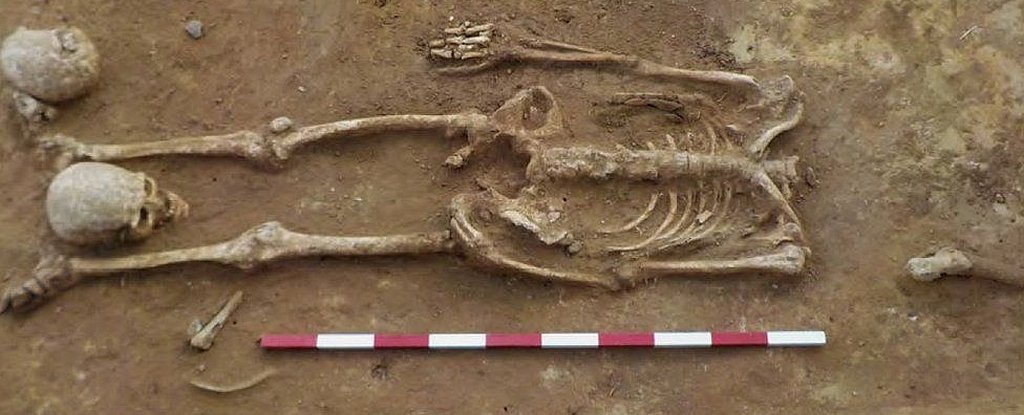 (Archaeological Solutions)
In England, excavations for developments of the housing kind often lead to developments of the archeological kind. While digging holes for foundations in the tiny old town of Great Whelnetham, Suffolk, in eastern England, construction workers found a Roman-era cemetery with a macabre mystery … many of the skeletons were headless, with the skull placed either between the knees, between the feet or even under a knee. Criminals? Vampires? Anti-development zombies? Something worse?
"The incisions through the neck were post-mortem and were neatly placed just behind the jaw. An execution would cut lower through the neck and with violent force, and this is not present anywhere."
Archeologist Andrew Peachey of Archaeological Solutions, an independent archaeological contractor providing archaeological monitoring and research for urban excavations, was called in by developer Havebury Housing Partnership to investigate the cemetery, which contained 52 skeletons of which 17 had their heads removed and placed elsewhere. Seventeen more were "deviant" burials where the skeleton was face down or in a fetal position. There were also 4 skulls with no bodies. (Photos of the remains can be seen here.) The rest of the bodies were placed with heads intact in the usual face-up burial position. Peachey's initial analysis determined that the cemetery was from the 4th century CE and that the headless bodies were not the result of executions.
"This appears to be a careful funeral rite that may be associated with a particular group within the local population, possibly associated with a belief system (cult) or a practice that came with a group moved into the area."
But what kind of cult? Peachey tells the East Anglian Daily Times that headless burials such as these are extremely rare in Britain. He also pointed out a second mystery – the deceased appeared to be healthy when they died. Most were middle-aged or older (with a few children under 10) and in good shape.
"They were well nourished, and several had very robust upper arms/bodies consistent with a working agricultural population."
Peachey proposes that they could have been slaves or a labor force brought in to work the fields, but the care used in the removal of the heads and their placement suggests these were members of the community and buried with respect. He has no explanation for why they died so healthy – although many had dental problems, most had healed, and evidence of tuberculosis was common in 4th century agrarian communities, so they weren't killed by the disease nor beheaded postmortem to prevent them from rising and spreading the disease again.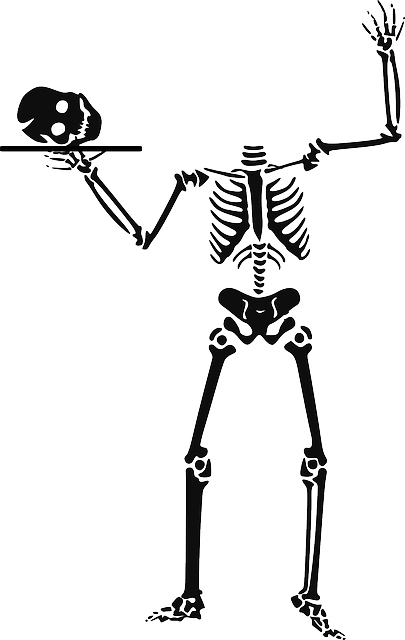 The people of the Pacific island of Kiribati exhume their dead and remove their skulls to be displayed as sign of reverence in hopes the spirit will protect them. Could a similar culture or cult in 4th century England had a similar practice?
Not surprisingly, the remains have been removed to a local museum and the development is expected to be completed in July. While the skeletons and detached skulls are being analyzed for more information on the who's and why's of the strange burial practice, people will soon be living where they laid undisturbed for centuries. Would you want to move right in or wait for the explanation?
SOURCE:
Mexico Unearths Ancient Flayed God Temple Where Priests Wore Skins Of Dead
Mexican experts have found the first temple of the Flayed god, a pre-Hispanic fertility deity depicted as a skinned human corpse.
What is Flayed god?
The great god Xipe Totec, otherwise known as Our Lord the Flayed One/ Flayed God, was one of the oldest Aztec deities. Also known as Red Tezcatlipoca, guardian of the east, Xipe Totec was often depicted as a man wearing the flayed skin of another.
Xipe Totec's name was derived from the myth by which the god flayed—peeled and cut off—his own skin to feed humans. For the Aztecs, Xipe Totec's removing his layer of skin symbolized the events that must happen to produce renewed growth that covers the earth each spring. More specifically, flaying is associated with the cycle of American corn (maize) as it sheds its external seed covering when it is ready to germinate.
Discovery of the temple
Mexico's National Institute of Anthropology and History said the find was made during recent excavations of Popoloca Indian ruins in the central state of Puebla.
The institute said experts found two skull-like stone carvings and a stone trunk depicting the god, Xipe Totec. It had an extra hand dangling off one arm, suggesting the god was wearing the skin of a sacrificial victim. The Popolocas built the temple at a complex known as Ndachjian-Tehuacan between A.D. 1000 and 1260 and were later conquered by the Aztecs.
Sacrifice and the Flaying of Skin
Priests worshipped Xipe Totec by skinning human victims and then donning their skins. The ritual was seen as a way to ensure fertility and regeneration. The victims of this sacrifice would be killed and then flayed—their skins removed in large pieces. Those skins were painted and then worn by others during a ceremony and in this manner, they would be transformed into the living image ("teotl ixiptla") of Xipe Totec.
Rituals performed during the early spring month of Tlacaxipeualiztli included the "Feast of the Flaying of Men," for which the month was named. The entire city and rulers or nobles of enemy tribes would witness this ceremony. In this ritual, slaves or captive warriors from surrounding tribes were dressed in as the "living image" of Xipe Totec. Transformed into the god, the victims were led through a series of rituals performing as Xipe Totec, then they were sacrificed and their body parts distributed among the community.
Ancient accounts of the rituals suggested victims were killed in gladiator-style combat or by arrows on one platform, then skinned on another platform. The layout of the temple at Tehuacan seems to match that description.
Other depictions of the Flayed god
Depictions of the god had been found before in other cultures, including the Aztecs, but not a whole temple.
University of Florida archaeologist Susan Gillespie, who was not involved in the project, wrote that "finding the torso fragment of a human wearing the flayed skin of a sacrificial victim in situ is perhaps the most compelling evidence of the association of this practice and related deity to a particular temple, more so to me than the two sculpted skeletal crania."
"If the Aztec sources could be relied upon, a singular temple to this deity (whatever his name in Popoloca) does not necessarily indicate that this was the place of sacrifice," Gillespie wrote. "The Aztec practice was to perform the sacrificial death in one or more places, but to ritually store the skins in another, after they had been worn by living humans for some days. So it could be that this is the temple where they were kept, making it all the more sacred."
Featured image: Omar Eduardo