The images we show you have appeared through the American media, where there was talk about an Alien Invasion. On November 2, 2019, three huge anomalies were recorded in several Texas cities. Ufologists said they were giant mother ship UFOs . The UFOs showed up on the meteorological radar recording mysterious concentric waves with a diameter of a few miles on Texas late at night around 9:45-10:30pm. The UFOs were so large that the radar bounced off on each of them … causing a series of rings around the UFO. Each UFO had six thick refracted rings around it, caused by the radar bouncing of of them. 
Social media, especially Twitter, was lit up by messages from people who tweeted @wfaweatehr that looked like an alien invasion. They were worried about the rings seen over the cities of Waco, Austin and more. Now the WFFA news is trying to convince people in the video that they have the answer to this phenomenon. According to weather experts, not knowing how to justify these anomalies, they said it was a super refraction. But people do not believe in this version, also because there have been hundreds of UFO reports that evening on Saturday 2 November, not surprisingly when these mysterious radar echoes were appearing.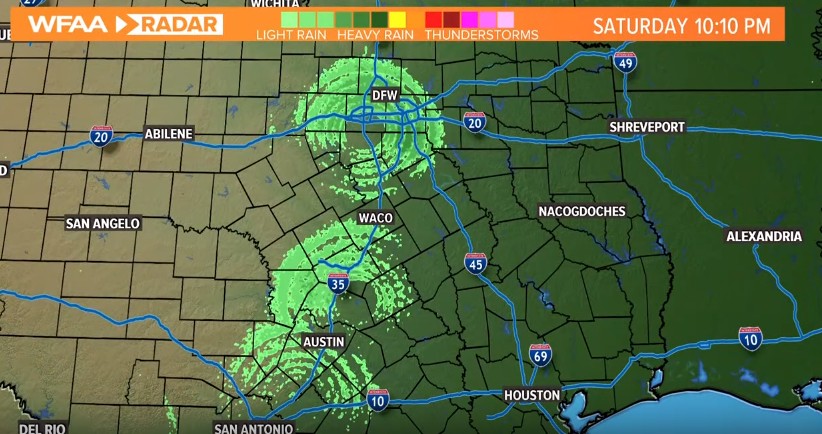 Alien UFOs do sometimes get caught in weather radar maps. This is 100% proof that several huge UFOs were over Texas this week "They are large enough to cover an entire county. UFO motherships must have remained in place for up to 15 minutes … allowing them to be seen on the radar. I believe they came from the Gulf of Mexico from an alien submarine base. I also believe they were testing their cloaking devices against our human technology to see if they would be noticed … and yes, our technology is reaching them fast. Doppler radar makes larger ships visible. Where did they go then? Probably straight and out of our atmosphere" Said Scott Waring.