Medical Mystery: Man Sheds Tears of Blood
A young man from Tennessee is living with an alarming medical condition — without warning, he begins to bleed from his eyes. And some of the best doctors in the country are completely stumped by his ailment.
What's more confounding is that the condition is very rare, but some of the only other people known to bleed from the eyes — a condition called haemolacria — are also from Tennessee.
At age 22, Michael Spann was walking down the stairs of his home in Antioch, Tenn., when he was gripped by an extremely painful headache. "I felt like I got hit in the head with a sledgehammer," he told the Tennessean. Moments later, Spann realized that blood was trickling from his eyes, nose and mouth.
The bleeding and headaches became a daily occurrence for Spann; now, about seven years later, they happen only once or twice a week. Though he's hampered by a lack of health insurance, doctors in Tennessee and at the Cleveland Clinic performed an exhaustive series of tests, but were unable to pinpoint a cause or recommend a treatment, according to news reports.
'Thought I was going to die'
In 2009, Calvino Inman was shocked by what he saw in his bathroom mirror: blood streaming from his eyes. "I looked up and saw myself, and I thought I was going to die," he told CNN. The teenager from Rockwood, Tenn., was rushed to the local emergency room, but doctors could offer no insights into the perplexing case. A battery of tests — including a CT scan, an MRI (magnetic resonance imaging) and an ultrasound — offered no clues.
The phenomenon of haemolacria has puzzled doctors for centuries. In the 16th century, Italian physician Antonio Brassavola described a nun who, instead of menstruating, would bleed from her eyes and ears each month. In 1581, Flemish doctor Rembert Dodoens examined a 16-year-old girl "who discharged her flow throughout the eyes, as drops of bloody tears, instead of through the uterus," according to a 2011 report in the journal The Ocular Surface.
Dr. Barrett G. Haik, director of the University of Tennessee's Hamilton Eye Institute in Memphis, co-authored a 2004 review of four known cases of haemolacria, published in the journal Ophthalmic Plastic & Reconstructive Surgery. The authors concluded that "bloody tearing is an unusual clinical entity that concerns patients and can perplex physicians." However, such "cases typically resolve without treatment."
Indeed, in each of the four cases reviewed, the patients — one boy and three girls, ages 6 to 14 — simply stopped weeping blood, and the condition never returned. Haemolacria can be caused by a head injury or other trauma, but these cases, like Inman's and Spann's, were idiopathic (of unknown cause). "When you can't find an origin, you can't eliminate any of the possibilities," Haik told CNN.
"Most of these were relatively young patients," Dr. James Fleming, an ophthalmologist at the Hamilton Eye Institute and co-author of the 2004 review, told the Tennessean. "As they matured, the bleeding decreased, subsided and then stopped."
A reclusive life
Until the bleeding stops, Spann — a talented artist who had hoped to pursue a career in fashion design — is forced to live a reclusive life. "Any job I get, I lose, because my eyes start bleeding and they can't keep me on," Spann said. "Obviously, I can't be a waiter and work in any public thing because you are bleeding."
He is also forced to live with ridicule: "I have kids that ride by on bikes in this neighborhood who point and say, 'That's the guy who bleeds,'" Spann told the Tennessean. "I really don't want more than that." Spann has tried to contact Inman to share his ordeal with a fellow sufferer, but was unable to connect with him.
Vampire from the Australian state of Victoria: A rare disease doomed a little boy to live in the dark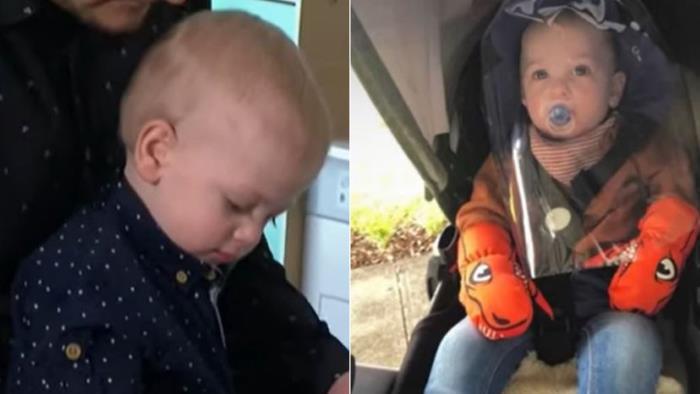 A little boy from the Australian state of Victoria is doomed to live in the dark due to his skin's increased sensitivity to ultraviolet radiation. This is reported by the NZ Herald.
George Maddern, who is now 18 months old, was born with a rare condition – pigmented xeroderma. Because of this, the boy is allergic to sunlight.
These people are killed by the rays of the sun. They hide from the light and go outside after sunset
Every day, the child and his parents face many problems. For Maddern to play in the house, all the shutters must be closed and the windows must be tightly curtained. To go outside, he must be wrapped in blankets and put on gloves, since no part of his skin should be exposed to the sun.
The disease increases the chance of skin cancer by 10 thousand times, and there is a 25 percent chance that sunlight can affect the boy's vision, hearing and nervous system. Xeroderma is incurable.
"This diagnosis means that George cannot play outside, walk up to UV-protected windows, and even attend any events if halogen lamps are used in the room where they are held," the child's uncle explained.
The boy has already been hospitalized with severe burns to his face after spending a short time in the sun without protection.
The family wants to build a special gazebo that will serve as a playground for the child, large enough to accommodate a trampoline, basketball hoops and slides. Also, the boy's parents plan to tint the windows of the house and the car, install sensors that measure the level of ultraviolet radiation and buy clothes with UV protection.
To date, crowdfunding has raised over 63,000 Australian dollars.
"Alien Challenge" continues: Another mysterious monolith found in Romania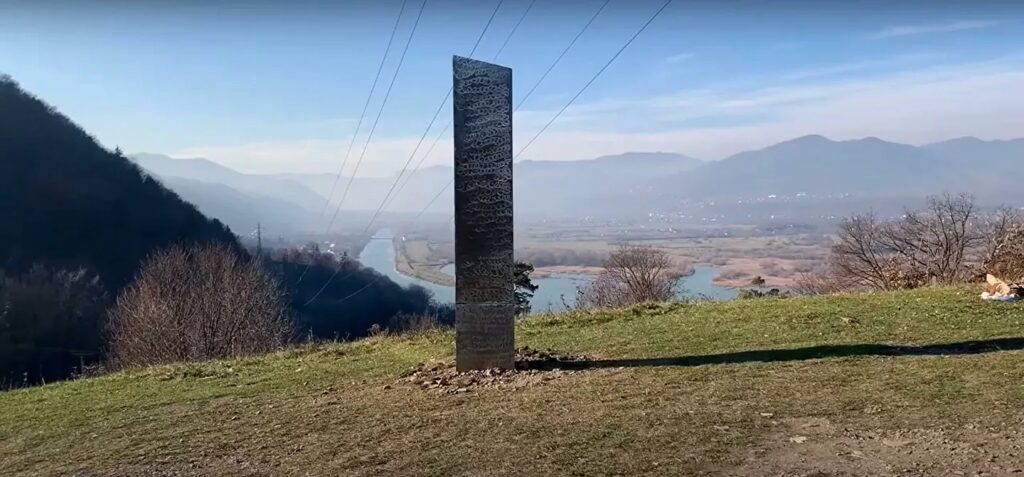 Another mysterious monolith, the appearance of which previously puzzled the authorities of the American state of Utah, this time discovered in the east of Romania, writes the Daily Mail newspaper.
Last week, it was reported that Utah Public Safety officials had found a structure of shiny metal about twice as tall in the desert. After a few days, the monolith disappeared. According to the local land administration bureau, "an illegally installed structure called a" monolith "was removed <…> by an unknown party."
The Romanian monolith was erected on a hill near the town of Piatra Neamt, a few meters from the ruins of the Dacian fortress of Petrodava. It was discovered on November 26th.
Roxana Josanu, a spokeswoman for the Culture and Historical Heritage Department of Neamt County, said the authorities were studying the "strange emergence" of a monolith about four meters high.
"Before anything can be installed here, the permission of our organization is required, which must be approved by the Ministry of Culture," she added.
The monolith in Romania, unlike the construction in Utah, is not a rectangle, but a rectangular trapezoid with a beveled top. Besides, its surface is covered with "patterns".
Earlier, the media noted that the find in the Utah desert is similar to the alien obelisk from the Stanley Kubrick movie "A Space Odyssey 2001", except for the fact that it is not black, but silver. It was assumed that we are talking about an art object.
Hitler's secret bunker with photographs and coins discovered in Argentina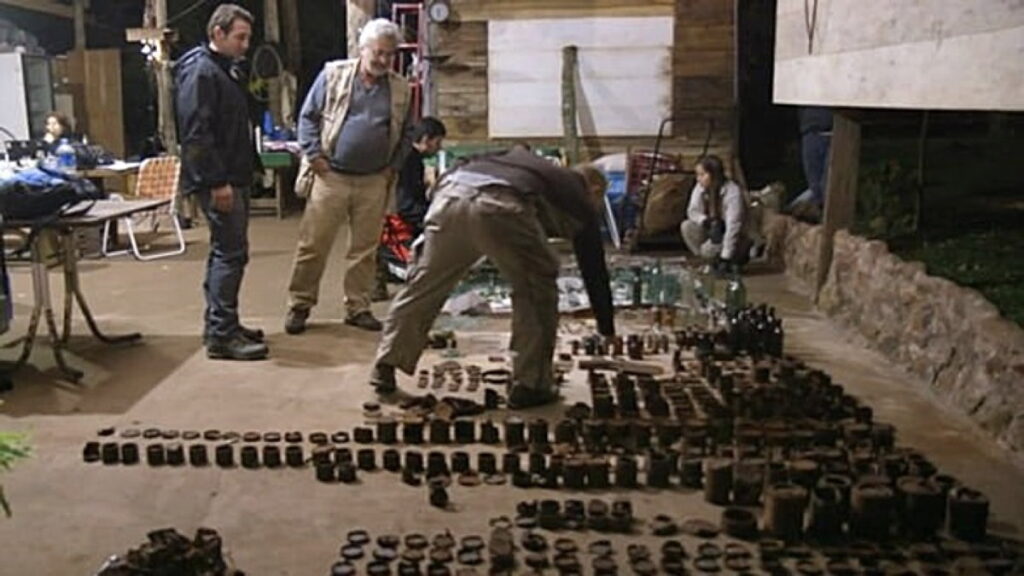 Secret hideouts that were supposedly intended for Adolf Hitler have been discovered 600 miles north of Buenos Aires, Express reports.
It is alleged that even the Fuehrer of Nazi Germany after the end of the war in 1945 could have lived in the found refuge.
Former U.S. Special Forces soldier Tim Kennedy and CIA veteran Bob Baer told Express that Hitler's likely hideout is 600 miles north of Buenos Aires. There are legends among the locals about why three buildings were built in a remote region of Argentina.
It is reported that archaeologists found during excavations a common photo of the leader of the Nazi Reich Hitler and his Italian colleague Benito Mussolini. Also, archaeologists allegedly found a box with gold coins minted in Germany in 1940, as well as a photograph of a child in Nazi uniform.
According to declassified FBI documents, the Nazi dictator planned to hide in an Argentine bunker in case of defeat, but did not manage to leave Germany – the Soviet army captured Berlin, and Hitler himself committed suicide. Hitler's corpse was found burnt on the ruins of the Reich Chancellery in May 1945. The FBI studied the theory that a double died in Berlin and Hitler took refuge in Argentina. However, a dental study published in 2018 refutes this theory and confirms the death of the dictator in Berlin.
Today, any artifacts associated with Adolf Hitler acquire immense commercial value. Hitler's telegram to Field Marshal Ferdinand Schörner , written a few days before his suicide, was put up for sale at an auction in the United States. The owners planned to bail out up to $ 80 thousand for it.
The corner yellow house, in which Hitler was born and spent his childhood, will finally come into full ownership of the state. The Austrian edition of The Local names the amount of the transaction: for an empty house in Branau am Inn, the owner will receive 810 thousand euros. The Gerlinde Pommer family owned the yellow corner house in the town of Braunau am Inn on the German border for almost a century, either selling it or buying it back. The building is unremarkable, except that it was there that on April 20, 1880, Clara Hitler, the wife and part-time niece of Alois Hitler, gave birth to her first son, Adolf.