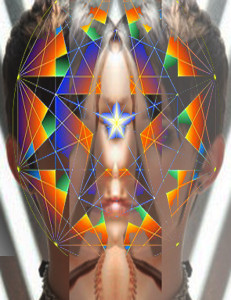 At some point we're going to have to acknowledge that scientific reductionism as we practice it is no longer an adequate means of explaining reality. In fact, it's actually sort of becoming a threat to the entire psychic eco system. There's nowhere to turn but in my friends, but I don't see a whole fuck of a lot of that sentiment going mainstream anytime soon. People love to shop for useless crap, but when do we start addressing issues of quality over quantity in regards to human consciousness? Where did this expansionary agenda of rampant breeding stem from in the first place? Why exactly did we feel the need to procreate out of control so rapidly? The answer lies in materialist philosophy, quite possibly implanted into our collective brainstems from afar like a catalyst. If you only believe in outwardly repeatable phenomenon, you're probably ignoring the vast majority of your inner life. Nothing to see here. Get back to work slaves.
I'm being hyperbolic, but ultimately what I'm saying checks out. The way we view spirituality doesn't make any fucking sense. Don't fool yourself. Religion and the cult of science both basically drink from the same prison trough of ignoring the potentiality of altered states of consciousness. There is no value in this stuff. That's the one viewpoint both sides have in common, and guess what, they're both part of the problem.
Here's why. This stuff works. I've tried psychedelic drugs. Worked. Blew my mind to the outer reaches of the living cosmos. Spiritual disciplines have been based around them for centuries for a reason. It ain't just me being schizo. These chemical sense distortions lead me to try astral projection. Again. Shit gave me even more coherent experiences than the drugs. In fact, the encounters I started having with spiritual entities who apparently exist betwixt our conjoined plot lines continually shape my behavior to this day (friend me on Facebook for magick updates). Ooh, spooky forces you can't explain, influencing the physical world you live in. You are reading this I might point out and my writing is a physical thing.
The idea that consciousness must only exist in the limited confines of a physical body is an incredibly primitive one. Let me tell you about one of the myriad encounters with the beyond that lead me to this controversial and yet ancient position. About ten years ago now, I went to bed rather drunk one night and woke up in an elevated state (surely due to my experimentation with Robert Monroe's techniques for astral projection years earlier). I'm not sure how long this had been going on, but out of nowhere I realized I was being given a tutorial of sorts on what I can only describe as a fifth dimensional map of consequence. I was being shown by two spectral guides exactly how my actions had influenced other people's realities in a negative or painful manner—the means by which I had aided the spread of misery and fear. Now, what's incredibly compelling about this lesson plan is that it was laid out in a manner I wouldn't have ever consciously conceived. Most of these things were far beyond my sensory comprehension, which is exactly what they were pointing out. So say, if I was going to brace for my judgment day, I'd probably be expecting to catch a lot of hell for how I left my one girlfriend by never coming home that night and banging that floozy. I know exactly how that feels because someone else did it to me years earlier, and there I was, pulling the same crap.
But that's just the stuff you're aware of. Karma runs much deeper according to them. Say you have a beer with some random person at a bar and accidentally give them terrible advice because you were pissed off and wasted. Shit's on you. As a writer and a musician, it was even specifically pointed out to me that these creative actions can have broad, mostly imperceptible repercussions. "They" can see the wake of events your art jump starts into motion. You have to answer for these transgressions and you don't get away with anything. Say I write a song, some guy in Poland downloads it and that somehow inspires him to take acid at Christmas dinner with his family. It ends up being the most ontologically horrifying holiday meal in human history, and the dude ends up in a mental institution. Some of the weight to that's on me. I write an article making fun of atheism and it pisses off some panty waste kid so much he kicks his dog when he gets off work. That negative transference of energy? On me eventually. He is me. You see how this works? Not something that would have ever occurred to me consciously.
Man, if that's how our we're being judged on the other side, I think I've mentioned this before, but our society might as well be a breeding ground for arcane daemonic forces. We're being trained to do the exact mindless crap that binds us here in endless lives of boring servitude. Some of us will never make it out. Let's face it, isn't this sort of what Jesus was trying to communicate to us with the golden rule? Last time I checked, he also said fun things like:
"In fact, it is easier for a camel to go through the eye of a needle than for a rich person to enter the Kingdom of God!"
If what these spirit teachers were telling me is of any salt, this seems fairly on point. Money inspires action. Poor people cut a far smaller karmic swath in that regard. Everyone with a high stake in the stock market is carelessly playing with the fortunes of others quite casually. Imagine being responsible for massive layoffs. God, politicians are screwed, and what about our desire for celebrity? That's a lot to answer for if you make it there son, at least by this rationale.
What's hilarious is that after this karmic education was going on for quite some time, I got entirely fed up. "Fuck you, if I did all this horrible stuff, then what the fuck was the point?" I demanded. "Why not just kill me assholes?" And so with that they reassuringly replied, "Oh, no, no, don't get us wrong" and directed me to my angelic map of consequence, which towered to the sky in a column of radiant gold. By comparison, my daemonic map of suffering was an incredibly miniscule nerve of red sediment, grounding me to the lower realms.
These sort of otherworldly communiqué aren't all together uncommon. It happens a lot to Near Death Experiencers and is often referred to as a life review in those circles. So, why haven't we as a species seen the linguistic evolution of the golden rule? How come nobody ever talks about the fact that this didn't just happen to Jesus, or Buddha, or Muhammed, but to millions of people throughout history. Before we had radical science freaks and Jesus nuts telling us to ignore this sort of visionary experience because it threatens their egos, people listened to those who returned from the other world. Methinks we need to start up the dialogue anew.
Everybody knows something's off here. Everyone feels it. Our lives are hollow. There are unspeakable forces driving our expansionary agenda to its outer limits. Consumerism must die. Our body has developed, and yet, we're not even aware of what we are at this point. Certain brain cells are starting to wake up. Others will follow.
When you confront the untold horrors we wreak on our own species and countless others in the name of unchecked economic growth, you find the darkest of humors interpenetrating it all. For what? So rich douchetards can have an eighth car? So some pop icon can sell her soul for shallow adoration because her dad walked out on her family when she was five? So some Wall Street creep can do coke off a tenth hooker's tits in his own emotionless orgy to escape his sham marriage? I walk between worlds. I talk to planets baby. You think I'm impressed? You think Jesus is? Muhammed? Buddha?
As a human, you're supposed to be evolving into something greater, better. On the other side, you can be galaxies fucking galaxies. Infinite contact highs and holy ecstatic cosmic unions. This is a crap job. Can't you see that? I'm trying my best to move on up, and I'll do that by taking your ideas down. We're all one on this level of reality, tales interwoven by the effortless might of the Holy Spirit. I am you here. We're all part of the same continuum of linguistic thought evolving toward telepathy.
Materialism is a prison. Our sentence is up.
The secret séance rituals of America's largest Spiritualist community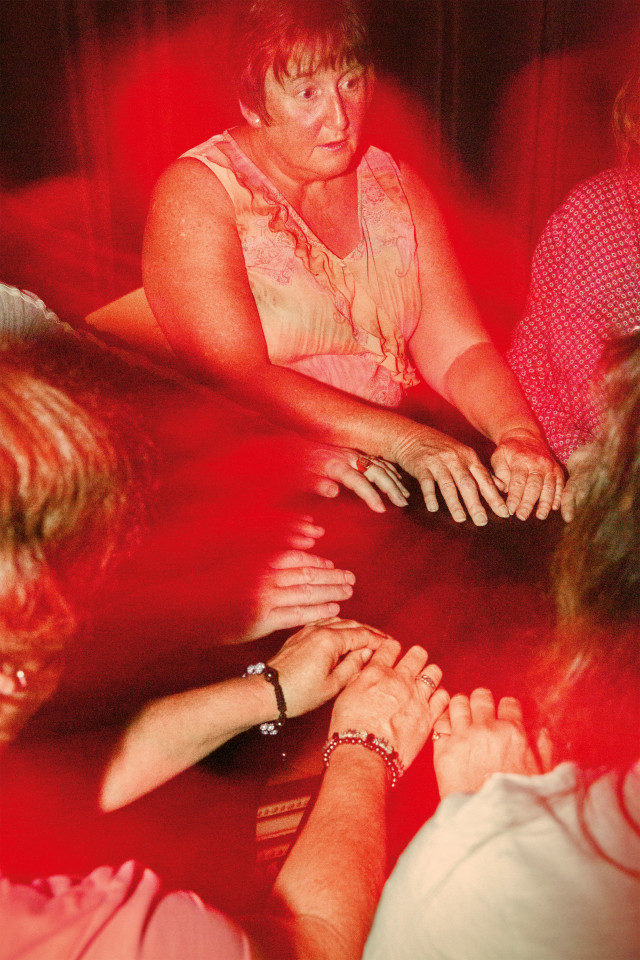 Eric Spitznagel
NY Post
Shannon Taggart was never a big believer in ghosts. But that changed in 2001, during one of her first visits to Lily Dale — a hamlet in southwestern New York state that's home to the world's largest spiritualist community.
The Brooklyn photojournalist was taken by surprise while watching a private reading with Gretchen Clark, a fifth-generation medium.
"All of a sudden, she started laughing at nothing," Taggart tells The Post. "Apparently the spirit of her brother was in the room and told her a joke."

"I told him not to interrupt me while I'm working," Clark explained to her client and then turned to an empty spot and yelled, "Chapman, we've talked about this!"
She composed herself and returned to the reading and then just as quickly turned back to Taggart.
"Margaret's here," Clark announced.
"Margaret? I don't know any Margaret," Taggart insisted.
Clark closed her eyes and listened. "She says 'Texas.' What does 'Texas' mean?"
Taggart instantly knew. "My great aunt Margaret lived in Texas and she'd died a few months earlier," Taggart says. "I'd totally forgotten. My whole body just tensed up. It was truly spooky."
That encounter was just the beginning of a spiritual awakening for Taggart, who would spend the next 18 years documenting mediums in New York as well as Essex, England, and Antequera, Spain. More than 150 of her photographs, many never before seen, are published in her new book Séance (Fulgur Press).
Taggart didn't set out to prove or disprove spiritualism. Rather, she says, she was driven by "a sinking feeling that these mediums knew something about life that I didn't."
When she first traveled to Lily Dale, it was out of curiosity.
Years earlier, her cousin had learned from a medium that their grandfather hadn't died from heart disease — as Taggart had always believed — but by asphyxiation. She laughed off the story, until her parents confirmed it.
"Someone at the hospital put food into his mouth and left him alone," her father had said, "and he choked."
This story stayed with Taggart over the years, and she became consumed with "how a total stranger could have known the details of this tragedy."
In 2001, at age 26, she decided to visit Lily Dale despite knowing nothing about the place except that it was a short drive from Buffalo, where she grew up, and the medium who revealed her grandfather's secret had lived there.
The town was founded as a gated spiritualist summer retreat in 1879, and not much has changed since then. With a population of some 275 residents — many of whom are practicing mediums — it looks like a town frozen in the mid-19th century. Narrow roads are lined with old-fashioned houses, many adorned with signs announcing "the medium is in." A rickety wooden auditorium in the center of town is typically "papered with flyers advertising trumpet séances, past-life regressions, astral-travel workshops, spoon-bending classes and circles to develop mediumship," Taggart writes.
She arrived with no plan and was initially too nervous to do anything but drive around.
But Taggart eventually wrote a letter to the Lily Dale Assembly's board of directors asking permission to take photos during what she first thought would be "one summer making a photo essay about this quirky little town."
"I would just wander around and literally knock on people's doors and say, 'Would you talk to me? Would you teach me about spiritualism?' " she recalled. "And they very graciously did."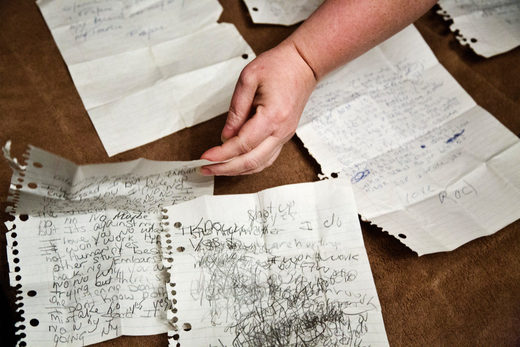 A medium claims to have received letters under her pillow from a man who lived in the 1800s after meeting him through a Ouija board.
What she learned from them wasn't necessarily how to communicate with ghosts. It was a peek into a shadowy subculture that "was once a seminal force in Western culture," Taggart writes. "A legacy that was absent from every textbook I had ever studied, including my histories of photography."
Spiritualism — a belief system based not just on the existence of spirits, but the idea that they want to stay in contact with the living — was once part of the mainstream. It was embraced by public figures like psychoanalyst Carl Jung, evolutionary biologist Alfred Russel Wallace, poet William Butler Yeats and even Abraham Lincoln. But today, it's almost entirely hidden.
"It flourishes in fiction and entertainment but is marginalized by academia and the media," Taggart writes. The contemporary Western worldview is that spiritualism is the stuff of fiction. But after what Taggart witnessed, and photographed, she wasn't so sure.
As her exploration took her overseas, she learned that not all mediums started out wanting to be mediums.
Reverend Jane from Erie, Pa., found the calling at age 6, when "she saw a spirit standing inside her grandmother's closet," Taggart writes, and discovered she could make supermarket cans fly across shelves and candles do somersaults in the air.
Others came to it after being triggered by the grief of losing a loved one.
British medium Simone Key, a lifelong atheist, was drawn to spiritualism after her mother passed and she began getting messages, on her long-broken word processor, that read: "We must communicate."
Annette Rodgers of Essex, England, felt the calling after her 16-year-old daughter, Lauren, died from a heroin overdose. Two years later, still deep in depression, Rodgers attended a spiritualist church "on a whim and immediately felt 'Yes, this is what I need,' " she told Taggart.
She now runs a spiritualist center in Spain and says her dead daughter visits regularly.
Dorothy Pries works at the Lily Dale Museum
"I once saw Lauren turn Annette's iPhone around on a table," a fellow medium recounted to Taggart. "Her connection to her mother is that strong."
But mediumship isn't limited to communication with dead loved ones. Sometimes things get awkward.
Lily Dale medium Betty Schultz recalled a reading she had with a Catholic priest who was a regular client. "The spirits showed Betty a baby who had died and told her the priest was its father," Taggart writes. Betty silently insisted to the spirits that there was no way she'd be sharing this information.
Without explaining why, she sent him to another medium — who later scolded Schultz: "Why didn't you give that man the message from his baby?"
Taggart developed close friendships with some of her photo subjects, like Lauren Thibodeau, a longtime Lily Dale resident who found her way to spiritualism without any warning. She explained how she first went into a trance on New Year's Eve 1989 in front of her husband and his friend, the best man from their wedding, "who never came to their home again," writes Taggart.
Thibodeau shared one of the biggest headaches of spiritualism: uninvited famous people. Most mediums want nothing to do with celebrity ghosts — there's no faster way to drive away an on-the-fence skeptic than "I have a message from Albert Einstein" — but Thibodeau says it's sometimes unavoidable.
She remembers a session in which Elvis Presley's ghost showed up unannounced.
"No!" Thibodeau shouted at the ghost. "I'm not doing this, get out of here!"
When the spirit refused to leave, Thibodeau apologized to her clients. "I'm sorry, I have Elvis here and I don't know why," she said. She then learned that the mother of the woman she was doing a reading for had been a housekeeper at Graceland.
For Thibodeau, it was a lesson in not being too quick to cast judgment. "Now, any time a spirit comes, regardless of who they are, I'll give a message," she told Taggart. "I don't shoo them away. We communicate with dead people, and a dead celebrity is still dead."
Even after almost two decades following mediums, Taggart isn't sure she'd call herself a believer just yet. "I no longer subscribe to the popular belief that spiritualists are charlatans just trying to make money off of people," Taggart says. "For the most part, I found them to be very sincere."
But as for whether she believes in ghosts and life after death, the now 44-year-old is still on the fence. The closest she comes to sounding like a convert is when discussing an unsettling experience from 2013. It happened while she was visiting Sylvia and Chris Howarth, a married medium couple in England.
The morning after watching Sylvia do a séance in the dark — something the experienced spiritualist rarely did because "sometimes the phenomena continued into the next day" — Taggart was making tea in their kitchen and reached to open a cupboard.
"The ceramic knob exploded in my hands," Taggart remembers. "Half of it shot into the air and crashed to the floor. The other half became razor-sharp and cut into my hand, and it started gushing blood." Chris ran into the room, reached for the broken knob, and soon he was bleeding too.
"Just telling that story again, it gives me chills," Taggart says.
So was it a paranormal encounter? She isn't sure.
"All I know is, I still have a scar because of what happened that day," she says. "And I still think about it all the time. So who knows?"
Miracle in Colombia – A saint statue rescues city dwellers from landslide
Residents of the city of Jericó, in the Colombian department of Antioquia, are sure that it is the statue of St. Montoya which rescued them from a heavy landslide a week ago because of heavy rains.
The altar with the statue was located on the slope of the mountain from which the landslide descended. Muddy streams flooded the streets and destroyed more than 10 houses. However, none of the locals died or even seriously injured, and the statue itself was not damaged at all.
However, more than a thousand people lost access to their homes and were evacuated.
Local priest Jesus Herrera told reporters:
"We consider it a true sacred miracle that nobody was killed, and Los Aguacates did not collapse."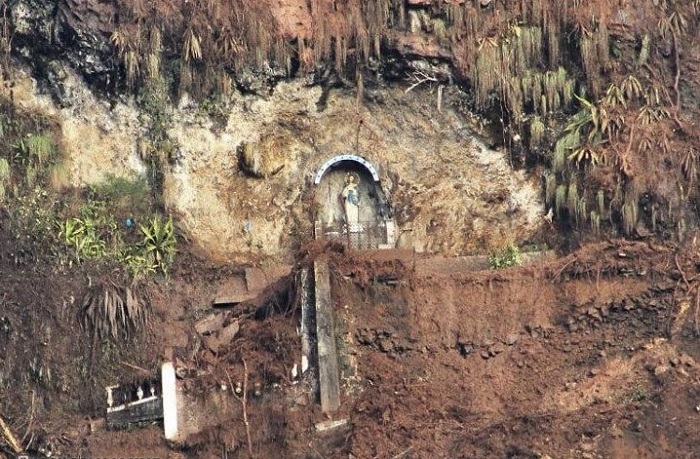 Only two people were slightly injured – an elderly woman and a small child. This muddy landslide floods the entire surrounding area, including the city streets.
According to locals, at such a level of disaster, there would have been many more casualties had it not been for the protection of St. Montoya.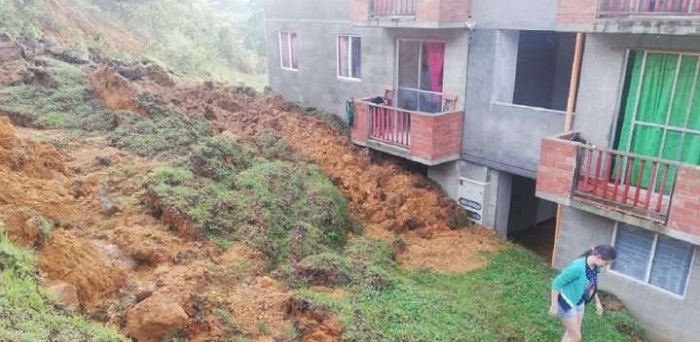 The statue of the patron saint of the city of St. Laura Montoya (Saint Laura Montoya), was installed here in 1919, in honor of a true Catholic nun.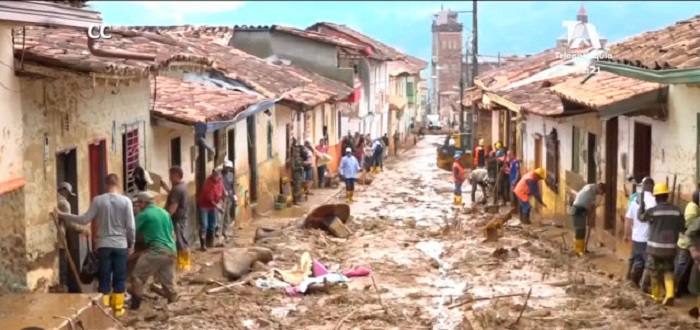 She was Colombia's first saint. Immediately after the statue was erected, worshipers began to visit it, finding it miraculous.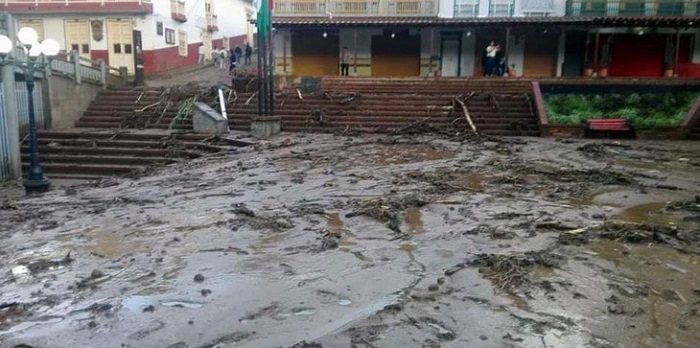 One of the locals says:
"Apart from material damage, we have no reason to cry. I'm sure we were all saved from the miracle the saint gave us. "
Mariana Garces, another resident says:
"Just look at all this horror that is now on our streets. No one can help us, but I think, nevertheless, someone or something intervenes. I already believe that there are spiritual powers in these places, and I am not the most religious person. "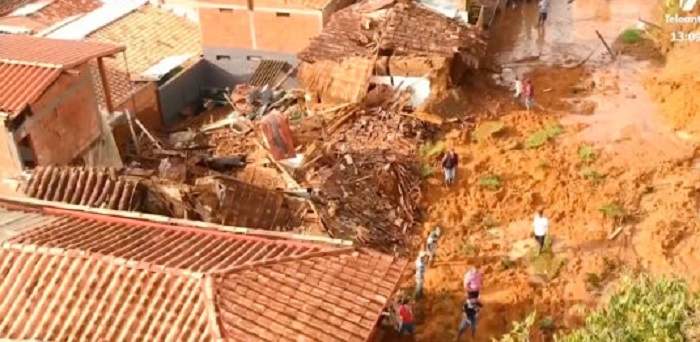 In addition to Heriko, heavy rainfall caused flooding and landslides in six other Antioquia regions, but there the effects were smaller and only 3 houses were completely destroyed.
Among the saints of the Catholic Church there are those whose bodies are still preserved incorrupt. This phenomenon has not yet been explained in the scientific community. For access to the pilgrims "imperishable" placed in special glazed sarcophagi.
Below are the top 10 most famous incorruptible saints of the Roman Church.
1. Saint Bernadette of Lourdes (January 7, 1844 – April 16, 1879)
She lived in the town of Lourdes in southern France. Bernadette was the Virgin Mary, there were only 18 appearances. Despite the fact that the Catholic Church was skeptical at first, subsequently, after a thorough canonical investigation, these phenomena were officially recognized. After death, Bernadette's body remained incorrupt and Lourdes (and after the city of Nevers, to which the body was transported) soon became one of the main places of pilgrimage, attracting millions of Catholics every year. On December 8, 1933, Bernadette was canonized.
2. St. John Vianney (May 8, 1786 – August 4, 1859)
He was a French parish priest. He is known for his active work, which contributed to the spiritual transformation of society. After death, he is called the "patron saint of priests."
3. Saint Theresa Margarita of the Sacred Heart (1747-1770)
On March 19, 1934, Pope Pius XI ranked Teresa Margarita as a saint. Before that, she was practically unknown to anyone. She led a quiet and modest life in the monastery of Carmelites. Died March 7, 1770 at the age of 22 years. Two days after the death of St. Theresa Margarita in 1770, a nun of the Order of the Sacred Heart, there were no signs on the body of the deceased, which during her life turned him into a swollen purple mass.
4. Saint Vincent de Paul (April 24, 1581 – September 27, 1660)
Vincent was born in 1581 in a village near Dax in a poor peasant family, studied theology in Toulouse. In 1600 he was ordained a priest. During one of the trips to the south, he was captured by the Berbers and taken to Tunisia, into slavery. In 1607, he was released and was able to return to his homeland. In 1612 he was appointed rector of a parish near Paris. One of the main merits of St. Vincent is the creation of a harmonious system for the training of priests: a pre-seminary and seminaries. Saint Vincent died in 1660 in Paris. Pope Benedict XIII proclaimed him blessed on August 12, 1729, and Pope Clement XII canonized July 16, 1737. The relics of St. Vincent are stored in the chapel, named after him, on Sevres Street in Paris.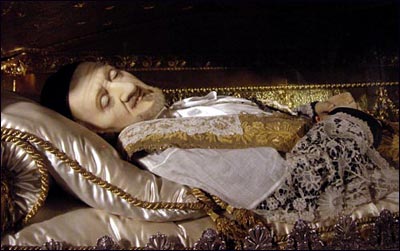 5. Saint Sylvanas
Little is known about this saint, except that he was a martyr for his faith. Given its 1,600-year-old age, it has been perfectly preserved.
6. Saint Veronica Giuliani (December 27, 1660 – July 9, 1727)
According to legend, she spoke at the age of 18 months, beginning to reproach the seller-deceiver with the words: "Show yourself from the best side, God sees you!". In 1677, at the age of seventeen, she entered the Capuchin Sisters Monastery. The monastery went through all the steps of the monastic hierarchy from the cook to the abbess. In 1694, she experienced mystical revelations. Three years later, on April 5, 1697 during Good Friday, she showed stigmata. After this event, at the request of the confessors, she began to keep a spiritual diary, which after her death amounted to more than twenty-two thousand pages. In this diary, she described her mystical experience of absolute union with Jesus Christ. July 9, 1727 died after a long illness.
7. Saint Zita (p. 1212 – 27 April 1272)
At the age of 12, she began to serve at the Fatinelli family home. For a long time, employers overloaded the girl with work, despised her simple origin, and often beat her. The constant piety and patience of Zita brought the Fatinelli family to Christian conversion. Zita considered her work a calling from God and an element of personal repentance. Zita died at the age of 60, having served 48 years to the Fatinelli family. After her death, members of this family began to revere Zita as a saint. In 1580, her body was exhumed and it turned out that the relics of St. Zita were incorrupt. They were transferred to the Basilica of St. Frediano in the city of Lucca, where they are currently stored.
8. Saint Don Bosco (August 16, 1815 – January 31, 1888)
He was an Italian priest, educator and teacher. To realize his intentions of working with youth, Bosco founded the monastic society of St. Francis Salsky (now known as the Salesians of Don Bosco).
9. Blessed Pope Pius IX (May 13, 1792 – February 7, 1878)
It went down in history as the Pope, who proclaimed the dogma of the Immaculate Conception of the Blessed Virgin Mary and convened the First Vatican Council, which approved dogmatically the doctrine of the infallibility of the Roman high priest. Pontificate Pius IX – the longest in the history of the Roman Catholic Church, after the Apostle Peter. It lasted 31 years, 7 months and 22 days.
10. Blessed Pope John XXIII (November 25, 1881 – June 3, 1963)
The 261st Pope, convened the Second Vatican Council, but did not live to see it end. Actually, it's not completely imperishable, because after death it was embalmed.