Massive Pole Shifts are Cyclic according to Declassified CIA Document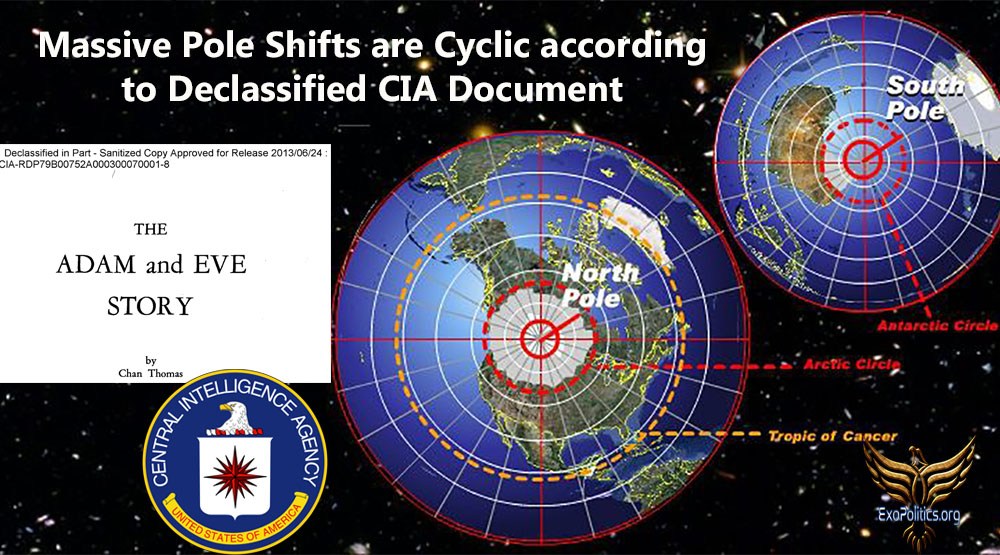 by Dr. Michael Salla
Ben Davidson, founder of Space Weather News, began his six part Earth Catastrophe Cycle video series by discussing a 57 page booklet called "The Adam and Eve Story" authored by "Chan Thomas", which was classified by the CIA at some point after its 1963 publication, and declassified in part on June 24, 2013 with the release of a sanitized digital version on the CIA's website. Thomas' analysis of cyclic pole shifts was different in key respects to what was being proposed at the time by Charles Hapgood in his seminal book, The Earth's Shifting Crust(1958).
According to Davidson, it was Thomas more accurate explanation for how a pole shift happens, which led to the CIA classifying Thomas' book.  The Adam and Eve Story was first published in 1963 by Emerson House, with a third edition published in 1965, and then republished by Bengal Tiger Press in 1993. It is not clear when, why and how the CIA classified Thomas book, but the fact that the CIA chose to release a declassified sanitized version in 2013 is very significant.
In part 1 of his video series, Davidson contrasts Hapgood's wandering pole hypothesis with the pole shift described in the CIA suppressed book by Thomas. Hapgood wrote of a pole shift of up to 40 degrees that could recur every 5000 years or so in The Earth's Shifting Crust where earlier geographical poles would wander on the Earth's surface with each crustal displacement.
Instead, Thomas wrote of a massive shift of almost 90 degrees  that would move both poles into the tropics in less than a day, and then back to their earlier polar positions after the next cycle:
In ¼ to ½ a day the poles move almost to the equator, and all hell lets loose. The atmosphere and oceans don't shift with the shell – they just keep on rotating West to East – and at the equator that speed is 1000 miles per hour. It has to be, normally, to make one rotation per day. So, while the shell shifts with the poles going toward the equator, the winds and oceans go eastward, blowing across the face of the earth with supersonic speeds, inundating continents with water miles deep….

You can see, then,  that ice ages are not a matter of advancing and retreating ice; it's simply that different areas of the Earth are in polar regions at different times, for different durations of time, with the changes between positions taking place in a fraction of a day. [The Adam and Eve Story, pp.13-14]
Thomas provided a table illustrating how the North pole, for example, would switch back and forth between northern hemisphere regions after experiencing close to a 90 degree tilt.
It is Thomas' conclusion of cyclic pole shifts of almost 90 degrees that flip the poles back and forth over millennia that Davidson identified as the key reason the CIA classified Thomas' work. If the North and South poles flipped back and forth 90 degrees, there would be little evidence of previous pole shifts since these would be buried under thick layers of ice.
This takes us to the science of paleomagnetics – the study of the record of the Earth's magnetic field in rocks, minerals or archeological materials – which has been used to determine the historic movement of the Earth's magnetic poles.
Davidson cited a number of scholarly articles which studied paleomagnetic data from volcanic hotspots. A highly regarded 1985 paleomagnetic study titled, "True polar wander: An analysis of Cenozoic and Mesozoic paleomagnetic poles" found "the pole has moved 22 deg + or 10 deg in the past 180 m.y.[million years]." This was far less than the 40 degree wandering pole hypothesis that Hapgood proposed in an approximate 5000 year period.
A subsequent 2001 study titled  "Stability of the Earth with respect to the spin axis for the last 130 million years" concluded that "the time-averaged position of the spin axis has deviated by no more than ˜5° over the last 130 million yr, indicating that mantle mass heterogeneities have not changed rapidly enough to drive TPW [True Polar Wander]." Davidson cited these and a 2018 study as the key elements of the body of scientific evidence refuting Hapgood's wandering pole hypothesis.
However, as Davidson pointed out, the scientific data from paleomagnetic studies did not address Thomas' theory of the poles flipping back and forth over geologic time, thereby giving the appearance that the poles had not moved over millions of years as researchers had mistakenly concluded:
All work crushing the theory utilizes these flawed studies, especially the long term average pole position and none address the problem of a ping pong shift where you would have that time average pole position appearing to be in the same position over millions of years.
Davidson goes as far as suggesting that Hapgood, who worked for the CIA's predecessor the Office of Strategic Services during World War II, conducted a "limited hangout" with his 1958 book to get some of the truth out into the public arena, but doing so in a way that could be eventually discredited.
Davidson cited a 1994 book titled World in Peril about the once classified information provided by an Arctic polar explorer, Major Maynard White, who told his son, Ken (the book's author), about secret Pentagon meetings in 1948 where suppression of evidence of cyclic pole shifts was discussed:
At one of the scientific meetings that Major White attended in the Pentagon in early 1948, the scientists discussed the advisability of alerting the public to the pending polar-flip phenomenon. None of the scientist would agree to withhold the information from the public, but, on the other hand, neither could they agree on how to release it. The knowledge of this phenomenon, some felt, could in itself destroy the moral fiber of society. Their fears were apparently unfounded when, in the early 1950s, information about the flip phenomenon was released in both a newspaper column and a magazine article, but surprisingly generated no responses from an apparently stunned parochial or incredulous public.
Given the amount of scientific data presented by Davidson in his Earth Catastrophe Cycle series, it's clear that physical pole shifts of approximately 90 degrees have been historically recorded, and that this became known to government authorities as early as 1948.
Source: Exopolitics
Into the World of Doomsday Preppers with Author Tea Krulos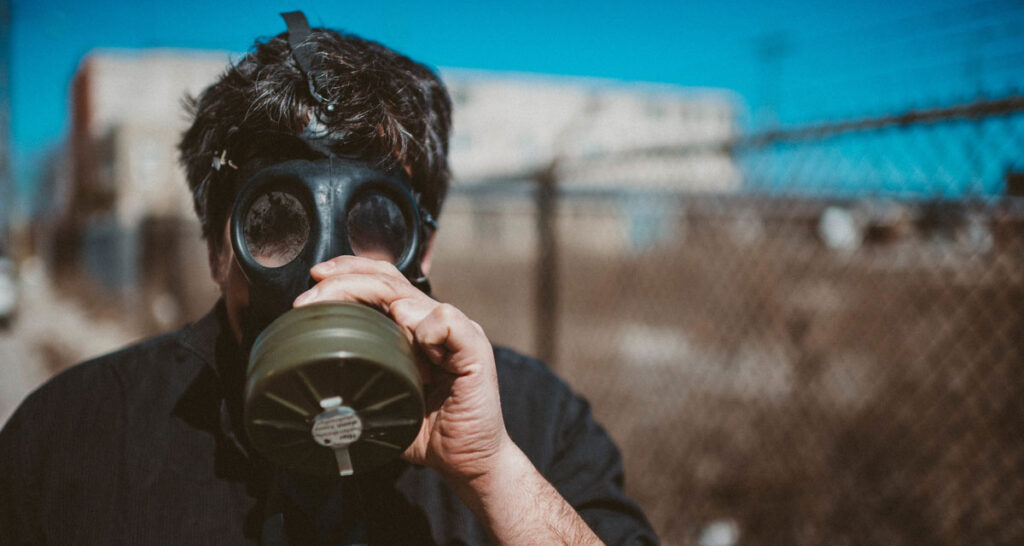 The End is near…right? For some, doomsday is right around the corner and they're going to great lengths to be prepared.

Freelance journalist Tea Krulos prepping for doomsday
When Tea Krulos decides to write about a particular topic he finds fascinating, he gets out into the wilderness and immerses himself in it. Whether it's breaking up a dangerous fight on the streets of Seattle with real life superhero Phoenix Jones for Heroes in the Night, or fending off aggressive wildlife while tracking Bigfoot with Monster Hunters, he takes a few risks to experience the curious inner workings of some obscure subcultures.
Over the weekend I had the opportunity to catch Tea at a local comic shop called Crimson Cowl (owned by superheroes The Watchman and Crimson Crusader) where he discussed his experiences while researching his new book Apocalypse Any Day Now. The danger may not have been immediately present this time as Tea packed up and bugged out into the world of doomsday preppers, but it seems as though the paranoia was palpable.
Tea's journey took him from the luxury bunkers built in an abandoned missile silo beneath the surface of the Kansas prairie, into the woods with a group that teaches disaster preparedness and survival skills under the guise of a zombie apocalypse, and out into the desolate Mojave Desert for the post-apocalyptic party known as Wasteland Weekend.
If you've been following Cult of Weird on the cesspool that is social media for a while, you may have noticed one of my favorite pass times is to track the latest end-of-the-world predictions and take a show of hands the following day to see who survived.
So far we've all squeaked by unscathed.
Be it a Biblical Armageddon, natural disaster, nuclear war, or the FEMA camps of a police state as conspiracy theorists are fond of preaching, there are some who believe there is a constant looming threat to humanity. Something set to wipe out civilization as we know it. And they'll be ready.
Who knows. Maybe the end is near.
Will you be prepared…when it's time for the Mad Max-themed swimsuit contest?
Find out in Apocalypse Any Day Now by Tea Krulos. Available now.
Tea Krulos is also the organizer of the Milwaukee Paranormal Conference, which is happening September 13-15, 2019.
This "Peeling" Tectonic Plate Could Cause Catastrophic Earthquakes
Drifting Apart
The edge of a tectonic plate, one of the massive shelves of crust that carry the continents and ocean's floor, is splitting right down the middle.
Scientists started to study the plate, located off the coast of Portugal, after it caused an unexpected earthquake and tsunami in 1969. They now suspect that they're witnessing the birth of a new subduction zone, according to National Geographic, which is the point at which two plates collide and grind against each other, causing powerful earthquakes.
Drop By Drop
University of Lisbon marine geologist João Duarte suspects the plate began to split down the middle after water leaked through a heavily-fractured upper layer. But Duarte's work hasn't yet gone through peer review or been accepted by an academic journal, so it's possible that his origin story for new subduction zones won't hold water.
"It's one of the biggest unsolved problems in plate tectonics," Duarte told NatGeo.
Closing The Gap
Some models of plate tectonics, the gradual movement of plates around the globe, suggest that Canada and Europe may gradually migrate towards each other.
If Duarte's research is correct and the plate beneath Portugal is splitting, then that would be the first step toward a shrunken Atlantic Ocean that brings the two together, leaving a trail of powerful earthquakes in its wake.
READ MORE: A tectonic plate may have peeled apart—and that could shrink the Atlantic Ocean [National Geographic]
Threat from an Earth-Altering Asteroid Strike is REAL, Warns NASA Chief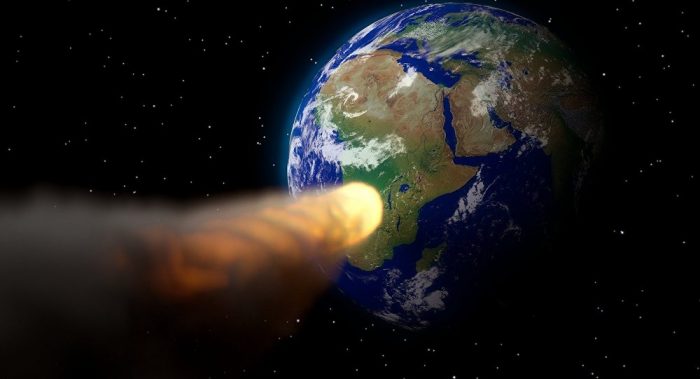 The NASA chief's speech comes on the heels of the space agency's announcement that it would conduct an asteroid impact simulation to identify critical aspects of disaster response in the event of such a cataclysmic scenario.
NASA Administrator Jim Bridenstine took the stage of this year's Planetary Defence Conference on Monday to issue a stark warning: people should be ready for a major threat from a killer asteroid that could collide with Earth if our planet is not better protected.
"We have to use our systems, use our capabilities to ultimately get a lot more data, and we have to do it faster. We know for a fact that the dinosaurs did not have a space programme. But we do, and we need to use it", he said.
Bridenstine continued by saying that normally the idea of a giant interstellar object smashing into Earth is met with a "giggle factor", but people should not have that false sense of security somehow imposed on them by a myriad of themed Hollywood blockbusters.
"We have to make sure that people understand that this is not about Hollywood, it's not about the movies. This is about ultimately protecting the only planet we know, right now, to host life and that is the planet Earth", the scientist added.
NASA's chief made a reference to a 65-foot (20-metre) meteor that exploded over the Russian city of Chelyabinsk in February 2013, just 14 miles above the Earth's surface.
The flaming meteorite crashed with a massive boom, blowing out windows, damaging thousands of buildings in the area and injuring about 1,500 people, mostly from broken glass.
"These events are not rare. They happen", he maintained.
Last week, NASA announced that it had teamed up with international partners to perform a "tabletop exercise" on how to handle a hypothetical asteroid on a collision course with Earth.
"These exercises have really helped us in the planetary defence community to understand what our colleagues on the disaster management side need to know. This exercise will help us develop more effective communications with each other and with our governments", NASA's Planetary Defence Officer Lindley Johnson said.
Aside from the aforementioned plans, NASA is getting ready for its first spacecraft impact asteroid redirect mission, dubbed "Double Asteroid Redirection Test" (DART), which is set for June 2021.
Sputniknews