"Mark My Words, AI Is Far More Dangerous Than Nukes." – Elon Musk
The Facts: Earlier this year Elon Musk said that artificial intelligence could be more dangerous than nuclear weapons.
Reflect On: Why is there no oversight in the AI industry? AI has already become self-aware and learns by itself. What type of threats does this pose? How could it be used to our advantage to help the Earth?
Earlier this year, Elon Musk gave an interview where he alluded to the idea of Artificial Intelligence being far more dangerous than nuclear weapons. This is quite a bold statement, which led to a lot of backlash, given the destruction and devastation that nuclear weapons can cause.
That being said, his comments should not be ignored, as others like Julian Assange have expressed the same concerns. These concerns are coming from people who have been around, know about, and even use this type of technology. They have tremendous amounts of resources and connections, and clearly, have a lot of knowledge in the area. In the interview, Musk stated,
I think the danger of AI is much bigger than the danger of nuclear warheads by a lot…Nobody would suggest we allow the world to just build nuclear warheads if they want, that would be insane. And mark my words: AI is far more dangerous than nukes.
Lack Of Regulatory Oversight
This isn't the first time he's called out the potential dangers of artificial intelligence. Prior to this, he said that AI is much more dangerous than North Korea. Now, most of our readers will be aware of the fact that 'the powers that be' have labelled many as dictators whose countries as 'gone rogue' with their weaponry so they can basically step in, impose their will and install a government that best suits their own interests. This has long been the tactic, to create the problem so you can propose the solution. Obviously, Musk does not delve into this aspect, but I thought it was important to mention.
Musk has explained his confusion as to why there is hardly any regulatory oversight when it comes to AI. These are important questions that nobody is really thinking about or asking. AI is developing at an exponential rate.
Facebook founder Mark Zuckerberg said Musk's "doomsday AI scenarios are unnecessary and pretty irresponsible." Harvard professor Steven Pinker has also criticized Musk for his comments. This could be from the fact that AI has proven to be huge for big business. Not only is it a field where giant profits can be made, but it's also helping with overall efficiency and safety in our everyday lives. Musk does not condemn AI, his companies utilize AI, he is simply saying there should be some regulation to make sure that things don't go too far.
AI Thinks For Itself
Just how far could things go? Well, artificial intelligence thinks for itself, and it's already demonstrated that it can learn. We've all been made well aware of the scenario, a self-aware artificial type of intelligence, taking no direction or oversight from humans, beginning to think on their own. Again, we're just in the beginning stages of this, and Musk is looking into the future, but it seems we're almost there.
Take, for example, AI programs that don't just work online to handle payments, coding etc, but control robotic humans. A few years ago, we published a story about an android named Dick. He's able to answer a series of complex questions, and find answers to things he has previously not been programmed to do. It's a mathematical technique that makes it possible for the android to index, retrieve, and extract meaning from the natural human language. He is able to learn, and everything he learns can be learned from other artificial intelligence that is hooked up to the same mainframe. If this becomes a reality, then what one robot learns could be learned by every other single robot as well.
In this fascinating interview, it's quite shocking to hear Dick's responses at such an early stage of development. For example, When asked if he thinks, he responded,
A lot of humans ask me if I can make choices (showing he is aware of what others are thinking as well) or is everything I do and say programmed? The best way that I can respond to that is to say that everything, humans, animals, and robots (everything they do) is programmed to a degree.
Musk Is Truly Worried
The biggest issue I see with so-called AI experts is that they think they know more than they do, and they think they are smarter than they actually are. This tends to plague smart people. They define themselves by their intelligence and they don't like the idea that a machine could be way smarter than them, so they discount the idea–which is fundamentally flawed.
I am really quite close, I am very close, to the cutting edge in AI and it scares the hell out of me. It's capable of vastly more than almost anyone knows and the rate of improvement is exponential.
The Extraterrestrial Connection (For Me)
If you're a fan of Collective Evolution, then you would know that we've published countless articles on the UFO/extraterrestrial phenomenon. You can find a list of those articles in archive order, here.
Having been an avid researcher of the subject for approximately fifteen years now, one common theme within the literature and the lore is that artificially-intelligent types of races have long been visiting us. There are also stories of human looking beings, reptilian types of beings, the classic 'grey' alien and so forth. Based on our research here at CE, there could be trillions of races doing star travel, and hundreds or even thousands that have made contact with and have been cataloged by various global governments.
I believe the fact that we are being visited can provide insight into potential human timelines. There are reports that we, the human race, have even traveled back in time from the future to warn us today about dangerous activities like our use of nuclear weapons.
If there are indeed artificially intelligent races out there as well, or perhaps half biological and half artificial, perhaps that could provide some insight into where our own race is potentially heading if we are not careful?
Do we have the potential to create an artificial intelligence so smart that it eventually becomes self-governing? Do human beings have the potential to create an entirely new race? It seems it might have been done already elsewhere in the universe. Perhaps there are even planets out there who have destroyed themselves with such destructive technology.
The Takeaway
The takeaway here is to really recognize why we do the things we do. On a collective scale, right now, our systems are operating solely for the intention of profit. For the sake of profit, oversight and necessary regulations don't seem to apply in areas that they should. When developing technologies these days for the human race, a lot of life-changing and game-changing technologies are actually subjected to restriction and patent suppression. The black budget world if far ahead of the mainstream world, and we can't really say for sure just how far our technology in the category of AI has advanced.
When creating technology, we need to look at why we create it, what we are using it for and why we decide to use it. If the intentions are for profit, and to make things easier, we have to ask ourselves, at what cost will this come? Perhaps intentions are good, but that doesn't always lead to the best outcome. The point is, there is clearly a serious concern about developing AI technology, and if the technology is not kept transparent and coming strictly from the intentions of helping the human race and the planet, it will most likely useless if not dangerous.
We could be doing so much more for the planet and the inhabitants. Imagine if we created AI to constantly regrow forests? Create food forests? Feed the hungry? Elon Musk sees the potential for AI to become self-aware and self-governing, and beneficial to humanity. He is simply worried about the people who control it right now and what their intentions are.
Yes, fear is the power of control
"… The young devil to the old:
– How did you manage to send so many souls to hell?
Old devil:
– Through fear!
Young:
– Well done! And what were they afraid of? Wars? Hunger?
Old:
– No … Disease!
Young:
– They weren't sick? Weren't they dying? Wasn't there a medicine?
Old:
-….. got sick. They died. There was a cure …
Young:
– I do not understand…
Old:
– We accidentally decided that the only thing that needs to be preserved at any cost is LIFE !!!
They stopped hugging … They stopped greeting each other !!! They left all human contact …. They left everything that made a person human!
They were left without money. They lost their jobs.
But they chose to fear for their lives, even if they didn't have bread to eat.
They believed what they heard, read the newspapers and blindly believed everything they read.
They gave up freedom.
They never left the house again. They never went anywhere. We never visited friends and family again. The whole world has turned into a huge prison with convicts – volunteers.
They accepted everything !!! All this to live another miserable day …
They didn't live, they died every day!
It was too easy to take their pitiful soul … "
Clive Lewis "Letters from a Senior to a Junior Devil".
From the book "Balamut's Letters" (1941)
Havana Syndrome again? CIA officers are mowed down by a mysterious disease
A CIA officer in Moscow experienced symptoms of the so-called "Havana syndrome" in 2017. This became known to The New York Times with reference to sources in diplomatic circles.
CIA officer Mark Polimepulos, who helped lead covert operations in Russia and Europe, complained about the manifestation of mysterious symptoms. According to the newspaper, in December 2017, he felt severe dizziness, which later developed into a prolonged migraine, forcing him to retire. At that time, Polymerpoulos was 48 years old.
It is noted that such a case was not the only one. Similar symptoms were experienced by the staff of the American ambassadors in Cuba and China in 2016-2018. However, the exact number of cases and the place where this happened is not named. It is alleged that the US diplomats have tried to influence in a similar way around the world.
At the same time, the US State Department was unable to establish an unambiguous reason that caused the "Havana syndrome." Among other things, it was assumed that the diplomats may have been exposed to an unidentified sound effect.
In 2017, it was reported that, beginning in late 2016, American diplomatic officials and their relatives in Cuba began to complain of symptoms such as hearing loss, nausea, headaches and balance disorder. 
The Associated Press received audio footage of the attack and described the harassing sounds as "the high-pitched sound of crickets combined with fingernails scratching on a board." Then the American government suggested that Russia or China could be the culprit.
Many victims are still undergoing rehabilitation. Specialists from the University of Pennsylvania performed magnetic resonance imaging and revealed visible changes in the structure of the brain in the diplomatic missions.
Differences were found in 23 men and 17 women who complained of health problems while on diplomatic duties in Havana. Scientists have yet to figure out what causes the unusual symptoms.
How Russia and the United States nearly started a nuclear war in 1995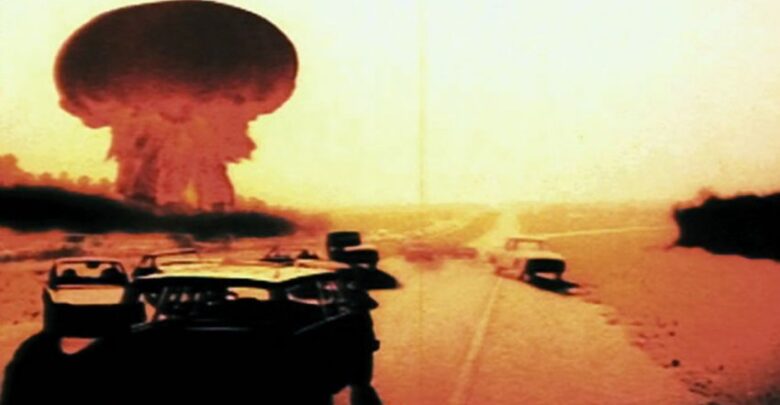 The Norwegian meteorological rocket incident remains the only time in history that the Russian president has activated his nuclear briefcase.
On January 25, 1995, Doomsday could have come in the world: the Russian Federation was preparing to launch a nuclear strike on the United States. How did it come about that the states that left the confrontation of the Cold War in the past and had just normalized relations with each other found themselves on the verge of mutual destruction?
The beginning of the war?
The cause of the crisis was an ordinary Norwegian meteorological rocket. Its launch from the small island of Anneia at 7 am local time (10 am Moscow time) towards Spitsbergen caused a stir in Russia.
Black Brant XII. Legion Media / ZUMA Press
Equipped with scientific equipment to study the aurora borealis, the Black Brant XII was similar in size to the nuclear-powered American Trident D-5 ballistic missile, intended for launch from submarines. In addition, it flew along a trajectory along which, as the Russian Defense Ministry believed, American missiles would fly in the event of a nuclear war.
In December 1994, Norway informed 28 states, including Russia, about the planned launch, but did not give a specific date, limiting itself to specifying the period: from January 15 to February 10 of the next year. Due to bureaucratic delays, this information did not reach the Russian Missile Warning System, which sounded the alarm.
Decisive minutes
An emergency meeting with the country's top political and military leadership was convened in the Kremlin. Defense Minister Pavel Grachev, Chief of the General Staff Mikhail Kolesnikov and President of the Russian Federation (as Supreme Commander-in-Chief) Boris Yeltsin had three strategic missile forces control terminals activated – the so-called nuclear suitcases.
Vladimir Sayapin / TASS
The military believed the lone missile could have been fired to create an electromagnetic pulse that knocked out Russian radars and communications systems. Following it, a massive blow could be expected.
For several tense minutes, as leaders watched it flight, it was decided whether Russia would launch a nuclear strike against the United States.
"Little is known today about what Yeltsin said at the time, given that it could have been some of the most dangerous moments in the entire history of the nuclear era," The Washington Post journalist, David Hoffman wrote three years after the incident : "They make it clear that the Cold War nuclear readiness system continues to operate, and how catastrophic its consequences could be, despite the fact that the feud between the great powers is already over."
The situation was discharged only when it became clear that the rocket had gone towards Spitsbergen (not far from which it fell into the ocean). The nuclear cases have been deactivated.
Russian President Boris Yeltsin (center) and Russian Defense Minister Pavel Grachev (right). Igor Mikhalev / Sputnik
The incident with bringing Russia's Strategic Nuclear Forces to combat readiness, soon became the property of the world community. When, four years later, the Norwegians were about to repeat their launch of Black Brant XII and reported this to the Russian Foreign Ministry, the US additionally warned all key Russian military departments about it through their channels. As a result, this time there were no unpleasant surprises.
Source: rbth.com