Mark Borchardt's The Dundee Project
Meet the unusual attendees of a small town Wisconsin UFO festival who have been watching the skies and communicating with extraterrestrials for decades.

Mark Borchardt shows an alleged photo of a UFO
Filmmaker Mark Borchardt, subject of the 1999 documentary American Movie about his struggle to produce an independent horror film with friends and family, returns with his first short film in over 20 years. The Dundee Project is a 19-minute doc that examines the unique characters who populate a local UFO hotspot in Dundee, Wisconsin.
Strange things have been happening around the small town of Dundee for a long time. Located in the heart of the Kettle Moraine State Forest, the area draws hundreds of thousands annually for it's bountiful hiking, fishing, and camping. But for decades, visitors and residents alike have been baffled and sometimes even frightened by oddly-shaped objects in the sky over Long Lake, lights in the watery depths beneath, and numerous other unexplained phenomena like lake monsters and wolfmen.
In 1988, following a particularly bizarre incident in which reeds were found flattened and woven into a circular formation thick enough to walk on without falling through into the water, tavern owner Bill Benson and the late Robert "UFO Bob" Keuhn decided to host a gathering where everyone could share their experiences.
Decades later, UFO Daze is still held every year on the third Saturday in July. Believers and skeptics alike gather at Benson's Hide-a-Way, the "UFO Headquarters," to enjoy a cup of spiked green punch and wear artfully crafted tinfoil hats.
The Dundee Project opens with Borchardt's drive north into the hinterlands (passing right behind the Cult of Weird hive along the way) as he recalls in voice-over about learning of the festival on the "sad, infinite wastelands of cable television."
He first attended UFO Daze in 2001 after discovering it was within driving distance of his hometown of Milwaukee. "I consulted the charts and realized that it was practically in my own backyard," he says.
He brought his camera along and filmed a series of interviews with the festival's curious participants as he returned year after year to what he calls "a lakeside haven for the thirsty and the curious."

Robert "UFO Bob" Keuhn
Mark speaks to several attendees who have personally witnessed extraterrestrial activity, but the primary reason to watch are his conversations with UFO Bob. Bob was a radio personality who used his show to transmit messages to extraterrestrials. The same ones, apparently, who tune in to Green Bay Packers games.
Bob is even in direct communication with a female alien named Eveata whom he refers to at one point during the film as his girlfriend.
Mark doesn't seem to buy it, prodding Bob with questions that challenge his claims. My favorite moments occur in the outtakes and deleted scenes (thankfully included in both DVD and digital download formats), with Mark's frustration over Bob's unshakable beliefs. This is particularly evident when Bob informs Mark that aliens "tampered" with a photo of a UFO over Benson's that Mark feels is obviously digitally manipulated.

Waiting for aliens to arrive at UFO Daze
I've spent the last several years researching the phenomena around Long Lake, including several recent expeditions to the area and a hike to the top of Dundee Mountain, an ancient glacial formation at the southern end of the lake that some believe is the origin of the unusual activity. I even attended the 30th annual UFO Daze in 2018. I haven't seen anything myself, but it doesn't really matter. Whether it's actually aliens or just hi-tech trickery (I've heard rumors of hoaxes perpetrated during UFO Daze) the evidence is irrefutable to the inhabitants of Benson's, who sit in their lawn chairs at the edge of the lake patiently awaiting visitors from outer space.
As UFO Bob says, "What we're seeing out here is there."
The Dundee Project is part humor and part mystery, guaranteed to either fuel your conspiracy theory-fueled paranoia or leave you scratching your head in bewilderment.
Either way, keep looking up.
The Dundee Project trailer narrated by Wisconsin native Jason Vernon of Bon Iver
Order The Dundee Project now right here.
Another TR-3B? Huge triangular UFO flew over New York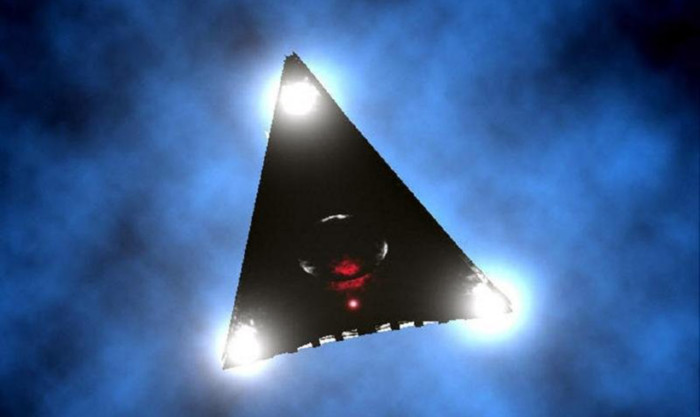 A resident of Bronx, New York, on January 16, 2021, saw three UFOs above the houses in his area, moving synchronously in the form of a huge triangle. The brightly shining points were very clearly visible in the night sky.
The man managed to capture a triangle slowly floating in the sky on video (see below) and posted it on his YouTube channel.
Since he was a very modest blogger who had only a few subscribers, his video went unnoticed for several days by UFO lovers, until finally it was re-posted on social networks, and from there it got to news sites.
The video shows how the author of the video is very surprised by what is happening, he looks up into the sky and says:
"They fly nearby and look like stars. It's a triangle and I don't know what it is."
Then he tried to ask someone from the passers-by about whether they knew that it was in the sky, but they could not answer either.
On social networks, this video caused a lot of comments from curious people who offered their versions of what they saw. From the fact that someone has programmed the drones to move in the form of a triangle, to the fact that they are actually Chinese lanterns.
The lantern version was quickly criticized, as the lights move at such a high altitude that Chinese lanterns could not continue to burn so brightly.
The drone version also drew a lot of criticism, because in order to launch several large drones over residential buildings in New York, you need to obtain special permission and it is not so easy.
The most popular was the theory that what he saw was a secret American reconnaissance aircraft TR-3B, about which there have been many rumors for a long time. Allegedly, it was developed on the basis of an alien ship that fell in Roswell, it can move silently and is practically invisible to radars.
Indians and aliens – "I was told that there are four aggressive species in the universe, and humans are one of them."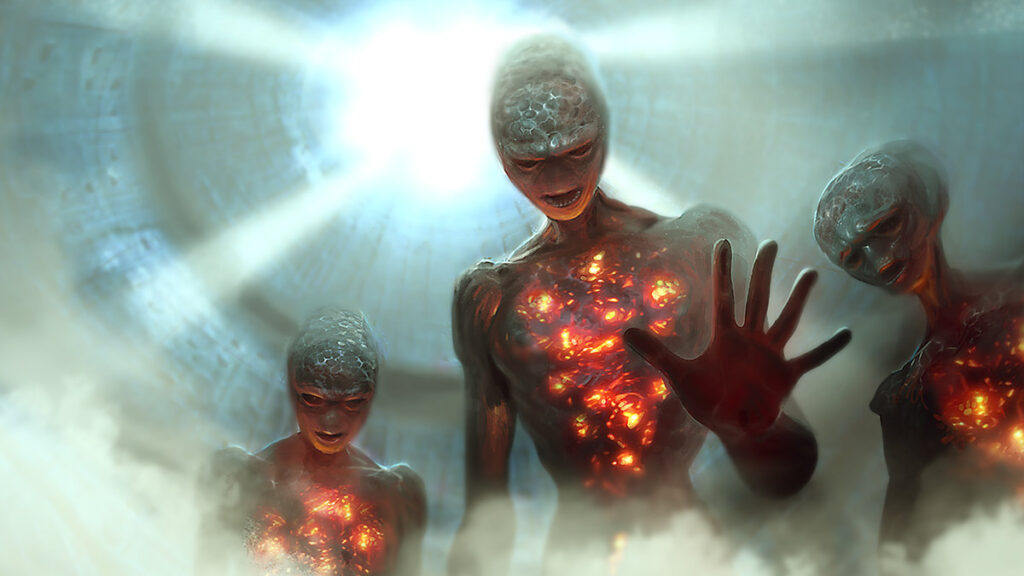 Dr. Ardi Sixkiller Clarke, professor emeritus at Montana State University, who is a native of the Cherokee tribe, has studied Indian stories about the "Star People" and collected stories of encounters between aliens and native Indians over the years.
Here is one of the stories she recorded, which she recorded from the words of a female elder named Tali:
I have seen star creatures all my life. The first time I was about 8 years old. I picked berries by the river. I watched the ship descend and land across the river. I crossed the river, stepping carefully over the rocks so as not to get my feet wet. I was curious; I've never seen anything like it.
As I approached, the door opened and I went inside. I remember that the star beings greeted me. There were two women. One combed my hair and said that I was beautiful. After that, I often met with them.
Sometimes I brought them flowers, sometimes stones. My grandmother told me that stones have a soul, and I tried to explain it to them. I don't think they understood. But they taught me to heal with my hands. Star doctors taught me how to treat diseases with my hands. They taught my grandmother how to heal.
When my grandmother died, the star beings were very saddened and I was tasked with continuing her work and learning about herbs and healing people naturally and metaphysically.
They are light, tall and thin. They are much smarter than us, but they are interested in our development. They travel the stars and learn from others throughout the star system. They collect information about the aging process of earthlings. They are trying to understand why we die so young.
Star people live much longer than we do. The normal age for them is 1000 Earth years. They do not have such diseases as we do. Their civilization does not consume alcohol and tobacco.
They choose who they will be, their job and stay on it forever. They become experts in their field, which leads to many discoveries that improve their lives. Star physicians visit Earth constantly. They mostly watch, but all over the world there are "helpers" who serve them. Both my grandmother and I were their assistants.
Star people call themselves observers.
They weren't cruel. I was told that there are four aggressive species in our universe. People are one of them."
Dr. Clarke ends the story like this:
"For the next five plus years, I frequently visited the reservation to meet Tali. She remained strong and mobile until her death at 95. On the day of her funeral, several people saw a UFO appear and hover in the sky. I was one of them."
Observers
In the stories of many people who have come into contact with representatives of extraterrestrial civilizations, there are references to the fact that they are just observers. It seems that some of these creatures are just curious observers of planet Earth, collecting data, as if some of them are carrying out scientific missions to bring information about other planets and civilizations back to their planet.
We are not alone in the universe. Perhaps one day we ourselves will become aliens for someone exploring another planet.
Can we change?
As for the fact that humans are one of the most violent species in the universe … We are empathetic beings with tremendous potential for good. We really can, but we do not change, and if you were an alien watching what is happening on our planet, you would probably be intimidated by how aggressive and cruel we are …
It is a pity that we are in a group of worlds characterized as aggressive, but I really hope that we will change. People can change, but only by standing at the edge of the abyss and realizing that if they do not change, human civilization will simply disappear. We are already on the edge of the abyss. We have actually destroyed the house we live in and the name of this house is Earth.
Humanity has only two ways – to change or die out.
The CIA has laid out all its information about UFO's in the public domain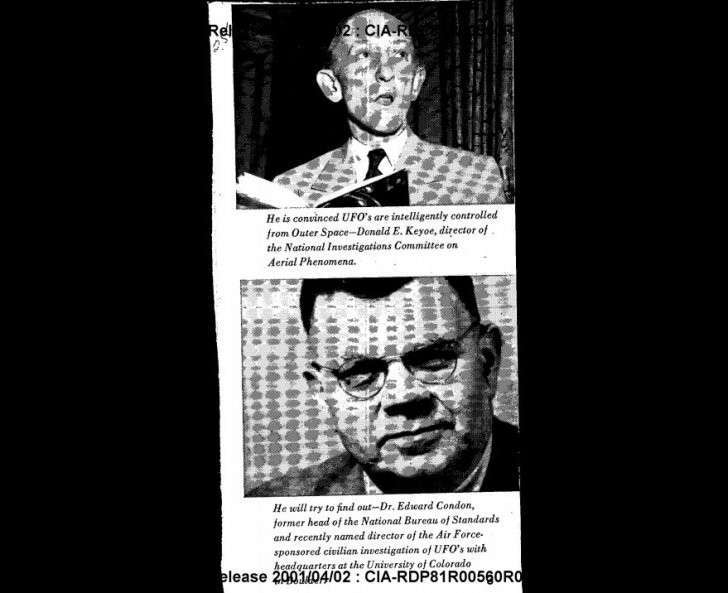 The Black Vault, which publishes declassified data, has posted on its website an impressive archive of CIA documents related to UFOs. The founder of the project, John Greenwald, says that he received all the documents by official means from the hands of the organization's employees.
And suddenly, the CIA declassified its entire database of UFOs. That is, the secret service has documents from the 1980s and everything shows that conspiracy theories are becoming a reality. Already, the "Black Vault" website contains several relevant documents, which can be downloaded by anyone.
The term "Unidentified Flying Objects" is commonly used in the documents.
Some of these may be due to light reflections or errors in the pilot instruments. However, some are objects of inquiry by the Pentagon.
The CIA claims that they have nothing else, but it is not possible to verify this statement.
It was possible to obtain information thanks to the Law on Freedom of Information, and the process itself was launched at the turn of the 70-80s of last century.
The representatives of the special services had to admit that the public ultimately has the right to find out the secrets of the government, but the process of transferring information is not really regulated. According to Greenwald, he spent 25 years in endless meetings, disputes and bickering with the CIA, until he finally got what he wanted.
But not everything is so simple – the researcher was handed a box with about 10,000 printed sheets of very low quality. He had to scan them manually, some things could not be disassembled at all, many documents were scattered. 
"Starting about 20 years ago, I struggled for years to get additional UFO records from the CIA," Greenwald said in an email to Motherboard. "It was like pulling teeth! I went around with them to try and do it, finally achieving it. I received a large box with a couple of thousand pages, and I had to scan them one page at a time."
The CIA used the rather outdated .tif format, so software processing is also difficult. Ufologists don't have to talk about a gift, it's more like trying to get rid of garbage in order to get rid of annoying researchers. 
"Researchers and curious minds alike prefer simplicity and accessibility when they look at such data dumps," says Greenwald. "The CIA made it INCREDIBLY difficult to use its archives in a sensible way. They offer a very outdated format (multi-page .tif) and offer largely unusable text output, which I think they intend to use as a "search" tool. In my opinion, this outdated format makes it very difficult for people to view documents and use them for any research purposes."
However, there are also enough mysterious stories there.
Thousands of files were uploaded in the first 24 hours after release, Greenwald said. Some documents are crisp and clear, while others are almost impossible to decipher.
According to Greenwald, one of the most interesting documents in this article relates to the fact that the Assistant Deputy Director of Science and Technology passed on some serious information about UFOs to the CIA back in the 1970s. After that, it became extremely difficult to obtain information from the government about extraterrestrial phenomena.
The release of the documents comes six months before the UFO report to be released by the US government. This means that the revelations are not made at this time randomly.
In particular, intelligence experts have 180 days to formulate an official report on signs or secret aircraft near US military bases, which will be released later.
Greenwald posts the files in the Black Vault, as he claims that publishing the files is a matter of public interest and notes that citizens have a right to know.
"The public has a right to know!" Greenwald says. "When I started my research almost 25 years ago, at the age of 15, I knew there was something about this topic. Not from viral online pranks, not from secret meetings with insiders that no one has ever seen. No, this is all UFO evidence straight from the CIA and NSA. I feel like I've almost achieved what I set out to do – give people easy access to important material so that people can form their own opinion about what's going on."
The aliens are already among us.