Marine Phytoplankton Benefits: The Ultimate Superfood and Ability To Raise Consciousness?
by Michael Wright,
Surpassing even spirulina and chlorella, the marine phytoplankton benefits are numerous and give it the title of the ultimate superfood. This life-giving substance also has interesting science behind it that suggests a possibility in having the ability to raise consciousness.
People familiar with health foods already know how incredible spirulina and chlorella (both are algae) are for human and animal consumption. Did you know though that marine phytoplankton, another algae, is being touted as a nutritionally superior food to spirulina and chlorella? In this article I'll discuss some of the major marine phytoplankton benefits and offer a fascinating insight into how it might even be able to raise consciousness. With my experience in the nutraceutical industry, I'll give my personal view on the best marine phytoplankton supplement and why I believe it is so.
1. The Ultimate Superfood
There are over 43,000 different marine phytoplankton strains known and there are a few that are incredibly unique and special for the human body. The Nannochloropsis Gaditana strain was discovered by a biologist named Dr. Luis Lubian and he found that it was perfectly matched to the human nutritional profile. Dr. Hugo Rodier, who is a medical doctor and Nutrition Professor at the University of Utah Medical School says this of marine phytoplankton:
"Marine phytoplankton makes available to us every amino acid, vitamin, mineral, polysaccharide, or healthy sugars and essential oils that the body needs."
This means that it is possible for every structure and function in the body to benefit from marine phytoplankton.
This specific product has the Nannochloropsis strain, along with another strain that I'll discuss below. This product also contains over 185 nutritional molecules that had never been scientifically identified.
2. Absorption and Massive Energy Generator
Marine phytoplankton, a single celled-organism, is several times smaller than a red blood cell and is thus able to absorb directly into the bloodstream without needing to be digested. Nucleotides, like ATP, are the currency of the cell and the mitochondria. We could think of them as small batteries that are used to produce energy. Because marine phytoplankton cells are so small, they bypass the mitochondrial energy production process (the Krebs cycle) and directly supply the body with ATP.
Ultimately, this not only instantly supplies the body with energy, it also saves the body energy as no energy is needed to digest the phytoplankton. Remember, spirulina and chlorella both need to be digested by the human body. Along with other nucleotides like DNA, RNA and all of the aforementioned nutrients and neurochemicals present in phytoplankton, it is no surprise that it is quite a massive energy generator.
Marine phytoplankton is at the bottom of the food chain in the oceans and is directly responsible for over 99% of the life in the oceans and according to National Geographic, provides nearly 50% of the entire world's oxygen content.
3. Best Source of Superoxide Dismutase (SOD)
The second strain that is in the Oceans Alive Marine Phytoplankton product is called Tetraselmis and it is the most abundant and active source of SOD of any of the 43,000 strains of phytoplankton known. Melons and chaga mushrooms also are good sources of SOD, but Oceans Alive Marine Phytoplankton has hundreds of times more SOD than chaga and melons.
Superoxide dismutase is the body's best internal anti-oxidant and is over 3,500 times stronger than vitamin C. Because it is an internal anti-oxidant, it is very difficult to obtain from food items and is often destroyed by the stomach acid if taken in supplement form. However, because marine phytoplankton is so incredibly small and can pass right into the bloodstream and into cells, the SOD content is not destroyed and can be used immediately.
Superoxide dismutase has been correlated with longer life spans, which was shown in detail by Richard Cutler at the Gerentology Research Center and National Institute of Aging.
Cutler showed that humans produce an average of 90 micrograms per milliliter of SOD and live an average of approximately 80 years. Our closest primate relatives, chimpanzees, produce 40 milliliters of SOD and live an average of only 40 years. In other words, the more SOD present, the longer average life-span.
If you are planning to use the Oceans Alive Marine Phytoplankton, consider adding in the Ayurvedic supplement known as Haritaki powder as well.
One study shows hows how Haritaki helps to preserve levels of SOD and BDNF (brain-derived neurotrophic factor).
Simply put, using the Oceans Alive Marine Phytoplankton supplies an enormous amount of SOD and Haritaki powder helps to preserve it in the body even longer. My article, The Herb, Essential Oils and ORMUS to Enhance Your Spiritual and Meditation Practice, discusses Haritaki in even more detail and how it affects the pineal gland.
4. Ability to Raise Consciousness?
Oceans Alive Marine Phytoplankton is a raw, living food and grows via photosynthesis (using the Sun's light and energy to create it's massive nutrient profile) and is infused with billions of biophotons towards the end of the manufacturing process. In essence, it is a light-giving and life-giving food.
Over the last 100 years, scientists have found that mammalian brains are capable of producing biophotons. A recent study shows how rat brains can pass one biophoton per neuron per minute, while human brains can pass billions of biophotons per neuron per second.
The researchers of the study stated, "This mechanism appears to be sufficient to facilitate transmission of a large number of bits of information, or even allow the creation of a large amount of quantum entanglement."
Otherwise stated, an entire network for light-based communication is in place in the brain and it has implications for possible quantum entanglement. The researchers go on to say, "for individual quantum communication links to form a larger quantum network with an associated entanglement process involving many distant spins, the nuclear spins interfacing with different axons must interact coherently. This, most likely, requires close enough contact between the interacting spins. The involvement of synaptic junctions between individual axons may provide such a proximity mechanism."
Could biophotons be the means of information transference or the basis of consciousness itself? Could supplementing with foods infused with high amounts of biophotons, like marine phytoplankton, raise consciousness or help to give an increase in life? While we don't yet know the answers to these questions and more, it is worth pondering and worth further scientific exploration.
Conclusion
My intention with this article is to show the exciting and numerous marine phytoplankton benefits as well as explore the consciousness-associated possibilities of it. It is my ultimate and favorite superfood that I suggest people research and consider using. What are your thoughts on this substance? Have you used it or are you interested?
This article appeared first on Stillness in the Storm.
This article, Marine Phytoplankton Benefits: The Ultimate Superfood and Ability to Raise Consciousness?, by Michael Wright
Polar vortex: "wild" winter is coming in the US, Northern Europe and East Asia after the 16th of January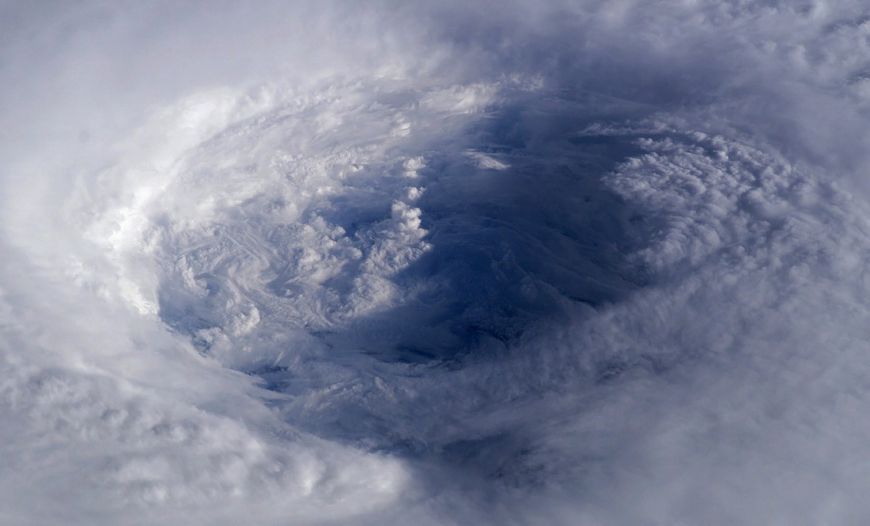 In the upper atmosphere above the North Pole, experts saw a rapidly swirling vortex of cold air that could bring severe frosts to the United States, Northern Europe and East Asia. Serious cold snap and snowy weather are expected after January the 16th.
Snowfalls and a cold snap hit South Korea since the start of 2021, hitting historic snow maximums and temperatures. In the country, for the first time since 1964, television and newer communications are sending people cold snap warnings:
The situation is similar in Japan, where a new snow storm hit historic highs:
On January 7, the thermometer In Beijing dropped to -20 degrees Celsius, breaking the 1966 record. In other regions of China, the temperature is also not sugar, and you can only move around in special uniforms:
The cold even reached Taiwan, where the temperature in some areas dropped below freezing point, snow poured down and people realized that rice terraces can be used as a ski jump:
Even more snow went to Spain, where on January 6, 2021, a temperature of -34.1 ° C was recorded – the lowest on record. After that, a snow storm hit the country, which has not been seen for 80 years:
The same thing happens in Canada and in the northern states of the United States:
It seems that after a stratospheric warming, the subpolar vortex began to split:
The vortex itself is a standard phenomenon. However, this time experts were surprised at his movement. It is possible that in the near future it will be divided into two parts. 
Scientists associate the strange behavior with the changed climate in the Arctic, which has become warmer. From September to December, the amount of ice cover decreased significantly.
The polar vortex is a low-pressure region located in the stratosphere and filled with cold air. When the jet stream of air that holds the vortex weakens, the low pressure area moves south. 
As the ice shrinks, more moisture will move inland. It will turn to snow, so snowfalls are expected. Snow, in turn, reflects heat, leading to a cold snap.
Hospital in Naples was evacuated after a new, huge sinkhole appeared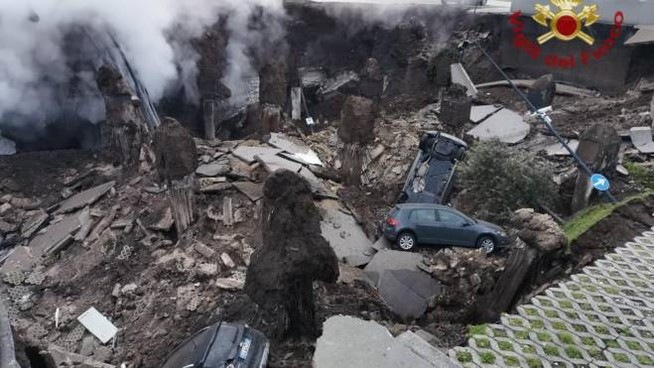 Eyewitnesses said they heard a loud crash at dawn when a huge hole in the ground formed outside the Ponticelli Ospedale del Mare hospital in eastern Naples.
Early in the morning of January 8, 2021, a sinkhole occurred in the parking lot of a clinic in Naples. The depth of the formed cavity is about 20 meters, the total area of ​​the hole is about 2,000 square meters.
No casualties were found at the scene; firefighters say the sinkhole "affected an area of ​​about 500 square meters" and engulfed several cars parked near the hospital.
As the press writes and as a little can be seen from the videos, rescuers and firefighters were running around the pit together with the governor of the area.  But who should be there in the forefront are Italian geologists, since Naples stands in the very center of the volcanic system known as the Phlegrean Fields.
If the surface collapsed, moreover – the surface reinforced with concrete and reinforced from below with some kind of communications, then we are talking about serious soil deformations caused by the activity of magma.
Italy has been in doubt since the summer of 2020, because swarms were observed there in very atypical places in May, and according to the forecasts of old Italian seismologists, who had witnessed many strong earthquakes, it should have boomed in the August region.
Fortunately, nothing bad happened to Italy and there was no big earthquake. But, since there are swarms, it means that something is being prepared, the magma is gathering strength. 
Following this particular sinkhole event – an obvious sign that a major earthquake in Italy is already very close.
A new great pandemic cycle has begun (again) in China
In the first months of 2020, the whole world with a certain fright followed the events unfolding in China, where people fell on the streets during the day and astronauts wandered, and in the evening crematoria began to smoke. And now, with the onset of December, the cycle seems to be repeating itself.
Shunyi area in Beijing, where the authorities announced "wartime status" the day before. As you can see in the videos, thousands of people are lined up in the queue for mandatory testing:
Dalian city, where "wartime" is also declared. Neighborhoods are blockaded, people are walled up in entrances, familiar characters of George Lucas roam the streets:
Chinese 'rescuers', before performing a combat mission:
Chengdu City:
Daluo Port, Yunnan – tourists came for adventure and they received the 'time of their life' after leaving the ramp:
If something happens in Beijing, it does not mean that tomorrow the same will happen everywhere. However, the trend towards such dynamics is observed and, as the practice of the first wave of the pandemic has shown, all countries and people, to one degree or another, have taken into account the 'Chinese experience'.
Therefore, one must think that everything will now be in peace, as in spring – a new global round of the fight against the Covid has begun in China, a new great pandemic cycle!