Marine Phytoplankton Benefits: The Ultimate Superfood and Ability To Raise Consciousness?
by Michael Wright,
Surpassing even spirulina and chlorella, the marine phytoplankton benefits are numerous and give it the title of the ultimate superfood. This life-giving substance also has interesting science behind it that suggests a possibility in having the ability to raise consciousness.
People familiar with health foods already know how incredible spirulina and chlorella (both are algae) are for human and animal consumption. Did you know though that marine phytoplankton, another algae, is being touted as a nutritionally superior food to spirulina and chlorella? In this article I'll discuss some of the major marine phytoplankton benefits and offer a fascinating insight into how it might even be able to raise consciousness. With my experience in the nutraceutical industry, I'll give my personal view on the best marine phytoplankton supplement and why I believe it is so.
1. The Ultimate Superfood
There are over 43,000 different marine phytoplankton strains known and there are a few that are incredibly unique and special for the human body. The Nannochloropsis Gaditana strain was discovered by a biologist named Dr. Luis Lubian and he found that it was perfectly matched to the human nutritional profile. Dr. Hugo Rodier, who is a medical doctor and Nutrition Professor at the University of Utah Medical School says this of marine phytoplankton:
"Marine phytoplankton makes available to us every amino acid, vitamin, mineral, polysaccharide, or healthy sugars and essential oils that the body needs."
This means that it is possible for every structure and function in the body to benefit from marine phytoplankton.
This specific product has the Nannochloropsis strain, along with another strain that I'll discuss below. This product also contains over 185 nutritional molecules that had never been scientifically identified.
2. Absorption and Massive Energy Generator
Marine phytoplankton, a single celled-organism, is several times smaller than a red blood cell and is thus able to absorb directly into the bloodstream without needing to be digested. Nucleotides, like ATP, are the currency of the cell and the mitochondria. We could think of them as small batteries that are used to produce energy. Because marine phytoplankton cells are so small, they bypass the mitochondrial energy production process (the Krebs cycle) and directly supply the body with ATP.
Ultimately, this not only instantly supplies the body with energy, it also saves the body energy as no energy is needed to digest the phytoplankton. Remember, spirulina and chlorella both need to be digested by the human body. Along with other nucleotides like DNA, RNA and all of the aforementioned nutrients and neurochemicals present in phytoplankton, it is no surprise that it is quite a massive energy generator.
Marine phytoplankton is at the bottom of the food chain in the oceans and is directly responsible for over 99% of the life in the oceans and according to National Geographic, provides nearly 50% of the entire world's oxygen content.
3. Best Source of Superoxide Dismutase (SOD)
The second strain that is in the Oceans Alive Marine Phytoplankton product is called Tetraselmis and it is the most abundant and active source of SOD of any of the 43,000 strains of phytoplankton known. Melons and chaga mushrooms also are good sources of SOD, but Oceans Alive Marine Phytoplankton has hundreds of times more SOD than chaga and melons.
Superoxide dismutase is the body's best internal anti-oxidant and is over 3,500 times stronger than vitamin C. Because it is an internal anti-oxidant, it is very difficult to obtain from food items and is often destroyed by the stomach acid if taken in supplement form. However, because marine phytoplankton is so incredibly small and can pass right into the bloodstream and into cells, the SOD content is not destroyed and can be used immediately.
Superoxide dismutase has been correlated with longer life spans, which was shown in detail by Richard Cutler at the Gerentology Research Center and National Institute of Aging.
Cutler showed that humans produce an average of 90 micrograms per milliliter of SOD and live an average of approximately 80 years. Our closest primate relatives, chimpanzees, produce 40 milliliters of SOD and live an average of only 40 years. In other words, the more SOD present, the longer average life-span.
If you are planning to use the Oceans Alive Marine Phytoplankton, consider adding in the Ayurvedic supplement known as Haritaki powder as well.
One study shows hows how Haritaki helps to preserve levels of SOD and BDNF (brain-derived neurotrophic factor).
Simply put, using the Oceans Alive Marine Phytoplankton supplies an enormous amount of SOD and Haritaki powder helps to preserve it in the body even longer. My article, The Herb, Essential Oils and ORMUS to Enhance Your Spiritual and Meditation Practice, discusses Haritaki in even more detail and how it affects the pineal gland.
4. Ability to Raise Consciousness?
Oceans Alive Marine Phytoplankton is a raw, living food and grows via photosynthesis (using the Sun's light and energy to create it's massive nutrient profile) and is infused with billions of biophotons towards the end of the manufacturing process. In essence, it is a light-giving and life-giving food.
Over the last 100 years, scientists have found that mammalian brains are capable of producing biophotons. A recent study shows how rat brains can pass one biophoton per neuron per minute, while human brains can pass billions of biophotons per neuron per second.
The researchers of the study stated, "This mechanism appears to be sufficient to facilitate transmission of a large number of bits of information, or even allow the creation of a large amount of quantum entanglement."
Otherwise stated, an entire network for light-based communication is in place in the brain and it has implications for possible quantum entanglement. The researchers go on to say, "for individual quantum communication links to form a larger quantum network with an associated entanglement process involving many distant spins, the nuclear spins interfacing with different axons must interact coherently. This, most likely, requires close enough contact between the interacting spins. The involvement of synaptic junctions between individual axons may provide such a proximity mechanism."
Could biophotons be the means of information transference or the basis of consciousness itself? Could supplementing with foods infused with high amounts of biophotons, like marine phytoplankton, raise consciousness or help to give an increase in life? While we don't yet know the answers to these questions and more, it is worth pondering and worth further scientific exploration.
Conclusion
My intention with this article is to show the exciting and numerous marine phytoplankton benefits as well as explore the consciousness-associated possibilities of it. It is my ultimate and favorite superfood that I suggest people research and consider using. What are your thoughts on this substance? Have you used it or are you interested?
This article appeared first on Stillness in the Storm.
This article, Marine Phytoplankton Benefits: The Ultimate Superfood and Ability to Raise Consciousness?, by Michael Wright
A bright fireball exploded over Armenia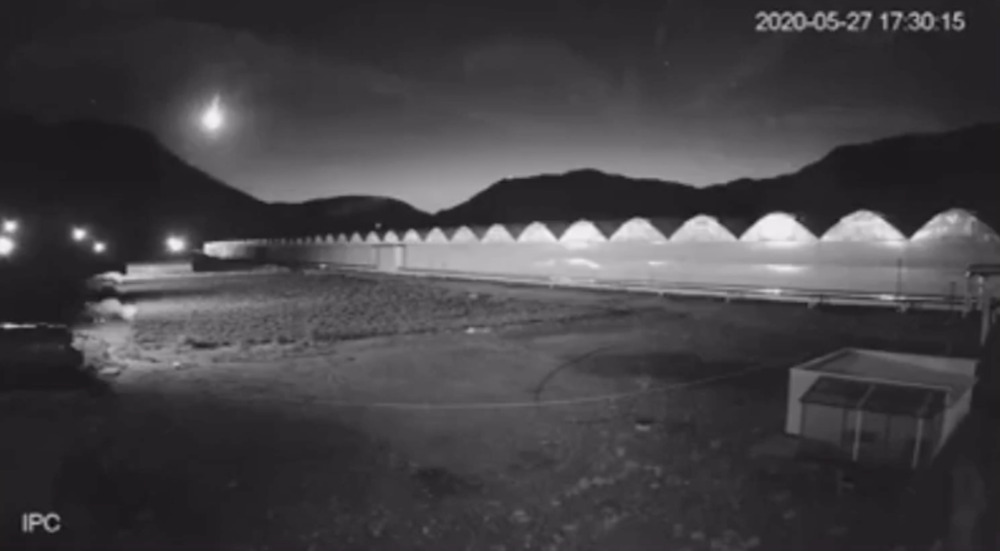 Yesterday, a very bright fireball exploded over Armenia. This was announced by the head of the meteorological forecast department of the Hydrometeorological Center Gagik Surenyan on Facebook. The magnitude (brilliance) of a celestial body, which entered the Earth's atmosphere with great speed, is at least 12.
On the evening of May 27, local residents saw a luminous ball flying from the sky, when it collided with the ground, an outbreak occurred.
Users of social networks began to share their guesses, but they officially gave a comment at the  Hydrometeorological Center  only the next day:
"Yesterday's fall of a large meteorite in the Hrazdan  -Hankavan section  ," Gagik Surenyan wrote, head of the meteorological forecast department of the Hydrometeorological Center and posted a video showing the meteorite.
Those who also saw the meteorite offered to go to the site of the fall of the celestial body and "collect the pieces", others reproached the authorities and scientists for silence, when everyone discussed the event, no one began to confirm to people that the luminous ball was a meteorite.
"A meteorite is the final act of this nightmare year," users of social networks wrote a comment on the video, with sad irony.
The camera was installed in the vicinity of Hrazdan and was directed towards the village of Hankavan.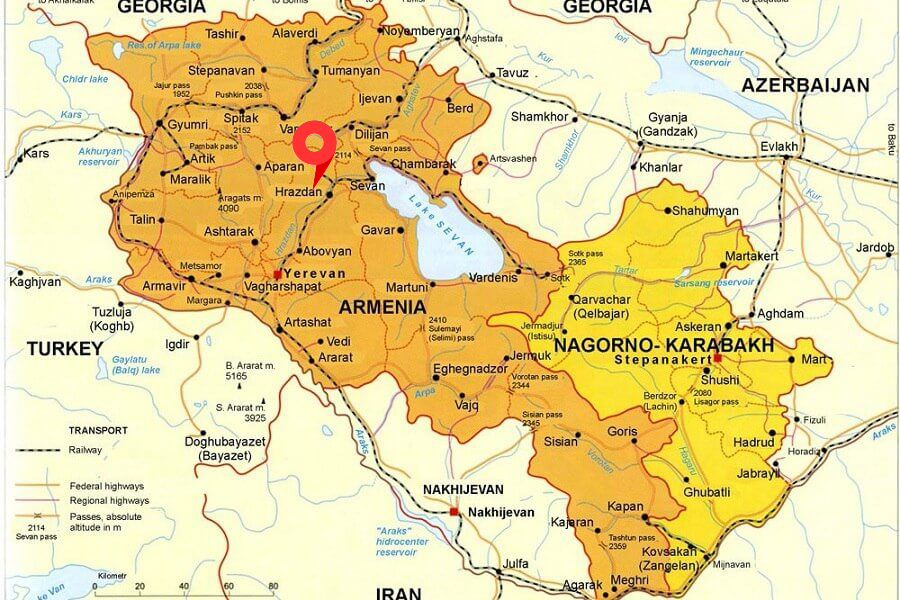 "The meteorite, judging by the records studied, was very large and entered at great speed the atmosphere of the planet, where it burned at an altitude of several kilometers. The risk that parts of this fireball could reach Earth is small, and the likelihood that they can be somehow found tends to zero, including the woodland and the fact that, when burned, meteors and fireballs crumble, as a rule, for particles up to several millimeters in size," astrophysicist R. Martirosyan said.
Powerful sprites over Kansas were visible to the naked eye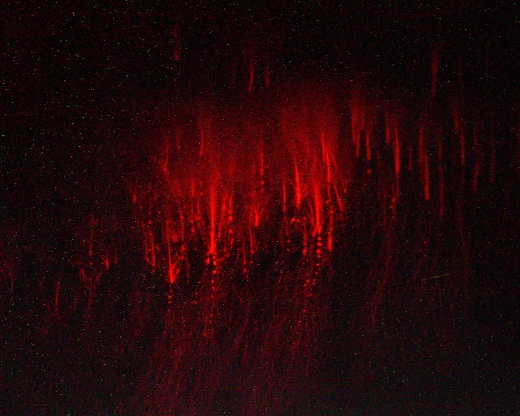 Have you ever seen sprites? They say that this is impossible. Strange and fleeting forms of Red Lightning materialize over thunderclouds, usually disappearing in less time than it takes to blink. However, storm hunter Michael Havan had no problems seeing them on May 23rd.
"The extremely bright jellyfish sprites were easily visible to the naked eye at dusk!" Says Gavin. "This is one of the brightest shots I've captured with my modified Canon T3i."
Gavin saw this sight from Northwest Kansas. "Clear skies provided fantastic views of the MCS (mesoscale convective system) moving through Nebraska almost 100 miles from us," he says. "I was not the only one who saw them." There have been reports that people also saw sprites from Interstate 70. "
The storm lasted so long that Gavin managed to attach an 85mm lens to his camera for several close-up shots. "Because I had an image of the same area without a sprite from a few seconds earlier, I was able to subtract the sky (stars, air glow, etc.) to take a photo of the structure of the sprite without any distractions.
A solar minimum can stimulate sprites. During the low phase of the solar cycle — now occurring — cosmic rays from deep space penetrate the inner solar system relatively unhindered due to the weakening of the Sun's magnetic field.
Some models claim that cosmic rays help sprites get started by creating conductive paths in the atmosphere.
By the way:
Today, May 25, 2020, the level of cosmic rays crashing onto the Earth, reached its maximum levels, increasing today by 10.4% of average values.
Cosmic rays
The magnetic field of the sun is weak, which allows additional cosmic rays to penetrate the solar system. Neutron counts from the Sodankylä Geophysical Observatory of the University of Oulu show that cosmic rays reaching Earth in 2020 are close to the peak of the space age.
A surge in volcanic activity threatens the Earth with a new Ice Age
Over the past few days, we have witnessed a turbulent global volcanic surge in activity. He sends us all signs that the Great Solar Minimum is approaching.
The Japanese meteorological satellite HIMAWARI-8 recorded two powerful eruptions on May 16, both of which occurred in Indonesia.
The first took place in IBU – a relatively new volcano with only 3 noticeable eruptions; in 1911, 1998 and 2008 – and was confirmed by Darwin Volcanic Ash Advisory Center (VAAC), which warned that the ash plume rises to about 13.7 km.
The second high-level eruption occurred just a few hours later on Semera – a very active volcano with an eruptive history; the first happened in 1818, the most recent in 2014.
As with IBU, the Semeru eruption was confirmed by both HIMAWARI-8 and VAAC Darwin, the latter confirming the generation of a "dark ash plume that reached a height of 14 km.
In addition, active lava flows remain active on the southeastern flank of Semeru, currently about 1.5 km long (as of the morning of May 18).
Direct cooling effect
These high-level eruptions are notable for the fact that solid particles are thrown to a height of over 10 km – and into the stratosphere – are often delayed, where they have a direct cooling effect on the planet.
Volcanic eruptions are one of the key factors pushing the Earth toward its next round of global cooling, with their worldwide surge associated with low solar activity, coronal holes, a diminishing magnetosphere and the influx of cosmic rays penetrating silica-rich magma.
In addition to Indonesia, Icelandic volcanoes have intensified, and it is this high-mountain volcanic region of the world that is believed to be home to the next "big eruption" – one that will plunge the whole world into the new Ice Age almost instantly.
Katla is such a volcano here and it shows signs of activity, since a significant gas output has been recorded over the past few days.
In addition, seismic activity under a large ice volcano has also increased, and this activity is probably caused by injections of new magma entering the chamber.
Icelandic authorities are aware of the danger posed by the next Katla eruption, and a delegation of volcanologists regularly meets with the Icelandic parliament to discuss how to respond in the event of an eruption, the likelihood of which is simply a matter of when, not if.