Marijuana is a Lot More Than Just THC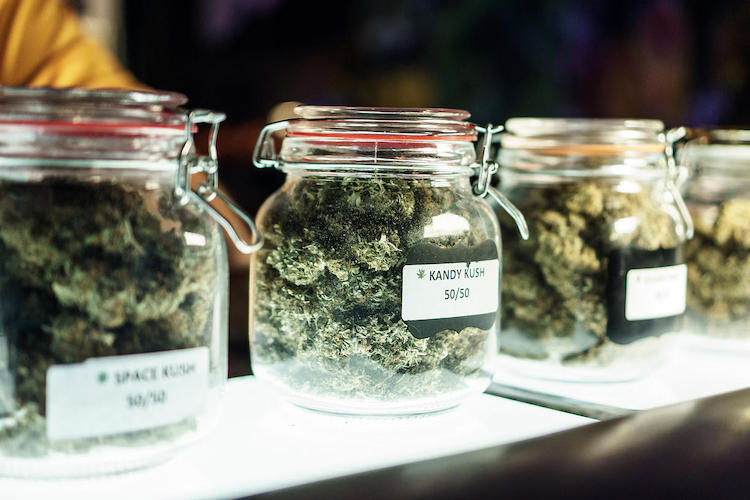 James David Adams, The Conversation
Waking Times
Medical marijuana is legal in 33 states as of November 2018. Yet the federal government still insists marijuana has no legal use and is easy to abuse. In the meantime, medical marijuana dispensaries have an increasing array of products available for pain, anxiety, sex and more.
The glass counters and their jars of products in the dispensary resemble an 18th century pharmacy. Many strains for sale have evocative and magical names like Blue Dream, Bubba Kush and Chocolope. But what does it all mean? Are there really differences in the medical qualities of the various strains? Or, are the different strains with the fanciful names all just advertising gimmicks?
I am a professor in the University of Southern California School of Pharmacy. I have lived in California a long time and remember the Haight-Ashbury Summer of Love. While in graduate school, I worked with professor Alexander Shulgin, the father of designer drugs, who taught me the chemistry of medicinal plants. Afterwards, while a professor at USC, I learned Chumash healing from a Native American Chumash healer for 14 years from 1998 until 2012. She taught me how to make medicines from Californian plants, but not marijuana, which is not native to the U.S. Currently, I am teaching a course in medical marijuana to pharmacy students.
If there is one thing about marijuana that is certain: In small doses it can boost libido in men and women, leading to more sex. But can marijuana really be used for medical conditions?
What are Cannabinoids?
New research is revealing that marijuana is more than just a source of cannabinoids, chemicals that may bind to cannabinoid receptors in our brains, which are used to get high. The most well-known is tetrahydrocannabinol (THC). Marijuana is a particularly rich source of medicinal compounds that we have only begun to explore. In order to harness the full potential of the compounds in this plant, society needs to overcome misconceptions about marijuana and look at what research clearly says about the medical value.
The FDA has already made some moves in this direction by approving prescription drugs that come from marijuana including dronabinol, nabilone, nabiximols and cannabidiol. Dronabinol and nabilone are cannabinoids that are used for nausea. Nabiximols – which contain THC, the compound most responsible for marijuana's high and cannabidiol, which does not induce a high – are used to treat multiple sclerosis. Cannabidiol, or CBD, is also used to treat some types of epilepsy.
Marijuana, originally from the Altai Mountains in Central and East Asia, contains at least 85 cannabinoids and 27 terpenes, fragrant oils that are produced by many herbs and flowers that may be active, drug-like compounds. THC is the cannabinoid everyone wants in order to get high. It is produced from THC acid – which constitutes up to 25 percent of the plant's dry weight – by smoking or baking any part of the marijuana plant.
THC mimics a naturally occurring neurotransmitter called anandamidethat works as a signaling molecule in the brain. Anandamide attaches to proteins in the brain called cannabinoid receptors, which then send signals related to pleasure, memory, thinking, perception and coordination, to name a few. THC works by hijacking these natural cannabinoid receptors, triggering a profound high.
Tetrahydrocannabivarinic acid, another cannabinoid, can constitute up to 10 percent of the dry weight. It is converted to another compound that probably contributes to a high, tetrahydrocannabivarin, when smoked or ingested in baked goods. Potent varieties like Doug's Varin and Tangie may contain even higher concentrations.
Medical Properties of Marijuana
But not all cannabinoids make you high. Cannabidiol, a cannabinoid similar to THC, and its acid are also present in marijuana, especially in certain varieties. But these do not cause euphoria. The cannabidiol molecule interacts with a variety of receptors – including cannabinoid and serotonin receptors and transient receptor potential cation channels (TRP) – to reduce seizures, combat anxiety and produce other effects.
Marijuana also contains several monoterpenoids – small, aromatic molecules – that have a wide range of activities including pain and anxiety relief and that work by inhibiting TRP channels.
Myrcene is the most abundant monoterpenoid, a type or terpene, in marijuana. It can relax muscles. Other terpenes such as pinene, linalool, limonene and the sesquiterpene, beta-caryophyllene are pain relievers, especially when applied directly to the skin as a liniment. Some of these terpenes may add to the high when marijuana is smoked.
What Do All These Varieties Do?
Many different varieties of marijuana are on the market and are alleged to treat a range of diseases. The FDA has no oversight for these claims, since the FDA does not recognize marijuana as a legal product.
Strains of marijuana are grown that produce more THC than cannadidiol or vice versa. Other varieties have abundant monoterpenoids. How do you know that the strain you choose is legitimate with probable medical benefits? Each strain should have a certificate of analysis that shows you how much of each active compound is present in the product you buy. Many states have a bureau of cannabis control that verifies these certificates of analysis. However, many certificates of analysis do not show the monoterpenoids present in the marijuana. The analysis of monoterpenoids is difficult since they evaporate from the plant material. If you are looking for a strain high in myrcene or linalool, ask for proof.
Polar vortex: "wild" winter is coming in the US, Northern Europe and East Asia after the 16th of January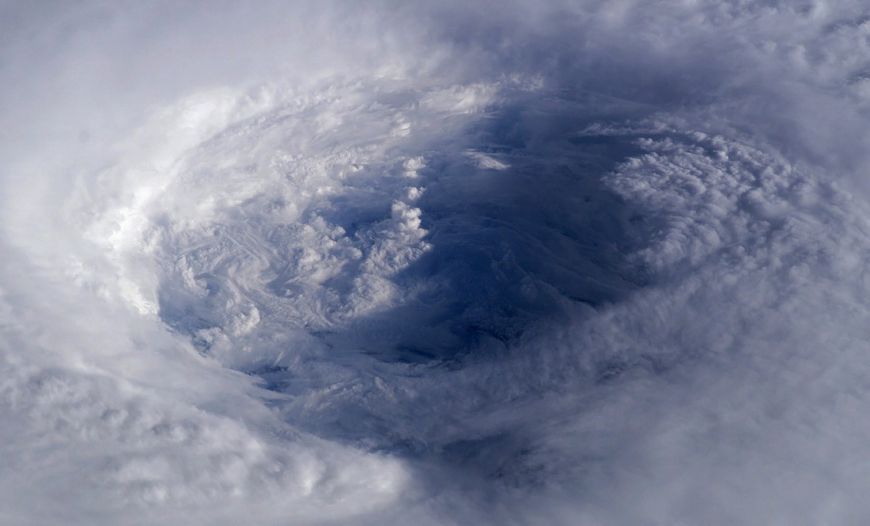 In the upper atmosphere above the North Pole, experts saw a rapidly swirling vortex of cold air that could bring severe frosts to the United States, Northern Europe and East Asia. Serious cold snap and snowy weather are expected after January the 16th.
Snowfalls and a cold snap hit South Korea since the start of 2021, hitting historic snow maximums and temperatures. In the country, for the first time since 1964, television and newer communications are sending people cold snap warnings:
The situation is similar in Japan, where a new snow storm hit historic highs:
On January 7, the thermometer In Beijing dropped to -20 degrees Celsius, breaking the 1966 record. In other regions of China, the temperature is also not sugar, and you can only move around in special uniforms:
The cold even reached Taiwan, where the temperature in some areas dropped below freezing point, snow poured down and people realized that rice terraces can be used as a ski jump:
Even more snow went to Spain, where on January 6, 2021, a temperature of -34.1 ° C was recorded – the lowest on record. After that, a snow storm hit the country, which has not been seen for 80 years:
The same thing happens in Canada and in the northern states of the United States:
It seems that after a stratospheric warming, the subpolar vortex began to split:
The vortex itself is a standard phenomenon. However, this time experts were surprised at his movement. It is possible that in the near future it will be divided into two parts. 
Scientists associate the strange behavior with the changed climate in the Arctic, which has become warmer. From September to December, the amount of ice cover decreased significantly.
The polar vortex is a low-pressure region located in the stratosphere and filled with cold air. When the jet stream of air that holds the vortex weakens, the low pressure area moves south. 
As the ice shrinks, more moisture will move inland. It will turn to snow, so snowfalls are expected. Snow, in turn, reflects heat, leading to a cold snap.
Hospital in Naples was evacuated after a new, huge sinkhole appeared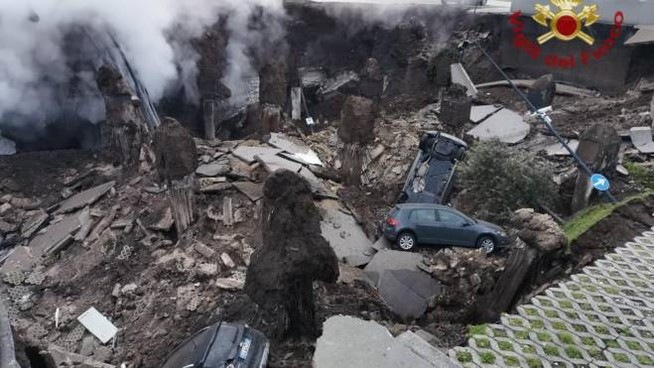 Eyewitnesses said they heard a loud crash at dawn when a huge hole in the ground formed outside the Ponticelli Ospedale del Mare hospital in eastern Naples.
Early in the morning of January 8, 2021, a sinkhole occurred in the parking lot of a clinic in Naples. The depth of the formed cavity is about 20 meters, the total area of ​​the hole is about 2,000 square meters.
No casualties were found at the scene; firefighters say the sinkhole "affected an area of ​​about 500 square meters" and engulfed several cars parked near the hospital.
As the press writes and as a little can be seen from the videos, rescuers and firefighters were running around the pit together with the governor of the area.  But who should be there in the forefront are Italian geologists, since Naples stands in the very center of the volcanic system known as the Phlegrean Fields.
If the surface collapsed, moreover – the surface reinforced with concrete and reinforced from below with some kind of communications, then we are talking about serious soil deformations caused by the activity of magma.
Italy has been in doubt since the summer of 2020, because swarms were observed there in very atypical places in May, and according to the forecasts of old Italian seismologists, who had witnessed many strong earthquakes, it should have boomed in the August region.
Fortunately, nothing bad happened to Italy and there was no big earthquake. But, since there are swarms, it means that something is being prepared, the magma is gathering strength. 
Following this particular sinkhole event – an obvious sign that a major earthquake in Italy is already very close.
A new great pandemic cycle has begun (again) in China
In the first months of 2020, the whole world with a certain fright followed the events unfolding in China, where people fell on the streets during the day and astronauts wandered, and in the evening crematoria began to smoke. And now, with the onset of December, the cycle seems to be repeating itself.
Shunyi area in Beijing, where the authorities announced "wartime status" the day before. As you can see in the videos, thousands of people are lined up in the queue for mandatory testing:
Dalian city, where "wartime" is also declared. Neighborhoods are blockaded, people are walled up in entrances, familiar characters of George Lucas roam the streets:
Chinese 'rescuers', before performing a combat mission:
Chengdu City:
Daluo Port, Yunnan – tourists came for adventure and they received the 'time of their life' after leaving the ramp:
If something happens in Beijing, it does not mean that tomorrow the same will happen everywhere. However, the trend towards such dynamics is observed and, as the practice of the first wave of the pandemic has shown, all countries and people, to one degree or another, have taken into account the 'Chinese experience'.
Therefore, one must think that everything will now be in peace, as in spring – a new global round of the fight against the Covid has begun in China, a new great pandemic cycle!