Manipulation of the World Mind
By Robert B. Baird
Economics ends up as the final arbiter in so many arguments about how to plan for our future.
If we don`t know our past how can we go forward. History is, as some wise man said – prologue to the present. We are lied to incessantly by high-falutin talking heads and we need a new broom or maybe a hammer. Not the expensive hammer that might cost thousands of bucks as the Golden Fleece award done by US Senator William Proxmire used to tell us about. Just a simple whack a mole mallet might even do. A good debate was held between C. H. Douglas and many dismal economists including John Maynard Keynes. I recommend it highly. Have you heard Ted Turner wants to reduce the people on Earth BIG TIME. Yes, and guess who he doesn't want. It isn't just him. De-population has been done with vile intent many times and places. There is no One Pie and we can create many new pies. But we might just fail to get humanity together on this as Hawking says (We have just this century to survive if we do not colonize space.). And maybe we have reached a similar crossroads before on Earth.
There are OOPARTS which are hard to explain such as a Cyborg (Prosthesis of a high degree and little more can be proven but it is possible the mind was interacting with the mechanics just as we now do) from before 4,000 BCE and the Dropa stones from 9,000 years ago.  Given that we might have modern humans or at least civilized humans as much as 2,000,000 years ago – it is plain stupid to keep talking about just 10,000 years.
Even if it is a million years of civilization we have all reason to think advancements in the very distant past far outstrip what we have been taught.
I prefer this to alien intervention given the Prime Directive. (he-he) This next link to Wikipedia is far closer to what I think is real.
The researcher referred to has gone further and proposes up to ten species of hominids or variations have resulted.
The Denisovan example (He is from near the cyborg and a mysterious concrete map covering many acres.) would prove his contention as would the Hobbit which may be connected to his Mungo people and which I found cliff drawings there which lead me to posit just that. I cannot say he has continued to develop these theories. I have seen him forced to back off some of what is said here – and I hope he continues his free-thinking research.
http://en.wikipedia.org/wiki/Alan_Thorne
This article demonstrates the extent to which TV and academia lie to humanity.
It gets a lot right about Zahi Hawass.
http://www.tnetimes.com/article/244-verge-fall-dictator-among-egyptologists-zahi-hawass-edgar-cayce-pyramid-sphinx-bosnia-semir
My lady most adept was a Boddhisattva seeker like myself. She knew Bhakti, Tantra and Agni Yoga and how to abandon herself as well as bring it all under scrutiny in retrospect. In Tree of Life terms you could say she combined Hod and Kether even in her dance. Getty Lee saw it when she was part of his opening act under Jerry Manfredi (Doors) with his group Abraxas. Abraxas is an ancient Egyptian system for combining both ends of every topic or issue (Dialectics if you will). And one of the places energy stores information is the soul according to research on the fruit fly recounted in this excerpt from a good book. But it is also in our genes which the Head of the Human Genome project (Dr. Collins) said when he said we have a history book in our genes. But not all information in that book is as simple and clear as the written word.
Recent research on our so-called junk DNA shows how electrical or magnetic fields variable and dynamic allow great attunement; and over time I believe, genetic information transfer. You could say the Earth Energy Grid and alchemical forms like the oroborous (the serpent with it's tail, seen by one researcher in this book and partial segment from this link) or caduceus seen all over the world in symbols is mirrored in our genes.
Which came first? Did our thought impact our body just as we see in positive thinking and healing? Was it part of evolution? Some people are saying it is proof of God. Heaven may be within as Pope John Paul II said in 1999 and many mystics have said throughout written history and before. This book has Heaven in the title and draws all constructs from every religion into it – fairly and ecumenically. Will science teach us how to live in Brotherhood? No? This knowledge is ancient and manipulated throughout the ages, I say.
You might disagree and say yoga, astrology and other uses of it have never been this exact – and it may be true we have some proof here that is new but the old disciplines used it better than we are – if you consider what Futurescape demonstrates we are about to do in manipulation of the World Mind by making people into tools to soulfully achieve a 'Matrix' – the movie.
–
Copyright 2015 by Robert B. Baird
– – –
Books
DNA – The Secret of Life
What makes DNA different from hordes of competitors purporting to help readers understand genetics is that it is written by none other than James Watson, of Watson and Crick fame. He and his co-author Andrew Berry have produced a clear and easygoing history of genetics, from Mendel through genome sequencing. Watson offers readers a sense of immediacy, a behind-the scenes familiarity with some of the most exciting developments in modern science. He gleefully reports on the research juggernaut that led to current obsessions with genetic engineering and cloning. Aided by profuse illustrations and photos, Watson offers an enthusiastic account of how scientists figured out how DNA codes for the creation of proteins–the so-called "central dogma" of genetics. But as patents and corporations enter the picture, Watson reveals his concern about the incursions of business into the hallowed halls of science.
After 1975, DNA was no longer solely the concern of academics trying to understand the molecular underpinnings of life. The molecule moved beyond the cloisters of white-coated scientists into a very different world populated largely by men in silk ties and sharp suits.
In later chapters, Watson aims barbs at those who are concerned by genetic tinkering, calling them "alarmists" who don't understand how the experiments work. It is in these arguments that Watson may lose favor with those whose notions of science were born after Silent Spring. Nevertheless, DNA encompasses both sides of the political issues involved in genetics, and Watson is an enthusiastic proponent of debate on the subject. The book accompanies a 5-part PBS series. –Therese Littleton
From the Back Cover
"A remarkable alignment of the planets is occurring in 2003: the 50th anniversary of the double helix and the completion of the sequence of the human genome. As a defining figure in both landmark events, no other human being on the planet is positioned to write as authoritatively about all this as Jim Watson. In DNA: The Secret of Life he does so with characteristic clarity, style, and wit. If you really want to know what happened in the most important half-century of biology since the world began, read this!"
–Francis Collins, director of the National Human Genome Research Institute"Unlocking the secret of life was the greatest accomplishment of science in the 20th century and laid the foundation for medicine in the 21st century. Over the past 50 years, Jim Watson has been at the center of this revolution. No one has a broader perspective. And, no one can tell its story more compellingly. Watson brings alive the grand ideas, human foibles, and social challenges in a way will both engage the general public and inspire a new generation of young scientists."
–Eric Lander, founder and director of the Whitehead Center for Genome Research"This is the story of DNA and therefore the story of life, history, sex (lots of sex!), money, drugs, and still-to-be-revealed secrets. DNA is quite a molecule–she's been around a long time and played a lot of roles. At last, she has a truly worthy biographer."
–Mary-Claire King, American Cancer Society Professor, University of Washington School of Medicine"Only James Watson combines the verve and authority to take us on such an exciting, fast-paced journey into the continuing storm of DNA science. This landmark summary asks where the new biology will take us, and gives arresting vignettes of major participants in the DNA revolution. The key experiments and fascinating unknowns are laid out as plain as day."
–Victor McElheny, author of Watson and DNA: Making a Scientific Revolution"James Watson has been an eyewitness to each revolution in molecular biology, from the double helix to the genome. He sees further and clearer than anybody else in the field. Give this fabulously good book to anybody who wants to understand what all the excitement is about."
–Matt Ridley, author of Genome
Erich von Däniken, star of "Ancient Aliens," claims in newspaper interview that the media won't report ancient astronaut and UFO evidence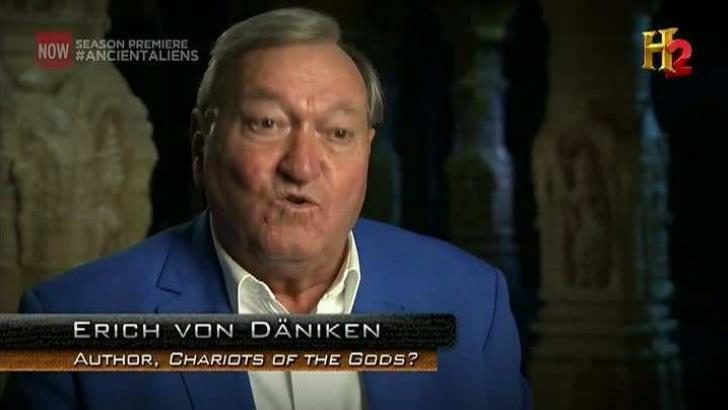 I would be remiss if I did not note that the Discovery Networks, which recently purchased the Travel Channel, moved Expedition Unknown from Travel to the Discovery mothership. That's about as far as my interest goes, however. I suppose it's nice that Josh Gates has a bigger platform, but I hope that the parent network will keep a tighter leash on quality control and avoid the forays into ancient astronautics and guest spots from problematic figures like Brien Foerster that marred the show's original Travel Channel run. ​
Anyway… I have been invited to write the cover feature for an upcoming issue of All About History magazine, but the deadline is rather short, and this will necessitate me taking some time off to work on the piece. I'm working out the details with All About History right now, but I imagine that over the next couple of weeks, I'll need to cut down my blogging or take a week off while I write the article. I'll post details as I figure them out. In the meantime, Erich von Däniken has some new things to say.
The Austrian newspaper Kronen Zeitung published a German-language interview with von Däniken earlier this month, and in it they asked him what the aliens really look like. "It is assumed that evolution has been different on planets other than ours," he said, in my translation. "I always scoff and say, maybe they're flying crocodiles or talking trees." He then told the interviewer that the panspermia hypothesis suggests that aliens look like humans because Earth was seeded from the stars. He then cited the ancient epics of India as "proof" that space aliens visited the ancient Earth. He cited an unnamed passage from one epic about "three cities" floating through the sky and called the ancient texts "scientific information." He asserted that the space aliens have already returned to Earth and are among us. He alleged that central European "journalists and scientists" have created a culture where belief in UFOs is heavily criticized and therefore Austrians, Germans, and Swiss are less likely to report UFO sightings than their American counterparts. What he really said is that in places where science and facts are still respected, people are less likely to indulge in open fantasy.
It's a bit interesting to see how Däniken folds his political beliefs into his ancient astronaut theorizing. He is a longtime conservative, and as such, he tends to mirror the worst excesses of the rightwing fringe. Here, he was asked why space aliens don't help us avoid the consequences of climate change, to stop humans from destroying the planet. Von Däniken denies that the planet is in trouble, or that aliens need to help. "We will not destroy the planet. We'll get it back. They do not help us any more than we help ants." I can't help but see in this an echo of Lovecraft's summation (revised from E. Hoffman Price's original) of the cosmic indifference of the space aliens: "He wondered at the vast conceit of those who had babbled of the malignant Ancient Ones, as if They could pause from their everlasting dreams to wreak a wrath upon mankind. As well, he thought, might a mammoth pause to visit frantic vengeance on an angleworm." Von Däniken once denied ever having heard of Lovecraft, much less read him, but through cultural osmosis-and via the Lovecraft-influenced works he happily copied like Morning of the Magicians and the collected output of Peter Kolosimo-he absorbed enough.
But what was particularly disturbing is that von Däniken turned to Nazi-era propaganda to blame the media for suppressing the "truth" about aliens and ancient astronauts, invoking the infamous Nazi slander of the Lügenpresse-the "lying press"-in an attempt to discredit the media: "What I blame is the media: We don't have a 'lying press'; what we have is a 'concealment-by-silence' press." Remember, Erich von Däniken is an executive producer of Ancient Aliens, broadcast around the world to an audience of tens of millions, and he made this claim in a newspaper. Even the newspaper reporter, Michael Pommer, recognized that this claim is ridiculous and challenged von Däniken in an extraordinary exchange:
POMMER: What is being concealed? I promise you that no government has asked us to conceal, let's say, a UFO crash in Vienna.

EVD: Of course not. You want to be reasonable. And to be reasonable means that you do not deal with UFOs at all because you do not want to seem ridiculous. This is what I meant.

POMMER: The fact is, you have sold more than 73 million books worldwide. Now, again, there's the conspiracy theory that you're just making it all up, for the sake of precious money.

EVD: The people who say that are [expletive]. I love skeptics. I like debating with them. They lose in any case. But such people do not know my books, nor have they ever spoken with me.
Well, Erich, there's a good reason for that. Since the 1970s, you've refused to debate or discuss with actual experts in any public setting. When I tried to get you to talk to me for my Cult of Alien Gods, your page-boy, Giorgio Tsoukalos, refused to pass along my interview request. When I shot Codes and Conspiracies with you a couple of years ago, you refused to be in the same place as the other talking heads, or to engage with the skeptics directly. In fact, you insisted that you would only answer questions in the back of a limousine while driving around so you didn't have to take time out of your day, and you still got upset that the producers asked you mildly challenging questions that were much milder than any I might have for you. So, you might want to try looking in the mirror before complaining that skeptics won't engage you.
Project Redsun: Astronauts Went To The Red Planet Without Telling Us
As many believe, NASA secretly financed and backed an Apollo-type of a project which was named Project Redsun and it intended to send astronauts to colonize the Red Planet. So, how much do we actually know about Mars?
Numerous sources reveal that Mars was a really big deal for the US-based space agency ever since the 1950s.
The Apollo sequence of events was finishing up and the whole world was left bewildered because of this enormous progress. However, no one was aware that NASA was 'cooking up' something bigger.
Presumably, in the 1970s, NASA pointed its focus towards a possible manned mission to the Red Planet. Even though this sounds way too far-fetched, in the end, it may end up to be true due to numerous reasons.
First of all, 50 years ago, Mariner 4 was the first attempted mission to get near the Mars' surface.
The photos the probe provided were a great excitement for NASA since they exhibited some beforehand unknown traits of the bizarre 'red dot' visible of Earth's perspective.
Apparently, what they discovered made them convey the so-called project Redsun. Their purpose seemingly was to settle the Red Planet, but, what were their reasons? Did they think there is some sort of extraterrestrial life there?
In 1971, one year prior the last Apollo mission, Mariner 9 was orbiting Mars. It was able to snap its total surface, therefore, giving certain pictures that showed old riverbeds, a 3,000 mile-long grand canyon, huge volcanoes, and additional artificial-like formations.
However, the most interesting fact is that NASA had a free choice to perform under the continuing lunar mission madness.
Another rather interesting thing was that NASA unduly ready to carry a second Red Planet mission. Richard Zurk, NASA's Jet Propulsion Laboratory's leading scientist explained:
"It was a good thing we had other spacecraft ready, as it might have stopped Mars exploration for a while. The pace of exploration would have slowed – we certainly wouldn't have had anything as ambitious as the mission in the 1970s."
"It was a planet that seemed similar enough to the Earth that you could imagine it having supported life in the past. We still don't know for sure if life did develop there."
These discoveries were most likely the reason why several modules were sent to Mars in the following years.
The first photos from the actual surface were brought back by the Viking 1 and were unveiled on July 20, 1976. Only a day later, a color picture from the Viking 2 also became available.
Regarding all these facts we mentioned, we can't help but ask the inevitable: what happened between 1970 and 1976? Why didn't NASA openly speak they landed a craft on the surface until then?
On August 28, 1973, NASA and the US Department of Defense endowed a top-secret mission. Its name was Project Redsun while its aim was to reach Mars.
As some leaked documents revealed, the project involved the American astronauts Buzz Aldrin, Neil Armstrong and a USSR associate named Vladimir Ilyushin.
The following video allegedly dripped from a compilation of 16mm footage utilized in the preparation of the astronauts.
It shows how astronauts on board a module, believed to be ISV Columbus are gradually departing Earth. Some traits of the Red Planet are evident during the flight, for example, the famous South Pole of Mars.
Mission command was placed at Cocoa Beach, Florida and it regulated Project Redsun's first three launches. The following missions shifted to Area 51.
After this video went viral, people began to suspect its genuineness. Of course, NASA dismissed any sort of involvement with a manned mission to the Red Planet.
Back in the 70s, the footage didn't draw that much attention. However, beginning in April 2011, more evidence floated in the surface.
The Italian journalist and UFO researcher Luca Scantamburlo testified giving details about Redsun in a press conference.
"I introduce to you a press-release testimony I have written to discuss the presumed existence of a hush-hush military space program called 'Project Redsun', carried out in the 70s of the last century to build a stationary base on Mars, the Red Planet. My source of information – named by me 'bravoxsierra24' – had contacted me by email. It is possible to reproduce the pages of the press release, and the picture here presented as well."
The subsequent documents seem absurd but one thing is sure, they do back up the very much believed theory that we did carry out a manned mission to Mars.
If it's true, what did NASA find there? Was there an alien base or maybe even intelligent otherworldly creatures? The possibilities are limitless.
'IT'S NOT AREA 51': Real US 'secret base for hiding UFOs' is REVEALED
CRASHED flying saucers and dead aliens are NOT being stored at the top-secret US Airforce base Area 51, a top UFO expert has claimed.
But, Jan Harzan, executive director of the Mutual UFO Network (MUFON), says UFOs HAVE been recovered and ARE being stored nearby.
Mr Harzan claims there is a secret underground facility built into the base of the Papoose Mountains, in Lincoln County, Nevada, where recovered alien space crafts and extra terrestrial beings are kept hidden away.
Ever since the legendary Roswell UFO crash of July 1947 alien conspiracy theorists have claimed the remains of a flying saucer, and even dead aliens, were secretly taken into storage – something the US Government denies.
Roswell has been at the heart of the UFO scene since July 1947 when the military sensationally announced in a press release it had found the remains of a crashed flying saucer in the desert nearby.
But the following day it retracted the statement, saying it was in fact a damaged US Air Force air balloon.
Witnesses later came forward to say there had been alien bodies within the "crashed craft", which along with the wreckage were then taken away. There has been speculation the remains were taken to Area 51 in the Nevada desert, or the Wright Patterson Airforce base near Dayton, Ohio.
Last summer Express.co.uk revealed the claims of Andre Milne, founder of defence technology firm Unicorn Aerospace, that Area 51 did not house aliens, but was used for so-called "black projects" to develop new secret flying technology.
US-based MUFON is the world's biggest organisation dedicated to UFO and alien research and keeps a global database holding tens of thousands of reported sightings and tip offs. 
Mr Harzan appears to agree with Mr Milne about Area 51, but said alien technology was stored elsewhere.
He said: "Area 51 is a top-secret airbase for the CIA and military to test super-secret aircraft years ahead of what the general public is aware of. 
"As best we know, there are no UFOs or aliens at Area 51. 
"There is, however, an area just to the south and on the same Tonopah Test Range called S4. 
"Based on insider information, this is where work on extraterrestrial recovered craft takes place. 
"Those of extraterrestrial origin are very smooth and integrated with no seams or rivets showing, and no protrusions. 
"At least that's our hypothesis based on what we are seeing."
He is also convinced that by now the US authorities would have been able to recreate a recovered UFO.
He said: "Based on the research I have done, and the people I have talked to, including first-hand witnesses, absolutely yes.
"It would be one of the highest priorities of the military and intelligence community to get their hands on a flying saucer of extraterrestrial origin. 
"There are others who have come forward to share their stories, although as one might imagine our intelligence community does its best to attempt to discredit them."
Source www.express.co.uk