Man trapped in 'time loop' for eight years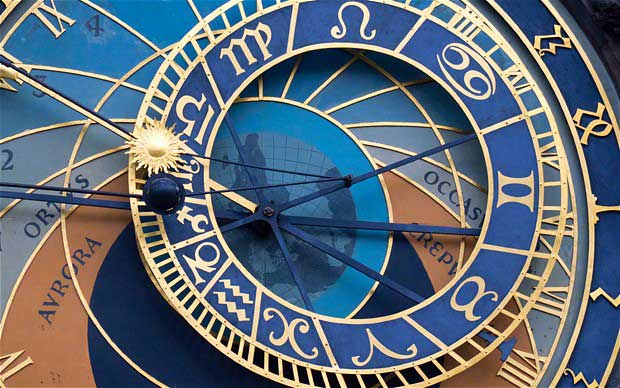 A 23-year-old British man has become the victim one of the strangest cases of déjà vu ever recorded in medical history
A student was forced to drop out of university after a bizarre case of chronic déjà vu left him unable to lead a normal life.
The 23-year-old even stopped watching TV, listening to the radio, or reading newspapers or magazines because he believed he had seen it all before.
He told doctors that he was "trapped in a time loop" and said he felt as if he was reliving the past moment by moment.
Details of the case have been revealed in a report published by the Journal of Medical Case Reports.
Doctors are baffled because the man does not suffer from any of the neurological conditions usually seen in people who normally suffer frequently from déjà vu – which is French for "already seen".
It is thought that panic attacks may have triggered the phenomenon. The condition may also have been exacerbated by LSD.
Report author Dr Christine Wells, a psychology expert from Sheffield Hallam University, said it could be the first case of a person experiencing persistent déjà vu stemming from anxiety.
Although most people experience occasional feelings of déjà vu, more frequent and intense forms are usually only seen in people who have seizures in the temporal lobe, a condition called temporal lobe epilepsy.
However brain scans showed no sign of seizures or neurological conditons. The man also underwent a series of psychological tests to check his memory which failed to show any major issues either.
The student, who has not been named, first complained of symptoms of déjà vu early 2007, shortly after starting university.
He had a history of feeling anxious, particularly a fear of germs, which led him to wash his hands very frequently and to shower two to three times per day.
But his anxiety worsened when he began university. Anxiety and low mood led him to take a break from his studies, and he then began experiencing déjà vu.
The early episodes sometimes lasted only for minutes, but other attacks could be extremely prolonged, the case study reveals.
For example, while on holiday in a destination that he had previously visited he reported feeling as though he had become 'trapped in a time loop'.
He reported finding these experiences very frightening. He returned to university in 2007 and he described the déjà vu episodes as becoming more intense.
In 2008, he was referred to specialists for neurological examination. Tests for epilepsy were normal and he was treated with a range of medications.
He was assessed again in 2010, by which time his persistent déjà vu caused him to avoid watching television and listening to the radio, as well as reading papers and magazines, as he felt he had already "encountered the content before".
"Rather than simply the unsettling feelings of familiarity which are normally associated with déjà vu, our subject complained that it felt like he was actually retrieving previous experiences from memory, not just finding them familiar," said Dr Wells.
"Most cases like this occur as a side effect associated with epileptic seizures or dementia.
"However, in this instance it appears as though the episodes of déjà vu could be linked to anxiety causing mistimed neuronal firing in the brain, which causes more déjà vu and in turn brings about more anxiety.
"If proved, this could be the first-ever recorded instance of psychogenic déjà vu, which is déjà vu triggered by anxiety rather than a neurological condition such as dementia or epilepsy.
"In relation to our case, distress caused by the déjà vu experience may itself lead to increased levels of déjà vu: similar feedback loops in positive symptoms are reported in other anxiety states e.g. panic attacks.
"It is plausible on neurobiological grounds that anxiety might lead to the generation of déjà vu."
Academics from the UK, France and Canada were called in for the study which was led and published by Dr Wells.
Nobody knows for certain exactly how or why déjà vu happens, but it is thought to be a phenomenon that arises from activity within the temporal lobe.
There is a theory that mistimed firing of neurons cause a temporary glitch in the processing of incoming information within the brain.
Dr Wells is looking to undertake more research to discover a possible link between clinical anxiety and episodes of déjà vu.
She added "The case on its own cannot prove that there's a link between anxiety and déjà vu, but our findings raise the question and it should be studied further."
Source: Telegraph
Archaeologists make a shocking discovery in an ancient funeral of children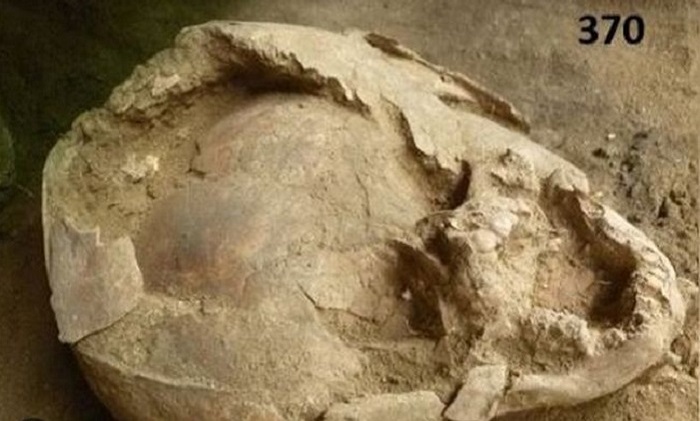 They were buried about 2,000 years ago. On their heads were tightly fitting "helmets" of human skulls, and more specifically of older children.
In 2014-2016, archaeologists conducted intensive excavations in the Salango region, Ecuador. Most recently, their results have been published in Latin American Antiquity.
In total, 9 scaffolds were excavated at this site, which, according to the ceramic remains, belong to people from Guangdong who lived in Ecuador between 100 BC. and 800 AD.
One of the two children was 18 months old when she died and the other was 6-9 months old. When archaeologists discover their remains, they immediately see that their skulls are strange and too thick. It turns out that the upper skulls of older children are tightly stacked on the skulls of young children.
It seems that when they were placed on the skulls of babies, they still had remains of flesh. Otherwise, the skulls would dry up and then fall out of their heads.
Archaeologists were shocked by such a ritual. They have never encountered anything like this in Ecuador and in Central and South America before. They have not read about such customs in other countries. Still, scientists do not know whether young children and skull owners died naturally or were killed.
Most likely, all children died of malnutrition. During their study, scientists found that there were clearly visible signs of hunger on the bones. During excavations, archaeologists also discovered a layer of volcanic ash that had fallen there shortly before the funeral. The ash can explain why starvation began in these places.
In addition, a finger phalanx, also childish, was sandwiched between one of the skulls and the helmet. This part of the likely rite also puzzles archaeologists.
According to archaeologists, one version of the creation of "helmet skulls" is that it was a kind of attempt to protect babies. Ancient people may have believed that the souls of babies were still too undeveloped and "wild", and therefore, in the afterlife, they would need a guide and protector at an older age. But, for now, these are just guesses.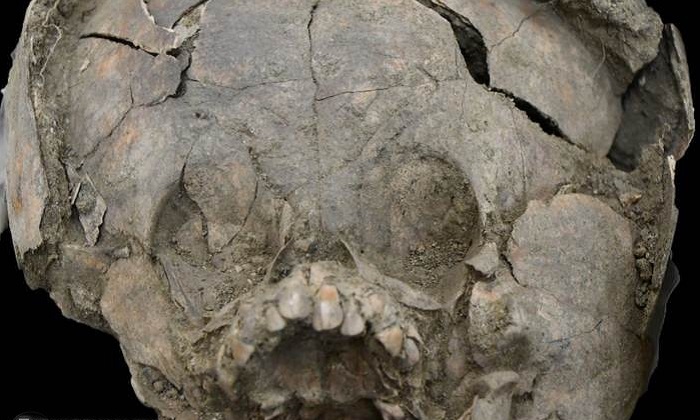 In the graves, near the bodies of the babies, are also found small figures of people made of stone, probably representing a kind of "guardian".
Astronauts develop bizarre clots and blood flows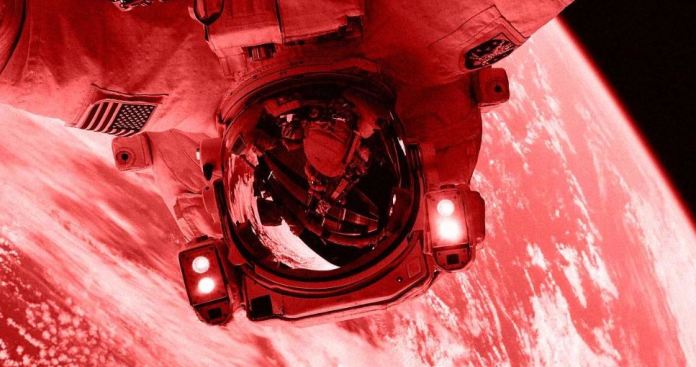 According to a shocking report by NASA scientists, blood flow can stop and even reverse in the upper bodies of astronauts.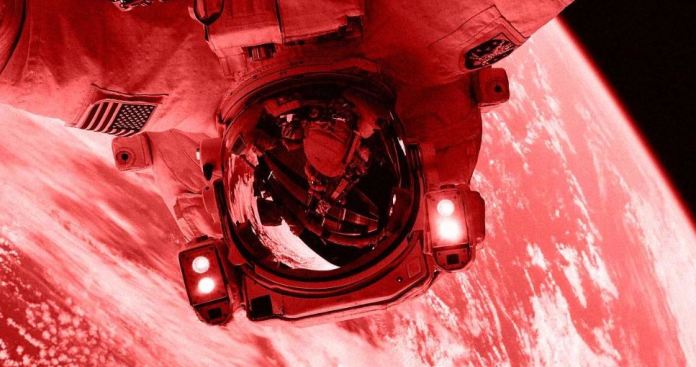 According to a shocking report by NASA scientists, blood flow can stop and even reverse in the upper bodies of astronauts.
The study could have some major implications about prolonged trips through deep space, as we're still trying to nail down the exact effects of spending long periods in microgravity.
The study looked at periodic ultrasound tests of 11 healthy astronauts who staffed the International Space Station.
The results were alarming: blood flow had either stagnated or reversed in the left internal jugular vein, a major blood vessel on the side of the neck, in seven crew members. The tests also found a clot and a partial clot in two of the crew members after their return to Earth.
A paper of the study was published in the journal JAMA Network Open on Wednesday.
"This was an unexpected finding," Michael Stenger, senior author and manager at NASA's Johnson Space Center, told NBC News. "We did not expect to see stasis and reverse flow. That is very abnormal. On Earth, you would immediately suspect a massive blockage or a tumor or something like that."
And that could have some very serious effects on astronauts' health.
"If you get a clot in the internal jugular vein, the clot could travel to the lungs and cause a pulmonary embolism — that's very dangerous," professor of medicine at the Johns Hopkins University Andrew Feinberg told NBC.
People love girl's 'iconic' Christmas list including laundry detergent and $4,000
One dad may be regretting asking his daughter what she wants for Christmas this year after she returned with a 26 line wish list which may require a lottery win to fulfill.
People were loving both her bravery and the phonetic spelling of the items she's hoping to find under the tree after her dad posted the list to Twitter with the caption: 'My 10 year old daughter must be out of her mind with this Christmas list'.
Santa will need to work closely with Apple as she begins the list with an iPhone 11, AirPods and a new MacBook Air.
There were also the usual popular requests, such as clothes, make up, a real bunny – and clothes for the bunny.
But it was choices like 'Chanel purs', 'purfum', 'julery' and particularly 'asenchal oil' which really grabbed people's attention.
One replied "Asenchal oil lmaooooo I love her" as another wrote "That baby sounded it OUT".
Others were simply wondering what a 10-year-old was planning to do with $4,000, with one calling it a 'rockstar move'.
"Right like oh yea lemme ask for 4K too," said one reply. "Right by the bunny clothes."
"I think she's planning to move out," said another.
The tweet has racked up more than 85,000 likes, 16,000 retweets and 3,600 replies. Here's a few of the best:
We've got a feeling someone might be a little disappointed when they wake up on Christmas morning as others pointed out that it's pretty likely she'll only be unwrapping clothes and make up on December 25 – but were glad to see 'mama has her priorities in check'.
The good news for parents is that although Christmas may be a time of goodwill to all men etc, it's also a time of bargaining with your children to get them to behave.
Advice for parents
They know the only way to get these presents is to make it on to Santa's good list and now there's a new app where Father Christmas will personally call your child to give them a stern warning about misbehaving.
'Message from Santa' will give kids a personalised call, text message or voicemail – and you can add as many little ones as you wish.
It can, of course, also be used to endorse good behaviour, with St Nick dropping your kids a line to tell them to keep up their angelic behaviour.