Man trapped in 'time loop' for eight years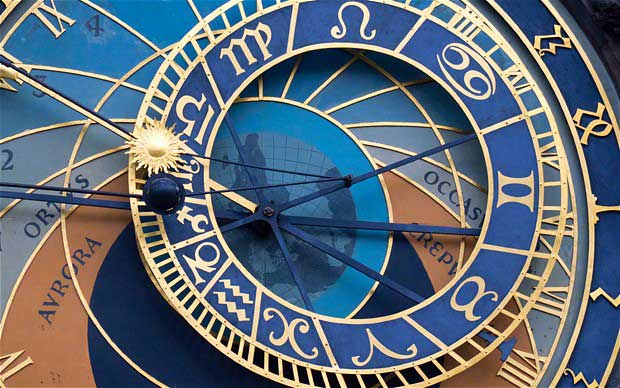 A 23-year-old British man has become the victim one of the strangest cases of déjà vu ever recorded in medical history
A student was forced to drop out of university after a bizarre case of chronic déjà vu left him unable to lead a normal life.
The 23-year-old even stopped watching TV, listening to the radio, or reading newspapers or magazines because he believed he had seen it all before.
He told doctors that he was "trapped in a time loop" and said he felt as if he was reliving the past moment by moment.
Details of the case have been revealed in a report published by the Journal of Medical Case Reports.
Doctors are baffled because the man does not suffer from any of the neurological conditions usually seen in people who normally suffer frequently from déjà vu – which is French for "already seen".
It is thought that panic attacks may have triggered the phenomenon. The condition may also have been exacerbated by LSD.
Report author Dr Christine Wells, a psychology expert from Sheffield Hallam University, said it could be the first case of a person experiencing persistent déjà vu stemming from anxiety.
Although most people experience occasional feelings of déjà vu, more frequent and intense forms are usually only seen in people who have seizures in the temporal lobe, a condition called temporal lobe epilepsy.
However brain scans showed no sign of seizures or neurological conditons. The man also underwent a series of psychological tests to check his memory which failed to show any major issues either.
The student, who has not been named, first complained of symptoms of déjà vu early 2007, shortly after starting university.
He had a history of feeling anxious, particularly a fear of germs, which led him to wash his hands very frequently and to shower two to three times per day.
But his anxiety worsened when he began university. Anxiety and low mood led him to take a break from his studies, and he then began experiencing déjà vu.
The early episodes sometimes lasted only for minutes, but other attacks could be extremely prolonged, the case study reveals.
For example, while on holiday in a destination that he had previously visited he reported feeling as though he had become 'trapped in a time loop'.
He reported finding these experiences very frightening. He returned to university in 2007 and he described the déjà vu episodes as becoming more intense.
In 2008, he was referred to specialists for neurological examination. Tests for epilepsy were normal and he was treated with a range of medications.
He was assessed again in 2010, by which time his persistent déjà vu caused him to avoid watching television and listening to the radio, as well as reading papers and magazines, as he felt he had already "encountered the content before".
"Rather than simply the unsettling feelings of familiarity which are normally associated with déjà vu, our subject complained that it felt like he was actually retrieving previous experiences from memory, not just finding them familiar," said Dr Wells.
"Most cases like this occur as a side effect associated with epileptic seizures or dementia.
"However, in this instance it appears as though the episodes of déjà vu could be linked to anxiety causing mistimed neuronal firing in the brain, which causes more déjà vu and in turn brings about more anxiety.
"If proved, this could be the first-ever recorded instance of psychogenic déjà vu, which is déjà vu triggered by anxiety rather than a neurological condition such as dementia or epilepsy.
"In relation to our case, distress caused by the déjà vu experience may itself lead to increased levels of déjà vu: similar feedback loops in positive symptoms are reported in other anxiety states e.g. panic attacks.
"It is plausible on neurobiological grounds that anxiety might lead to the generation of déjà vu."
Academics from the UK, France and Canada were called in for the study which was led and published by Dr Wells.
Nobody knows for certain exactly how or why déjà vu happens, but it is thought to be a phenomenon that arises from activity within the temporal lobe.
There is a theory that mistimed firing of neurons cause a temporary glitch in the processing of incoming information within the brain.
Dr Wells is looking to undertake more research to discover a possible link between clinical anxiety and episodes of déjà vu.
She added "The case on its own cannot prove that there's a link between anxiety and déjà vu, but our findings raise the question and it should be studied further."
Source: Telegraph
The mystery of the "Mandalorian" with a Jetpack flying behind a plane is revealed
Documents have been released revealing the secret of a man with a rocket pack who flew behind passenger planes, according to The Drive.
The owner of The Black Vault, John Greenewald, took advantage of the US Freedom of Information Act to secure the publication of material relating to the rocket pack incident. From the records of the air traffic controllers' conversations, which he received, it follows that the man maneuvering at an altitude of about 900 meters was noticed by several pilots. At the same time, the radars did not record a single object that would correspond to their description.
It also turned out that in early September 2020, government officials contacted David Mayman, the chief tester of the California-based company Jetpack Aviation, which develops rocket packs. Meiman said that the company had not flown for several months, and questioned the existence of rocket packs that would allow them to climb and hold at an altitude of 900 meters.
Another letter provided to Greenwald mentions that the FBI interrogated an American Airlines pilot who spoke of a man with a jetpack. During the conversation, he confirmed that the figure he noticed resembled a drone in the form of a man from a video filmed at the German Aircraft Modeling Festival in 2019.
This is a radio-controlled drone that was built by model aircraft designer Ralph Kayser. It resembles a life-size human figure, but weighs less than five kilograms. The Rotor Drone Pro website wrote that the device is made from a paintball suit stuffed with packing film and can stay in the air for up to eight minutes.
The incident leading to the investigation took place on August 30, 2020. According to press reports, an unidentified person with a jetpack flew approximately 270 meters from an American Airlines plane landing at the Los Angeles airport. In October, the man with the rocket pack was reported by several other pilots in southern California.
An abnormal phenomenon on Earth captured from space: NASA and ESA have never seen such lightning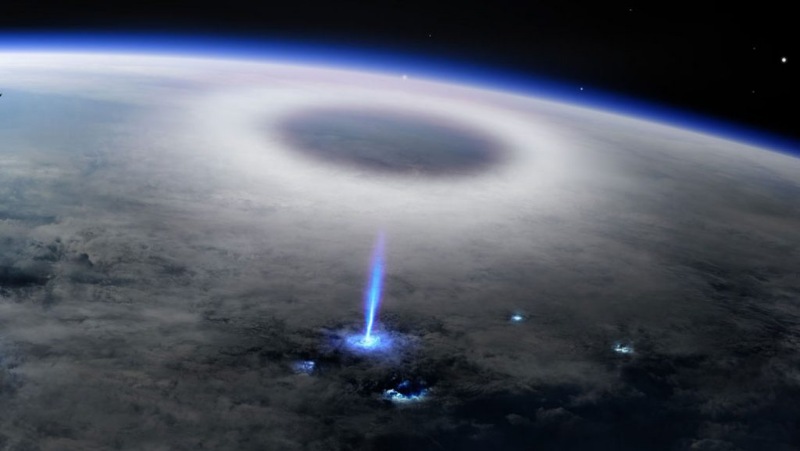 The Atmosphere-Space Interactions Monitor (ASIM) observatory has recorded five blue jets , an anomalous type of lightning that strikes from the top of a thundercloud into the stratosphere. This is reported in an article published in the journal Nature.
On January 20, a video filmed from the International Space Station was posted on the channel of the European Space Agency, which puzzled all academics who study the atmosphere and build theories about how everything works there:
The 10 microsecond jets were sighted on February 26, 2019, near Nauru Island in the Pacific Ocean. One of the lightning flashes produced a jet that reached the stratopause – the boundary between the stratosphere and the ionosphere at an altitude of about 50 to 55 kilometers. In addition to the jets, "elves" were recorded, which are expanding rings of optical and ultraviolet radiation in the stratosphere, lasting no more than a millisecond.
Electrical phenomena in the upper atmosphere are poorly understood and attract a lot of attention from physicists from around the world. They are short-lived and vary greatly with altitude. 
Blue jets occur during electrical breakdown between the positively charged top of a thundercloud and the negatively charged air layer above it. As a result, a leader is formed – a conducting channel of ionized air, through which the discharge propagates. However, in this case, the radiation from the leader was weak, which indicates that the leader itself was short compared to the conductive channels of conventional lightning.
The blue jets belong to streamers – branched filaments of electrical discharges, similar to those generated by Tesla coils. In addition, blue jets are more likely to occur as a phenomenon than previously thought.
Some of the most mysterious are the "elves". Their name comes from the abbreviation ELVES , which stands for "Emission of Light and Very Low Frequency perturbations due to Electromagnetic Pulse Sources.". These phenomena reach four hundred kilometers in diameter and occur at an altitude of about one hundred kilometers. The list of optical phenomena associated with electrical discharges in the upper atmosphere does not end there. There are also TROLL , Pixie , Ghost, and Gnome , but their nature is even less understood. 
There is nothing like this, that is, such strange huge lightning has never been observed before. Something is happening in the Earth's atmosphere, and it started quite recently. How it will end and what will result in – we do not know, since people living today have no such experience.
Ancient asteroid sent dinosaur bones into moon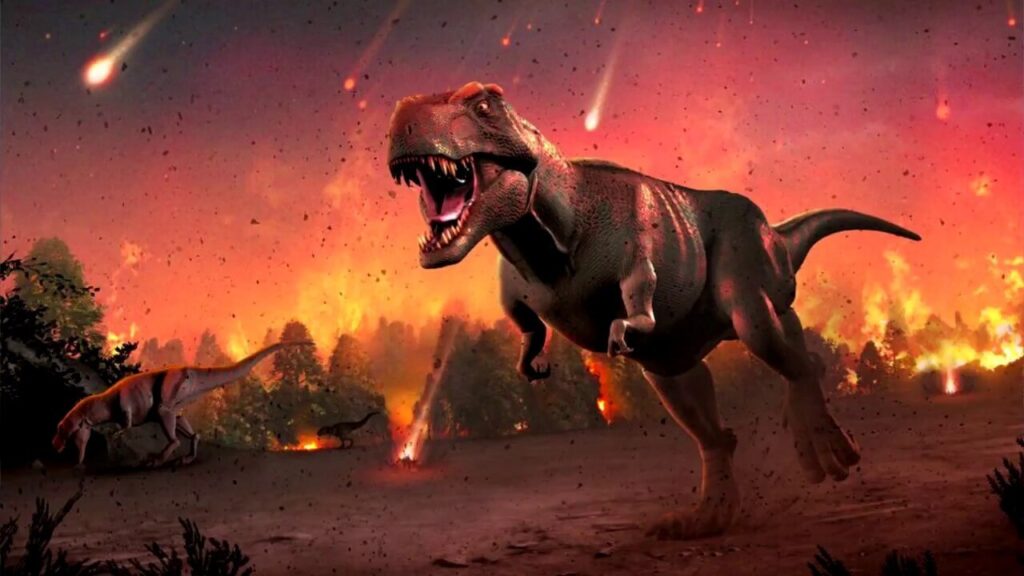 The impact of the asteroid that destroyed the dinosaurs 66 million years ago was so powerful that it sent into space huge volumes of earth's soil and rocks from the crash site. But together with them, he could send into orbit the remains of living beings, including dinosaurs.
Such a possibility is discussed in the book "The End of the World" by the scientific journalist and winner of several awards Peter Brannen, according to the Daily Mail.
It is known that an asteroid or meteorite about 10 km in size collided with the Earth 66 million years ago, forming the Chikshulub crater on the Yucatan Peninsula in Mexico. About 15 trillion tons of ash and soot were thrown into the air. Because of this, during the day it was dark on Earth, like a moonlit night.
As a result of the lack of light in plants, photosynthesis slowed down, which could lead to a decrease in the concentration of oxygen in the atmosphere. Temperatures on continents dropped by 28 ° C, in oceans by 11 ° C. The disappearance of phytoplankton has led to the extinction of zooplankton and other marine animals. Other species died after them. 
This is one of the largest mass extinctions in the history of the Earth, which is called the Cretaceous-Paleogene. Brannen, trying to make the numbers more descriptive, points out that the asteroid (or meteorite) was larger than Everest and crashed into the atmosphere 20 times faster than a flying bullet. At the same time, the pressure of the atmosphere was so strong that a crater in the Yucatan began to form even before the asteroid fell.
The "response" release of soil into the atmosphere occurred only within a second or two after the impact and was incredibly powerful.
"So there are probably little pieces of dinosaur bones on the moon," Brannen suggests.