Man Transforms Himself into an 'Elf'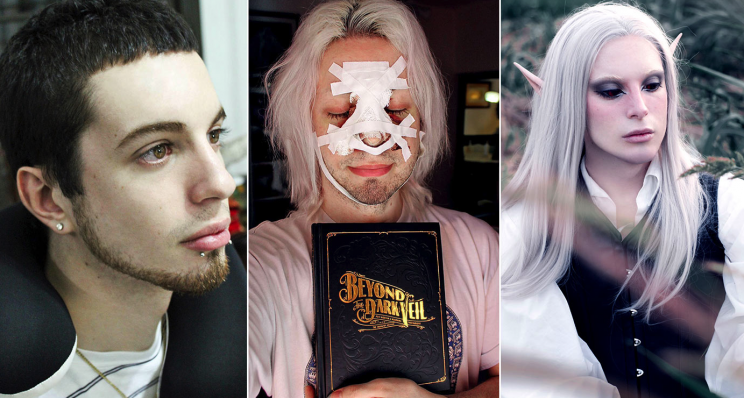 Luis Padrón is Argentine, he is 25 years old and has been doing different surgeries and surgeries for five years to look like an elf . Although he considers that "he still needs a lot" to get what he wants to be, he says he is happy and trusts that "dreams can be fulfilled".
"I was always different, and since I was a kid I liked to change my hair color or wear colored glasses," he told an exclusive interview with RT. In that sense, he recalled that "it was around 14 years old" that he decided he "wanted something more drastic" and realized that through plastic surgery "he could achieve it".
The elves "are not only beautiful beings on the outside, but also on the inside," he explained, arguing why he chose to look like them. These are "pure white beings of light and love, who fight for the peace and well-being of humanity."
While at first "the idea of ​​plastic surgery seemed very crazy", appeared a girl who "became popular because of the surgeries that had been made to look like Barbie," said Padrón. Then he realized that "he was not alone". So it was that for his 20th birthday the first surgical intervention was performed.
A total transformation
Asked about how many surgeries have been performed, Luis Padrón said that "it is difficult to count them", as some of them took several sessions. For example, eye color change surgery counts "as one", but considering the individual sessions "there were five". Something similar happens with "lasers to lighten the skin", something that should be done regularly "because they last more or less the same as a tan."
However, he calculates that he must have spent "approximately $ 30,000" to modify or retouch "the nose, the eyes, get a liposuction of jowls, a whitening of skin, freckles, teeth, and remove moles and wrinkles".
In terms of what he intends to do forward, he pointed out "jaw surgery, to give it a diamond shape". Also 'facial lifts and "another rhinoplasty with Dr. Farshid Mahboubirad in Iran." He also intends to undergo a new eye color change, "this time with an intraocular implant in India, to be the first person with violet eyes in the world". With Dr. John Kahen, in Beverly Hills, will be "injections for hair to grow very fast." Finally, there will be a reduction of the Adam's apple and he said he hopes "to be able to agree soon" with the esthetician Samppa Von Cyborg to modify his ears and put them in the shape of "tip".
Your love for Russia
The young Argentine said that Russia is one of his "favorite countries." It is that "after all, the fever of human dolls began there", with Valeria Lukyanova, "the human Barbie". But he also listed Anastasiya Shpagina, the anime girl, Anzhelika Kenova, Dominika Oleynik, Tatyana Tuzova, Olga Archangelskaya. "The list is endless," he said.
Padrón commented that in the biggest country in the world there are "many boys and girls that I admire, known and not so well known, and also many singers that fascinate me and that inspired me to learn Russian". From his perspective on Russia, "there is a certain magic in their language, culture, and people."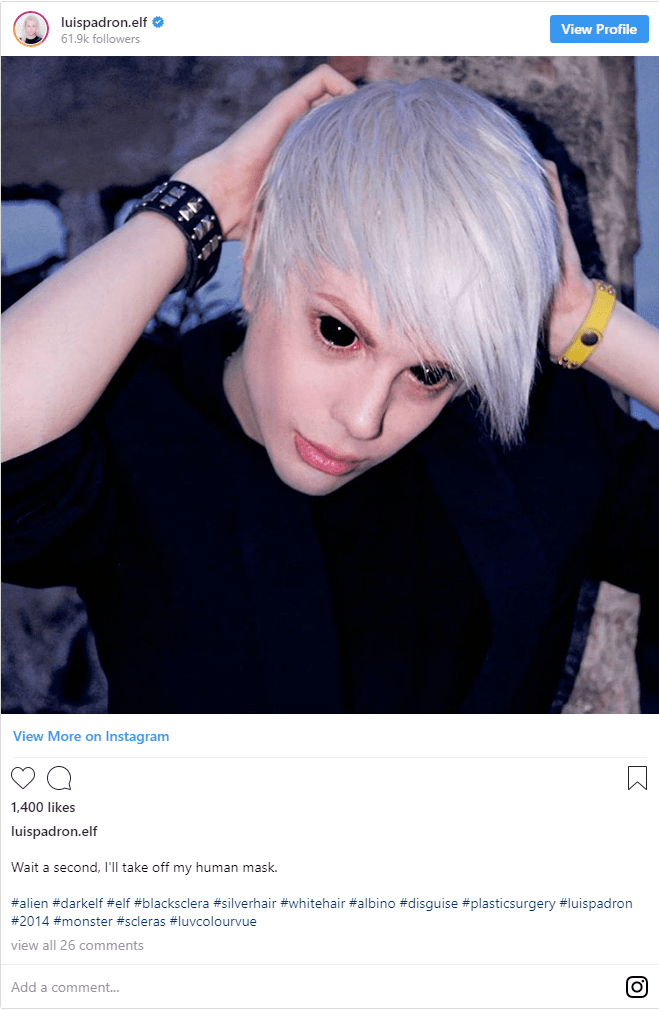 "I hope to get to know Moscow some day, Russia is a beautiful place," he said.
Work and the future
Although one might think that his particular image could cause some problems in the workplace, Luis Padrón has no problems in that regard. "I've been offered several jobs lately, but I'm happy with the one I have," he said. "It helps me to live comfortably and pay for my operations while I finish my university studies," he added.
The young man has a shop selling "cosplay" and LARP products. These are costumes and accessories to represent different characters and real or fictitious beings. "Basically, I sell the same things I like to use: contact lenses, makeup, wigs, extensions and dyes, among others." In addition, he said that they usually pay him "to attend 'cosplay' events as a special guest or jury."
Finally, he pointed out that at this moment he feels "halfway" to what he aspires to be "both aesthetically and spiritually". For Padrón, "the future is uncertain", but he struggles "every day" to make it "a happy future and to be able to leave something positive to people too".
"My ultimate goal is to become a being of illusions and magic," he said. "Dreams can be fulfilled if you try hard enough, I'm sure of that, that's why I work hard and study every day," Padrón concluded.
Woman reels in weird fish with two mouths
Image Credit: Facebook / Debbie Geddes
Why does this fish have two mouths?
Debbie Geddes had been fishing in Lake Champlain with her husband when she caught this peculiar specimen.
The bizarre fish, which is believed to be a trout, has what looks like two separate mouths.
"When it bit, it felt like I had a nice fish on," said Geddes. "I actually commented, 'I hope it's as big as it feels'. When we got it in the boat I couldn't believe what I was seeing! Two mouths! And yet this fish was healthy and thriving! Pretty amazing! We quickly took a few pictures and released the fish."
Photographs of the unusual catch later went viral, leading to a great deal of speculation over the nature of the fish on social media.
Some have speculated that the fish could be a mutant that was born with two mouths, while others subscribe to the theory that the second 'mouth' developed due to an injury the fish sustained.
"I just can't believe all the attention this has received," said Geddes.
"The public's responses and theories are quite interesting. I personally believe it was caused by a previous injury, most likely from another angler."
Source: Independent
Too much karaoke gives man a collapsed lung
Image Credit: PD – Kane Reinholdtsen
Too much karaoke can be bad for your health. 
A man in China recently ended up in hospital after an evening of belting out songs caused his lung to collapse.
For most of us, the ordeal of singing pop songs in front of an audience is punishment enough, but for one man in China recently, singing karaoke almost had fatal consequences.
The 65-year-old, who has been identified only as Wang, sang at such intensity and for so long that he started to experience difficulty breathing as well as pains in his chest.
When he visited a hospital the next day, doctors discovered that his lung had literally collapsed "because of the high lung pressure caused by singing high notes."
The condition, which is known as pneumothorax, happens when air is rerouted into the area between the lung and the chest wall, putting pressure on the lung and causing it to collapse.
It is believed however that Wang must have had a pre-existing condition beforehand.
"Typically, a collapsed lung requires some degree of architectural abnormalities within the lung," said Dr. Enid Neptune at Johns Hopkins School of Medicine in Baltimore, Maryland. "An absolutely, totally normal lung usually doesn't suffer spontaneous pneumothorax in the absence of trauma."
Source: Live Science
Creepy Dolls Mysteriously Appearing in Missouri are Unexplained and Spreading
"All the dolls look similar. They are very realistic. People living in the community said it is not only the dolls that are creepy but where they are placed that is strange."
The crime reports out of Festus – a small town on the eastern border of central Missouri – usually look like those of any other small municipality … DUIs, break-ins, noise complaints, etc. Residents may be referring to those as "the good old days" now that the city is in the throws of a mysterious epidemic of creepy dolls appearing in odd places that is keeping people and their kids indoors and the police on alert.
"When we found this one, it was laying in front of our building. We picked it up and it was the doll, they've been hanging on top of stop signs, laying in front of the license office."
The worried residents of Festus told local media they're finding the dolls on the ground, on the tops of road sign, hanging from light poles, leaning up against a building and other strange spots. The locations aren't the only creepy part – the dolls are sometimes carefully placed to appear to be small children – sitting, leaning against a wall, on the ground as if they fell, etc. (Video here and photo here.) That causes concerned witnesses to stop and see what's going on, says police chief Tim Lewis.
"If you were to see it from behind it looks like a little girl. If you're out and about and you see that, it looks like a little girl crying, against a pole and someone is going to stop," he said. "In this town, people are good-hearted. People are going to stop to make sure that's not a child. They are going to get hit or they are going to get run over and then you're dealing with a catastrophe."
It's bad enough when they realize they stopped for a doll. What's worse is when they flip it over and find the doll has no face. Some have no heads at all. The doll leaning against the building had its hands sewn to its face. Many of the dolls appear at busy intersections, causing traffic jams. Others are in remote locations. No matter where they are, no one has seen (or admitted to seeing) who puts them out. Some have quickly disappeared and no one seems to have seen that either. Chief Lewis suspects the culprit or culprits are hiding, watching the commotion and laughing. While the number incidents have gone down, local station KSDK reports that at least one creepy doll has appeared in nearby Crystal City.
"Dolls are just creepy in general to me. I don't like them."
Resident Logan Galczynski probably speaks for many people who feel the same way about life-sized dolls as they do about clowns. Some think it's linked to the new Annabelle movie, but it could be something more sinister, like the so-called voodoo dolls found last year all over the Russian town of Zavetny. Those were the size of adult store mannequins but dressed like school girls. The voodoo part comes from the dolls being pierced by needles, some threaded. That thread finally help investigators determine that the dolls were once used in puppet theater, then donated to a museum, threw them out (too creepy?) but they were found and given to a school, which also threw them out (definitely too creepy for school) but someone found them in the trash and began placing them around town. That culprit was never caught.
Are the residents of Festus and now Crystal City doomed to deal with the dolls forever? Will they desert their towns, leaving them to the dolls like the island of haunted dolls in Mexico known as La Isla de las Munecas? Perhaps Logan Galczynski is right.
"Dolls are just creepy in general to me. I don't like them."
Source: Mysterious Universe