Luis Padrón is Argentine, he is 25 years old and has been doing different surgeries and surgeries for five years to look like an elf . Although he considers that "he still needs a lot" to get what he wants to be, he says he is happy and trusts that "dreams can be fulfilled".
"I was always different, and since I was a kid I liked to change my hair color or wear colored glasses," he told an exclusive interview with RT. In that sense, he recalled that "it was around 14 years old" that he decided he "wanted something more drastic" and realized that through plastic surgery "he could achieve it".
The elves "are not only beautiful beings on the outside, but also on the inside," he explained, arguing why he chose to look like them. These are "pure white beings of light and love, who fight for the peace and well-being of humanity."
While at first "the idea of ​​plastic surgery seemed very crazy", appeared a girl who "became popular because of the surgeries that had been made to look like Barbie," said Padrón. Then he realized that "he was not alone". So it was that for his 20th birthday the first surgical intervention was performed.
A total transformation
Asked about how many surgeries have been performed, Luis Padrón said that "it is difficult to count them", as some of them took several sessions. For example, eye color change surgery counts "as one", but considering the individual sessions "there were five". Something similar happens with "lasers to lighten the skin", something that should be done regularly "because they last more or less the same as a tan."
However, he calculates that he must have spent "approximately $ 30,000" to modify or retouch "the nose, the eyes, get a liposuction of jowls, a whitening of skin, freckles, teeth, and remove moles and wrinkles".
In terms of what he intends to do forward, he pointed out "jaw surgery, to give it a diamond shape". Also 'facial lifts and "another rhinoplasty with Dr. Farshid Mahboubirad in Iran." He also intends to undergo a new eye color change, "this time with an intraocular implant in India, to be the first person with violet eyes in the world". With Dr. John Kahen, in Beverly Hills, will be "injections for hair to grow very fast." Finally, there will be a reduction of the Adam's apple and he said he hopes "to be able to agree soon" with the esthetician Samppa Von Cyborg to modify his ears and put them in the shape of "tip".
Your love for Russia
The young Argentine said that Russia is one of his "favorite countries." It is that "after all, the fever of human dolls began there", with Valeria Lukyanova, "the human Barbie". But he also listed Anastasiya Shpagina, the anime girl, Anzhelika Kenova, Dominika Oleynik, Tatyana Tuzova, Olga Archangelskaya. "The list is endless," he said.
Padrón commented that in the biggest country in the world there are "many boys and girls that I admire, known and not so well known, and also many singers that fascinate me and that inspired me to learn Russian". From his perspective on Russia, "there is a certain magic in their language, culture, and people."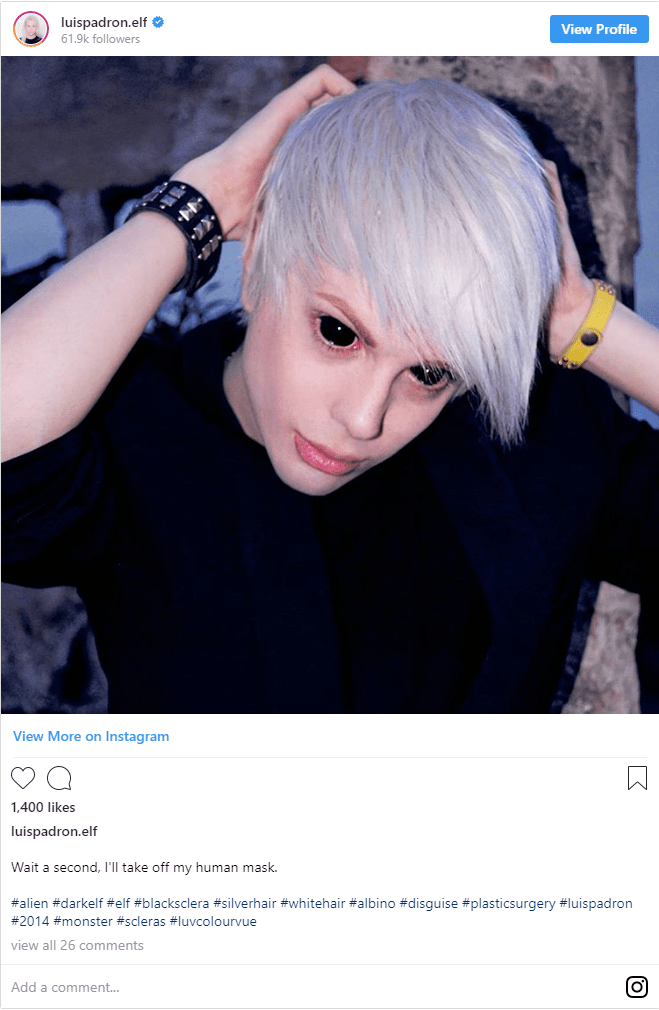 "I hope to get to know Moscow some day, Russia is a beautiful place," he said.
Work and the future
Although one might think that his particular image could cause some problems in the workplace, Luis Padrón has no problems in that regard. "I've been offered several jobs lately, but I'm happy with the one I have," he said. "It helps me to live comfortably and pay for my operations while I finish my university studies," he added.
The young man has a shop selling "cosplay" and LARP products. These are costumes and accessories to represent different characters and real or fictitious beings. "Basically, I sell the same things I like to use: contact lenses, makeup, wigs, extensions and dyes, among others." In addition, he said that they usually pay him "to attend 'cosplay' events as a special guest or jury."
Finally, he pointed out that at this moment he feels "halfway" to what he aspires to be "both aesthetically and spiritually". For Padrón, "the future is uncertain", but he struggles "every day" to make it "a happy future and to be able to leave something positive to people too".
"My ultimate goal is to become a being of illusions and magic," he said. "Dreams can be fulfilled if you try hard enough, I'm sure of that, that's why I work hard and study every day," Padrón concluded.