Man-made super-flu could kill half humanity
A virus with the potential to kill up to half the worlds population has been made in a lab. Now academics and bioterrorism experts are arguing over whether to publish the recipe, and whether the research should have been done in the first place.
The virus is an H5N1 bird flu strain which was genetically altered to become much more contagious. It was created by Ron Fouchier of the Erasmus Medical Centre in Rotterdam, the Netherlands, who first presented his work to the public at an influenza conference in Malta in September.
Fouchier said the strain circulates in animals, particularly birds, but rarely affects humans.
In the ten or so years since bird flu first emerged in Asia, fewer than 600 cases have been reported in humans. But the H5N1 strain is particularly vicious, killing roughly half of patients diagnosed with it. What stops it from becoming a major threat to public health is that it does not readily transmit from human to human. Or at least it didnt until now.
Researchers in Fouchiers team used ferrets test animals which closely mimic the human response to influenza and transmitted H5N1 from one to another to make it more adaptable to new hosts. After 10 generations, the virus had mutated to become airborne, which means ferrets became ill from merely being near other diseased animals.
A genetic study showed that the new, dangerous strain had only five mutations compared to the original one, and all of them were earlier seen in the natural environment just not all at once. Fouchiers strain is as contagious as the human seasonal flu, which kills tens of thousands of people each year, but is likely to cause many more fatalities if released.
"I can't think of another pathogenic organism that is as scary as this one," Paul Keim, a microbial geneticist who has worked on anthrax for many years, told Science Insider. "I don't think anthrax is scary at all compared to this."
Now Keim, who chairs the US National Science Advisory Board for Biosecurity (NSABB), and other members of the body, have a very difficult decision to make. Fouchier wants his study to be published. So does virologist Yoshihiro Kawaoka, who led similar research in collaboration with the University of Wisconsin, Madison, and the University of Tokyo, and reached comparable results. And it is up to NSABB to give them the green light.
Many academics and biosecurity experts are naturally cautious about releasing information which could provide any bioterrorist with a ready recipe to hold the world to ransom. Some argue that such work should never have been done in the first place and call for international monitoring of potentially harmful research.
"It's just a bad idea for scientists to turn a lethal virus into a lethal and highly contagious virus. And it's a second bad idea for them to publish how they did it so others can copy it," believes Dr. Thomas Inglesby, a bioterrorism expert and director of the Center for Biosecurity of the University of Pittsburgh Medical Center.
However the very same data, if made available to the scientific community, could potentially allow humanity to prepare for an H5N1 pandemic, which Fouchiers study has shown to be far more probable than was previously believed. Clamping down on freedom of information in the scientific domain may in the end leave us defenseless against the flu, should it arise naturally.
NSABB plans to issue a public statement soon, says Keim, and is likely to issue additional recommendations about this type of research. "We'll have a lot to say," he says.
Did A 1988 Economist Magazine Predict A Bitcoin Explosion In 2018?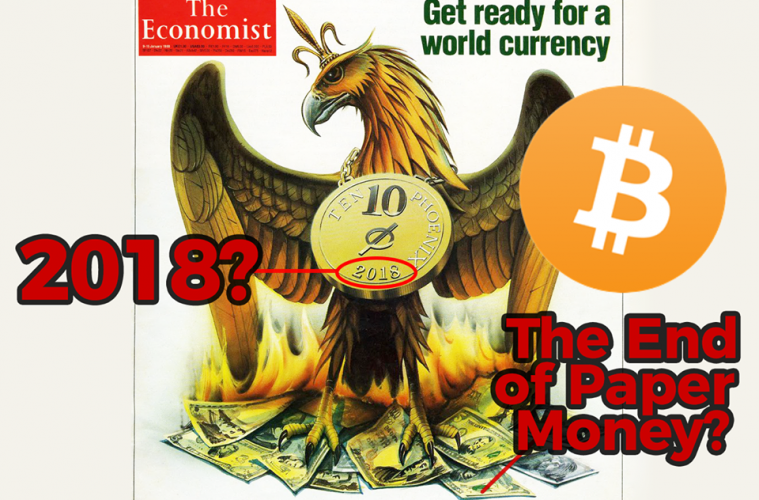 Here Are The Most Outrageous Food Trends Of 2017
Another year has come and gone, but 2017 is leaving behind a legacy of super weird food, beauty, and fashion trends. We compiled a list of the most colorful, crazy, and just plain weird food trends of 2017. Keep reading and let us know if you tried any of these trends this year 🙂
1. Charcoal EVERYTHING
2017 was the definitely the year of charcoal! From ice cream to bagels, charcoal was popping up everywhere on the food scene. Many people believed that the charcoal made the food more healthy, but scientists say that there are very few benefits to eating charcoal in food. But it sure does look great in an Instagram photo!
2. Pastel And Colorful "Unicorn" Food
You might remember the insanity this past summer when Starbucks released a limited edition Unicorn Frappucino. Kids and adults were lining up to get their hands on this colorful, sweet concoction. This was just the beginning of the unicorn food craze this year, which took the internet by storm. But does it taste as good as it looks?
3. Smoothie Bowls
Carefully arranged smoothie bowls were clogging people's Instagram feeds this past summer. The colorful bowls of vitamin-rich smoothies topped with an assortment of fruits and nuts were a complete craze, and thankfully so! Smoothie bowls are definitely one of the most healthy of the food trends in 2017, and we're predicting they'll continue to be a hit in 2018!
4. Cloud Eggs
People started experimenting with new ways to spruce up their eggs and created puffy, wondrous "cloud eggs." They are standard baked eggs, but the whites are whipped into a meringue to give it a cloud effect when cooked. This dish became extremely popular among health nuts, since they're not only easy on the calories (only 161 per serving!) but they also look great in photos 😉
5. Raindrop Cakes
This aesthetically pleasing Japanese treat has become a popular dessert in the West. The vegan jelly dessert consists simply of agar, spring water, black sugar and kinako, but the process to make them is quite difficult. But don't expect a flavorful dessert when you first bite into one; many people say they are tasteless and just serve as a light, after dinner treat.
6. Turmeric Latte
If you love spiced drinks, then you'll love this colorful and wacky turmeric latte. The bright yellow drink is full of powerful antioxidants, but we just can't get past the idea of turmeric as a LATTE. Would you try it?
7. FREAK SHAKES
Freak Shakes definitely take the cake for the most INSANE food of 2017! These towering pillars of sweets and ice cream were dropping jaws everywhere during the summer, and continue to be a craze. We can't even imagine the sugar rush you get after finishing one of these impressive desserts!
Those are the craziest and weirdest foods trends of 2017! How many of them have you tried?
Artist's Work Goes Viral After Censorship Of His Psychedelic Sex Art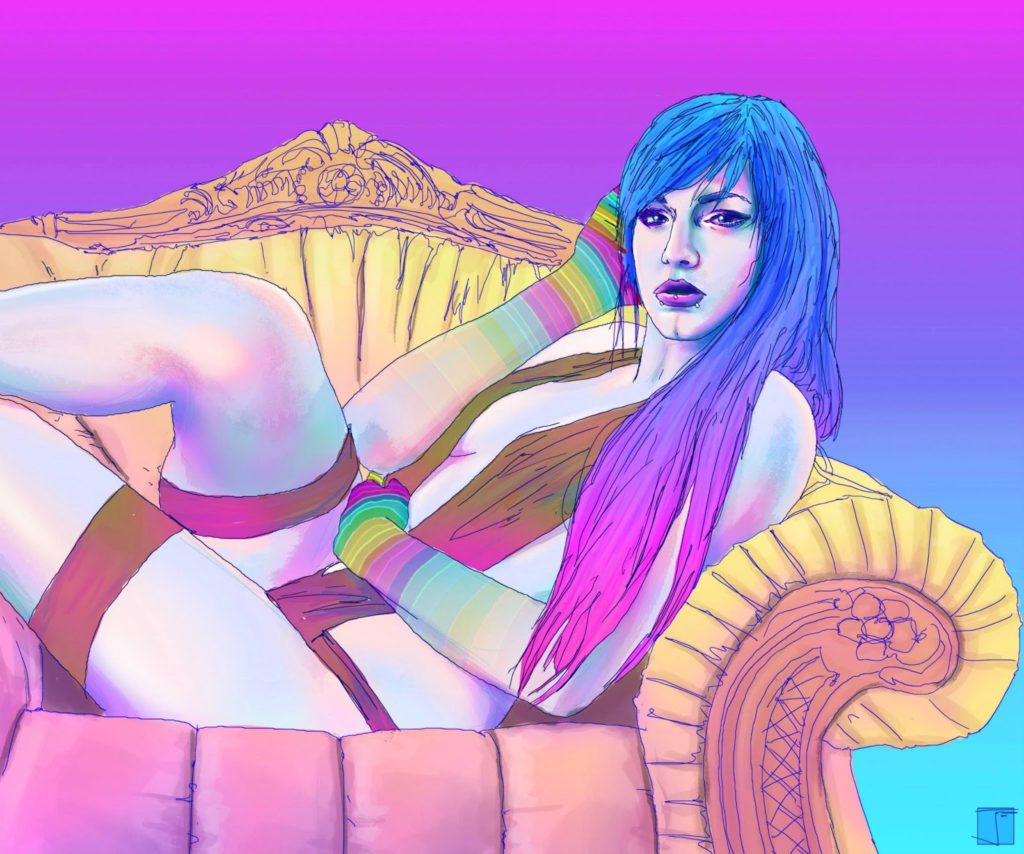 By  Amanda Froelich Truth Theory
I am, you are, we are, one. That is a truth of the universe, and it becomes quite clear as one experiments with psychedelics — or, spends long amounts of time in silent meditation.
Everything from LSD to peyote to marijuana to Ayahuasca can be considered a psychedelic. As the Drug Policy Alliance explains, these substances have been used for thousands of years. Most often, they play a role in religious and therapeutic purposes.
The idea that certain plants and fungi can contribute to cohesion within the mind, body, and spirit and, as a result, produce healing effects is an unpopular one. This is because, the modern world takes a rigid stance against freedom of thought and, consequently, the use of mind-altering substances.
To be clear, there are risks to consuming psychedelic drugs. However, most are minute, which is why in recent years, scientists (specifically, with John Hopkins University) have begun to study the illegal substances. What they've found is phenomenal — and their research has just started.
In one study, the researchers concluded that a hallucinogenic drug found in "magic mushrooms" eases depression and anxiety in people with life-threatening cancer. Another study suggests the fungi could be a "promising" treatment for people with PTSD and anxiety. And, earlier this year, a study was published concluding that psilocybin is the safest psychedelic to experiment with recreationally.
Essentially, what we are learning  is that psychedelic substances are not as bad the mainstream media and federal government have made them out to be. While more research needs to be conducted on the safest ways to consume and use them, it seems clear the taboo that surrounds the use of mind-altering substances needs to lessen.
On that topic, an artist who hid his true identity for years, simply because the world wasn't ready for his imaginative mind, recently went "viral." It all started when Facebook banned the artist's work which he had been uploading to social media networks under the alias Phazed. That artist, who has now revealed his identity, is Jean Francois Painchaud.
Up until a couple of weeks ago, Painchaud was working on the PBS kids show Wild Kratts during the day. In the evenings, he would create GIFS which explore the unification which occurs during conscious sex. He was having trouble sharing his artwork, however, because the topic of sex — and images of the naked human body — are censored.
Painchaud disclosed during an interview: "Soon after I started posting my art online, I found out that there are people out there who are very sensitive when it comes to the female body. No matter how much I censor my work, I still get reported. It's ridiculous. So, whenever they take down my art or censor me, I make a big deal out of it, hoping that we might be able to change this culture of incessant censoring over time." 
Fortunately, being banned turned out to be one of the best things that could have happened for his career. In just a few weeks, the artist has welcomed more than 45,000 new followers to his Tumblr, Instagram and Facebook accounts.
When asked how "magic mushrooms" affect his work, Painchaud responded: "Mushrooms didn't only help my art develop; they changed my entire life. Using mushrooms helped me overcome my depression, my insecurities and my anxiety. Most of that anxiety came from negative experiences with my father and being bullied at school."
The artist added: "Before I found shrooms, I was making art to improve my skills. It was as if I was trying to impress myself or show off. But what's the point of sharpening your tools, if you're never going to build something of your own?"
The exploration of sex — especially through art — might make some people uncomfortable, but Painchaud finds the combination of sex and psychedelics to be "very beautiful and inspiring." He said, "I feel that both psychedelics and sex can help you transcend your ego and tap into a purer state of being – of living in the moment."
At first glance, the GIFs do seem slightly pornographic. However, the colors are a contrast to traditional porn, which tends to objectify women — and, to an extent, men — through bland, pale colors and regurgitated scripts.
Painchaud's artwork, on the other hand, has a central theme: connection. The "energy" which is conveyed through color flows through nearly every scene and connects those who have agreed to share their bodies and hearts. The unions which are portrayed are holy in their own, unique way, and the color, shapes, and vibrancy confirm this.
Support the artist on Patreaon