Man Abducted By ETs Has Photos Of Aliens From Planet Clarion
There are many reports of alien abductions across the globe. People often take them with reservations; however, others sound more intriguing and convincing. In particular, this one, where an Italian man claims aliens from planet Clarion abducted him, sounds rather intriguing.
Maurizio Cavallo, 63, who also goes by the pseudonym Jhlos published a few books regarding the topic. Back in 2012, at a conference in Turin, Italy, he broke the silence about the extraterrestrial creatures.
He described them as cosmic protectors, lords of the rainbow and caretakers of the universe.
"They are the precursor ancestors; timeless immortals that come from the confines of the cosmos. They come from the primary source, from a place in which you build eternity," said Cavallo.
Mr. Cavallo, besides being a journalist concentrating on paranormal research, was also an ex-professor at the Vercelli People's University.
Aliens from the Planet Clarion which locates in the Eagle galaxy, 150,000 light-years away from Earth, allegedly abducted him.
According to his story, in September 1981, the extraterrestrial beings took him to a secret base in the Amazon forest. There, they supposedly altered his apprehension which cut all the boundaries he had of accepting new knowledge.
However, what is really eerie, are the pictures he presented of the 'aliens' – hybrids between ETs and people.
Cavallo has very controversial claims. For instance, he says that all of our understanding of the universe is wrong. He says that in the solar system, there are 12 rather than 9 planets as we know.
"I want to add that the images shown on the site don't tend to endorse my experience of the civilization of the stars."

"It is not important for me to be understood nor to take the evidence in support of what is narrated. The rest is a matter of every individual and his conscience," wrote Cavallo on his website.
Check some of the hybrids the Italian writer allegedly took in the video below and give us your opinion.
A Man Discovered A UFO Landing Site In A Forest And Heard Strange Screams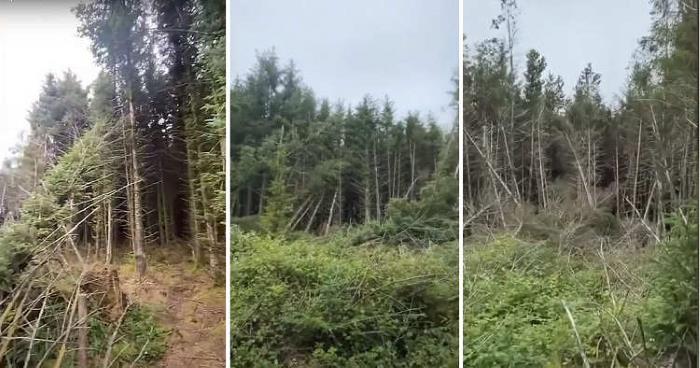 Having gone on a forest trip not far from home, this Briton could not even imagine that he would stumble upon a place that resembled an anomalous zone from the X-Files series.
A resident of Plymouth, England, Ben Landricomb on Monday June 13 was in a tourist camp near the village of Meddon, near Bideford, County Devon. At some point, he decided to go for a walk in the forest with his dog.
At about 4 pm Ben came upon a very strange place in the forest, which was littered with tree trunks, as if they were bent to the ground, and then some very powerful force broke it.
The strangest thing was when Ben discovered that the tops of many trees had been broken off. Then he thought that maybe in this place he made an unplanned landing of a UFO. Moreover, when Ben started filming this place on his phone, he felt as if someone was looking at him, and then he heard very strange sounds, as if some creature screamed loudly. This was enough for Ben and his dog to run away from this place, trying to quickly return to their tourist camp.
According to Ben, it was a very eerie place and it became even more scary when he heard loud noises that sounded like screams.
"Something definitely fell here, look at it. BOOM! Now there's a massive gap in the forest, all the trees are bent, the trees are felled, this is a huge hole in the forest. Aliens," Ben says in the video.
The nature reserve in the area of ​​Meddon is known as a great place for tourism, deforestation is not carried out here and the inhabitants of the village of Meddon receive many tourists every year. At the moment, the local city council is trying to understand what exactly Ben Landricombe photographed in the forest. Ben himself flatly found himself back there.
Sprites: Mysterious inhabitants of the Earth's ionosphere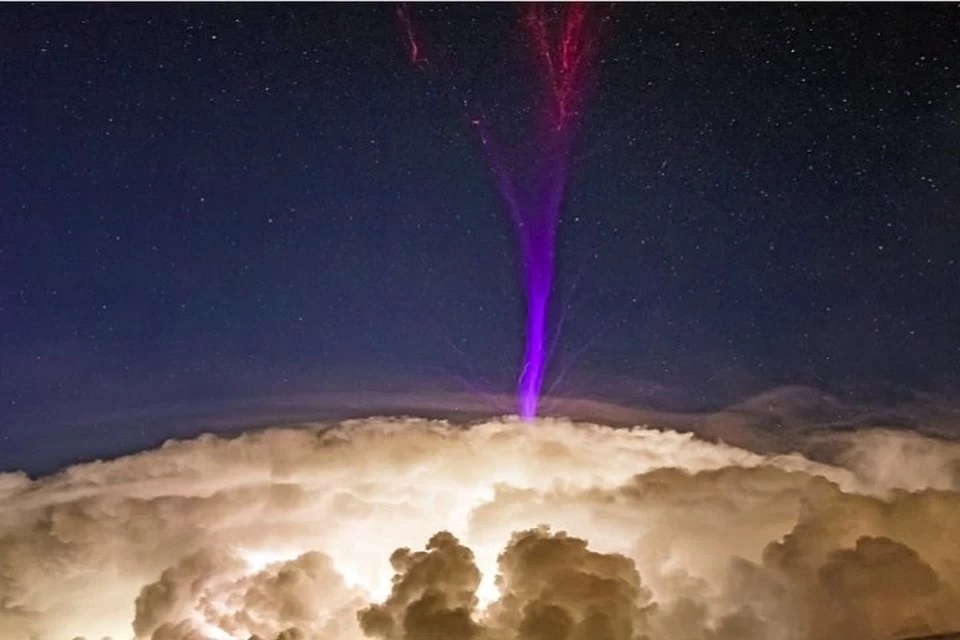 Sprite, "The mysterious inhabitant of the earth's ionosphere," as cryptozoologists respectfully call it, is a ball of fire, a flash, a spot of light that sometimes, successful observers succeed in capturing when observing the sky.
The spot makes strange chaotic movements, dances, draws strange geometric shapes in the sky, and then disappears as instantly as it appears.
Ufologists consider sprites, of course, alien ships, and cryptozoologists, an amazing creature whose body consists of some energy that can exist in both three and four dimensions. Sprites are also called "tigers," "elves," and "blue jets."
They belong to the spirits of the elements, who care about human affairs. Therefore, from the point of view of the most mystically minded cryptozoologists, the appearance of a sprite is a signal that something extraordinary can happen to the observer in the near future – both bad and good. Here and in ancient sources it is said:
"There is a tree named Tsalifa, on which bird eggs grow instead of fruits.
Birds that only fly in the sky and cannot touch the earth hatch out of it, they cut the air of the earth and people's air with their wings, because it is too rough for them, and when such a bird flies, the air becomes thin, and only when such a bird flies and the air becomes thin, the person can hear the voice of God, otherwise the person does not hear the voice of God, since the air at his ears is too dense" (Midrash Talpiot – section of the Oral Torah).
Some cryptozoologists believe that sprites are an alternative form of existence of matter, the primary amoeba of the nascent world of "pure energies", which in the future, will subsequently become the dominant form of life in the Universe.
Official science believes that cryptozoologists see all kinds of nonsense and for their sprites they take the signal lights of aircraft, the rays of searchlights, the glare of car headlights on the clouds and ball lightning.
A strange story about an ominous Japanese TV commercial
Urban legends of a terrible TV commercial of 1985 with a girl and a demon child in Japan are becoming more and more popular every year. This advertisement really causes strange sensations, but is it really so scary?
If you lived in Japan in 1985 and watched TV, sooner or later you would see one of the strangest commercials created for Kleenex cleaning wipes.
There are two characters in the commercials: a pretty girl in a long white dress and a 2-3-year-old child in the make-up of the red-skinned one-horned cannibal demon from Japanese mythology.
Both of them are sitting on the hay, the little "eater" looks angry, while the girl gently throws up napkins or tries to stroke the "eater". They don't pronounce a single word in 30 seconds of each video and all this happens under the melancholy slow song "It's a Fine Day" by Edward Burton and Jane.
As soon as these commercials began to appear on TV, many people began to feel that the commercials scared them and that they had an incomprehensible effect on the psyche. The reaction of the audience was so negative that the videos were soon removed from the show. But the story did not end there, soon various scary stories and stories associated with this advertisement began to disperse throughout the country, which in our days have turned into urban legends.
First of all, it was stated that the song "It's a Fine Day" in the original performance in German was not at all romantic, but contained the refrain "Die, die, everyone will be cursed and killed." It was even said that repeated listening to this song imposes on people a peculiar "mental attitude" to death. Then, unverified but persistent rumors began to appear that many people who took part in the filming of these videos began to die a strange and sudden death. Including it was reported that the boy who played the cannibal demon suddenly lost consciousness and soon died from the failure of the internal organs.
It was said that the director, cameramen and both producers of this advertisement also died. And many other crew members suffered from accidents or various unpleasant things happened to them. The actress who played the girl in a white dress allegedly went crazy and was sent to a psychiatric clinic shortly after filming in commercials.
According to other versions, she committed suicide after giving birth to a terribly mutilated child. Ordinary viewers who saw this ad several times, allegedly, either went crazy, tried to commit suicide or simply disappeared without a trace.
In 2006, the official television version of these commercials was completely destroyed, but soon amateur videos of this advertisement appeared on YouTube. And soon, many people began to say that from watching this advertisement they had cramps, headaches, or even loss of consciousness. Several deaths have even been reported.
Some users noticed another oddity: if you watch this ad at night, then the small details of the video change by themselves. Sometimes a cannibal boy becomes colored blue, and the color of the girl's dress also changes, or interference bars begin to run across the video screen. Some viewers wrote that these commercials do not just feel like something ominous, they allegedly encoded some information aimed at destroying the human psyche or taking it under control.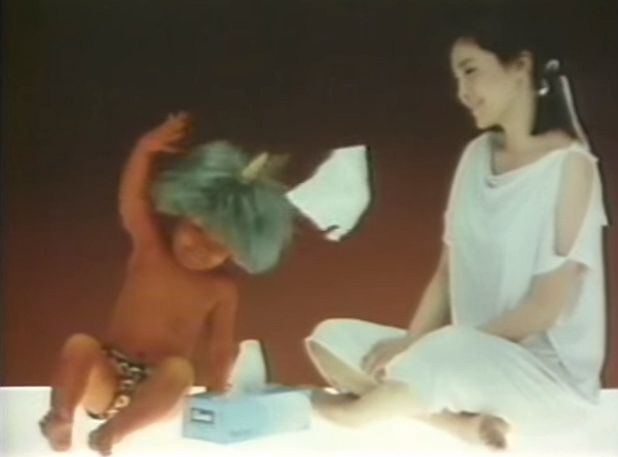 All this is quite frightening, like a plot from a horror movie, but most likely all this is completely (or partially) fiction. The fact is that at least one striking "fact" has not been completely confirmed – the girl in white is the actress Keiko Matsuzaka, who is still alive and healthy and has never been in a mental hospital. At the same time, it was neither possible to confirm nor deny the death of the demon boy or accidents with the film crew. No information was available on them.