Magnesium Puts Psychiatric Drugs to Shame for Depression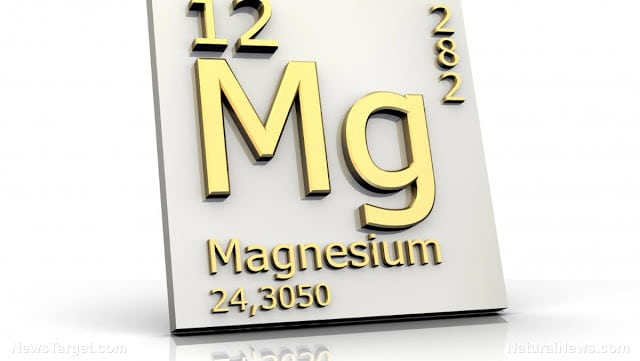 (Sayer Ji) A powerful clinical study shows that pennies worth of magnesium a day provides an effective, safe, affordable alternative to dangerous and relatively ineffective pharmaceutical antidepressants.
Depression is one of the most widely diagnosed conditions of our time, with over 3 million cases in the U.S. every year, and 350 million believed affected worldwide.1 Conventional medicine considers antidepressant drugs first-line treatments, including the newly approved injected postpartum drug costing $34,000 a treatment, to the tune of a 16 billion dollars in global sales by 2023. Despite their widespread use, these drugs are fraught with a battery of serious side effects, including suicidal ideation and completion — the last two things you would hope to see in a condition that already has suicidality as a co-morbidity. For this reason alone, natural, safe, and effective alternatives are needed more than ever before.
While research into natural alternatives for depression is growing daily — GreenMedInfo.com's Depression database contains 647 studies on over 100 natural substances that have been studied to prevent or treat depression — it is rare to find quality human clinical research on the topic published in well-respected journals. That's why a powerful study published in PLOS One titled, "Role of magnesium supplementation in the treatment of depression: A randomized clinical trial," is so promising. Not only is magnesium safe, affordable, and easily accessible, but according to this recent study, effective in treating mild-to moderate symptoms of depression.
While previous studies have looked at the association between magnesium and depression,2-7 this is the first placebo-controlled clinical study to evaluate whether the use of over-the-counter magnesium chloride (248 mg elemental magnesium a day for 6 weeks) improves symptoms of depression.
The study design was a follows:
" An open-label, blocked, randomized, cross-over trial was carried out in outpatient primary care clinics on 126 adults (mean age 52; 38% male) diagnosed with and currently experiencing mild-to-moderate symptoms with Patient Health Questionnaire-9 (PHQ-9) scores of 5–19. The intervention was 6 weeks of active treatment (248 mg of elemental magnesium per day) compared to 6 weeks of control (no treatment). Assessments of depression symptoms were completed at bi-weekly phone calls. The primary outcome was the net difference in the change in depression symptoms from baseline to the end of each treatment period. Secondary outcomes included changes in anxiety symptoms as well as adherence to the supplement regimen, appearance of adverse effects, and intention to use magnesium supplements in the future. Between June 2015 and May 2016, 112 participants provided analyzable data."
The study results were as follows:
"Consumption of magnesium chloride for 6 weeks resulted in a clinically significant net improvement in PHQ-9 scores of -6.0 points (CI -7.9, -4.2; P<0.001) and net improvement in Generalized Anxiety Disorders-7 scores of -4.5 points (CI -6.6, -2.4; P<0.001). Average adherence was 83% by pill count. The supplements were well tolerated and 61% of participants reported they would use magnesium in the future. Similar effects were observed regardless of age, gender, baseline severity of depression, baseline magnesium level, or use of antidepressant treatments. Effects were observed within two weeks. Magnesium is effective for mild-to-moderate depression in adults. It works quickly and is well tolerated without the need for close monitoring for toxicity."
For perspective, conventional antidepressant drugs are considering to generate an "adequate or complete treatment response" with a PHQ-9 score "decrease of 5 points or more from baseline." At this level of efficacy, their recommended action is: "Do not change treatment; conduct periodic follow-up." The magnesium's score of -6.0 therefore represents the height of success within conventional expectations for a complete response, which is sometimes termed "remission." In contradistinction, conventional antidepressant drugs result in nearly half of patients discontinuing treatment during the first month, usually due to their powerful and sometimes debilitating side effects.8
To summarize the main study outcomes:
There was a clinically significant improvement in both Depression and Anxiety scores.
61% of patients reported they would use magnesium in the future.
Similar effects occurred across age, gender, severity of depression, baseline magnesium levels, or use of antidepressant treatments.
Effects were observed within two weeks.
The study authors concluded:
"Magnesium is effective for mild-to-moderate depression in adults. It works quickly and is well tolerated without the need for close monitoring for toxicity."
Beyond Depression: Magnesium's Many Health Benefits and Where To Source It
Magnesium is a central player in your body's energy production, as its found within 300 enzymes in the human body, including within the biologically active form of ATP known as MG-ATP. In fact, there have been over 3,751 magnesium binding sites identified within human proteins, indicating that it's central nutritional importance has been greatly underappreciated.
Research relevant to magnesium has been accumulating for the past 40 years at a steady rate of approximately 2,000 new studies a year. Our database project has indexed well over 100 health benefits of magnesium thus far. For the sake of brevity, we will address seven key therapeutic applications for magnesium as follows:
Fibromyalgia: Not only is magnesium deficiency common in those diagnosed with fibromyalgia, 9,10 but relatively low doses of magnesium (50 mg), combined with malic acid in the form of magnesium malate, has been clinically demonstrated to improve pain and tenderness in those to which it was administered.11
Atrial Fibrillation: A number of studies now exist showing that magnesium supplementation reduce atrial fibrillation, either by itself, or in combination with conventional drug agents.12
Diabetes, Type 2: Magnesium deficiency is common in type 2 diabetics, at an incidence of 13.5 to 47.7% according to a 2007 study. 13 Research has also shown that type 2 diabetics with peripheral neuropathy and coronary artery disease have lower intracellular magnesium levels. 14 Oral magnesium supplementation has been shown to reduce plasma fasting glucose and raising HDL cholesterol in patients with type 2 diabetes.15 It has also been shown to improve insulin sensitivity and metabolic control in type 2 diabetic subjects.16
Premenstrual Syndrome: Magnesium deficiency has been observed in women affected by premenstrual syndrome.17 It is no surprise therefore that it has been found to alleviate premenstrual symptoms of fluid retention, 18 as well as broadly reducing associated symptoms by approximately 34% in women, aged 18-45, given 250 mg tablets for a 3-month observational period.20 When combined with B6, magnesium supplementation has been found to improve anxiety-related premenstrual symptoms.19
Cardiovascular Disease and Mortality: Low serum magnesium concentrations predict cardiovascular and all-cause mortality.21 There are a wide range of ways that magnesium may confer its protective effects. It may act like a calcium channel blocker,22it is hypotensive,23 it is antispasmodic (which may protect against coronary artery spasm),24 and anti-thrombotic.25 Also, the heart muscle cells are exceedingly dense in mitochondria (as high as 100 times more per cell than skeletal muscle), the "powerhouses" of the cell," which require adequate magnesium to produce ATP via the citric acid cycle.
Migraine Disorders: Blood magnesium levels have been found to be significantly lower in those who suffer from migraine attacks.26,27 A recent Journal of Neural Transmission article titled, "Why all migraine patients should be treated with magnesium," pointed out that routine blood tests do not accurately convey the true body magnesium stores since less than 2% is in the measurable, extracellular space, "67% is in the bone and 31% is located intracellularly."28The authors argued that since "routine blood tests are not indicative of magnesium status, empiric treatment with at least oral magnesium is warranted in all migraine sufferers." Indeed, oral magnesium supplementation has been found to reduce the number of headache days in children experiencing frequent migranous headaches,29and when combined with l-carnitine, is effective at reducing migraine frequency in adults, as well.30
Aging: While natural aging is a healthy process, accelerated aging has been noted to be a feature of magnesium deficiency,31especially evident in the context of long space-flight missions where low magnesium levels are associated with cardiovascular aging over 10 times faster than occurs on earth.32 Magnesium supplementation has been shown to reverse age-related neuroendocrine and sleep EEG changes in humans.33 One of the possible mechanisms behind magnesium deficiency associated aging is that magnesium is needed to stabilize DNA and promotes DNA replication. It is also involved in healing up of the ends of the chromosomes after they are divided in mitosis.34
It is quite amazing to consider the afformentioned side benefits of magnesium consumption or supplementation within the context of the well-known side effects of pharmaceutical approaches to symptom management of disease. On average, conventional drugs have 75 side effects associated with their use, including lethal ones (albeit sometimes rare). When considering magnesium's many side benefits and extremely low toxicity, clearly this fundamental mineral intervention (and dietary requirement) puts pharmaceutical approaches to depression to shame.
Best Sources of Magnesium In The Diet
The best source of magnesium is from food, and one way to identify magnesium-containing foods are those which are green, i.e. chlorophyll rich. Chlorophyll, which enable plants to capture solar energy and convert it into metabolic energy, has a magnesium atom at its center. Without magnesium, in fact, plants could not utilize the sun's light energy.
Magnesium, however, in its elemental form is colorless, and many foods that are not green contain it as well. The point is that when found complexed with food cofactors, it is absorbed and utilized more efficiently than in its elemental form, say, extracted from limestone in the form of magnesium oxide.
The following foods contain exceptionally high amounts of magnesium. The portions described are 100 grams, or a little over three ounces.
Rice bran, crude (781 mg)
Seaweed, agar, dried (770 mg)
Chives, freeze-dried (640 mg)
Spice, coriander leaf, dried (694 mg)
Seeds, pumpkin, dried (535 mg)
Cocoa, dry powder, unsweetened (499 mg)
Spices, basil, dried (422 mg)
Seeds, flaxseed (392 mg)
Spices, cumin seed (366 mg)
Nuts, brazilnuts, dried (376 mg)
Parsley, freeze-dried (372 mg)
Seeds, sesame meal (346 mg)
Nut, almond butter (303 mg)
Nuts, cashew nuts, roasted (273 mg)
Soy flour, defatted (290 mg)
Whey, sweet, dried (176 mg)
Bananas, dehydrated (108 mg)
Millet, puffed (106 mg)
Shallots, freeze-dried (104 mg)
Leeks, freeze-dried (156 mg)
Fish, salmon, raw (95 mg)
Onions, dehydrated flakes (92 mg)
Kale, scotch, raw (88 mg)
Fortunately, for those who need higher doses, or are not inclined to consume magnesium rich foods, there are supplemental forms commonly available on the market. Keep in mind, for those who wish to take advantage of the side benefit of magnesium therapy, namely, its stool softening and laxative properties, magnesium citrate or oxide will provide this additional feature.
For those looking to maximize absorption and bioavailability magnesium glycinate is ideal, as glycine is the smallest amino acid commonly found chelated to magnesium, and therefore highly absorbable.
Source:
https://wakeup-world.com/2019/04/29/magnesium-puts-psychiatric-drugs-to-shame-for-depression/
Gabapentinoids linked to overdoses and suicide
Story at-a-glance –
Gabapentin and pregabalin are used for the treatment of epilepsy and neuropathic pain disorders. Pregabalin, such as Lyrica, is also prescribed for anxiety in Europe and fibromyalgia in the U.S.
Recent research links gabapentinoids with a 26% increased risk for suicidal behavior and death from suicide; 24% increased risk for unintentional overdose; 22% increased risk for head or body injury due to an accident; 13% increased risk for traffic violations or accidents and 4% increased risk for violent crime offenses
Of the two gabapentinoids, pregabalin — which is the newer of the two — was clearly the worst, accounting for most of these adverse effects, while gabapentin — an older drug — showed "no statistically significant hazards"
Research published in 2017 demonstrated that concomitant use of gabapentin and opioids raised the risk of death by 60% over and beyond the risk associated with either drug by itself
The suicide rate in the U.S. is now at a 20-year high, having risen 30% between 2000 and 2016 across all age groups. Among Native Americans and Alaska Natives the suicide rate between 1999 and 2017 rose 139% among women and 71% among men
Suicide rates are at an all-time high since World War II, and there are several different reasons for this. One of the factors that is often ignored is the influence many medications have on your mental stability. Antidepressants are perhaps the most well-known in this regard, but violent behavior and suicide are side effects of other medications as well.
Most recently, Swedish researchers have linked gabapentinoids — a nonopioid type of analgesic — to "suicidal behavior, unintentional overdoses, injuries, road traffic accidents and violent crime."1
Two primary gabapentinoids are gabapentin and pregabalin, which are used for the treatment of epilepsy and neuropathic pain disorders. Pregabalin, such as Lyrica2 (which is increasingly associated with addiction and abuse3), is also prescribed for anxiety in Europe and fibromyalgia in the U.S. Globally, this class of drugs was among the 15 best-selling medications of 2016.4
Gabapentinoids are structural analogs of γ-amino butyric acid (GABA) that selectively block voltage-dependent calcium channels.5 Common side effects include dizziness, fatigue, visual disturbances and mental difficulties.6 However, these drugs have also been linked to a significantly increased risk of suicidal behavior.
Gabapentinoids linked to serious hazards, including suicide
The study,7,8 published online in April 2019 in the journal BMJ, examined data on 191,973 Swedish residents who filled gabapentinoid prescriptions in the years between 2006 and 2013.
In that time, 5.2% of them either received treatment for suicidal inclinations or died from suicide; 8.9% unintentionally overdosed, 6.3% were involved in a traffic accident or traffic-related offense; 36.7% were treated for a head or body injury due to an accident, and 4.1% were arrested for a violent crime. The researchers concluded gabapentinoids treatment was associated with:
A 26% increased risk for suicidal behavior and death from suicide
24% increased risk for unintentional overdose
22% increased risk for head or body injury due to an accident
13% increased risk for traffic violations or accidents
4% increased risk for violent crime offenses
Of the two gabapentinoids, pregabalin — which is the newer of the two9 — was clearly the worst, accounting for most of these adverse effects, while gabapentin — an older drug — showed "no statistically significant hazards."
Stratified by age, the risks associated with these drugs were the highest among those aged 15 through 24, and the risks were dose-dependent, so the higher the dose, the greater the risk. According to the authors:10
"This study suggests that gabapentinoids are associated with an increased risk of suicidal behavior, unintentional overdoses, head/body injuries, and road traffic incidents and offences. Pregabalin was associated with higher hazards of these outcomes than gabapentin."
As is often the case, the risks associated with these drugs have only become apparent as their usage has increased. Dr. Derek K. Tracy of Queen Mary's Hospital told Reuters that:11
"While it's not clear why prescribing of gabapentinoids has grown so rapidly … anecdotally it appears that many doctors regarded them as relatively effective and with a low side effect profile.
As we accumulated more information over time, it has become clear that this is not the case, and most recently there has been a countering drive to try reduce their usage as their harm profile came more to the fore.
It is also becoming clearer with time that some people are becoming dependent ("addicted") to gabapentinoids, though we still lack good information on exactly how common that is, or which groups of people might be more vulnerable to this."
Concomitant opioid use magnifies risks
Opioids by themselves are associated with a high risk of death through unintentional overdosing, but when combined with other drugs, that risk is significantly magnified.
According to the featured BMJ study,12 research13 published in 2017 demonstrated that concomitant use of gabapentin and opioids raised the risk of death by 60% over and beyond the risk associated with either drug by itself.
Concomitant use of opioids and benzodiazepines or "benzos" — such as Valium, Ativan, Klonopin and Xanax — which are widely prescribed for anxiety and insomnia, also raises your risk of death by a significant margin.
Research14,15 published in the journal JAMA in 2018 found that, during the first 90 days of concurrent use, your risk of a deadly overdose rises fivefold, compared to taking an opioid alone. Between days 91 and 180, the risk remains nearly doubled, after which the risk tapers off, becoming roughly equal to taking an opioid alone.
The study also found that the greater number of clinicians were involved in a patient's care, the greater the risk of overdose — a finding that highlights the lack of communication between doctors prescribing medication to the same patient, and the clear danger thereof.
Suicide is at a 20-year high
The influence of medication on suicide risk is an important consideration, as suicide rates have dramatically risen over the years. According to the latest statistics16,17 published in the June 2019 issue of JAMA, the suicide rate in the U.S. is now at a 20-year high, having risen 30% between 2000 and 2016 across all age groups.
A couple of groups have seen particularly sharp rises, namely Native Americans and Alaska Natives — among whom the suicide rate between 1999 and 2017 rose 139% among women and 71% among men18 — and teenagers, boys in particular.
Between 2014 and 2017, the teen suicide rate rose 10% per year. Here too, there's a clear discrepancy between genders, with the annual suicide rate among teen boys, aged 15 through 19, rising 14% between 2015 and 2017, while the annual suicide rate among girls rose 8% between 2000 and 2017.
Lead investigator Oren Miron, a research associate at Harvard Medical School in Boston, told Medicinenet.com,19 "It really is an unprecedented surge. You can go back decades and you won't find such a sharp increase." Miron blames the rise on two primary sources: opioid abuse and social media.
"It's much easier to bully. The apps are getting smarter and smarter at providing anonymity and hiding activity from grown-ups," he told Medicinenet.com, adding "Parents and teachers need to be aware that the rates have reached their highest recorded level, and they need to be on the lookout for both boys and girls."
Common contributors to teen suicide
Clinical psychologist and suicide prevention specialist Pamela Cantor, who was not involved in any of the studies mentioned, told Medicinenet.com that "kids are 'intensely programmed' to achieve and have too little time to just enjoy their youth." Other influences identified by Cantor, which can raise a child's risk of suicide, include:
Family instability
Social pressure
"Parents who try to smooth the way so that when their children hit a snag they do not know how to cope"
Exposure to violence, including school shootings and "socially sanctioned expressions of hatred"
Easy availability of drugs, alcohol and guns
Suicide among native populations
Among Native Americans, the shocking rise in suicides are thought to be related to20 high rates of poverty,21 lower educational achievements, and high rates of alcoholism. Among women, the extraordinary rise in suicide has also been traced back to unusually high rates of violence.
According to the Indian Law Resource Center, "More than 4 in 5 American Indian and Alaska Native women have experienced violence, and more than 1 in 2 have experienced sexual violence."22
Alaska Native women have the highest domestic battery rate of any group in the U.S. — 10 times higher than the rest of the U.S. The murder rate of indigenous women is also more than 10 times the national average.23 Race discrimination worsens the tragedy, as a majority of these women never get any kind of justice. As reported by the Indian Law Resource Center:
"For more than 35 years, United States law has stripped Indian nations of all criminal authority over non-Indians. As a result, until recent changes in the law, Indian nations were unable to prosecute non-Indians, who reportedly commit the vast majority (96%) of sexual violence against Native women.
The Census Bureau reports that non-Indians now comprise 76% of the population on tribal lands and 68% of the population in Alaska Native villages. Many Native women have married non-Indians.
However, it is unacceptable that a non-Indian who chooses to marry a Native woman, live on her reservation, and commit acts of domestic violence against her, cannot be criminally prosecuted by an Indian nation and more often than not will never be prosecuted by any government."
Children whose parents use opioids have greater suicide risk
In related news, recent research24 shows children and teens whose parents use opioids have more than double the suicide rate — 0.37% compared to 0.14% — of those whose parents do not use opioids. In a press release, senior author Robert Gibbons, Ph.D., professor of biostatistics and director of the Center for Health Statistics at the University of Chicago, stated:25
"We theorized such a link was plausible because parental substance abuse is a known risk factor for suicide attempts by their children. In addition, depression and suicide attempts by parents — which are known to be related to suicidal behavior in their offspring — are more common among adults who abuse opioids."
Co-author Dr. David A. Brent, psychiatrist and chair of suicide studies at the University of Pittsburgh commented on the results:26
"These findings demonstrate that opioid use by a parent or parents doubles the risk for suicidal behavior by their children. The epidemics of adult opiate abuse and child suicidal behavior appear to be linked, and the disturbing upward trends in mortality due to opiates and due to child suicide may have common roots."
Red Flags — Is someone you know suicidal?
If someone close to you has recently endured a hardship, or you have noticed a change in their behavior, how can you tell when ordinary stress or sadness has progressed to a potentially suicidal level? Besides straightforward or "sideways" comments about not wanting to live any longer, some of the red flags that a person has a high risk for self-harm include:27
Acquiring a weapon
Hoarding medication
No plan for the future
Putting affairs in order
Making or changing a will, or writing about feeling hopeless or suicidal
Giving away personal belongings for no apparent reason
Mending grievances
Checking on insurance policies
Social withdrawal
Sudden mood swings
Frequent and/or increased use of drugs or alcohol
Engaging in risky behaviors
If you think someone is suicidal, do not leave him or her alone. A person who appears suicidal needs immediate professional help. Help the person to seek immediate assistance from their doctor or the nearest hospital emergency room, or call 911. Eliminate access to firearms or other potential suicide aids, including unsupervised access to medications.
If you are feeling desperate or have any thoughts of suicide, call the National Suicide Prevention Lifeline, a toll-free number, at 1-800-273-TALK (8255), or call 911, or simply go to your nearest hospital emergency department.
Eureka! The lights go on but we're the only ones to truly see them. That momentary flash of genius strikes. So clearly noticed. Yet sometimes difficult to articulate and get out of our heads. 
We question ourselves to either follow through or let it go. 
Are these the ideas worth taking note of. The ones that will slip away and might some day return to remind us of that "told ya so" future-tense. That "see, that coulda been me" hindsight.
Maybe its really our own insecurities that lead us astray from our ideas. That lack of will power to swim upstream against the current. To stay with it while the cacophony of nays reverberates.
Or, its the insight and influx of information upon impact of the interaction and integration of outing an idea that will send it astray. 
All of these unsuspecting synergies can nurture an idea to flourish or even appropriately kill itself off. While eventually through its evolution may not even closely resemble its genesis.
When ideas go astray pay attention…
Ask not what your idea can do for you, ask what you can do for your idea.
 Mark's Myth is an exploration into the synergies of ideas… riffs blending wordplay, story telling, technology and the arts weaving together a tapestry of synapses and milestones.
Russian Military Colonel Publishes An Article Claiming Human & Animal Telepathy Is 100 Percent Real
The Facts:The Russian Ministry of Defense published an article about the existence of military parapsychology in Russian military techniques, with which you can penetrate into the thoughts of the enemy, hack computer programs, and communicate telepathically.
Reflect On:Why is this type of science studied at the highest levels of various governments, yet ridiculed and not studied at all within the mainstream?
Is telepathy real? It's hard to argue against it; in fact, I would say that it's not really up for debate. That being said, when it comes to topics like these, the field is polluted with a bad reputation given its association with magic, superstition and 'pseudoscience,' terms that often come from those who condemn the subject without ever really looking into it. The evidence for the existence of telepathy is actually quite overwhelming, and in many cases, much stronger than most other areas of science.
Dr. Jessica Utts is a great person to bring up, as I've done many times before, to hammer this fact home. She is the Chair of the Department of Statistics at the University of California, Irvine. In 1999, she published a paper showing how the statistical significance with regards to results seen from studies under the realm of parapsychology (telepathy, remote viewing, etc) are stronger than some of the studies used to approve some medications. In a recent interview, she emphasized the following.
"What convinced me was just the evidence, the accumulating evidence as I worked in this field and I got to see more and more of the evidence. I visited the laboratories, even beyond where I was working to see what they were doing and I could see that they had really tight controls… and so I got convinced by the good science that I saw being done. And in fact I will say as a statistician I've consulted in a lot of different areas of science; the methodology and the controls on these experiments are much tighter than any other area of of science where I've worked." (source)
Why is it that these topics are not touched by mainstream academia, yet studied at the highest levels of government? Multiple governments all over the world have been studying this phenomenon for decades, and a lot has been declassified. Take the remote viewing program that was conducted by the US government/CIA and Stanford University, for example.
After its declassification in 1995, or at least its partial declassification, the Department of Defense and those involved revealed an exceptionally high success rate.
To summarize, over the years, the back-and-forth criticism of protocols, refinement of methods, and successful replication of this type of remote viewing in independent laboratories has yielded considerable scientific evidence for the reality of the [remote viewing] phenomenon. (source)
The latest example comes from Russia, as their Ministry of Defence recently published an article about the existence and study of parapsychology within the Russian military. The article explains how these techniques are and were used to penetrate the thoughts of the enemy (mind-reading) as well as to hack into enemy computer systems. The article is titled "Super Soldier for the Future Wars" and was published in the Defense Army magazine.
The article was written by Colonel Nikolai Poroskov, who explained that they use parapsychological techniques like telepathy for combat purposes, revealing secrets, disclosing locations, etc… He even discloses that Russian specialists have learned telepathy by working with dolphins.
As a note to readers, we here at Collective Evolution do not condone the use of animals for any type of experimentation. There is no information on the conditions of these experiments, but we are assuming they were captured for military purposes, which is extremely sad and heart-breaking.
Poroskov writes:
"They mentally gave the animals the commands that they carried out. Similar practiced by the famous trainer Durov. The technique, as it turned out, is applicable to humans. Moreover, the impact was even possible on the technique. With an effort of thought you can, for example, shoot down computer programs, burn crystals in generators, eavesdrop on a conversation, or break television and radio broadcasts and communications. Good luck ended with such experiments as reading a document lying in a safe, even if it is in a foreign language that we do not speak; identification of individuals belonging to the terrorist network; identifying potential candidates for terrorist groups," the statement reads. (source)
Quite astonishing, isn't it? Parapsychology seems to be the largest known threat to any type of secrecy, doesn't it? I found the reference to hacking computers quite interesting. Can telepathy really be used for purposes like hacking electronic equipment? I did some more digging and found an interesting document inside of the CIA's electronic reading room with regards to the Soviet Union.
Here's a quote from the document:
The Soviet Union is well aware of the benefits and applications of parapsychology research. In 1963, a Kremilin edict apparently gave top priority to biological research, which in Russia includes parapsychology. The major impetus behind the Soviet drive to harness the possible capabilities of telepathic communication, telekinetics, and bionics is said to come from the Soviet military and the KGB. Today it is reported that the USSR has twenty or more centres for the study of parapsychological phenomena, with an annual budget estimated in 1967 at over 13 million dollars and reported to be as high as 21 million dollars.
Today, we know that trillions of dollars have gone into black budget programs in the United States, many of which likely deal with parapsychology, as they have in the past.
The document also states:
There are reports that the Soviets are training their cosmonauts in telepathy to back-up their electronic equipment while in outer space. One of these back-up schemes is known to involve coded telepathic messages. This method was previously demonstrated in March 1967, when a coded telepathic message was flashed from Moscow to Leningrad. The involvement of astronauts or cosmonauts in telepathy experiments is not necessarily unprecedented. In February 1971, during the Apollo 14 flight to the moon, astronaut Edgar Mitchell made 150 separate attempts to project his thoughts from inside the space capsule back to an individual on earth. The results of the Apollo 14 experiments have been well-documented in detail and are published in the Journal of Parapsychology. (source)
Deeper Black Budget Discussion On CETV
Again, these programs lie within the realm of the black budget and are highly classified. Who knows how far ahead of the mainstream world they truly are?
CETV is a platform we created in order to combat the censorship and demonetization we have been facing over the past few years. On episode 4 of The Collective Evolution Show on CETV, we discussed the black budget in much greater detail. Below is a clip exploring the missing money from the black budget and special access programs, explaining where the money is going and what exactly it's being used for.
You can become a member of CETV, get access to the full show and many others, and support conscious media here.
The Takeaway
Human consciousness and parapsychology should not only be studied for the purposes of learning new defence tactics. Humans have great potential, and there is still so much that we have yet to discover about ourselves. What needs to change is the intention behind these discoveries.