Lost Tribe On Small Island In The Indian Ocean remain virtually untouched by modern civilization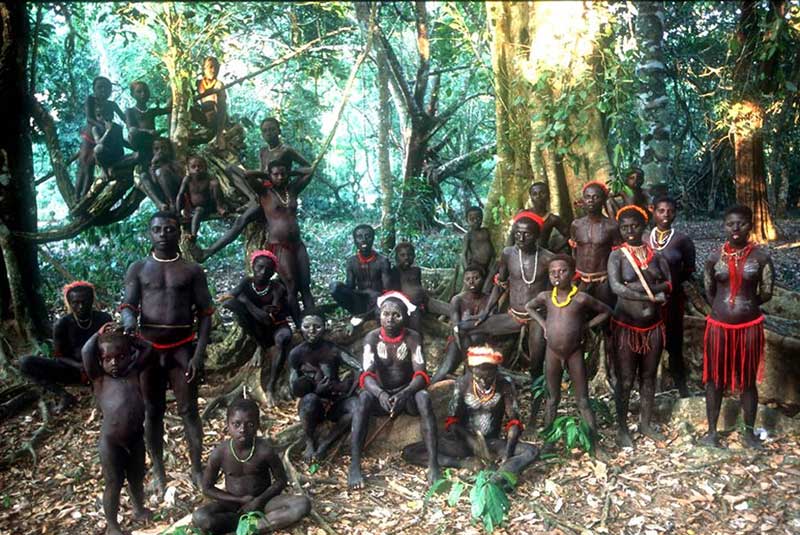 Anything and everything anytime
The Sentinelese (also Sentineli, Senteneli, Sentenelese, North Sentinel Islanders) are one of the Andamanese indigenous peoples and one of the most uncontacted peoples of the Andaman Islands, located in India in the Bay of Bengal. They inhabit North Sentinel Island which lies westward off the southern tip of the Great Andaman archipelago. They are noted for vigorously resisting attempts at contact by outsiders. The Sentinelese maintain an essentially hunter-gatherer society subsisting through hunting, fishing, and collecting wild plants; there is no evidence of either agricultural practices or methods of producing fire. Their language remains unclassiied.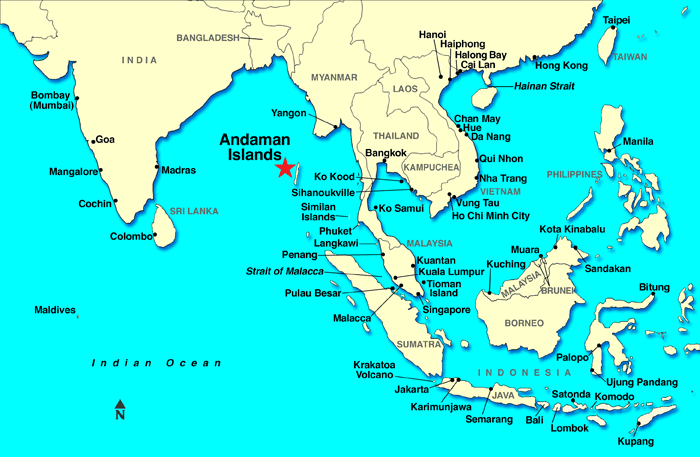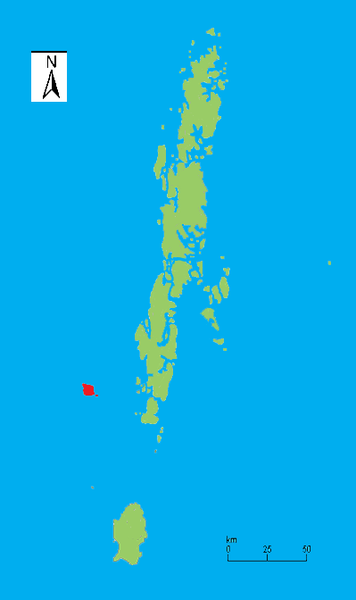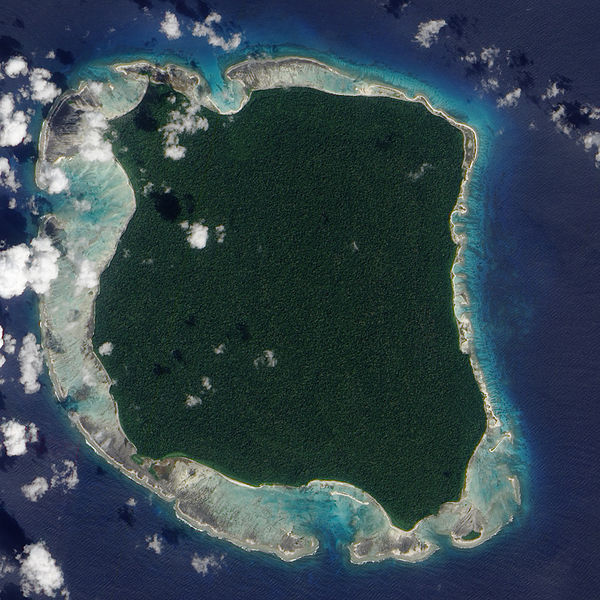 The present population of the Sentinelese is not known with any great degree of accuracy. Estimates have been produced ranging from lower than 40, through a median of around 250, and up to a maximum of 500. In the year 2001, the Census of India officials recorded 39 individuals (21 males and 18 females); however, out of necessity this survey was conducted from a distance and almost certainly does not represent an accurate figure for the population who range over the 72 km2 (17,800 acres) island. Any medium- or long-term impact on the Sentinelese population arising from the 2004 Indian Ocean earthquake and resulting tsunami remains unknown, other than the confirmation obtained that they had survived the immediate aftermath.
On previous visits, groups of some 20–40 individuals were encountered regularly. Habitations of 40–60 individuals were found on two occasions. As some individuals are almost certainly hiding, a better approximation of group size cannot be determined. This would suggest that some 2–6 groups occupy the island. The rule of thumb population density of 1.5 km2 (370 acres)/individuals in comparable hunter-gatherer societies indicates that one such group could live off the land alone. A significant amount of food is derived from the sea. It seems that the groups encountered, at any one time, could only have come from a rather small part of the island. There appear to be slightly more males than females. At any given time, about half of the couples seemed to have dependent children or the women were pregnant.
North Sentinel Island
The Sentinelese and other indigenous Andamanese peoples are frequently described as negritos, a term which has been applied to various widely separated peoples in Southeast Asia, such as the Semang of the Malay archipelago and the Aeta of the Philippines, as well as to other peoples as far afield as Australia (notably former populations of Tasmania). The defining characteristics of these "negrito" peoples (who are not a monophyletic group) include a comparatively short stature, dark skin and "peppercorn" hair, qualities also found commonly across the continent of Africa. No close contacts have been established, but the author Heinrich Harrer described one man as being 1.6 m (5′ 4″) tall and apparently left handed.
Negrito people of the Andaman Islands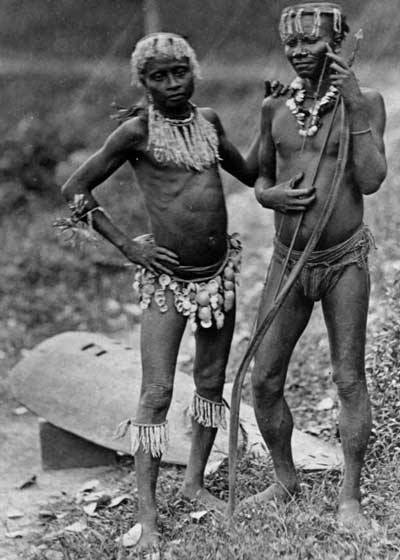 From 1967 onwards, the Indian authorities in Port Blair embarked on a limited programme of attempts at contacting the Sentinelese, under the management of the Director of Tribal Welfare and anthropologist T. N. Pandit. These "Contact Expeditions" consisted of a series of planned visits which would progressively leave "gifts", such as coconuts, on the shores, in an attempt to coax the Sentinelese from their hostile reception of outsiders. For a while, these seemed to have some limited success; however, the programme was discontinued in the late 1990s following a series of hostile encounters resulting in several deaths.
In 2006, Sentinelese archers killed two fishermen who were fishing illegally within range of the island. The archers later drove off, with a hail of arrows, the helicopter that was sent to retrieve the bodies.  To this date, the bodies remain unrecovered, although the downdraught from the helicopter's rotors at the time exposed the two fishermen's corpses, which had been buried in shallow graves by the Sentinelese.
On 2 August 1981, the ship Primrose grounded on the North Sentinel Island reef. A few days later, crewmen on the immobile vessel observed that small black men were carrying spears and arrows and building boats on the beach. The captain of the Primrose radioed for an urgent airdrop of firearms so the crew could defend themselves, but did not receive them. Heavy seas kept the islanders away from the ship. After a week, the crew were rescued by a helicopter working under contract to the Indian Oil And Natural Gas Commission (ONGC).
The Sentinelese apparently survived the 2004 Indian Ocean earthquake and its after-effects, including the tsunami and the uplifting of the island. Three days after the event, an Indian government helicopter observed several of them, who shot arrows and threw stones at the hovering aircraft with the apparent intent of repelling it. Although the fishing grounds of the Sentinelese were disturbed, they appear to have adapted to the island's current conditions.
Amazing that in 2013 there is still a tribe that has had virtually no contact with the outside world.  To resist contact in such a vigilant way.  Reminds me of the scene from Mutiny On The Bounty with Anthony Hopkins.
>
How Los Angeles Is Helping Lead the Fight Against Climate Change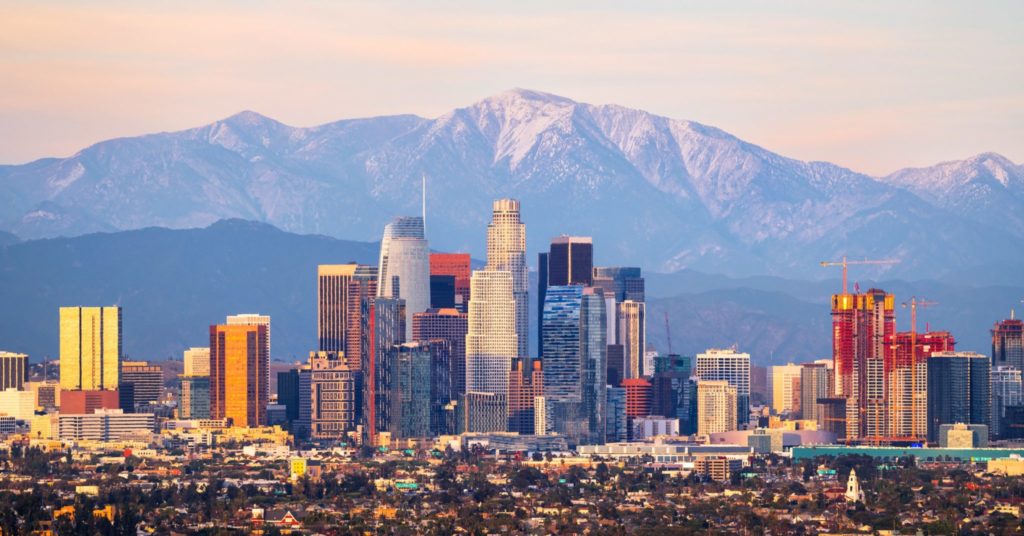 Los Angeles doesn't have a great environmental reputation. It's the car capital of the United States. It's famous for its curtains of smog, and for stealing a bunch of water once.
But the city is in the midst of a metamorphosis. With fewer, yet stronger storms on the horizon, it's begun an ambitious plan to cut its reliance on imported water in half by 2025. And it's emerging as a leader in the frantic international quest to curb emissions—in 2016 alone, it slashed emissions by 11 percent, the equivalent of taking more than 700,000 cars off the road.
This week, Los Angeles mayor Eric Garcetti joined other leaders, along with activists and business leaders, at the Global Climate Action Summit in San Francisco. The mission? Stop climate change before it destroys the planet, and our species along with it. Garcetti sat down with WIRED for two interviews, which we have combined and condensed, to talk about how to turn LA into a greentech testbed, why cities have to compete in order to save the world, and what the city can learn from its infamous water wars.
Matt Simon: In what way are cities uniquely positioned to be leaders on climate change?
Eric Garcetti: There's never been more people living in cities, and many of them control directly the most important national assets, like ports and airports and utilities. We have a culture of trying new things, whereas in Washington and other national capitals it's like, Oh make sure it's perfect before it comes to us and then we'll scale it up. Cities are those laboratories of democracy that states used to be. In a city like LA, we're trying to get to this idea of a city as a platform.
MS: So what is LA doing about emissions? It's known as a place of cars, of course, is that part of it? Is it renewable energy?
EG: In Los Angeles, we can't afford not to do all of the above, from energy generation to our building codes to transportation including personal transportation, our mass transit, and our goods movement from the port and our logistical network. We're the number one solar city in America—we've made a pledge to go to 100 percent renewable power, we're reducing our water imports, which consumes a lot of energy. We're cleaning up the port of LA, which is now the greenest port in the world, and made a pledge to go to zero emissions by 2035.
In 2016, the last year we measured, we were down 11 percent, which is the equivalent of 737,000 cars off the road. And by the way, that same year unemployment went down 14 percent. So this whole myth that you can't do that and expand the economy, we're laying to rest, I hope.
MS: People throw their arms up about that—you can't do renewable energy, it'll kill jobs.
EG: We generated 30,000 new green jobs since I've been mayor, so in five years. To put that in perspective, there's 50,000 coal jobs left in America. So this town that's just 1 percent, roughly, of the US population has created the equivalent of 60 percent of the remaining coal jobs left in America. Appalachia should be doing that, areas that have been hard hit by a recession and not recovered. These are generally good middle class jobs too, not just minimum wage.
MS: There's this interesting dynamic between cities working on this problem that is at once competitive, but also collaborative.
EG: When Shenzhen says, I've got 100 percent already of our bus fleet electrified and all of our taxis, that's good competition for LA to try to catch. And it's collaborative in the sense that when people back in LA say there's no way we can electrify our buses by 2030, I can point to the fact that Shenzhen in China just did it and it took them two and a half, three years. It begins to change people's attitudes.
MS: How much are you enlisting the populace in this? Is it about changing behavior on a wide scale?
EG: It's everything from 25,000 car chargers by 2025, to the work that we're doing to make sure people reduce their water consumption, because we have to use a lot of electricity to bring that water to them. Recycling is now 75 percent. The goal for all megacities is to get to 70 percent, we're already at 75 percent. And that's human behavior of sorting, recycling and demanding. So the most important work is actually in-house, in your own place of work, in your own habits. And then secondarily in what you demand from your elected representatives.
MS: You mentioned water, and I think this is a really key component, especially for LA.
EG: We need to build cities that can survive what is happening, and what will continue to happen even if we can reverse this. Which is there will still be decades of hotter days, extreme weather, and social and health disruptions.
William Mulholland, the great engineer who built out our water system, as told in Chinatown and other movies—I say this is kind of our second Mulholland moment to reengineer a system that instead of stealing other people's water, we'll recycle, reuse, reduce our water consumption. The fact that my residents stepped up and reduced, in a year, 20 percent of their water use shows we can absolutely do this without feeling it.
MS: Say a city is looking to get into this sort of thing, to clean themselves up, what one piece of advice would you give them?
EG: I'd say go big and be personal. Stretch farther than you think you can reach. And boil it down in human terms. Don't talk about tons of carbon or millions of vehicles. Talk about people's health and sickness and firefighters who are dying on the line with historic fires caused by drought. This isn't about environmentalists who are hobbyists in a little peripheral policy area. This is about everybody's health and their lives. People are dying and those who aren't dying are all suffering under the weight of what's happening.
A Group Of 500+ Scientists Publishes Why They Reject Darwin's Theory of Evolution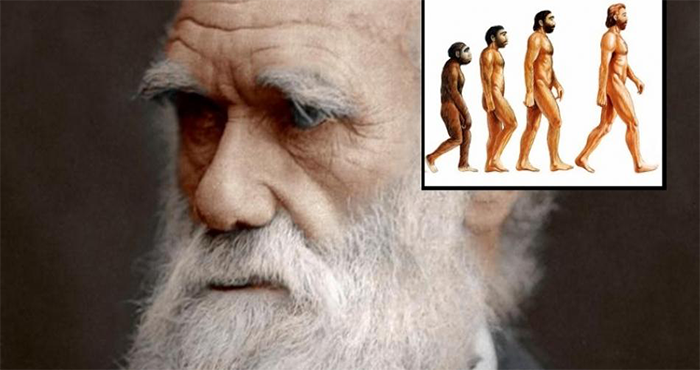 Think about the theory of evolution. It's widely accepted as fact among the scientific community and even the public. It is taught as so in schools all around the world. However, over 500 scientists have stated that they completely reject the theory of evolution altogether.
Professor Colin Reeves is one of these scientists, who says:
"Darwinism was an interesting idea in the 19th century, when hand-waving explanations gave a plausible, if not properly scientific, framework into which we could fit biological facts. However, what we have learned science the days of Darwin throws doubt on natural selection's ability to create complex biological systems – and we still have little more than hand-waving as an argument in its favour."
These scientists all came together for a few years to create an "A Scientific Dissent From Darwinism." A website dedicated to talking about the flaws of Darwinism.
Multiple Theories Should Be Discussed
This battle, so to speak, is still ongoing today, with new information emerging all the time. The topic of Darwinism is very controversial. This group won't be the first scientists to go against the theory, and many before have been ousted for doing so.
The theory of evolution is something that is pushed extremely hard on the population and in the scientific world, which may be one of the reasons why this group of scientists is voicing their concerns. There are multiple theories that have substance and should be discussed just as much.
Complex Building Blocks More Than Just Coincidence
One such example comes from Francis Nick, who is a Nobel prize winner who was the co-discoverer of the DNA Double Helix. Crick believes that such complex building blocks to life, such as DNA, has to be more than just coincidence and random mutations. Crick is one of many scientists who believed that there was something more going on, possibly a superior intelligent being or beings.
Video 1:
The Origin Of Life
On top of all this, it is very unhealthy for any community to have people scared to question things, which is also the very nature of being a scientist after all. It seems as though human intuition is leading more and more towards something more, and many of the greatest scientific minds agree.
There are many questions to be had, and maybe one day we will discover the origin of life. Until then, we can just hope that scientists can be allowed to question current theories and formulate new ones without ridiculous consequences.
What is Darwin's Theory of Evolution?

'Rumbles and a Boom' as 3.1M Earthquake Rattles Western Nova Scotia
It's strange how some earthquakes, even though small in magnitude create rumbling sounds and booms!
via The Weather Network:
A 3.1 magnitude earthquake shook parts of western Nova Scotia on Saturday morning.
Earthquakes Canada reports that the quake occurred just off the coast in the area of Mavillette, N.S., near Meteghan, at 10:32 a.m.
Tina Helprin, who lives in Saulnierville Station, said she was sitting in her rocking chair in the kitchen when the quake happened.
"All of a sudden in the distance we heard like a rumble, like if it was going to be thunder and it rolled for like two or three seconds and then there was a loud boom and then it rolled again. It finished with another rumble of about two or three seconds," she said.
Helprin said the entire house shook and her border collie, Cree, ran up to her, "petrified."
"I just looked at my husband with big eyes and he looked at me right away…. I said, 'That was not thunder.' And he said, 'Nope, it sure wasn't,'" she said.
Felt From Digby To Yarmouth
Earthquakes Canada seismologist Michal Kolaj said the agency had received about 60 reports from residents between Digby and Yarmouth by Sunday morning.
"This earthquake isn't terribly unusual for the region," Kolaj said, adding that quakes are felt in the area every couple of years.
In 2015, a 3.6 magnitude tremor shook the area about 60 kilometres southwest of Digby on Canada Day. In 2016, a 3.0 magnitude quake was centred about 19 kilometres north of Yarmouth.
More recently, according to Earthquakes Canada, a 3.3 magnitude quake occurred 332 kilometres off Louisbourg on Sept. 16, and a 2.5 magnitude quake happened 17 kilometres west of Hammonds Plains on Sept. 5. Those two earthquakes were not felt by residents, the agency says.
Kolaj said there were no reports of damage from the quake on Saturday morning, and none would be expected, given the magnitude.
The seismologist encouraged residents to report their experience of the earthquake to help researchers understand how quakes of different magnitudes are felt.