'Looks weird… like, really weird': Wall Street isn't sold on Tesla's new Cybertruck design. Here's what 7 analysts think about the electric pickup.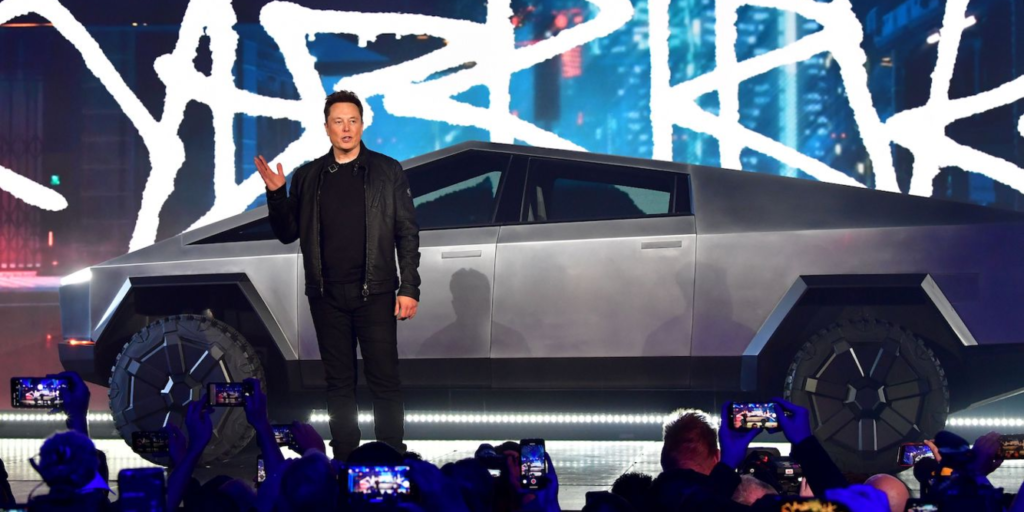 Tesla unveiled its Cybertruck on Thursday in a live event where its design leader accidentally broke two of the car's windows.
Many Wall Street analysts think the truck's strange design could harm the car's performance.
Credit Suisse said Tesla's rivals Ford and General Motors could "breathe a sigh of relief."
Others said it would be a niche offering, similar to the Hummer.
Here's what seven analysts said about the Tesla Cybertruck.
Wall Street analysts aren't buying the futuristic design of Tesla's new electric pickup truck, called the Cybertruck, announced in a live event on Thursday.
"Tesla's Cybertruck looks weird… like, really weird," Toni Sacconaghi of Bernstein wrote in a Friday note. "Add a little bit of dirt, and you could even say it gives off a retro-future vibe a la Mad Max."
The strange design, inspired in part by the movie "Blade Runner," is likely to affect how people view the truck and if they ultimately decide to buy, analysts said.
"We do not see this vehicle in its current form being a success," Jeffrey Osborne of Cowen wrote in a note on Friday, adding that he doesn't see the Tesla brand or the Cybertruck design "resonating with existing pickup truck owners."
That means that General Motors and Ford, Tesla's main competitors in the pickup market, can "breathe a sigh of relief," wrote Dan Levy of Credit Suisse.
To make matters worse, the live unveiling of the Cybertruck didn't exactly go as planned. Tesla's lead designer, Franz von Holzhausen, accidentally broke the truck's "armor glass" windows with a metal ball during a demonstration.
That "was not a good start," Emmanuel Rosner of Deutsche Bank wrote in a Friday note. Tesla shares fell as much as 7% the day after the event.
Still, the Cybertruck's design wasn't unanimously disliked by Wall Street. The design "will be a hit with the company's fanatic EV installed base globally as Musk & Co. are clearly thinking way out of the box on this model design," Dan Ives of Wedbush wrote in a Friday note.
But Ives went on to say that those outside the base might disagree.
"Investors will question if this is a mass market pickup going after Ford and GM with ~3 million pickup trucks sold annually in the US, or a more niche 'wow factor' model that will be more limited," he wrote.
Here's what else Wall Street analysts had to say about the Cybertruck:
1. Cowen: "Blade Runner inspired design appears to be the most controversial feature."
Tesla
Rating: Underperform
Price target: $190
"Tesla's Cybertruck reveal will likely disappoint current pickup truck owners and we see the vehicle remaining a niche and not a mainstream product," Jeffrey Osborne of Cowen wrote in a note Friday.
He continued: "The Blade Runner inspired design appears to be the most controversial feature. The base price of $39,900 is likely never to be seen, just as the $35k Model 3 has failed to materialize.
"CEO, Elon Musk has been enthusiastic about his Blade Runner inspired design for months, but we were still surprised how futuristic he went with this one and believe it may shatter his dreams."
2. Wedbush: The design "looks more like a stealth bomber than a pickup truck."
AP Photo/Ringo H.W. Chiu
Rating: Neutral
Price target: $270
The design "looks more like a stealth bomber than a pickup truck in our opinion," Dan Ives of Wedbush wrote in a Friday note.
He continued: "From a demand perspective this will be a more niche market, as we believe hitting the 150k/175k unit threshold in its first full year of deliveries (likely 2022) is the line in the sand out of the gates and could be a tough bogey to hit.
"For comparison, the leader in the market Ford sells roughly 1 million F-150 pickups per year. In a nutshell, we believe this next generation Cybertruck model could help Tesla expand its market opportunity outside its core customer base over time, although gaining market share with stalwarts such as Ford and GM entrenched in this landscape will be a difficult task for Fremont."
3. Deutsche Bank: "There are important unanswered questions."
Reuters
Rating: Hold
Price target: $290
"We believe there are important unanswered questions to be able to assess potential buyer interest in the model, and whether this could attract commercial fleets or remain a consumer niche vehicle," Emmanuel Rosner of Deutsche Bank wrote in a Friday note.
He continued: "First of all, is the exterior design too polarizing? Second, what are the real battery ranges under working conditions, with a payload or while towing? A greatly reduced range would require commercial customers to opt for the higher trims, which could be significantly more expensive than their equivalent traditional pickups.
"Third, will commercial buyers trust Tesla's build quality? While the materials used appear robust, there could be questions about the truck's durability when used under work conditions, especially in light of its seemingly unibody construction. And the shattering of the truck's unbreakable glass windows during the live demonstration was not a good start."
4. Canaccord Genuity: "Unique and futuristic design will resonate with consumers."
Tesla
Rating: Buy
Price target: $375
"While styling will always be subjective, we believe the unique and futuristic design will resonate with consumers, leading to solid demand," Jed Dorsheimer of Canaccord Genuity wrote in a Friday note.
He continued: "The starting price point of $39,900 for the 250-mile-range, single-motor RWD design option was also a strong point as this positions the Cybertruck competitively in the middle of the lucrative truck market, with production expected in 'late 2021.'
"While the futuristic design may be polarizing, we are encouraged by the Cybertruck release and believe that along with the coming Model Y crossover SUV, Tesla will be able to address two key categories of the automotive market that it previously could not."
5. Bernstein: "Cybertruck is likely to be a niche offering."
Tesla
Rating: Market-perform
Price target: $325
The "really futuristic, like cyberpunk Blade Runner" design "is too bad, because its on-paper specs are insane," Toni Sacconaghi of Bernstein wrote in a Friday note.
He continued: "As promised, the pickup's specs are Tesla-like; a range of 250-500+ miles; 0-60 time
"But looks do matter, and we think Cybertruck is likely to be a niche offering – with sales of perhaps 50K units a year or less. We think the best potential comp for the Cybertruck is Hummer, which sold 30-80K units annually during its lifetime."
6. Credit Suisse: "It's somewhat unclear to us who the core buyer will be."
Tesla
Rating: Underperform
Price target: $200
"The Tesla truck should be considered a lifestyle product – the Jeep Wrangler/Gladiator and F-series Raptor franchises come to mind as lifestyle off-road products, as well as other future off-road vehicles (i.e. Ford Bronco, Hummer electric pickup)," Dan Levy of Credit Suisse wrote in a Friday note.
He continued: "Yet amid the radical design for Cybertruck, it's somewhat unclear to us who the core buyer will be.
"For all that Tesla tried to show edges in the Cybertruck vs. incumbent products, our first take is that Cybertruck is not a threat to incumbent large pickup share."
7. Morgan Stanley: "More fitting for a work site in a Martian colony."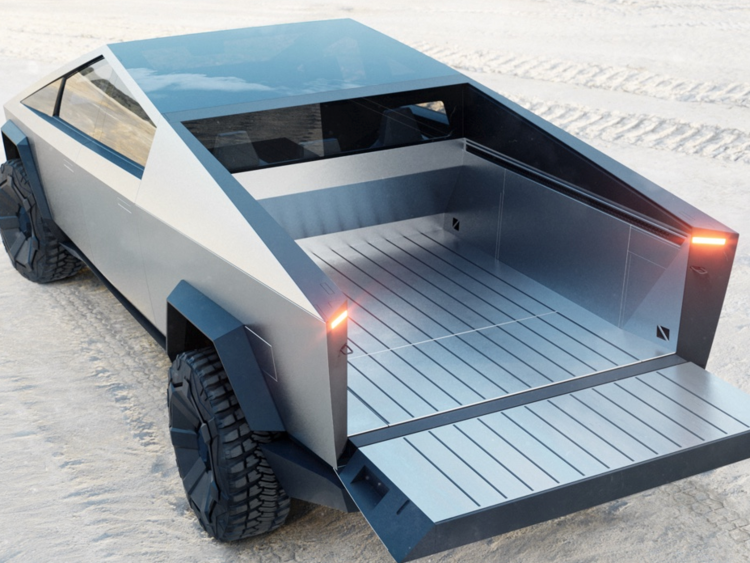 Tesla
Rating: Equal weight
Price target: $250
"While some investors may see the design as more fitting for a work site in a Martian colony, true art and design lovers may appreciate that Tesla has tried to bring something totally different to the market here on Earth," Adam Jonas of Morgan Stanley wrote in a Friday note.
He continued: "In this current iteration, we do not believe the Cybertruck poses a significant threat to the established pickup truck market."
53-year-old looking 25 reveals the secret of "eternal youth"
Edson Brandao from the Netherlands told Unilad how at 53 he manages to look several decades younger."People are always shocked when they find out that I'm 53 years old. They all think I'm 25," he admits.
Brandao claims that he never resorted to the help of plastic surgeons, and his appearance is the result of a healthy lifestyle.
He adheres to a special diet: he does not eat fried and canned food, and also avoids sugar.
The man combines all this with strength training. He prefers mineral water from drinks, drinking about two liters daily.
Brandao also stresses that he has never smoked or used drugs in his life.
"Now I feel no worse than when I was not even 30," he says. – I feel the same energy as before. To be honest, I've never felt so good." he says.
A creepy video with a skeleton girl running on all fours leaked on the web
A video appeared on the Internet, which should be a fragment of some horror movie, definitely not something that you would like to face on a dark night, but no, this is an ordinary video filmed with a street surveillance camera. At night, the camera recorded a skinny girl running around her house on all fours.
The video was published a few weeks ago. It was named "Dog Girl from Tamaulispas". As the title suggests, the video was recorded in Mexico. In a couple of weeks, the video managed to spread throughout the Internet.
The video shows a pale and emaciated creature. If you look even closer, you can see a girl moving on all fours. A mentally unhealthy resident of Mexico is moving very dexterously and at high speed.
Some people wrote in the comments that the impression was that the cameras were recording a humanoid. Other citizens noted that the girl actually has Uner Tan syndrome. With this disease, a person is not able to walk on two legs.
It is worth noting that this girl was spotted back in 2009. Then the not indifferent found out that the girl-dog lives with her mother in the Ampliación Unidad Nacional area. A woman hides her daughter from neighbors and even more so from the media. This behavior is quite understandable: the mother does not want her daughter to be mocked and become a victim of cruel ridicule.
The syndrome doesn't explain why the girl is so skinny and completely naked in the video. It is also worth noting that no one with a similar disease moves on four limbs skillfully frighteningly, as if it were not a person. Today the girl is 25 years old, there is no information about her for obvious reasons. It is only known that cameras are specially placed in case the girl escapes.
Most people were shocked by the footage, they compared it to a horror movie, only a real one.
Many commentators point out that for humans, the creature in the video moves so unnatural and frightening that it all looks more like a high-quality fake.
"It's like shots from a horror movie," writes one commentator bluntly. 
"I can't even imagine how scared I would be if I walked there at night and saw her," writes another. 
The strange phenomenon of the "wire woman"
In 2008, an amazing and mysterious incident attracted the attention of the whole world. A woman named Noor Saida, 40, who was born in Sangatta, East Kalimantan, Indonesia, went to doctors complaining that she had metallic hair growing on her chest and abdomen.
It is very painful when the stubble is about to come out of the pores, "Nursyaida said in his medical examination.
The kindergarten teacher explained that her first symptoms began to appear in 1991. Painful metal wires emerged from the skin, fell out in the first week, and after a month the wires began to grow again, and from that moment on the wires did not fall out again. They kept growing!
One of her sisters said she tried to help by cutting the wire. Unfortunately, whenever she trimmed the metal bristles, the remnants of the iron hair would go inward and then reappear on another part of Nursayda's body.
A metal wire 10 to 20 cm long growing from inside a woman's body is still a mystery! During a medical examination, doctors discovered that wires were also present inside the woman's abdomen.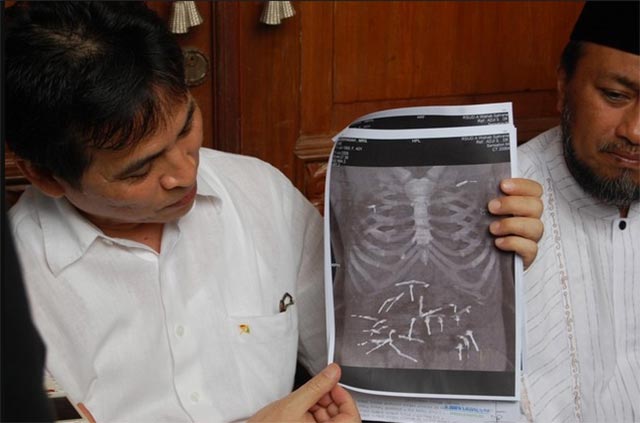 On X-rays, doctors found that there were more than 40 metal wires inside, and some were coming out of her skin.
It looks like a living phenomenon, the wires were able to move and therefore, they can change their location at will, the doctors said.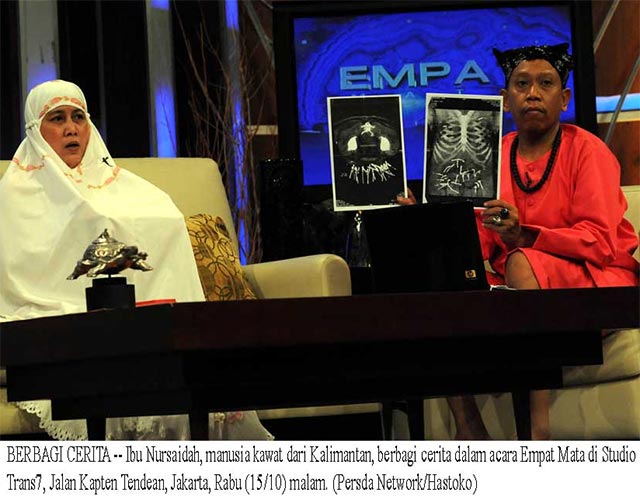 Doctors believed it could be a very rare genetic or mental illness.
As a result, this case remained a mystery and the doctors did not find a logical explanation for it, none of the presented symptoms is known in the medical literature.