'Looks weird… like, really weird': Wall Street isn't sold on Tesla's new Cybertruck design. Here's what 7 analysts think about the electric pickup.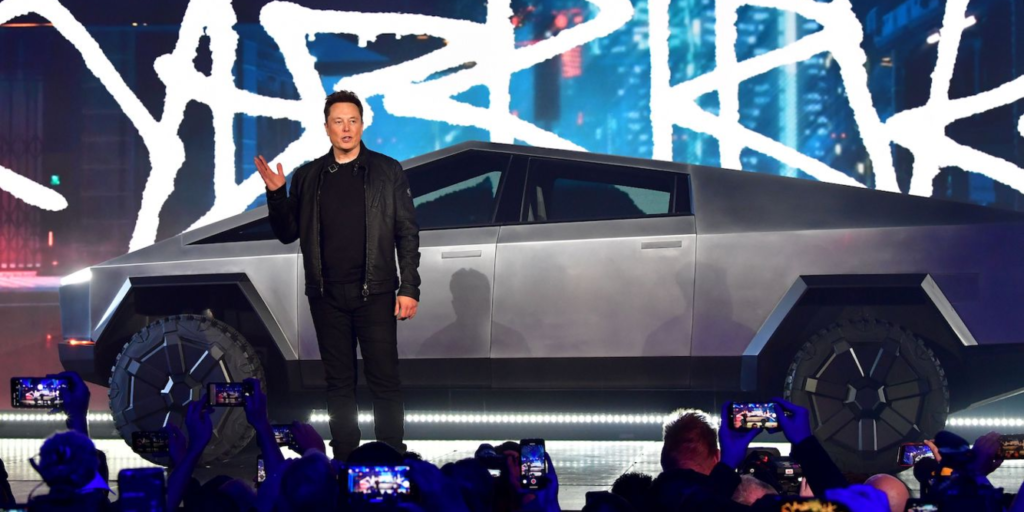 Tesla unveiled its Cybertruck on Thursday in a live event where its design leader accidentally broke two of the car's windows.
Many Wall Street analysts think the truck's strange design could harm the car's performance.
Credit Suisse said Tesla's rivals Ford and General Motors could "breathe a sigh of relief."
Others said it would be a niche offering, similar to the Hummer.
Here's what seven analysts said about the Tesla Cybertruck.
Wall Street analysts aren't buying the futuristic design of Tesla's new electric pickup truck, called the Cybertruck, announced in a live event on Thursday.
"Tesla's Cybertruck looks weird… like, really weird," Toni Sacconaghi of Bernstein wrote in a Friday note. "Add a little bit of dirt, and you could even say it gives off a retro-future vibe a la Mad Max."
The strange design, inspired in part by the movie "Blade Runner," is likely to affect how people view the truck and if they ultimately decide to buy, analysts said.
"We do not see this vehicle in its current form being a success," Jeffrey Osborne of Cowen wrote in a note on Friday, adding that he doesn't see the Tesla brand or the Cybertruck design "resonating with existing pickup truck owners."
That means that General Motors and Ford, Tesla's main competitors in the pickup market, can "breathe a sigh of relief," wrote Dan Levy of Credit Suisse.
To make matters worse, the live unveiling of the Cybertruck didn't exactly go as planned. Tesla's lead designer, Franz von Holzhausen, accidentally broke the truck's "armor glass" windows with a metal ball during a demonstration.
That "was not a good start," Emmanuel Rosner of Deutsche Bank wrote in a Friday note. Tesla shares fell as much as 7% the day after the event.
Still, the Cybertruck's design wasn't unanimously disliked by Wall Street. The design "will be a hit with the company's fanatic EV installed base globally as Musk & Co. are clearly thinking way out of the box on this model design," Dan Ives of Wedbush wrote in a Friday note.
But Ives went on to say that those outside the base might disagree.
"Investors will question if this is a mass market pickup going after Ford and GM with ~3 million pickup trucks sold annually in the US, or a more niche 'wow factor' model that will be more limited," he wrote.
Here's what else Wall Street analysts had to say about the Cybertruck:
1. Cowen: "Blade Runner inspired design appears to be the most controversial feature."
Tesla
Rating: Underperform
Price target: $190
"Tesla's Cybertruck reveal will likely disappoint current pickup truck owners and we see the vehicle remaining a niche and not a mainstream product," Jeffrey Osborne of Cowen wrote in a note Friday.
He continued: "The Blade Runner inspired design appears to be the most controversial feature. The base price of $39,900 is likely never to be seen, just as the $35k Model 3 has failed to materialize.
"CEO, Elon Musk has been enthusiastic about his Blade Runner inspired design for months, but we were still surprised how futuristic he went with this one and believe it may shatter his dreams."
2. Wedbush: The design "looks more like a stealth bomber than a pickup truck."
AP Photo/Ringo H.W. Chiu
Rating: Neutral
Price target: $270
The design "looks more like a stealth bomber than a pickup truck in our opinion," Dan Ives of Wedbush wrote in a Friday note.
He continued: "From a demand perspective this will be a more niche market, as we believe hitting the 150k/175k unit threshold in its first full year of deliveries (likely 2022) is the line in the sand out of the gates and could be a tough bogey to hit.
"For comparison, the leader in the market Ford sells roughly 1 million F-150 pickups per year. In a nutshell, we believe this next generation Cybertruck model could help Tesla expand its market opportunity outside its core customer base over time, although gaining market share with stalwarts such as Ford and GM entrenched in this landscape will be a difficult task for Fremont."
3. Deutsche Bank: "There are important unanswered questions."
Reuters
Rating: Hold
Price target: $290
"We believe there are important unanswered questions to be able to assess potential buyer interest in the model, and whether this could attract commercial fleets or remain a consumer niche vehicle," Emmanuel Rosner of Deutsche Bank wrote in a Friday note.
He continued: "First of all, is the exterior design too polarizing? Second, what are the real battery ranges under working conditions, with a payload or while towing? A greatly reduced range would require commercial customers to opt for the higher trims, which could be significantly more expensive than their equivalent traditional pickups.
"Third, will commercial buyers trust Tesla's build quality? While the materials used appear robust, there could be questions about the truck's durability when used under work conditions, especially in light of its seemingly unibody construction. And the shattering of the truck's unbreakable glass windows during the live demonstration was not a good start."
4. Canaccord Genuity: "Unique and futuristic design will resonate with consumers."
Tesla
Rating: Buy
Price target: $375
"While styling will always be subjective, we believe the unique and futuristic design will resonate with consumers, leading to solid demand," Jed Dorsheimer of Canaccord Genuity wrote in a Friday note.
He continued: "The starting price point of $39,900 for the 250-mile-range, single-motor RWD design option was also a strong point as this positions the Cybertruck competitively in the middle of the lucrative truck market, with production expected in 'late 2021.'
"While the futuristic design may be polarizing, we are encouraged by the Cybertruck release and believe that along with the coming Model Y crossover SUV, Tesla will be able to address two key categories of the automotive market that it previously could not."
5. Bernstein: "Cybertruck is likely to be a niche offering."
Tesla
Rating: Market-perform
Price target: $325
The "really futuristic, like cyberpunk Blade Runner" design "is too bad, because its on-paper specs are insane," Toni Sacconaghi of Bernstein wrote in a Friday note.
He continued: "As promised, the pickup's specs are Tesla-like; a range of 250-500+ miles; 0-60 time
"But looks do matter, and we think Cybertruck is likely to be a niche offering – with sales of perhaps 50K units a year or less. We think the best potential comp for the Cybertruck is Hummer, which sold 30-80K units annually during its lifetime."
6. Credit Suisse: "It's somewhat unclear to us who the core buyer will be."
Tesla
Rating: Underperform
Price target: $200
"The Tesla truck should be considered a lifestyle product – the Jeep Wrangler/Gladiator and F-series Raptor franchises come to mind as lifestyle off-road products, as well as other future off-road vehicles (i.e. Ford Bronco, Hummer electric pickup)," Dan Levy of Credit Suisse wrote in a Friday note.
He continued: "Yet amid the radical design for Cybertruck, it's somewhat unclear to us who the core buyer will be.
"For all that Tesla tried to show edges in the Cybertruck vs. incumbent products, our first take is that Cybertruck is not a threat to incumbent large pickup share."
7. Morgan Stanley: "More fitting for a work site in a Martian colony."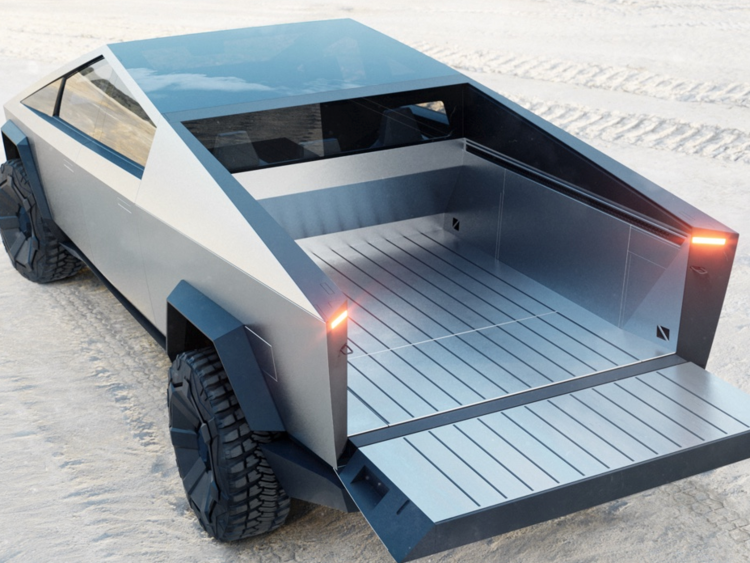 Tesla
Rating: Equal weight
Price target: $250
"While some investors may see the design as more fitting for a work site in a Martian colony, true art and design lovers may appreciate that Tesla has tried to bring something totally different to the market here on Earth," Adam Jonas of Morgan Stanley wrote in a Friday note.
He continued: "In this current iteration, we do not believe the Cybertruck poses a significant threat to the established pickup truck market."
More than 5,000 strange holes have been found at the bottom of the Pacific Ocean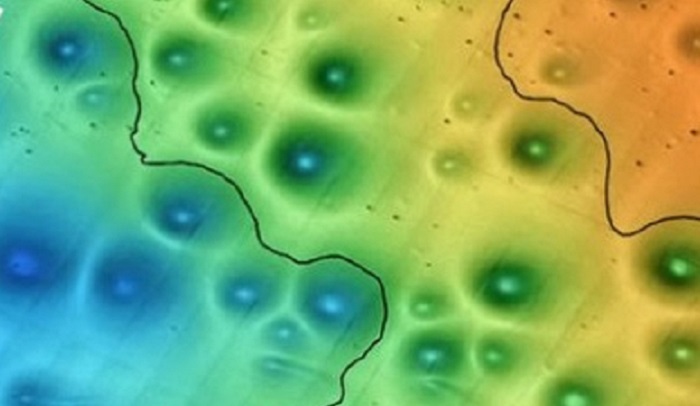 On a relatively small part of the Pacific Ocean, off the western coast of the United States, there are several thousand indentations of various sizes, the origin of which is not completely clear.
This was reported by scientists at the Monterey Bay Aquarium Research Institute (MBARI).
The larger pits have an average width of 175 meters and a depth of about five meters. Their shape is almost perfectly round.
Over the last few years, experts at MBARI and other organizations have found more than 5,200 such holes, such as smallpox, on an area of ​​approximately 1 300 square kilometers. So far, this is the largest concentration of such sites in North America.
More recently, scientists have been exploring the bottom of California in more detail. The fact is that they want to build a power plant there, but first they need to study the local conditions in detail.
Thousands of small pits or micro-depressions have been discovered using sonars mounted on autonomous submarines. Their width is about 11 meters and the depth is about a meter. Moreover, their shape is not round but oval.
Previously, similar seabed depressions have been found elsewhere in the world, and their origin is mainly due to methane emissions.
However, MBARI researchers find no evidence of this gas in the bottom sediments or in the water in this region.
Sonar data showing sludge bed layers, indicate that these points have been inactive for the last 50,000 years.
Scientists discover that the Y chromosome is disappearing from the blood of men
A study has found that Y chromosomes of men are disappearing as they get older and could put them at greater risk of cancer.
Humans have 23 pairs of chromosomes. The Y chromosome is considered the male chromosome and women don't have it: they have the XX chromosomes while men have XY.
But researchers have discovered that many men also lack Y chromosomes in some of their white blood cells.
The investigation
To reach this conclusion, scientists led by the University of Cambridge conducted a study on samples of 205,011 men, obtained from the Biobank gene bank in the United Kingdom, which contains the DNA of 500,000 volunteers.
They identified 156 autosomal genetic variants related to the loss of the Y chromosome, which were preferably close to genes involved in the regulation of the cell cycle, susceptibility to cancer or somatic drivers of tumor growth.
They found that more than four in 10 men (43.6%) had lost a notable proportion of their Y chromosomes at the age of 70.
The researchers found that one in five men in a sample of more than 200,000 had begun to lose Y chromosomes of DNA in some of their blood cells.
20% of men of all ages had lost some of the Y chromosomes in their blood and this proportion had doubled when men were 70 years old.
Subsequent analysis showed that people with high genetic predisposition to lose the Y chromosome were at greater risk of suffering from some type of cancer. The autosomal genetic variants found also influenced other aspects such as reproductive aging or type 2 diabetes.
Possible causes
The study authors believe that the loss of Y occurs through predisposition to processes that promote errors in cell division, or processes that help create an environment where aneuploid cells (cells with an abnormal number of chromosomes) are more likely to proliferate.
The team that made the discovery said that this strange change may be a sign that men's DNA was unstable and that the body was allowing random genetic mutations to accumulate.
The research has been published in the magazine Nature.
The Dani cannibal tribe and their smoky dead ancestors
In the Baliem Valley, West Papua Province in Indonesia, lives a weirdly primitive tribe called the Dani People.
A few decades ago, Dani actively practiced ritual cannibalism. It is now reported that this tradition has been discontinued.
In their recent macabre history, there is no less a frightening tradition of smoked dried carcasses of their dead relatives over a fire. And also cutting off the phalanges of women's fingers.
The phalanges were cut with a stone axe. This procedure is performed for those women who have lost a male relative: husband, son, brother or nephew, to emphasise the pain of loss and to appease the dead's spirit.
The surgery was primitive and rough, but the wounds on the hands of the women healed well and fairly quickly.
Recently, Italian photographer Gianluca Chiodini visited the village of Dani People and made unique color photographs.
Chiodini wandered in the jungle for days trying to find the tribe and finally he was lucky.
The photographer shares:
"The natives greeted me warmly and did not even try to eat me."
Gianluca was shocked to see the 250-year-old corpses of the dead, Dani's "eternal" ancestors, completely black from smoking for a long time.
The guide told the Italian that seven smoked mummies are stored in the village, but only two of them are allowed to be shown to strangers. The rest are taboos, and if the photographer tries to find them himself and photographs them, the natives could kill him.
To prevent mummies from decomposing, they are removed daily and carefully smeared with ointment of herbs and lard. Then they are hung over the fire so that the smoke can penetrate well into the body. All this has been happening daily for 250 years.
Dani people stopped eating their relatives only after 1990, at least officially. Now the meat they eat is mostly pork.
The natives hunt wild pigs with bows and arrows. After being captured and killed, the pigs are wrapped in palm leaves and allowed to be smoked by fire, like the mummies of their ancestors.
When the meat is hot, it is considered ready. Men are the first to eat, and women and children eat what is left behind.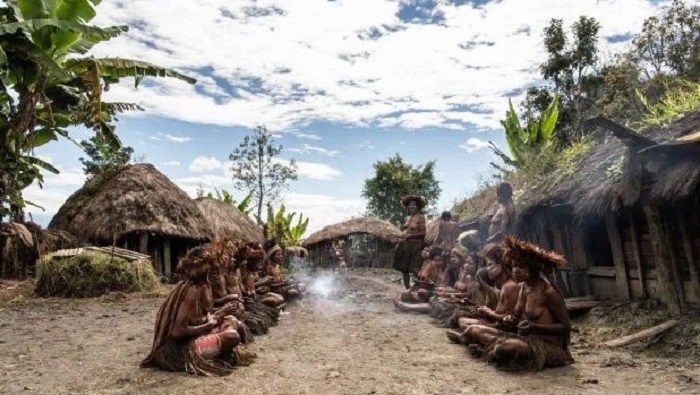 Many women in the tribe have their fingers cut off, meaning they have lost many male relatives.
Whether these deaths were in battle with neighboring tribes or through illness, history is silent …
Now, finger-cutting is also considered a forbidden procedure and in young women the fingers are already intact but you can still see the amputated hands of the older women.