Listen to the Sound of Mars: NASA Reveals Audio Recorded by Insight from Martian Surface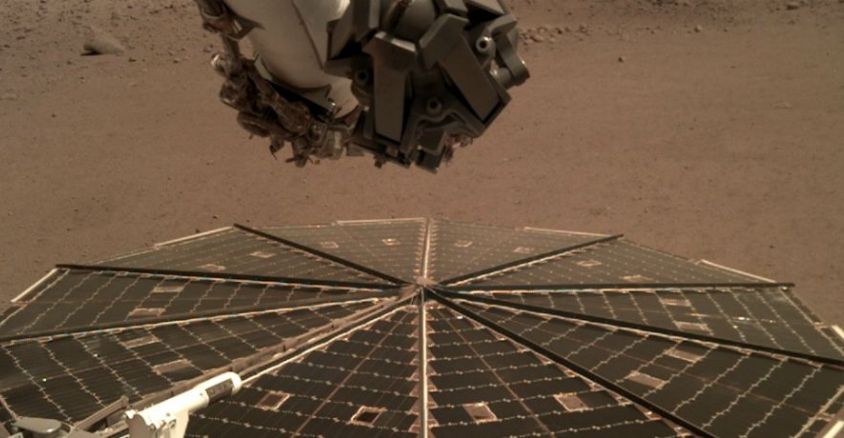 Humans have never before heard the sound of wind on Mars until now!
We've seen countless images of Mars taken throughout the years. And while I must admit that personally, I find Mars a beautiful planet, I have always wondered what the sound of Mars is.
Imagine yourself standing on the Martian surface, being able to breathe, survie, and hear the wind. The noise. Mars is alive.
And now, NASA's InSight lander, which recently touched down on the Martian surface has given us another opportunity to fall in love with the red planet.
The lander has managed to record the sound of a Martian 'dust devil' during its first working days on the red planet's surface.
According to the space agency, this is the first time ever we actually heard what Martian winds sound like.
The sensors onboard the InSight lander detected winds blowing between 10 to 15 mph, coming from northwest to southeast. The best part? The recording is in the range of human hearing, which means that for the first time ever, we can hear what Mars sounds like.
InSight recorded the audio on December 1. NASA explains that the vibrations were picked up at a very low pitch, although the sound can still be heard.
But to make it clearer, NASA decided to boost the pitch by two octaves, which allows you to hear the Martian wind on your mobile phone, tablet or computer.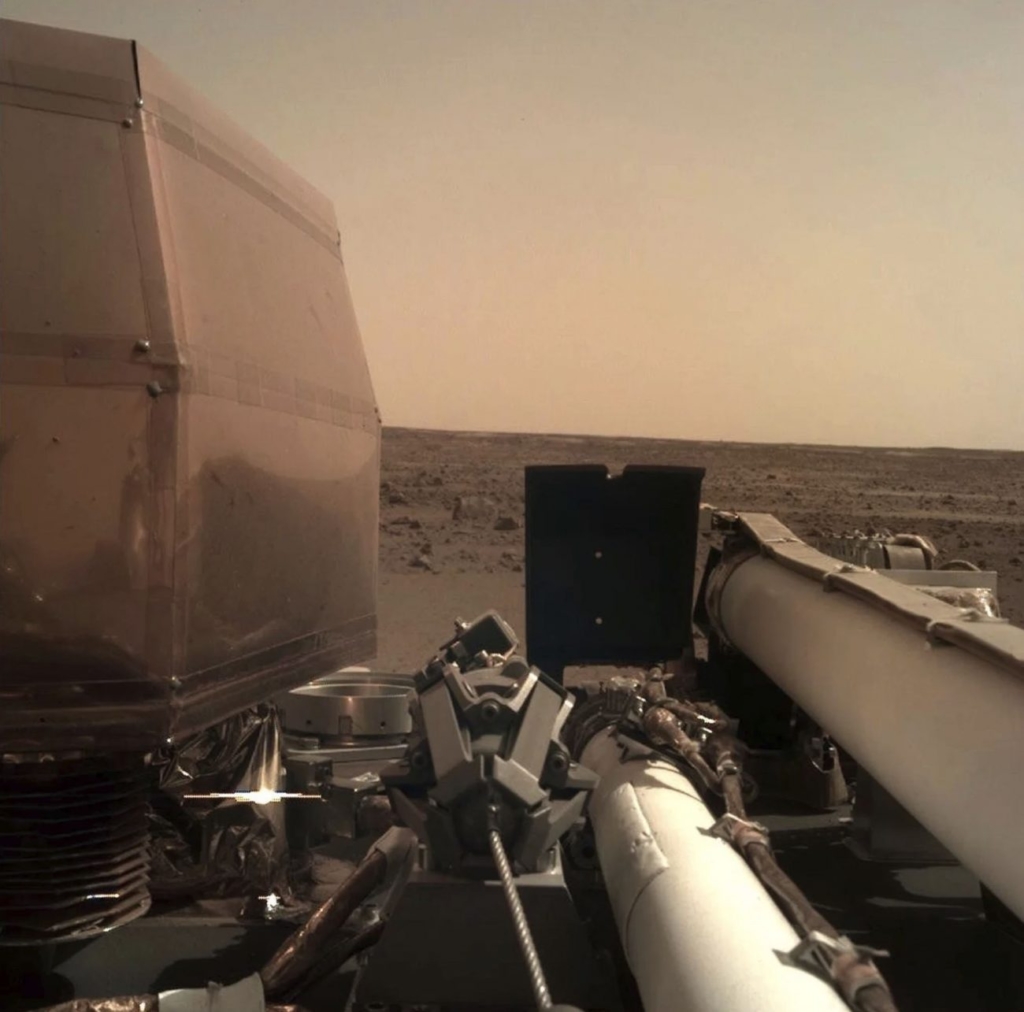 NASA's InSight Mars lander captured this view of its surroundings shortly after touching down on the Red Planet on Nov. 26, 2018. Image Credit: NASA/JPL-Caltech via Twitter
NASA's newest Martian lander detected wind vibrations using two of its sensors: one designed to specifically measure air pressure, and with a seismometer on the deck.
Bruce Banerdt, InSight principal investigator at NASA's Jet Propulsion Lab said that while InSight didn't set out to record Martian wind, its a nice addition to the mission.
"Capturing this audio was an unplanned treat," he said. "But one of the things our mission is dedicated to is measuring motion on Mars, and naturally, that includes motion caused by sound waves."
"Hearing the first sounds ever recorded on the surface of another planet is a privilege. We have a great team, and we're doing incredible things every day at NASA," NASA administrator Jim Bridenstine said.
BREAKING: Humans have never before heard the sound of wind on Mars until now! Listen to #SoundsOfMars as recorded by @NASAInSight as Martian winds swept over our lander. Best with headphones or a subwoofer. https://t.co/VreQxcAnAM pic.twitter.com/yd98NgZgR3

— Jim Bridenstine (@JimBridenstine) December 7, 2018
As explained by NASA, the audio was recorded by two different instruments in two entirely different ways.
The landers Auxiliary Payload Sensor Subsystem's air pressure sensor picked up the vibrations produced by the wind direction.
Insight's seismometer recorded the vibrations that were produced as the wind passed over the landers solar panels.
"The InSight lander acts like a giant ear," explained Tom Pike, InSight science team member.
"The solar panels on the lander's sides respond to pressure fluctuations of the wind. It's like InSight is cupping its ears and hearing the Mars wind beating on it. When we looked at the direction of the lander vibrations coming from the solar panels, it matches the expected wind direction at our landing site."
Extraterrestrial Life Could Feasibly Live in Salty Puddles on Mars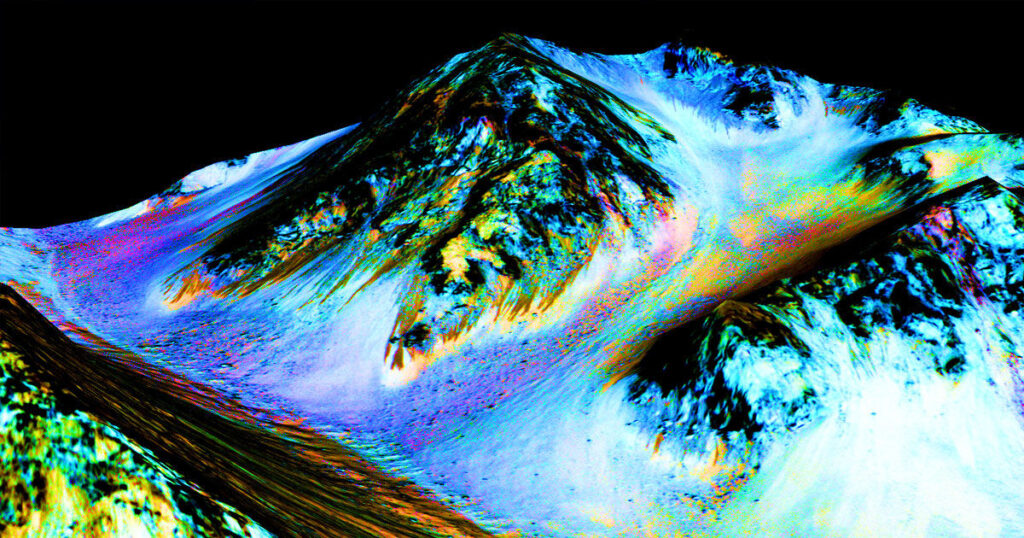 All Dried Up
Scientists found another possible place to look for extraterrestrial life on Mars. The Red Planet, recently discovered to have water just beneath its surface, could be dotted with puddles of mud with a high concentration of salts.
Investigating similar salty mud puddles on Earth, Wichita State University astrobiologists found that bacterial life could survive even after getting completely dried out, according to Space.com. The finding doesn't by any means guarantee that there is or ever was life on Mars, but it does suggest that Mars is more hospitable than scientists previously assumed.
Puddle Pity
The scientists, who presented their research at an American Society for Microbiology conference on Friday, put bacteria in jars with a solution of saltwater similar to that found on Mars, per Space.com. They then left them to dry out and rehydrate as the water evaporated and condensed with changing temperatures, as it would on Mars.
"We have the first data showing the growth of bacteria after drying and then rehydration through humidity alone, in the presence of salts that absorb moisture from the air," lead scientist Mark Schneegurt told Space.com.
Next up, Schneegurt told Space.com, is to get the experimental conditions closer and closer to those of Mars in order to better test the limits of these particularly resilient microbes.
READ MORE: How Martian Microbes Could Survive in the Salty Puddles of the Red Planet [Space.com]
Scientists Think Black Holes Could Be Portals To Other Worlds
Very little is known about black holes, aside from the fact that they are the result of a dying star imploding on itself from the pressure of the gravity. One theory about the mechanics of black holes is that they might be portals to other galaxies, or other parts of a galaxy.
This is a relatively new theory, as scientists previously thought that attempting to travel through a black hole would destroy anyone who attempted it. In fact, some researchers still believe that the heat emanating from the black hole would entirely vaporize any spacecraft that would attempt to travel through it.
A team of scientists at the University of Massachusetts Dartmouth, believe that there are many different types of black holes, some of which would be easier to travel through than others. The team even believes that there are some black holes that a spacecraft would be able to pass through "gently."
According to Gaurav Khanna, lead researcher on the team, "the reason that this is possible is that the relevant singularity inside a rotating black hole is technically "weak," and thus does not damage objects that interact with it. At first, this fact may seem counter intuitive. But one can think of it as analogous to the common experience of quickly passing one's finger through a candle's near 2,000-degree flame, without getting burned."
Khanna's team has been researching black holes for over 20 years, and they believe in this theory that some black holes would be possible to travel through.
"Under all conditions an object falling into a rotating black hole would not experience infinitely large effects upon passage through the hole's so-called inner horizon singularity. This is the singularity that an object entering a rotating black hole cannot maneuver around or avoid. Not only that, under the right circumstances, these effects may be negligibly small, allowing for a rather comfortable passage through the singularity. In fact, there may no noticeable effects on the falling object at all. This increases the feasibility of using large, rotating black holes as portals for hyperspace travel," Khanna says.
The researchers used a computer simulation to support their theory about calm black holes.
For many years, scientists have only had theoretical models to help them imagine what a black hole looked like. No one had ever taken a photo of this phenomenon in space before, until earlier this year.
The images were captured thanks to a global network of telescopes called the Event Horizon Telescope.
Researchers found the apparent black hole in galaxy M87, according to Sheperd Doeleman, EHT Director and astrophysicist at the Harvard-Smithsonian Center for Astrophysics in Cambridge.
The black hole is 55 million light-years from Earth in the constellation Virgo, and it's about 1,000 times as large as the Milky Way's giant, which weighs the equivalent of roughly 4 million suns.
In another incredible discovery that happened this year, scientists detected a "dark impactor" that has some researchers believe has been "blasting holes in our galaxy." This force is not visible, and may not be made up of matter. This may be made up of some type of material that humans aren't even familiar with. Human telescopes haven't even been able to detect this material yet, but it is leaving a mark and that is how we know it is out there.
Ana Bonaca, is the researcher from the Harvard-Smithsonian Center for Astrophysics, who discovered evidence for the impactor.
Bonaca presented her evidence to her peers for the first time on April 15, at the conference of the American Physical Society in Denver. Bonca says that whatever this mysterious force is, it is creating a series of holes in our galaxy's longest stellar stream, GD-1.
If you are not familiar with the term, stellar streams are basically rows of stars that move together across galaxies. Many times, these streams originate in smaller clusters of stars that collided with the galaxy.
Bonaca managed to make this discovery by keeping an eye on data from the Gaia mission, a European Space Agency program that maps billions of stars in our galaxy and tracks their movements across the sky. Bonaca cross referenced the information from the Gaia mission with observations from the Multi Mirror Telescope in Arizona.
Martian sand dune looks like Starfleet logo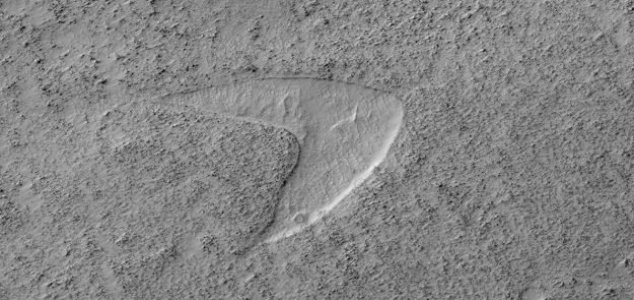 Image Credit: NASA
The dune looks very similar to the Starfleet logo. 
New images taken by NASA's MRO HiRise camera show a sand dune formation with a rather familiar shape.
The photographs, which were captured by NASA's Mars Reconnaissance Orbiter, have prompted some rather tongue-in-cheek references to Star Trek's iconic insignia.
"Enterprising viewers will make the discovery that these features look conspicuously like a famous logo," the HiRise team at the University of Arizona wrote in a Tweet.
Star Trek references aside, this intriguing formation and others like it have been helping scientists to learn more about the Red Planet's atmosphere, temperature and topography.
This, in turn, will also help NASA to better plan out future manned missions.
Caption Spotlight (12 Jun 2019): Dune Footprints in Hellas

Enterprising viewers will make the discovery that these features look conspicuously like a famous logo.

More: https://t.co/CAq5xBbDwf

NASA/JPL/University of Arizona#Mars #science pic.twitter.com/N5MfKQPiYt

— HiRISE (NASA) (@HiRISE) June 12, 2019
Source:
IB Times