Life on Enceladus? complex organic molecules on Saturn's satellite?
From stories about the inhabitants of the Moon to the costly research programs set up by space agencies, identifying the presence of life on another heavenly body seems to be an endless concern for mankind. As the margins of the known Universe are still moving away from the Earth, the possibility of discovering living beings on another planet is increasing even though we have no certainty, but only hope and probability.
For the moment, we are grateful for these probabilities, awaiting the day that it will undoubtedly confirm that we and our planet do not represent the only life-assembling complex of this huge universe.
But to host life, a heavenly body must give it certain conditions. (Here, it seems that we still need to expand our ideas a little, because we tend to believe that any living thing on another planet must be made up just like the living things on Earth, not necessarily like them, but be the same at the molecular level.
If one of the great scientific discoveries of recent years – bacteria capable of using arsenic instead of phosphorus – is confirmed – that means that our perspective on what is living must change. And then, it is possible that some planets with attributes that today seem inappropriate to become more interesting in the future in the light of our changed concepts.)
But, by the way, all people, at all times, think about the ideas of their time, so let us also thank ourselves to the contemporary ideas regarding what life means and the conditions that a planet must fulfill for that the miracle of life should appear there and perpetuate.
Extraterrestrial life could develop into Enceladus's hidden oceans
The first observations of Saturn's satellite were made in 2005 when hydrothermal jets were detected for the first time. Now, there may be the answer that raises the chances of alien life.
"From where Enceladus has the energy to support the phenomenon has always been a mystery to us,"said astrobiologist Gael Choblet of Nantes University in France.
"I have now considered with greater detail how the structure and composition of the solid core can play a key role in generating the necessary energy,"he added.
It is estimated that the ice thickness is 25 kilometers, but only one kilometer around the southern polar region, where these hydrothermal phenomena occur.
The small pieces of minerals detected in jets suggest that salts and silica dust are formed by the interaction of water that can reach up to 90 degrees Celsius with the rocks of the Enceladus satellite. For this interaction to take place, there must be space in the core for water to coexist, so the core must be porous.
"Whatever the mineralogical composition of the core, it must contain water," Choblet explained, "maybe 20-30% water."
In the new simulations, the team found that the tides generated by the orbit around Saturn can heat the water inside Enceladus due to the frictional force produced as the liquid circulates through rock fragments.
When the water rises in temperature (reaching up to 90 degrees in the orange sections in the image below), it rises through the porous core through the ocean to the surface in the form of jets.
Previous studies state that this heat would have been from radioactive material, but if that was the case, the process would have provided the heat needed to emerge the jets for several million years, so somehow the radioactive material would have appeared recently on Enceladus.
The new theory offers a more plausible explanation, with a phenomenon that takes place over a longer period.
What's most interesting is that the warm water, the long time and the chemical composition found on Enceladus are key elements in the emergence of life.
Thus, this study can be the basis for the search for extraterrestrial life.
Scientists have found evidence of complex organic molecules on Saturn's satellite
Using mass spectrometry data collected by NASA's Cassini probe, scientists have found that large organic carbon molecules are ejected through the cracks on the frozen surface of Enceladus, one of the many natural satellites of the giant gas giant, Saturn.
Researchers at the Southwest Research Institute, who discovered the presence of these molecules, believe that the chemical reactions between the solid core of the satellite and the warm water in the ocean under ice are responsible for these complex compounds, Phys.
"ONCE AGAIN, WE ARE AMAZED BY ENCELADUS. PREVIOUSLY, WE IDENTIFIED ONLY THE SIMPLEST ORGANIC MOLECULES CONTAINING A FEW CARBON ATOMS, BUT EVEN THOSE WERE VERY INTERESTING, "SAID CHRISTOPHER GLEIN, A SCHOLAR AND CO-AUTHOR OF THE WORK RECENTLY PUBLISHED IN NATURE.

"NOW WE HAVE FOUND ORGANIC MOLECULES WITH MASSES OF OVER 200 ATOMIC MASS UNITS. THESE ARE TEN TIMES HEAVIER THAN METHANE. WITH COMPLEX MOLECULES EMANATING FROM THE LIQUID WATER OF THE OCEAN, THIS SATELLITE IS THE ONLY BODY BESIDES THE EARTH THAT SIMULTANEOUSLY MEETS ALL THE NECESSITIES OF LIFE AS WE KNOW IT. "

"EVEN AFTER ITS END, CASSINI CONTINUES TO TEACH US ABOUT ENCELADUS'S POTENTIAL IN ASTROBIOLOGY," GLEIN ADDED.
During the flight, near Enceladus, on October 28, 2015, with the help of the INMS (Neutral Mass Spectrometer) instrument, molecular hydrogen could be detected when the ship passed through a jet.
Previous studies have already shown that the satellite has an ocean under the ice layer and above the solid core. The molecular hydrogen jet is probably formed by the geochemical reactions between water and rocks in hydrothermal environments.
"HYDROGEN PROVIDES A SOURCE OF CHEMICAL ENERGY THAT SUPPORTS MICROBES LIVING IN THE EARTH'S OCEANS NEAR HYDROTHERMAL SPRINGS," SAID HUNTER WAITE, THE SCIENTIST WHO HEADS THE TEAM AT INMS AND CO-AUTHOR OF THE NEW STUDY. "ONCE YOU HAVE IDENTIFIED A POTENTIAL SOURCE OF FOOD FOR MICROBES, THE NEXT QUESTION IS ABOUT THE NATURE OF COMPLEX ORGANIC COMPOUNDS IN THE OCEAN. THIS WORK IS THE FIRST STEP IN THAT UNDERSTANDING OF THE COMPLEXITY OF ORGANIC CHEMISTRY BEYOND OUR EXPECTATIONS. "

"ALSO, THE FINDINGS IN THIS STUDY HAVE IMPORTANT SIGNIFICANCE FOR EXPLORATIONS OF THE NEXT GENERATION," GLEIN ADDED. "A FUTURE SHIP CAN FLY THROUGH THE JET TO ANALYZE THESE COMPLEX ORGANIC MOLECULES USING A HIGH-RESOLUTION MASS SPECTROMETER TO HELP US DETERMINE EXACTLY HOW TO FORM THEM."
Year after year, benefiting from advances in exploration technology, astronomers discover more planets that seem to be "good for life." Let us understand: we do not necessarily speak of "good for us", that is, good to live on, but some that offer similar conditions – identical – to those on Earth, conditions that could allow them to live there beings, adapted to those conditions.
And on Earth there are many places where people do not live, but they live enough life forms, some with a very original metabolism. And some creatures on the Earth can withstand almost unimaginable harsh conditions.
If experts will persuade those who decide the money destination to provide funds for the preparation of such a mission, Enceladus could become the next star on alien life searches.
He deserves it, say "his admirers", because he has a lot to offer – he has qualities that can feed hope much more than the planet Mars, the one that "consumes" currently the funds for the research of the profile.
Well, what can I say? Let's be healthy to take the time when the world explodes the news that the space mission to Enceladus has found signs of biological activity there, undeniable evidence that there is what we have been looking for decades – life-forms living on another heavenly body from our solar system.
References:
Alien Life Might Be so Advanced That It's Indistinguishable From the Laws of Physics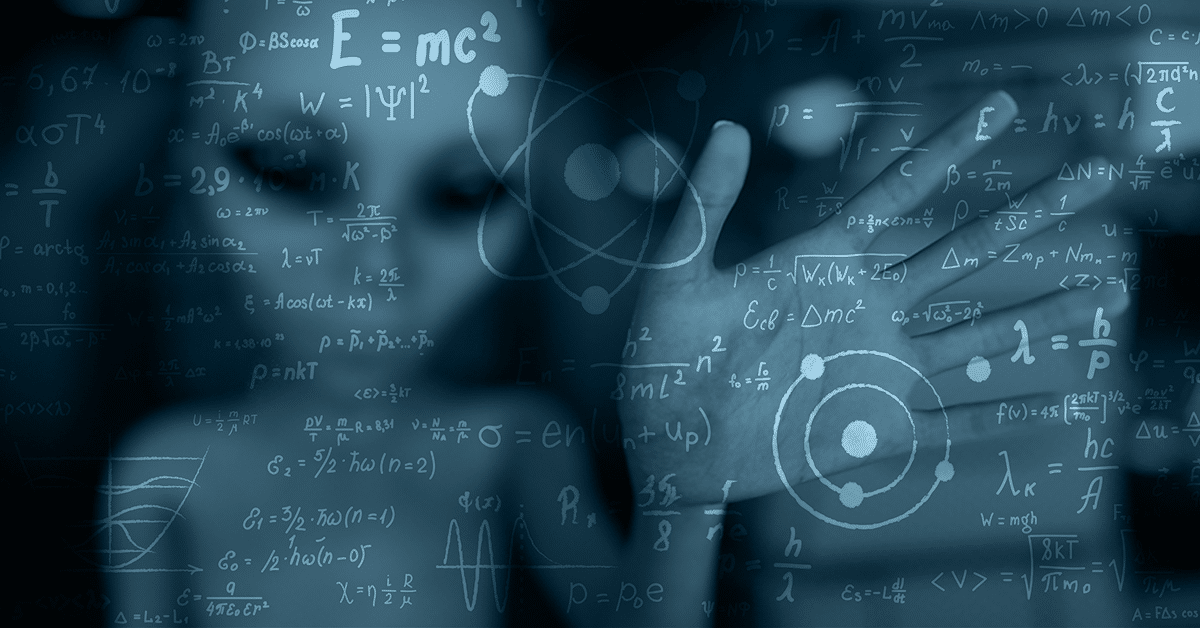 We've never seen aliens … or have we? No, Roswell conspirators, not now. Please sit down. We're talking in multitudes of higher complexity.
Try this on: Maybe aliens are the puppet masters behind the laws of physics. Or maybe aliens literally are physics. Just when we thought we had a grasp on the fundamental constants of the universe, boom, dark matter rips off the mask, and it's E.T. Too crazy to be true? Prove it.
Related Video: The Physics of Life
Magic, Shmagic
British science-fiction writer and futurist Arthur C. Clarke famously formulated three adages known as Clarke's three laws. Of them, number three steals most of the spotlight: "Any sufficiently advanced technology is indistinguishable from magic."
Consider cavemen for a moment. If you hand-delivered an iPhone to an ancient cave-dweller, he'd be dumbfounded at the "magical" device. But give it some time, and Fred Flintstone would probably start tweeting and Snapchatting. Now, let's crank 'er up a notch. Imagine technology so advanced, it's not even recognizable as technology, or magic, for that matter. It could be so advanced that calling it magic would be an insult. Sorry, David Blaine.
One-Word Explanation for Anything: ALIENS
This isn't all some far-out psychedelic rambling. (Even if it were, we'd still be here for it.) As bonkers as it may sound, Scharf argues that his thought experiment could explain the most mysterious cosmic phenomena. Take our dear ol' elusive friend, dark matter. This unseen stuff makes up 27 percent of the observable universe, but virtually everything else about it is famously unknown. Based on the assumptions and predictions of cosmologists and astronomers, dark matter could be much more complicated than we're ready to understand. Inconsistencies between dark matter models and observations only back that up.
With all this apparent complexity, Scharf says it wouldn't be outlandish to think that technologically advanced life is stored there. "What better way to escape the nasty vagaries of supernova and gamma-ray bursts than to adopt a form that is immune to electromagnetic radiation? Upload your world to the huge amount of real estate on the dark side and be done with it." The inconsistencies might just be a result of being artificially tampered with.
You can run a similar exercise with the elusive dark energy, which makes up roughly 68 percent of the universe. The universe didn't start expanding at an accelerated rate until a cool 5 billion years ago, and scientists don't know why. Well, well, well, how convenient.
According to Scharf, an advanced alien civilization could have bumped the speed up so they wouldn't have to live in such a crowded, hot mess of a universe. "Any very early life in the universe would have already experienced 8 billion years of evolutionary time by the time expansion began to accelerate," he writes. "It's a stretch, but maybe there's something about life itself that affects the cosmos, or maybe those well-evolved denizens decided to tinker with the expansion."
Just Sayin'
Note that the ideas Scharf is putting out there are just that: ideas. None of this is peer-reviewed or even testable (YET). This is just one brave astrobiologist on a mission to brainstorm the boundaries of theoretical possibility and make you paranoid beyond all reason that every inescapable, so-called law of "nature" affecting you is extraterrestrial intelligence. We're just having fun, kids!
Scharf signs off with a mind-bender: "Perhaps hyper-advanced life isn't just external. Perhaps it's already all around. It is embedded in what we perceive to be physics itself, from the root behavior of particles and fields to the phenomena of complexity and emergence. In other words, life might not just be in the equations. It might be the equations."
Want more from Carl Scharf? Check out this book "The Copernicus Complex: Our Cosmic Significance in a Universe of Planets and Probabilities." 
A pilot of the Turkish Airlines company records a UFO from the cabin
It has always been said that the only people who see UFOs are anonymous people, who get carried away by the stereotype that has been perpetuated by the world of science fiction, leading to erroneous identifications of what they have witnessed. But the reality is quite another, UFOs are sighted by men and women from all walks of life, and from all social and economic classes: from chefs to bankers, cleaning staff to surgeons, writers and politicians. So, it should not surprise us that those who spend their working days in the heavens also witness the so-called anomalous aerial phenomena . In fact, the cases of encounters of pilots with UFOs are considered more credible than any other.
And if we have to mention a particular case, the first thing that comes to mind is the flight 1628 of Japan Air Lines was, a UFO incident that occurred on November 17, 1986. The crew of the Japanese cargo plane Boeing 747- 200F, which was en route from Paris to Narita International Airport, near Tokyo, saw a UFO, in addition to being detected by the radars. The meeting lasted approximately seven minutes and the crew, made up of the captain, the co-pilot and the flight engineer, assured that two spacecraft stopped in front of the plane while emitting very intense lights, to such an extent that they felt the heat in the interior cabin.
The witnesses had experience and lots of flight hours, including Captain Teraushi Kenju, a former Japanese fighter pilot with more than 29 years of flight experience. Undoubtedly, this incident is one of the best known UFO cases in the history of aviation, but it is not the only one. Now, a stunt pilot has recorded a UFO flying at high speed from his cabin during a flight.
The Turkish UFO
Turkish captain Atilla Şentürk, from the Turkish Airlines area company, saw the strange object during a commercial flight from Istanbul to Cologne on May 10 . Şentürk recorded the white object moving in circles at an "incredible speed" from his plane. Half tricks have published the video, which shows the UFO emitting flashes of light on the horizon. Due to its distance from the plane, the object can not be clearly seen.
"During the flight from Germany to Cologne, we saw an incredibly bright object at high altitude ," Şentürk told CNN in Turkey . "It was not a satellite or a star."
The pilot added that the object quickly disappeared moments after it was recorded. Although the media usually report on UFO sightings, the pilot declared that he himself had never seen anything like it in his entire career.
"It was the first time I saw something like this," added Şentürk. "He was very close to us and very bright despite the sun. I had never seen anything fly so fast. "
In addition to the captain, the flight cabin supervisor and the First Officer also witnessed the object of unknown origin . Since the images were taken by a pilot of a commercial plane, the Turkish media have echoed the unusual encounter. And how could it be otherwise, social networks have also reacted. There are many who have been surprised with what you see in the video, ensuring that the UFO was following the trajectory of the plane.
They also recalled that an incident similar to 2013 could have occurred, when a Boeing 757 from the Air China company hit an unidentified flying object . On that occasion, the encounter occurred at an altitude of 26,000 feet only 20 minutes after the plane took off.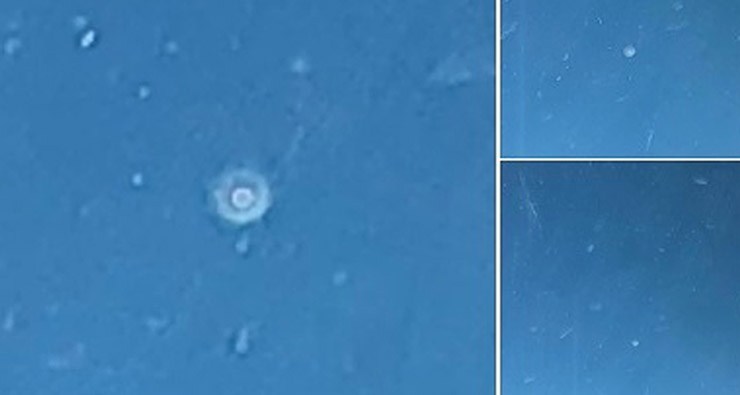 There were no injuries between the passengers and the crew, but the plane was forced to make an emergency landing at the Shuangliu airport in China. Although most surprising of all was that when landing, the operators saw the aircraft visibly damaged. For the skeptics, both the sighting of Şentürk and similar ones are simply wrong identifications, completely forgetting that the witnesses are experienced pilots with a large number of flight hours.
What is your opinion about the video? Is it a UFO chasing the plane? Or do you have another explanation?
Black and red UFO is spotted and terrifies driver in Nashville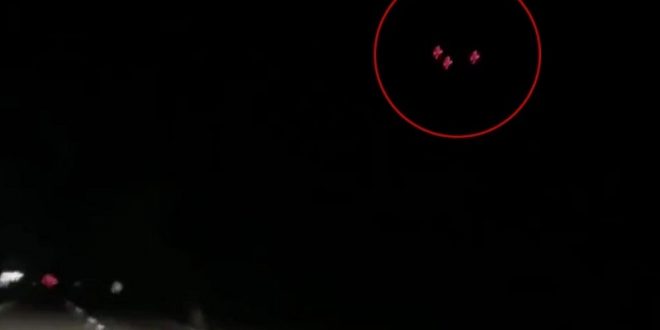 SPOOKY footage shows a blank triangular UFO with red flashing lights hovering over a car as the terrified driver can be heard bursting into tears and saying"f**k, f**k".
The driver then leaves her husband a series of panic-stricken voice messages, shared with Sun Online, in which she tells him "Baby I've just seen a spaceship."
The motorist spotted the strange black triangle with red lights underneath it while driving home from a dance class in Nashville, Tennessee, in the USA.
She was recording herself singing on her phone when she decided to point the camera towards the road ahead.
Suddenly three red lights appeared in the distance and started moving slowly towards her car.
As they got closer, the woman sees them and she can be heard whispering "f**k, f**k" before she bursts into tears in sheer panic – and tried to call her husband.
The driver told Sun Online: "I kept looking in my back seat just to make sure I was still alone in my car. I was terrified but my husband wouldn't answer his phone."
She described the craft as a large black triangle covered in red lights, which was "shiny and had a very sleek design".
She explained: "I was driving home from Nashville, I was alone and I was singing. All of a sudden it just seems to appear out of nowhere and it was hovering over my car.
"It was probably the size of three cars but it was a triangle. There was no sound.

"It was black and had a very nice sleek design.
"The red lights where all nicely placed in rows, but there were some line shape lights. The material was shiny.
"The brightness of the lights weren't extremely bright because I don't remember the red being reflected anywhere or like inside my car. Unless it was too far away for it to make my car reflect red light.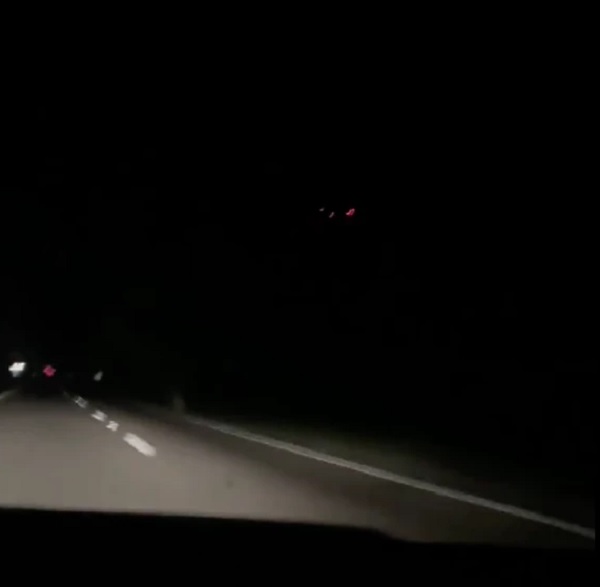 "I started to cry and my initial thought was confusion because I was wondering what a device like that is doing out here and so low to the ground and because I didn't know what I was looking it.
"It was completely foreign until I had the realisation that it was absolutely a UFO."
After the disturbing incident, she frantically tried calling her husband but she couldn't get through to him.
In a series of panic-stricken voicemails, she pleads: "Baby please answer me, I just saw a spaceship. I'm scared, I just saw a spaceship. I saw it clearly, please answer me.
"It had three points, it was a triangle and it was in the sky."
In another voice message, realising she had inadvertently filmed the UFO, she says: "I have a video of it, I was recording as I was singing and I got it, I got it. I'm going to send it to you ok."
Clearly frustrated by not being able to get through, she adds: "Why don't you ever answer when I need you the most? What the f**k dude?"
The witness said: "I stopped recording so I could call my husband and get help or let him know what was happening because it felt like I was going to be taken. I sped up and all I could focus on was getting away from it.
"When I looked back the first time it was there then I looked again and it was gone, maybe it disappeared.
"I kept imagining that an actual alien would just appear on my back seat so I kept looking in my back seat just to make sure I was still alone in my car. I was terrified and my husband wouldn't answer his phone. Until I sent him some voice notes."
Eventually her husband texted her back: "Holy sh*t dude."
Source: The Sun