Leave Your Wings At The Door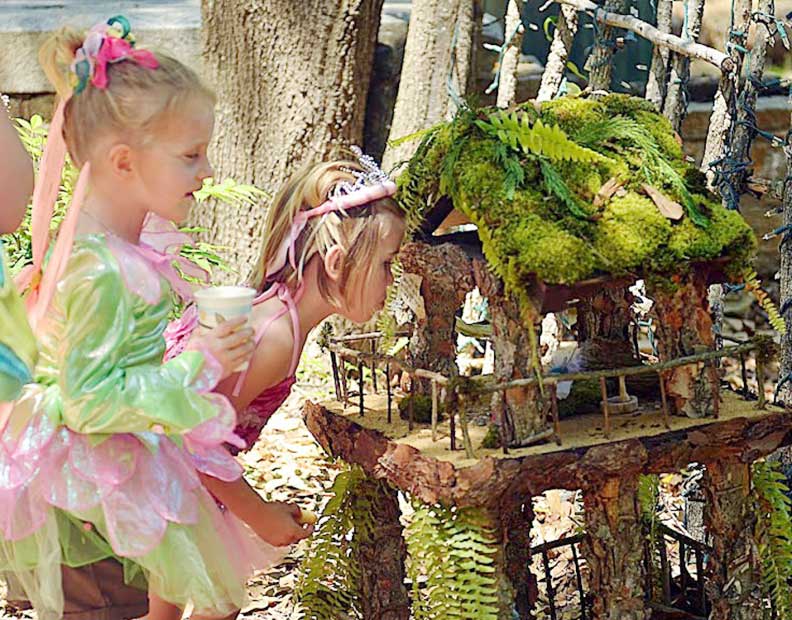 By MICHAEL TORTORELLO
A few weeks ago, Bank of America turned me down for a home mortgage. The listing, in Salt Lake City, was a steal at $100,000: a fully furnished, five-story eco-mansion with 14 rooms, including a library, a music room, an art balcony and a cupola/conservatory. The original builders and owners, Debbie and Mike Schramer, had constructed the house and décor out of all sustainable materials, including a recycled cedar-shake roof, pebble floors and wisteria-beam framing.
Granted, the house is not without its quirks, which may explain why it has been on the market for 19 years. To modern tastes, the kitchen appears rustic, with its wood cook stove and pedestal sink. And even a singleton wants more than a single bathroom (albeit one with an abalone tub). Also — and this is a serious issue — the house is currently occupied by magical tenants who pay no rent and respond to encroachment by stealing babies.
"I'm interested in buying a fairy house," I told the first branch of the phone tree at Bank of America Home Loans. In August, the company agreed to pay a $16.65 billion penalty for its role in selling bonds based on make-believe mortgages. I felt that I had gone to the right place.
One of the bank's loan officers, Peter Herr, disagreed, although he couldn't have been nicer about it. "You call them fairy structures?" Mr. Herr said over the phone from a Bank of America office outside Portland, Ore. "I have never heard of that term."
A fairy house, to be clear, is a house for fairies. What's a fairy? This is a more contentious question, and the subject of no small scholarship and interest.
Pinterest, for example, showcases more than 5,000 boards dedicated to fairy houses. And the craft site Etsy, tiptoeing into the housing market, hosts 2,000-plus listings for handmade fairy homes and furnishings. This is where the Schramers are offering their $100,000 Fairy Treehouse, along with a couple of other properties in the $1,000 to $24,000 range. Some of the most enchanting Etsy builders are anthologized in coffee table books like "Fairy Homes and Gardens" (Schiffer Publishing, $24.99), which comes out later this month.
I was home-shopping for my son, Bear, and daughter, Bea, who are 6 and 8 years old. For months, my daughter served as human ambassador to a troop of migrant fairies who overwintered in our backyard brush pile. Her duties involved visiting the fairies daily in subzero weather and nourishing them with old potatoes.
The fairies, it would seem, were living hand-to-mouth. Which brought me back to the mortgage and Mr. Herr at Bank of America. The label "fairy house" had him thinking of a 200-square-foot "tiny house." Could I email a picture?
"I've never seen anything like this before," Mr. Herr said. "That's really cool."
Still, Bank of America wasn't going to give me a loan to buy a fairy house, right?
"I hate to break the news to you, but that's correct. I hate it, because it's so awesome."
Apparently, my fairy house would have to be an all-cash transaction. The good news here is that $500 buys a lot of house. Julie McLaughlin, a 55-year-old artist in Seven Valleys, Pa., has built roughly 200 custom homes, which she sells on eBay for $400 to $1,000.
"Kit bashing" is a common construction method. She starts with a prefab dollhouse and then embellishes it with sheet moss, shelf mushrooms, tree bark, seed pods and silk flowers. Working at dollhouse scale (one inch equals a foot) allows hobbyists to install their own furniture.
What kind of creature possesses her own armoire lined with little invisible bootees? "It's the more mature collector," Ms. McLaughlin said. "These are not exactly kid-friendly."
There was a strange sound then, like the squeeze-horn on a clown car, and Ms. McLaughlin excused herself for a moment. "That's my duck quacking," she said. "Her name is Leopolda."
After the interruption, Ms. McLaughlin added that her buyers are seemingly affluent — the kind of people who can afford a second, third or sixth home. "You've got to admit, a fairy house is a frivolous purchase," she said.
Not ready to buy? There are annual fairy-house walking tours and construction workshops in towns like Rochester, N.Y., and Portsmouth, N.H., which draw more than 5,000 souls. (Over the next two weekends, the fairies will muster at the Fat Blossom Farm Enchanted Forest Festival, in Allegan, Mich.)
The children's author and illustrator Tracy Kane, 61, was headed to just such a festival, in Farmington, Conn., when I caught up with her a few weeks ago. Her Fairy House Series, which started coming out 14 years ago, is a landmark of the Fairy Revival. The books show children playing in the woods, discovering nature and their own creativity. The message proved popular, Ms. Kane said, especially among grandparents, who may feel alienated from the type of computer-based "play" that closely resembles a coma. The site prep for a fairy house (sorting leaves, examining bugs) can be indistinguishable from naturalism.
Living in Lee, N.H., Ms. Kane drew her original inspiration from the impromptu fairy houses of seaside Maine. This century-old tradition continues at the Coastal Maine Botanical Gardens, which include a fairy colony along the Shoreland Trail. Here, children collect twigs, bark, stones and leaves, and shape lean-tos and huts — scale models of the shelters on "Naked and Afraid."
William Cullina, 50, the garden's executive director, noticed that the free play was perhaps becoming a little too free. "We were suffering a little from fairy sprawl," he said. "There's sort of a suburban influence to the Fairy House Villages. The fairies don't like to build too close to other fairies." As they ranged "farther and farther out into the woods, the fairies would strip the natural materials."
Tighter zoning and land-use restrictions proved to be the answer. With $75,000 from a donor, Mr. Cullina commissioned a local stone mason to erect a border around the fairy favela. To discourage lumber thieving among the fairies, groundskeepers deposited materials from garden pruning projects. Mr. Cullina called this arrangement "the Gnome Depot."
Everyone knows the New York real estate market is a fantasy land. The city's resident fairies can barely stay ahead of all the tear-downs and conversions. The most enterprising (and ruthless) developers are the young children enrolled in Brooklyn Forest, which holds weekly nature-play classes in Prospect Park and Central Park.
The parks' sycamores and horse chestnuts provide plenty of posts and beams, said the school's co-founder and co-director, Joylynn Holder. But a 3-year-old on 79th Street, inevitably, will scoop up the milk caps and cigarette butts.
"My daughter goes to a Waldorf school," said Ms. Holder, 33. "They'll use litter. We don't do that."
Dog hair, however, qualifies as a green building material. "It looks like wool, which is very comforting," she said.
Many of the class parents are musicians and artists, and they approach make-believe with the rigor of a design charrette. If it gets the tots involved, the Brooklyn Forest school approves. But the adult marketplace for fairy houses — the amazing builder home on Etsy — baffles Ms. Holder: "I wonder who the consumer is. It's sort of like strip clubs. They're totally legitimate, but who wants to be in there?"
Do the children believe in fairies? "I think some of them do," Ms. Holder said. "The parents would have to convince them otherwise — and sometimes they do, because complete honesty is in style." Modern childhood, apparently, is one big spoiler alert.
It's tempting to think that every fairy house is built on spec. (When is the move-in date?) This has been a barrier for most residential architects, who rarely set their fees in acorns and thimbleberries. An exception is Andy Bernheimer, 46, who is the principal of his own firm and the director of the master of architecture program at Parsons the New School for Design, in Manhattan.
In collaboration with his sister, Kate Bernheimer, a writer of fabulist fiction, Mr. Bernheimer developed a series of drawings and renderings based on fairy tales, for the website Places Journal. The recession, he recalled, cast a dark spell over Bernheimer Architecture; the commissions "dried up." As long as he was imagining work, Mr. Bernheimer decided he may as well do imaginary work.
His first fairy-tale plan was for Baba Yaga, a Russian witch who lives in a house with chicken feet. Mr. Bernheimer's drawings started out quite literal, almost buildable. For example, the site plan indicates the direction of the witch's flight path.
"My own brain is constrained by the conventions of my practice," he said. While his later fairy-tale plans explored abstraction, in the end, "I'm designing for a client," he said. The fairy houses on Pinterest, he concluded, suffer from no such limitations. "Here there's no client. And I don't mean that in a judgmental way."
Just because you have never seen a fairy does not mean that no one else has. This truth is apparent from the new book "Seeing Fairies," by Marjorie T. Johnson (Anomalist Books, $19.95). If you're not intrigued by the subtitle — "From the Lost Archives of the Fairy Investigation Society, Authentic Reports of Fairies in Modern Times" — you're going to need a passport to visit Neverland.
From 1950 onward, Ms. Johnson was the secretary of the Fairy Investigation Society, based in the English Midlands. Her book compiles accounts she collected from other members and the wider public. A typical testimony begins something like this: "Around Christmas 1955, Mrs. Violet I. Larkworthy, of Slough, Bucks, was lying relaxed on her divan when she noticed that a bowl of tulips on a chest of drawers was whirling round, and balanced on the rim were some tiny fairy figures, holding hands."
Yet, writing in the book's introduction, Simon Young, a medieval historian, notes that "appearances change with the years." The classic 18th-century fairy was often child-size and lived in an underground hall. Wings, of the Tinker Bell style, are a late-20th-century convenience. Having recently revived the Fairy Investigation Society, Dr. Young proposes to conduct a new online fairy census in 2015.
Sally J. Smith, 59, prefers the term "elemental" for the spirits that guide her artistic work in the Adirondack Mountains, near Lake Champlain. "I feel the presence of nature as a set of beings," she said. The forest world is not just scenery, pretty and inert. Everything is alive. "Children are attuned to that," she said. "But as we grow up, we're taught to discount our connection to nature as something that isn't real, that's imaginary."
Ms. Smith added: "I, fortunately, didn't listen."
Her fairy houses may start as a hollow mossy stump, to which she adds a pine-bark stairwell, a chanterelle chimney and a woven-twig entablature. These are temporary dwellings: they come from nature and they go back to it.
The houses survive as photographs and greeting cards, which she compiles in annual calendars and sells in print runs of 10,000. Ms. Smith said that she likes to make her environmental art accessible to an audience that may not be able to afford her bespoke homes, which start at $500. These indoor houses may take months to construct, and incorporate elements like Japanese paper, butterfly-wing windows and vintage velvet millinery leaves. Not the kind of junk you'd find at the Gnome Depot.
Having failed to raise the funds for a fairy mansion, I steered my children over to a sandy beach on the Mississippi River to gather materials. We started by filling a few shopping bags with driftwood, vines, freshwater snail shells and red and black pebbles.
After a bit of collaborative effort, I glanced over to find the laborers on a mud break. Bea was standing thigh-deep in the river, stirring sediment from the bottom and watching it spiral downstream. Back on the beach, my son, Bear, was arranging stones into an infirmary for a lame daddy longlegs. Child's play.
These are the moments when a dutiful father must remind his children of the satisfaction that comes with seeing a tough job through to the end. A fairy house does not build itself.
Back home, the dual-temperature hot glue gun seemed to be stuck on a third setting: barely warm. Bea thought it might be fun, instead, to remove a dead crab apple limb with the handsaw and then pock it with a power drill. Give a girl a sylvan glade and she'll turn it into an industrial-age sawmill.
Our completed fairy houses — there were three of them — looked a lot like the old brush pile: a heap of stalks and sticks, with a couple of unripe tomatoes for grub. I thought Bear had lost interest until he emerged from the back door with a posse of Ninjago figures.
"The gold ninja will be the guardian overnight," he said.
Did the fairy caravan ride here, on hand-high ponies, to binge on fermented tomatoes and dance a gavotte? Ask the new junior inspector of the Fairy Investigation Society. At 6:30 on Sunday morning, the boy crept outside in pajamas to check if his ninjas had flown.
Fairy Houses in a Nutshell
Julie McLaughlin, who sells her ornate homes on eBay and Etsy, offers two rules for building your fairy dream house. "There's no such thing as too much detail," she said. "And moss covers any mistake."
That advice takes care of a hot-glue eruption. But it may be a little short on magic. If you want to know what a great number of country people believed, for hundreds of years, start with the folklore studies of Katharine M. Briggs. Her classic history "The Fairies in English Tradition and Literature" is out of print. But a smart and witty primer appears in Janet Bord's "Fairies: Real Encounters With Little People" (Dell Publishing, $7.99).
Paul Busse doesn't trade in fantasy; he calls his profession "botanical architecture." But there's an abundance of wonderment in the buildings that his company, Applied Imagination, designs for the Holiday Train Show at the New York Botanical Garden.
Fabricating the Guggenheim Museum out of shelf fungus is an act of "caricature," Mr. Busse said. "You try to express all the details through the character and texture of the plants."
Applied Imagination's fairy houses don't need to represent anything at all. A crook-necked gourd may turn into a flying galleon. (The company accepts occasional commissions, with prices starting around $500: appliedimagination.biz or 859-448-9848.) The secret, he said, is to see it through the eyes of a forest creature.
You look with your eyes, not your hands, or so the child's taunt goes. Sally J. Smith offers occasional fairy-house workshops for children in the north woods near her Adirondack studio (greenspiritarts.com). She likes to give children a collecting basket and suggests that they fill it before building. "It helps to slow the kids down a little," she said.
Alternately, you can hit the button labeled "add to cart" and have a box of twigs, pebbles, moss, bark and acorns delivered to your doorstep. This spares a child the hassle of going outside. To be fair, a fairy-house kit makes a creative birthday gift or a rainy-day project. A few of the nicer Etsy kits come from Pied Piper Crafts ($44.98), Fairyfolk ($45) and Fat Blossom Farm ($25).
As long as you're building a palace of the imagination, you could also use paper. Laura Denison, a paper artist from the Seattle area, sells patterns ($14 to $20) for four seasonal fairy houses (lauradenisondesigns.com). The instructions, with detailed photos, run 20-plus pages and read like this: "Trim gable angle on Dormer Back pieces." But your finished home will have dormers and gables!
What about a bathroom? In her home gallery on Mount Desert Island in Maine, Beth Pomroy uses polymer clay to craft "tiny worlds," like spas, lobster bakes and basement bars (beezinc.com or 207-244-5299). Or a two-seat outhouse with clamshell lids. Ethereal meets earthy on the outhouse wall, where Ms. Pomroy has hand-colored a one-inch-high pinup calendar.
Where did you think baby fairies came from?
The date of the beginning of the Great War has become known?
As our readers and visitors to many other sites and forums have already noticed more than once, in the past few months people around the world have begun to see some alarming, sometimes even completely wild and crazy dreams – atomic war, rain from asteroids, zombie invasion etc. Is it connected with the approach of something like that, or is it someone is inspiring people?
It is impossible to unequivocally answer this question, nevertheless, it can be assumed that if the world is waiting for a war, it means that if not every person on Earth, then many people will be somehow informed about this by some prophetic dreams.
A couple of days ago, one of the participants in the discussion on abovetopsecret.com shared a dream with interlocutors, which he rightly qualifies as prophetic. Since in this prophetic dream we are talking about the approximate date of the beginning of the Third World War, we offer it to the attention of our readers. So:
Good day all, I normally keep this stuff to myself as it's usually along the lines of Deja Vu, but as most of it is lining up with current events I figured I'd throw it up here. Take it as you will.

About the beginning or middle of last year I had an unusual dream. It lasted the entire night. It ran in chronological order and after each set I woke up. After going back to sleep the dream picked back up at where it left off.

The dream:

I was leaving a vehicle and walking towards a large, long building. I was walking through the parking lot towards it. A woman walked up to me and showed me a box, or frame with something important on it that I needed to see. I could not make out what it was. The moment froze and it was explained to me that what was on the frame was not important. The moment was the image that I needed to remember. That moment of standing in this parking lot, outside this building, with this woman presenting a frame or box for me to observe, this was a marker for me to know that the events to follow were about to start. I woke up and then went back to sleep.

I will make a note that this event happened in Oct of last year, 2019. I was taking a Class A driving course and had pulled the rig into the DMV parking lot for the test. I got out and started walking towards the building when the female instructor came out and met me in the parking and presented a clip-box with paperwork on it for me to read. That moment popped and I remembered the dream and knew it was that moment I had seen.

Returning to the dream. I was shown a series of events in succession as I was led through the streets. People were roaming the streets in protest and bewilderment. The elderly had been removed from society and placed into homes that were now off limits to anyone younger. No one could go in and see them. Throngs of people gathered around these homes demanding access but were denied. Resources grew scarce and a conflict arose between the young and the old. The elderly argued that they should be provided some of the few resources as they could not obtain it themselves due to their predicament. The young argued that all resources should be given to them alone as they were the future and had to survive. This is the second time I woke up.

After falling back asleep a voice spoke to me and said that Cannabis would be decriminalized at the Federal level. I was told this was the second marker for me to watch for. When this happened it would signal the beginning of the great war. I was told that this war, unlike the others, was not going to be about land or money or religious ideologies, but the strife between the young and the old. After this I woke up.

Upon going back to sleep, I saw a figure of a woman like a warrior on a field of flame and strife. She said each night she would return to the battle grounds.

Given recent events I figured I'd share. I don't completely get the whole strife between young and old causing a war, but who knows what tomorrow brings.
This dream is now being discussed in several forums, since in the summer of 2020 a bill was put to the vote in the US Senate to legalize marijuana at the federal level – now it can only be smoked in a few states. Voting was scheduled for September 18th, but when September 18th came, the Senate moved the vote to "post-election." Thus, the third and most important part coincided with the prophecy from the dream.
Only the story about young and old is not very clear. Some see it as a fight against a pandemic, during which older people in many countries were indeed locked in their homes. There is also an opinion that this part of the dream is allegorical. That is, the elderly are conservatives, republicans, and the young are liberals and democrats or, the elderly are the West and the United States, and the young are the recently reared China.
The author of the post finds it difficult to interpret. Nevertheless, a 2/3 dream came true and its last third is the legalization of marijuana in America. As soon as the bill is voted on, will the Great War begin?
Earth is threatened by asteroid collision a day before US elections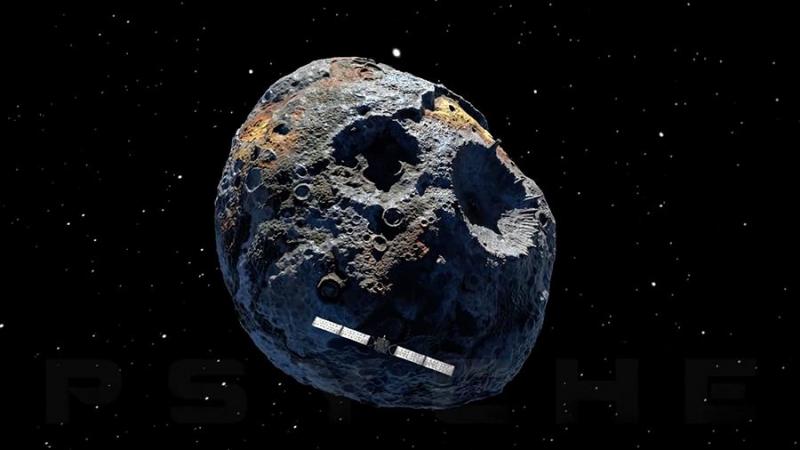 A refrigerator-sized asteroid could hit Earth a day before the US presidential election , which is scheduled for November 3. American astrophysicist Neil DeGrasse Tyson announced this on his Instagram page.
"Asteroid 2018VP1, a refrigerator-sized asteroid in space, is speeding towards us at over 25,000 miles per hour," he wrote.
At the same time, the scientist assured that there would be no particular harm from such a collision, since the asteroid is relatively small in size. According to Tyson, if "the end of the world comes in 2020, it is not the fault of the universe."
According to NASA, the probability that an asteroid will enter the Earth's atmosphere is 0.41 percent. It is expected to flyby at 384 thousand kilometers.
Asteroid 2018 VP1 was discovered on November 3, 2018. It belongs to the "Apollo" group – these are asteroids whose paths cross the earth's orbit.
No protection from dangerous asteroids
Humanity does not have the technical ability to prevent a large asteroid from falling to Earth. Currently, there are no such opportunities. The only means is to notify the population. However, we cannot predict where on Earth the asteroid will hit. The orbit and angles of entry into the atmosphere are determined with an error. It turns out that one asteroid can have a whole track from possible points of impact, which can stretch for half of the Earth.
The origin of life when an asteroid falls
Japanese scientists studying the origin of life on Earth simulated on an experimental setup the conditions that arise when an asteroid falls into the ocean. It turned out that with such an event complex organic compounds such as amino acids are formed in water.It turned out that the shock produces amino acids such as glycine and alanine, which serve as building blocks for proteins involved in many biological reactions.In the early stages of development on Mars, as on Earth, falls of meteorites and asteroids were common, and the formation of amino acids induced by impacts could well be the first step towards the origin of life, scientists say.
US presidential election
The US presidential election will be held on November 3. The current leader of the country, Donald Trump, is running for a second Republican term. His main rival is Democratic candidate Joe Biden. 
According to the data on the number of views in the past debate, Biden's speech was watched by 600 thousand more people than Trump.
Most states vote in whole or in part by mail. Earlier, Trump called Biden "the worst presidential candidate in history" and jokingly promised to leave the United States if he loses the election.
"Ummite Letters" of Aliens. KGB experiment or shocking truth?
Once upon a time, Europe was flooded with information from the alleged residents of the planet Ummo, and defectors from the USSR claimed that the KGB even managed to detain and study one of the aliens.
This story began in 1966, as usual, with devilry. Bored students at the University of Madrid organized an esoteric circle in which they practiced table-turning and talking with spirits – a rather strange activity for Catholic Spain.
Once, one of them came up with a "wonderful" idea – to try to call into conversation not the souls of long-dead ancestors and not demons, but aliens. And what was the surprise of young scientists when some "inhabitants of the planet Ummo" from the constellation Virgo responded to the call. Yes, they did not just respond, but began to actively talk with students, telling them about their own planet. They talked so much that one of the students, Fernando Sesma, even published a brochure on this topic.
Had he lived in the Middle Ages, he would have been burned at the stake for communicating with demons, but, unfortunately, the grain fell on fertilized soil. Here and there in the media, there were reports of flying saucers, and the book began to be bought. Sesma was already rubbing his hands in anticipation of profits, but one night, he received a phone call in his apartment.
Contact
Photo of the "Ummo Ship", published June 1, 1967. Photo © Wikipedia
A muffled voice on the phone told the student that a resident of the planet Ummo was talking to him, that aliens had been exploring Earth for 70 years and that the last resident troop was landed on the planet in 1956. In the Alps (in a mountainous region that belonged to France), six agents of the Ummite civilization landed from a space "saucer": two women and four men. They had to not only study the flora and fauna of the planet, but also study the culture of people.
According to the ummit, the diversity of human relations, nationalities and cultures amazed the aliens so much that they decided to postpone official contact with earthlings for a while in order to get to know them better. Sesma's interlocutor was outraged by the multiple inaccuracies that were present in the brochure, and demanded that the earthling fix the mistakes.
Already in the morning, Sesma considered the night conversation a good prank, but, to his surprise, a few days later he received in the mail a whole pile of documents describing life on the planet Ummo. Each of the sheets was marked with a special emblem. The documents claimed that planet Ummo revolves around the star of Yumma, its coordinates were given right there, and the civilization and culture of the Ummites were also described. It turned out that the structure of their society resembles the era of victorious communism. Each of the inhabitants of Ummo was a neuron of one huge brain, united by a "common soul". The Ummites were very similar to earthlings, light-haired, light-eyed, and the average height was two meters.
Smells played an important role in the Ummo civilization, there were their own ideas about God, reminiscent of Kant's ideas, there were also eschatological ideas about the end of the world. The arts never existed on the Ummo, but the Ummites were good engineers, and all important decisions were made together through some semblance of the Internet.
Men in Black
Photo © Getty Images
Since then, Sesma began to receive letters from the Ummites with enviable regularity – every second Tuesday of the month. Letters came to him from all over the world: from America, from Australia, from Africa and even from behind the "Iron Curtain" (from the territory of Eastern Europe and from the Soviet Union). A year later, in 1967, information began to be dictated by telephone, and at the beginning of the summer Sesme was told that the Spaniards should wait for guests: on July 1, 1967, an alien ship would land in the suburbs of Madrid.
An agitated Sesma warned the local police about this, but they only laughed at him.  On July 1, a flood of messages from local residents poured into the Madrid police and local newspapers. All of them saw UFOs in the sky over Madrid, and at the site of the announced landing they found several strange cylinders and ten strips of polyvinyl with the inscription "Ummo" in Latin.
Finally, journalists became interested in the aliens. They found that in Madrid alone, 65 people received letters from the Ummites. The contactees were not only in Spain, but also in France and in other European countries. Some have received letters since 1962. Obviously, the letters and information from the Ummites should have given humans a chance to get used to future alien intervention.
A letter in Spanish sent to a certain Enrique Villagras on November 28, 1966. Noteworthy is the lilac seal with the Ummo symbol (bottom right). Photo © Wikipedia
In the Spanish town of Burnet, they even recalled the appearance of strange, very tall, fair-haired people in black suits, who kept themselves apart, and then disappeared somewhere. The result of their appearance was the disappearance of a whole bus with tourists who were never found.
After covering the problem in the media, scientists got involved. The astrophysicist, head of the National Center for Scientific Research of France, Jean-Pierre Petit, was most interested in the question. At first he wanted to expose the invention, but in the process of studying the materials he changed his mind. The data about the science of Ummo were so interesting and difficult to understand that they baffled the scientist, and he began to lean towards the opinion about the authenticity of the documents.
Petyo even wrote once that more than 90% of his discoveries are the result of ideas suggested to him by the Ummites. For example, the scientist proposed to revise the Big Bang theory, since the speed of light is not always the same, and time under certain conditions can flow backwards.
What was it?
Modern researchers of the problem have several versions of the appearance of the Ummite letters. The first version says that the letters are authentic, the Ummites exist. In Russia, they were even associated with a whole series of deaths among ufologists. However, there is still no direct evidence of the existence of the Ummites, and the letters do not carry any fundamentally new information for humanity. Scientists have long scanned the space where the star of Humma should have been, but they did not find anything there.
The second version says that this story is an operation of the special services. For example, the Spanish special services at one time stated that the letters were a provocation by the KGB. Say, in such an intricate way, the Soviet Union wanted to change the political background in Spain, because the country remained practically the only place in Europe in which there was no communist party. Again, there was no evidence, except that the lilac emblem of the Ummites somehow very suspiciously resembled the Cyrillic letter "zh".
Photo © Shutterstock
After the fall of the USSR, there were people who allegedly saw the "blue folder" "leaked" to the West, into which the KGB put all documents related to the study of extraterrestrial intelligence. And supposedly it said not only about the authenticity of the letters, but also about the fact that in the USSR it was possible not only to catch, but also to study one of the Ummites. A former KGB officer P. Klimchenkov who fled to the West told about this to one of the American journalists. The third version was that the Europeans became the target of a prank by a leftist youth group, which thus spread their ideas.
But the most popular was the assumption that the Ummite letters were the fruit of a complex hoax, behind which stood a whole group of scholars who disliked the dictator Franco. In 1992, psychologist Jose Luis Peña admitted this, who said that in such an intricate way he wanted to test the readiness of humanity for contact. He was indeed among those who received the Ummite letters. And in 1966 he even claimed to have seen a spaceship with the emblem of the Ummites. By the time of recognition, the scientist had already suffered a stroke and completely lost his speech.
Wait and see
In the 21st century, Ummites communicate with people through tweets. They report that there are now 240 aliens on Earth, that 432 more Ummo agents will arrive in December 2020, and preparations for contact between civilizations will begin in three years – in 2023. Then a certain hierarch with powers will arrive on Earth.
The Ummites have already had their harmful influence on the earthlings. For example, in Bolivia, a sect has emerged whose followers call themselves the children of the Ummo. Perhaps a group of students engaged in table-turning really looked into the abyss somewhere. And the abyss, as it should be, looked at people in response.
Source: LIFE Magazine