Lawyer Sues Priests Who Failed to Exorcise Farting Demons From Home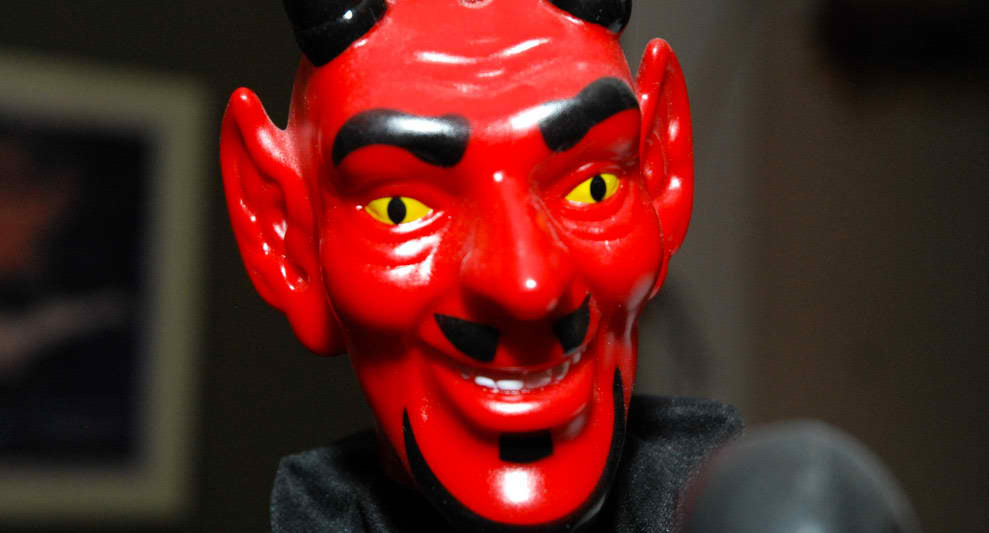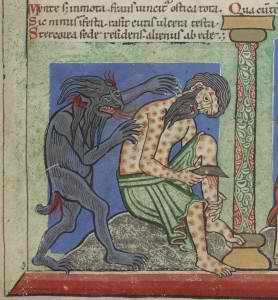 leprous Job and the fire farting devil
A Romanian lawyer has sued his bishop and four priests claiming they failed to properly exorcise the flatulent demons in his house. via Daily Mail
A Romanian lawyer is suing his local Orthodox bishop and four priests claiming they failed to properly exorcise flatulent demons that were forcing him out of his home.

Madalin Ciculescu, 34, accused the five of fraud after they turned up several times to exercise the demons which were responsible for the bad smells that were ruining his business.

He claimed that after the failed exorcism the demons even started haunting him at his home at Pitesti in Arges County in central Romania.

The four priests had all tried and failed to exorcise the demons, according to the legal papers that named bishop Constantin Argatu, even though he had not been to the property, as he was in charge of the priests who had been there.

The case has already been rejected by a lower court in Romania and was rejected again this week by the Romanian High Court, but now the businessman says he plans to go to the European Court of Human Rights.

He told the court: 'If they (the accused) represent the way of God then God's ways are crooked. They did not remove the demons that made these bad smells as they promised to do, and I still see all sorts of demons in the form of animals, usually crows but also other such things, that are making my life miserable.

'When I am at home they switch the TV on and off all the time, they make foul smells that give me headaches and basically roam unhindered around my house and my business.'

The man produced his mother to back up his claim saying that even the hair-dryer was possessed and a black shadow came out of it when anyone tried to use it – and she also said the fridge was infested by the flatulent demons that she confirmed left foul smells about the property.But the lawyer for the Archdiocese from Arges, Anton Alin, rejected the allegation of fraud saying that the exorcism had been properly carried out and they believed the allegations of further demons and more bad smells were simply a product of the man's imagination.

The Romanian court agreed with the church and rejected the application against Bishop Argatu as well as priests Ionut Cret Ovidiu, Gheorghe Nicut, Marius Dumitrescu and Gheorghe Dunitru – and ordered Ciculescu to pay legal costs.
Watch the Trailer for the New Peculiar Children Book 'Map of Days'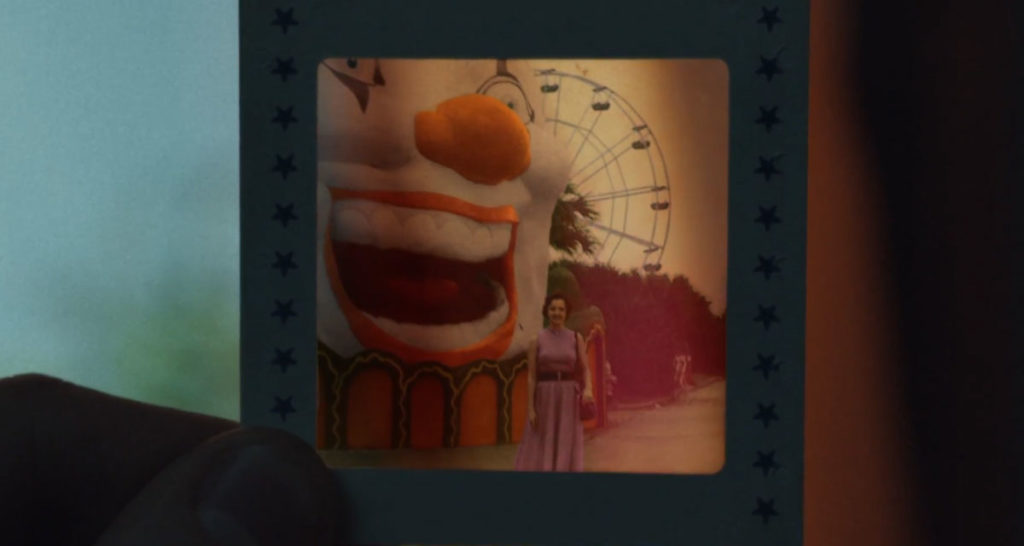 The peculiar children come to America and encounter unimaginable new dangers in Map of Days, the new novel in the Miss Peregrine series from Ransom Riggs.
Jacob uncovers new secrets about his grandfather's double life, leading the peculiar children on a dangerous new adventure in Map of Days, the latest book in the Miss Peregrine's Home for Peculiar Children series by Ransom Riggs.
Map of Days is part of the 2018 Cult of Weird Fall Reading List.
From the description:
Having defeated the monstrous threat that nearly destroyed the peculiar world, Jacob Portman is back where his story began, in Florida. Except now Miss Peregrine, Emma, and their peculiar friends are with him, and doing their best to blend in. But carefree days of beach visits and normalling lessons are soon interrupted by a discovery—a subterranean bunker that belonged to Jacob's grandfather, Abe.

Clues to Abe's double-life as a peculiar operative start to emerge, secrets long hidden in plain sight. And Jacob begins to learn about the dangerous legacy he has inherited—truths that were part of him long before he walked into Miss Peregrine's time loop.

Now, the stakes are higher than ever as Jacob and his friends are thrust into the untamed landscape of American peculiardom—a world with few ymbrynes, or rules—that none of them understand. New wonders, and dangers, await in this brilliant next chapter for Miss Peregrine's peculiar children. Their story is again illustrated throughout by haunting vintage photographs, but with a striking addition for this all-new, multi-era American adventure—full color.
Map of Days hits shelves on October 2.
13 spooky vintage board games to play this Halloween
Battle monsters, ghosts, voodoo curses, boobytrapped mansions, haunted carnival rides, and more with these vintage spooky board games.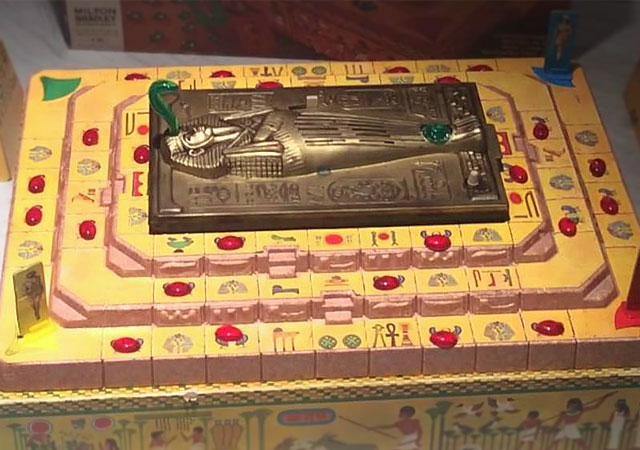 Voice of the Mummy board game
The Ouija board is the only board game known to cause so much fear that people refuse to touch it. But these vintage board games from the 1960s, 70s, and 80s are considerably spookier. We're talking about games where a mummy's voice echos from its tomb, an electronic Deathhead determines if you win a battle against demons or perish, a game where you put voodoo curses on the other players, and plenty of haunted mansions with traps, treasures, and monsters lurking around every corner.
With their eerie box art and creepy themes, these board games will add some spooky fun to the Halloween season without putting your mortal soul in danger.
1. Seance (1972)
Your dear Uncle Everett has died in this rare board game from Milton Bradley. According to the directions, Everett was a spiritualist. He believed his spirit would return from the grave to guide the distribution of his wealth.
Although he left the bulk of his estate to his parrot, players (his nieces and nephews, of course) gather in his creepy Victorian mansion to hold a seance and bid on his remaining possessions of unknown value. Everett's ghostly voice emanates from an actual record player hidden inside the seance table. When everything has been bought, Uncle Everett reveals how much each item is worth, or how much each player owes in taxes.
The player with the most money wins.
"When the game is over and the room is plunged into darkness," the instructions read, "it is said that the image of Uncle Everett may be seen."
2. Ghost Castle (1985)
Based on Milton Bradley's earlier Which Witch? and Haunted House (The Real Ghostbusters board game was also a re-themed version of this), players had to collect ghost card and avoid traps as they made their way up the stairs to close the coffin lid and "lay the ghost."
3. Mystic Skull: The Game of Voodoo (1964)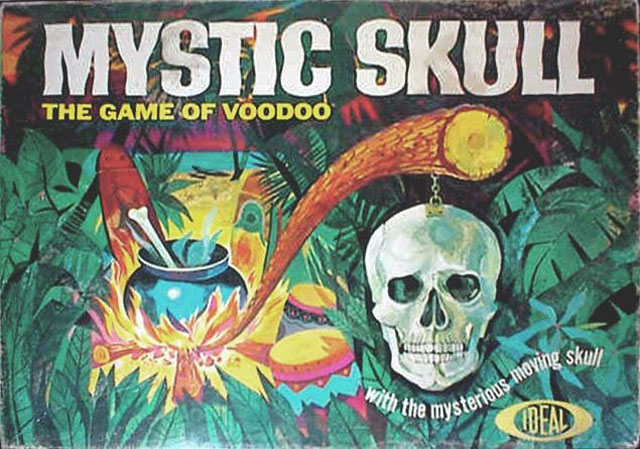 Each player is a witch doctor with a voodoo doll. When you stir the cauldron, the Mystic Skull spins and determines where you will place the next pin in your opponents doll.
4. Escape from Frankenstein (1983)
Players move around Frankenstein's castle looking for the key that matches their color, hoping to reach the laboratory and shut off the power before the monster comes alive.
5. Green Ghost (1965)

The Green Ghost board is on stilts, players can fall through trap doors, there's keys, bat feathers, bones, snakes, ghost children, pets, and it was the first board game to glow in the dark. I have no idea what you need all of these things, but the inclusion of everything creepy means it's obviously amazing.
6. Alien (1979)
Aliens have invaded the Nostromo. Each player is an astronaut trying to make their escape on the shuttle while using their own personal xenomorph to eliminate other players. While it may seem tempting, please refrain from laying eggs inside your opponents.
7. Ghost Train (1974)
Based on the Ghost Train amusement park ride, this game simulates the experience by including sudden and jolting changes of direction, dead stops, getting stuck, and mechanical ghosts. I'm keeping my fingers crossed for the expansion pack where you have to buy tickets, wait in line, and exit the ride feeling like you got seriously ripped off.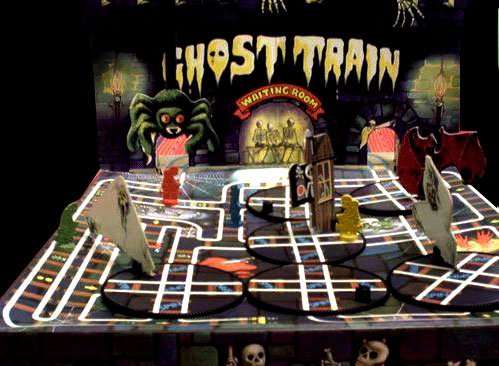 8. Mystery Mansion (1984)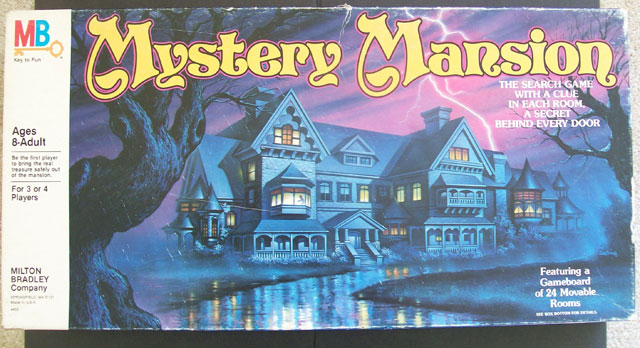 Roll the dice and search for clues as you build a Victorian mansion room by room in hopes of finding a treasure chest filled with gold and jewels rather than cobwebs and dust.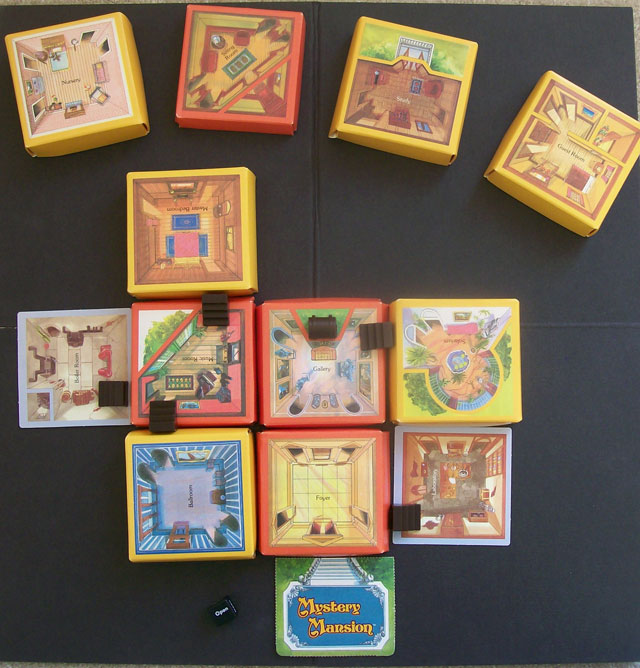 9. Voice of the Mummy (1971)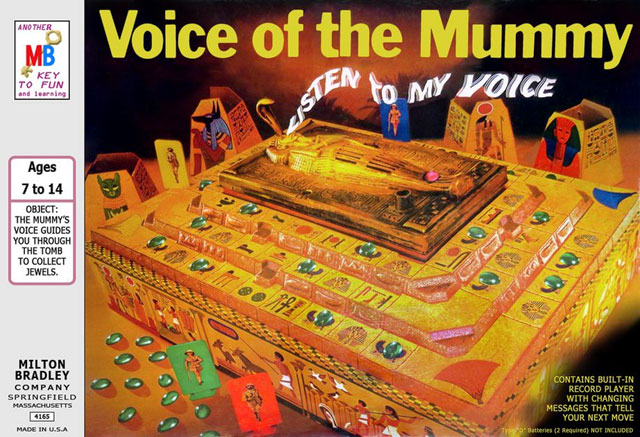 The precursor to Seance, Voice of the Mummy also has a record player inside. The mummy doles out instructions while players race around the three levels of the sarcophagus collecting gems. All the fun of looting tombs without all those pesky death curses.
10. Scream Inn (1974)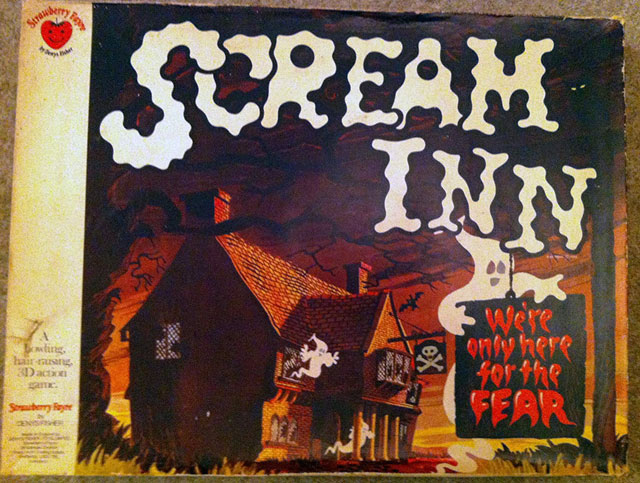 With a slogan like "We're only here for the fear!" this must be the world's first (only?) dark tourism board game. Players spin the wheel and try to get all of their pieces out of the haunted inn without disturbing a ghost.
11. Superstition (1977)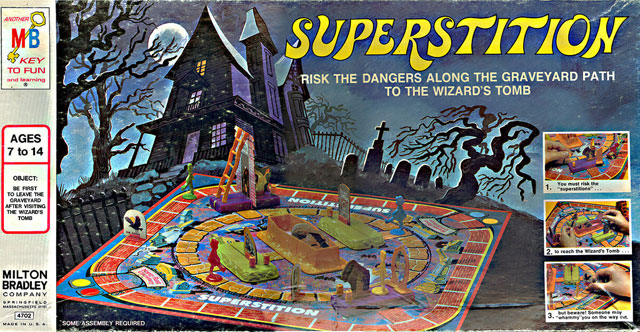 Players wander around a cemetery trying to reach the Wizard's Tomb, but the graveyard is full of rubberband-powered traps with superstitions like a black cat and a broken mirror that may fling your piece off the board.
12. It from the Pit (1992)
Players have to dash for the treasure chest while a giant green mechanical monster tries to pull their tiny plastic explorers into the pit full of bubbling green goo.
13. Horror House (1986)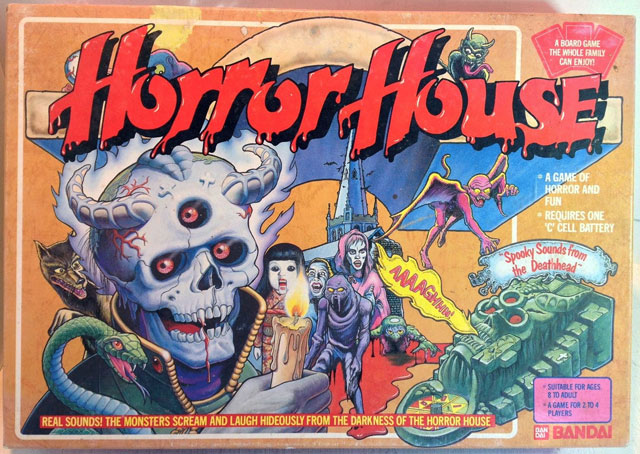 Face off against 45 monsters from around the world (including the dreaded Umbrella Monster!) in this electronic board game from Bandai. Players move through the house fighting these monsters while the Deathhead Roulette determines the outcome of each battle. The demons scream if you win. If you lose, a wicked laugh emanates from the Deathhead.
Be careful with this one, though. Bandai recommends you never play alone.
Which of these spooky board games was your favorite to play when you were young? Let me know in the comments below.
This Newly Approved European Copyright Law Is Going To Break The Internet
The European Parliament just approved a new sweeping copyright law that could make the internet a much worse place for pretty much everyone.
Today, the parliament voted on the "Copyright Directive", a piece of legislation intended to protect the digital property of digital publications. It passed — 438 members of parliament (MEP) for, 226 against. That's a big deal because it includes two extremely controversial provisions: Article 11 and Article 13.
Article 11 is meant to give publishers on the internet the ability to make an extra buck by imposing a "link tax." Put simply, it's supposed to shift some of the massive profits away from powerful news aggregators like Facebook and Google by allowing smaller publishers to charge them each time the aggregators link to their sites.
The problem? Publishers who can afford to charge news aggregators like Facebook and Google lower rates will thrive. Smaller publishers who can't afford the cutthroat rates will be boxed out.
Article 13 forces platforms like YouTube to filter all newly uploaded content for any copyright infringing material using specially implemented algorithms. News outlets have been referring to these as "censorship machines,"; others have declared Article 13 as starting a "war on memes" since these filters could easily end up flagging the endlessly-shared, slightly-altered images.
Unsurprisingly, the internet is not in love with that decision. High-profile internet personalities like Wikipedia founder Jimmy Wales have already voiced their discontent. Article 13 could end up having a direct negative impact on freedom of speech because sites must carefully monitor every upload to ensure they don't infringe any copyright. If YouTube is any example, those kinds of filters aren't exactly foolproof — content creators on the video platform have been complaining for years about how YouTube has been mistakenly flagging their content for copyright infringement.
Even though the European Parliament passed the Copyright Directive, it's not locked into law quite yet. There's still one more Parliament vote in January. If the Directive passes then, it will be up to individual EU member countries to decide on how to put it into practice, and that could open up a huge range of adoption and enforcement. As we have seen with the General Data Protection Act, implementing far-sweeping new rules on the world wide web is far from straightforward, and it will take a lot of time until EU members have decided on how to implement them.
Though we're a long way from a link tax, critics of the new law think the European Parliament's decision sends a strong message: in Europe, free speech might be at risk.
READ MORE: European Parliament Approves Catastrophic Copyright Bill That Threatens the Internet [Gizmodo]
More about EU copyright law: The EU's Proposed New Copyright Laws Show No Government Knows How to Govern The Internet