Las Vegas Approves Paying for Parking Tickets with Food Donations but Feeding the Homeless is Outlawed
Isaac Davis, Staff Writer
Waking Times
Government certainly does love to portray itself as the hero and savior of the people, and most often they do this so well that most people cannot even imagine a world without mandatory taxation, countless punitive laws, or roaming authoritative enforcement agencies watching over them.
In another case of such an attempt at public relations, earlier this year the City of Las Vegas approved a measure allowing parking tickets to be paid with school supplies. Apparently the effort to give back to the communities from which they tax was so successful at boosting the city's image that they are doing it again, this time by allowing people to donate food in payment of parking tickets.
This new measure will apply only during the holiday season, as Fox-5 Las Vegas reports:
"The Las Vegas City Council unanimously voted in favor of allowing parking tickets issued between Oct. 16 and Nov. 16, 2019, to be paid with donations of food for those in need during the holiday season.

Those who have a non-public safety parking infraction in the city of Las Vegas that was issued between the allotted time frame may resolve their tickets by donating non-perishable food items of equal or greater value to their fine." [Source]
Supporting local food banks and homeless shelters is certainly critical during the holiday season, but it's important to remember that as a citizen, feeding homeless people is effectively illegal in Las Vegas and can result in hefty fines and punishment as well as ongoing legal issues.
In December of 2018, the Las Vegas Review-Jounral reported that police were actually stepping up their efforts to ticket people who might dare to feed homeless people. There are no doubt plenty of victims of actual crime in Las Vegas looking for justice, yet police had delegated an increased amount of their resources toward the victimless crime of giving away food.
"So Joey Lankowski, 32, knew the risks when he parked his white RAV4 in the red zone on Wednesday. He said he'd been handing out food to the homeless there since the summer and hadn't had a problem.

This time was different.

Within minutes, he received a citation carrying a $200 fine for creating a traffic hazard and blocking a fire lane.

Three marshals from the city and two Metropolitan Police Department officers stood by as Lankowski pleaded with officer John Purcell to look the other way." [Source]
In general, the homeless population int he Western United States if growing rapidly, and Las Vegas is among the US cities with the highest rates of homelessness, and we've seen in many cities around the US, government is willing to ignore the root causes of the homeless epidemic while simultaneously making it more difficult for people within the same community to heal each other without involving the government.
Here, a local health official chimes in on why they think its best to punish people for participating in supporting community members in need:
Metro and city representatives justify the crackdown by claiming the well-intentioned souls are creating a traffic hazard by blocking the street and encouraging the homeless to foul the area with garbage and human waste.

"We appreciate when people want to help," said Jace Radke, a city spokesman, "but we feel there's a better way to do that than street feeding."

A Southern Nevada Health District official told the Review-Journal that there are serious health concerns because the free food could make somebody sick, attract varmints or even increase the risk of waste "getting into our public waterways and introducing pathogens into the community." [Source]
Furthermore, Las Vegas just passed an ordinance making it illegal to camp or sleep on the streets if there are spaces available at local shelters, which was passed during an uproar of citizens who view the measure as a Draconian solution to a complex problem.
All of this is especially ironic and sickening when you consider the fact that Las Vegas is currently building a nearly $2 billion dollar NFL stadium which will have to be funded by forcibly taxing every individual and business in the area, whether they watch the mindless Roman circus or not.
Read more articles from Isaac Davis.
About the Author
Isaac Davis is a staff writer for WakingTimes.com. He is an outspoken advocate of liberty and of a voluntary society. He is an avid reader of history and passionate about becoming self-sufficient to break free of the control matrix. Follow him on Facebook, here.
This article (Las Vegas Approves Paying for Parking Tickets with Food Donations but Feeding the Homeless is Outlawed) was originally created and published by Waking Times and is published here under a Creative Commons license with attribution to Isaac Davis and WakingTimes.com. It may be re-posted freely with proper attribution, author bio, and this copyright statement.
53-year-old looking 25 reveals the secret of "eternal youth"
Edson Brandao from the Netherlands told Unilad how at 53 he manages to look several decades younger."People are always shocked when they find out that I'm 53 years old. They all think I'm 25," he admits.
Brandao claims that he never resorted to the help of plastic surgeons, and his appearance is the result of a healthy lifestyle.
He adheres to a special diet: he does not eat fried and canned food, and also avoids sugar.
The man combines all this with strength training. He prefers mineral water from drinks, drinking about two liters daily.
Brandao also stresses that he has never smoked or used drugs in his life.
"Now I feel no worse than when I was not even 30," he says. – I feel the same energy as before. To be honest, I've never felt so good." he says.
A creepy video with a skeleton girl running on all fours leaked on the web
A video appeared on the Internet, which should be a fragment of some horror movie, definitely not something that you would like to face on a dark night, but no, this is an ordinary video filmed with a street surveillance camera. At night, the camera recorded a skinny girl running around her house on all fours.
The video was published a few weeks ago. It was named "Dog Girl from Tamaulispas". As the title suggests, the video was recorded in Mexico. In a couple of weeks, the video managed to spread throughout the Internet.
The video shows a pale and emaciated creature. If you look even closer, you can see a girl moving on all fours. A mentally unhealthy resident of Mexico is moving very dexterously and at high speed.
Some people wrote in the comments that the impression was that the cameras were recording a humanoid. Other citizens noted that the girl actually has Uner Tan syndrome. With this disease, a person is not able to walk on two legs.
It is worth noting that this girl was spotted back in 2009. Then the not indifferent found out that the girl-dog lives with her mother in the Ampliación Unidad Nacional area. A woman hides her daughter from neighbors and even more so from the media. This behavior is quite understandable: the mother does not want her daughter to be mocked and become a victim of cruel ridicule.
The syndrome doesn't explain why the girl is so skinny and completely naked in the video. It is also worth noting that no one with a similar disease moves on four limbs skillfully frighteningly, as if it were not a person. Today the girl is 25 years old, there is no information about her for obvious reasons. It is only known that cameras are specially placed in case the girl escapes.
Most people were shocked by the footage, they compared it to a horror movie, only a real one.
Many commentators point out that for humans, the creature in the video moves so unnatural and frightening that it all looks more like a high-quality fake.
"It's like shots from a horror movie," writes one commentator bluntly. 
"I can't even imagine how scared I would be if I walked there at night and saw her," writes another. 
The strange phenomenon of the "wire woman"
In 2008, an amazing and mysterious incident attracted the attention of the whole world. A woman named Noor Saida, 40, who was born in Sangatta, East Kalimantan, Indonesia, went to doctors complaining that she had metallic hair growing on her chest and abdomen.
It is very painful when the stubble is about to come out of the pores, "Nursyaida said in his medical examination.
The kindergarten teacher explained that her first symptoms began to appear in 1991. Painful metal wires emerged from the skin, fell out in the first week, and after a month the wires began to grow again, and from that moment on the wires did not fall out again. They kept growing!
One of her sisters said she tried to help by cutting the wire. Unfortunately, whenever she trimmed the metal bristles, the remnants of the iron hair would go inward and then reappear on another part of Nursayda's body.
A metal wire 10 to 20 cm long growing from inside a woman's body is still a mystery! During a medical examination, doctors discovered that wires were also present inside the woman's abdomen.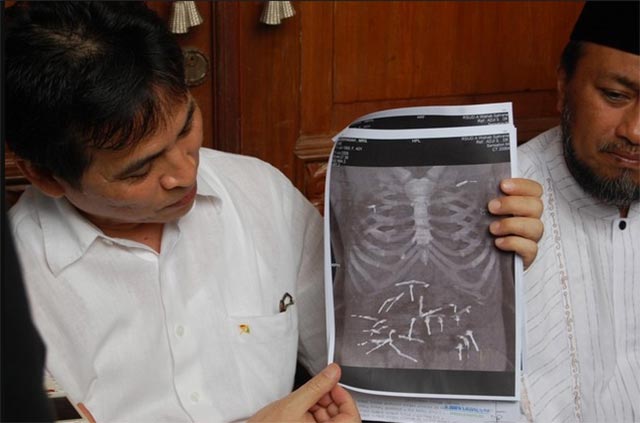 On X-rays, doctors found that there were more than 40 metal wires inside, and some were coming out of her skin.
It looks like a living phenomenon, the wires were able to move and therefore, they can change their location at will, the doctors said.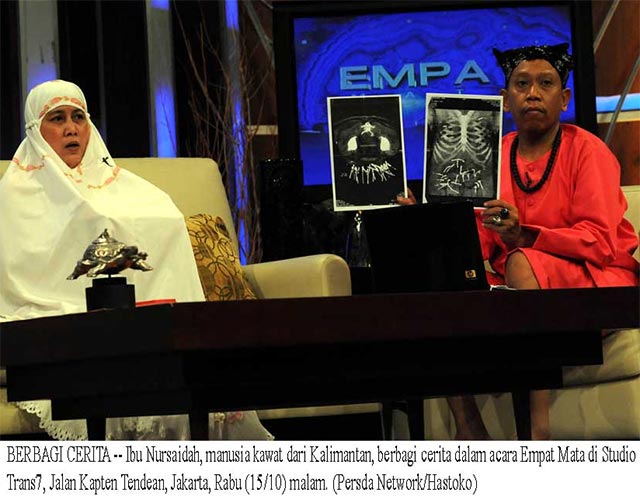 Doctors believed it could be a very rare genetic or mental illness.
As a result, this case remained a mystery and the doctors did not find a logical explanation for it, none of the presented symptoms is known in the medical literature.